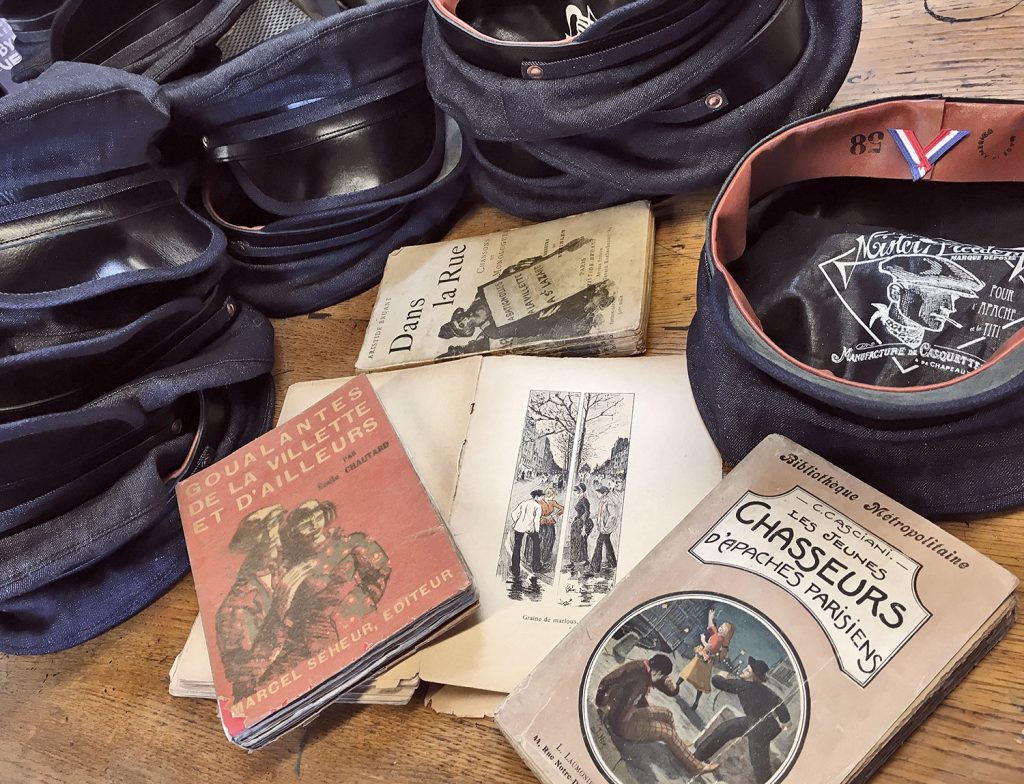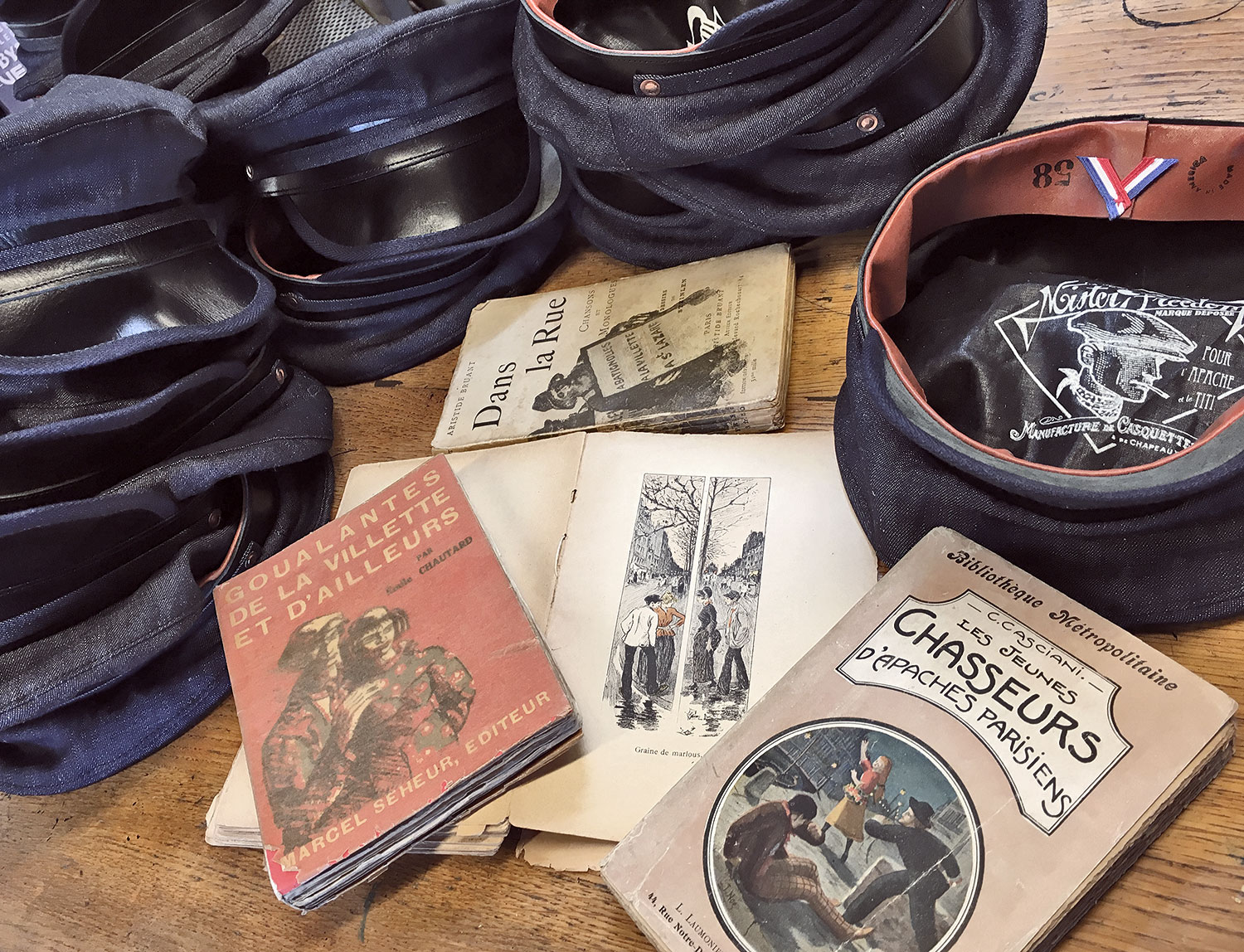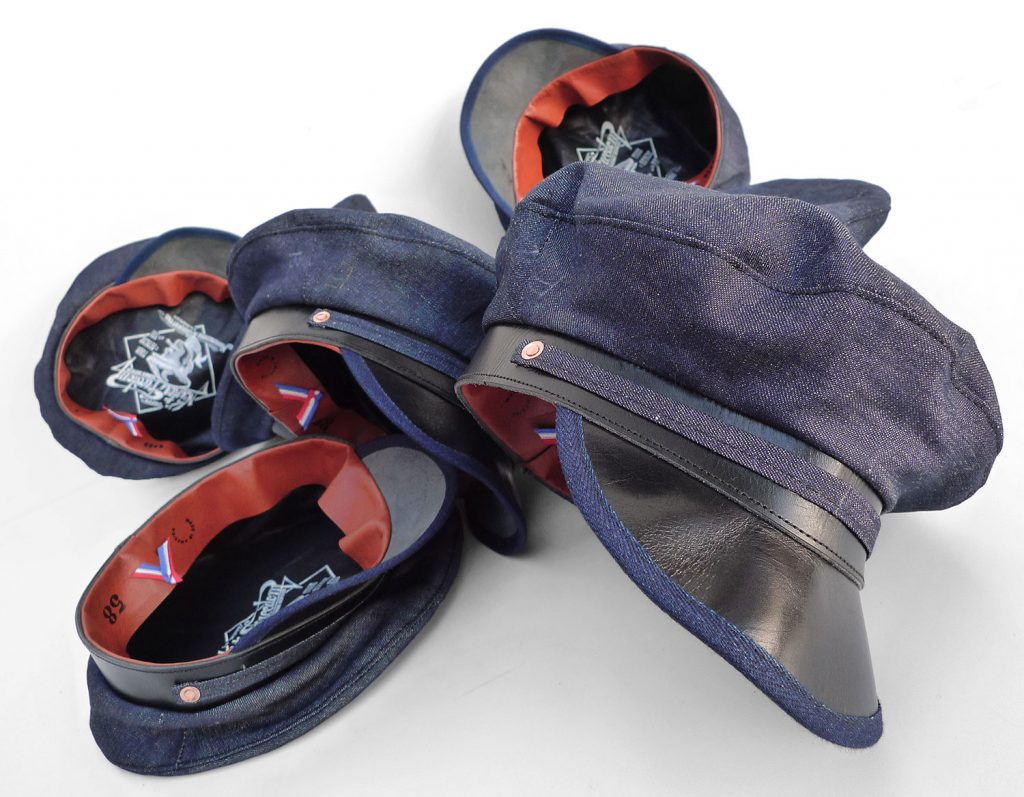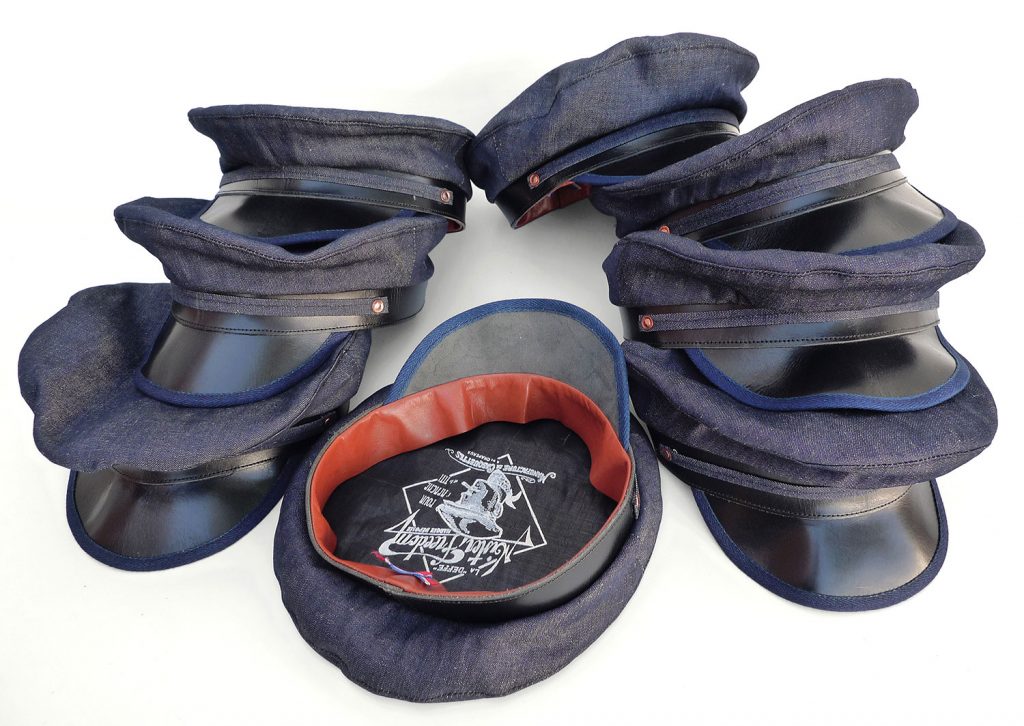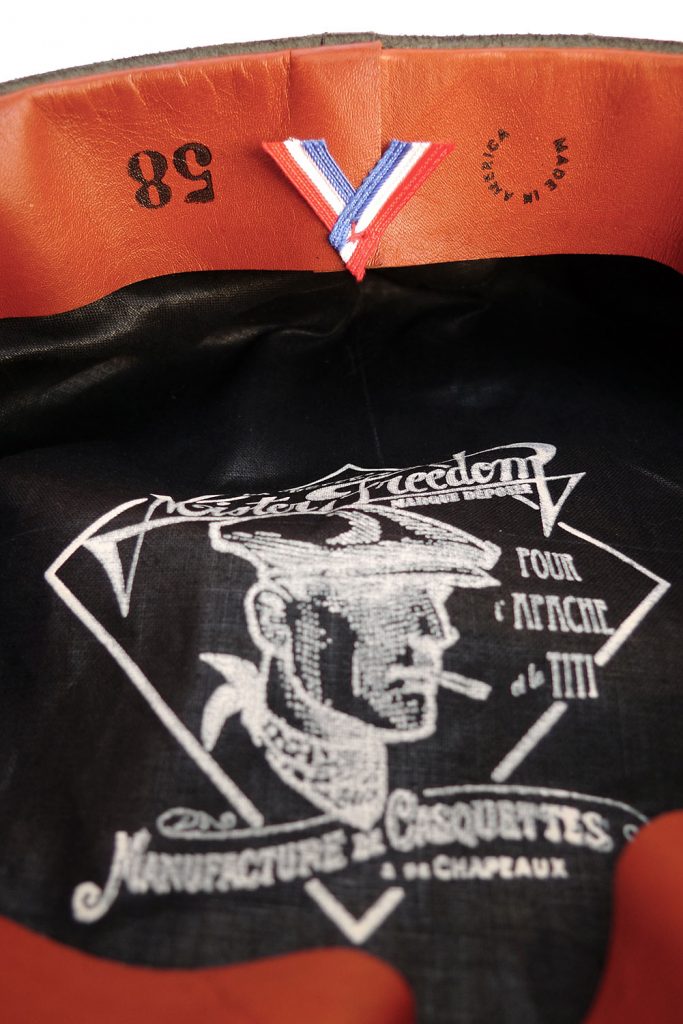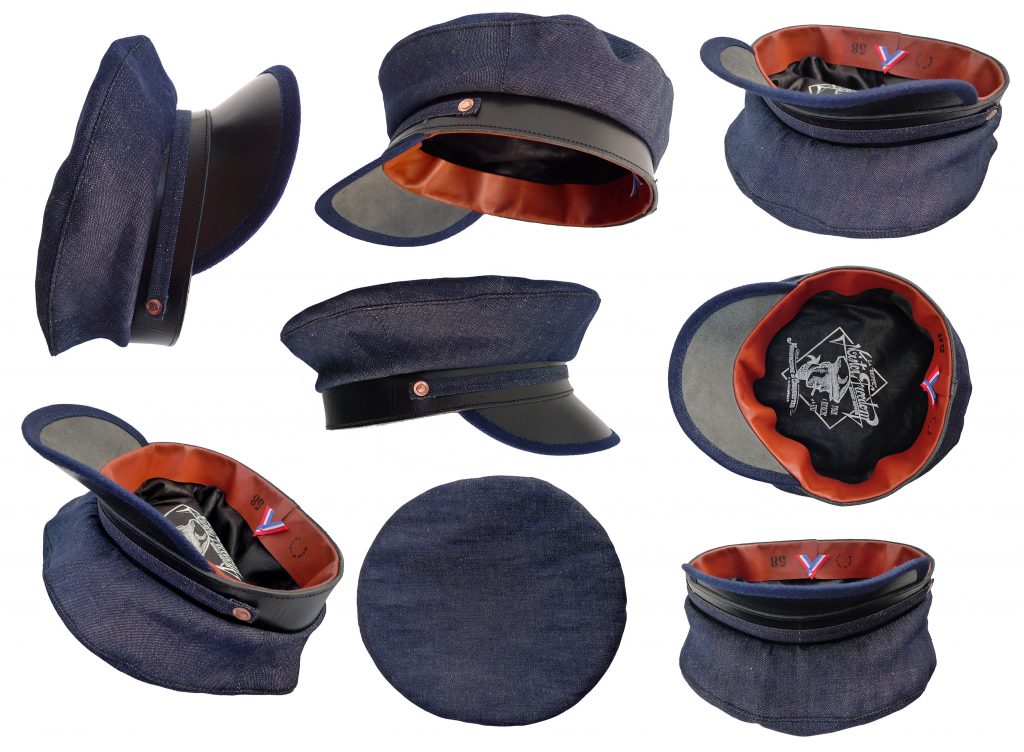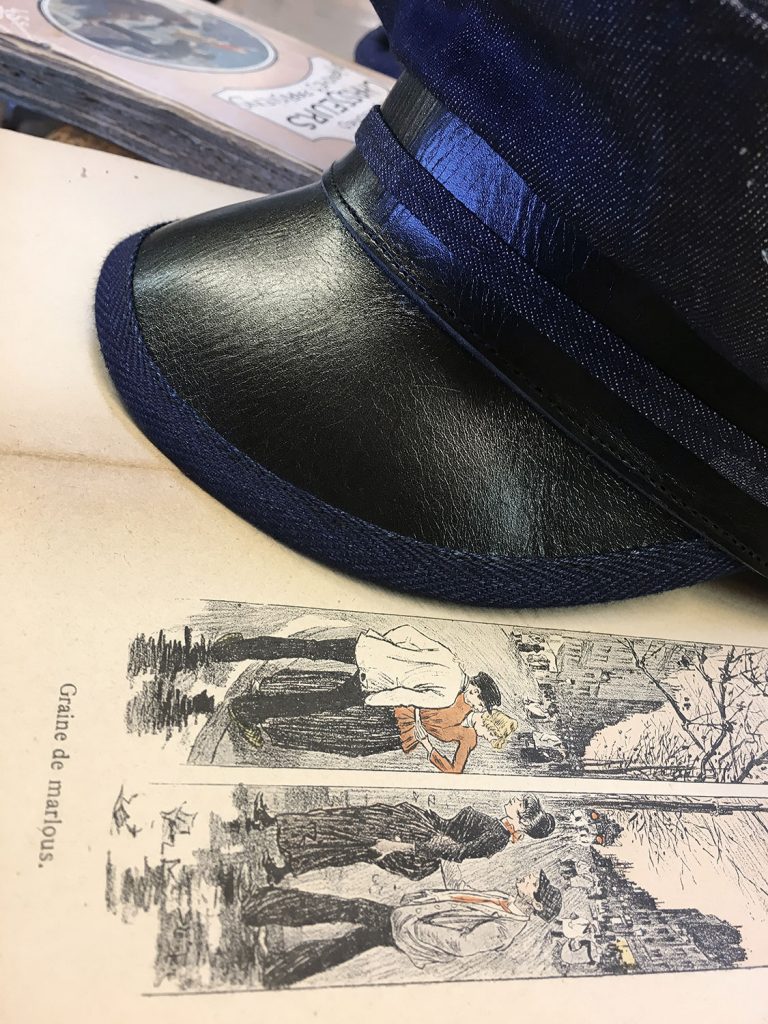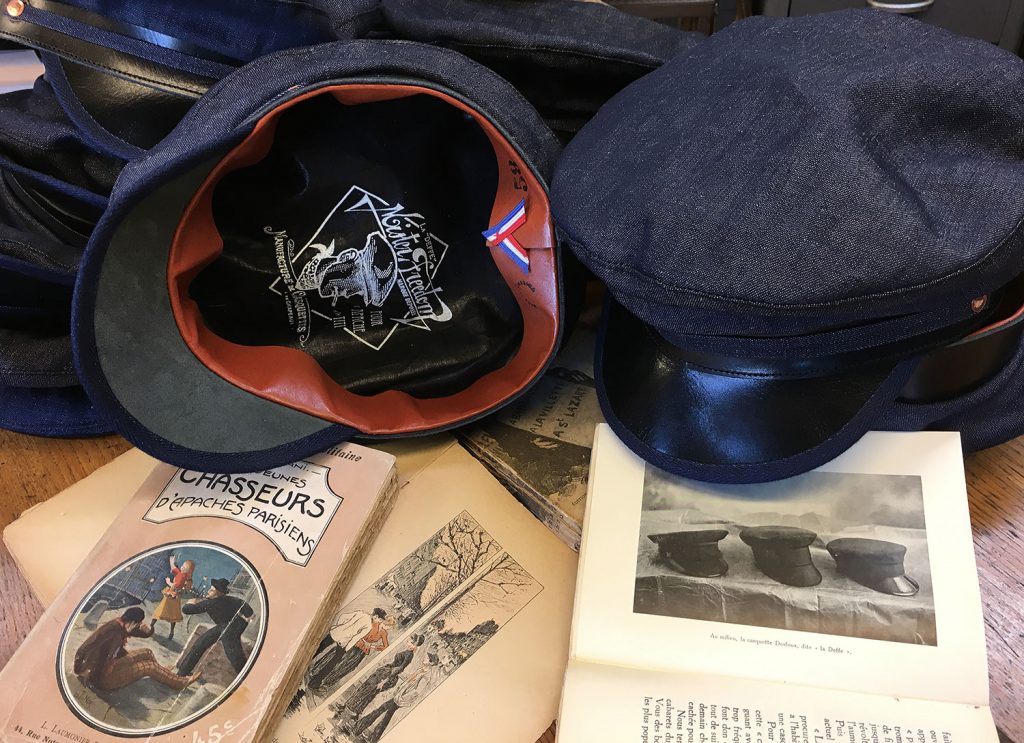 Mister Freedom® ROADSTEADER Cap
NOS selvedge denim edition
SS2018 Sportsman catalog
Made in USA
The Mister Freedom® ROADSTEADER Cap is the latest addition to our Couvre-Chef Department, consisting of a selection of vintage-inspired headwear, revisited à-la MF®.
The line-up already includes our classic Casquette "La Deffe" and "Scuttler" Cap, both regularly issued in an assortment of vintage New Old Stock fabrics. The full released range of these two popular models can be seen at our Los Angeles HQ, and some can be spotted atop Jack Sparrow's head.
Looking at photos of our new pattern, one will notice that the MF® ROADSTEADER is not a vintage replica, but rather a combo of old-school styles, a mix bag of references to bygone fashions and Costume History, all blending into an irresistible piece of accoutrement for the 21st Century snappy dresser!
We drew pointers from the early fashion of the Apaches of the Belle Époque, the flamboyant ruffians who had inspired a Mister Freedom® collection back in 2011. Late 19th Century illustrations of the infamous Parisian gangsters invariably depict their trademark hat, the Casquette Desfoux. Originally a black wool cap with a leather visor (casquette à pont), the style was allegedly borrowed from the Maquignons, livestock traders with a reputation for unscrupulous practices. Paris' Apaches of the 1880's also seem to have adopted the Maquignons' traditional pleated indigo blouse (the biaude or blaude, familiar today to the finest hunters of antique European textiles), along with the wide-wale corduroy trousers favored by wood-workers and farmers.
It may sound quite ironic that, considering how much these french OG's loathed physical work, rather favoring pander and larceny, they opted for vestimentary styles so associated with the working class… Might-this have been an underworld well-thought strategy however, one that would facilitate blending in the crowd when chased by a squadron of grippe-coquins, aka Gendarmes? Another case for Inspector Clouseau.
All these fine threads could conveniently be stolen from boutiques on the crowded rue Mouffetard (5th arrondissement of Paris), such as "Maison Panet", workwear outfitters and novelty goods purveyors since 1829. On that same street, at number 65, stood another fine establishment belonging to a certain Mr. Auguste Bénard, local tailor and… 'inventor' of the original fashion flares! The flared-bottom trousers ("pantalon à pattes" or "pattes d'eph" -literally elephant leg-) that he designed in the 1870's were a big hit with the Apaches of the early days.
Today, for an older french generation who has no idea who Pikachu is, the street slang term "bénard" stills designates a pair of pants, and "deffe" a generic casquette.
Besides this colorful Parisian influence, our Roadsteader design obviously borrows from the traditional Greek fisherman's cap, and recreational 'captain' hat styles, in-turn inspired by military naval covers. This external blog post is a fun illustrated read if you're into nautical headgear history.
The design process to nail the pattern and construction of our Roadsteader Cap has been quite challenging for our in-house atelier, as attest the many prototypes made. Panels size, seams, stitching, dimensions, leather grade, trims, …, were endlessly tweaked during R&D. Our aim was not to rival with mil-specs hat makers Bancroft Cap Company, or traditional yachting cap specialist Lancaster Hat Co , but we still wanted a hat worthy of being featured in the ever-growing Mister Freedom® Sportsman catalog…
The MF® Roadsteader eventually passed the final exam and survived field-testing.
So there it is.

The MF® Roasteader Cap is designed and manufactured in California, USA, by Mister Freedom®.
SPECS:
An original MF® pattern, inspired by an assortment of vintage nautical covers and 1900's french traditional working-class hats.
FABRIC:
Shell: NOS 2/1 indigo selvedge denim, about 8 Oz. (for reference, similar to the weight of a classic lightweight western denim snap shirt or vintage US Army barrack bag, as opposed to the 12~15 Oz. weight of traditional 3/1 denim 5-pocket jeans.)
Lining: Vintage NOS glazed 100% cotton fabric, silkscreen.
Leather trims: cowhide headband and visor, with genuine kangaroo hide headband lining.
DETAILS:
* Fancy old-school construction.
* Unstructured crown. (no plastic frame)
* Fully lined with NOS black glazed cotton, featuring original MF® silkscreened label.
* Cowhide leather headband.
* Unlined cowhide leather visor with indigo HBT tape piping.
* Genuine kangaroo hide headband facing, with red/white/blue bow.
* Traditional chinstrap was replaced by a riveted strap, featuring concealed denim selvedge ID.
* Made in USA.
SIZING:
The headband size in measured in centimeters. The headband will not stretch altogether, but the kangaroo lining will soften with wear and 'loosen-up' the fit a bit.
Size 58 (cm) roughly equates to a 7 ¼ hat size.
Size 60 (cm) roughly equates to a 7 ½ hat size.
Note that the crown of the Roadsteader is unstructured (no plastic frame) so that it will 'slouch' naturally with wear. We recommend cocking it to one side, and a bit to the back, for the old-salt vibe.
CARE:
Do not attempt to wash/dry the MF® Roadsteader Cap. Professional spot-cleaning only, if needed. With normal repeat wear, this cap will start to 'slouch' and the denim fabric begin to drape naturally. Both the indigo denim twill and leather will acquire a natural patina overtime.
We do not recommend trying to artificially hasten the normal aging process. Just wear and enjoy.
Available Raw/unwashed.
SIZES:
Size 58 (cm) (approx. 7 ¼)
Size 60 (cm) (approx. 7 ½)
Retail $249.95
Available from www.misterfreedom.com, our Los Angeles brick & mortar store, and fine retailers around the World.
Email sales@misterfreedom.com or call 323-653-2014 with any questions unanswered above.
Thank you for your support,
Christophe Loiron
Mister Freedom® 2018