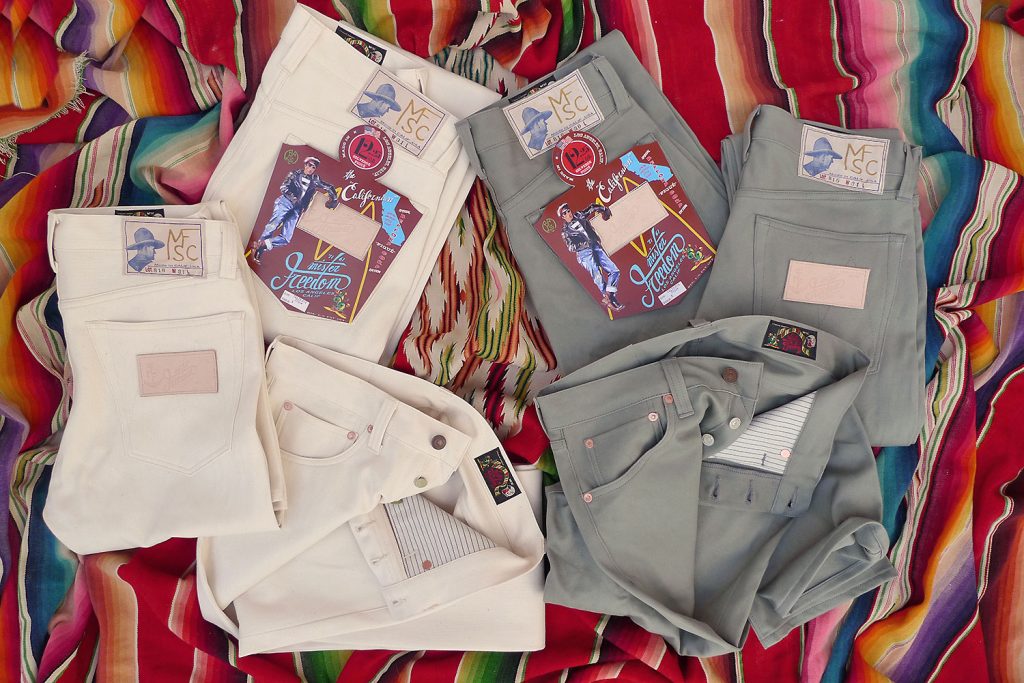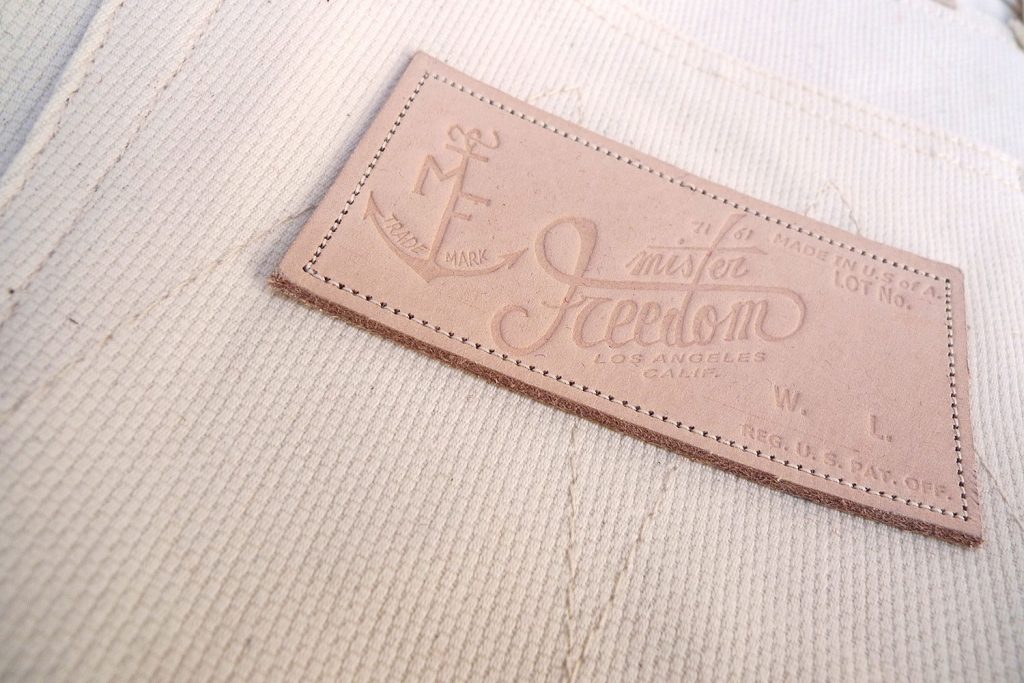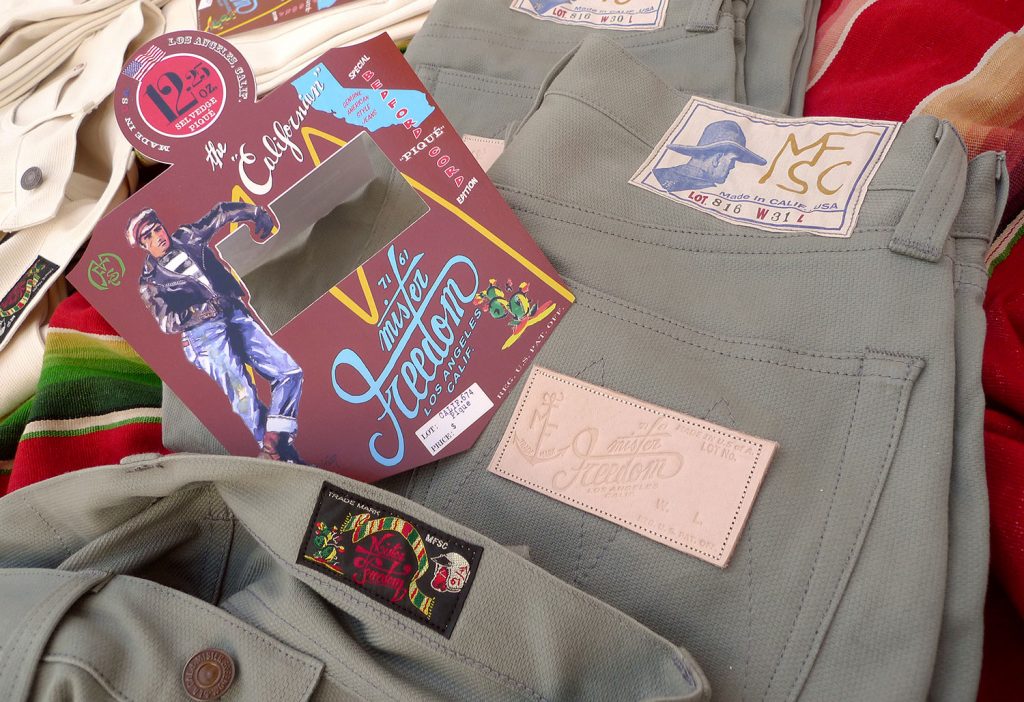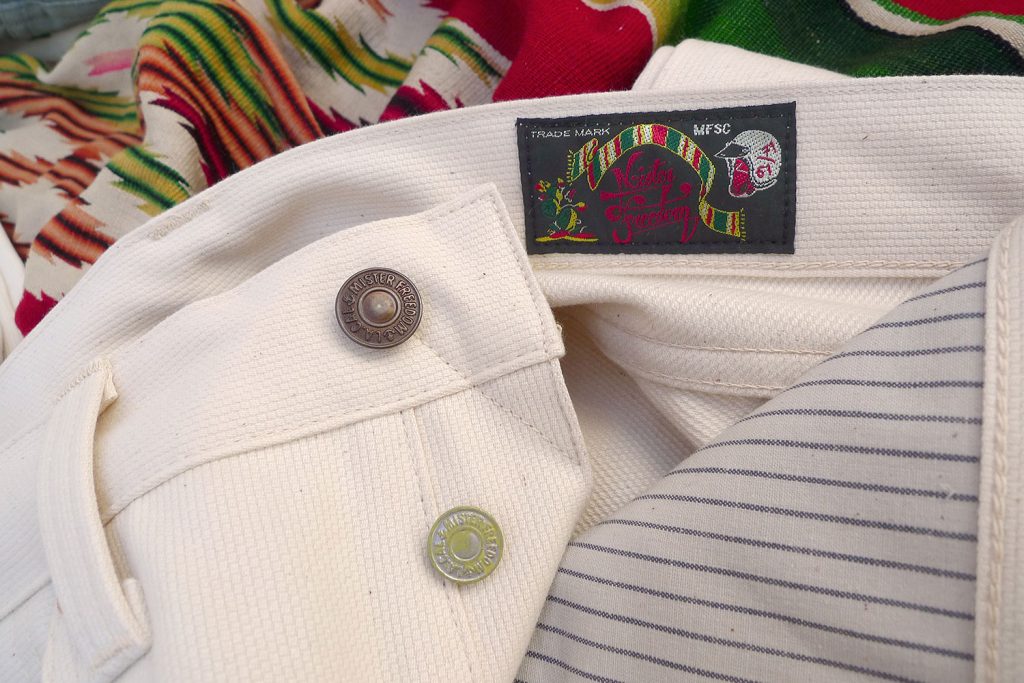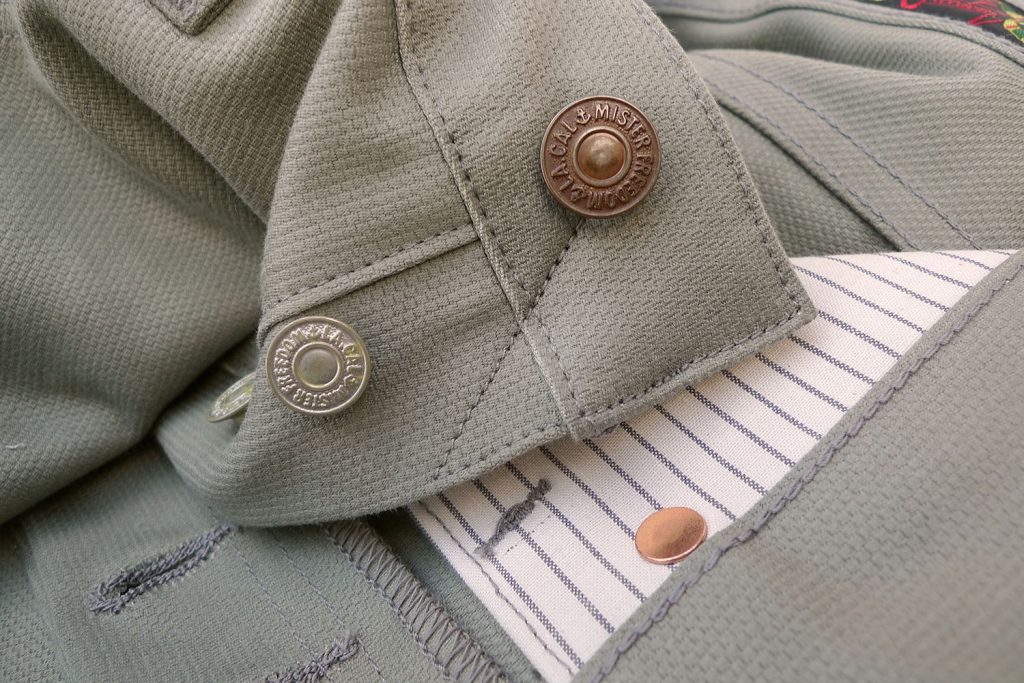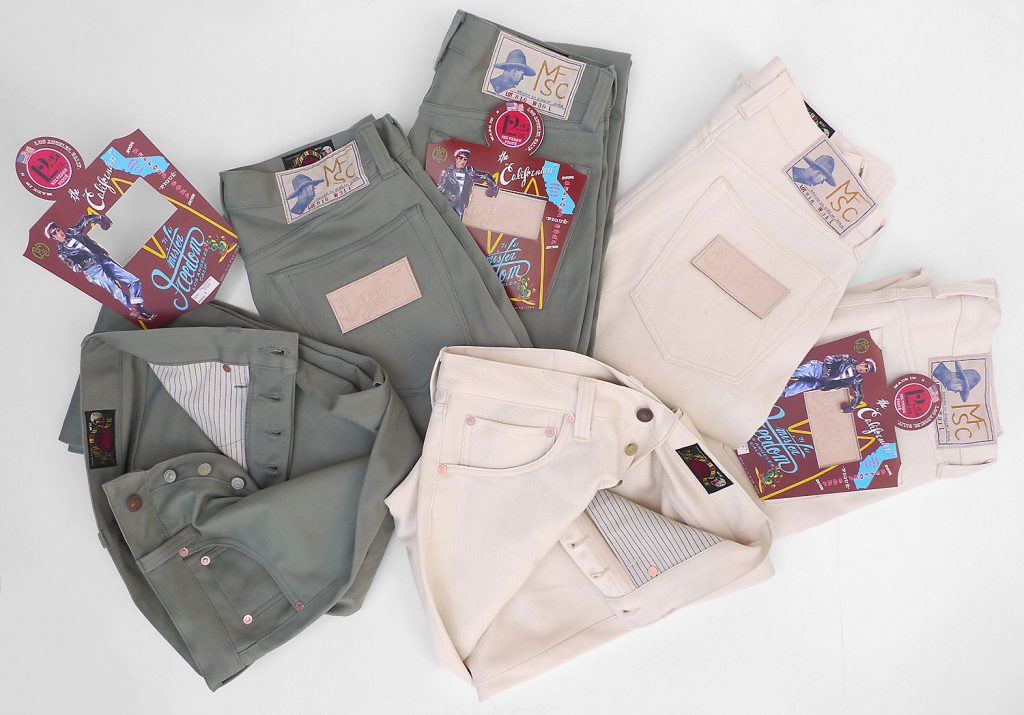 Mister Freedom® "CALIFORNIAN" Lot.674, Selvedge Piqué Edition.
SS2019 Sportsman Catalog.
Made in USA.
Our theme-based capsule collection for Spring/Summer 2019 is entitled "YUCATÁN".
Not just a straightforward allusion to the famous Mexican state on the peninsula notorious for the Mayan ruins and beach resorts, but a reference to the title of a lesser-known unreleased movie project famed actor Steve McQueen worked on in the late 1960's.
The unfinished but thoroughly-researched project sat in a basement until one fine day of 1996, when Chad McQueen allegedly dusted-off two old leather trunks… packed with leather binders containing a 1,700 page-long scripted storyboard!
Having personally crafted the story, Steve McQueen had carved a perfect role for himself. "Yucatán" apparently recounted the action-packed tropical adventures of a former US Navy diver turned treasure hunter in Southeast Mexico. Motorcycle chases in the desert, ruthless archeological site looters, dune buggy racing, scuba diving in cenotes… Promising stuff! Somewhat of the ultimate wild ride from the Gulf of Mexico to the Caribbean Sea, an "Indiana Jones" type saga with Mayan culture as the backdrop, and the cooler king as the rider.
Unfortunately for adventure-action movie fans, the project was eventually abandoned, after "Le Mans" emptied McQueen's Solar Production's coffers.
The 'treasure' trunks containing the storyboard ended-up in an auction in Santa Monica, CA, in 2013. Surprisingly, no takers…
"Yucatán" is today property of Warner Bros, and it has been reported that Hollywood star Robert Downey Jr. – and his "Team Downey" – have been hard at work trying to turn the original McQueen's story into a silver screen blockbuster.
As of 2015, the Yucatán project was still at the developing stage… Considering Mr. Downey's talent and ressources, I am personally quite looking forward to the film release, if this 'lost classic' ever materializes.
More on that story here and there. Official updates on the movie project seem to be posted here…
Back to our own line of work, the schmata.
Drawing inspiration from a movie you have yet to see might sound a bit challenging, but this is actually quite along the lines of our "might-have-been" design approach that keeps us clear of straight-up replicas and creatively-repetitive work.
The vibe of our SS2019 "YUCATÁN" fashion venture is sporty, racy, with a touch of sixties beachcomber meets desert rat. This concise, full-throttle yet unassuming collection for grown-ups includes the DUNE BUGGY Jacket, the MARINA Polo, the "Yucatán" Rock'n'Roll Fiesta Shirt, and is complimented by two Sportsman catalog pieces, the COWBOY Jacket and CALIFORNIAN Lot.674 in Piqué.
If the Piqué Cowboy Jacket landed early in the season, its bottom-half Lot.674 companion is just fresh-off the small and busy SoCal factory that proudly and painstakingly produces a large portion of the Mister Freedom® mfsc Sportsman catalog, and all of the Californian family jeans and jackets.
As far as style, piqué jeans with matching jackets became popular with young adults in the early 1960's, as a casual alternative to blue denim, with Levi's® leading the trend with its 911 series released in a palette of subtle earth tone colors.
"Color jeans" in general, of assorted woven patterns and from several makers, made their way to American campuses, city streets and film sets. Lee Riders® was popular for its sateen "Westerner" models, Levi's® for its pique and twills, and Wrangler® for its twill and light blue denim versions. Style icons like Steve McQueen or Paul Newman adopted their own favorites on and off screen, unwillingly promoting the style, contributing to its cool easygoing sixties fashion vibe today.
Our 100% cotton 12.05 Oz. piqué fabric features fine raised vertical cords on the face, with a contrasting waffle-like texture on the reverse. We are releasing it in two distinct color options: natural 'wheat' and a specific shade of 'vintage' sage green. On close inspection, the wheat version features attractive minuscule brown flakes, as the yarn is unbleached.
We introduced our Californian Lot.674 pattern back in 2017, featuring the top block of the Lot.64 combined with tapered leg of the Lot.74, and a button fly. The Lot.674 is our slimmest leg, although not by contemporary fashion standards that have raised the "slim fit" bar to breathtaking (literally) levels, but according to our own classic menswear aesthetics. Refer to this timeline for a summary of the Mister Freedom® five-pocket jeans fits and various fabric releases.
The mfsc CALIFORNIAN Piqué Edition is designed in California by Mister Freedom® and manufactured in the USA in collaboration with Sugar Cane Co.
SPECS:
FABRIC:
100% cotton 12.05 Oz. piqué fabric, selvedge, milled in Japan.
Two color options:
a) Sage green
b) Wheat (unbleached natural color)
Pocket bags: Fancy NOS woven stripe canvas, 100% cotton.
DETAILS:
* Classic vintage five-pocket pattern.
* Button fly.
* Selvedge leg outseam.
* NOS fabric pocket bags, fancy woven striped cotton canvas.
* MF® original tonal "M" stitch arcuate design on rear pockets.
* Debossed natural veg-tan cowhide leather MF® patch on rear pocket. Will tan an age nicely overtime.
* 100% cotton thread tonal construction, combining several gauge of thread.
* Coin pocket with concealed selvedge.
* Hidden back pocket reinforcement rivets, with top pocket reinforcement zig-zag stitching.
* Unlined rear pockets.
* Combination of silver-color 'oxidized' MF® metal cast fly buttons, and MF® brass tack waist button.
* Unmarked copper riveting for reinforcement.
* Original MF® paper pocket flasher (chocolate brown).
* Made in USA
SIZING/FIT:
The Piqué CALIFORNIAN Lot.674 comes UN-WASHED (i.e. raw/loomstate) and is cut so that the measurements match the labeling after an initial cold soak/line dry.
We recommend our usual method for raw cotton garments:
* 30-40mn cold soak with intermittent hand agitation, in washing machine or bath tub.
* Spin dry cycle (if using a machine).
* Hang dry.
The Californian Lot.674 Piqué are true-to-size, with the usual "vanity sizing" standard in the industry.
A tagged W32 will most-likely be the right size for an individual with an approximate measured waist of +/- 32 inches, and with average body proportions. (Note that your natural waist is a bit bellow the belly button, not bellow the hips.)
I opted for a W31 in the Lot.674 Californian Piqué, which tends to be my size of choice for the MF® style of 1960's slim jeans patterns, such as our popular Speedways, Malibu's, Lot.74 and Lot.674 models. When playing around with period "flood length" à-la McQueen, rather than rolled cuffs or modern unsightly stacking, the Lot.674 has a definite sixties vibe silhouette.
Note that unlike most denim fabrics, this piqué fabric will not stretch with wear.
Please refer to sizing chart for approximate raw/soaked measurements. Soaked = 30mn cold soak, spin dry and line dry.
CARE:
Wash when necessary.
Machine wash with cold water, gentle cycle, eco-friendly mild detergent and line dry.
Available RAW/unwashed.
Sage green or Wheat.
Sizes
W 28
W 30
W 32
W 34
W 36
W 38
Available from www.misterfreedom.com, our Los Angeles brick & mortar store, and fine retailers around the World.
Email sales@misterfreedom.com or call 323-653-2014 with any questions unanswered above.
Thank you for your support.
Christophe Loiron
Mister Freedom®
©2019
Comments
comments