Mister Freedom® x SugarCane Co SS2023 "FROGSVILLE x SAIGON" collection preview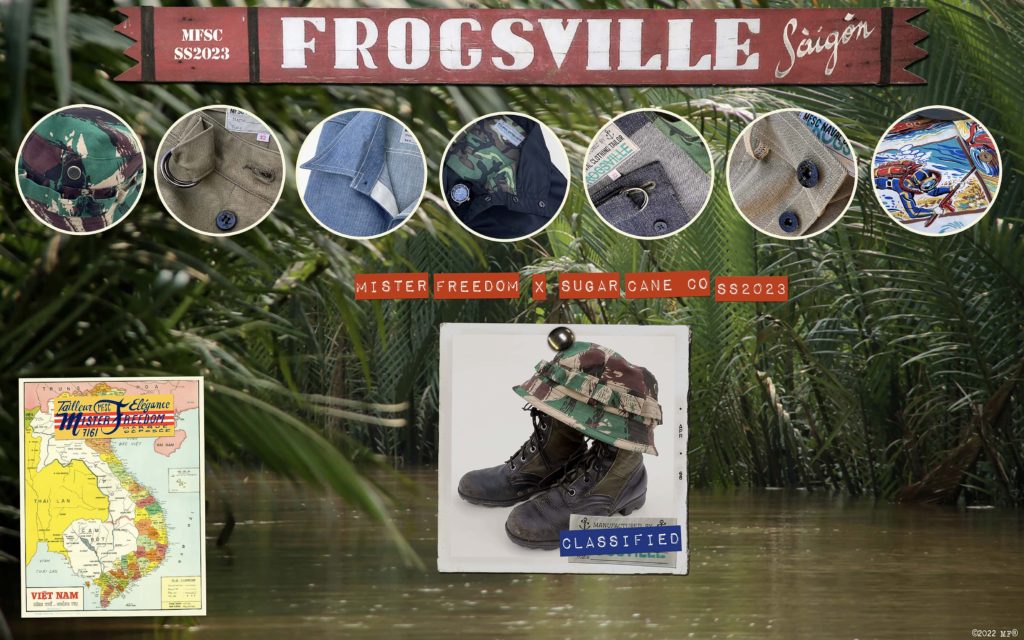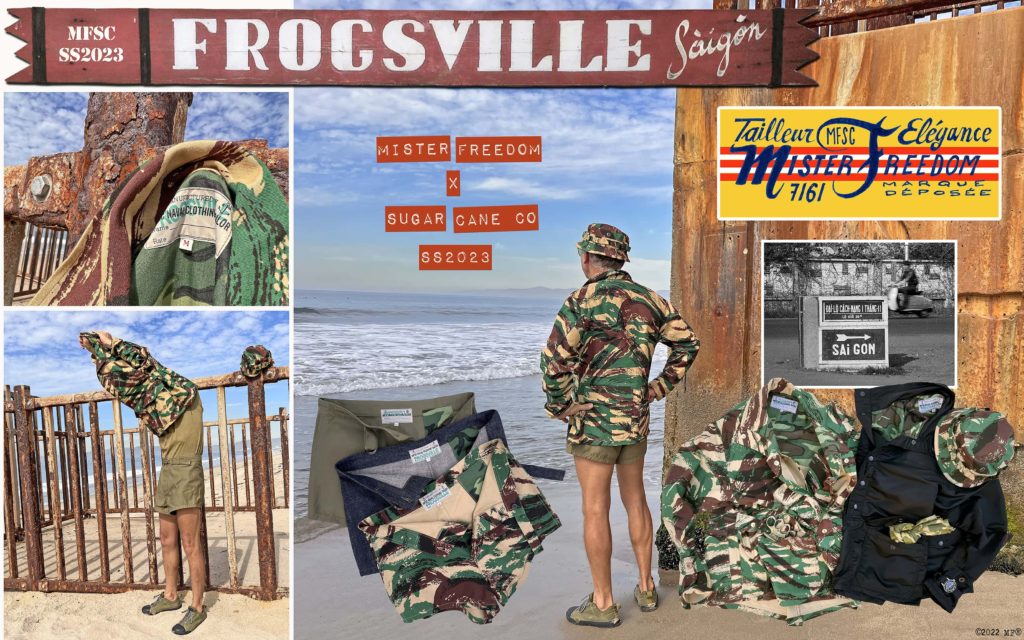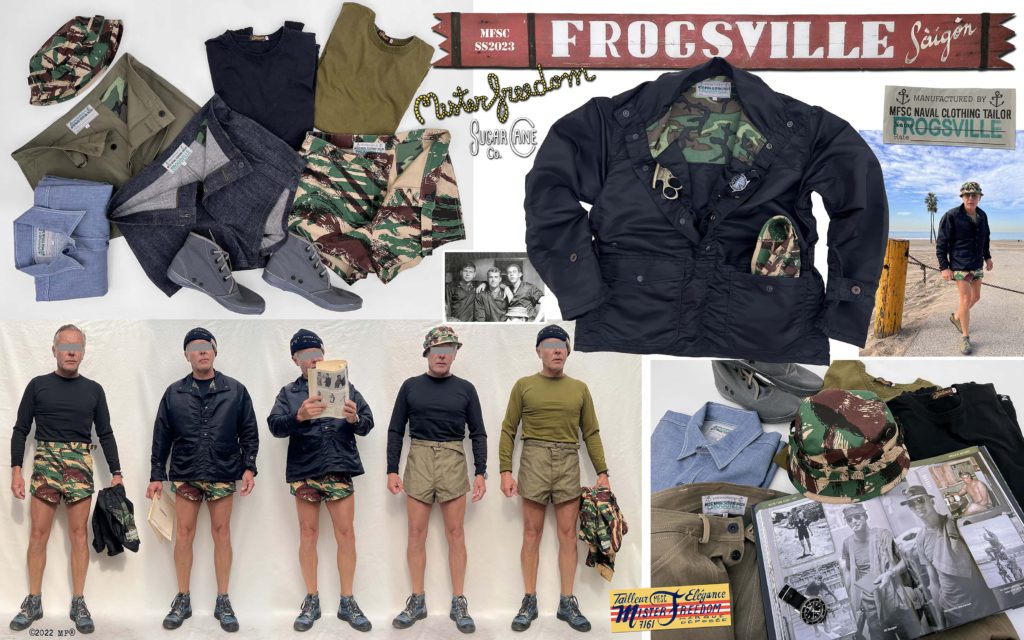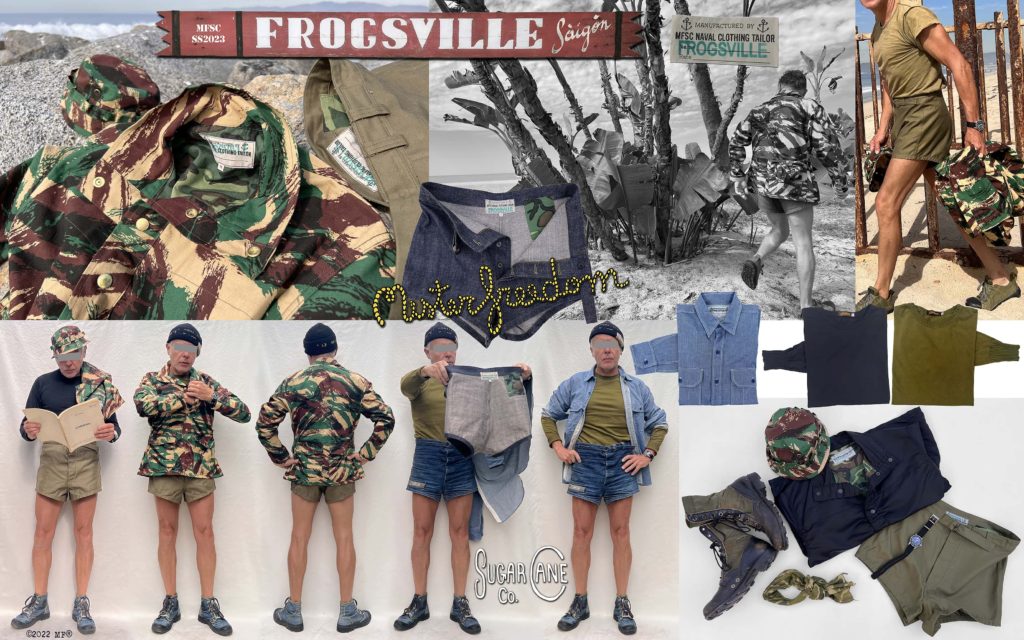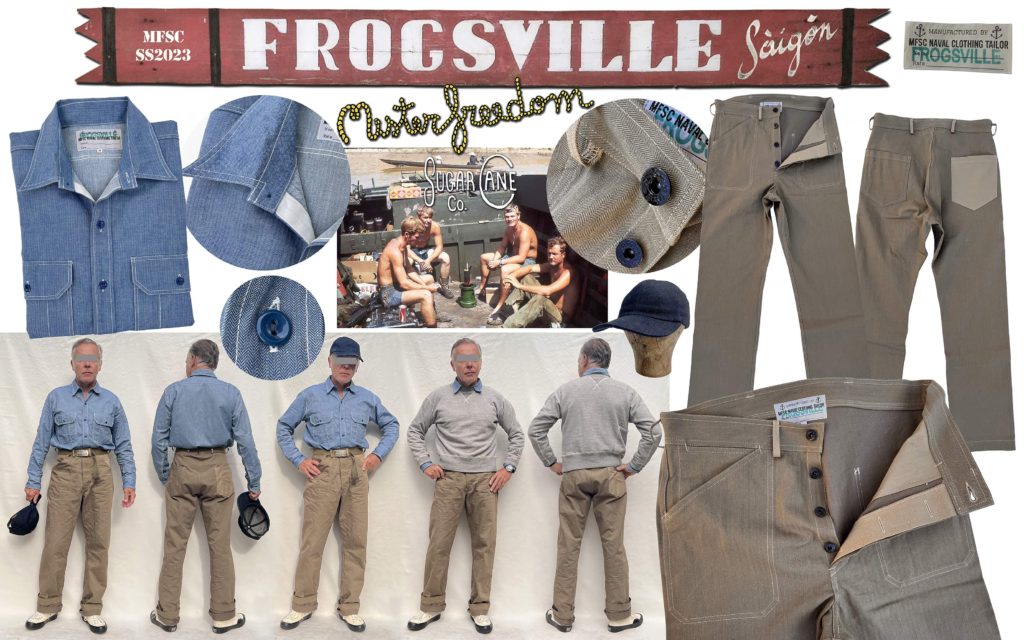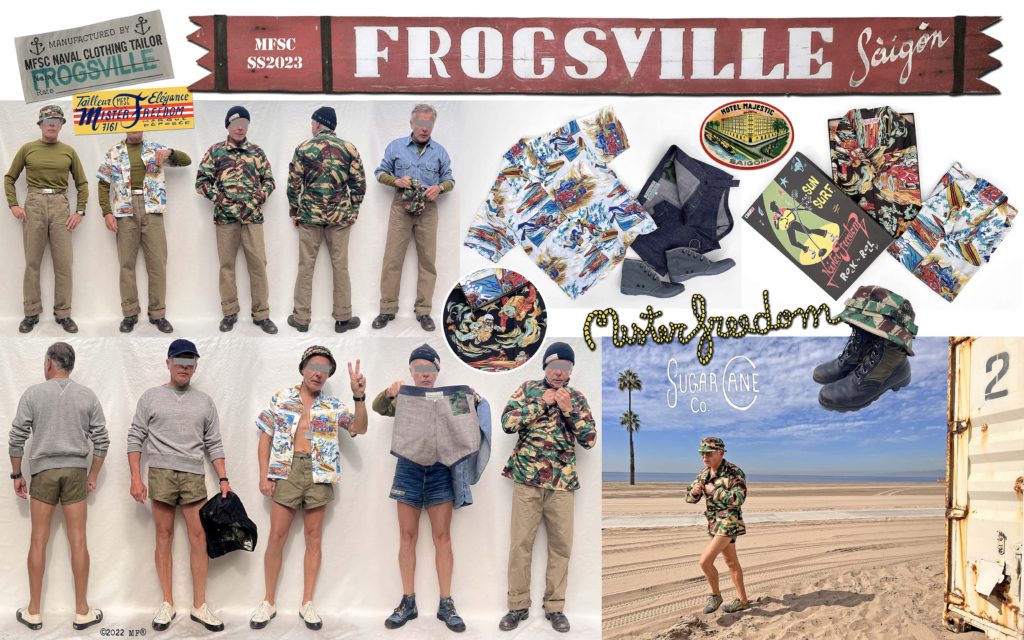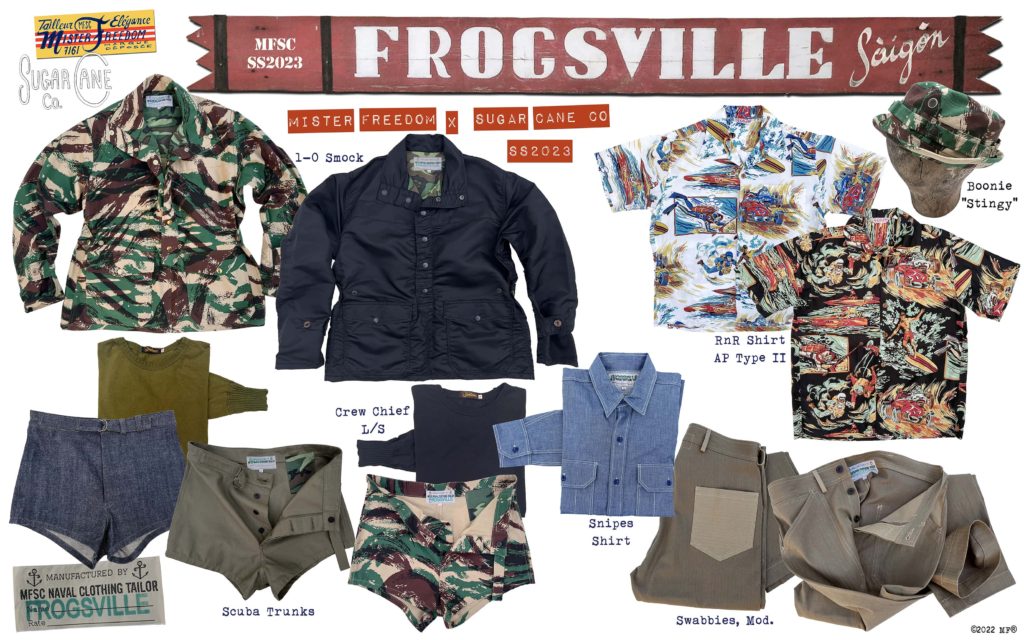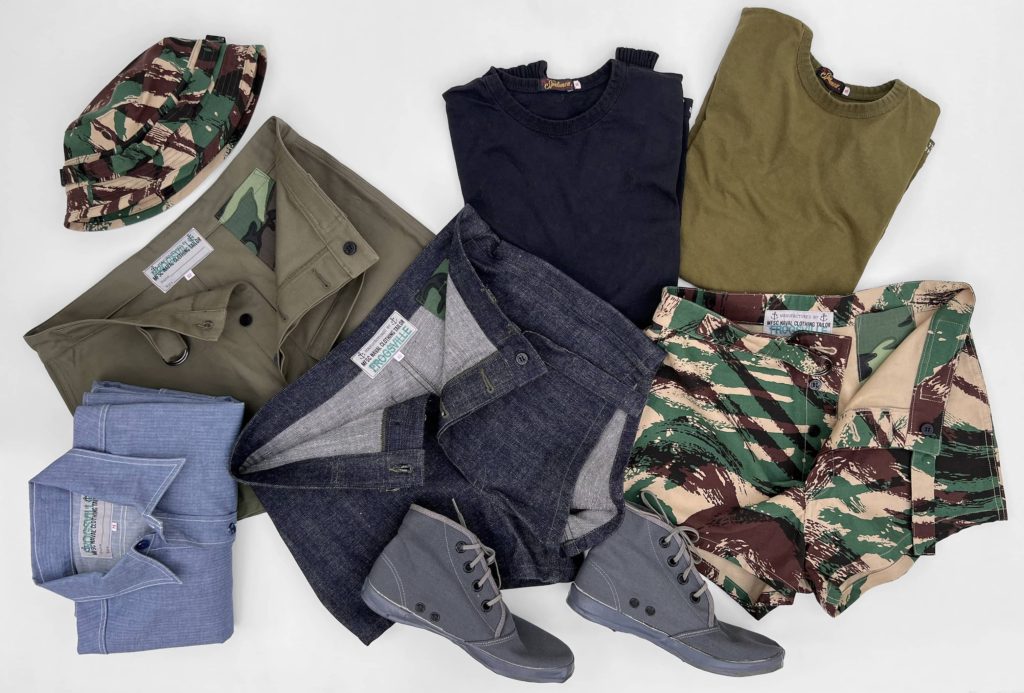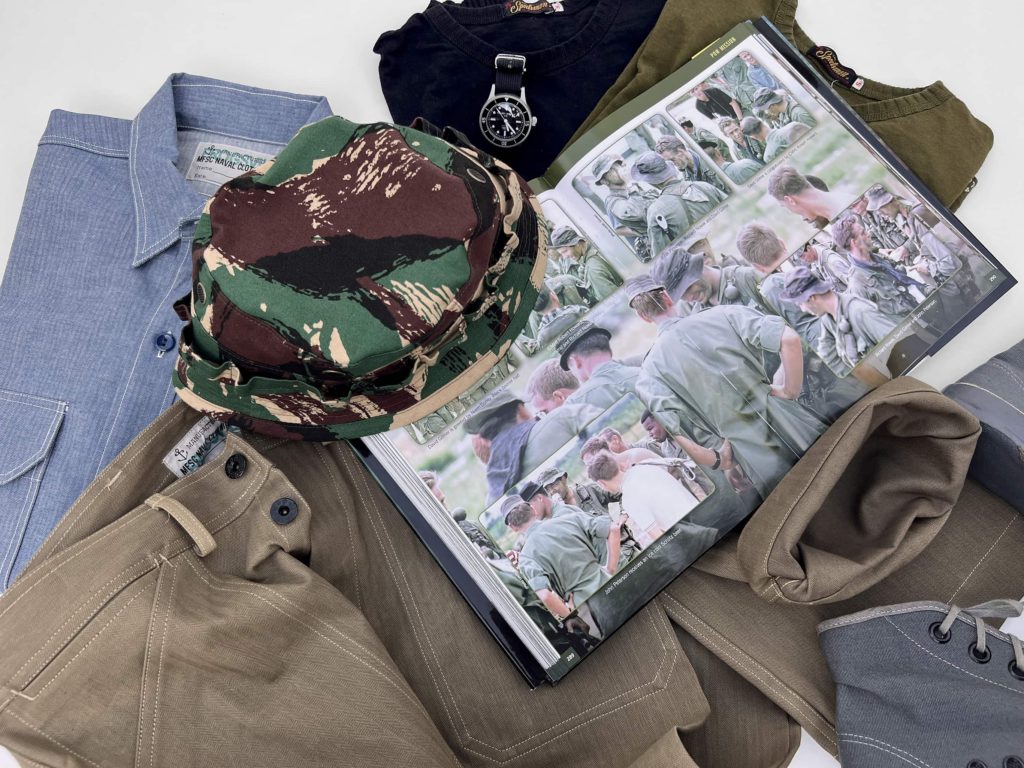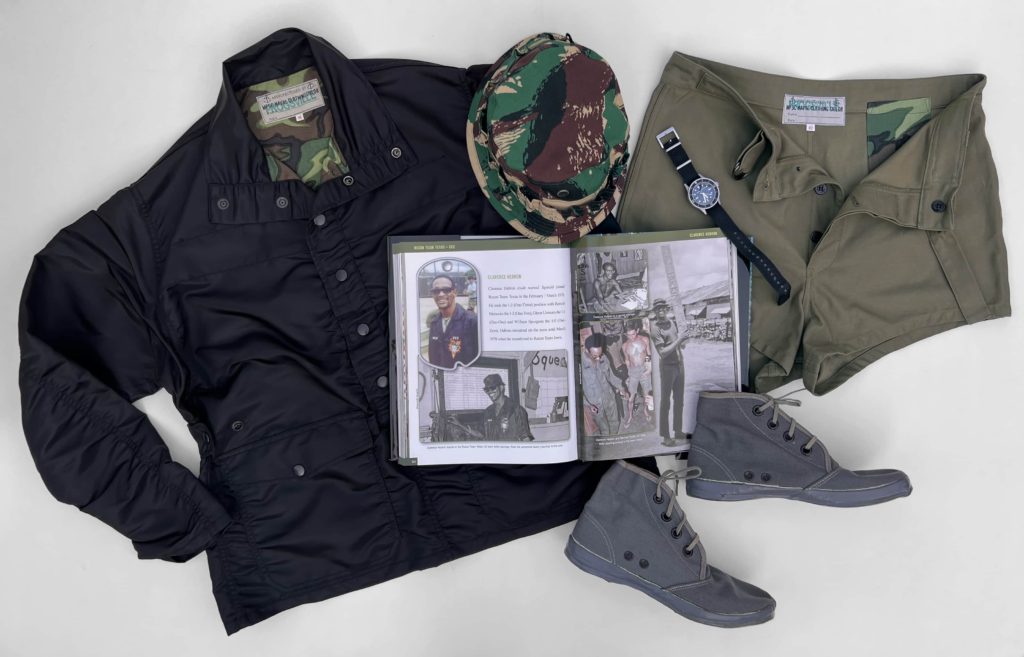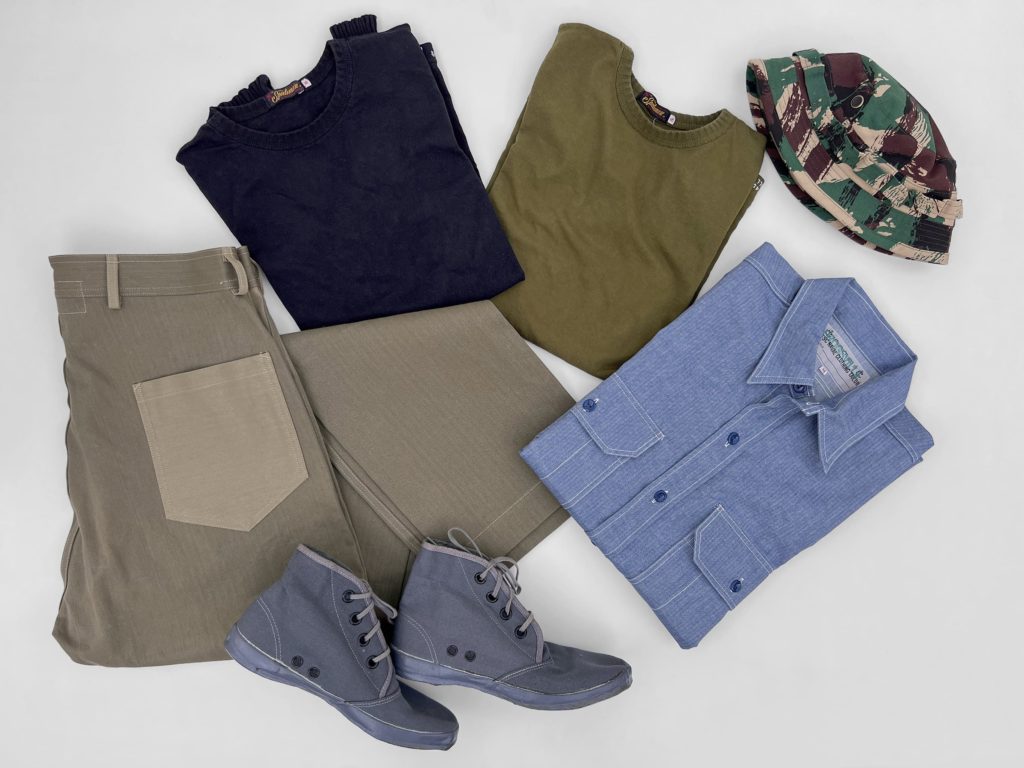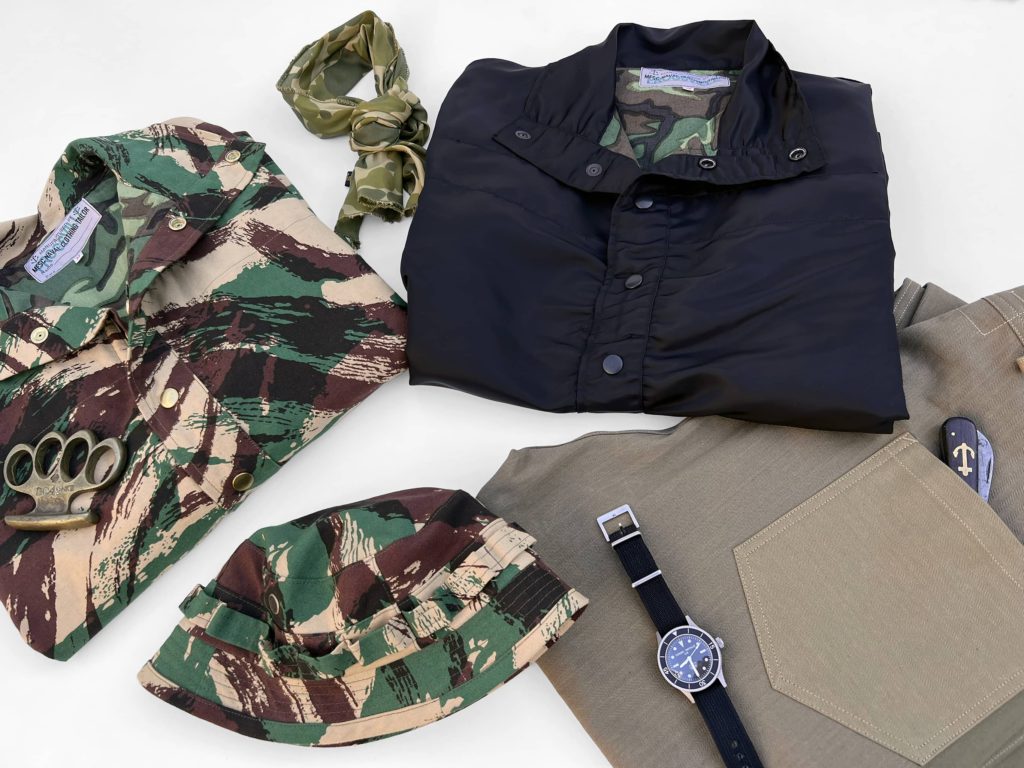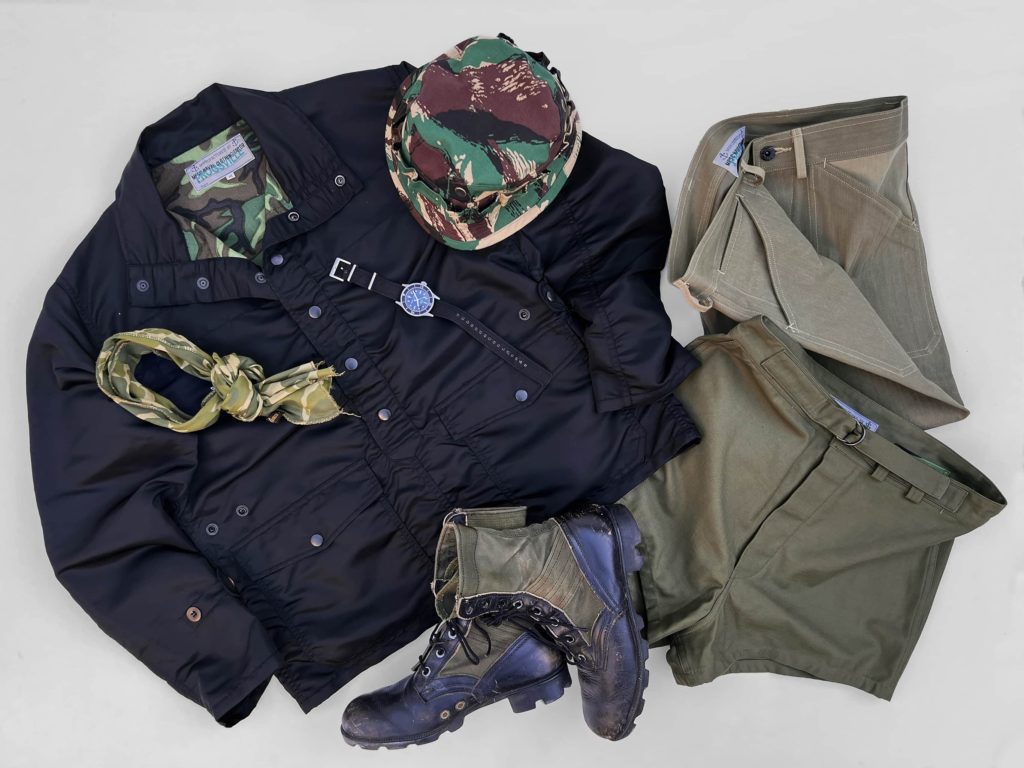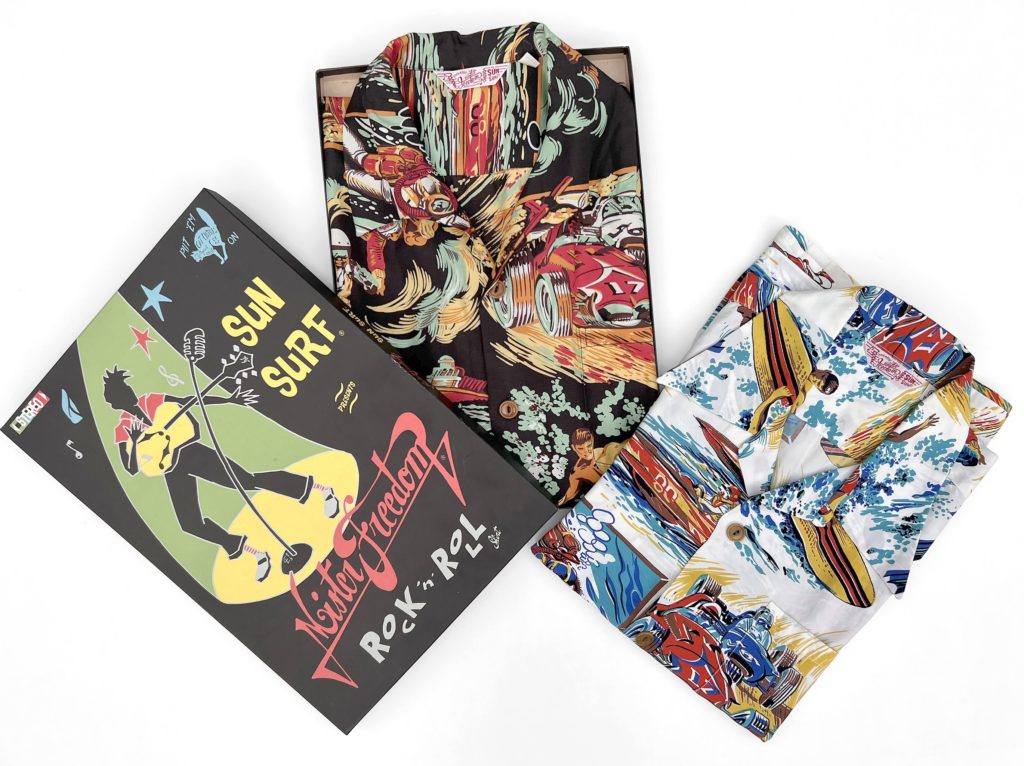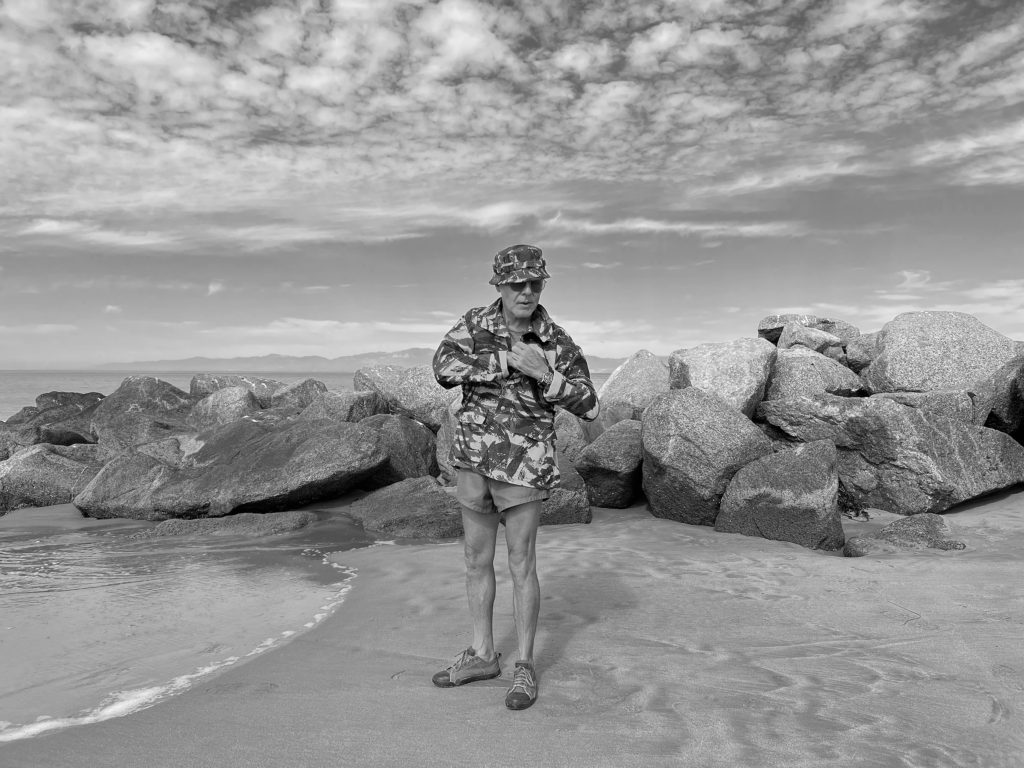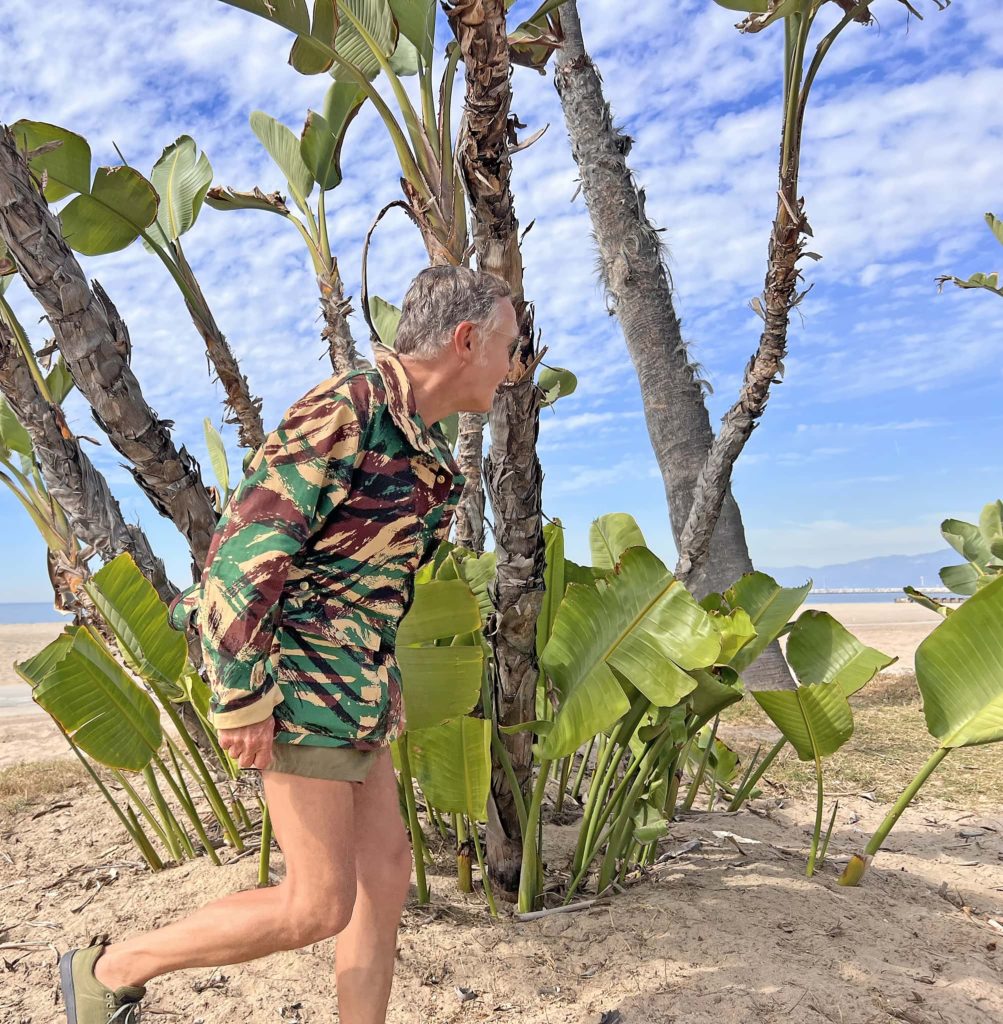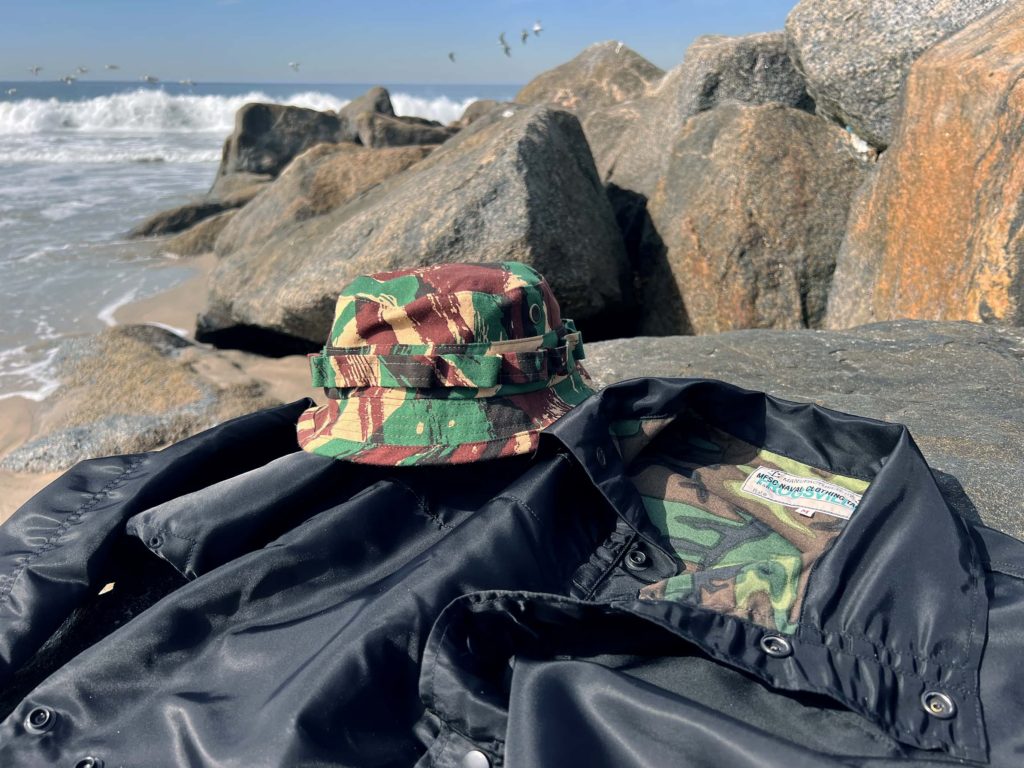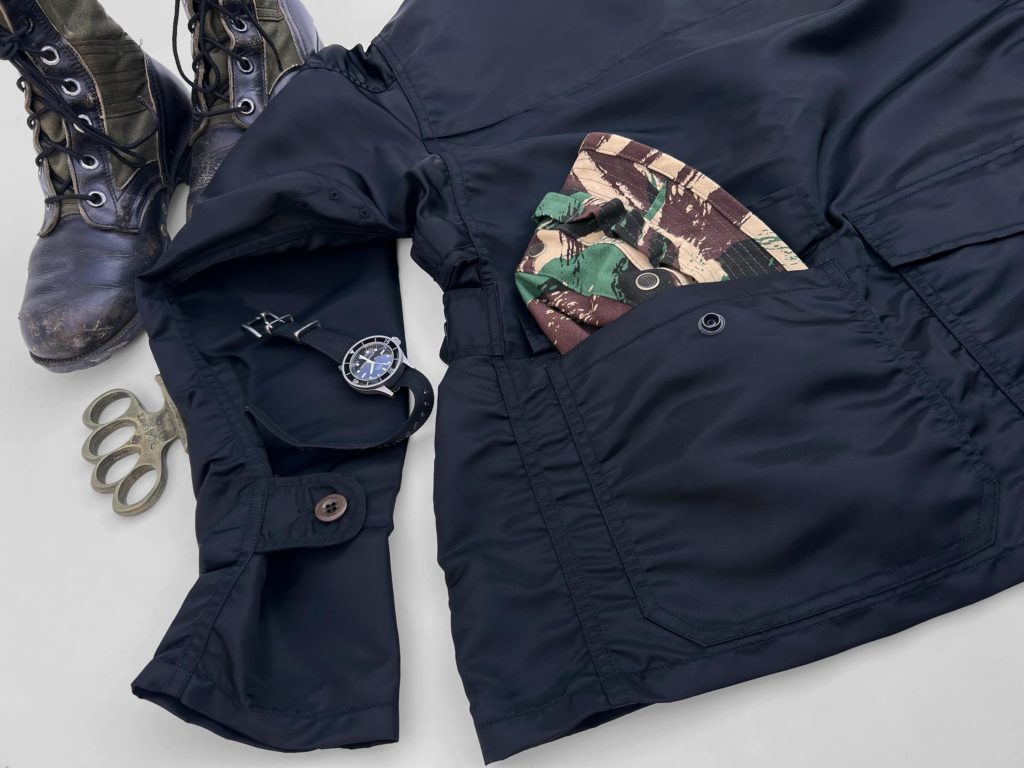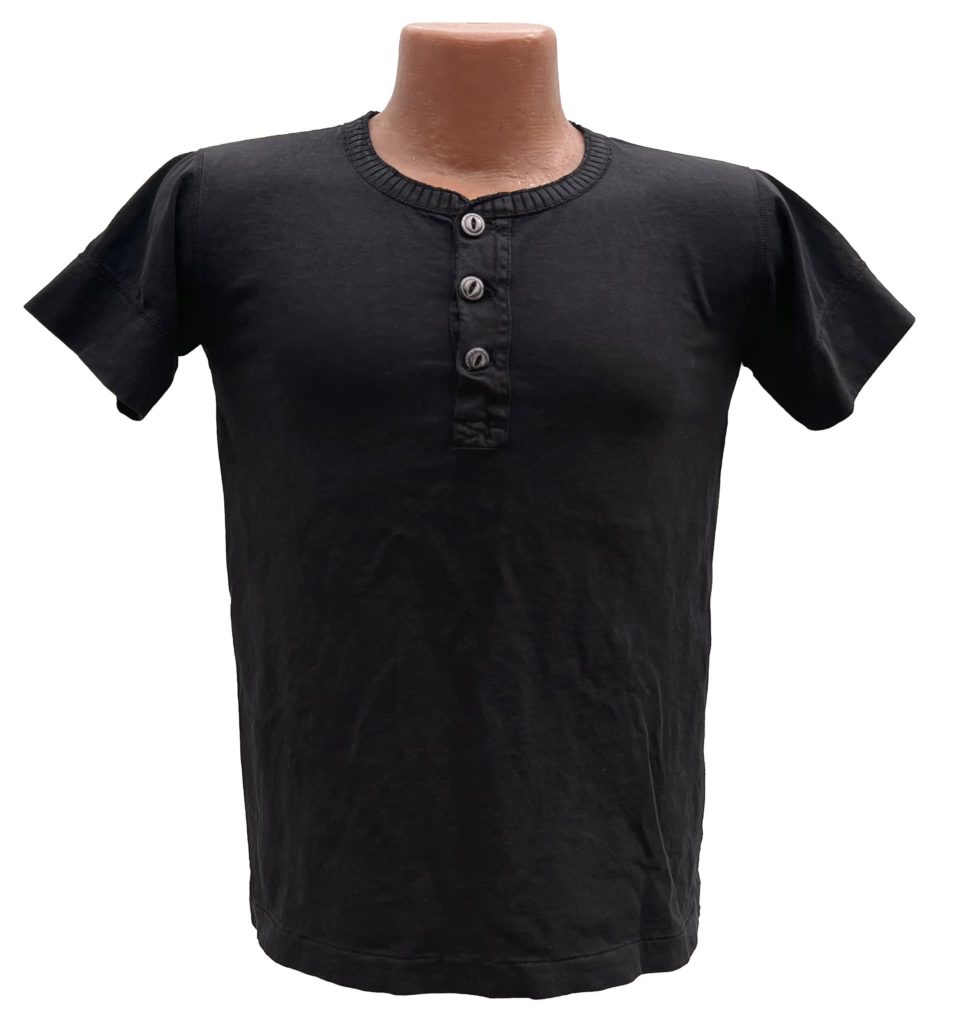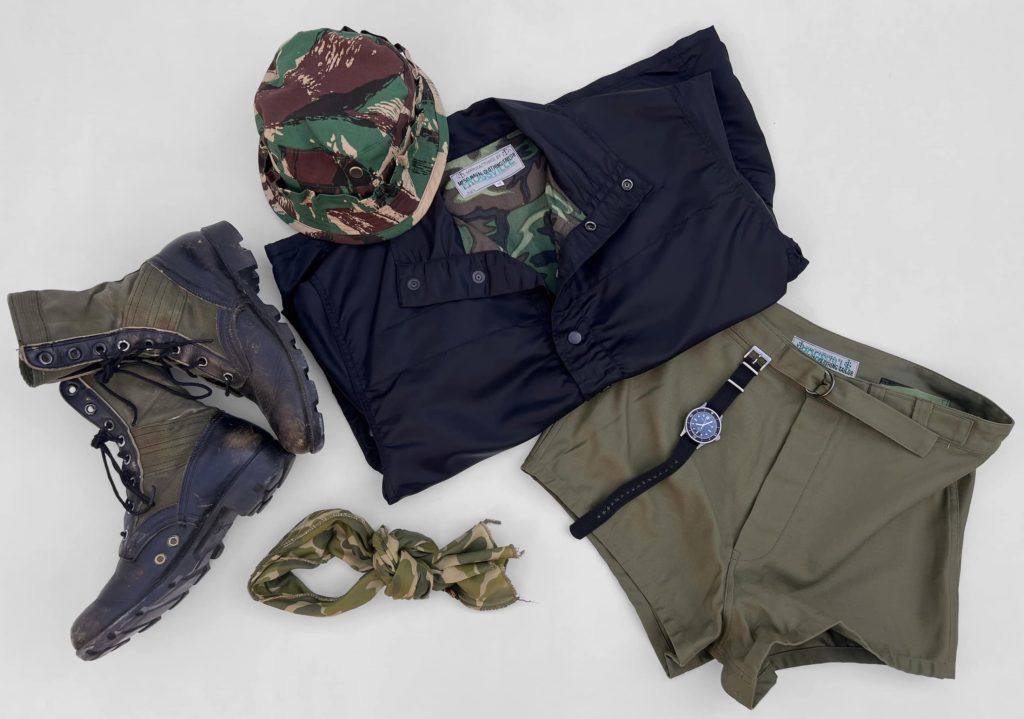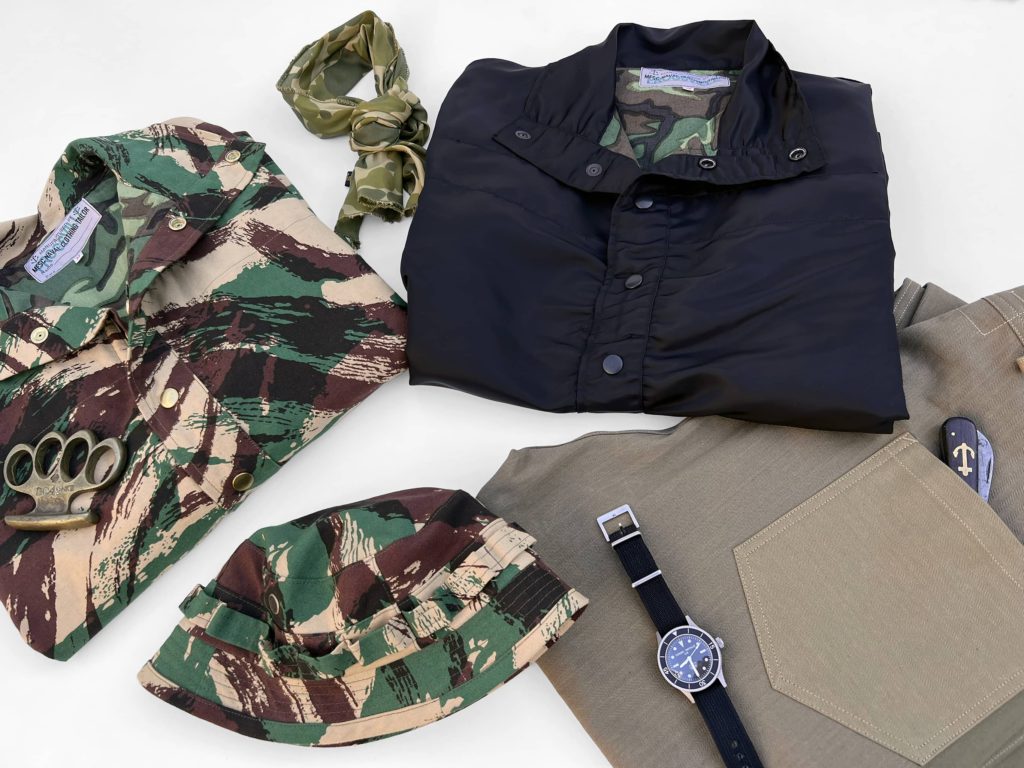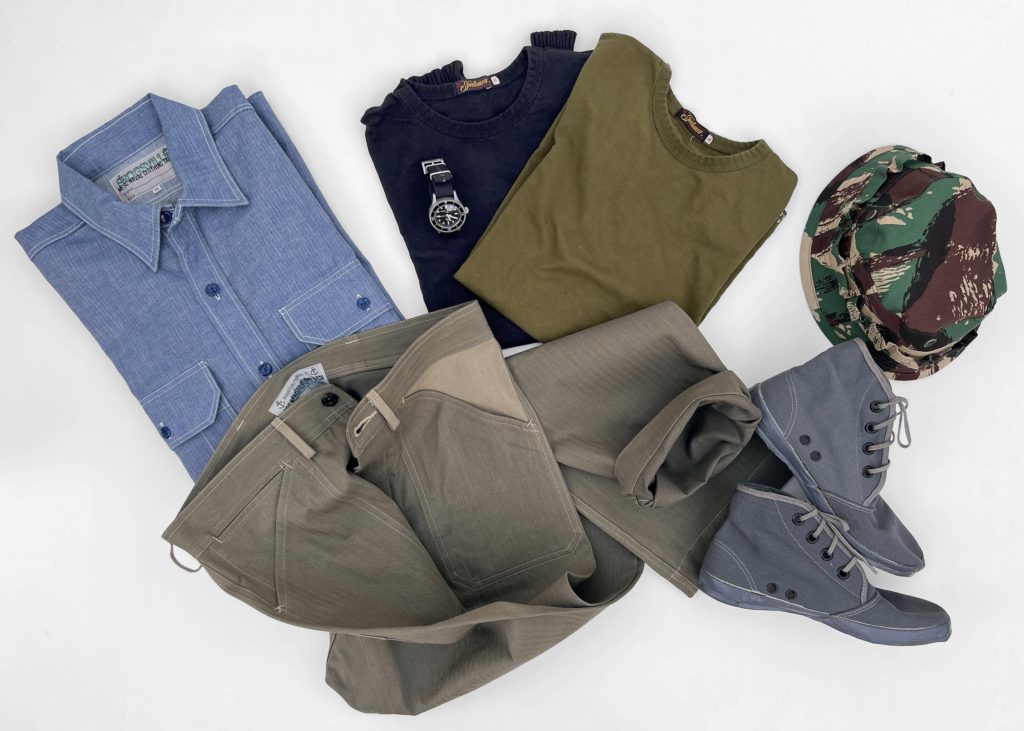 Mister Freedom® x SugarCane Co SS2023 Sportsman catalog additions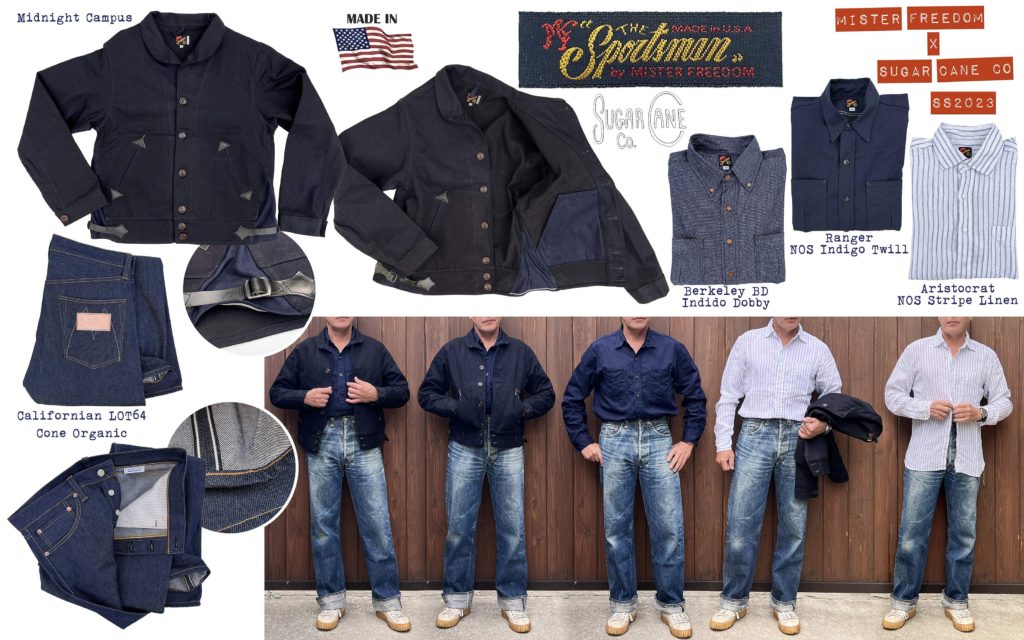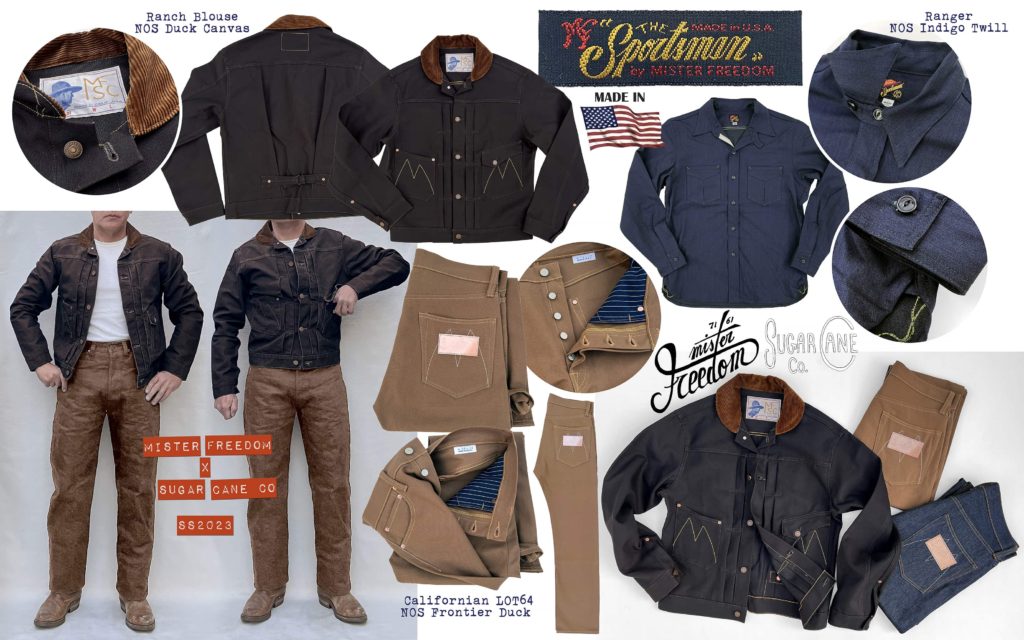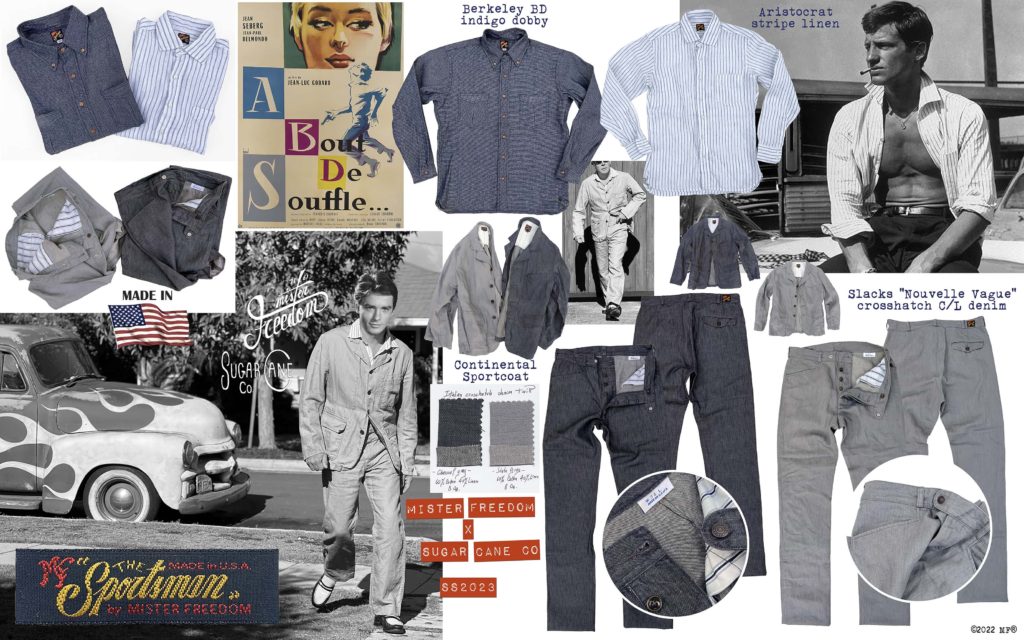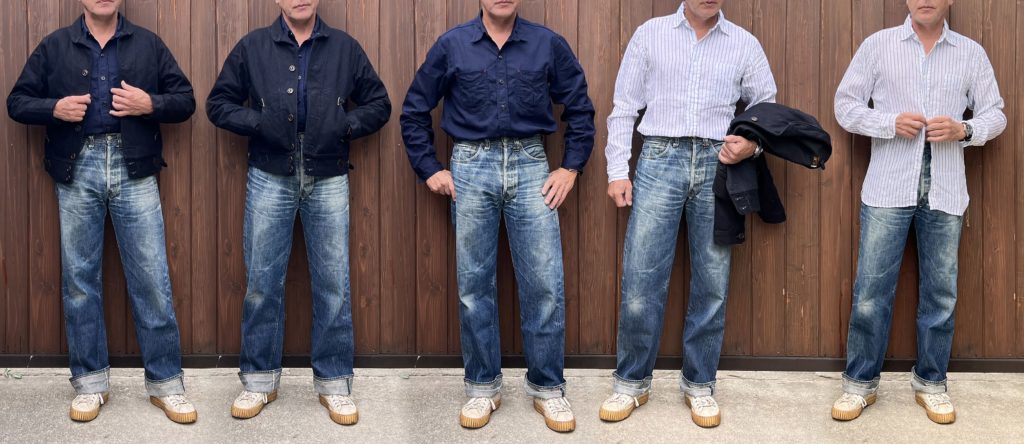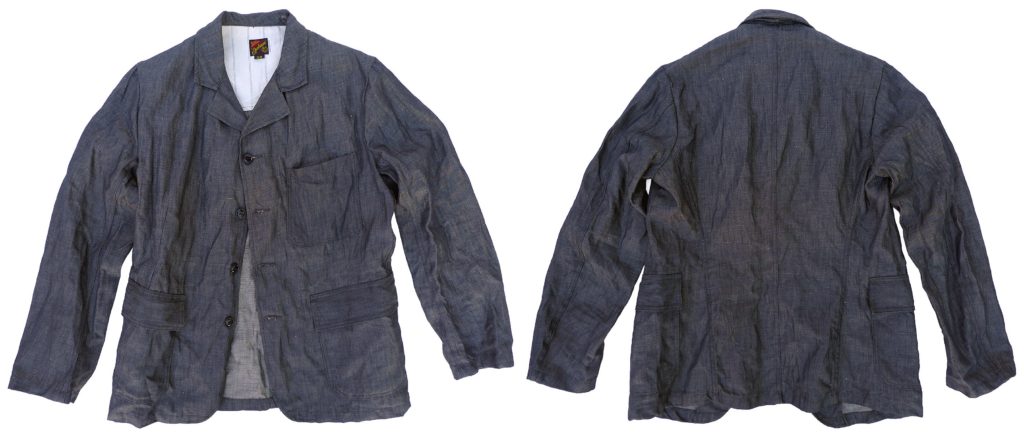 Mister Freedom® x Sugar Cane Co mfsc SS2023 Preview:

Dear Friends,
Hope this finds you well, healthy, and in good spirits.
Here is a preview of our Mister Freedom® x Sugar Cane (mfsc) SS2023 collaboration, for your consideration. Two main groupings this season, "FROGSVILLE x SAIGON CLASSIFIED" made in Japan, and "SPORTSMAN" made in USA.
This first grouping blends two familiar original Mister Freedom® concepts, FROGSVILLE and Saigon Cowboy.
Our FROGSVILLE saga is an original stylistic venture freely inspired by Vietnam-era US combat diver imagery, military rigger-made garments and period custom local tailor-made clothes, all thrown in the Mister Freedom® blender, where we translate 1940s-1970s references and vintage influences into modern day wearables.
This season, we are bringing in some 1950s French Indochina vibe from Saigon Cowboy to the Frogsville mix, and even adding a covert operation MACV-SOG twist!
For those into Military History, intel on that "twist" – i.e. the secret war happening "across the fence" in South East Asia (1964-1972) – was eventually declassified in the 1980s, and the existence and deeds of SOG unveiled. With the sworn-to-secrecy agreements signed by all SOG members lifted, testimonies of survivors (casualty rate was known to be "100%") and proper official acknowledgment of the heroic actions of those units was finally possible. SOG stories even made it to the video game market…
So, grab the popcorn, click here, here, or here, …, and enjoy the rabbit hole.
For facts and visuals, check out author John Plaster's books, and collector Jason Hardy's series of well-documented printed photo essays, in coffee table book format.
As per MF® SOP, no replicas for us in this SS2023 line up, just (re)imagined garments that "might have been", with the usual grain of salt and design liberties we like to take with the past. Each pieces is easily workable into any classic wardrobe.
This SS2023 chapter of "FROGSVILLE x SAIGON Classified" consists of:
1) ONE-ZERO Smock (Japan):
Inspiration:
Taking design cues from One-Zero jackets, as worn by SOG (Studies and Observations Group) Team leaders (1-0) in Vietnam (= "across the fence", ie Cambodia and Laos, where the US was not supposed to run ops.) Initially designed as sterile (= unlabeled and unidentifiable) black nylon rain jackets for operations, they were deemed too noisy in the bush and mostly worn around camp. For our "fictitious" version, and rather than using an (ultra rare) original or civilian windbreaker pattern, we heavily modified the pattern of a Belgium Paratrooper 1955 jump smock and combined it with what a 1-0 jacket could have looked like.
Fabric options:
a) Lizard camo, printed canvas fabric, 100% cotton.
Note: This is our mfsc interpretation of the classic French TAP47 "Lizard" camouflage (aka "Lézzard" , "Lézard" or "Léopard" as the French confusingly call it), popular during the 1950s Algerian War as the camo of choice for French Paratroopers (TAP = Troupes Aéro Portées).
Introduced in Sept. 1950 and inspired by WW2 field-tested British Denison smock camouflage (source: "Paras Français Algérie 1954-1962", Histoire & Collection ISBN: 978-2-35250-164-0), many different versions of the Lizard exist, not unlike its Tiger Stripes American successor.
We opted for the TAP47 pattern (tan/khaki background with green and brown horizontal brush strokes, adapted for tropical theater as opposed to the darker/greener version of the European ETO), as used for M51-M56 tents.
Our source fabric was a genuine vintage NOS French M1956 canvas quarter-shelter tent.
b) Black nylon, BR (Buzz Rickson's) vintage Mil-Specs grade.
2) BOONIE Hat "Stingy" brim (Japan):
Inspiration:
In-country made bush hat, using left over fabric recycled for used uniforms and gear (tiger stripes, ERDL etc), as worn by elite Special Forces in Vietnam. SOG Teams would often train off the regulation wide-brim jungle hats, in order to have a better peripheral vision on covert ops in the bush.
Fabric:
Lizard camo.
3) SCUBA Trunks (Japan):
Inspiration:
Our classic UDT swim shorts revisited pattern, rigger-made.
Added inside pocket for practicality. Non-regulation issue, in-country style.
Fabric options:
a) Lizard camo.
b) OG-107 sateen, 100% cotton.
c) SC "Okinawa" Denim, selvedge, 11 Oz.
4) SNIPES Shirt (Japan):
Inspiration:
Special release of our N-3 shirt inspired pattern. Non-regulation issue, in-country style.
Fabric:
Indigo HBT denim.
5) SWABBIES, Modified (Japan):
Inspiration:
Straight leg version of the SS2021 Swabbies, top block pattern inspired by a private purchase pair of 1940s-50s USN dungarees. Non-regulation issue, in-country style.
Fabric:
Khaki HBT, sulfur dyed, subtle contrast color combo accents, 100% cotton.
6) RnR Shirt, Action Packed, Type II (Japan):
Inspiration:
Modified collar pattern of our original MF® x Sun Surf Rock'n'Roll Shirt from 2015. Using the classic wing tip collar pattern typical of our recent RnR shirts.
This works in our story as a civilian garment worn on R&R (Rest & Recuperation) by military personnel. It is documented that some SOG team members favored wearing "loud" shirts while on leave during their tour of duty in Southeast Asia. (if I remember well, source: "We Few: US Special Forces in Vietnam" by Nick Brokhausen)
Fabric options:
Classic vintage "Aloha shirt" style 100% rayon fabric, vintage "Action Packed" novelty print.
a) White.
b) Black.
7) Crew Chief, Jungle Green & Black (USA):
Inspiration:
Our popular skivvy shirt with long sleeves, 100% cotton tubular jersey, and featuring flack lock construction, making a return in two new color options.
Color options:
a) Jungle green
b) Black
8) PT Henley, Jungle Green & Black (USA):
Inspiration:
Our classic henley undershirt pattern, featuring 100% cotton "skivvy" tubular jersey and original flack lock construction, now available in new color options.
Color options:
a) Jungle green
b) Black
There it is.
Next up is our SS2023 Sportsman line up, all produced in USA.
Besides the usual classic vintage-inspired workwear and rugged Americana additions, the design twist on the more dressy pieces this season is a reference to French "Nouvelle Vague" cinema and period 1960s European continental fashion, worked into contemporary wearables. Think Belmondo in Pierrot Le Fou (1965), or Delon in Plein Soleil (1960), early 60s French Riviera etc.
The SS2023 Sportsman line up consists of:
1) "Midnight" Campus Jacket:
Our classic 1930s style leather jacket pattern translated into a woven fabric garment.
Fabric:
16 oz "Midnight denim", selvedge, indigo warp x black weft, milled in Japan
2) CALIFORNIAN Lot.64, NOS Cone denim:
Our popular old school five-pocket silhouette.
Fabric:
Indigo denim, New Old Stock Cone Mills denim, organic cotton, 12.75 oz, USA.
3) RANCH BLOUSE "Frontier" Duck:
Our classic Type I denim jacket-inspired interpretation.
Fabric:
Duck canvas, dark brown, 100% cotton, 12 oz., USA.
4) CALIFORNIAN Lot.64, "Frontier" Duck:
Our popular old school five-pocket silhouette, and a nod to 1960s brown duck Lee® Riders.
Fabric:
Duck canvas, rust brown, 100% cotton, 12 oz., USA.
5) RANGER Shirt, double indigo twill:
Our original 1930s style traditional workwear chin strap shirt pattern.
Fabric:
Double indigo twill, NOS Cone Mills, 7 oz., 100% cotton, USA.
6) SLACKS "Nouvelle Vague", color denim:
Inspired by European casual 1950s-60s fashion, with period French cinema references. Merging slacks and denim. Frogmouth front pockets and snap button waistband.
Fabric options:
NOS color denim, slubby crosshatch, 60% cotton x 40% linen, 8 oz., Italy.
a) Slate grey
b) Charcoal grey
7) CONTINENTAL Sportcoat, color denim:
Our staple unstructured sportcoat pattern, a versatile jacket inspired by French 1950s utilitarian work uniforms and period casual fashion.
Introduced in 2016, we are running a limited restock to match the Nouvelle Vague Slacks, adding an easy-to-wear two-piece suit option.
Fabric options:
NOS color denim, slubby crosshatch, 60% cotton x 40% linen, 8 oz., Italy.
a) Slate grey
b) Charcoal grey
8) ARISTOCRAT Shirt, double indigo twill:
Our original dress shirt pattern, elegant yet casual.
Fabric:
NOS woven stripe, light weight & breezy, 100% linen, Italy.
9) BERKELEY BD Shirt, L/S, indigo dobby:
Our classic early 60s-inspired pull-over Berkeley shirt pattern, long sleeve, morphed into a full open-front shirt.
Fabric:
NOS dobby indigo, slubby horizontal ribs, origin unknown.
Our original SS2023 "FROGSVILLE x SAIGON Classified" mfsc collection and SPORTSMAN line up are designed in California by Mister Freedom® and exclusively manufactured in Japan and USA in collaboration with Sugar Cane Co, in limited quantities.
Please note that the lookbook/preview features show samples, not necessarily reflecting quality/fit/details/labeling of the upcoming production.
Voila!
As always, besides the classic vintage style references, the common thread in all these original garments is the Mister Freedom® on-going commitment to ethical manufacturing, original designs, and resistance to fast fashion, with styles that will easily incorporate into one's existing classic wardrobe.
I have said this before, but I know that you, as a "consumer", have many options in selecting menswear apparel to match your aesthetics, ethics, and price point.
We are therefore particularly grateful to the discerning few who have chosen to give our humble Mister Freedom® x Sugar Cane collaborations support through the years (2007!), sharing our passion and making us look good in your slice of the world.
Thank you very much for allowing us to continue doing what we like for all these years, without compromising to lower standards and fleeting fashion trends.
Love from (usually) Sunny California,
c
Soon available from www.misterfreedom.com, our Los Angeles red brick HQ, and fine retailers around the World.
Email sales@misterfreedom.com or call 323-653-2014 with any questions unanswered above.
Thank you for your support,
Christophe Loiron
Mister Freedom®
©2023
Comments
comments