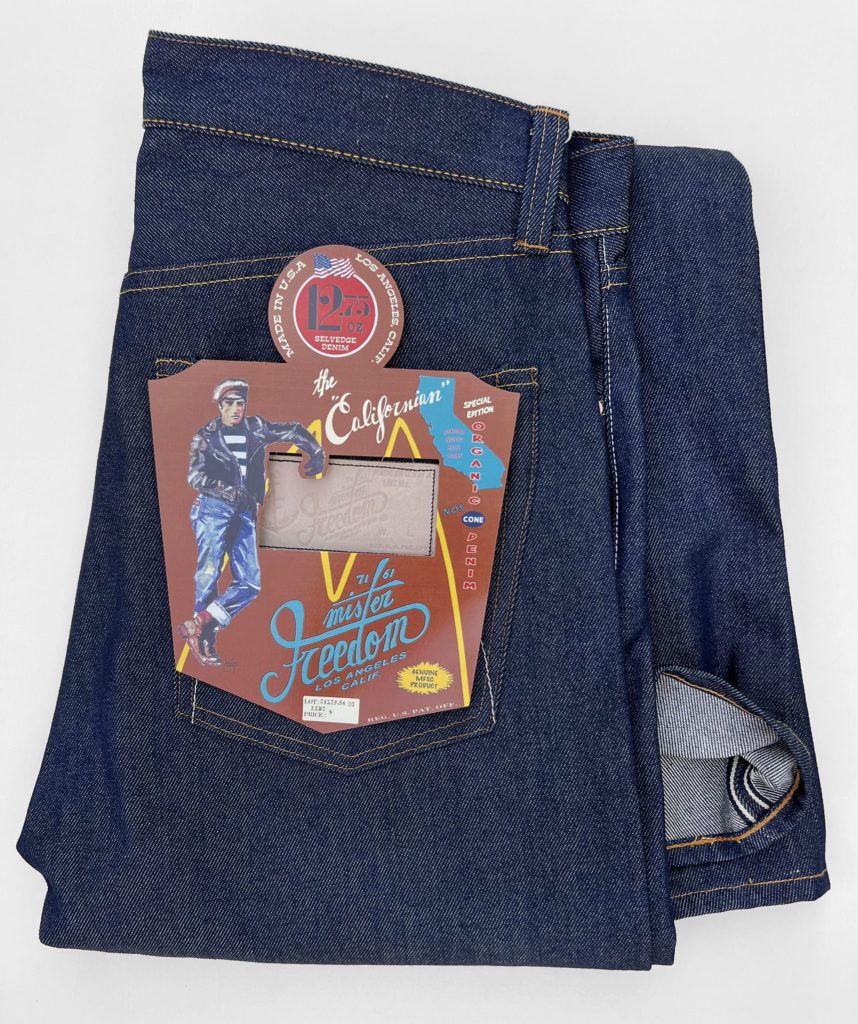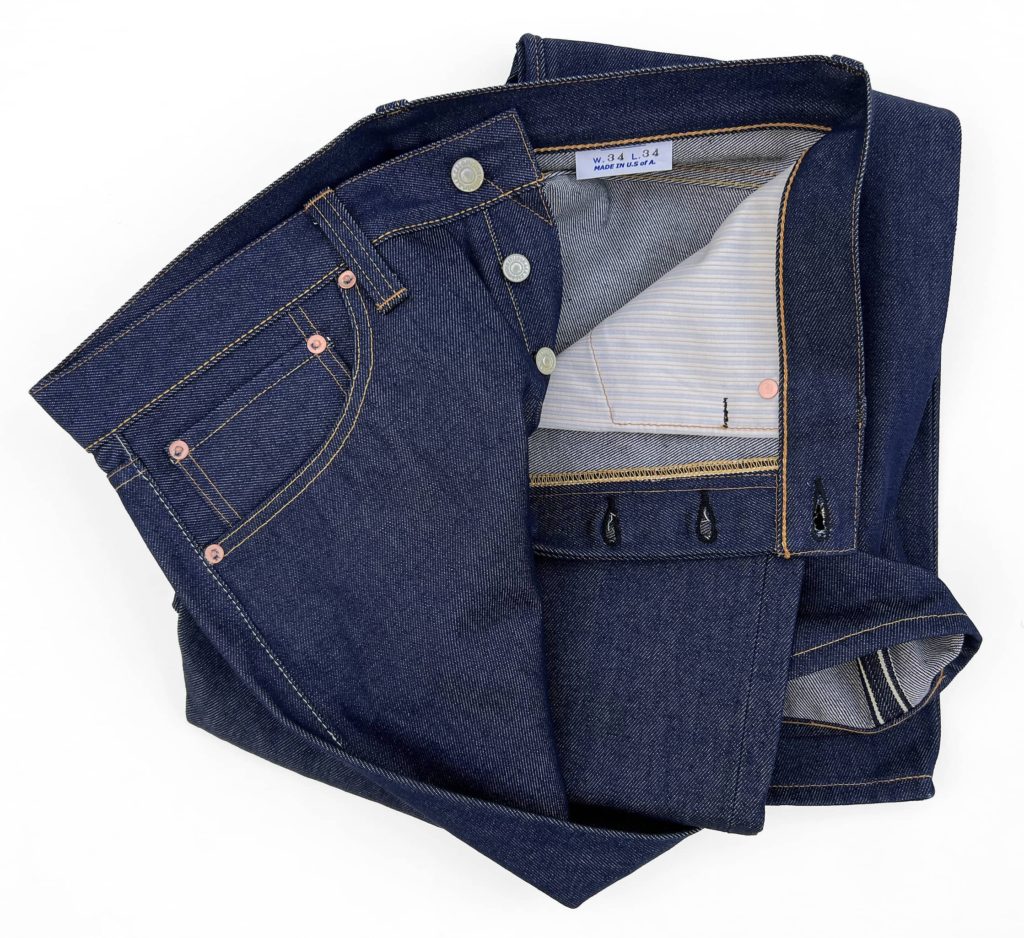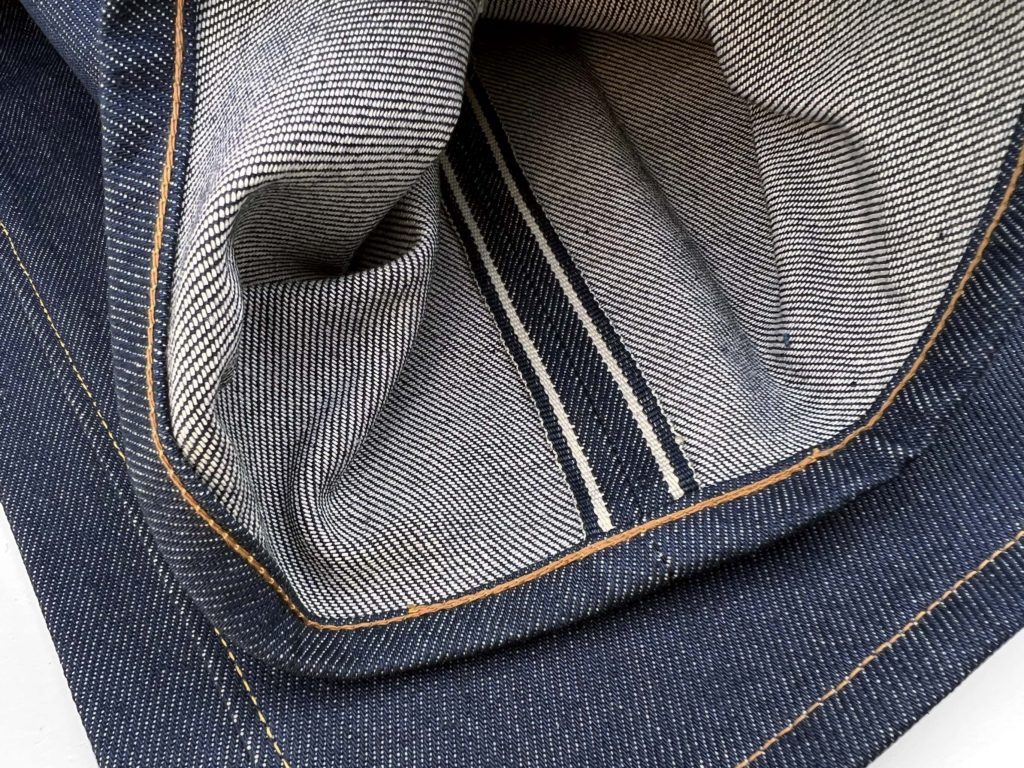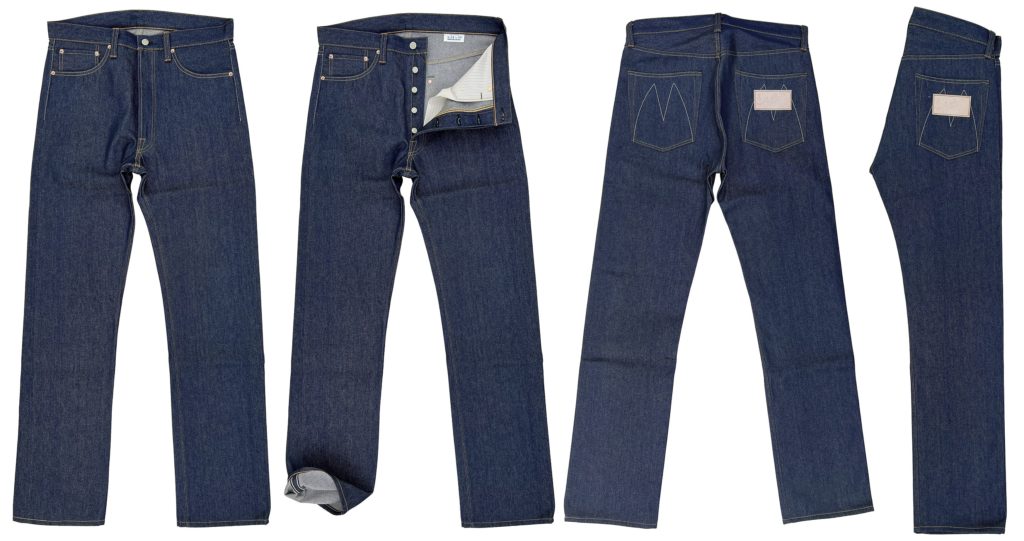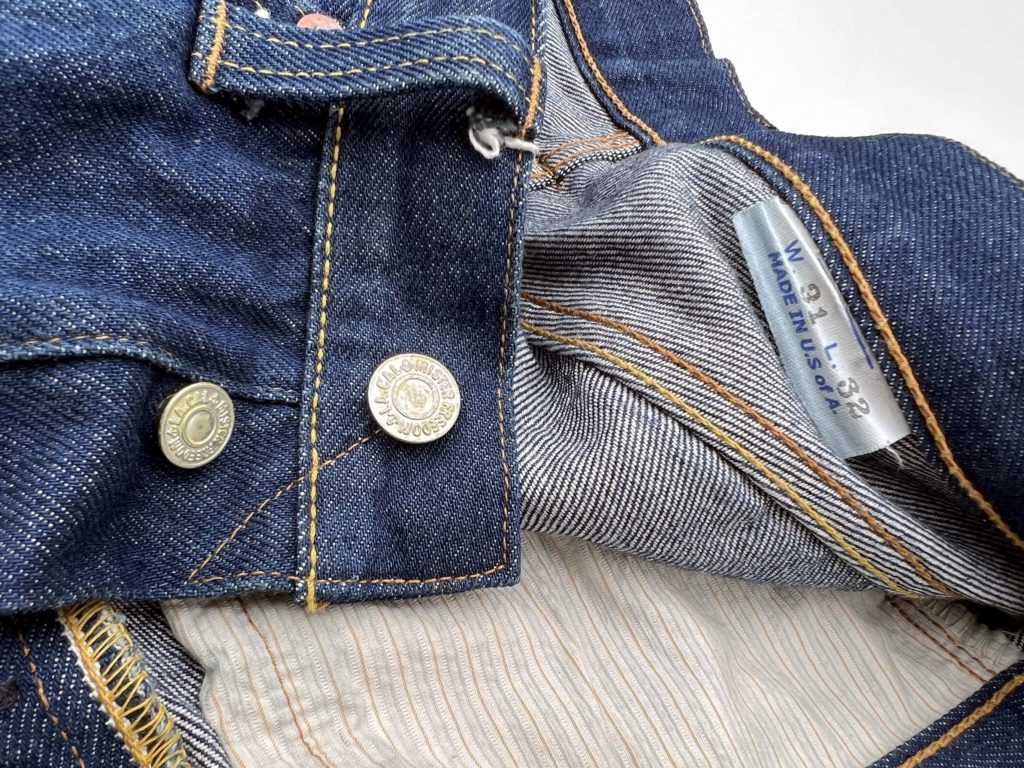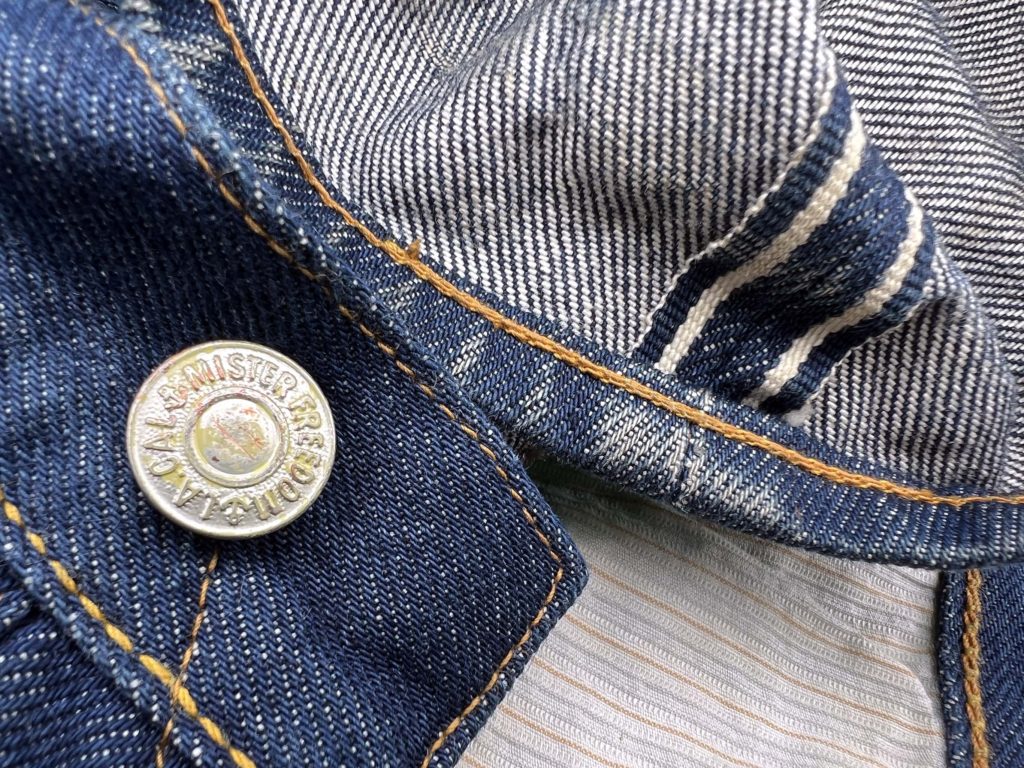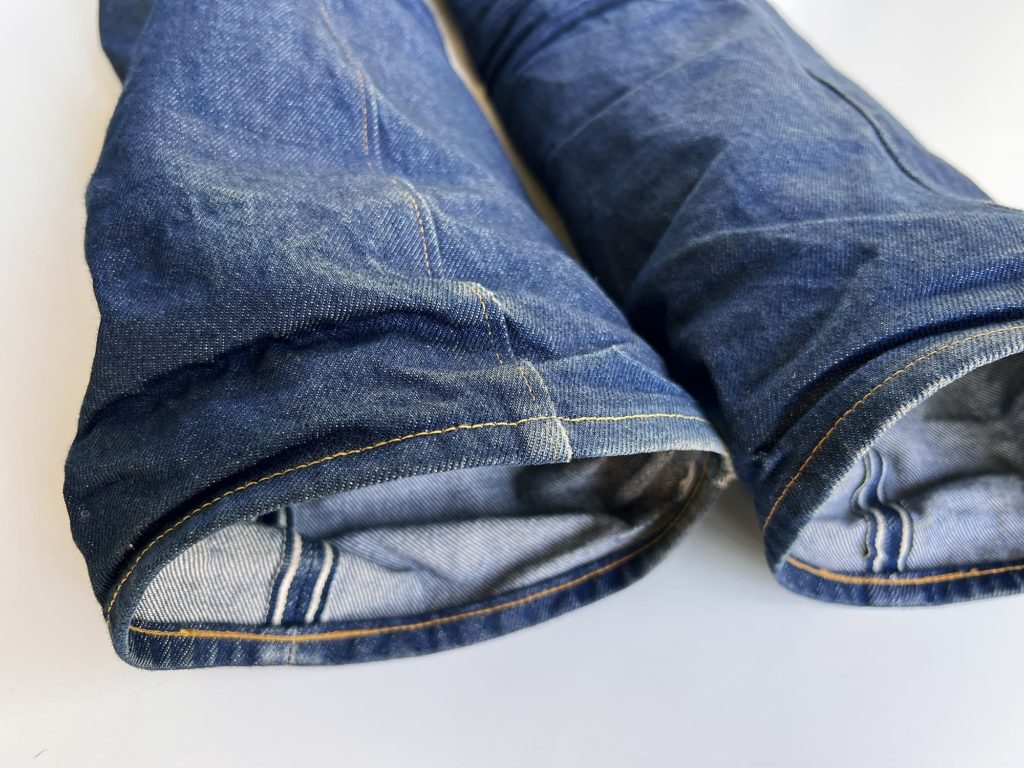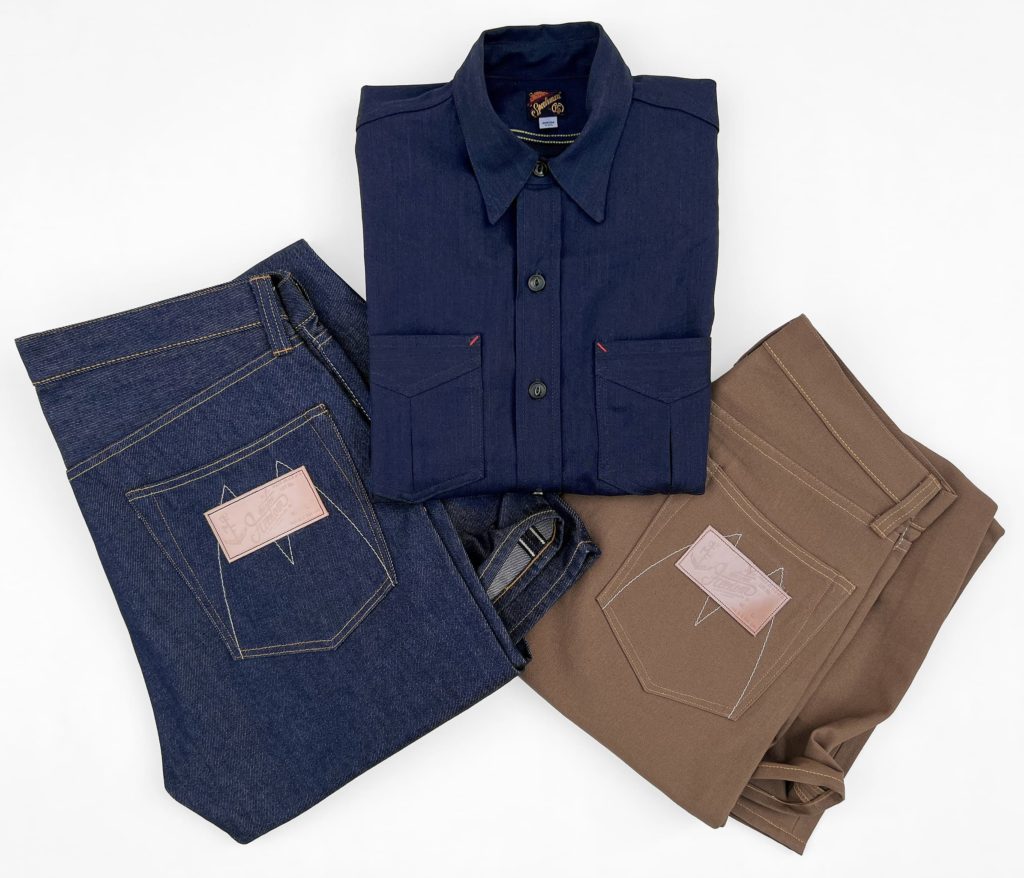 Mister Freedom® CALIFORNIAN Lot64 OG23, NOS Cone Mills 12.75 Oz. organic selvedge denim.
mfsc SS2023 Sportsman catalog.
Made in USA.
The MF® Californian LOT64 OG23 blue jeans, "NOS Cone Mills organic denim" edition, are designed and manufactured in California by Mister Freedom®, in collaboration with Sugar Cane Co.
SPECS:
PATTERN:
Inspired by vintage 1950s-1960s era five-pocket blue jeans. Our LOT64 cut features a traditional fit, classic rise, with a slightly tapered leg for a 50s-60s vibe.
FABRIC:
New Old Stock (NOS) Cone Mills organic denim, 12.75 Oz., white/indigo stripe selvedge ID.
Pocketing: Fancy NOS dobby stripe woven fabric, subtle combo of grayish blue and gold stripes on an off-white background, 100% cotton. Probable Italian mill origin.
DETAILS:
* Classic vintage five-pocket blue jeans pattern.
* Button fly, original MF®-branded 'silver' tack buttons.
* Selvedge leg outseam.
* Selvedge ID is actual indigo!
* Fancy NOS fabric pocketing.
* MF® original white "M" stitch design on rear pockets.
* Natural cowhide leather MF®-branded patch on rear pocket. Will patinate with age.
* Twelve types of 100% cotton threads used for construction (gauge and color combination.) Main colors are yellow and orange.
* Coin pocket with concealed selvedge.
* Selvedge button hole fly placket.
* Hidden back pocket reinforcement rivets, with top pocket bar-tack stitching.
* Unmarked copper riveting for pocket reinforcement.
* Original MF® paper pocket flasher (brown).
* Made in USA.
SIZING/FIT:
The Californian LOT64 OG23 blue jeans come UN-WASHED and are cut so that actual measurements match the labeling AFTER an initial cold soak/line dry. We recommend the usual protocol before wearing:
Cold soak for about 30-40mn, with occasional hand agitation.

Machine spin dry and line dry.

Wear briefly before fully-dry to shape and set creases, then hang until fully dry.
These Lot64 OG23 are considered true-to-size, with somewhat of a generous fit.
A tagged W32 will most-likely be the right size for an individual with an approximate measured waist of +/- 32 inches, and with average body proportions. Note that your natural waist is a bit bellow belly button level, not bellow the hips.
I (5'7 ~145 Lbs.) opted for a W31 in these, for a very comfortable silhouette, and went un-hemmed and un-cuffed for "sloppy" period stacking for a change.
The size that will work best for you depends on how you like your jeans to fit. Please refer to size chart.
CARE:
Launder when needed.
We recommend turning indigo blue/denim garments inside out to avoid marbling during laundering. Machine wash, cold water, gentle cycle, eco-friendly mild detergent and line dry.
Please note that dark indigo might cause color transfer, and potentially "bleed" on light-colored garments, furniture, and skin. This indigo color "crocking" is temporary.
Potential attractive patina will develop according to one's activities, and frequency of wear/wash.
Available from www.misterfreedom.com, our Los Angeles brick & mortar store, and fine retailers around the World.
Email sales@misterfreedom.com or call 323-653-2014 with any questions unanswered above.
Thank you for your support.
Christophe Loiron
Mister Freedom®
©2023
Comments
comments