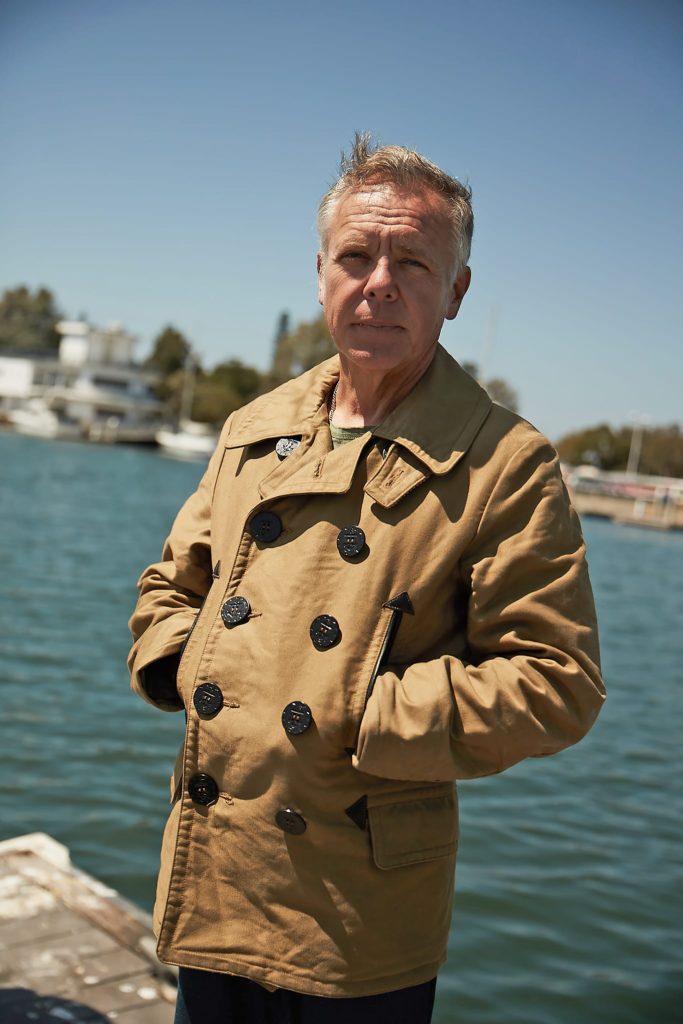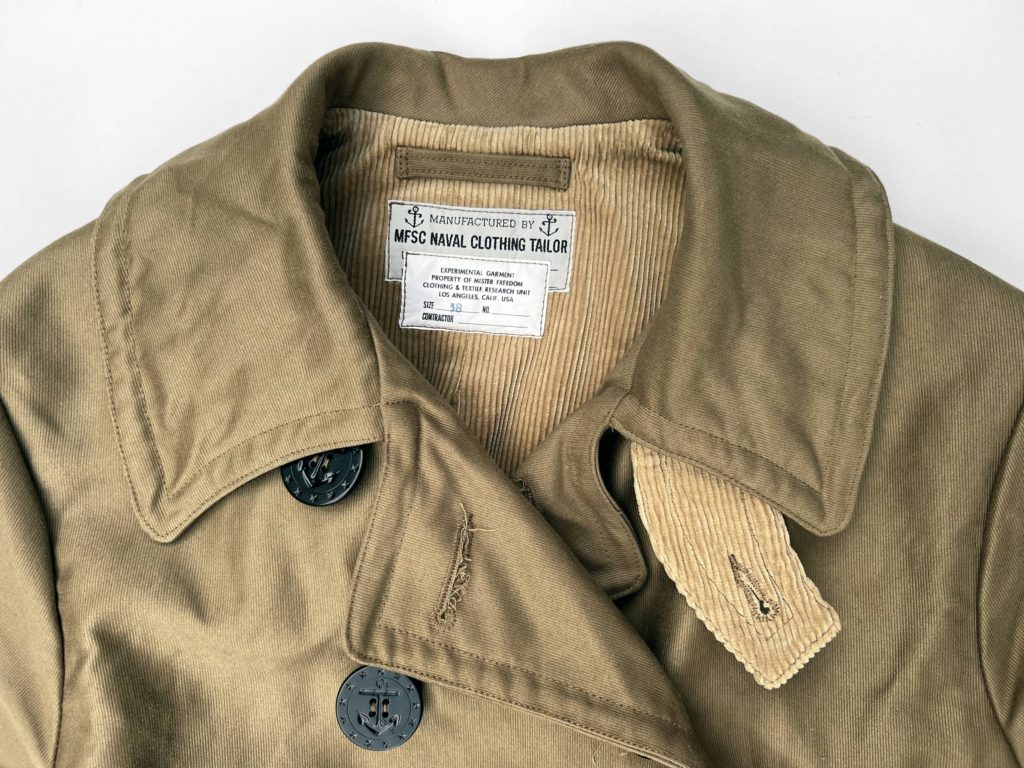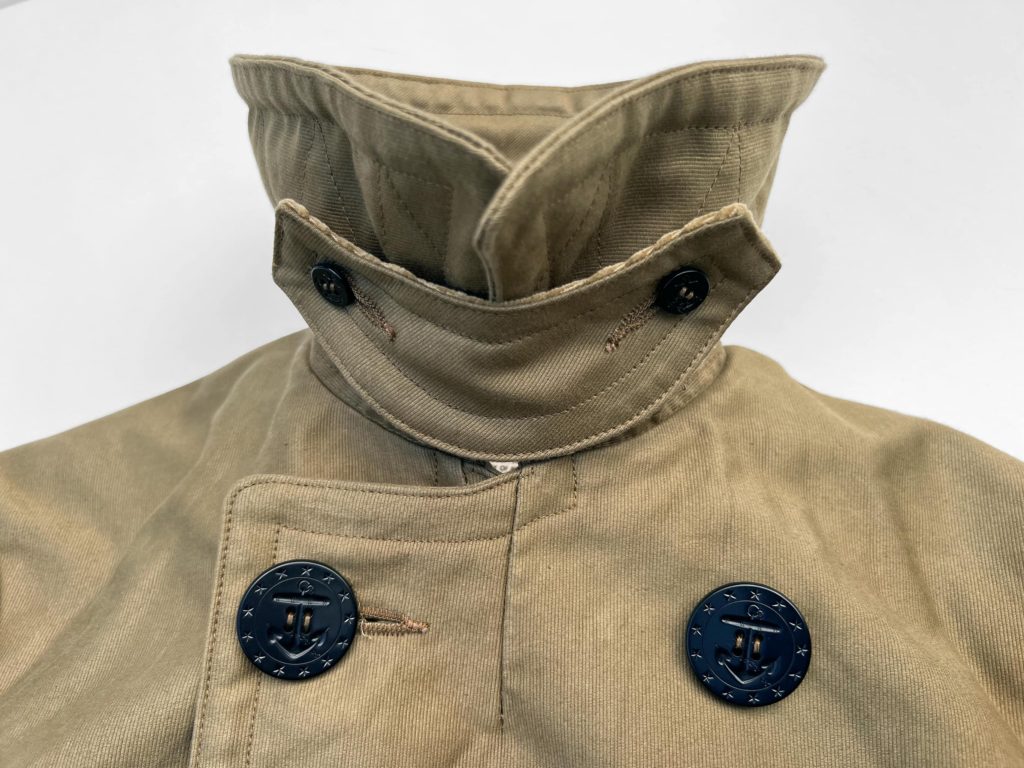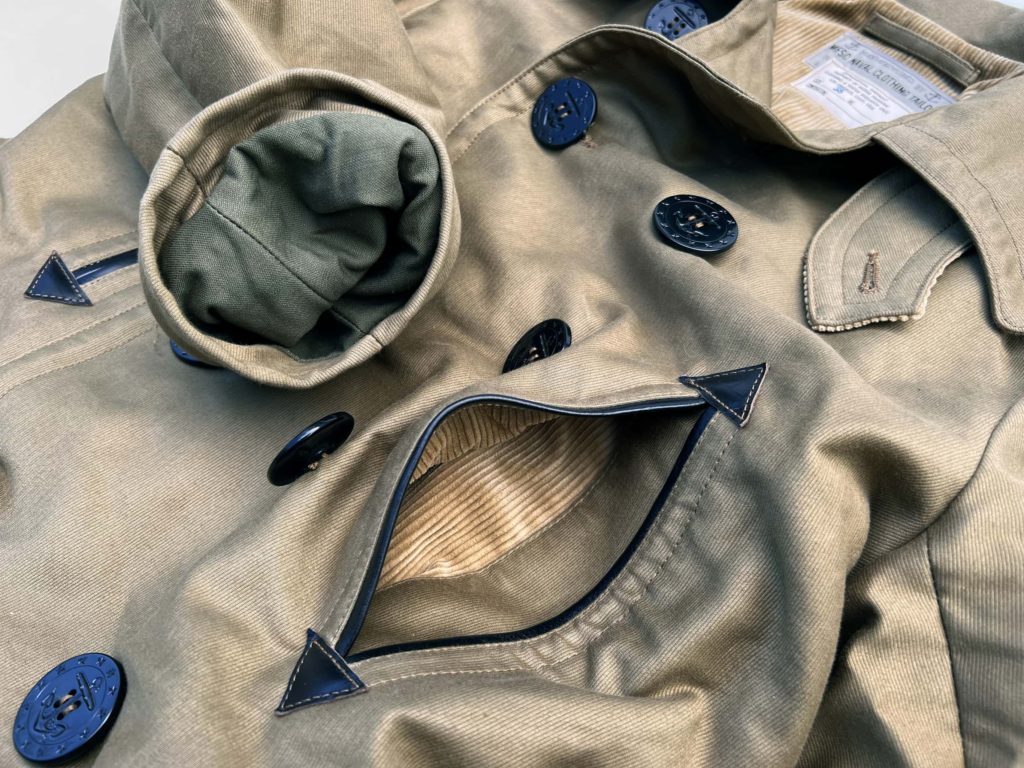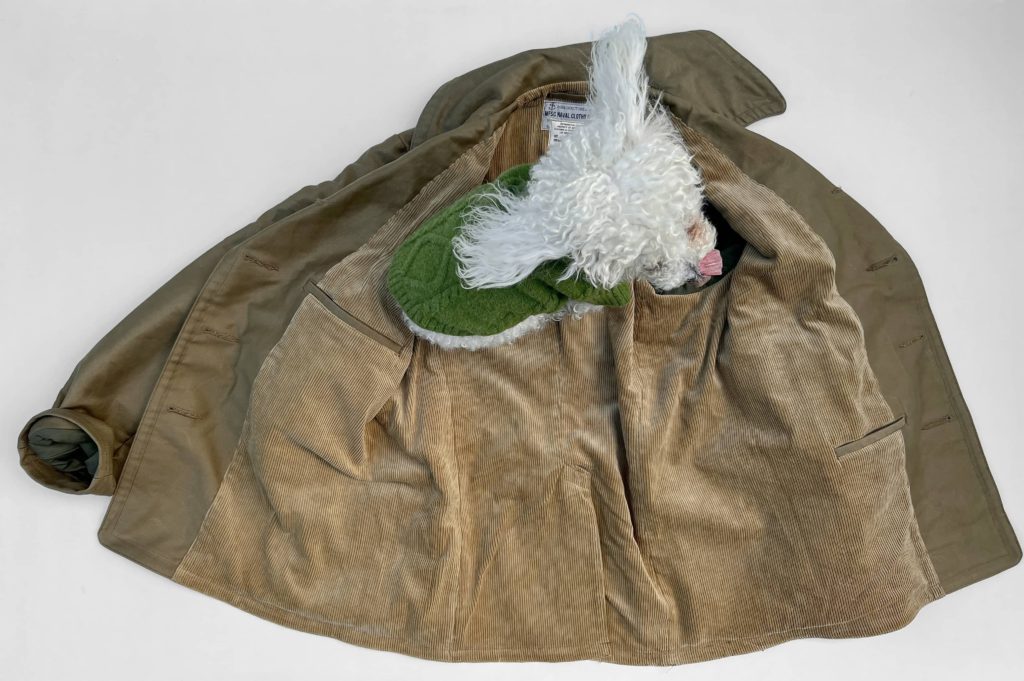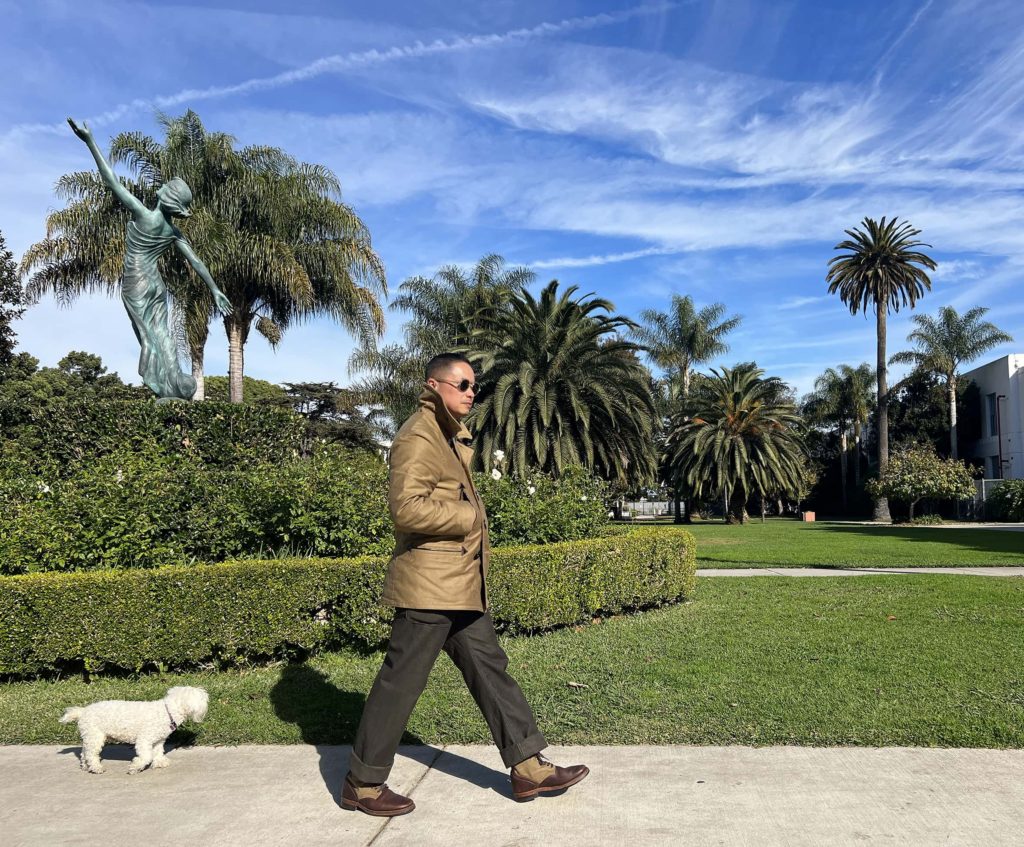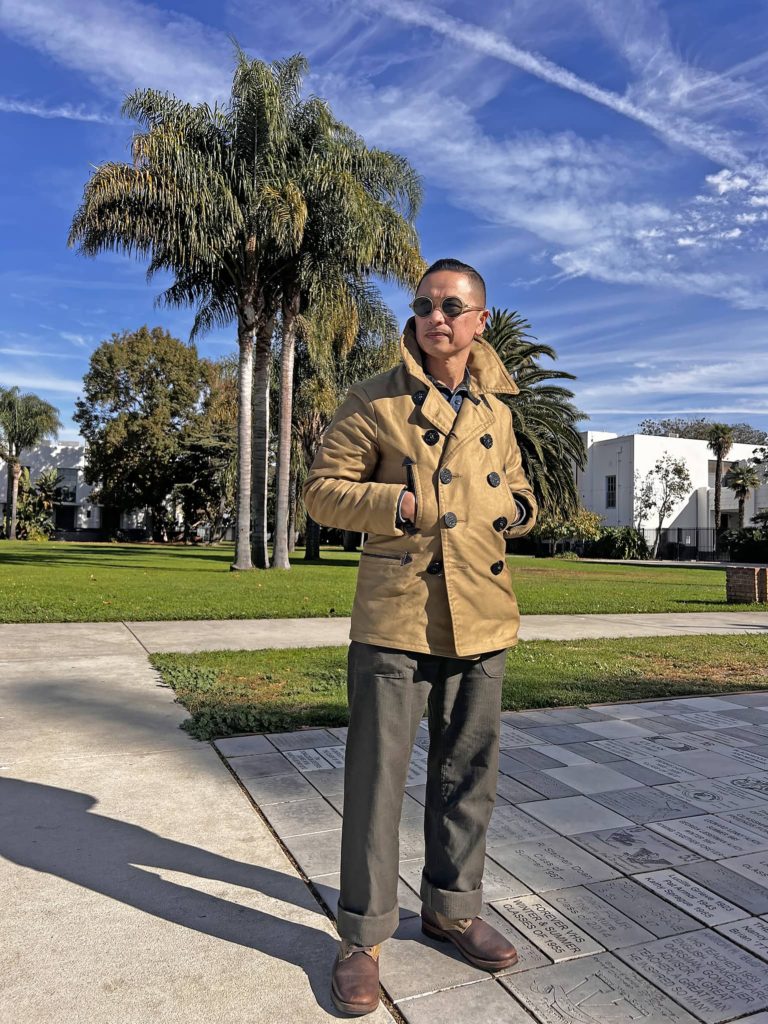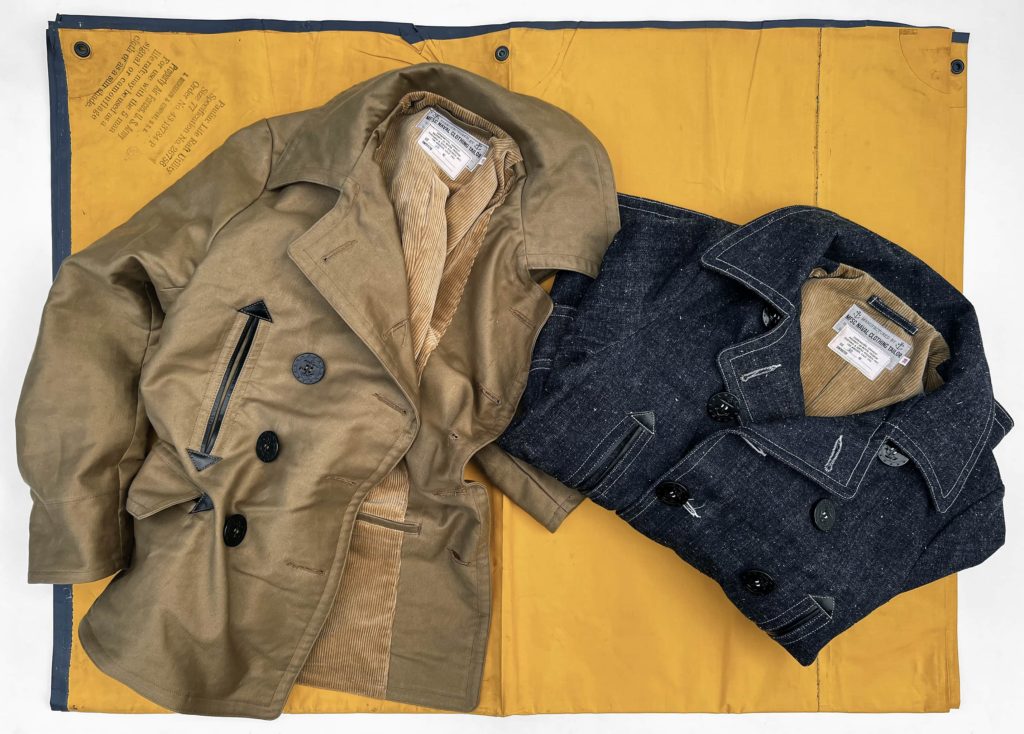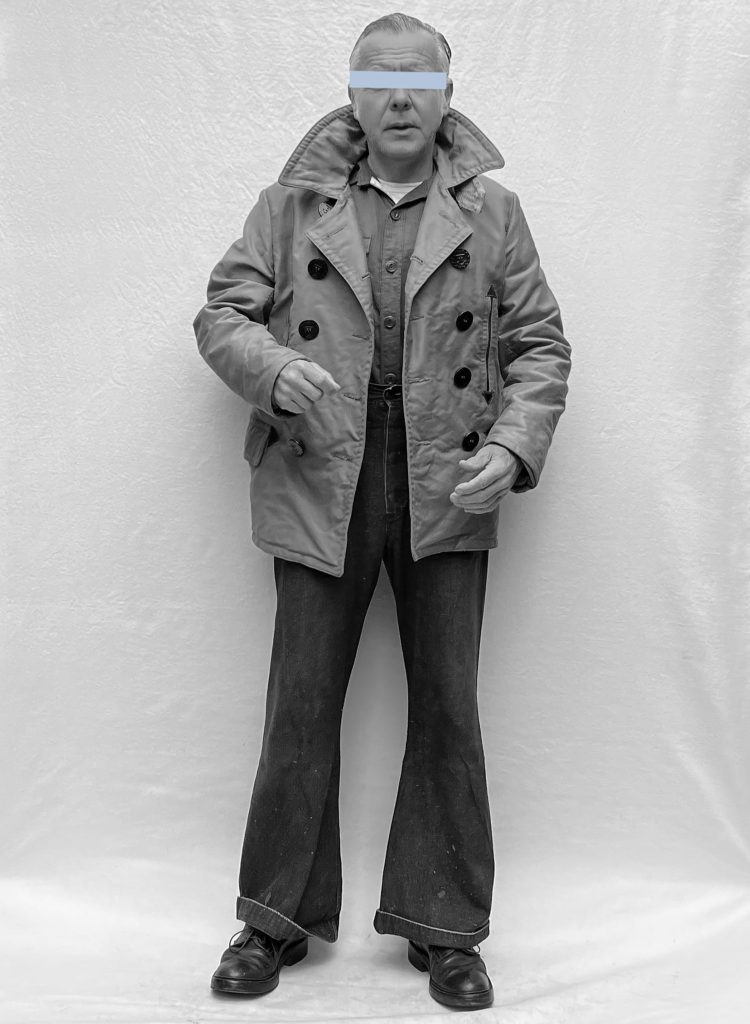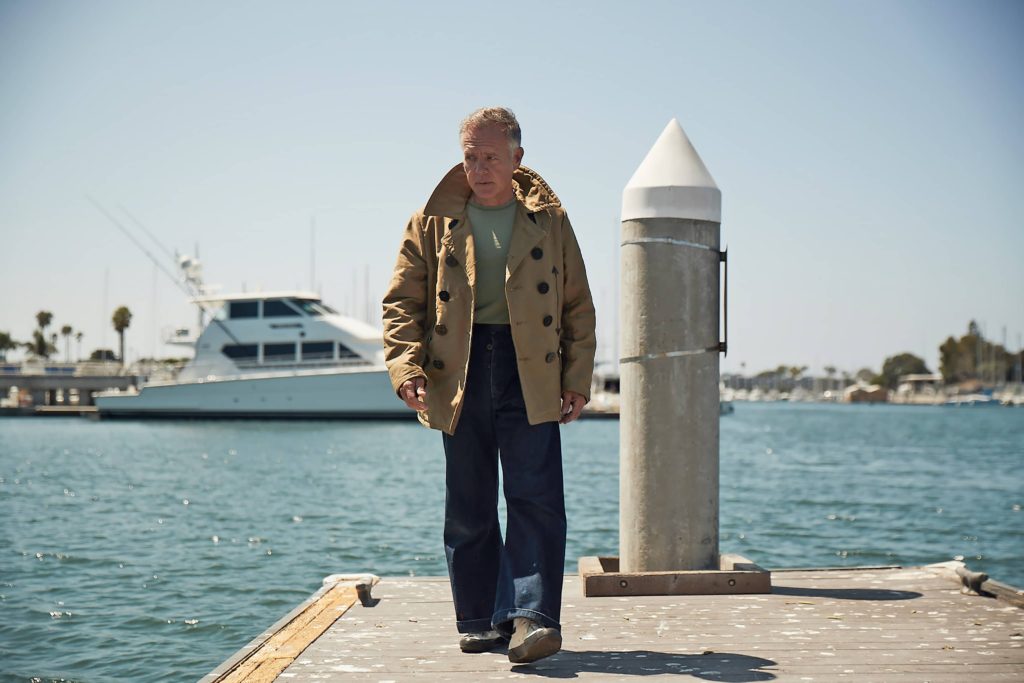 Mister Freedom® x Sugar Cane Co BARNSTORMER Jacket, "USN khaki" jungle cloth edition.
FW2023 mfsc "Survival School"
Made in Japan.
We have released quite a few peacoat styles through the years…
Our initial take on classic US Navy 10-button peacoats was the "Denim Deck Coat/P-Jacket" (mfsc 6284), back in Spring 2008.
The original pattern was adapted from a vintage US Coast Guard 1920s melton wool peacoat. That first issue was released in a sugarcane fiber denim shell (14 ½ Oz. "301" Okinawa denim), paired with an indigo/white striped cotton ticking lining. Going through old documents recently, I realized that in 2008, only 39 pieces were produced in Japan for the US market, and an unknown small amount for Japan. For the OGs who still have theirs, they're pretty rare! Mine sadly got stollen from a display years ago.
Followed a few variations on the same basic jacket pattern, all with new creative exotic names:
* Fall 2008: MF® Peacoat "Liberty Issue" (mfsc 6284MD), same "301" denim shell but with a wool navy blanket lining, and with a classic naval "Liberty" treatment (concealed rainbow stitching and mermaid patches.)
* Fall 2010: MF® "Midnight" P-Jacket, 16 Oz. "Midnight" twill (indigo warp x black weft), 10 Oz. indigo/white cotton pincheck lining.
* Fall 2015: MF® Caban Peacoat, indigo warp x black weft twill shell, HBT French Lizard camo lining.
* Fall 2016: MF® Waterfront Coat, natural linen/cotton HBT shell, Troy blanket lining.
* Fall 2017: MF® MAC Jacket, 9 Oz. Mil-Specs OG-107 cotton sateen, red plaid printed flannel lining.
* Fall 2020: MF® Roamer Car Coat, black 14 Oz. wide-wale corduroy, Troy blanket lining.
For Fall 2023, we are introducing a new member to that MF® peacoat family: The MF® BARNSTORMER Jacket.
This bad boy is the love child between a 1920s USGC 10-button peacoat, a 1940s USN jungle cloth N-1 Deck Jacket, and vintage civilian 1930s "Duck Hunting Coats" out of the Montgomery Ward, Sears Roebuck or LL Bean catalogs.
For the story, those civilian khaki brown hunting coats/Mackinaw coats are also referred-to as "China Marine" jackets (as worn by the 4th Marines stationed in China mid-1920s to 1941), or "Iceland" jackets (as worn by First Marine Provisional Brigade stationed in Iceland circa 1941.)
Interestingly, that hunting coat style also made it on deck of USN ships in the 1940s, since several outdoor clothing contractors supplied the Navy with winter gear on the onset of WW2. See famous LIFE Magazine photos of sailors sporting a range of foul weather jackets.
We have seen a few vintage civilian specimen pass through the MF® HQ doors, and they usually get snagged pretty quickly.
From those 1930s hunting coats, we only borrowed the leather pocket welt/stops accents, an attractive color/texture contrast between the khaki jungle cloth and black horsehide trims.
The inspiration we drew from authentic 1940s US Navy N-1 deck jackets is the vintage Mil-Specs shell fabric, a sturdy and windproof 14 Oz. Jungle Cloth (aka cotton grosgrain) in its mid-40s "USN Khaki" color. This specific "olive" shade is un-issued, i.e. darker than many contemporary khaki N-1 fabrics with a lighter sun-bleached look.
For the lining of our BARNSTORMER, we stayed "plausible" and went with an all-cotton golden brown mid-wale corduroy, a reference to the hand warmer pocket bags on vintage 30s-50s USN peacoats, before the Quartermaster decided on the cheaper pocketing fabric option of an unbleached-white cotton twill.
As sleeve lining, we chose a vintage Mil-Specs OG-107 cotton sateen material, just because there's nothing like discovering fancy expensive fabric on the inside of a garment!
The term "barnstormer" is a reference to the early days of aviation when pilots in open cockpits had to resort to all kinds of winter gear, often long and bulky leather coats not yet specifically designed for flying. Legend has it that strafing though an open Mid-West barn was a famous acrobatic circus act for a barnstorming stunt flier in the 1920s, which may, or may not, have been safer than the death-defying wing-walking routine…
The "modified" double labeling — recurring branding for our msfc "Survival School" collection — is a reference to period US military experimental clothing, and a respectful nod to the little-known Quartermaster Research Facility (aka Natick Army Labs), a US Department of Defense organization located in Natick, Massachusetts. The "CLOTHING & TEXTILE RESEARCH UNIT" has been tasked with designing and developing anything from new uniforms/gear/fabrics/camo patterns/etc for the US military since 1952.
Will all the above as pedigree, the Mister Freedom® BARNSTORMER definitely ended-up looking like a "could-have-been", and may puzzle a few in the next generations of vintage buyers, should a well-worn specimen resurface at a flea market in the year 2070!
Buyer: "Dude, is this like, old?"
Seller: "Dude, it's from the 20s."
The MF® BARNSTORMER Jacket is designed in California, USA, by Mister Freedom®, and made in Japan in collaboration with Sugar Cane Co.
SPECS:
PATTERN:
An original MFSC pattern, freely inspired by early 1910s-30s US Navy/US Coast Guard wool peacoats, vintage military deck jackets and hunting coats.
FABRIC:
Heavy-duty 100% cotton "jungle cloth", vintage Mil-Specs 14 Oz. grosgrain, 1940s USN khaki shade, milled in Japan.
Body lining: Soft 100% cotton mid-wale corduroy, golden brown shade, milled in Japan.
Sleeve lining: 100% cotton OG-107 sateen, milled in Japan.
DETAILS:
* Classic 1910s~1930s US Navy & US Coast Guards melton wool peacoat pattern and construction.
* Ten-button front closure.
* Early USN type '13 stars' fouled anchor design buttons.
* Four outside pockets: two 'hand warmer' slash pockets and two flap closure hip pockets, all lined with golden brown corduroy.
* Inside chest pocket and traditional 'cigarette' pocket (resized to fit an average smartphone, so that you keep it tucked-in while you drive.)
* Black tea-core horsehide leather arrowhead pocket stops and pocket welt reinforcements and contrast accents.
* Detachable chin strap (displaying either fabric if left dangling, or concealed if buttoned under the collar.)
* Traditional zig-zag pattern under-collar reinforcement stitching.
* "Modified" double labeling, original MF® and mfsc woven/printed labels.
* Cotton-wrap poly thread tonal stitching.
* Mister Freedom® woven rayon "MFSC NAVAL CLOTHING TAILOR" label topped with "EXPERIMENTAL RESEARCH UNIT" collection-specific printed label.
* Made in Japan.
SIZING/FIT:
The MF® BARNSTORMER Jacket ships raw/unwashed, and will shrink to intended/tagged size after the following initial process:
Cold soak for about 30-40mn, with occasional hand agitation.
Wear briefly before fully-dry to set creases, then hang until fully dry.
We recommend getting your usual size in mfsc jackets/coats. Do not size down as the arm hole opening may become an issue.
I'm ~5'7 – 140 lbs and went for a 38 in this jungle cloth peacoat model, even though I tend to navigate between 36 (Small) and 38 (Medium) lately.
Please check out our measurement chart and compare with a similar garment you own that fits you well. To dial in your size, also consider your layering preferences.
MF® crew sizing recs:
CL (5'7 ~ 140 lbs): I opted for a 38 (MEDIUM), for a comfortable fit to allow layering.
John (6' ~ 170 lbs): 40 (LARGE)
Ivan (5'9 ~ 160 lbs): 38 (MEDIUM)
Enoch (6' ~ 153 lbs): 38 (MEDIUM)
CARE:
DO NOT MACHINE WASH.
This garment is too heavy and voluminous for a regular home washer, even one boasting "Heavy Duty" settings. A machine wash cycle will either ruin the jacket, the machine, or both.
Professional eco-friendly dry-cleaning is recommended should heavy soiling occur. Spot cleaning with a wet rag is an option for minor stain.
Additionally, the initial soaking process can be repeated, with a minimal dose of eco-friendly detergent added to the bath to hand wash the garment.
Available from www.misterfreedom.com, our Los Angeles brick & mortar store, and fine retailers around the World.
Email sales@misterfreedom.com or call 323-653-2014 with any questions unanswered above.
Thank you for your support,
Christophe Loiron
Mister Freedom®
©2023