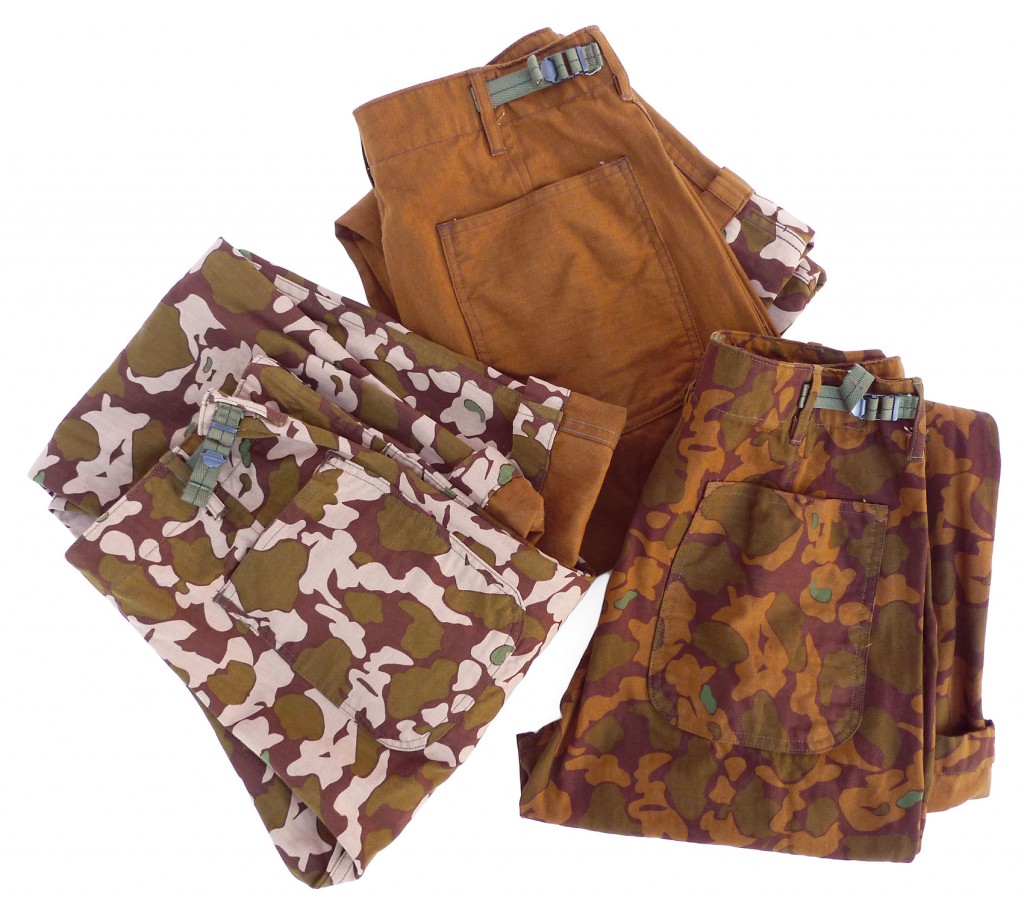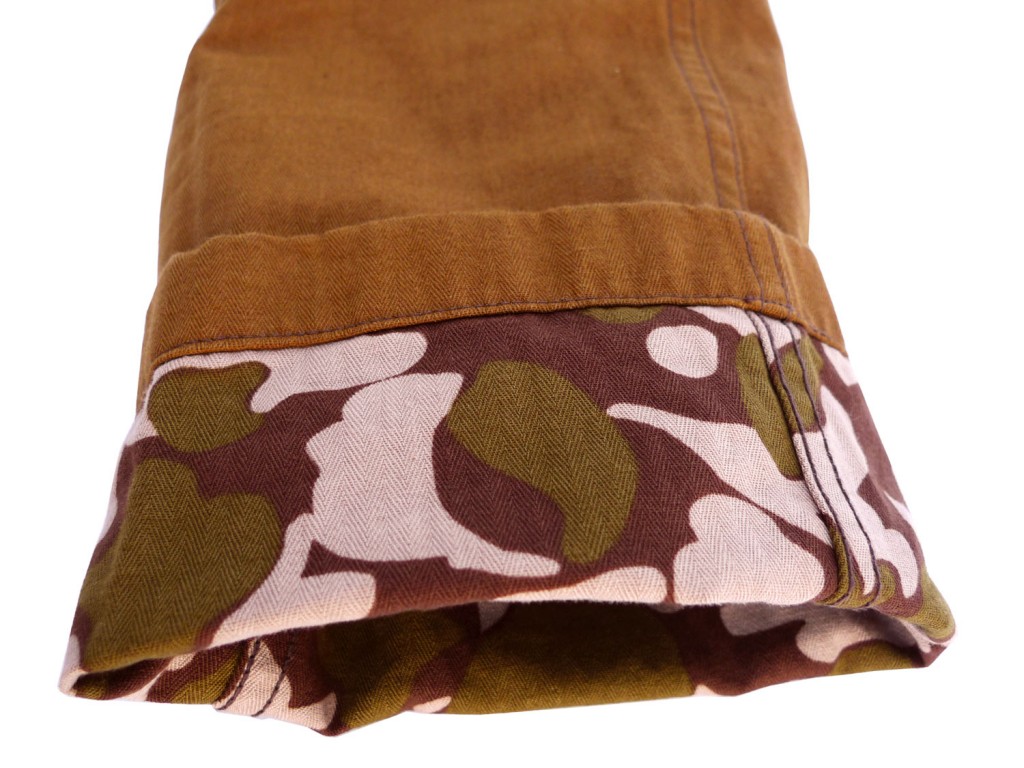 Utility Trousers, "Utes" Experimental Camouflage
Mister Freedom® "Saigon Cowboy" Spring 2015
For those into the jungle tuxedo, our MF® Experimental Camo is now available in fine looking trousers as well! For those lucky to have missed it, the account of how our original camouflage pattern came to be was summed up in the Evac Jak spiel.
For today's story, who needs fiction when you have CIA declassified intel? Here is some of it, revisited…
The year is 1961.
American taxpayers have been unknowingly forking over $400 million to the French imperialist war effort in Indochina from 1945 to 1954 (thereby funding about 80% of the French Guerre d'Indochine), but we are still four years short of the 'official' engagement of the United States in Vietnam's affairs of 1965.
In those years, some felt that if you didn't stop the red devils ('commies') in the jungles of South East Asia, "they would have to be stopped in Honolulu or on the beaches of California."
President Kennedy, a man of his times and a believer in the efficiency of US Special Forces guerilla tactics, sends 400 tiger stripes-clad intensively trained men to the highlands of South Vietnam in May 1961, in an effort to contain the spread of the National Liberation Front (NLF), China's protégé…
Men in green berets immerse in the local culture, assess the situation and organize local resistance. Montagnards and local villagers receive training in jungle warfare. The enemy du jour? The Việt Cộng (Vietnamese Communists) guerrillas, VC (NATO's Victor Charlie), or Charlie as often referred to by US boots on the ground.
A program called CIDG (Civilian Irregular Defense Group) and originally designed by the CIA has the task to assist in the transformation of local minorities into anti-communist paramilitary forces.
To more efficiently handle logistics, the highly-classified Counter Insurgency Support Office is established on the island of Okinawa, Japan in 1963. Headed by a mysterious individual working for the Department of Army by the name of Conrad Benjamin Baker, CISO was "assigned the mission of supporting the Special Forces programs through triservice depots and local procurement sources (…) Many items of clothing and equipment, for example, had to be obtained from markets in other countries because of size problems, composition of material, and equipment which had to be tailored to Montagnard measurements." (source)
CISO acquired or produced 'sterile' (untraceable if captured) weapons, along with unmarked clothing and equipment to outfit US Special Forces or advisors heading out to South Vietnam. Locally screen-printed tiger stripe camo fatigues, "bowie" knives, VC-style black pajamas, rations, machetes, Seiko watches for recon teams, black 1-0 rain jackets, North Vietnamese Army-inspired rucksacks…
Basically, if it proved needed in the field, CISO sourced it out in Asia, or designed it and manufactured it locally. At a fraction of the price compared to US-made mil-specs issued gear, and quicker delivery than its state-side bureaucracy-laden official channel alternative. What exactly went on is not well documented, but Ben Baker's account of his involvement in the original design and R&D of the famous SOG knife is available for download in pdf form here.
Note:
I am no expert on the topic and more accurate facts are available to those interested in History preservation willing to do the research. The "SOG" book by John L. Plaster probably answers many questions, but I admit having only flipped through its photo album companion (ISBN 1-58160-058-5) due to time restriction.
(Above photos credited to the best of our knowledge and provided for educational purposes only.)
I had found the logistics side of this CISO story quite fascinating when originally coming across it. As usual, we didn't take any of this literally in our 'Saigon Cowboy' venture. Imagination took over authenticity. We didn't go black pajamas, decided to improvise instead, mixing things up into a somewhat plausible garment. Or maybe our 'utes' are just a pretext for sharing a slice of 'behind-the-scene' History…
The pattern for the featured MF® trousers this season blends details of US Navy dungarees, Army chino trousers, M-51 field trousers, Marine Corps M1941 trousers… a joint operation if you will.
The term 'utes' was lifted from the old USMC expression "boots 'n' utes" (boots and utility uniform).
As mentioned with the Evac Jak, the MF® Exp. camo combines camouflage with a simple solid side. The solid side cachou color is a reference to the caramel-like color typical of 1930's French military canvas gear. Although this fabric is designed to be reversible, the trousers are not. Three options are available for the Exp camo utilities:
a) Cachou out/HiLand in.
b) HiLand out (arid terrain, lighter)/cachou in.
c) LoLand out (jungle, darker)/cachou in.

The sizing S,M,L,XL applied to trousers is a nod to old military field pants featuring cinch tabs. Those are often tagged with a 'size range' as opposed to a precise measurement, reflecting the waist-adjusting pull tabs.
The "US" stamp stands for sizing following American standards, as opposed to the "A" stamp differentiating Asian standards garments with CISO-issued gear.
Our 'utes' have a slimmer silhouette than typical standard-issue cargo pocket camo utilities, a reference to a silhouette favored by ARVN troops of the period.
The "Utes" are designed in California by Mister Freedom® and manufactured in Japan by Sugar Cane Co.
SPECS
FABRIC:
Somewhat of an original Mister Freedom® camo pattern, double-side rotary screen printed (one side solid, one side camo), white 100% cotton Herringbone Twill (HBT) fabric base.
Fabric milled and printed in Japan.
DETAILS:
* Inspired by vintage military utility trousers.
* Slimmer 'ARVN'-type silhouette.
* Mid-high waisted.
* Front patch pockets locked in side seam, rear patch pockets, horizontal HBT.
* Side cinch tabs, mil-spec slide buckle.
* Flat black-painted Metal "13 Stars" tack waist button.
* Oxidized black donut-type fly buttons.
* Flat felled seams, chainstitch.
* 100% cotton tonal stitching.
* Made in Japan.
SIZING/FIT
This garment comes raw/unwashed and will shrink to tagged size after an original cold soak/line dry. Further shrinkage to be expected with the use of hot water and heat dryer.
All three MF® Exp. Camo fabric options will shrink the same.
I decided to size down in those, as I had done with the Crew Pants of the Sea Hunt spring 2013 collection, and I am wearing a Small (30). When both fully cinched, the waist tabs can tighten the fit by about 2 inches, but a Medium looked too baggy on me. A tagged Small technically corresponds to a 30-32 inch waist.
Please refer to sizing chart for measurements reflecting a 30mn cold soak no agitation/light machine dry.
CARE:
Launder when hygiene dictates and common sense prevails.
Machine wash. Cold water, gentle cycle, eco-friendly mild detergent and line dry. We recommend turning garments inside out to avoid marbling of the fabric during the washing cycles.
Because the base HBT fabric is white before being printed, toning down of colors will naturally occur. This fading should not be considered a quest nor a defect, only the natural consequence of the wash/wear process over the years.
Available RAW/unwashed
SIZES:
Small (30)
Medium (32)
Large (34)
X-Large (36)
XX-Large (38)
RETAIL $229.95
Available from www.misterfreedom.com, fine retailers around the World, and our dusty Los Angeles brick & mortar store.
Email sales@misterfreedom.com or call 323-653-2014 with any questions unanswered above.
Thank you for your support
Comments
comments