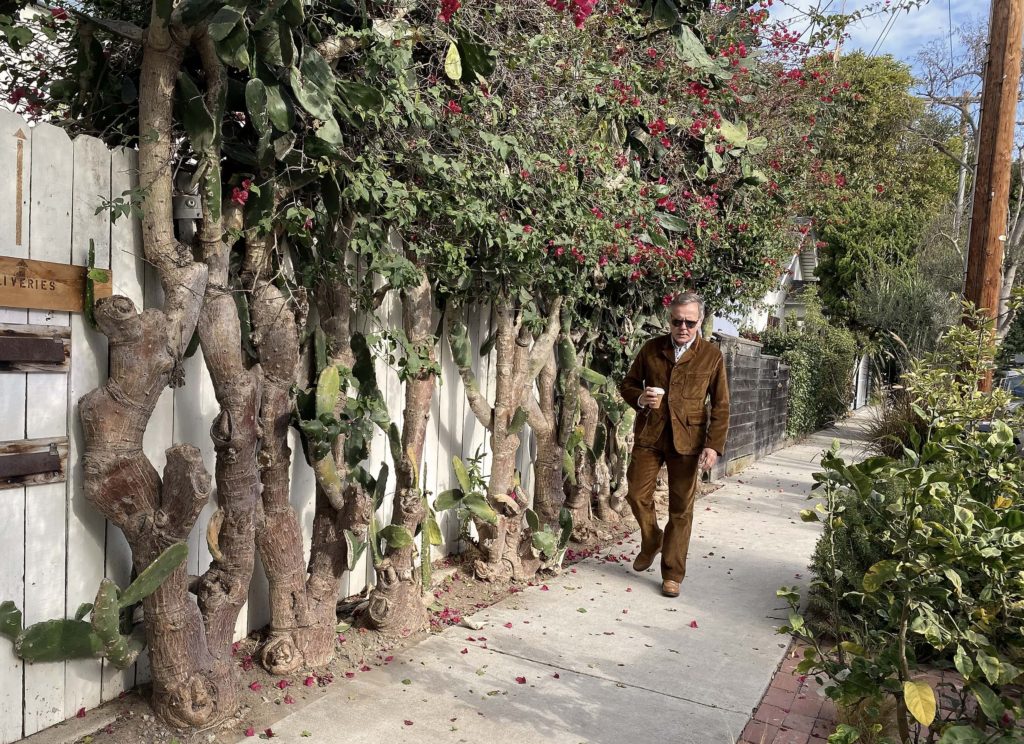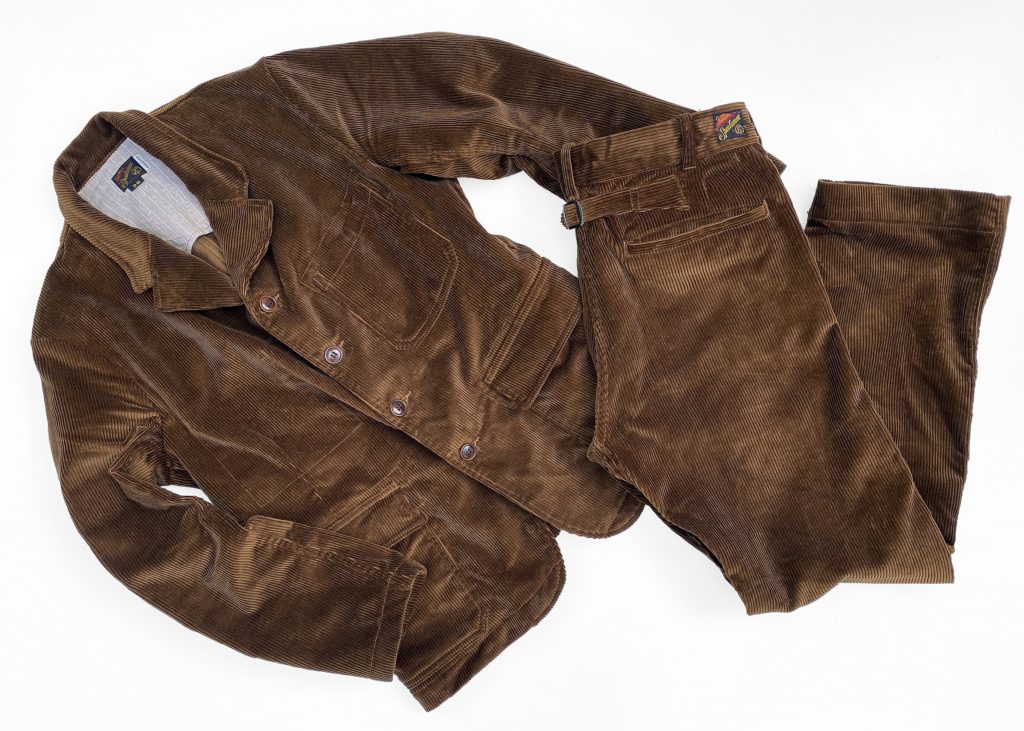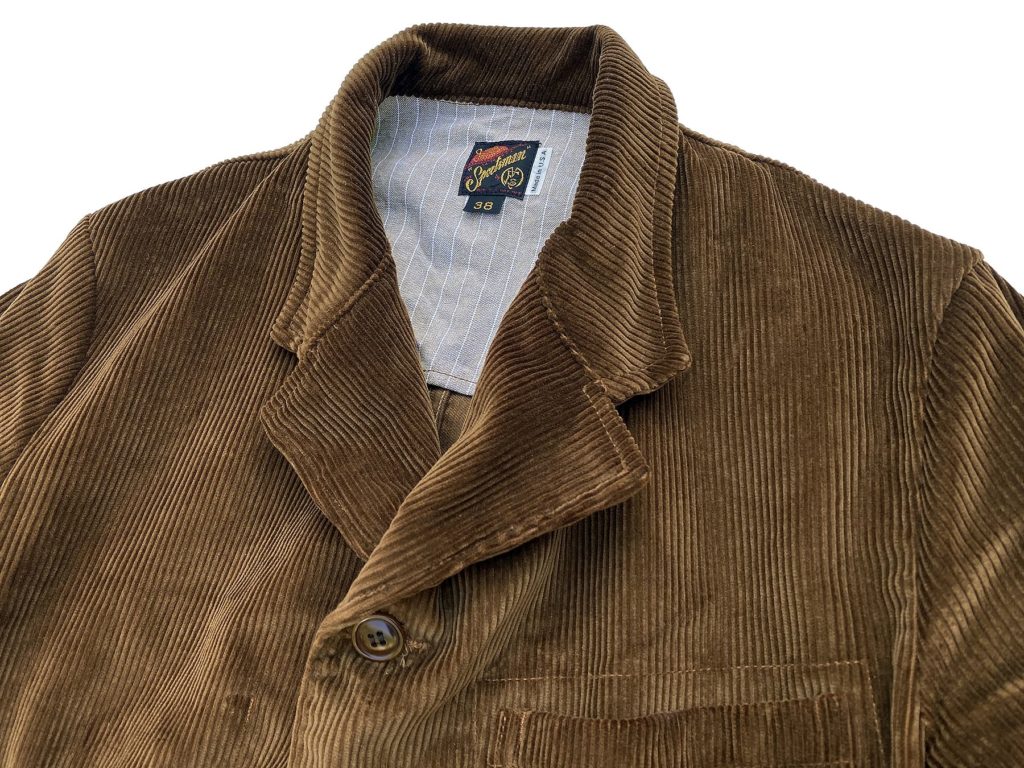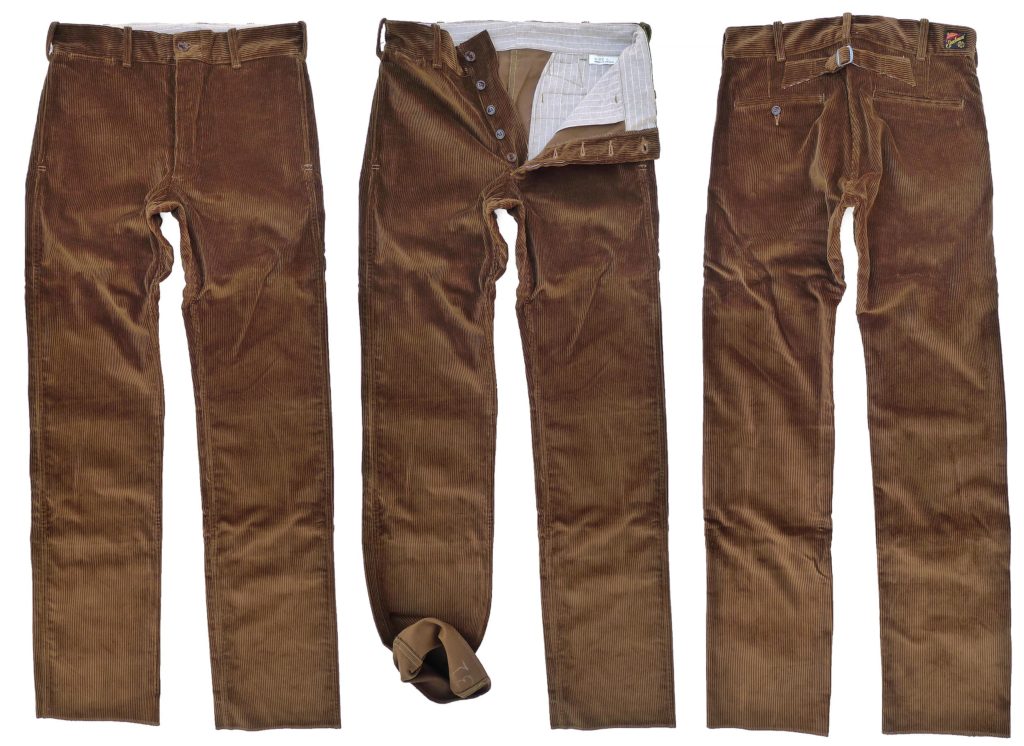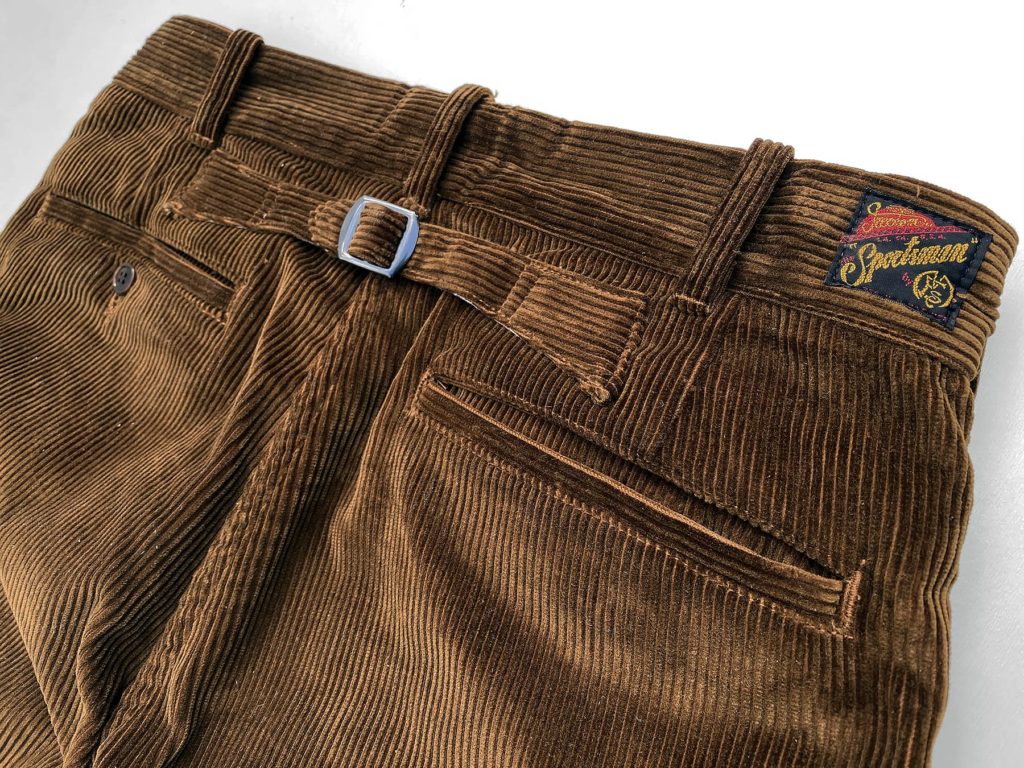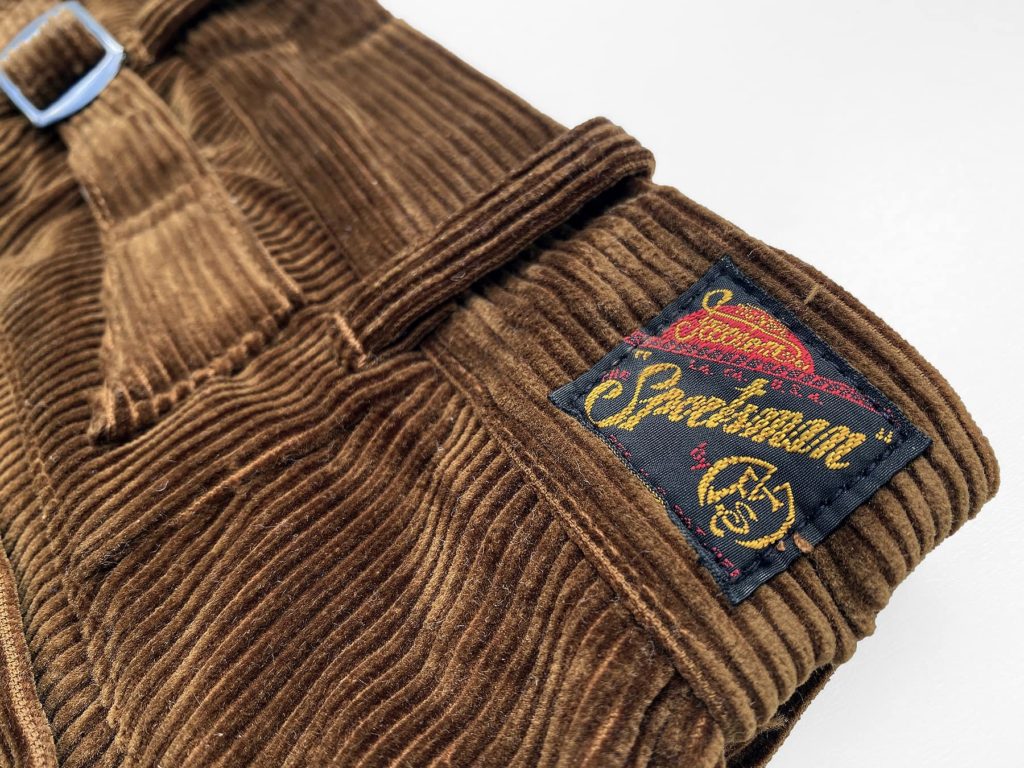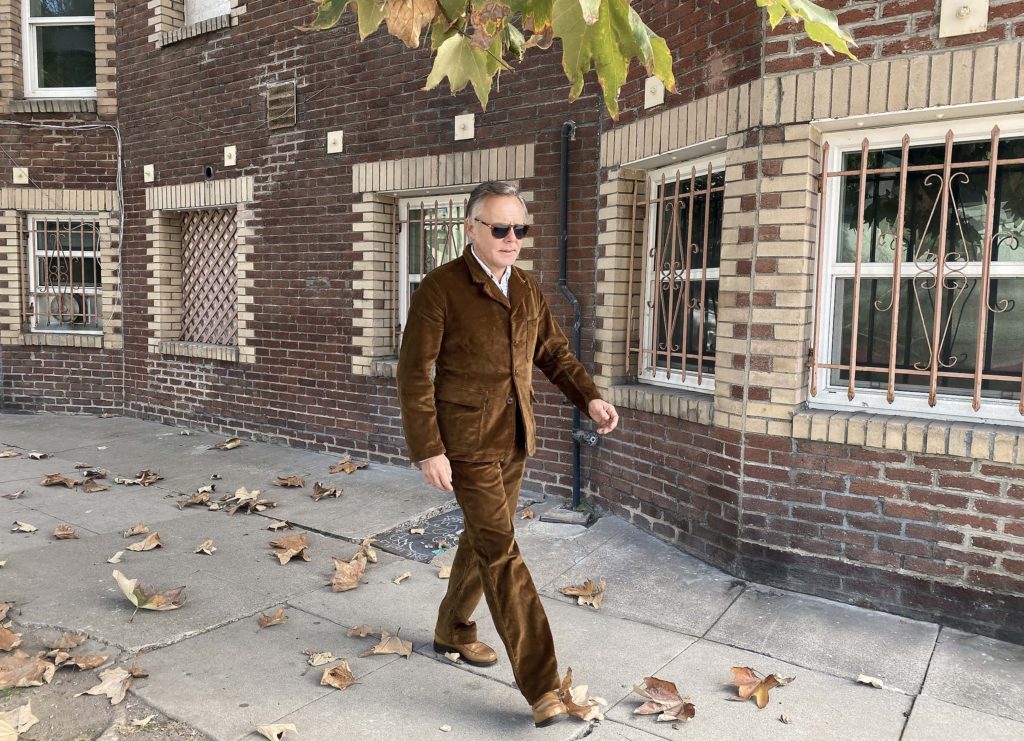 Mister Freedom® Continental "Rive Gauche" Two-Piece Suit (Sportcoat & Trousers), 14 Oz. corduroy.
FW2020 mfsc Sportsman catalog
Made in USA
The Continental Two-Piece Suit combines two of our popular classic patterns, the MF® Continental Sportcoat and Continental Trousers, both staples of our made-in-USA Sportsman catalog.
The unstructured blazer style of the MF® Continental Sportcoat was initially inspired by a vintage French 1950s cotton twill work coat, jazzed-up by our Design Dept sometime in 2016. The MF® Continental Trousers' pattern introduced the same year drew inspiration from 50s-60s tailoring, vintage casual wear, and timeless slick silhouettes.
Released since in an array of NOS and Japan-milled fabrics, both sportcoat and trousers are quite versatile garments. Equally intended to be worn mismatched, as a two-piece suit, or paired with whatever one is comfortable with, the Mister Freedom® Continental series' only commitment is to be stylish, flexible, travel-friendly (i.e. low-maintenance), and USA-made.
This FW2020 "Rive Gauche" edition features the same grade of 14 Oz. wide-wale corduroy of the 2019 Mattock Jacket, a fabric inspired by 1930s-40s French Velour d'Amiens and discussed here in its historical background. We couldn't resist requesting another batch to be milled for the Continental suit.
Regarding semantics, "Rive Gauche" refers to the left bank of the Seine, splitting the City of Light in half. The famed river was instrumental in elevating Paris as France's capital through the years. The city's nautical motto "Fluctuat nec mergitur" (something like "rocked by waves but never sunk") suggests Paris' long and troubled history. Its "Rive Droite" (right bank, north of the river) has been perceived as conservative and upper class territory, while the "Rive Gauche" was more blue collar, attracting free-spirited intellectuals, artists… Those lines have obviously been blurred for decades, but still fiercely-debated at the "café du commerce".
Bar-room politics aside, corduroy fabric has traditionally been associated with the working class in Europe, and its resurgence in French menswear in the late 1960s~1970s signaled a new popular appeal for "simple" values and "liberal" references in casual fashion.
A stereotype "prof de Géo" (Geography teacher) clad in a brown corduroy suit, Fair Isle sweater vest and red scarf, strolling around the Quartier Latin circa 1975, might ring a bell for some Parisian old timers.
Our "Rive-Gauche" two-piece carries that old school professor vibe, but will morph into anything according to how one styles it. The Sportcoat is cut quite trim and on the shorter side, for more of a 1930s vibe than the longer deep vent back of 1970s suit jackets.
The mfsc Continental "Rive-Gauche" Two-Piece Suit (Continental Sportcoat & Continental Trousers) in 14 Oz. wide-wade corduroy is designed in California by Mister Freedom® and manufactured in the USA in collaboration with Sugar Cane Co.
Both "Rive-Gauche" Sportcoat &  Trousers are available separately. A 15% rebate will be applied at Paypal checkout when purchased as a two-piece set.
SPECS:
FABRIC:
14 Oz. Heavy wide-wale corduroy, 100% cotton, "vintage" cognac brown color, milled in Japan.
Pocketing & half lining/facing:  New Old Stock oatmeal color chambray with woven white stripe, linen-cotton blend, milled in EU.
Continental "Rive-Gauche" SPORTCOAT:
* Unstructured silhouette.
* Easy to pack and unfold, perfect traveling companion.
* Vintage-vibe high button front.
* Corozo wood buttons.
* Half shoulder floating lining, NOS cotton/linen stripe chambray.
* Side hip pockets with flaps.
* Pocket openings reinforced on the inside with facing fabric.
* Tonal 100% cotton stitching, all clean caballo (chainstitch) flat-felled seam construction, green color "Sportsman" signature chainstitch on the inside. No open edges or overlock.
* Made in USA.
Continental "Rive-Gauche" TROUSERS:
* Elegant late 1950′s early 1960's type silhouette and fit, straight leg.
* Corozo wood fly and waist buttons.
* Flat-felled (caballo) leg out seam.
* Rear welt pockets.
* Trousers-style belt loops.
* Adjustable back cinch strap, with vintage NOS metal slide buckles.
* NOS cotton/linen stripe chambray pocket bags and waist band.
* Watch pocket.
* Tonal stitching, 100% cotton thread construction, with inside green chainstich MF® signature.
* Original "The SPORTSMAN" woven rayon label on rear waistband, concealed when wearing a belt.
* Tailor shop-style unfinished overlocked leg bottom, to suit your cuffing preferences.
* Made in USA.
SIZING/FIT
This explains how we size our garments.
The Continental "Rive-Gauche" Sportcoat and trousers come raw/unwashed. We recommend the usual initial 30mn cold soak/occasional hand agitation/spin dry/hang dry process.
The tagged size reflects the size of the garment after going through this process. The subtle variation of shrinkage between body fabric/lining fabric/cotton thread will result in normal puckering and roping, slightly altering the fit and drape.
I personally opted for a snug Size 38 (Medium) in this corduroy Continental sportcoat, and a comfortable W32 trousers. These are my usual sizes in the Continental series and most mfsc garments. I am about 5'7 ~150 Lbs.
Sportcoat sizing:
This "Rive-Gauche" corduroy Sportcoat release is cut quite trim, and sizing-up might be an option for some, especially if one plans to layer with a sweater or thick shirt, or just wants a more relaxed/unstructured look. The cut is similar to that of the recent "Parisien" Sportcoat, with a trim/shorter silhouette typical of 1930s mens blazers. The shorter length might not be ideal for tall individuals not comfortable with a "period fit" and vintage silhouette.
Trousers sizing:
The Continental "Rive-Gauche" Trousers are true to size. If you are a measured waist 32 inches, you are most-likely a stamped W32 in these. The top block is fairly snug, with a slim thigh and straight leg. A W31 was too tight on me.
To accommodate fine tuning for the silhouette of your choice, we are releasing these in  a few select odd sizes too (W29, W31 and W33).
Please note that the Continental Trousers pattern might not be a good option for all body types. Proportion-wise, those with muscular legs will probably look better in our regular Sportsman Chino models.
Trousers hemming:
After the initial soak/hang dry process, we recommend settling down on the final length of the bottom hem after gently wearing the trousers around the house a bit. The cotton fabric tends to naturally bunch/wrinkle and pull the leg up slightly. Letting this specific fabric react to your own body for an hour or so will allow you to decide on a proper classic leg break that works for you.
I opted for a simple 1½ inch hem with no fold, with a slight break.
Please refer to sizing chart for approximate raw/soaked measurements. Soaked = 30mn cold soak, spin dry and line dry.
(Fit pic wearing a size 38 jacket and W32 trousers.)
CARE:
Although low maintenance, both corduroy Sportcoat and Trousers should be considered as a delicate garments and treated with care.
We recommend professional dry-cleaning when needed.
Carefully hand washing in cold water, minimal eco-friendly detergent and line dry is also an option.
Continental "Rive-Gauche" SPORTCOAT:
Sizes:
Small (36)
Medium (38)
Large (40)
X-Large (42)
XX-Large (44)
Continental "Rive-Gauche" TROUSERS:
Sizes (inseam length about 36'', left un-cuffed):
W 28
W 29
W 30
W 31
W 32
W 33
W 34
W 36
W 38
Continental "Rive-Gauche" Two-Piece Suit (Sportcoat + Trousers): Any size combination available, 15% rebate issued during PayPal check out when purchased as a set.
Sportcoat and trousers are also available separately.
Available from www.misterfreedom.com, our Los Angeles brick & mortar store, and fine retailers around the World.
Email sales@misterfreedom.com or call 323-653-2014 with any questions unanswered above.
Thank you for your support, and be safe.
Christophe Loiron
Mister Freedom®
©2020
Comments
comments