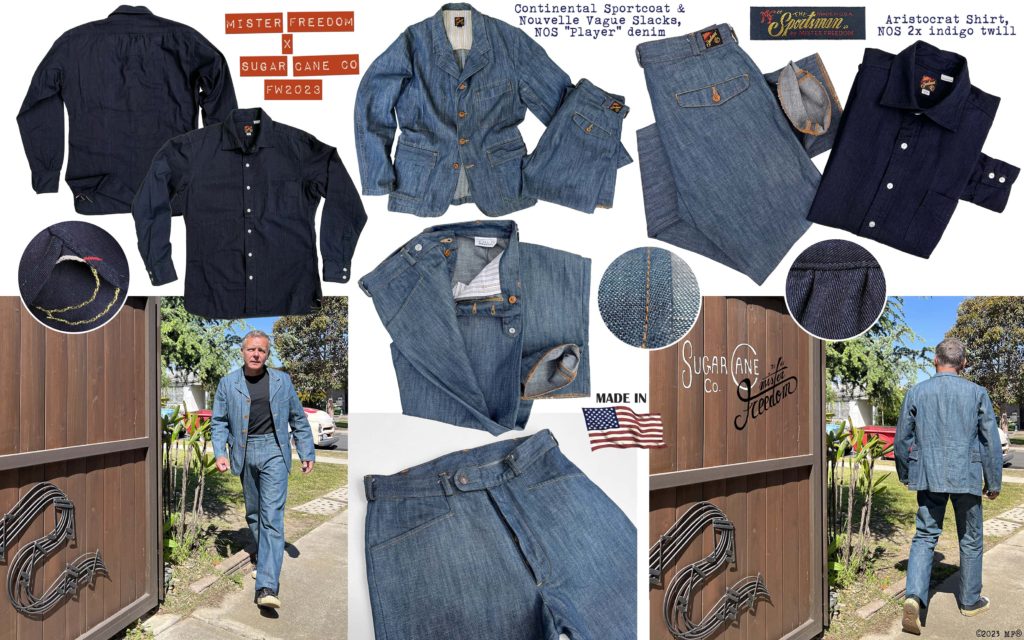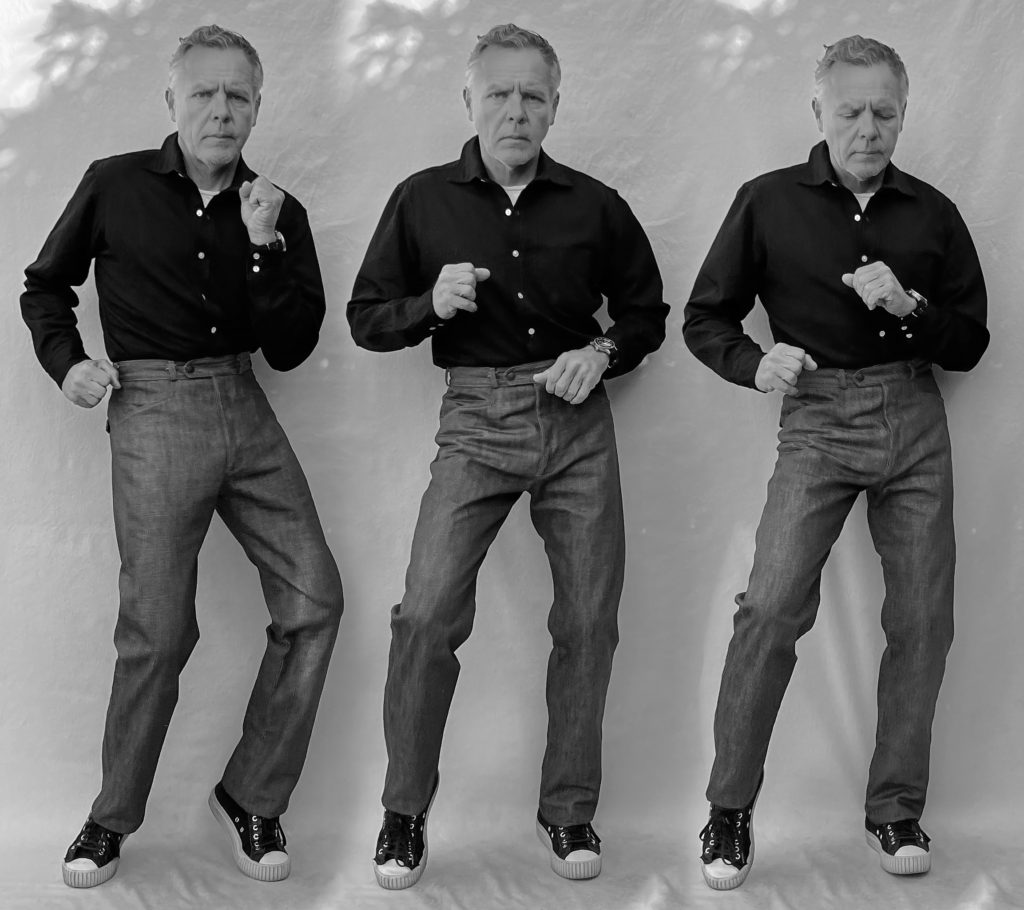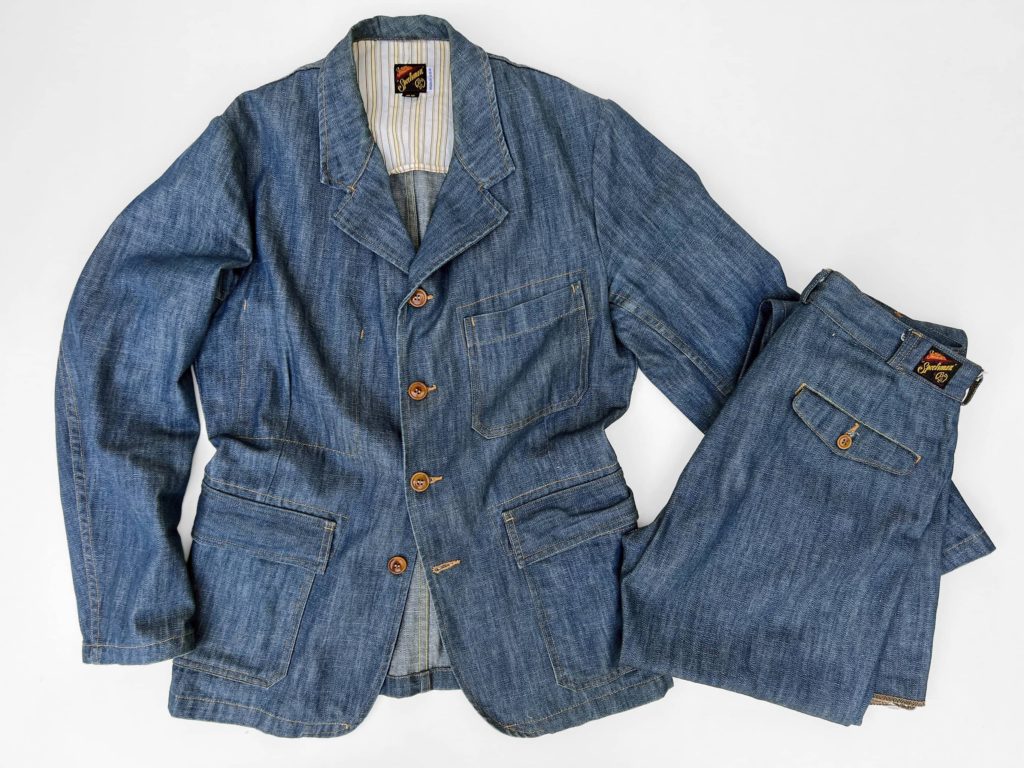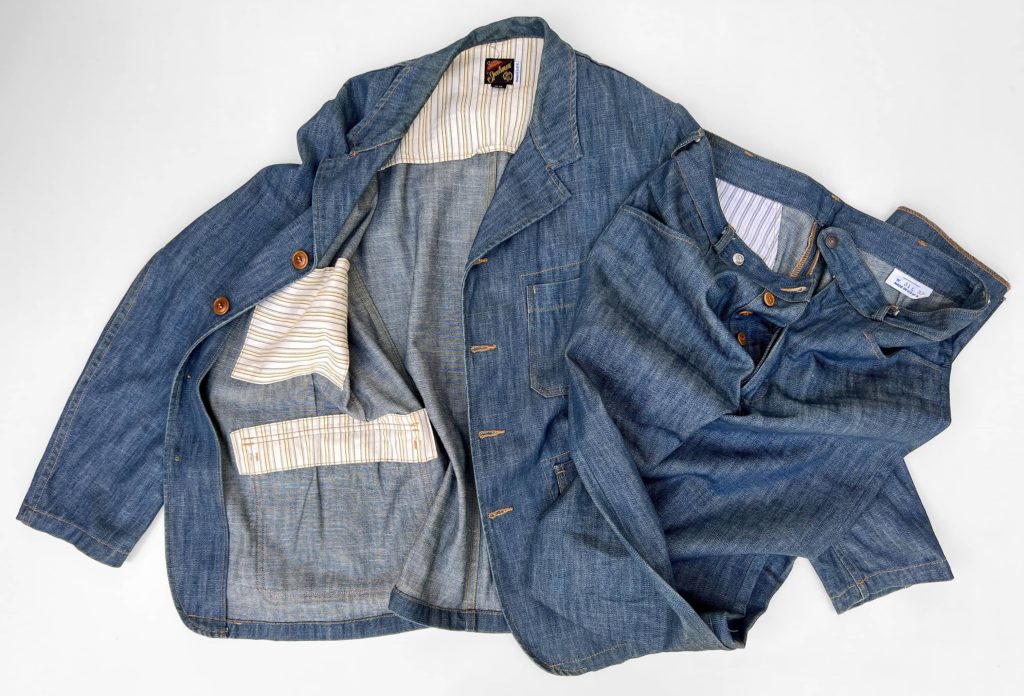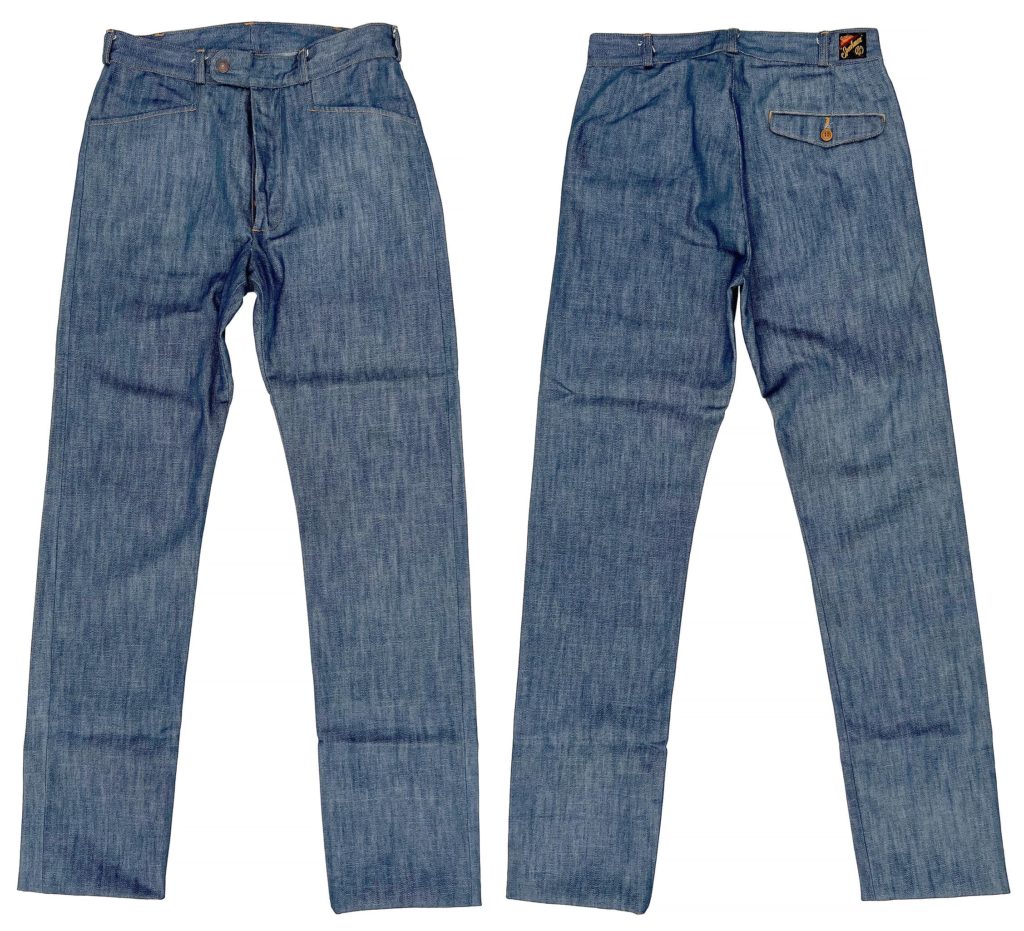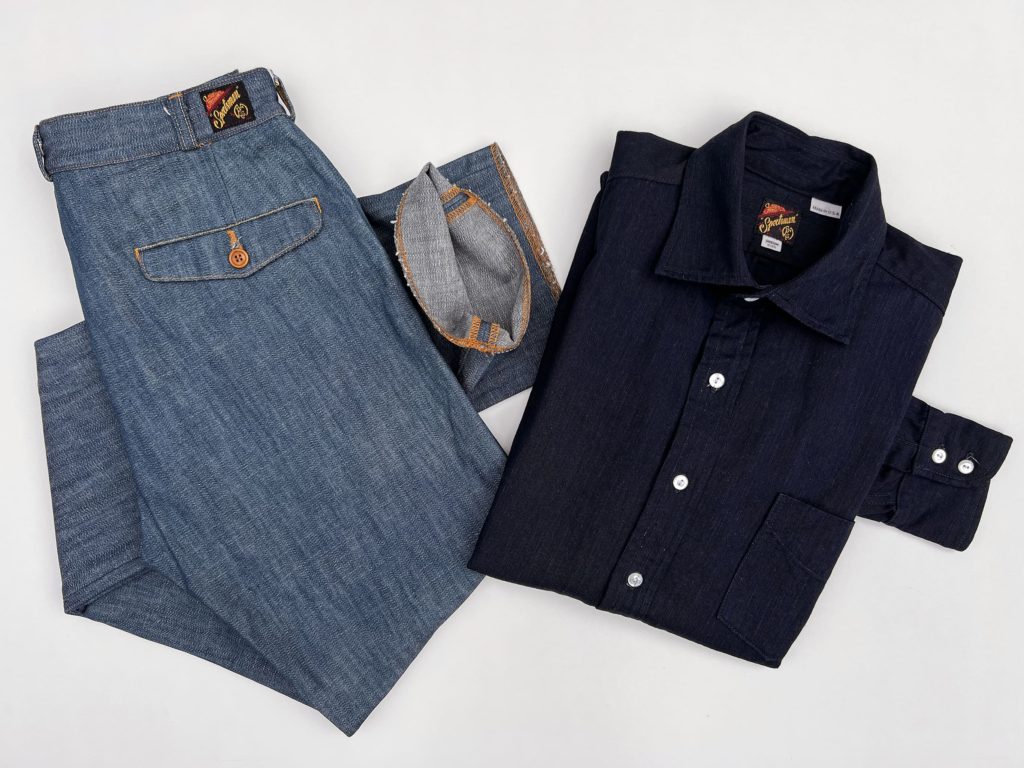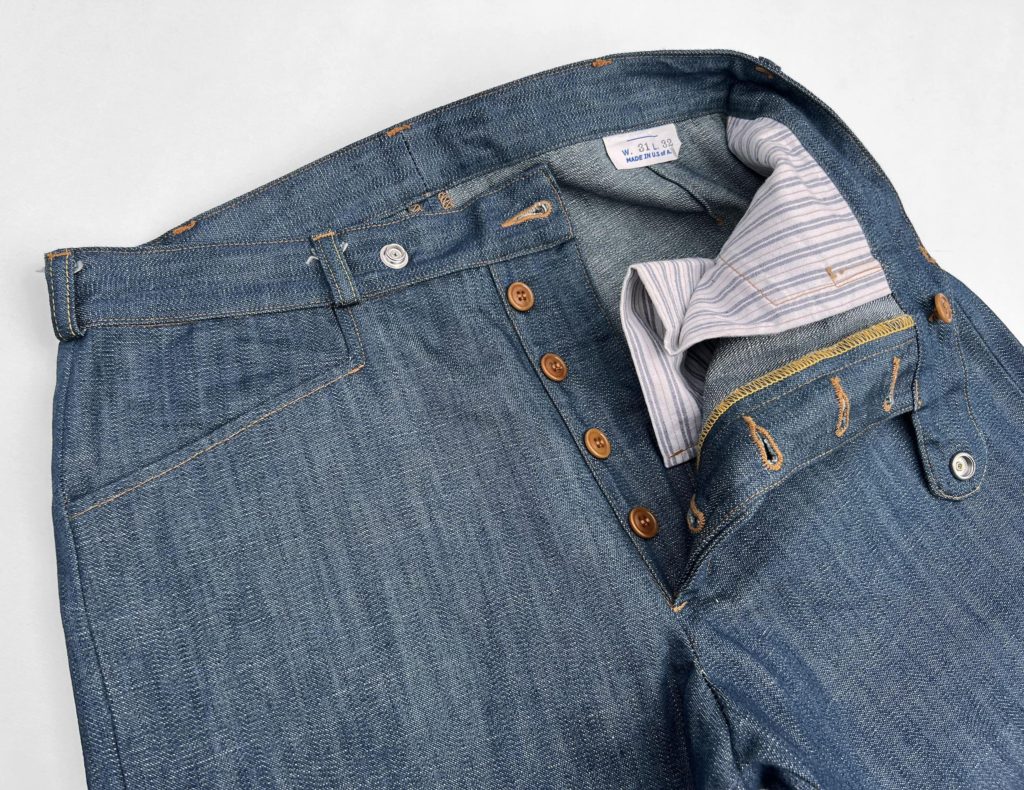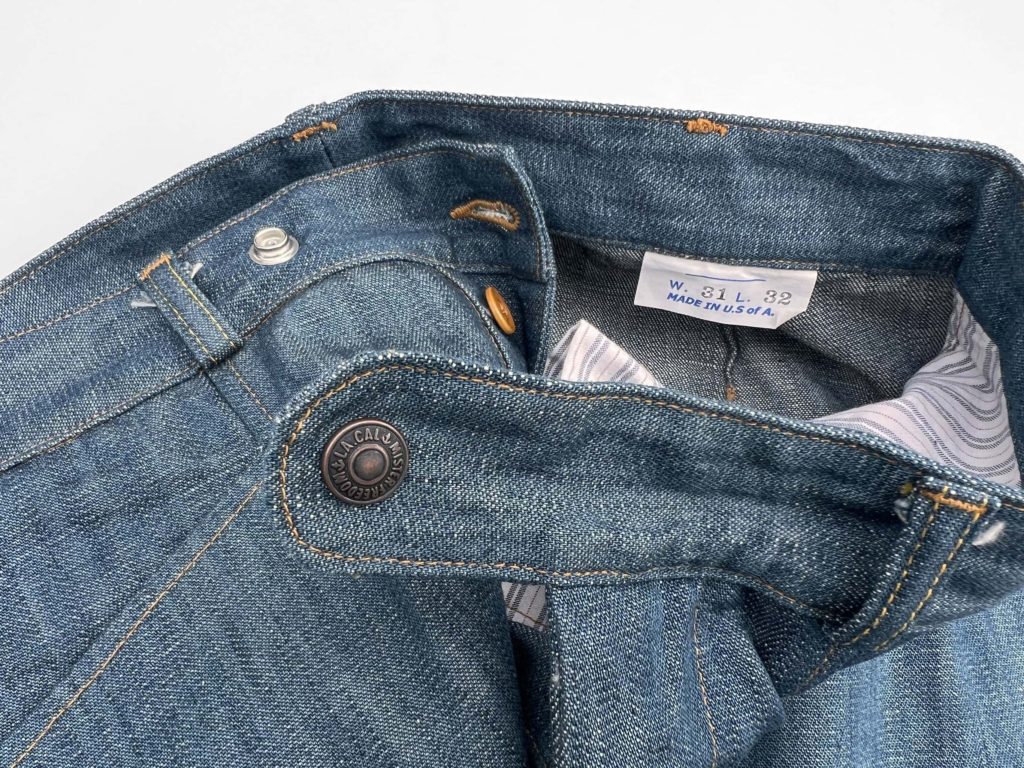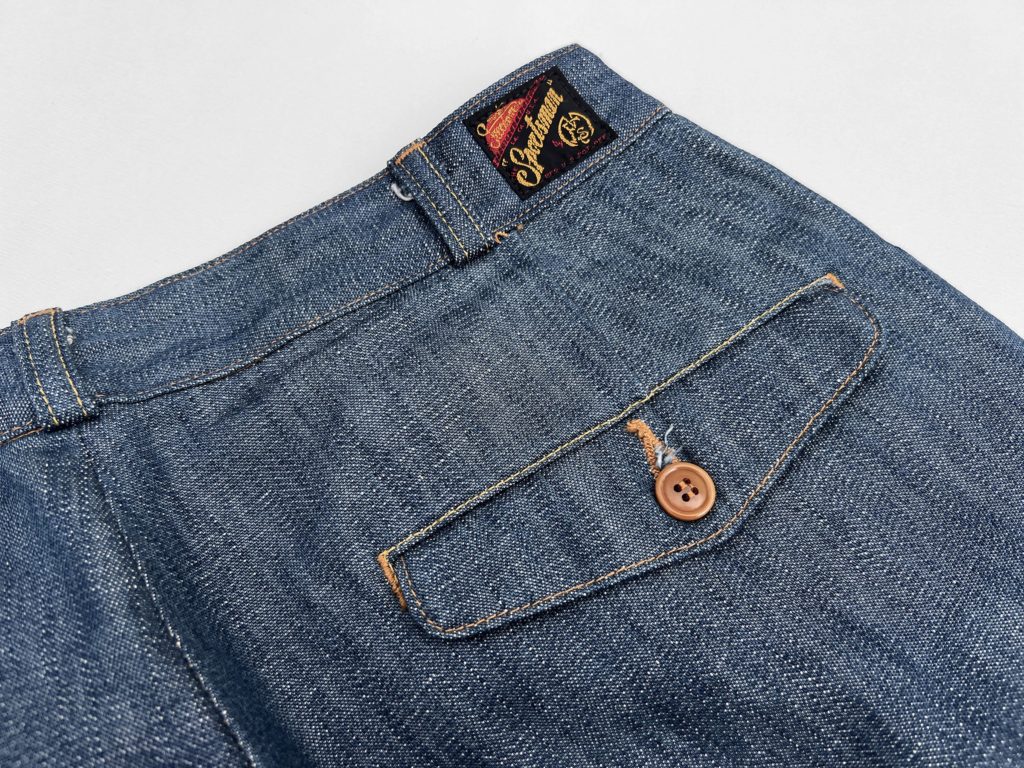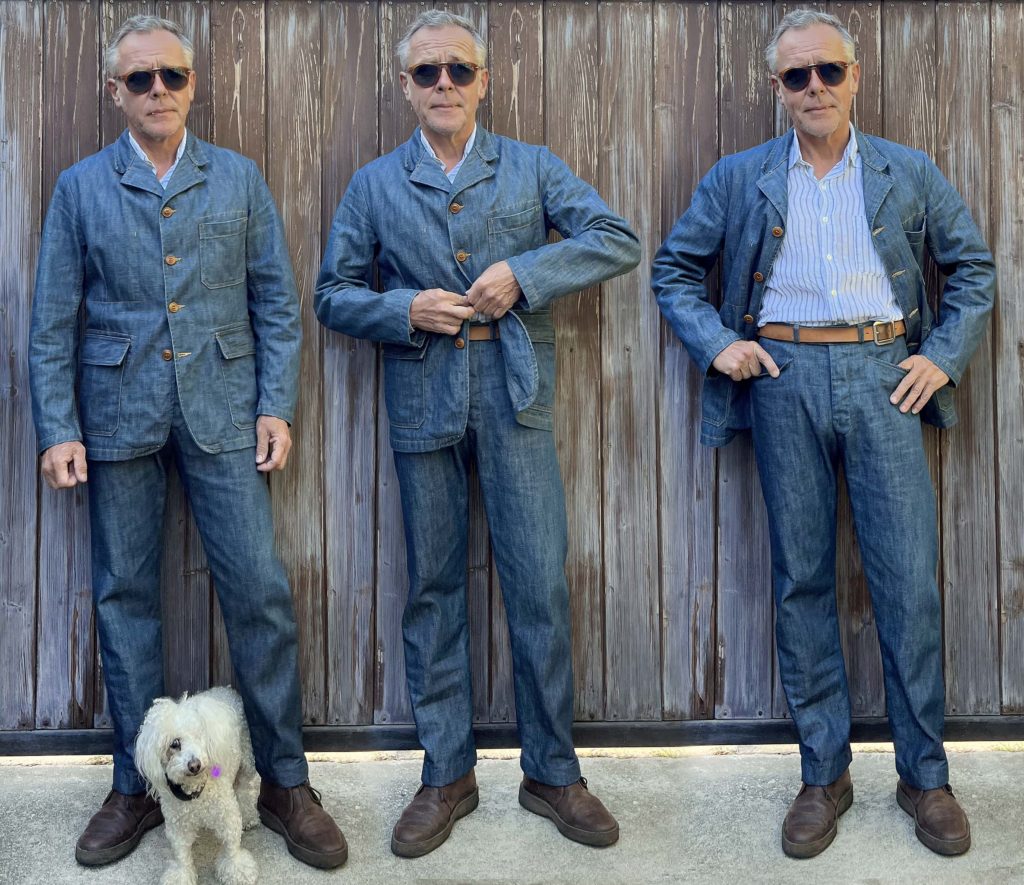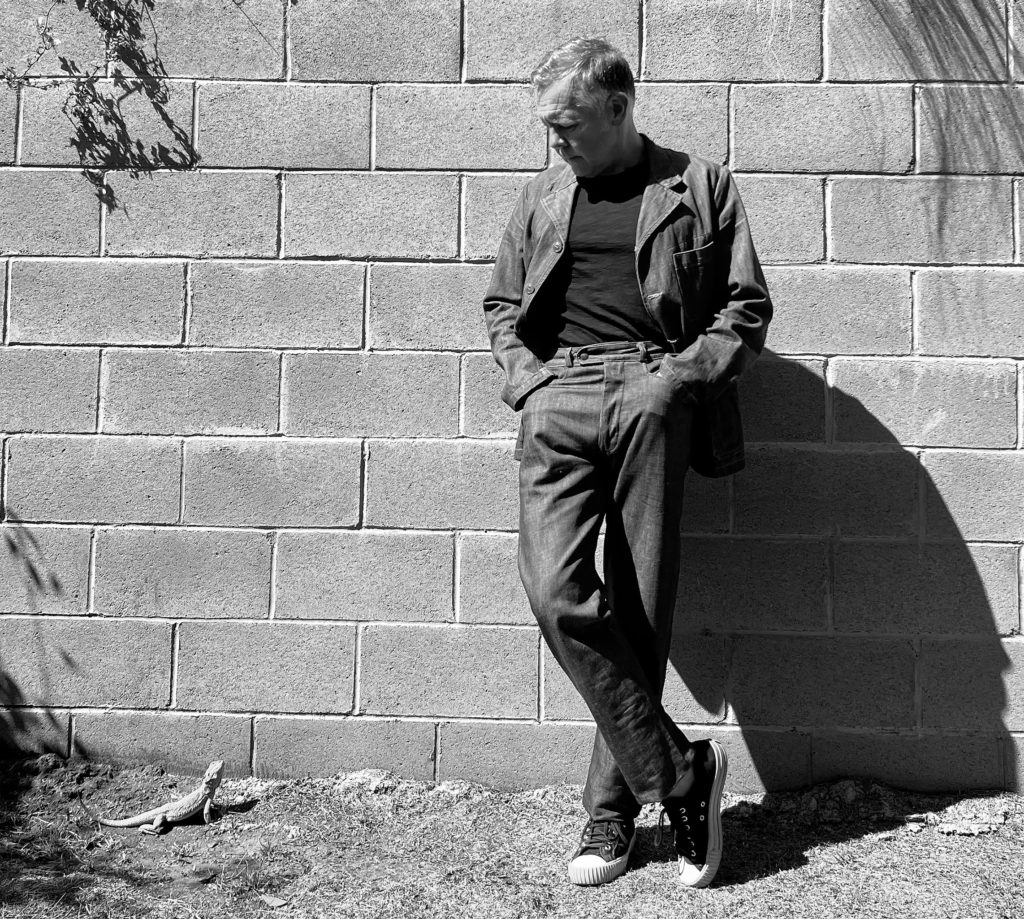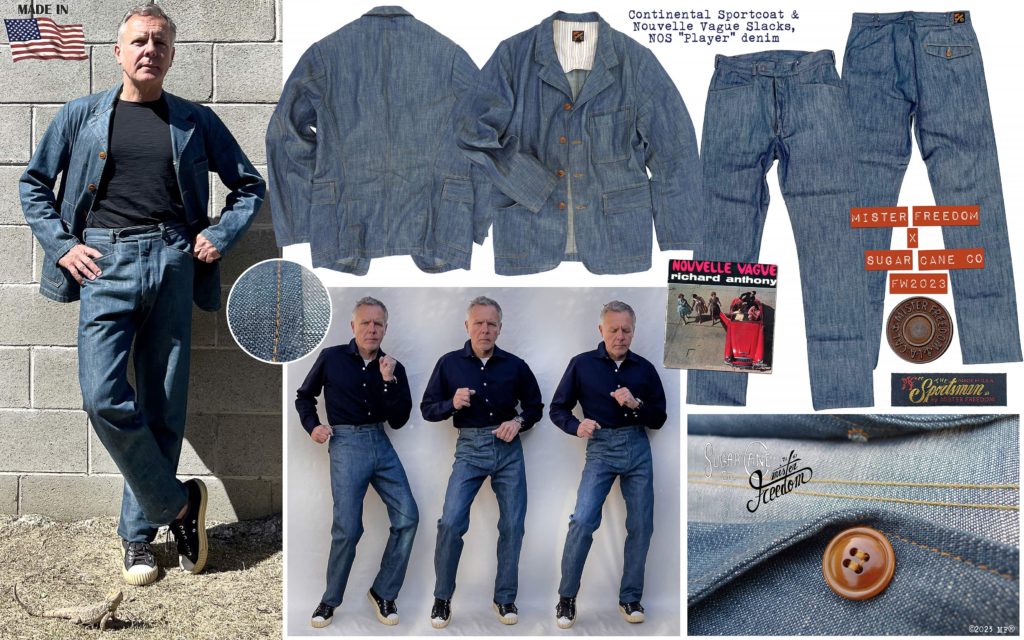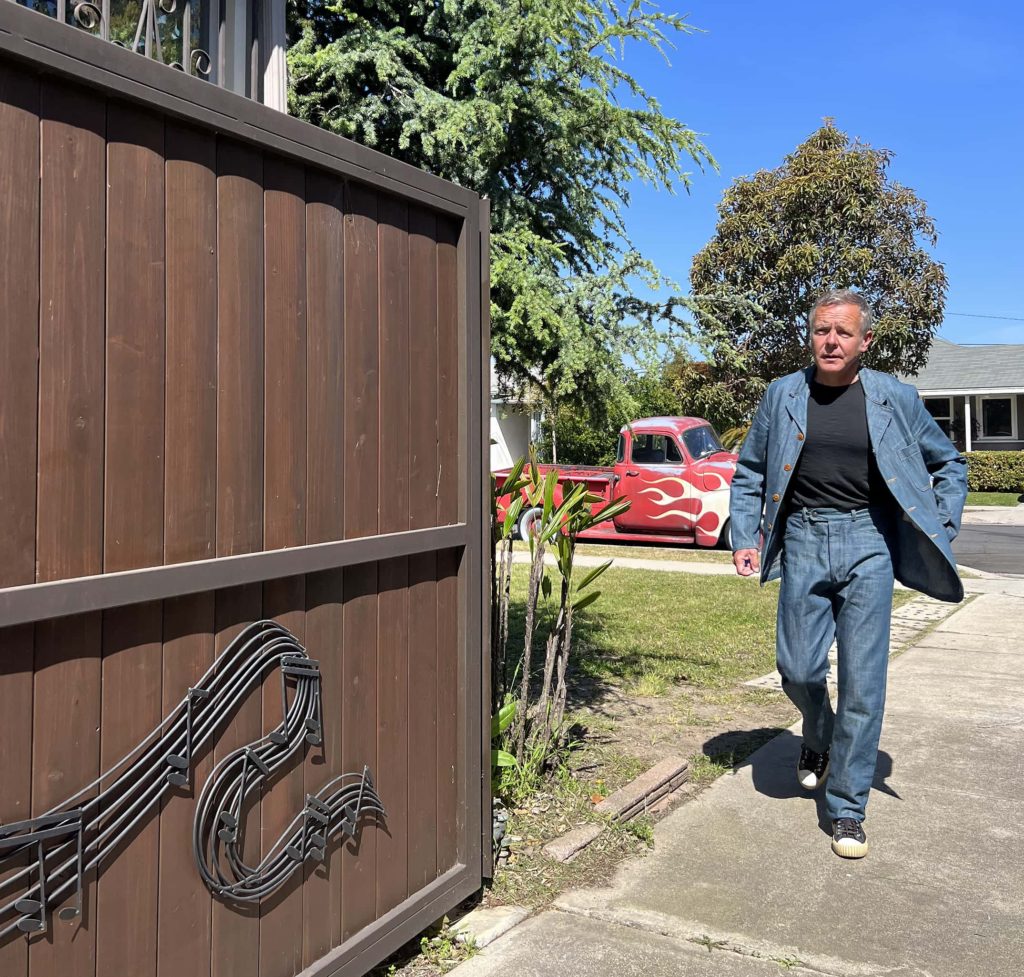 Mister Freedom® "NOUVELLE VAGUE" Slacks & Continental Sportcoat, NOS cotton-linen crosshatch "PLAYER" denim.
mfsc SS2023 "Sportsman" catalog.
Made in USA.
Mister Freedom® "NOUVELLE VAGUE" slacks and Continental Sportcoat… le comeback!
We just cut our latest trouser pattern in an mfsc old flame, the swingiest denim twill this side of a Monte Carlo black jack table, the dance hall hustler's favorite, none other than the "PLAYER" denim!
The 'Player' is a 10.5 Oz. crosshatch denim twill, light indigo moss blue-green color, a slubby weave of cotton-linen blend (linen or similar natural vegetal fiber), with a 1960's 'sharkskin'-type sheen, milled in Europe. We first introduced this fancy fabric with the "Player" Continental three-piece Suit.
Recently released in NOS Slate Grey and Charcoal Grey denim twills, our "Nouvelle Vague" slacks pattern is inspired by an unusual pair of vintage late 50s/early 60s French casual cotton twill pants from our archives, probably tailor-made according to the simple seam construction, and the fact that they bore no branding. We revisited the design to merge the vibes of dressy slacks and denim jeans.
The frogmouth front pockets, single rear flap pocket, extended tab waistband with snap closure, narrow belt loops, choice of fabrics and unpretentious suiting vibe all blend together to give the trousers a "French Riviera" casual 1950s-60s fashion flair.
We kept the overlock inseam/outseam/seat construction of the vintage custom-made original, for easy fit alterations with a single-needle machine. See the original twill pants below, with a bit of the R&D process.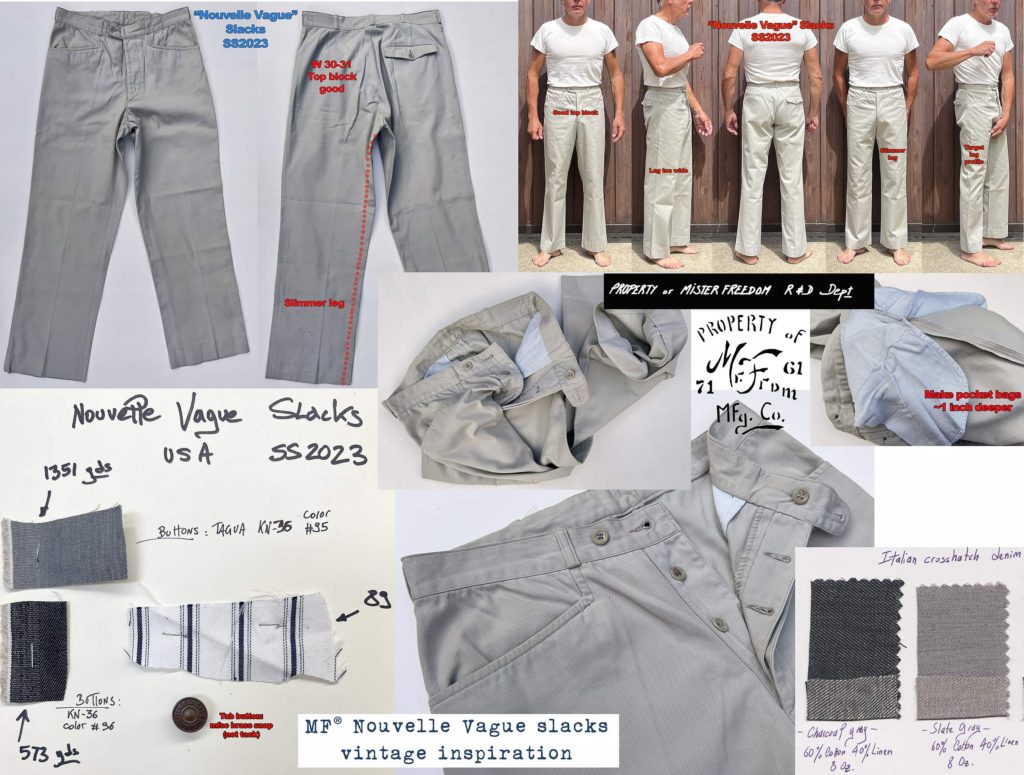 To add an irresistible 60's-70's 'leisure suit' touch to our "Player" set, we enhanced the construction with an orange/yellow combo contrast stitching. Now that's fly, borderline funky fresh.
The lining/pocketing are also New Old Stock finds, fancy woven stripe 100% cotton twill for the Sportcoat, and 100% cotton "Americana" woven stripe for the slacks. Two distinct fabrics, but similar, conveying an old-school hustling tailor inclination to use-up all available lining fabrics on hand.
The 'Player" Continental sportcoat and Nouvelle Vague slacks are offered separately, but are available as a specially-priced "Huggy Bear" set, for the stylish high-rolling good fella keen on the Las Vegas meets French Riviera look.
The MF® Continental Sportcoat and Nouvelle Vague Slacks "Player" Edition suit is designed in California by Mister Freedom® and manufactured in California, USA, by Mister Freedom® in collaboration with Sugar Cane Co.
SPECS:
PATTERN:
All original mfsc (Mister Freedom® x Sugar Cane Co) sportcoat, and trousers patterns, a classic blend of 1950s, 60s and 70s vibes and silhouettes, mixing European and American vintage styles.
FABRIC:
NOS 10.5 Oz. crosshatch denim twill, light indigo moss blue-green color, slubby weave of cotton-linen blend (linen or similar natural vegetal fiber), with a 1960's 'sharkskin'-type sheen, milled in Europe.
Lining/pocketing: Mix of New Old Stock fancy woven stripe, 100% cotton.
DETAILS:
"PLAYER" Continental SPORTCOAT:
* Unstructured silhouette.
* Lightweight and soft, perfect traveling companion.
* High 4-button front, classic notched lapel.
* Amber color corrozo wood butons.
* Half shoulder floating lining.
* Side hip patch pockets with flaps, single chest patch pocket.
* Concealed (passport) chest pocket.
* Pocket openings reinforced on the inside with backing fabric.
* Form-fitting no-vent back panel.
* Contrast orange 100% cotton stitching, clean caballo flat-felled seam construction, no open edges or overlock.
* Made in USA.
"PLAYER" Nouvelle Vague SLACKS:
* Vintage French 1950s-60s fashion, casual yet elegant sportswear vibe.
* Straight leg period silhouette.
* "Frogmouth" front pockets.
* Button fly, corrozo wood buttons.
* Extended waistband tab with snap waist closure, featuring original MF® branded brass snap button.
* Single rear welt pocket with buttoned flap.
* Slim belt loops, will accommodate 1¼ wide MF® x VEB belts.
* Fancy woven stripe pocketing.
* Flat front & darted rear panel for an attractive top block side profile.
* Overlock inseam/outseam/seat construction.
* Tonal stitching.
* Tailor shop-style unfinished overlocked leg bottom, to suit your cuffing preferences.
* Original "The SPORTSMAN" woven rayon label on rear waistband, concealed under the belt.
* Made in USA.
SIZING/FIT:
This explains how we size and measure our garments.
The MF® "Player" Continental Sportcoat and Nouvelle Vague Slacks both come raw/unwashed.
We recommend this usual routine before wearing the garment, as the tagged size reflects the measured size after going through this simple process:
Cold soak in a tub for about 30-40mn, with occasional hand agitation.
Both sportcoat and slacks are considered true-to size. The "Player" denim fabric and the stripe cotton lining are pretty much sanforized, but puckering and roping resulting from the rinsing process will slightly alter the fit and drape.
Please refer to sizing chart for post cold soak measurements.
At 5'7 and ~145 lbs, I opted for a comfortable size 38 Sportcoat and slim W30 slacks (some of the fit photos feature a W31 prototype.)
Trousers hemming: After the initial soak/hang dry process, we recommend settling down on the final length of the bottom hem after gently wearing the trousers around the house a bit. The crispy cotton-linen fabric tends to naturally bunch/wrinkle and pull the leg up slightly. Letting this specific fabric react to your own body for an hour or so will allow you to decide on a proper classic leg break that works for you.
I went with a DIY blind (hand) stitch 1¼ inch hem.
Make sure you fully rinse the garment before you commit to cropping the leg to your cuffing preference. Style-wise, we recommend hemming and not "roll-up" cuffing.
CARE:
Machine wash on DELICATE when laundering is needed, cold water, mild eco-friendly detergent. Hang dry.
Refrain from using the "heavy-duty" cycle setting on your home washer. Using a heat dryer is also not recommended and may result in excessive and irreversible shrinkage.
Available from www.misterfreedom.com, our Los Angeles brick & mortar store, and fine retailers around the World.
Email sales@misterfreedom.com or call 323-653-2014 with any questions unanswered above.
Thank you for your support.
Christophe Loiron
Mister Freedom®
©2023