Yes! Right there…
Shooting the 'Crew Pants' in the back of the store for this next "Sea Hunt" post the other day, I looked closer at one of the props. Namely a Feb. 1942 issued map of the Pacific Ocean, found inside a 40's white USN ditty bag, along with the sailor's stencils/cover/letters…
On the map, he had circled his way from Newark to Portland to… the Solomon Islands (Guadalcanal '42, anyone?)
Not sure what happened to seaman "Daw, T.A.", but what he did then gives me the liberty today to choose another destination.
I pick Bora Bora. So I'm adding my longtime favorite body oil as an extra prop to the photo. Made in Tahiti since 1942. Get sum' here!
🙂
Sooo, dear Monsieur Monoi and Madame Tiki, kindly mail two complimentary airline tickets to:
Mister Freedom®, 7161 Beverly Blvd., Los Angeles, CA 90036,USA.
Māuruuru in advance 😉
Anyways…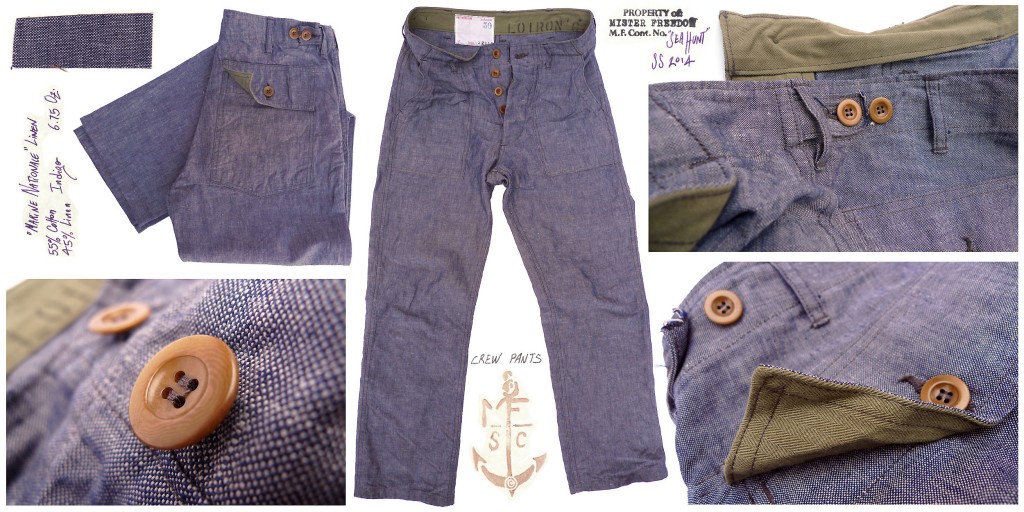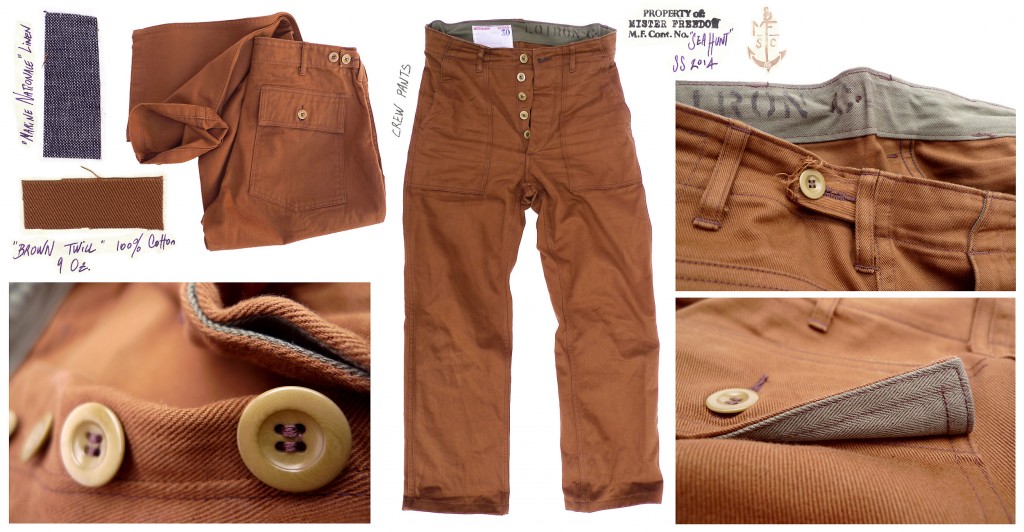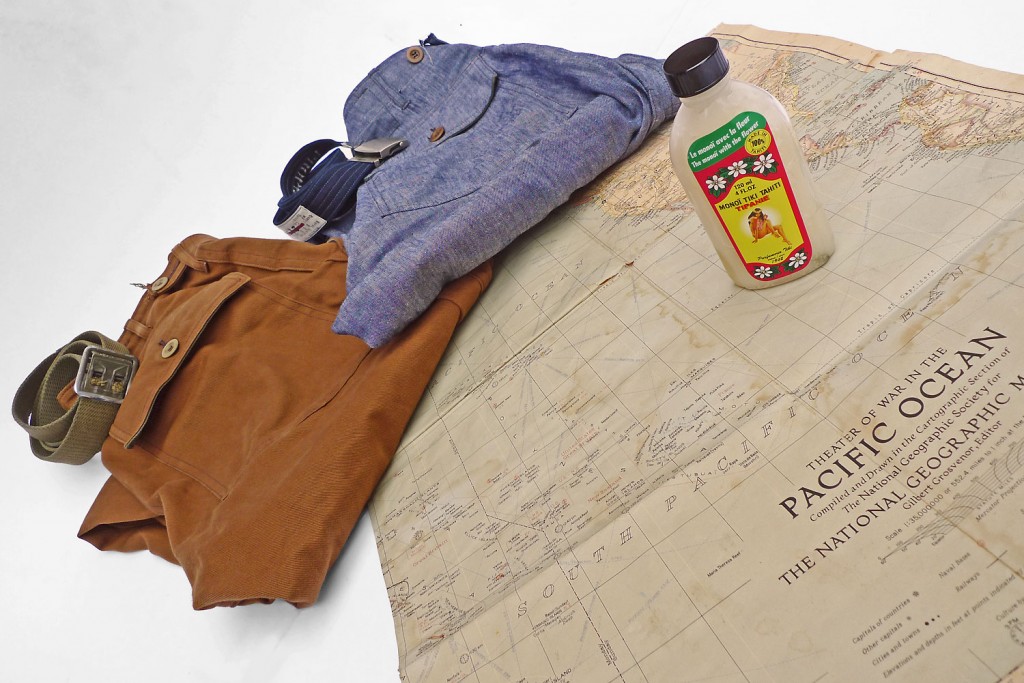 Mister Freedom® "Crew Pants"
'Sea Hunt' mfsc Spring 2014
Commonly referred to as 'fatigues', the US Army "Utility, Trousers, OG-107, TYPE 1 Class 1" became associated with the early years of the Vietnam conflict. The original 8.5 Oz fabric they were made of was a type of carded cotton sateen vat-dyed Olive Green, shade number 107. This sturdy fabric was well adapted for Korea, but was later found unsuitable for a tropical jungle theater and replaced by popeline and ripstop for the utility sets.
Some call these trousers 'Baker Pants'. According to Artist and collector Patrick 'Riveted' Segui, this might refer to the fame of US Army MSgt. John Franklin Baker, Jr., Medal of Honor decorated 'tunnel rat' hero of the Vietnam war. Anyone with an alternate explanations for the term is welcome to pitch in. Anyone wanting to correct me on other historical inaccuracies I might have committed is truly welcome too.
NOTE: Both above images from our archives are NOT related, were taken some twenty years apart and are NOT intended to be disrespectful in any way.

The Mister Freedom® 'CREW PANTS' share the general pattern of these P57 (pattern dated 11 March 1957) 'fatigues', including the waist adjuster tabs and large rear pocket flaps of type 1 trousers.
Where we decided to intervene and wake up from lethargy however is with the choice of fabrics. The idea was to mix things up, continents, eras, fabrics and styles, as the members of our Team did when giving instructions to have their custom functional gear designed. These trousers soon became everyone's favorite, on and off board.
Here are the two options for our version of these classic utility trousers:
a) "MN" Linen-cotton:
Referring (again) to the French Navy, this 6.75 Oz blend of 55% cotton and 45% linen was developed from several 1950's vintage samples of French Marine Nationale utility uniforms. The fabric is similar to a thick type of slubby chambray, rendered 'crispy' by the linen content. Our version features actual indigo dyed yarn, as was used in very early models. I have always loved this fabric, the color, the feel and the way it fades overtime.
For decades, a French seaman's 'tenue de travail' partly consisted of buttoned flap-front deck pants, pleated summer shorts, pull-over tops (vareuse) and a (rare) shawl collar jacket made out of this fabric. It was replaced by a purple-ish color denim-like cotton twill in the 1970's, subsequently evolving into a poly-cotton version.
We sent several vintage samples and instructions to the fabric experts at Toyo Enterprises, and we were honestly thrilled with how nice the resulting Japan milled textile came out.
I have always longed to find a pair of 'simple' trousers in that cotton-linen fabric that would be easier to wear than the typical crackerjack style pants. There is it 😉
b) Brown Twill:
This 9 Oz 100% cotton fabric was developed from a WW1 US Army officer pair of jodhpurs from our archives. I really loved the feel of the twill and the way it had evolved though the years. That vintage fabric was totally different from the more common army chino twill we are used to.
Again, the textile experts at Toyo Enterprises were put to the challenge with that mystery, studied yarn per yarn, and milled the fabric according to a tiny swatch hidden in a seam, tightly protected from wear and sun exposure. These guys use microscopes and crazy technical fabric content tests. They're good.
Interestingly, the resulting original pre-fade color is very similar to that of our Britches Chaparral and Americano Trousers. The common thread…
For both options, we are using an Olive Drab USMC HBT fabric (courtesy of Buzz Rickson's) for the waist band lining and fly facing, a WW2 OD shade #7. Please note that production does not come with someone's name stenciled on the inside waistband. I have a tendency to mark most of my clothes, for no other reason than an old tenacious habit from bygone boarding school days.
The "CREW PANTS" of our Sea Hunt Spring 2014 Collection are made in Japan as a collaboration between Mister Freedom® and Sugarcane Co.
SPECS:
FABRIC: Two fabric options
a) "MN" Linen-cotton: 6.75 Oz blend of 55% cotton and 45% linen, plain weave. Milled in Japan exclusively for mfsc.
b) Brown Twill: 9 Oz 100% cotton twill fabric (approx. color Pantone Reference: 732 U)
DETAILS:
* Pattern adapted from an original pair of US Army P57 utility trousers.
* High-waist, straight leg, generous fit.
* Two ply waistband with Olive Drab USMC HBT fabric lining (OD shade #7)
* Button fly, corozo (vegetable ivory nut) top and fly buttons.
* Side waist adjuster.
* Flat felled seam construction for seat and inseam.
* 100% cotton tonal stitching.
* mfsc white woven label, ready for perso markings.
SIZING/WASHING:
Both fabric options come un-washed, as always with MF® gear.
Although different in measurements when raw, both will shrink to a very similar fit. Due to the different drape of the two very different fabrics, the same size might however feel and appear different when worn.
The Brown Twill are cut longer than their MN linen counterpart, for no other reason than to make us all wonder why…
Please note that due to the 'crispiness' and wrinkling properties of linen, leg creases will 'lift' the fabric and will have to be put into consideration for those hemming their pair.
I had to size down to a Waist 30 on both of these CREW PANTS, which I right away attributed to my daily 3mn planking routine I started last week. Nice try. They ARE cut quite generously.
We recommend the usual original cold soak/spin dry/line dry routine.
Please note that our rinse tests were done following this method, and that using hot water and powered dryer (both not recommended) will result in more shrinkage.
Further washing, when needed, should be done on 'delicate', with mild detergent, and trousers turned inside out to avoid 'marbling' of the fabric.
After a few cycle of normal wash/wear, the CREW PANTS will reach their low-maintenance status and age gracefully.

Available Raw (unwashed) ONLY
Tagged Sizes
W28
W30
W32
W34
W36
W38
Retail $439.95
Available from our brick & mortar and our webstore.
Please call the store at 323-653-2014 or email sales@misterfreedom.com with questions not addressed above.
Thank you sincerely for your support 🙂
Comments
comments