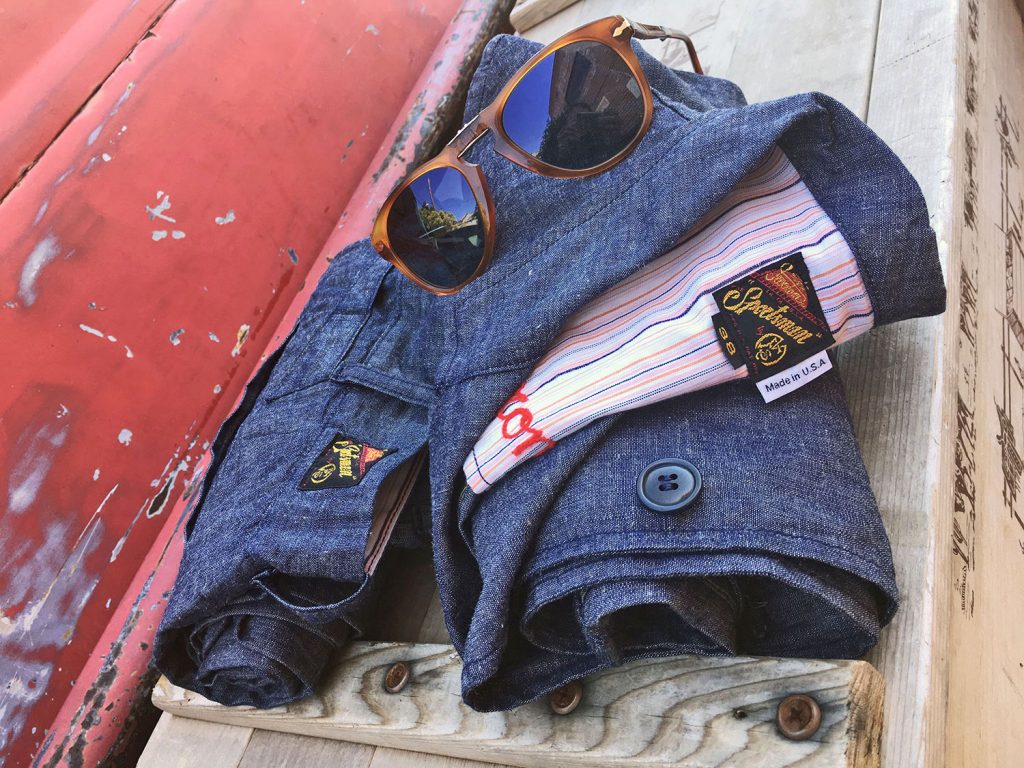 Mister Freedom® Continental "RIVIERA" Two-Piece Suit (Sportcoat & Trousers).
Cotton-Linen Indigo Selvedge Chambray.
mfsc Sportsman catalog, Spring 2018
Made in USA
We have concocted this latest iteration of the Mister Freedom® "Continental" pattern with your next escapade to the Côte d'Azur in mind. Say bonjour to the elegant yet unpretentious, travel-friendly yet très chic Spring 2019 Continental "RIVIERA" two-piece suit.
Since its inception in early 2016, our Continental suiting concept – a casual unstructured sportcoat and trousers combo, all made-in-USA and today a staple of the Mister Freedom® SPORTSMAN catalog – has become a favorite for the International Man of Mystery who digs the re-bop, and the "FlipFlops and TankTop-Free Air Travel Club" frequent flyer.
After checking into your penthouse at Le Majestic, and as you enjoy the view of the bustling Croisette from the apartment's balcony, unpack the RIVIERA suit rolled in your suitcase. Hang the set in the bathroom while showering, for a quick MacGyver-style steaming job. You are ready to head on over to the Promenade, for an invigorating stroll amongst rude locals and paparazzi.

The Spring 2019 release of the Continental, the "RIVIERA" edition set, comes in a luxurious chambray fabric, an old MF® favorite previously featured on the Naval Chinos Type No.266ic and the Breezer Type II.
This fine indigo selvedge chambray is a slubby, tightly-woven blend of 85% cotton and 15% linen, plain weave dark indigo warp with unbleached weft yarns, a dry and crispy-hand fabric flashing a white/red stripe selvedge ID, exclusively milled in Japan for mfsc.
Quite reminiscent of the 1950's French Marine Nationale utility uniform fabric that had inspired our Sea Hunt 'MN" Crew Pants (see original 2014 blog post), this chambray features a darker, reddish indigo hue, and a higher thread count than its naval counterpart.
Interestingly, chambray fabric, as it is known today, finds its roots in the city of Cambrai, Northern France, a busy textile hub since the Middle Ages. For centuries the region produced dyer's woad and its industry was notorious for woolen cloth, woven linen and draperies. Cambrai became associated with fine linen Batiste or Cambric cloths, precursors of today's popular chambray fabric.
The elegant fabric drape and classic texture of our cotton-linen chambray make it a perfect candidate for the MF® Continental suiting family. In popular culture, chambray fabric is often relegated to its blue prison workshirt status. But, just as duck canvas is not mere tent material, chambray is a noble textile, with endless applications in "heritage fashion".
One might feel uncomfortable with the concept of a suit made of chambray, a cloth type often associated with shirting. But like denim twills, not all chambrays are created equal. They vary in weight, fiber content, color, thread count, finish, drape, Country of Origin, etc… The vintage clothing connoisseur will agree that the MF® RIVIERA cotton-linen indigo chambray perfectly qualifies as a classic summer suiting fabric.
For your mix & match pleasure, eclectic iterations of the Continental Sportcoat are already available in fine NOS fabrics such as an indigo crosshatch twill, two shades of grey cotton-linen twills, a light indigo "Player" denim, an elegant tropical "Congo Gabardine" cotton-linen twill, and a black pigment-coated "JC" denim twill. These can be paired with the Continental Trousers previously released in brown Cacao Chambray, indigo Crosshatch Denim Twill, light indigo "Player" Denim (aka Harlem Slim Special), and black-coated "JC" denim.
Bottom line, theMister Freedom® Continental "RIVIERA" indigo chambray edition is a solid, trust-worthy, low-maintenance travel companion and closet essential, when you need that extra dress-up touch at your destination, or when you just gotta TCB without the salaryman vibe.
Additionally, your indigo chambray suit is guaranteed to age gracefully over time. With normal wash/wear, the RIVIERA will acquire an attractive natural patina, the perks of well-made apparel cut from proper fabric and not factory-distressed. This is a sure way for MF® gear to retain high resale value on the international secondhand market, a fact that our hard-working MF® gang is quite proud about.
The "RIVIERA" is available as a matching Sportcoat/Trousers two-piece set, but also as individual pieces for a mix & match look.
The mfsc Continental "RIVIERA" Two-Piece Suit (Sportcoat & Trousers) in Cotton-Linen Indigo Chambray is designed in California by Mister Freedom® and manufactured in the USA in collaboration with Sugar Cane Co.
SPECS:
FABRIC:
A fine indigo selvedge chambray, a slubby, tightly-woven blend of 85% cotton and 15% linen, plain weave dark indigo warp with unbleached weft yarns, a dry and crispy hand fabric featuring a characteristic white/red stripe selvedge ID, milled Japan.
Pocket bags and waist band: Fancy New Old Stock 100% cotton woven stripe twill, Italian origin.
Continental "RIVIERA" SPORTCOAT:
* Unstructured silhouette.
* Lightweight and easily folded, perfect traveling companion.
* Late 50's, early 60's vibe high button front.
* Fabric selvedge concealed in the pocket construction.
* Tonal corozo wood butons.
* Half shoulder floating lining, 100% cotton NOS fancy woven stripe twill.
* Side hip pockets with flaps.
* Pocket openings reinforced on the inside with facing fabric.
* Tonal 100% cotton stitching, all clean caballo (chainstitch) flat-felled seam construction, green color "Sportsman" signature chainstitch on the inside. No open edges or overlock.
* Made in USA.
Continental "RIVIERA" TROUSERS:
* Elegant late 1950′s early 1960's type silhouette and fit, straight leg.
* Tonal corozo wood fly and waist buttons.
* Fabric selvedge displayed on the leg split outer seam.
* Rear welt pockets.
* Trousers-style belt loops.
* Adjustable back cinch strap, with vintage NOS metal slide buckles.
* 100% cotton NOS fancy woven stripe twill pocket bags & waist band .
* NOS indigo twill fly/cinch facing.
* Watch pocket.
* Tonal stitching, 100% cotton thread construction, with inside green chainstich MF® signature.
* Original "The SPORTSMAN" woven rayon label on rear waistband, concealed when wearing a belt.
* Tailor shop-style unfinished overlocked leg bottom, to suit your cuffing preferences.
* Made in USA.
SIZING/FIT
This explains how we size our garments.
The "RIVIERA" Continental Sportcoat and trousers come raw/unwashed. We recommend the usual initial 30mn cold soak/occasional hand agitation/spin dry/hang dry process. The tagged size reflects the size of the garment after going through this process. The subtle variation of shrinkage between body fabric/lining fabric/cotton thread will result in puckering and roping, slightly altering the fit and drape.
I personally opted for a Size 38 in the Continental sportcoat  and Waist 32 trousers. These are my usual sizes in the Continental series and most mfsc garments.
Due to the specific fabric drape of the indigo chambray, the Continental RIVIERA might feel a bit more generously-cut than its slim-fitting black-coated denim "JC" predecessor. This is more noticeable on the RIVIERA trousers, that tend to look like they feature a wider leg than previous Continental trousers, but feature very similar measurements.
Trousers sizing: The Continental Trousers are true to size. If you are a measured waist 32 inches, you are most-likely a tagged W32 in the RIVIERA Continental Trouser. Although we do not recommend sizing up on this RIVIERA edition, please note that the Continental Trousers pattern might not be a good option for all body types. Proportion-wise, those with very muscular legs will probably look better in our regular Sportsman Chino models.
Trousers hemming: After the initial soak/hang dry process, we recommend settling down on the final length of the bottom hem after gently wearing the trousers around the house a bit. The cotton fabric tends to naturally bunch/wrinkle and pull the leg up slightly. Letting this specific fabric react to your own body for an hour or so will allow you to decide on a proper classic leg break that works for you. I opted for a classic 1 1/4 fold, and subtle period flood.
Style-wise, consider avoiding bulky denim rolls, over-played BRMC cuffing and unsightly "stacked look" with these classic slacks. Look-up "traditional trouser break" for an old-school, adult silhouette.
Please refer to sizing chart for approximate raw/soaked measurements. Soaked = 30mn cold soak, spin dry and line dry.
(Fit pic: wearing a size 38 jacket and W32 trousers.)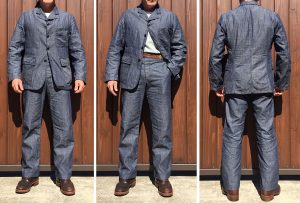 CARE:
This unstructured cotton jacket and these trousers are low-maintenance garments, but should be treated with care.
When needed, machine wash the MF® Continental "RIVIERA" Sportcoat and trousers on DELICATE, cold water, mild eco-friendly detergent. Hang dry.
Wash separately to avoid potential color transfer.
Full wash cycle and heat dryer are not recommended and could damage the garment.
Continental "RIVIERA" SPORTCOAT:
Sizes:
Small (36)
Medium (38)
Large (40)
X-Large (42)
XX-Large (44)
Continental "RIVIERA" TROUSERS:
Sizes (Leg length about 36'', left un-cuffed)
W 28
W 30
W 32
W 34
W 36
W 38
Continental "RIVIERA" Two-Piece Suit (Sportcoat + Trousers):
Available separately or as a two-piece suit (same fabric only, any size combination, rebate issued at PayPal check out.)
Available from www.misterfreedom.com, our Los Angeles brick & mortar store, and fine retailers around the World.
Email sales@misterfreedom.com or call 323-653-2014 with any questions unanswered above.
Thank you for your support.
Christophe Loiron
Mister Freedom®
©2019
Comments
comments