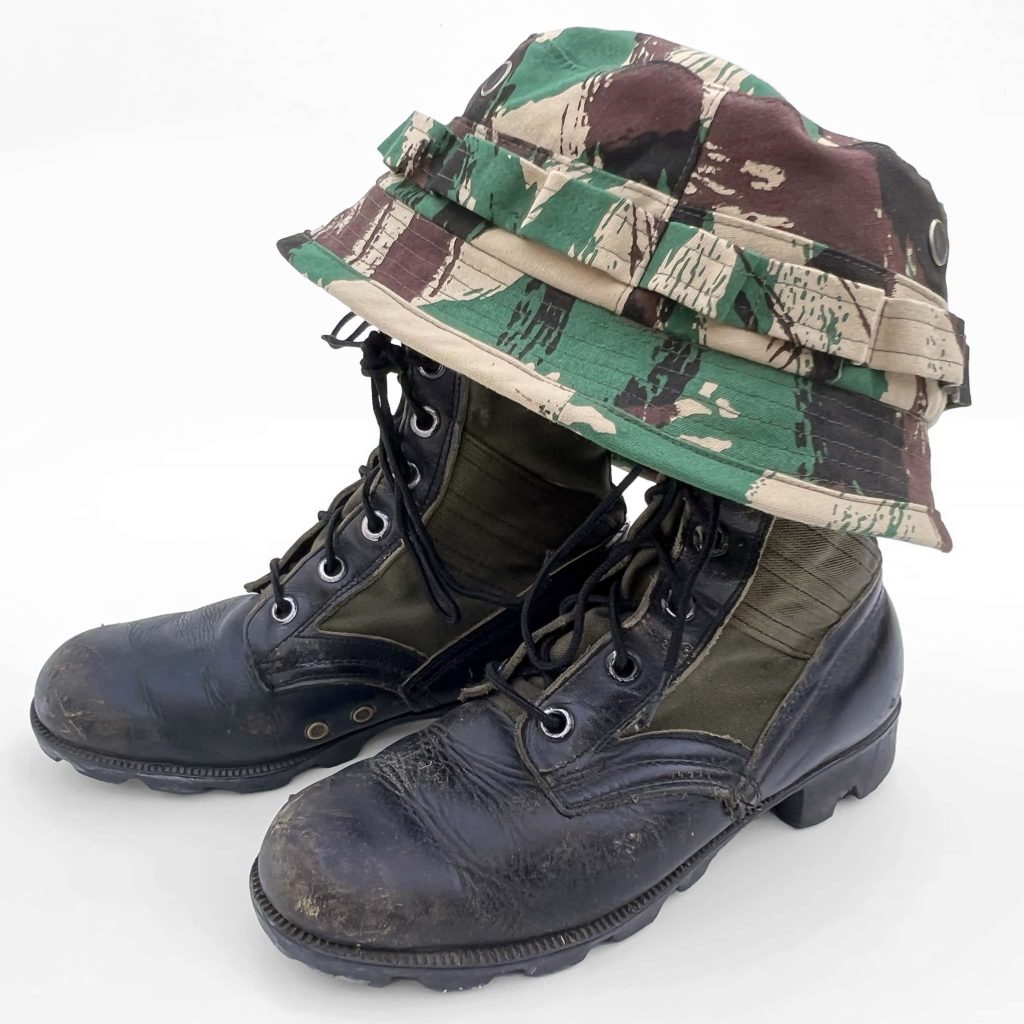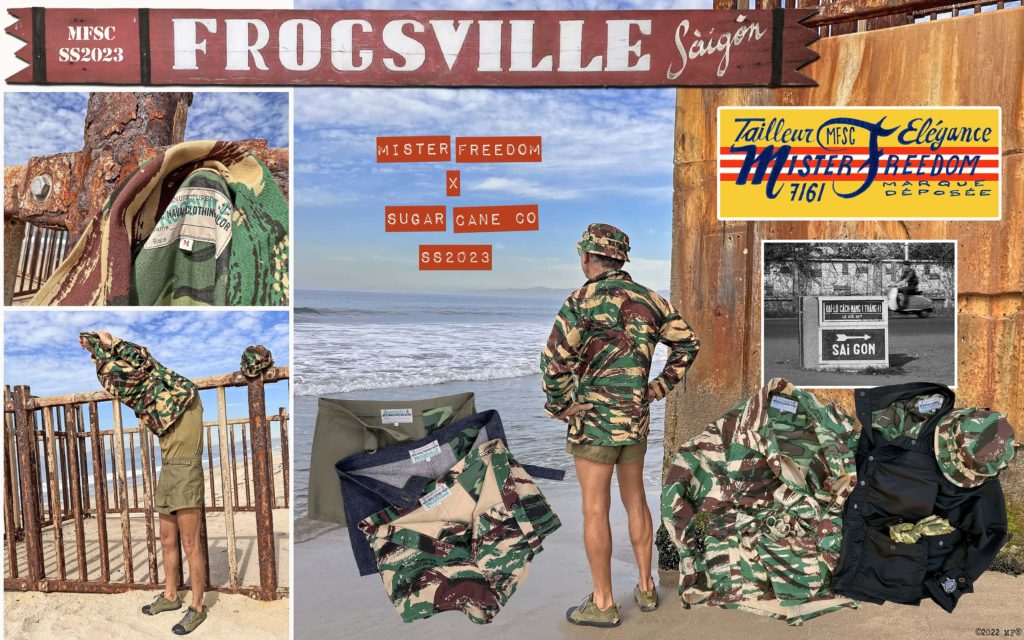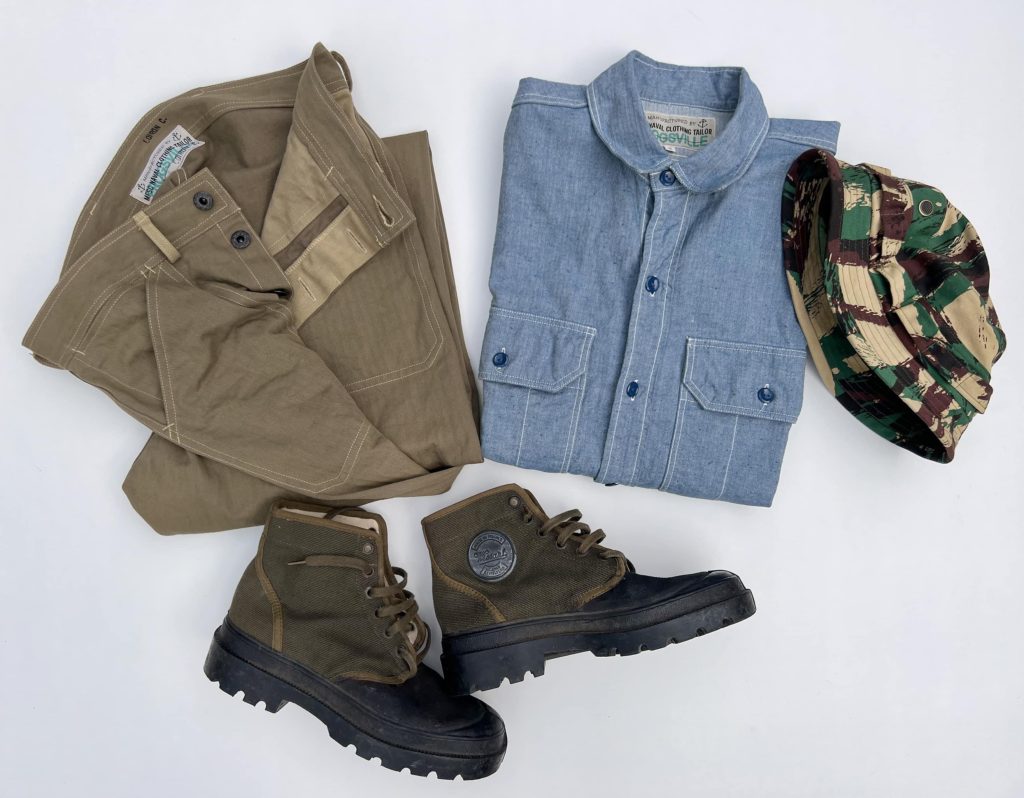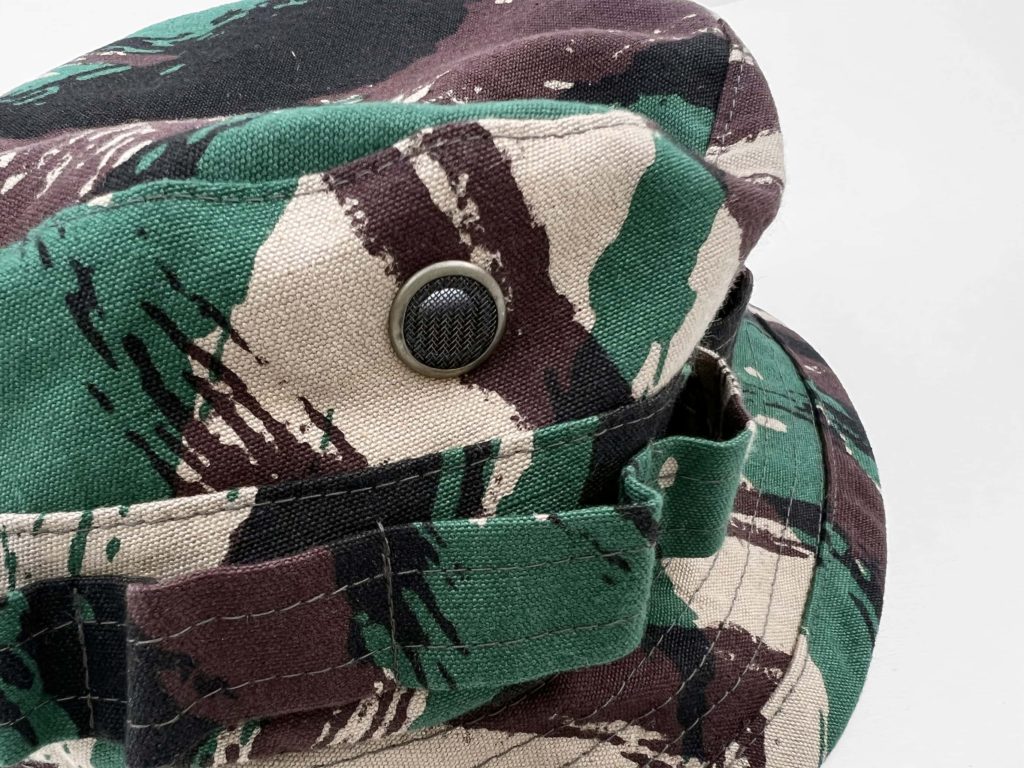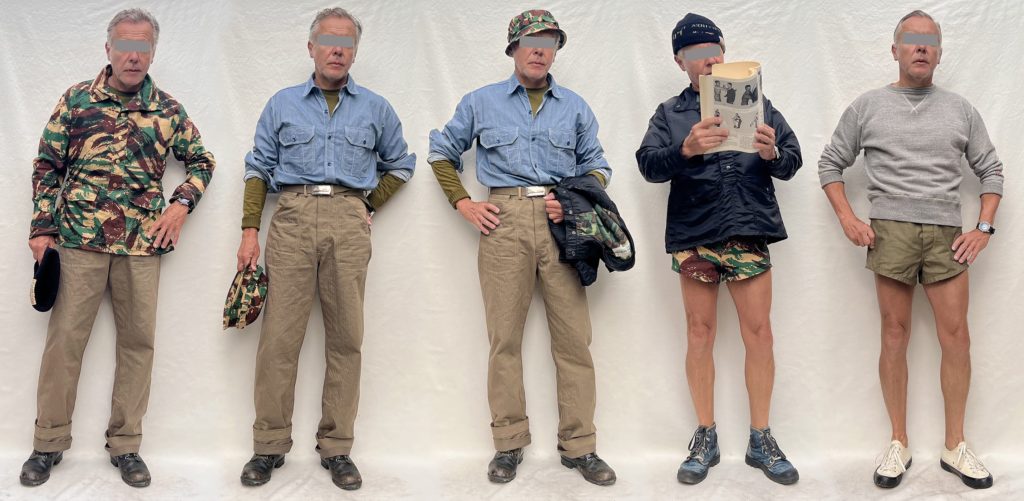 Mister Freedom® BOONIE Hat, Stingy brim,"French Lizard" TAP47 camo.
mfsc SS2023 "Frogsville x Saigon Classified"
Made in Japan
Our Boonie hat is inspired by a vintage military "bob" (as the French call this type of soft fabric bucket hats), a specimen custom-cut from TAP47 camo, dated 195?, locally-made in Indochina or Algeria at the time.
Introduced with the MF® 1-0 Smock, our Lizard (or Lezard) camo fabric shell is a nod to 1950s French TAP (Troupes Aéroportées.)
The disruptive pattern, printed on 100% cotton canvas fabric, is an mfsc interpretation of the iconic French TAP47 "Lizard" camouflage (aka "Lézzard" or "Léopard" as the French confusingly refer to it), the fabric of choice for French Paratroopers (TAP) during the 1950s Algerian War.
This specific French camo pattern was introduced in Sept. 1950 and inspired by WW2 field-tested British Denison smock camouflage (source: "Paras Français Algérie 1954-1962", Histoire & Collection ISBN: 978-2-35250-164-0), and many different versions of the Lizard camo exist, not unlike its Tiger Stripes American successor.
We opted for the TAP47 pattern (tan/khaki background with green and brown horizontal brush strokes, adapted for tropical theater as opposed to the darker/greener version of the European ETO), and as featured on French military M51-M56 tents.
Our reference fabric was a genuine vintage NOS French M1956 canvas quarter-shelter tent. We chose a plain weave canvas base, instead of the HBT of our previously-released Lézard printed fabric interpretation from 2015.
We modified the design of that 50s French bush hat to combine it with the "stingy" brim boonie hat styles favored by US Special Forces, LRRPs, Mike Force, SOG Team members… during the Vietnam conflict. Some background on the initial 1967 "HAT, SUN, HOT WEATHER" US military design was discussed here.
The term "stingy" is of probable civilian origin, as it also applies to classic menswear pork-pie hats, see 1960s Jamaican "Rudeboy" style for instance, Derrick Morgan taking it next level before Mods adopted it. In hat parlance, "stingy" usually refers to a narrow brim of less than two inches.
In US military lingo, a "stingy" brim boonie (as worn in the boondocks, rather than "back in the world") was considered more practical by elite teams infiltrated in the bush, allowing better peripheral vision and less obtrusive when taking aim. Originals were either regulation ERDL wide-brimmed bush hats chopped-off by the individual, or shorter brim covers custom-made by local tailors from all kinds of fabrics.
In Saigon Tu-Do Street fashion, we trimmed the brim of our vintage French bob to 1 ½ inch (that's reaaaally stingy!), and reduced the crown height to 2 ¾ inches for that mean MF low profile, and BA Project Delta Recon swag, away from the more touristy vibe of contemporary bucket hats.
Our Boonie hat features metal ventilation mesh screen eyelets, similar to the type found on the M-1966 Jungle Boot. We lined the crown with lowland ERDL ripstop fabric, for that in-country made vibe, recycling/using whatever fabric was at hand. The rows of parallel stitching on the brim serve as stiffening it. The "foliage ring" (hatband where branches or pieces of fabric were inserted for concealment in the field) won't probably see much use, but it's there, for those with a few vintage M67 grenade pins laying around the house.
The MF® BOONIE Hat "Stingy" is designed in California by Mister Freedom® and manufactured in Japan in collaboration with Sugar Cane Co.
SPECS:
FABRIC:
French Lizard camo, 100% cotton canvas, about 10 Oz. Printed TAP47 pattern, tan/khaki background with minimal bleed-through (= the reverse of the fabric is solid tan)
Crown lining: 100% cotton Lowland ERDL camo ripstop.
PATTERN:
* Inspired by vintage military bush hats and local-made boonies, soft crown with stiff/short brim.
* "Stingy" 1 ½ inch brim.
* Four crown ventilation mesh screen eyelets.
* Contrast crown lining, Lowland ERDL.
* Foliage ring hatband.
* Original mfsc Frogsville woven rayon label.
* Made in Japan.
SIZING/FIT:
Two MF® Boonie hat sizes available: 58cm (approx US 7¼) and 60cm (approx US 7½). Both 58 and 60 options are cut quite generously.
We recommend the following simple initial process for the hat to shrink to tagged size.
Cold soak for about 30mn in bathtub or washing machine, with occasional hand agitation.

Spin dry (spinning cycle) if using a washing machine.

Shape and line dry/drip dry. 
CARE:
Hand wash when necessary, cold water, eco-friendly detergent. Shape and line dry.
Available from www.misterfreedom.com, our Los Angeles brick & mortar store, and fine retailers around the World.
Email sales@misterfreedom.com or call 323-653-2014 with any questions unanswered above.
Thank you for your support.
Christophe Loiron
Mister Freedom®
©2023
Comments
comments