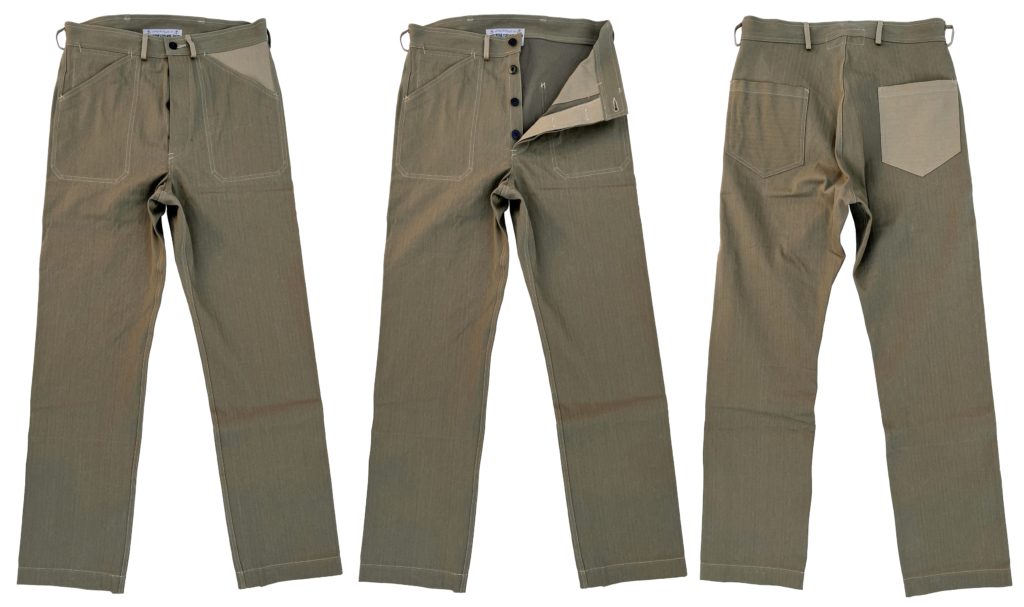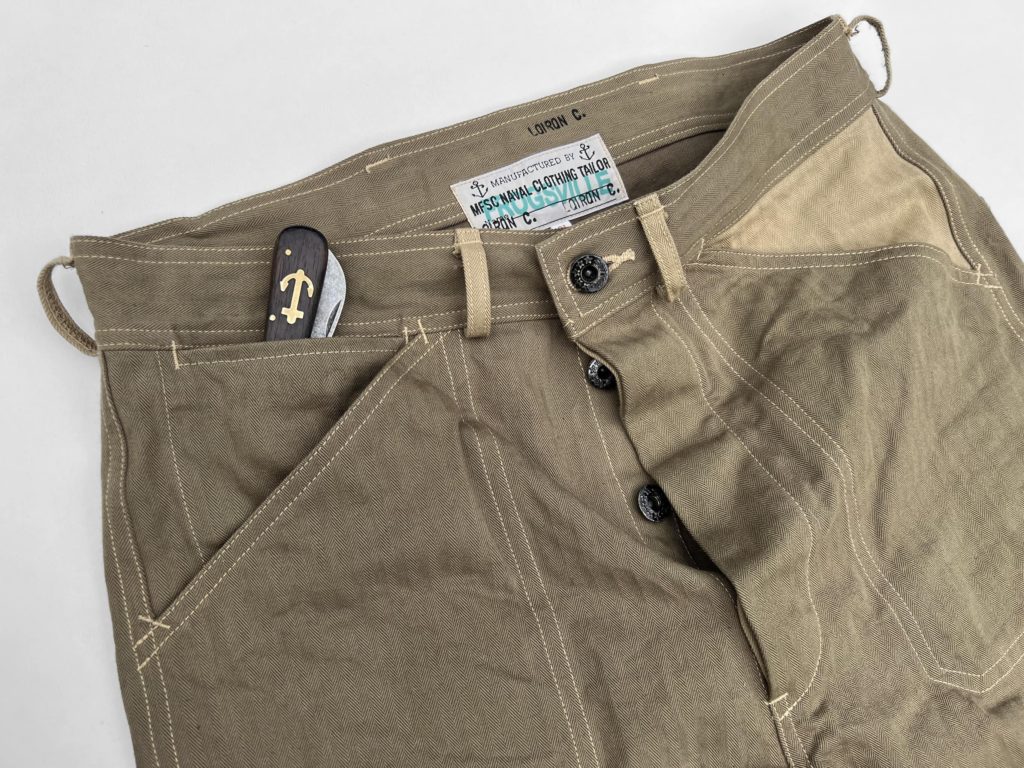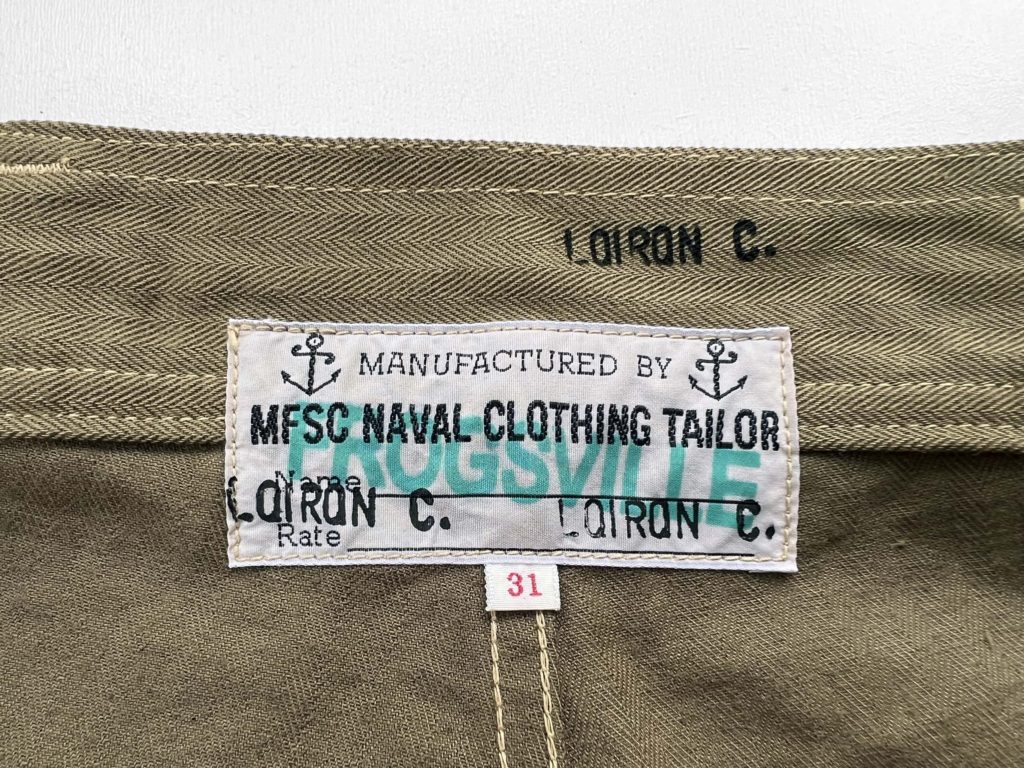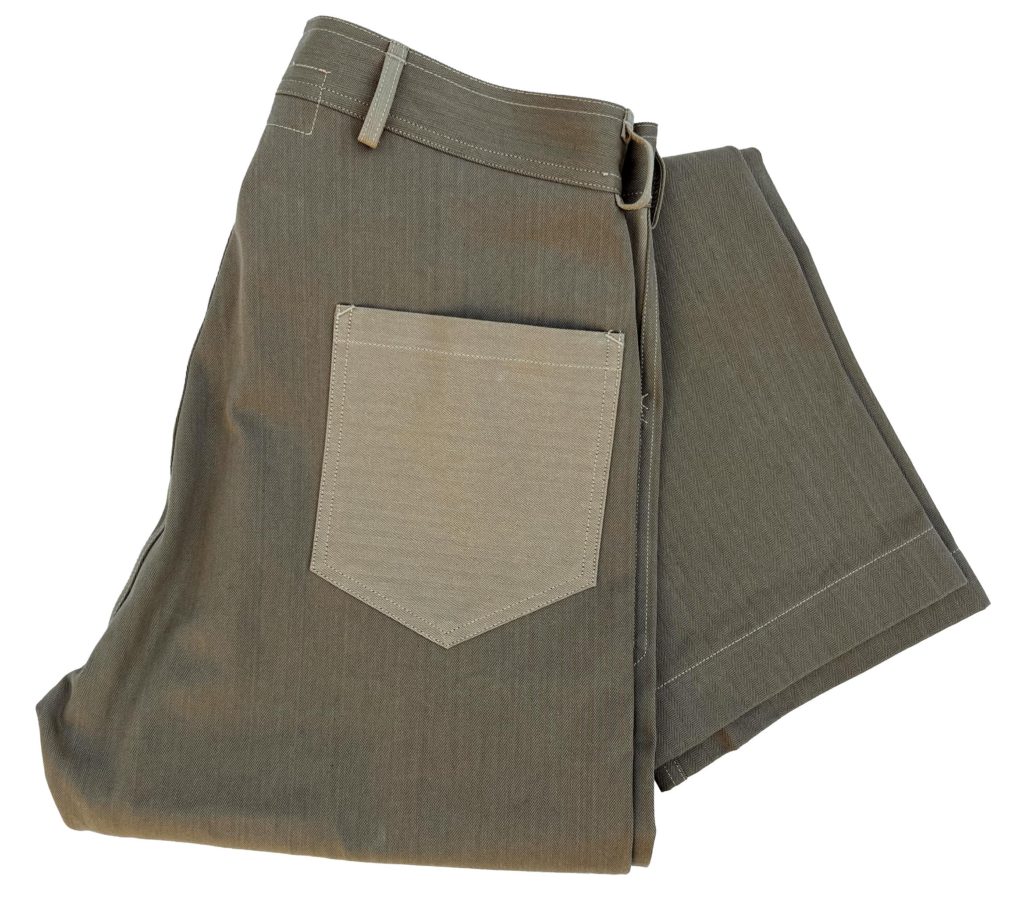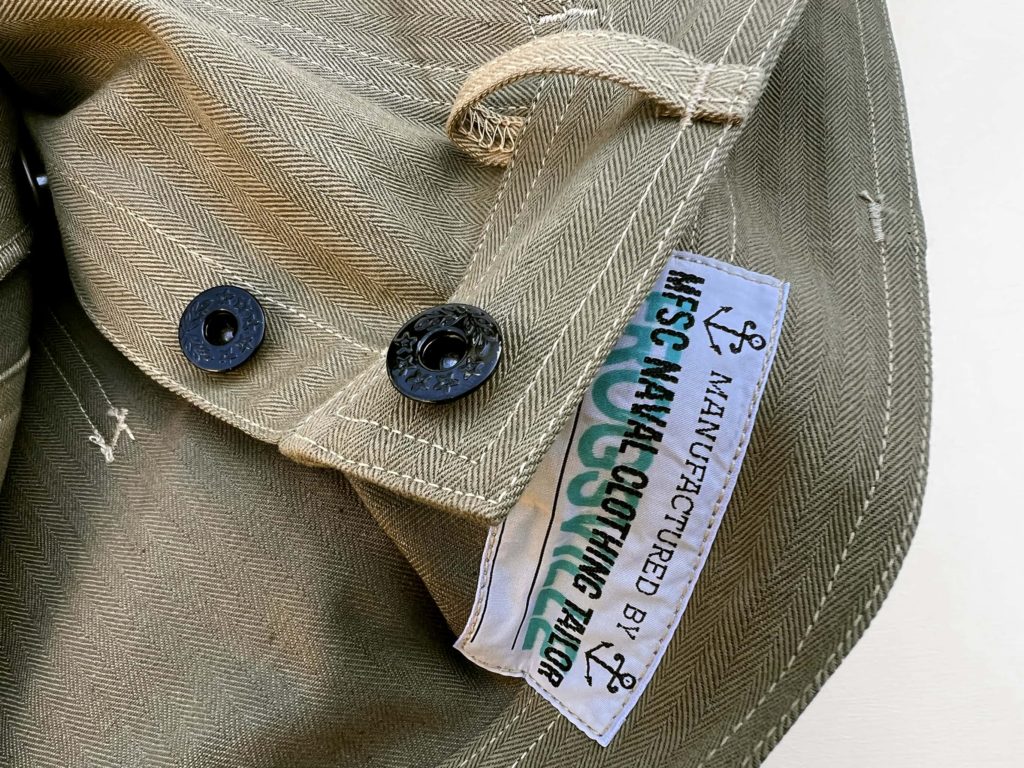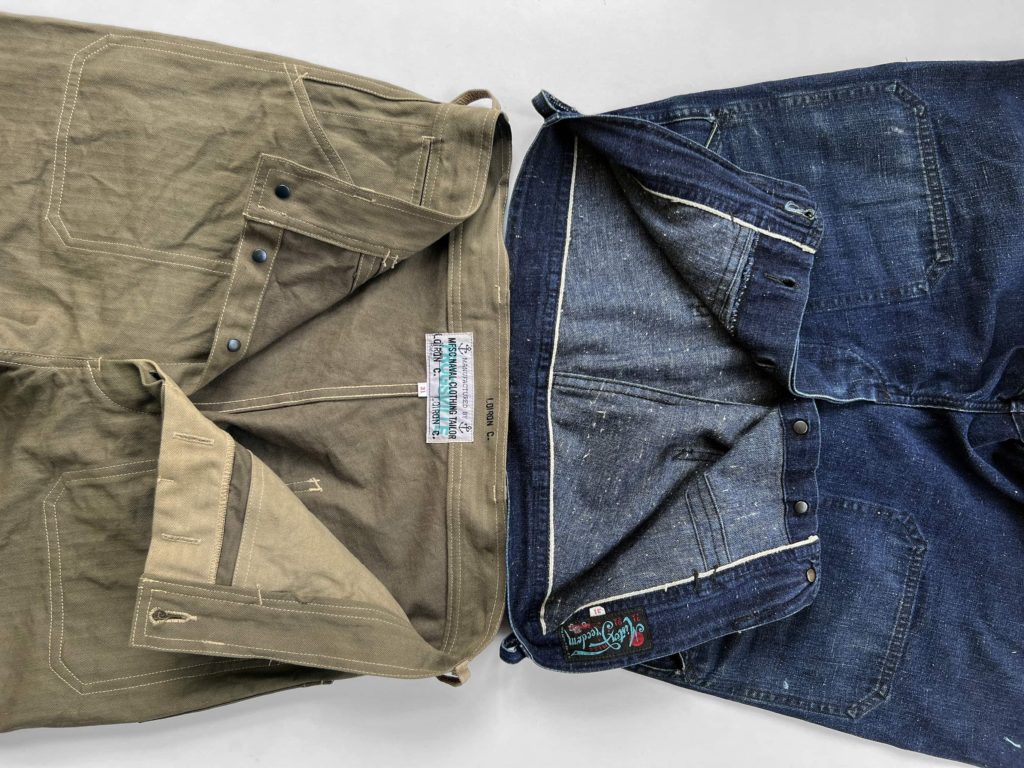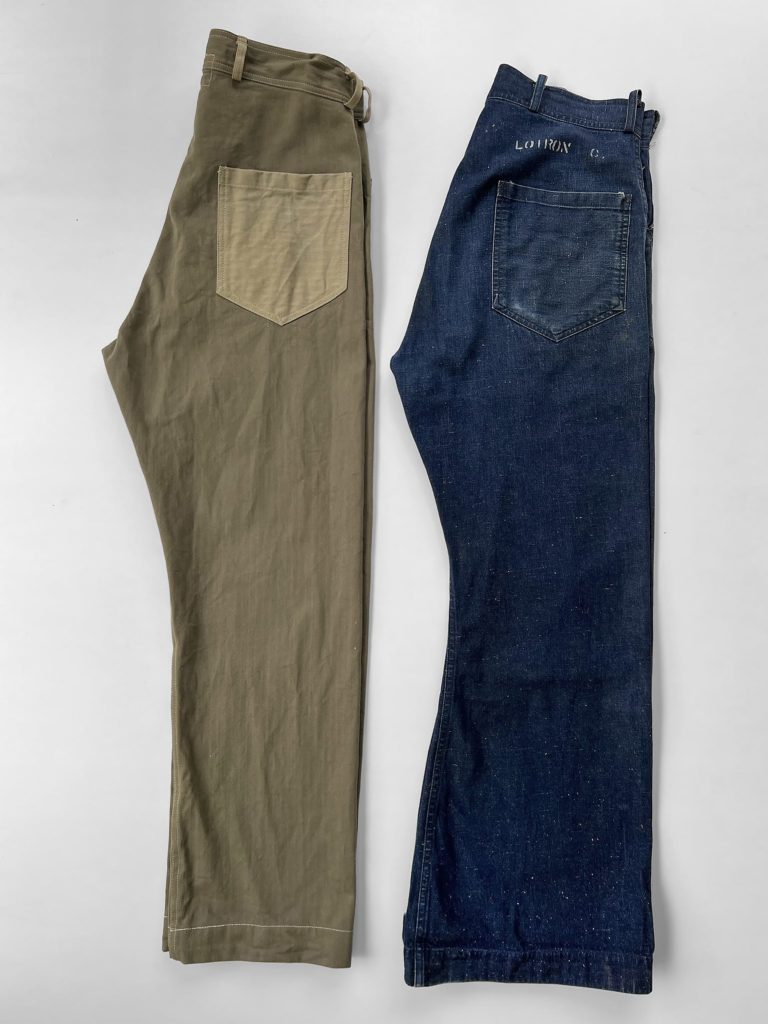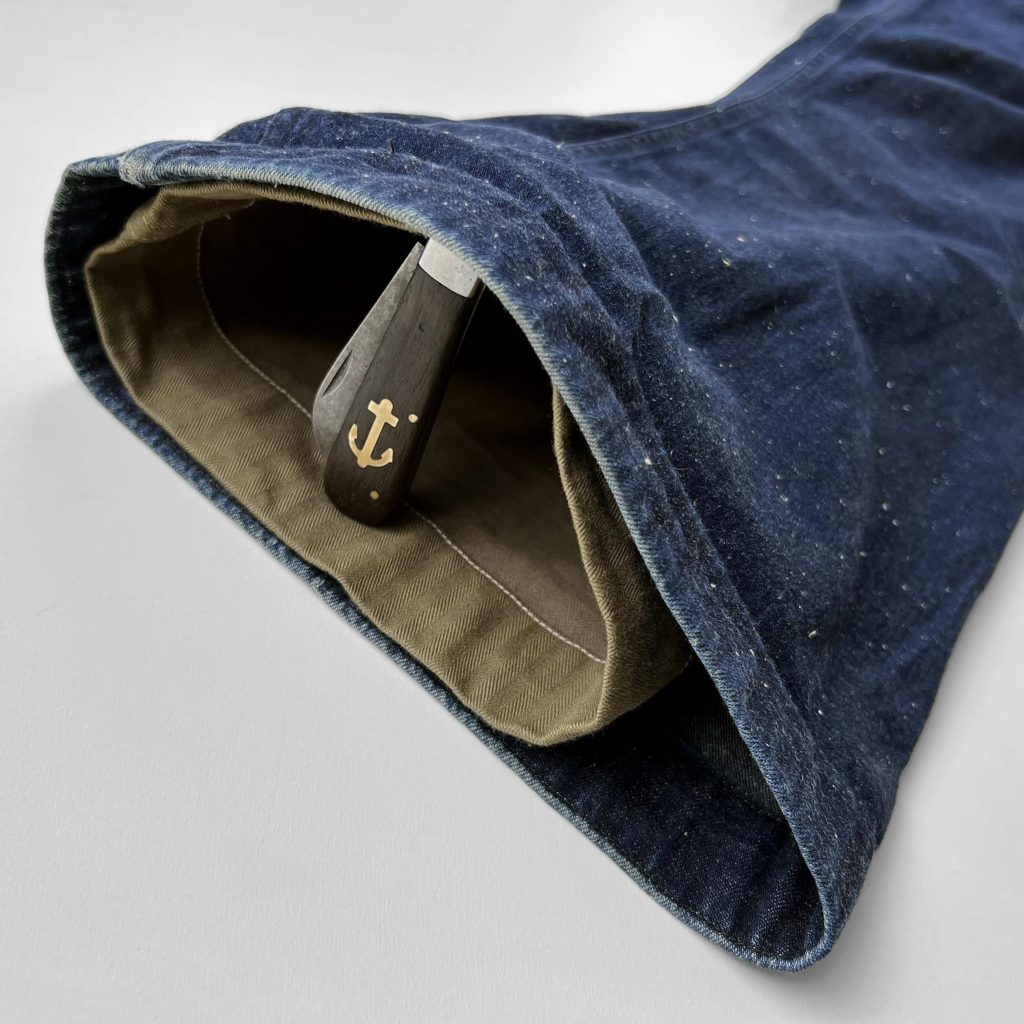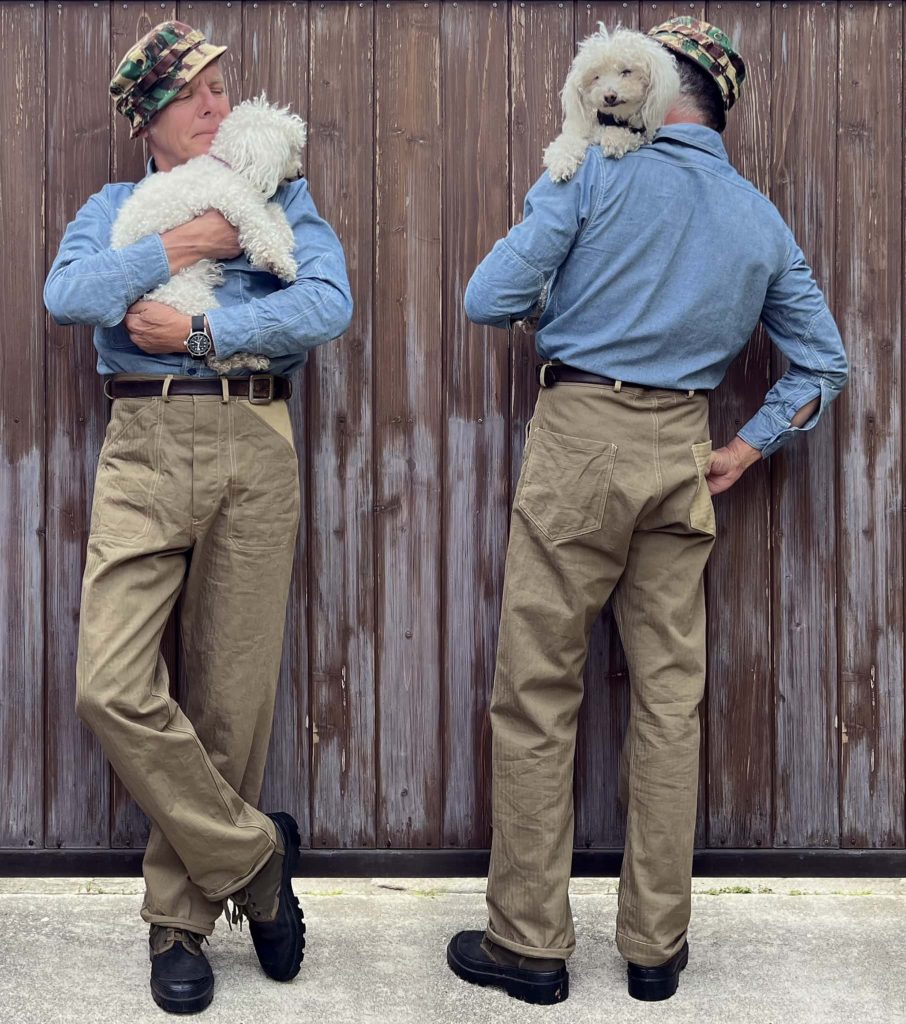 Mister Freedom® SWABBIES Modified, 100% cotton khaki combo HBT.
SS2023 mfsc "FROGSVILLE".
Made in Japan.
The Mister Freedom® SWABBIES were initially released as full-legged bell-bottom denim trousers, sometime in 2020.
The inspiration came from a rare pair of 1940's-50's private-purchase naval dungarees from the "Portlite Uniform" maker. If those utility blues conformed to the general silhouette and specs of traditional US Navy-issued denim dungarees, they featured really fancy tailoring and intricate pattern work for a pair of mere work trousers. The apparently-inconspicuous two front pockets are actually a very clever combination of two types of pocket patterns, slash and patch, a construction tour-de-force on a wrap leg that only makes sense when studying the inside of the pants. These original 2020 MF® SWABBIES featured authentic 1940's-style navy bells (11 inches!) and a traditional high-waisted cut.
These 2023 SWABBIES Modified (Mod) are a straight leg version of the same work pants pattern, bye-bye bells.
The Swabbies Mod are issued in a dry 100% cotton HBT fabric, 9 Oz., same grade as our Raiders Fatigues, but in a khaki greenish-brown x beige color combo. Khaki HBT makes for the main fabric, with beige HBT accents on belt loops/one rear pocket/one front pocket facing and button fly facing. The contrast will tone down with normal wear/wash routine.
This not-so subtle color contrast is a reference to wartime crunch productions, when government-contracted manufacturers pumping out utilities and dungarees had to be less regarding with QC. Quartermaster inspections were also more lenient.
Vintage specimen of military fatigues produced during WW2 with contrasting panels from different dye lots are not unusual. Some "Tropical Combat Uniforms" (jungle shirts and trousers) produced during the Vietnam conflict even randomly combined both lowland and highland ERDL camo in the same garment, and are at times referred to as "clown camo" by collectors. Those production "flukes" are my favorite.
The rear patch pockets of the swabbies are cut on a different bias (horizontal warp) than the legs, a feature of the original denim version.
The modified straight leg may be a little more wearer-friendly than the original navy bells for the less adventurous, although I really enjoy wearing mine around, and love the way that denim evolves with some wear. Note that the leg of the Swabbies Mod is less full than that of the Raiders'.
The mfsc SWABBIES Modified are designed in California by Mister Freedom®, and manufactured in Japan in collaboration with Sugar Cane Co.
SPECS:
FABRIC:
Dry 100% cotton HBT (herringbone twill), 9 Oz., vintage mil-specs, khaki greenish-brown (main) x beige (accents) color combo. Milled in Japan.
DETAILS:
* An original mfsc pattern inspired by US Navy 1940's-50's private-purchase denim bell bottom trousers aka dungarees.
* Modified straight leg (no navy bells.)
* Period high-waisted cut.
* "Random" contrast color panels.
* Wrap leg (no outseam.)
* Black 1940s-style laurel leaf starburst metal donut waist & fly buttons.
* Front pockets combining complex patch-type and slash-type pattern due to the challenge of the wrap leg. No open seams.
* Rear patch pockets cut using horizontal warp.
* Flat lock chainstitch construction.
* Contrast beige all-cotton stitching.
* Bar-tacked stress points.
* Woven rayon mfsc "FROGSVILLE" label on inside waistband.
* Made in Japan.
SIZING:
The SWABBIES Mod come UN-WASHED and are cut so that the measurements match the labeling AFTER an initial cold soak/line dry.
We recommend the usual protocol before wearing:
Cold soak for about 30-40mn, with occasional hand agitation.

Machine spin dry and line dry.

Wear briefly before fully-dry to set creases, then hang until fully dry.
I (5'7 ~145Lbs) went with W31 in the SWABBIES Mod. The W30 fit me better at the waist but I liked the slightly roomier leg silhouette of the W31, subjectively.
For ref, I had opted for a W31 in the Snow Denim Swabbies, for a fitted top block, comfortable thighs and period bell-bottoms, and went with a W30 in the HBT Cut-Offs version.
CARE:
Low maintenance, launder when needed.
We recommend turning the garment inside-out to avoid potential marbling of the fabric. Machine wash with cold water, gentle cycle, eco-friendly mild detergent and line dry.
Available from www.misterfreedom.com, our Los Angeles brick & mortar store, and fine retailers around the World.
Email sales@misterfreedom.com or call 323-653-2014 with any questions unanswered above.
Thank you for your support,
Christophe Loiron
Mister Freedom®
©2023
Comments
comments