Mister Freedom® Fall 2014 head-gear
The Watch Cap & Boonie Hat
New Old Stock Gov't Issue surplus
Just because it appears I lost mine recently is a good reminder that you should protect yours.
So here is a selection of covers we've dug up for Fall 2014, some New Old Stock Mil-Specs surplus items.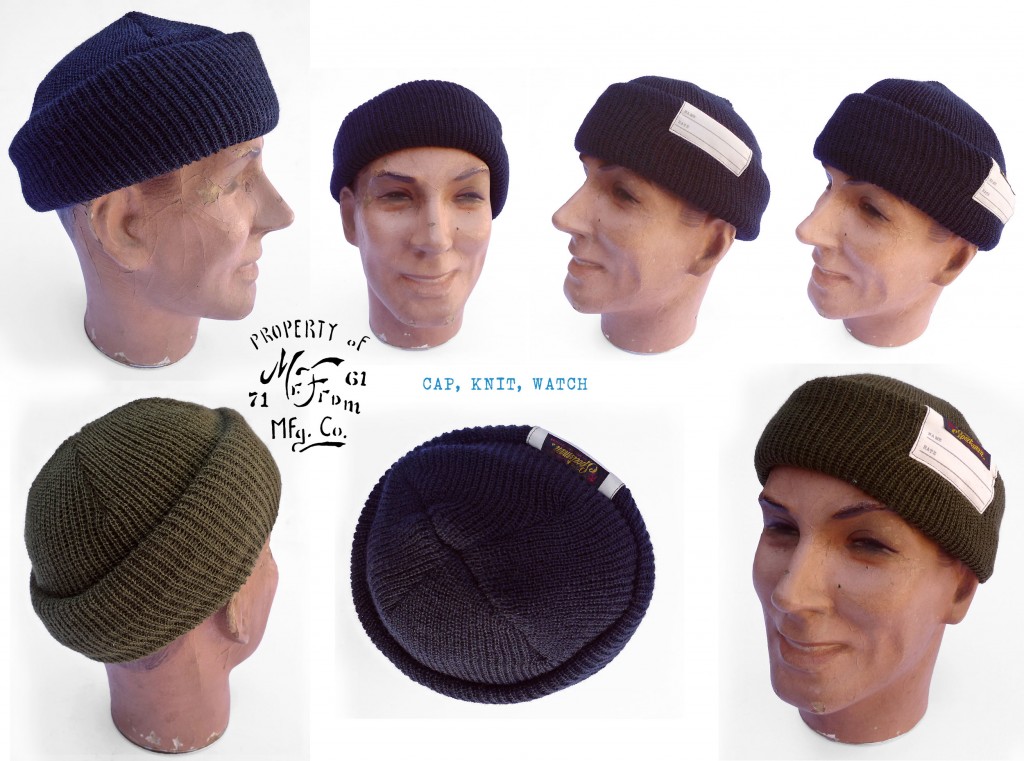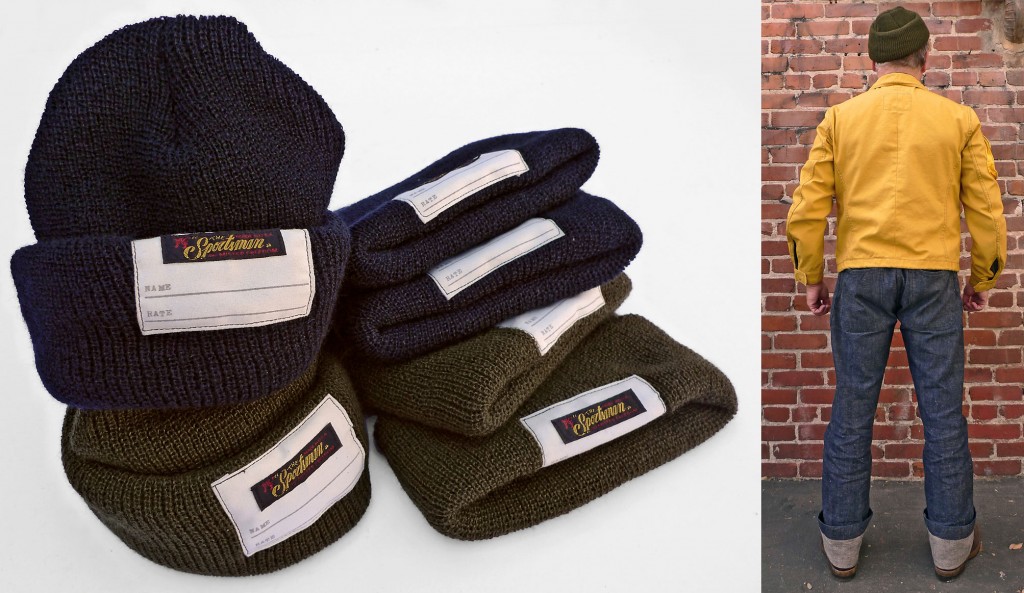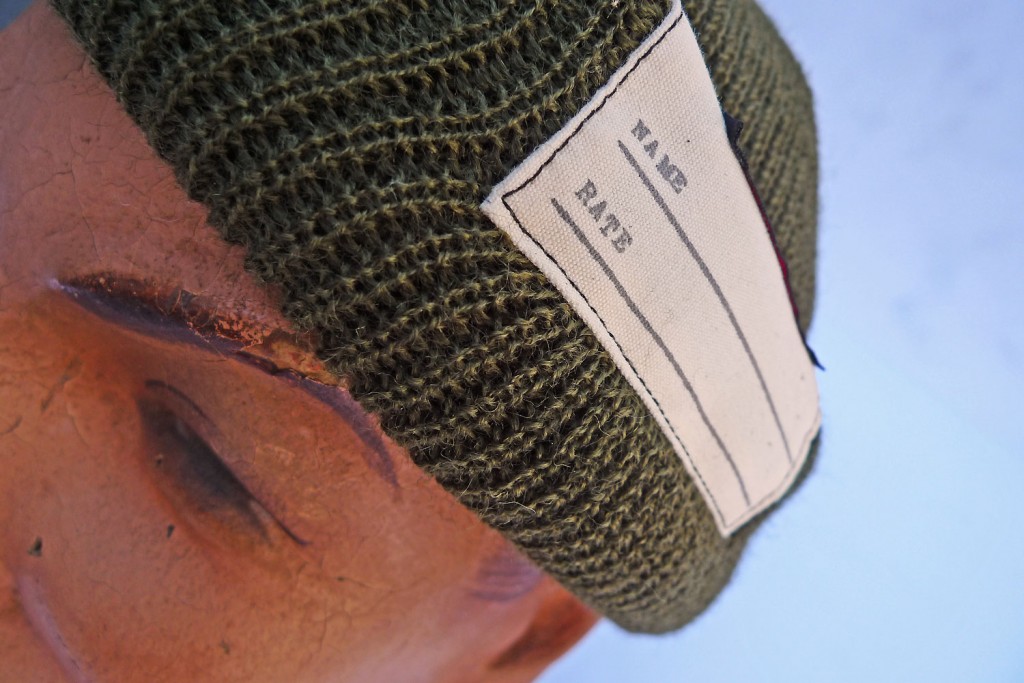 CAP, KNIT, WATCH
Made in USA
We could have gone the DIY Mattel route but decided instead to acquire stock from the fine folks manufacturing them for the US Government.
Our wool caps are knitted on a circular knitting machine the size of Soyuz 19, and about as easy to operate I've heard.
Please note that our watchcaps are not reproductions of the original 1940's A-4 type knit hats issued to USAAF mechanics, as there are already reputable companies offering these.
Our caps are following contemporary US military specs and standards, and are still available today from PX.
We've customized this standard issue a bit, adding an ID cloth label, as we had done in 2008 with our old school USN-style watch cap. Admittedly not as useful as a LED flashlight, our ID patch can be customized according to your preferences. This label is not intended as a billboard and is 'strategically' positioned on the tubular knit in order to be partially concealed when the cap is worn with the double fold method.
A wool hat won't turn anyone into Steve McQueen or Jack 'Bunny' Nicholson, but will keep your head warm while you keep your cool.
According to how you sport this hat, it will go from ski hat to commando cover… to everything in between.
(Warm thanks to Sam Cox at WMM for sending above WW2 Seabees photo)
US Gov't surplus, manufactured in the USA.
SPECS:
* Two ply worsted 100% wool.
* Dark navy blue or Olive Green.
* Circular knit (no side seam).
* Four darts crown.
* US Mil-specs.
WASHING:
Professional dry clean only. This is a wool item, do not machine wash or put in a heat dryer.
Hand washing with eco-friendly wool detergent (such as "Ecovert Delicate Wash") is possible but might result with stretching or shrinking of the knit hat, to be done at your own risks.

MF® Wool Watchcap available UNISSUED
Color options: Dark navy blue or Olive Green
One Size fits all.
Retail $39.95
And now this one…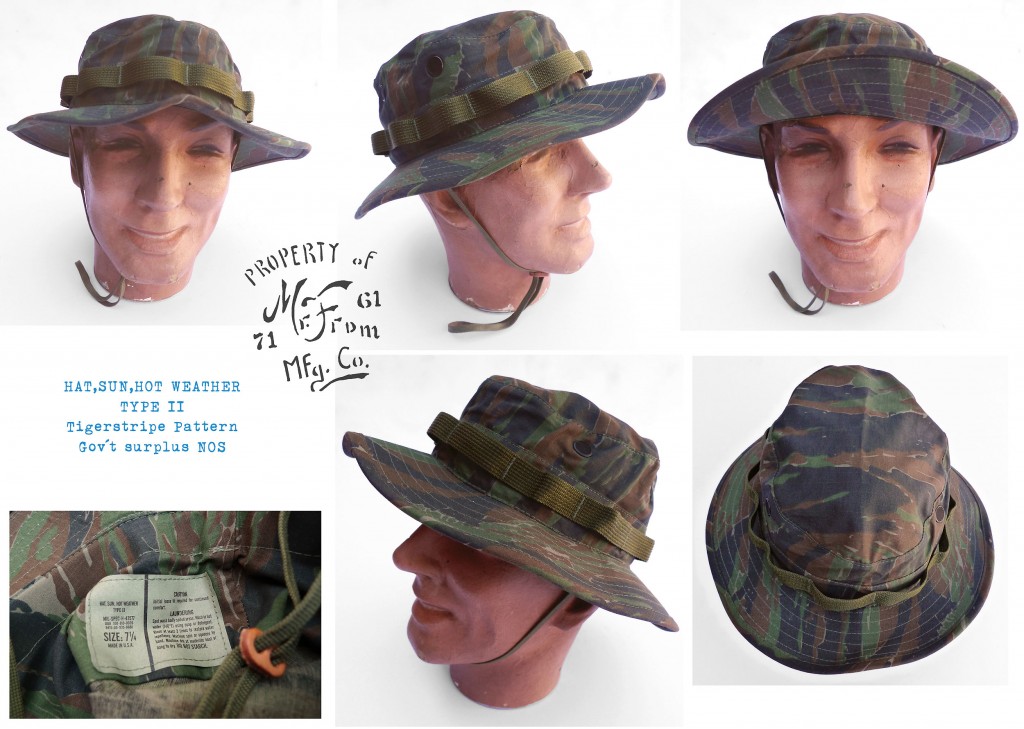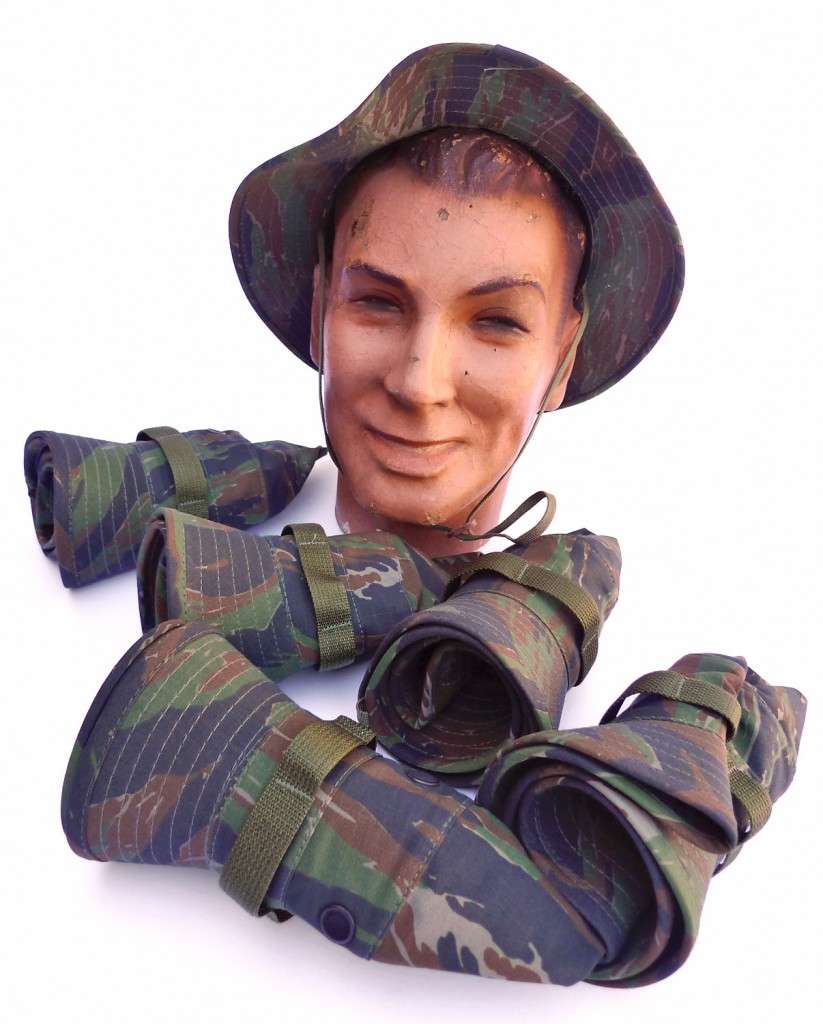 HAT, SUN, HOT WEATHER
TYPE II
Made in USA
Sometimes you gotta love the military for not calling a spade a "spatulous device for abrading the surface of the soil" (Joseph Devlin, 1910).
An E-tool is an E-tool. There it is.
What we have here is a "HAT, SUN, HOT WEATHER". You'd think there wouldn't be much to add after this.
Watch me.
This hat finds its origin with the bush-worn felt hat popular with the British troops and Australian diggers in the early XXth Century. The British military replaced felt with cotton fabric around 1944 in order to provide a more practical and durable hot weather hat.
During the Indochina conflict, the chapeaux de brousse, a hat resembling a sort of quilted cowboy hat with a snapped brim, came out. These were often locally made from recycled uniform, parachute or tent camo fabric and favored by French colonial troops and their local VNA allies alike.
Following the (official) US involvement in Vietnam in 1965, an urgent need for proper tropical field equipment ensued. Around 1967, a new hat pattern was developed and adapted from its predecessors in the Natick labs of Massachusetts…
The "HAT, SUN, HOT WEATHER" was to become a US military standard issue, available in OD popeline, ERDL, multi cam… or pink camo, according to where you shop.
The overall design has not much changed today, and this hat is still issued to combat troops.
These covers are often referred to as boonies, because less common on Wall Street than the in boondocks.
In the 1960's, they earned their stripes on US Special Forces incursions in humid South-East Asia jungles. I have read somewhere that on night patrols, the dome shape of the steel helmet left too much of a target silhouette for VC snipers. Floppy hats were thought to be a better option, as they blended more efficiently with the natural shapes of the jungle. To accentuate that effect, the brim was often chopped-off and the edges frayed, as many period photos show. These boonies were soon associated with LRRPs, RECONDOs… along with the rest of the salty in-Country crowd. The boonie hat was originally were a statement of bad-assness. They were also worn by ARVN troops and Australian units before being adopted by more branches of the military.
These hats were as popular with troops as they weren't with the higher-highers, too floppy in appearance for the starch-obsessed.
But they worked, and Vietnam would prove out a fine theater for all kinds of liberties with outfits and behaviors.
The hatband was designed to hold branches or strips of fabrics for  field concealment while on raid. That piece of tape also made a fine display for grenade rings, pins and other goodies, when you took your party hat to town.
The four mesh-screen eyelets on the crown allowed air circulation while preventing bugs to p*** you off any further while humping through rice paddies. The hat rolls up in a conic shape, making it easy to carry around in a bag pocket. The crown is shorter in front than in the back, which gives it a specific profile and 'attitude'.
Photo on left courtesy of Darrell G Moe Elmore, Project Delta Recon (May 1968) via this forum. Regarding the bush hat he is wearing on the photo, Mr. Elmore mentioned "I lost it during the summer of 68 while we were fighting in the Saigon area with the ARVN 81st Airborne Rangers. I never got another to 'break in' like it"… Thank you for your service Sir, and for letting us feature this BA photo!
Other photos eBay/public forums.
But lets get back on point with the NOS model we are offering for Fall 2014. Our specimen here is an original Government issue, to the best of my knowledge, and I've been known to have my foot in my mouth up to the knee at times.

The fabric feels like NyCo (mil-specs 50% nylon/50% cotton). The camouflage is of the tiger stripe pattern family. I am quite uncertain about the actual vintage of this issue, as research based on the procurement label was more confusing than enlightening. A great deal of infos can be found here for the investigating kind, as well as in several books, such as "Les Paras Francais en Indochine".
I am guessing these might be an older stock from the 1980's? In any case, they are USA made, as opposed to the countless 'imports' available from most Army-Navy stores today.
We were lucky to score two good size options: 7 and 7 ¼
US Gov't surplus, manufactured in the USA. Limited supply.
SPECS:
* Tiger stripe camo pattern
* Mil-specs NyCo rip stop fabric (50% nylon/50% cotton)
* 2 ½ " wide brim
* Adjustable chin-strap, leather toggle
* Vent mesh-screen eyelets
* Foliage ring hatband.
* Made in USA
WASHING:
Hand wash when necessary, hang dry. Minimal to no shrinkage.
Available UNISSUED
Pattern: Tiger stripe
Sizes: 7 and 7¼
Retail $49.95
While stock lasts, both the watch cap and boonie hat are available from our Los Angeles store and online from www.misterfreedom.com
Call 323-653-2014 or email sales@misterfreedom.com with any question unanswered above.
Thank you for your patience and support 😉
Comments
comments