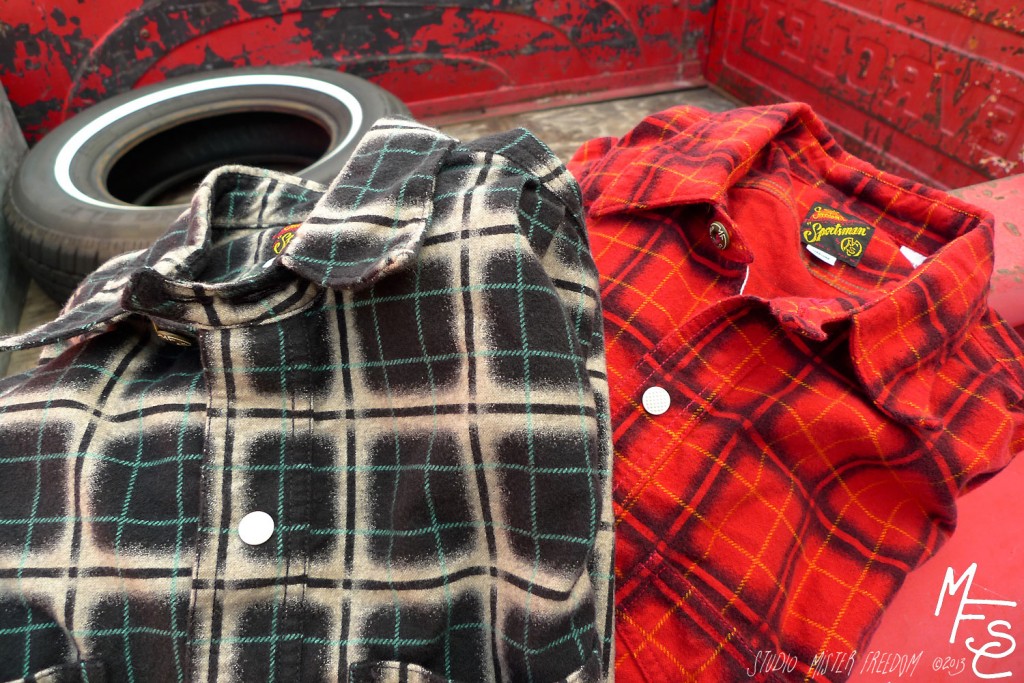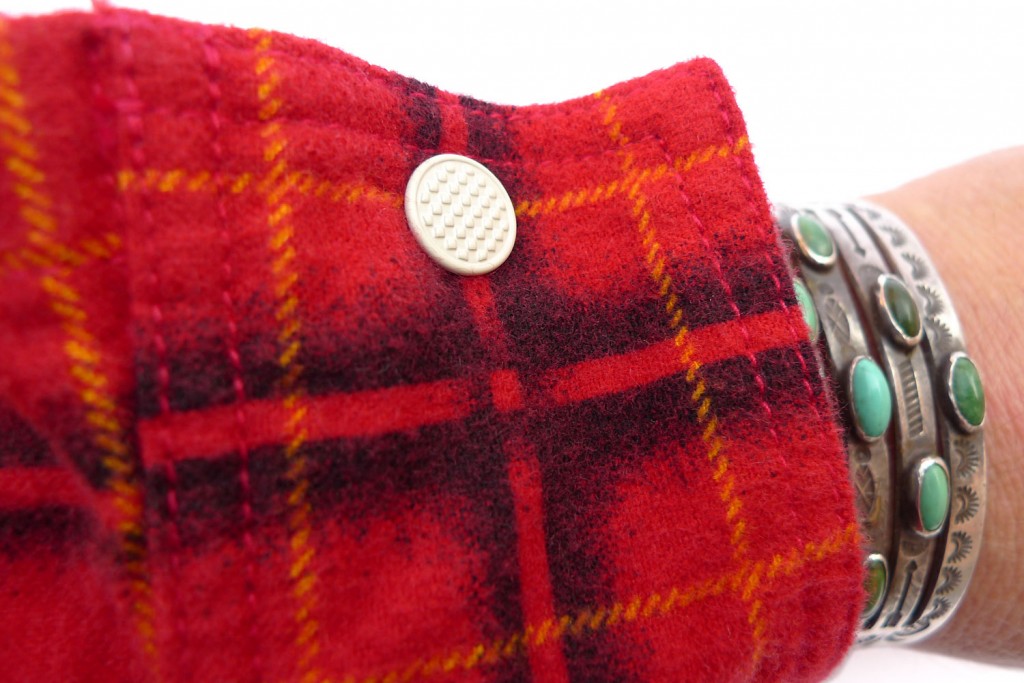 The "CAMP" Shirt, printed brushed flannel
"The Sportsman" Collection. Made in USA.
MFSC Fall 2013
Woven plaid flannel shirts have been a staple of many labels comes Fall. A bit more neglected than its woven sister is the printed plaid flannel shirt…
Printed flannel fabrics were popular in the 1940's-50's. Fabric printing being less costly than weaving and looming, printed flannel garments made it to store shelves in shapes of outdoor/work/western shirts, robes, pajamas, sleeping bags liners, hunting jackets linings…
Some prints were novelty types graphics but many were a trompe-l'œil that looked like woven patterns: tartans, plaids, herringbone, houndstooth, gingham… A combination of ink and discharge prints made the plain weave flannel fabrics look fancily woven from a distance.
The inspiration for our "Camp" shirt print was a vintage early 1950s flannel men's robe (made by Montgomery Ward label "Brent's"). I played with the original red color combo to come up with a 'plausible' second color option that didn't exist in the catalog.
I had thought of making a robe but was soon punched in the face during a board meeting. I then decided to make shirts instead… It's all about communication around here.
We sourced out some fine cotton flannel (selvedge, since we wanted to use the selvedge on the gussets) and it went through the lengthy process or getting dyed, printed and brushed (for a soft nap touch) in Japan before getting shipped to Los Angeles.
The shirts were then cut/sewn in a clean, ethically run factory, under the California sun.
The "Camp" adds itself to the "Sportsman" shirting catalog, our on-going concept introduced in 2012.
We are using our Sportsman shirt pattern, already available in indigo popeline, stripe ticking and chambray. This Fall, the painted metal snap buttons (by DOT) are a nod to vintage 50's Wrangler or Ranchcraft western plaid shirts. Please note our 'Camp" shirt is not a western cut/yoke type shirt.
The "Camp" displays our Sportsman signature green chainstitch on the inside, seen on the 'very Christmas like' dangling gusset run-offs.
Those of you familiar with old beat-up vintage 50's printed flannel shirt know that they age well and look amazing with patina, once the print starts wearing off from slow abrasion, wash and wear and sun exposure. Don't get too excited, that takes years wear of course. And in the field, not on the sofa.
Just something to think about if you have children. They are today making fun of your clothes but will someday proudly wear them when you have done all the breaking-in 😉
Designed and made in the USA by Mister Freedom® in collaboration with Sugar Cane Co.
SPECS:
PATTERN
An original mfsc pattern, inspired by vintage outdoor/workwear shirting.
FABRIC
100% cotton brushed flannel, dyed and ink/discharge printed in Japan.
Two color options
a)Red plaid
b)Black plaid
DETAILS
* Made in California, USA.
* Relaxed silhouette and fit.
* Original MF® chest inverted box-pleat double pockets.
* Slim chin strap.
* Full button front, metal painted DOT snaps.
* MFSC branded original embossed metal buttons for neck band closure.
* White cotton popeline button facing strip.
* Double front & back expansion pleats on shoulder yoke.
* One piece cuff gusset.
* 100% cotton thread, high stitch count, tonal.
* Flat felled seams, with inside green chainstich MF® "Sportsman" signature.
* Side gussets with selvedge fabric.
* Original "The SPORTSMAN" woven rayon label.
SIZING/WASHING
As most times with our clothes, these shirts come RAW (unwashed) and will shrink to tagged size.
I wear a Medium in all MF® shirts, and wear Medium in the Camp shirt as well.
Although 100% cotton, this flannel fabric has quite a bit of 'mechanical stretch' after being rinsed and dried, therefore adjusting itself slightly to the wearer.
For cleaning, we recommend cold water wash on gentle cycle and hang dry.
Please note that the shirts in the chart below were cold rinsed and fully machine dried, for your shrinkage reference only. Again we recommend hang drying them.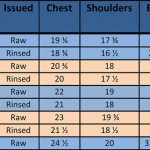 Available from our brand spanking new online store
Raw/unwashed
Size Small, Medium, Large, X-Large, XX-Large
Retail $299.95
Made in USA
For any questions please Email sales@misterfreedom.com or call the store at 323) 653-2014
Thank you for the support.
Comments
comments