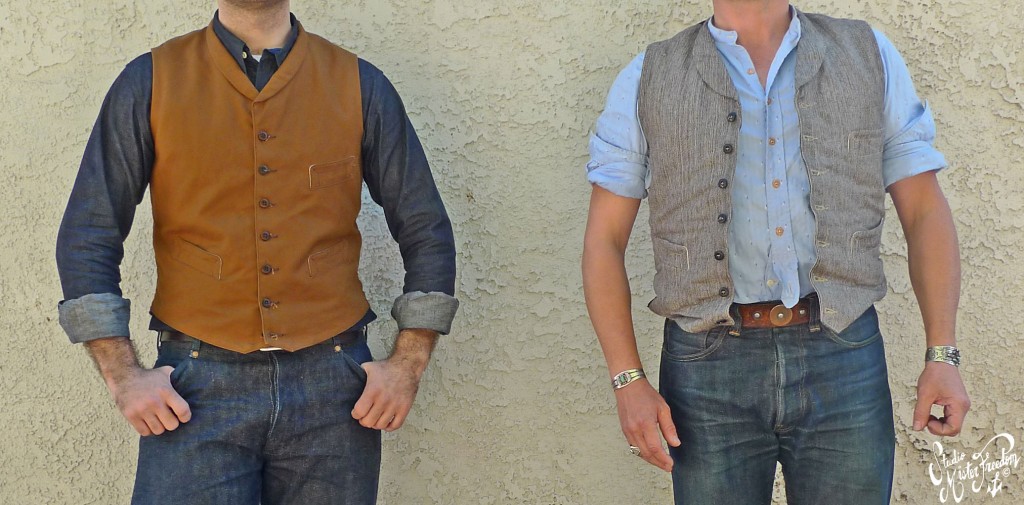 "El Americano" Waistcoat
Fall 2013 'Viva la Revolución' mfsc Collection
We introduced the concept behind our "Viva la Revolución" mfsc Collection during Spring 2013.
For the first chapter of this on-going saga for Fall 2013, let's welcome a new character, el Americano...
Aptly nicknamed due to his whereabouts North of the Rio Grande, not for his barista skills, our gringo fought alongside Mexican revolutionaries during the 1910-1920 Revolution.
More often for financial gratification than ideological convictions, foreign soldiers of fortune from around the World joined the ranks of the Maderistas, Villistas and other rebel armies. They earned nicknames as colorful as 'Dynamite Slim' or 'El Diablo', which allowed them to keep the greetings of an introduction brief…
El Americano was special. Unlike some of his compañeros of the 'Gringo Rag-Tag Battalion', and although a feared fighter, he fancied being stylishly clad at all times. As others remarked on his unlikely field attire, he would retort: "Hombre, I always dress to kill."
Someone sneered, once. Just once.
Such the poet was El Americano.
Anyways, back to the reality of 2013…
Our "El Americano" waistcoat was inspired by several vintage early 1900's European fancy pieces. Its lapel style is often a trademark of early Old West portrait photography. The pattern is a combination of fancy tailoring tricks and details.
We have developed no less than 4 entirely different fabrics for this waistcoat, all milled and dyed in Japan exclusively for mfsc. These options are:
a) Brown Duck, golden brown cotton sateen back.
b) Grey Covert Stripe, black cotton sateen back.
c) Indigo dyed Corduroy, black cotton sateen back.
The last developed fabric is an indigo yarn covert twill that was originally the lining of a pair of gentlemen's trousers from the 1890's. The most unlikely sight, although I've seen quite my share of unusual textiles used as linings in early tailoring. I always love discovering 'hidden treasures' when opening up a vintage garment, such as a 'crazy' lining in a formal piece. They were often not a fashion statement, rather the need to use up fabric left over from a previous project, at times when discarding perfectly fine supplies was not a National sport.
This 8.5 Oz. selvedge indigo fabric is the inner lining of "El Americano", for its three options.
The outer back piece is a tightly woven 100% cotton sateen, matching the body.
Designed in California by Mister Freedom® and manufactured in small ethically run factories in Japan by Sugar Cane Co.
SPECS:
PATTERN
An original mfsc pattern, inspired by early European style tailored waistcoats typical of early Old West attire.
FABRICS
a) Brown Duck : selvedge 100% cotton canvas, 13 Oz.
The inside part of the yarn being lighter in color than the outside of the yarn (same as that of the 1930's hunting jacket with its amazing patina that inspired it) this fabric will age nicely with repeat wear.
b) Grey Covert Stripe: selvedge 60% cotton and 40% linen heavy canvas with a random stripe pattern. The random repeat makes this fabric look halfway between a covert (salt & pepper) and stripe type textile. Technically 12 Oz. it feels heavier because of the yarn gauge. It takes an entire day to mill about 17 meters of that fabric, on old shuttle looms. The factory was thrilled…
Fabric inspired by a vintage 1943 bag from the Swiss military. Yes, we look everywhere for inspiration. The only place off limit being what other contemporary brands do.
c) Indigo Corduroy: Mid wale 100% cotton corduroy. 14.5 Oz. Indigo vat dyed.
DETAILS
* Slim silhouette, Old West waistcoat style. Angled front panels and curved back vented one-piece panel.
* Small round lapel
* Off-set shoulder construction
* High buttoned style (7 buttons).
* Three front pockets
* 100% cotton sateen tonal back panel.
* Underarm gusset.
* Engraved coconut wood buttons, aka ivory nut, aka corozo (and no, not chorizo as my spell check suggests.)
* Full adjustable cinch back with French vintage New Old Stock metal slide buckle.
* Unbleached cotton sail cloth pocket lining.
*100% cotton tonal stitching.
SIZING/WASHING
All fabrics will shrink to approximately the same tagged size after an original cold soak and hang dry.
The reason for the original cold soak/dry is purely aesthetic. I like the natural torque/twisting of the fabric that gets rid of that desirable fresh-off-the-shelf look. As your waistcoat dries, fold and shape the collar to your liking, for a skinnier or fatter lapel (see the difference on the fit pix.)
For the Indigo Corduroy "El Americano" waistcoat, some crocking is to be expected when pairing with light colored garments, or sleeping face down on a fancy white sofa fully clothed.
Indigo 'stains' from rubbing wash off eventually.
I am usually a 38/medium and wear a 38 "El Americano" waistcoat.
True to size but refer to chart for rinsed/hang dry measurements.
Do not use hot water or machine dryer as this might result in excessive shrinkage.
Available raw/unwashed
Sizes
36 small
38 medium
40 large
42 Xlarge
44 XXlarge
Retail:
a) Brown Duck $439.95
b) Grey Covert Stripe $439.95
c) Indigo Corduroy $459.95
Available from www.misterfreedom.com
Call the store at 323-653-2014 with any questions not answered above, or mail sales@misterfreedom.com
Thank you for your support.
Comments
comments