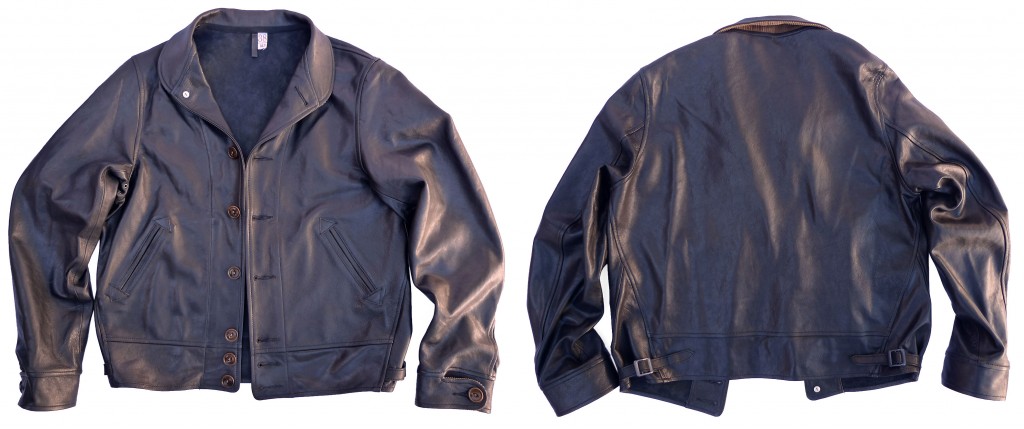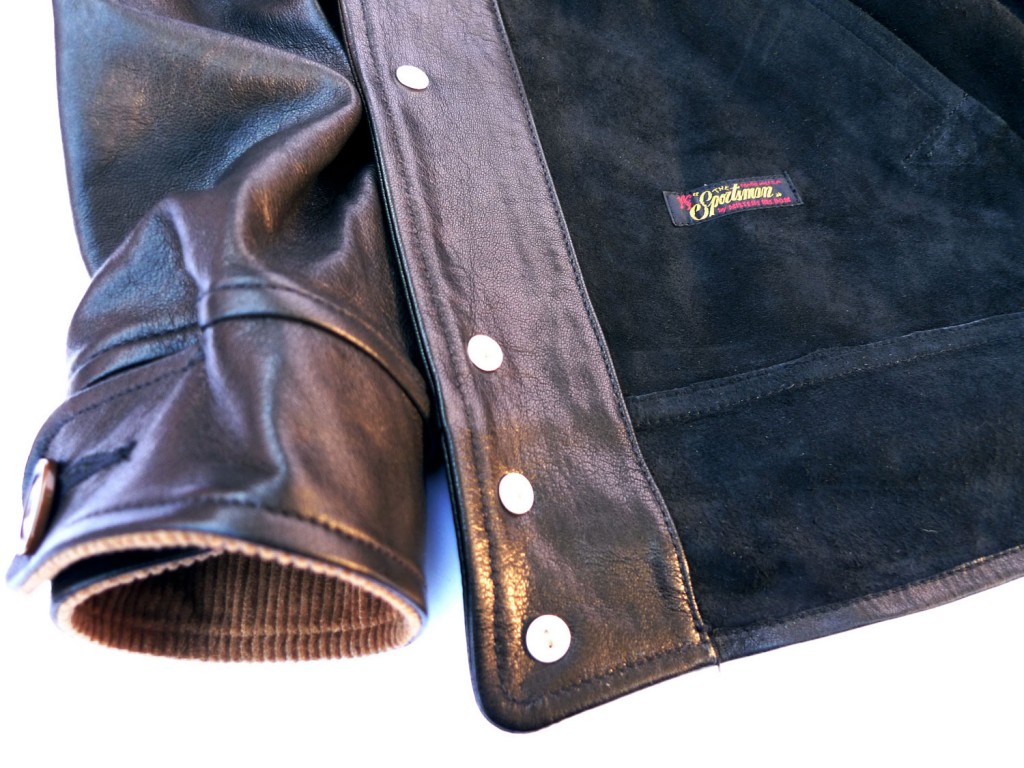 Mister Freedom® Black "CAMPUS" Jacket, Italian veg-tanned Lamb edition
'The Sportsman' Fall 2014
That's right jack.
It's back.
It's black.
And I don't mean zombie-consumerism Friday, with deals you can't refuse on things you won't use.
I'm talking new addition to the Sportsman catalog. Like a new version of the MF® Campus Jacket we originally introduced in 2013.
In this instant-gratification World, where mass producing soft factory-distressed garments is the norm and the money-making ticket for the Garment Industry majors, releasing an unlined pink-colored cowhide jacket, as we did in the Fall of 2013, can be seen as an unwise move. In the "these guys are not well" kind of a way…
But thanks to the good sports who decided to take the plunge and play the DIY game, we survived. And, a year later, there are some mighty fine examples of worn-in Campus jackets out there.
We were rewarded by all the cool evolution shots, every patient new owner molding his Campus to his own liking, for some breaking it in for the next generation.
One way to do it was expertly documented on the Vintage Engineer Boots website by our friend USMC MSgt John V.
Whether hands-on or via social media photos, witnessing this fun natural patina process might have hopefully convinced a few skeptical individuals that the 'worn look' will come… naturally. Our Campus jacket went from a 'raw' light pink to warm shades of orange, with basically sun exposure and wear. Nothing revolutionary for you salty bunch, but an apparent novelty for some who hold factory-distressed clothes as the norm, because they are 'comfortable' straight off the rack…
My apologies to the choir for the broken record.
Then, in 2014, this happened…
As I was sourcing out leather one day, trying to discern Sonny Fisher's '56 "Pink and Black" from the engine rattle, I came across a stack of wrapped bundles of black leather sitting on top of a metal shelving unit, in a wholesaler's warehouse. Inside the craft paper, small hides of a supple and delicate leather with somewhat of a glove leather touch had been gathering dust for years. This was ordered from an Italian tannery and was never paid for, I gathered…
Long story short, this was a New Old Stock lot of genuine vegetable-tanned lamb hides from Italy (I found some remnants of paperwork in the rolled skins).
Although a definite departure from the rugged look of a worn cowhide Campus jacket, I felt that a black Italian lamb Campus would not be too shabby of an addition to the Mister Freedom® Sportsman catalog. Next thing I remember, I was driving off with my lamb loot.
The USA manufacturing went as smooth as the first time around…
For extra fun and because we had way too much time on our hands this summer, the originally solid dark brown corozo buttons we selected for the project were left in the sun for several weeks. This gave 'life' to the wood grain and veins, making each button unique, and puzzling the neighbors in the process. Yes, we laid each button flat in several trays, one by one, then put the trays on the roof for a tan. We then sat down and stared for over a month. Don't worry, we took turns.
Now, if you're very bored one day, check the back side of a button, for an idea of its original color.
The style of our Campus jacket, inspired by a "Cossack" type cut popular in the 1930's, has been discussed in the original post and remains the same for this black lamb issue.
This time however, DO NOT immerse this jacket in water! Don't even think about it…
The black lamb Campus is ready to go, just requires to be worn as-is, without any pre-treatment or efforts.
This version is intended as an elegant 1930's style jacket, dressy sportswear if you will. These veg-tanned lamb hides are delicate and will scuff easily. Do not rub against brick walls or drag this jacket behind your car, like this maniac…
This is not a workwear-type coat meant for field work and rugged treatment, including storing nails in the pockets. You wear this on a date. Or to get a date, when cargo shorts don't cut it.
Bottom line, should both arms of our Black Lamb Campus get tied to two draft horses pulling in opposite directions, we guarantee the jacket will rip in half.
The Campus Jacket was designed and manufactured in California, USA, by Mister Freedom®, with the help of Sugar Cane Co.
SPECS:
PATTERN: An original pattern inspired by 1930's sportswear type lightweight leather jackets.
LEATHER: Genuine Italian vegetable tanned lamb leather, exclusive to the USA production. The leather is BLACK.
DETAILS:
* 1930's silhouette
* One piece back
* Fully unlined, clean seams.
* Cotton corduroy collar and wrist cuff facing
* Slash pockets with arrowhead-shaped edges.
* Side gussets with adjustable side straps (NOS metal slide buckles)
* Keyhole button holes.
* Sun-tanned brown 'Cat Eyes' corrozo wood buttons (aka ivory nut), backed by 1920's NOS French antique glass buttons (some jackets will have black, some will have iridescent white-colored back-buttons).
* Underarm venting eyelets
* Mister Freedom® 'The Sportsman' woven label behind the slash pocket, right front panel.
* High stitch-count, sturdy poly-cotton thread stitching.
* Made in California, USA.
CARE/SIZING:
This is quite a delicate jacket, not intended to be worn while working in the field but rather as a dress-up garment.
It does not require any type of pre-treatment and is ready to wear as-is.
After a few years of normal use, professional care or conditioning might be considered and left to a veg-tanned leather specialist. Again, DO NOT immerse in water.
The cut of the Campus is quite snug, depending of course on your own built. I wear a snug 38, my usual size in MF® jackets, with a simple Tshirt or light shirt underneath.
Like its cowhide predecessor, this black lamb model is true to size. It is not anticipated that the lamb leather will stretch/'shrink' with normal wear.
Please refer to sizing chart for approx measurements, identical to our 2013 natural cowhide Campus jacket.

Sizes
36 (Small)
38 (Medium)
40 (Large)
42 (XLarge)
44 (XXLarge)
Retail $949.95
Soon available on www.misterfreedom.com.
Please call 323-653-2014 or email sales@misterfreedom.com with any questions not answered above.
As always, thank you for your support.
Comments
comments