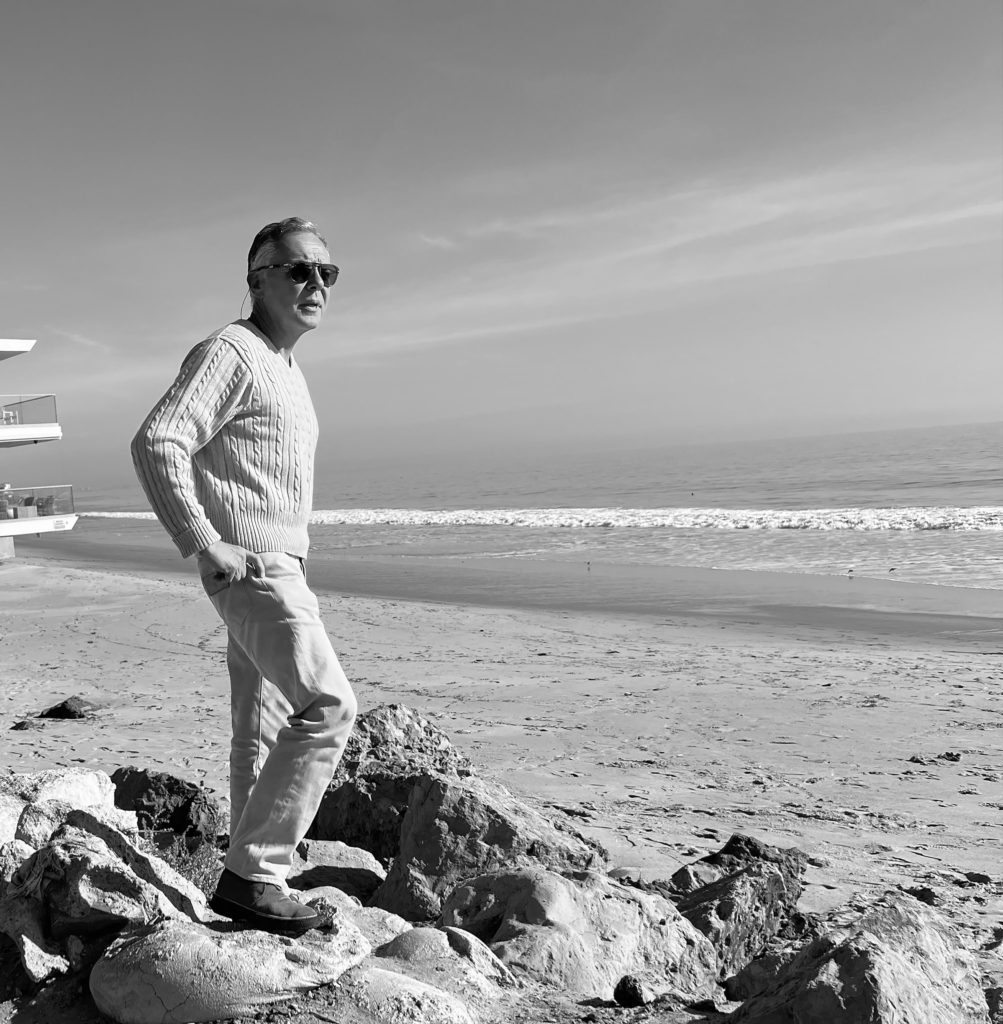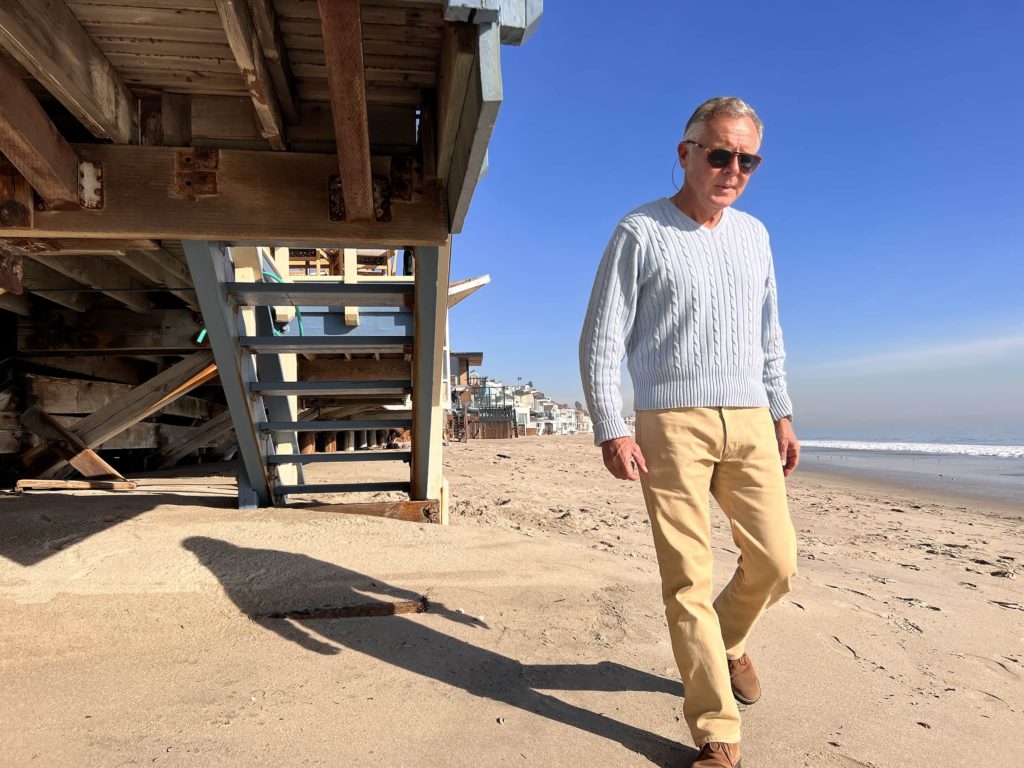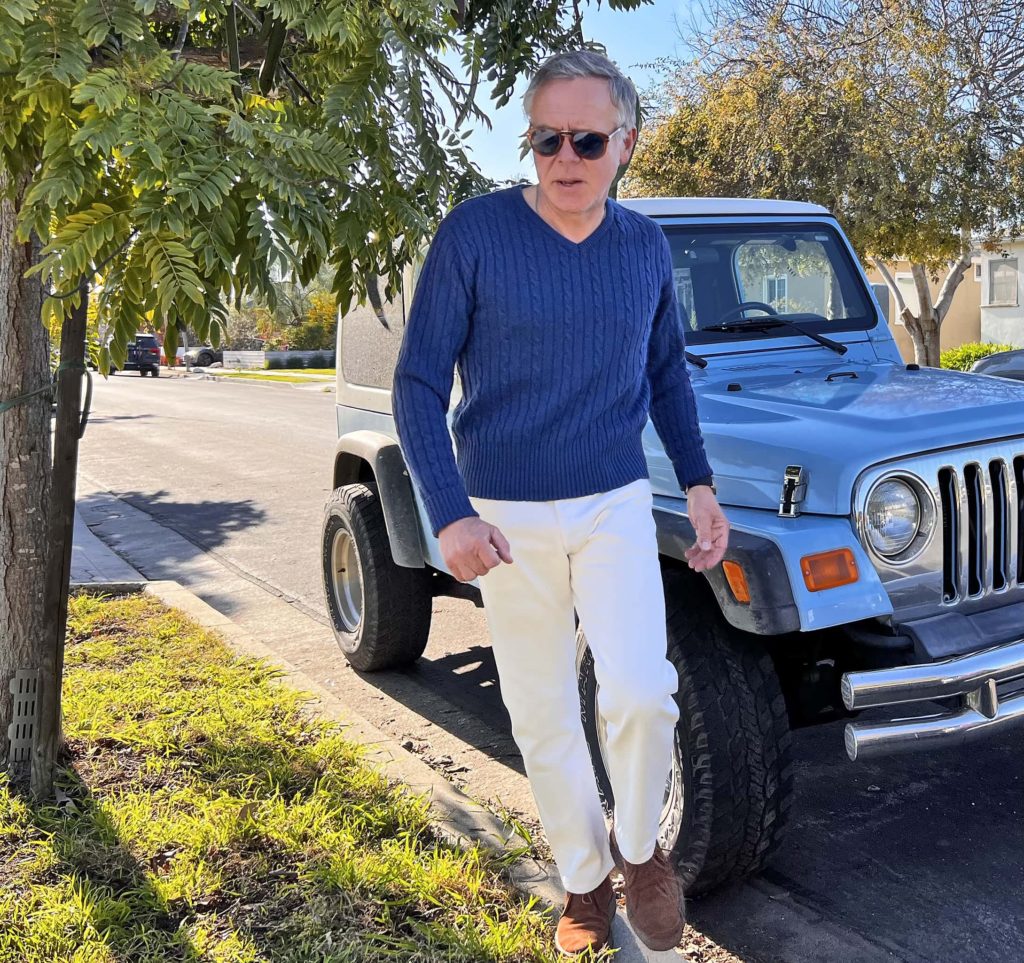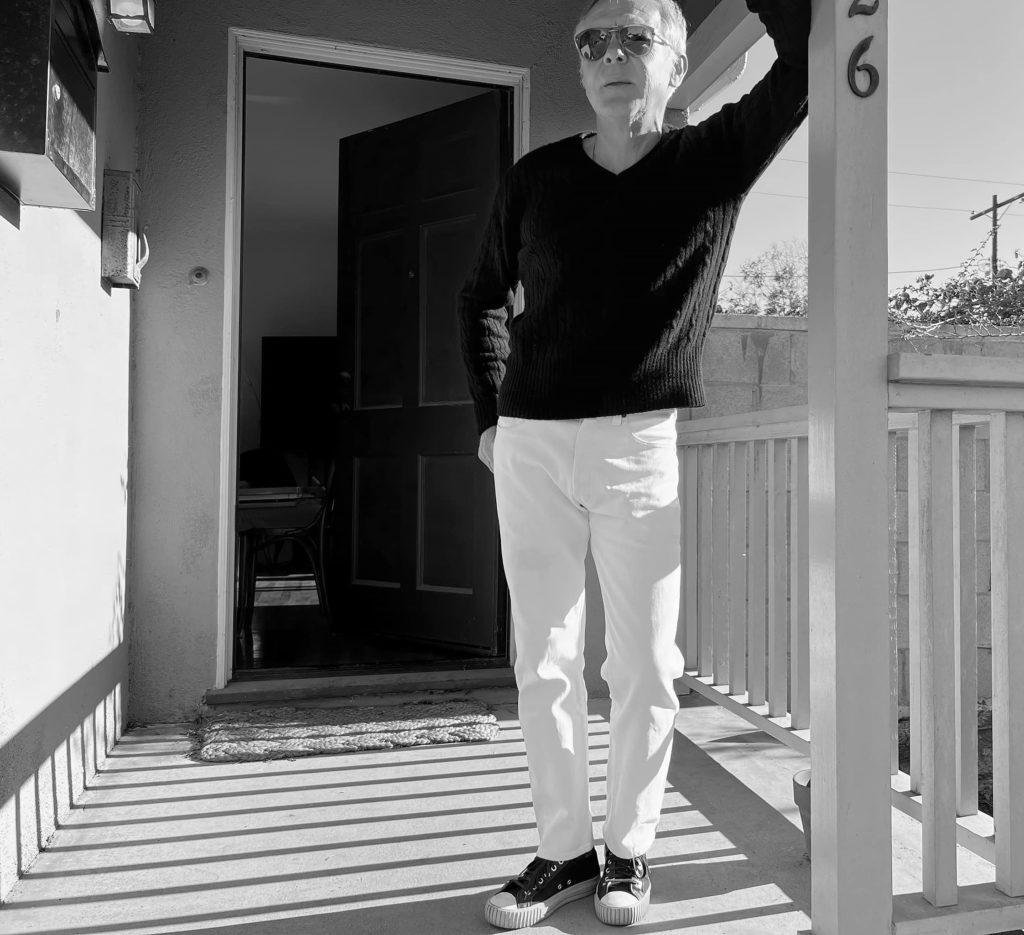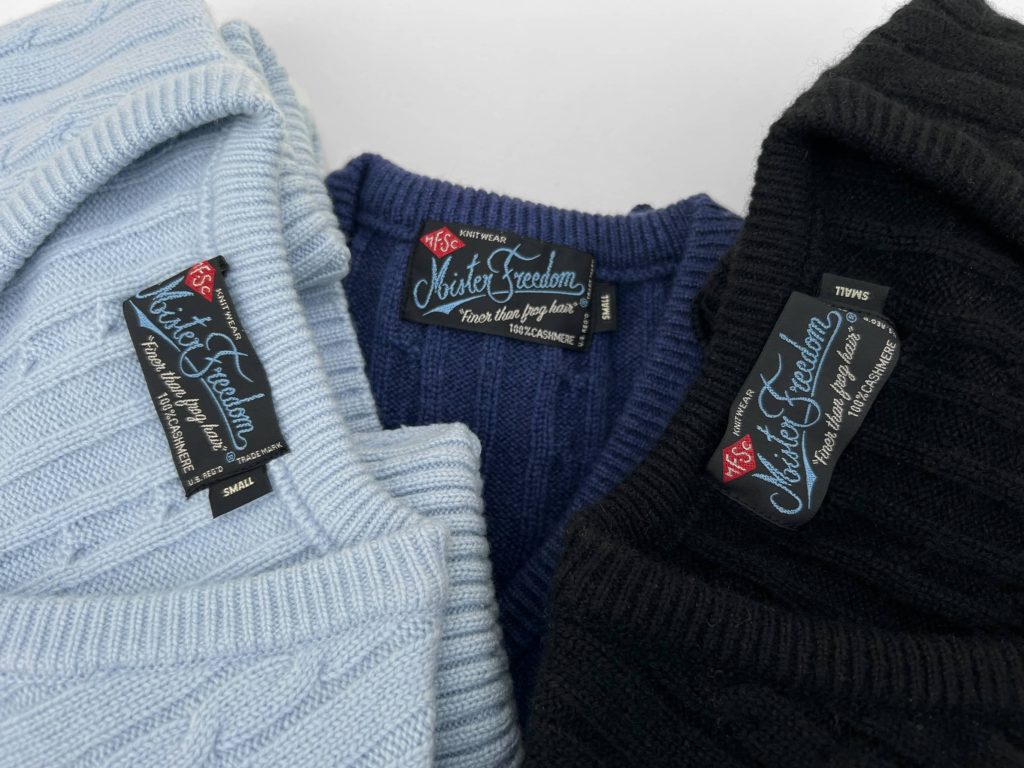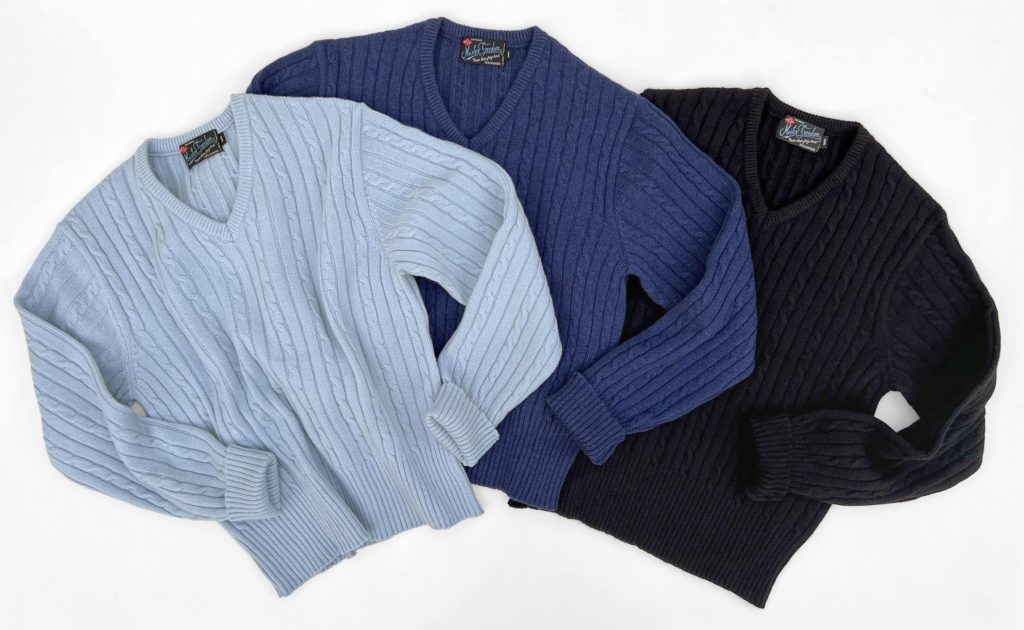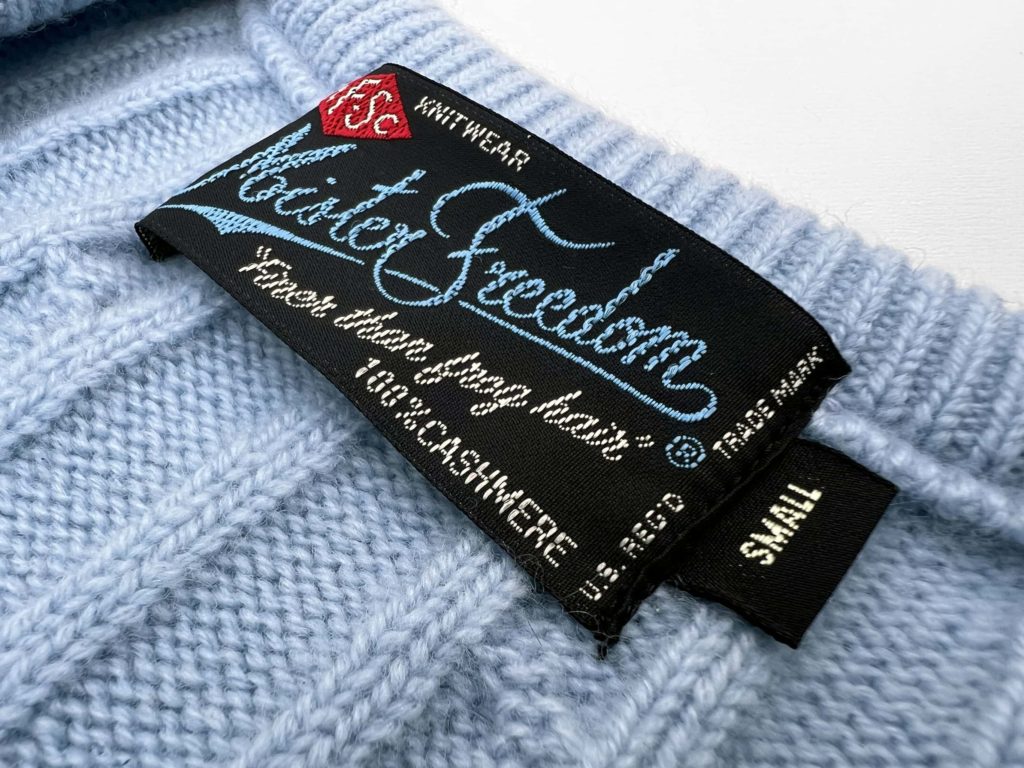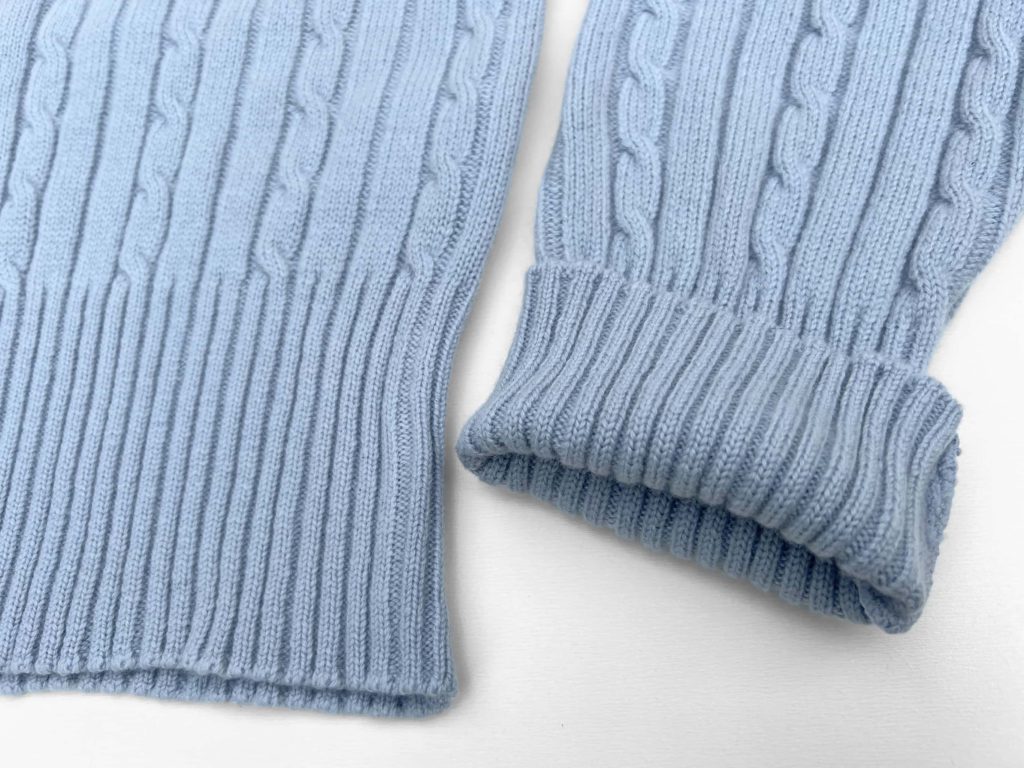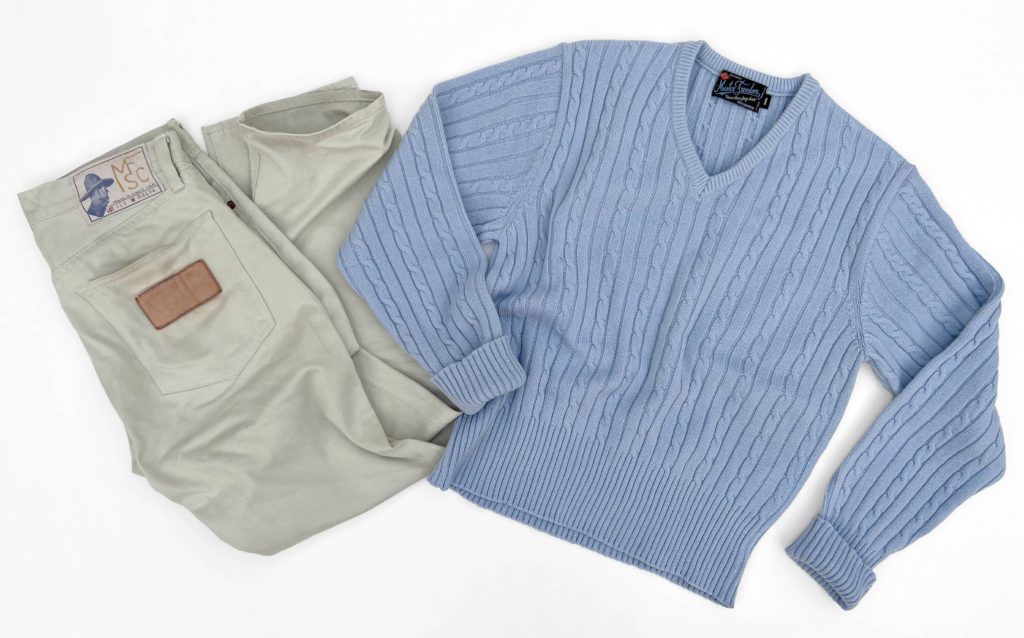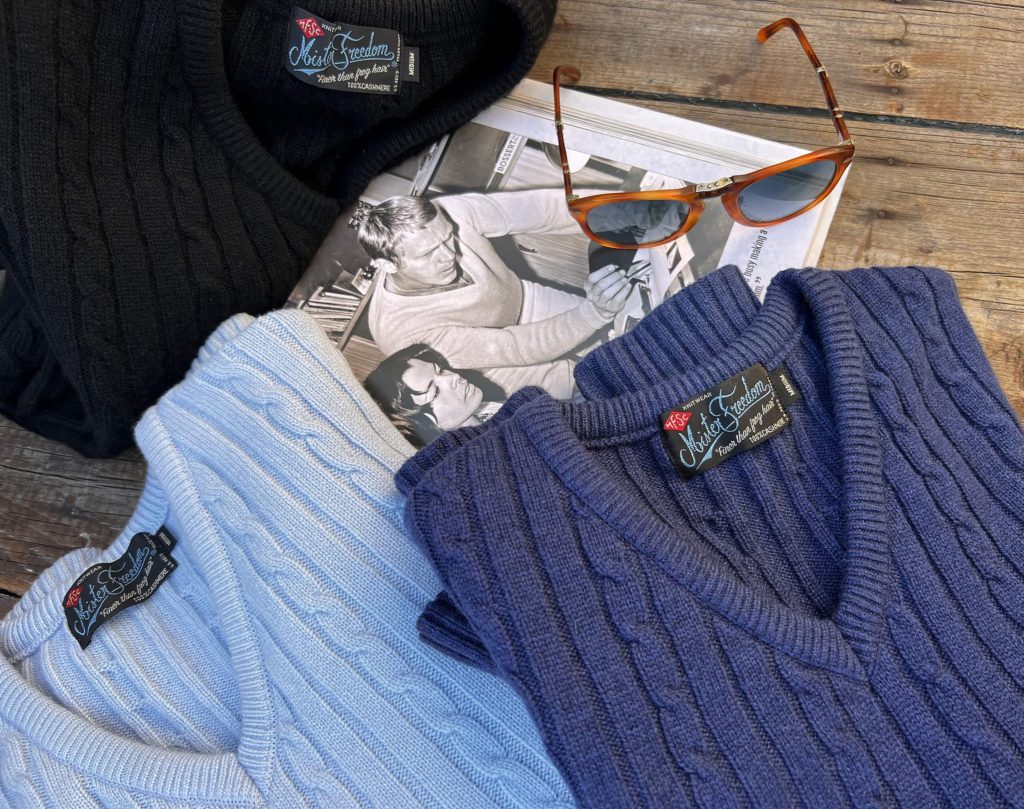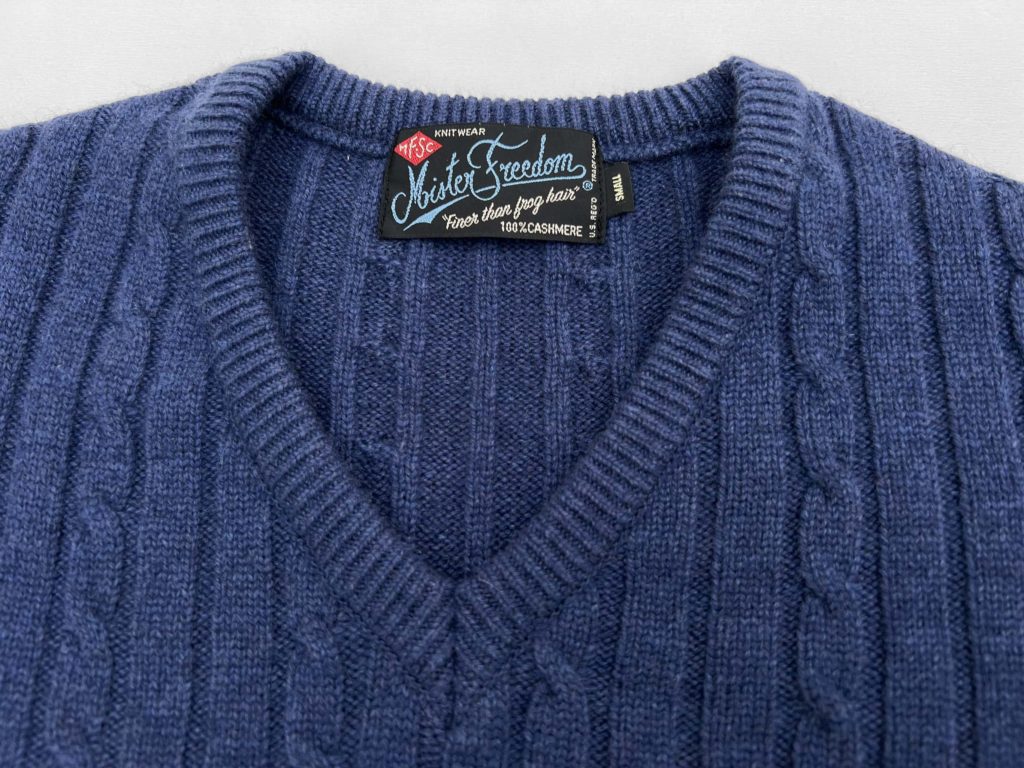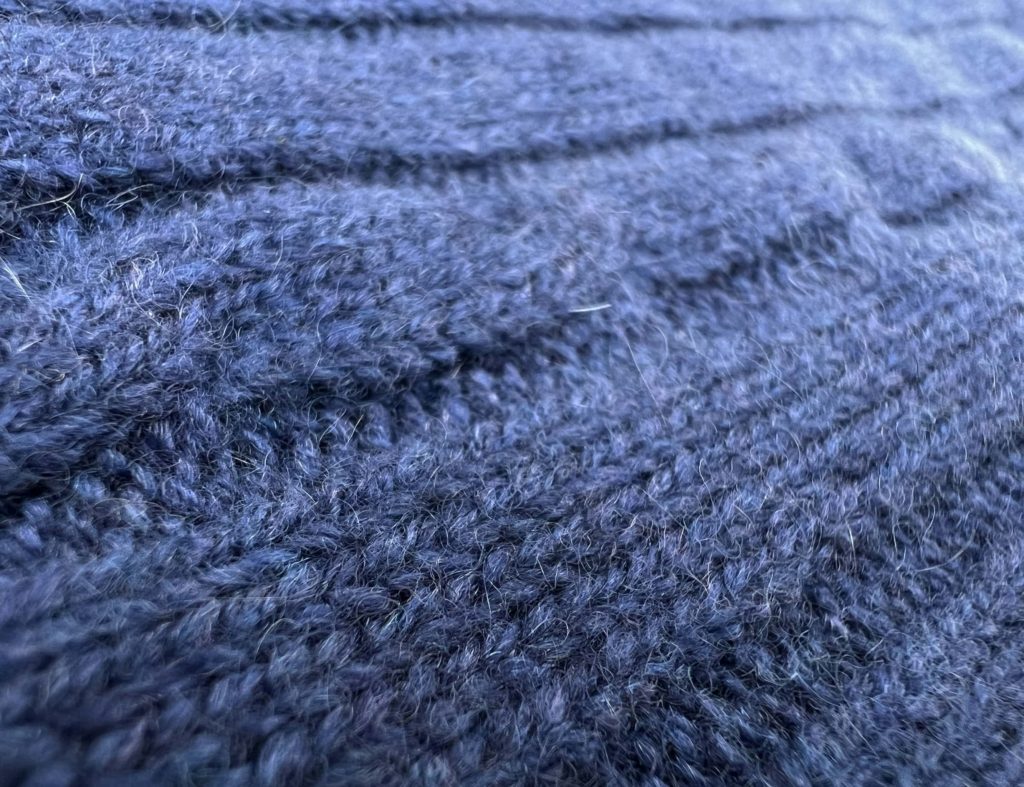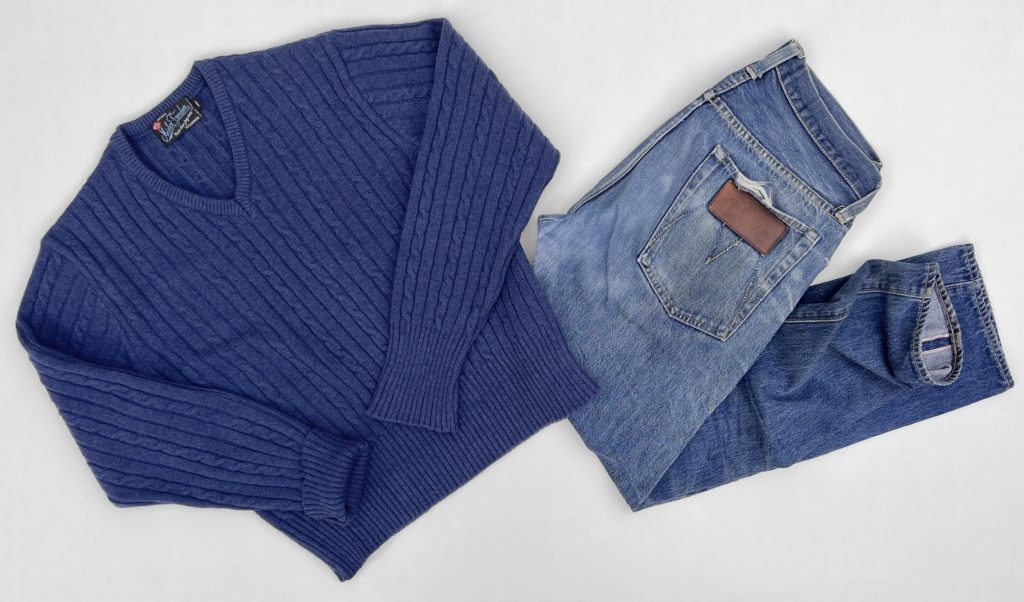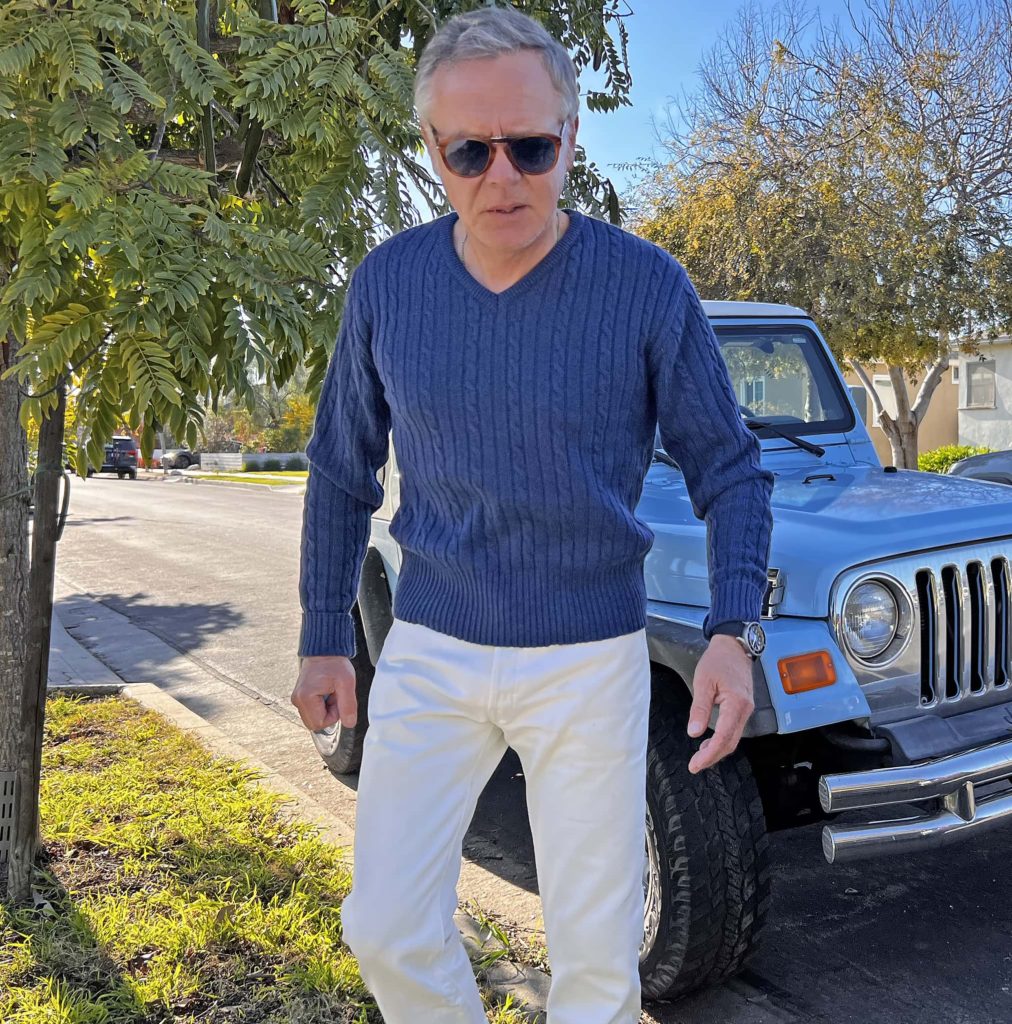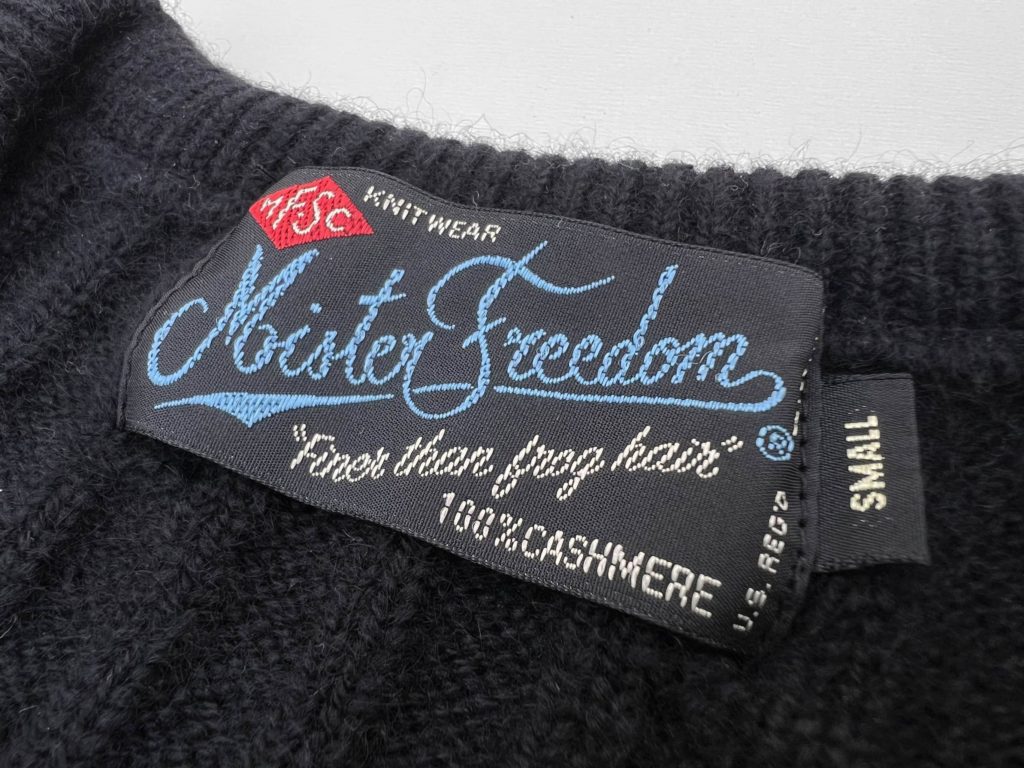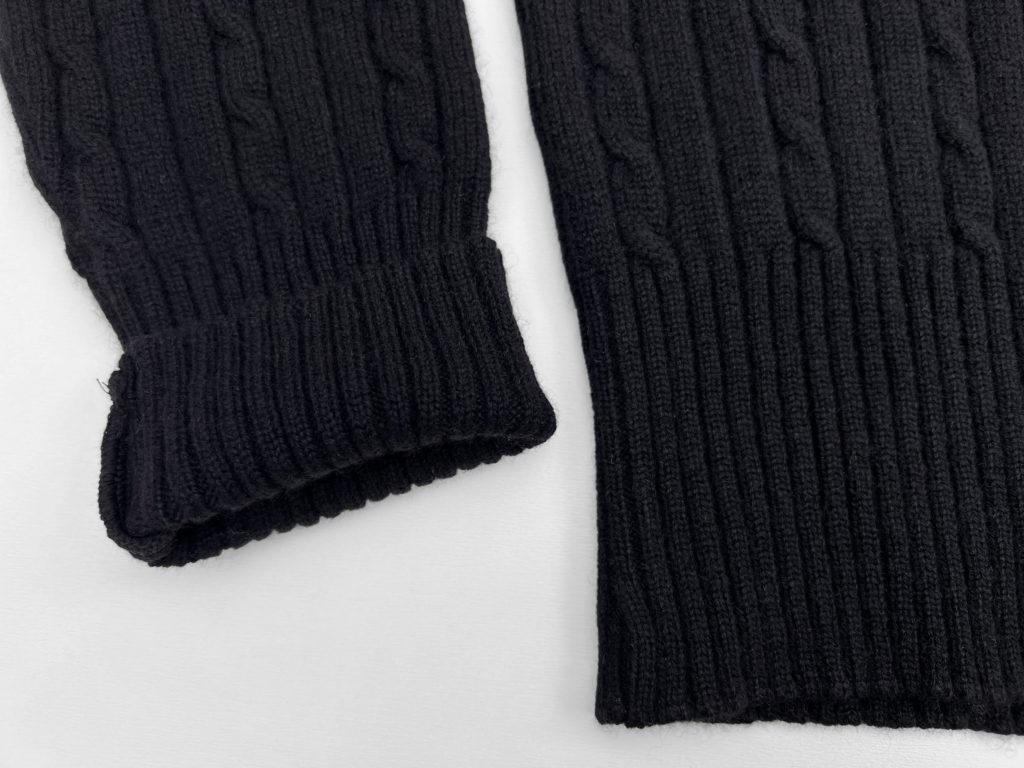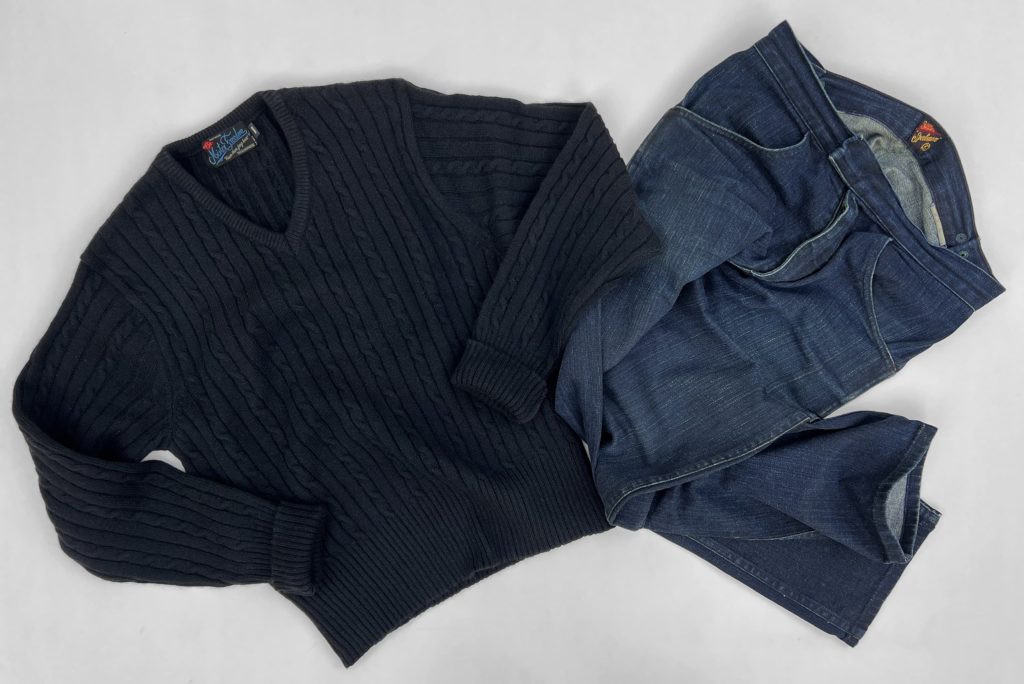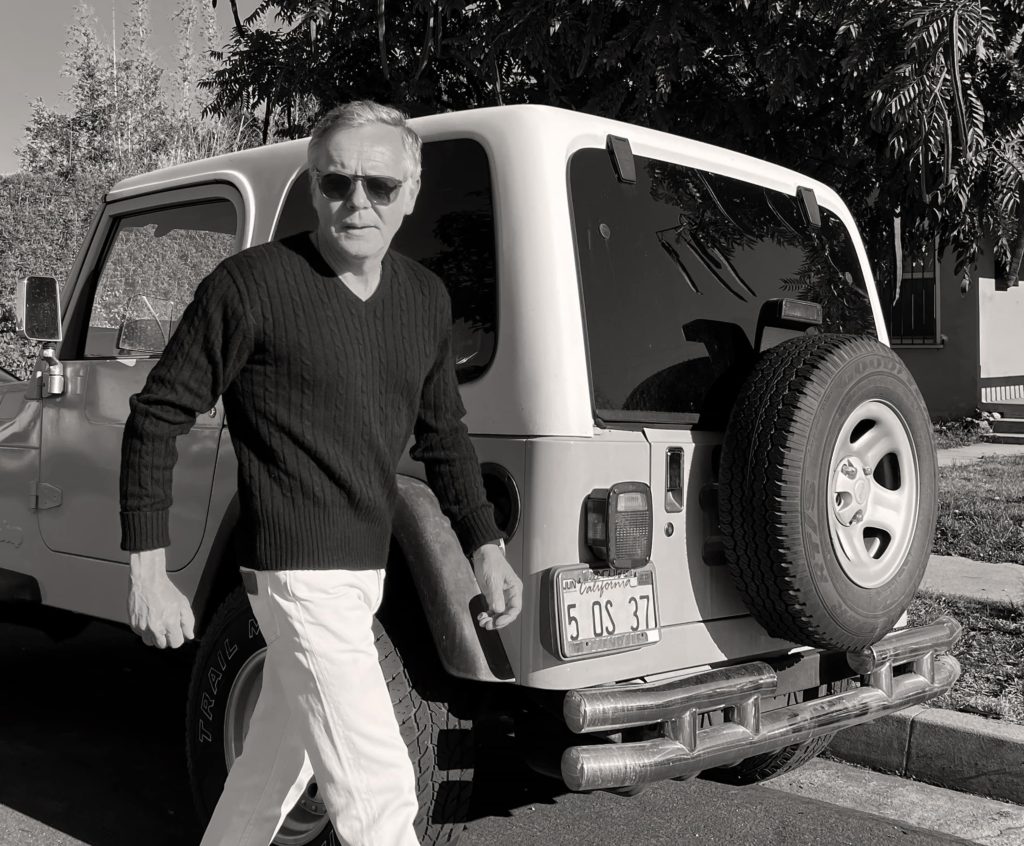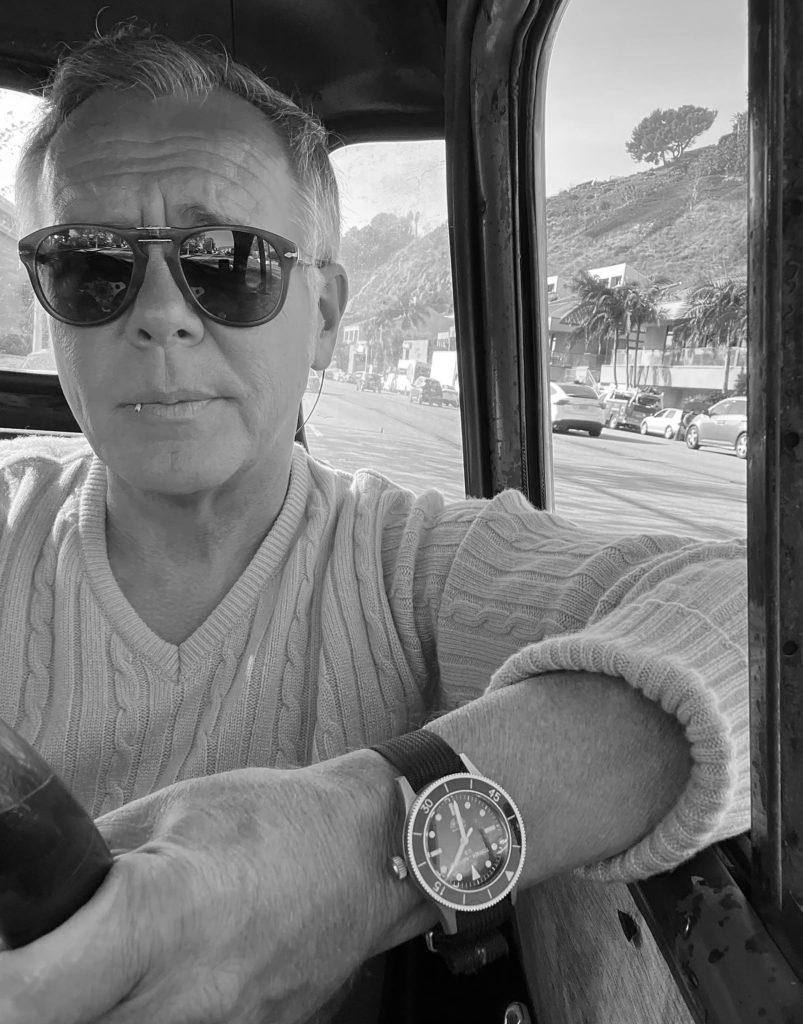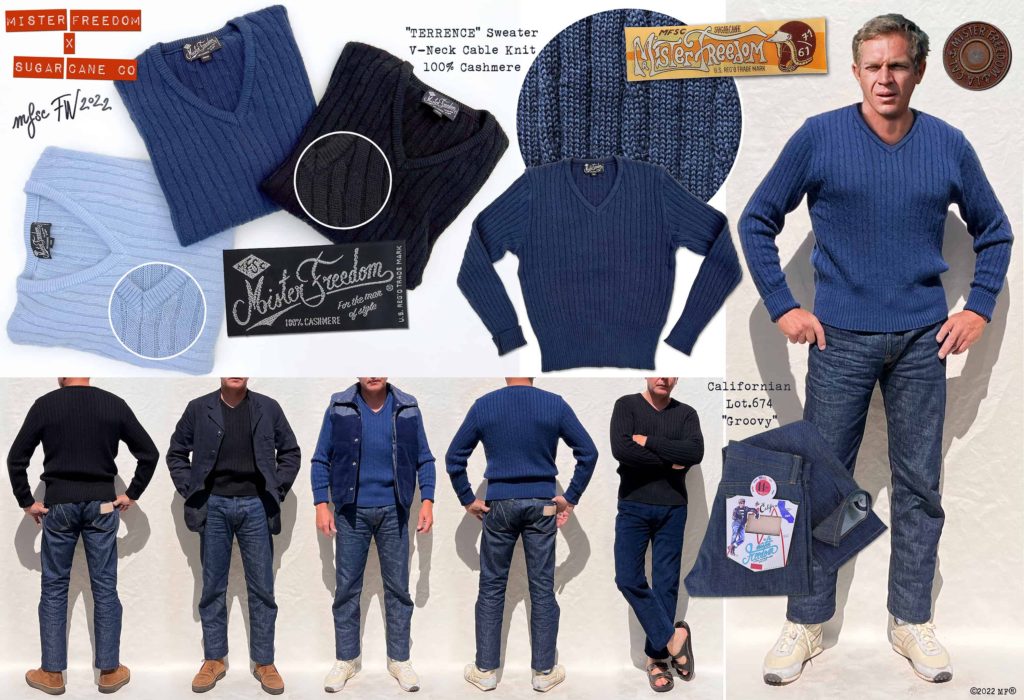 Mister Freedom® Terrence Sweater, 100% 2-Ply Cashmere.
mfsc FW2022 Hooper collection.
Made in Japan.
I am not a "collector" of anything tangible, but I have to confess a bit of an addiction to vintage cashmere sweaters.
Comes sweater season, knowing that racks will be filled with fresh stock of woolens, I can't help raiding my local vintage stores to snag up what is actually old and fits me. Done that for years, so I do admit owning enough 50s-70s vintage specimen – in all colors and knit patterns, crew necks, V-necks, turtlenecks – to last me several lifetimes at this point!
I actually do wear them all, and often, so I don't feel that much of a dodo just hoarding them as moth food. Being allergic to wool, cashmere keeps me cosy in the winter, cool for most of the rest of the year in Southern California, and is a perfect light-weight traveling companion. Also, a good cashmere sweater never goes out of style, and always feels like a cuddle!
For anyone in the market for affordable cashmere, I recommend sourcing from used clothing stores and flea markets.
Fast-fashion labor-cost-cutting specialists and massive landfill contributors Shein, H&M and the likes may offer cashmere sweaters for less than a $100 (with zero transparency and usually disposable), but one can definitely score perfect pre-owned luxury specimens (with zero carbon footprint the second time around) from vintage stores for a mere third of that.
When considering buying a brand new cashmere garment, one needs to do so responsibly. Tantalizing low retail prices flashed by fast-fashion outlets have recently ramped-up demand of raw material, with, as always, an impact on the whole manufacturing chain. Heard about masstige? (must read 2014 article from the Guardian on the subject!)
According to the BBC via this article, nomadic herders of cashmere goats make for about 40% of Mongolia's scarce population, a country that supplied 20% of the global demand for raw cashmere fibers in 2020.
To paraphrase, cashmere goats are known for overgrazing, causing desertification, and loss of grassland means lower cashmere fiber output per goat. Wholesale goat hair prices fall due to fast fashion's new dictate on market prices. Shortchanged herdsmen take up slack by buying more goats… and there you have it: an unsustainable environmental goat rodeo.
Takeaway from all that? 100% cashmere is and should stay a luxury fabric, and cannot (shouldn't?) be cheap. Not in an elitist sense, but for the fact that if one is not paying the price at retail level, someone certainly is along the production process.
A quality cashmere sweater should be considered as an investment. If well cared-for and properly stored, cashmere is known to last a lifetime. Besides considering brand transparency, provenance (not just "imported"), proper garment pedigree, cost-per-wear should also play in making a wise decision.
With this caveat emptor in place, now on with this new Mister Freedom® TERRENCE fella!
Considering the fact that the fine insulating undercoat fibers of the Capra Circus Laniger average 19 microns in diameter – human hair is about 100 microns – it is fair to claim that the cashmere goat hair used in the knitting of our Mister Freedom® TERRENCE sweater is finer than frog hair.
This article, amongst many others on the interwebs, dives into what defines cashmere in the garment industry, along with other considerations.
As mentioned, I'm a seasoned vintage cashmere sweater hunter, but the pickier I get about only selecting the right one (proper period fit, cut, proportions, knit, ply, quality, condition etc), the trickier the sourcing gets. Kind of a wild goose chase. I know there are great traditional cashmere knitwear brands out there, producing fine sweaters, but I never had an urge to invest in a brand new one, as the cut/fit always feels too contemporary for me.
So, for similar reasons as to why our basic Mister Freedom® undershirts exist today (the USA-made Skivvies and Stanleys Ts were conceived as an alternative to having to endless scour thrift stores for used and wearable tubular knit undershirts that fit like old school Hanes or Fruit of the Loom), we decided to come up with our own old-school cashmere sweater!
With the help of our Sugar Cane Co partners, we sourced our cashmere yarns from "FUKAKI Woollen Textile Co", one of the most reputable source in Japan, a mill founded in 1887, specialized in spinning and knitting cashmere since 1931, a member of the CCMI, Cashmere and Camel Hair Manufacturers Institute, and ISO 14001 certified.
Side note, we could have slashed costs considerably by going the China route for this project (watched Death By China?), but stuck to our MF® guns and commitment to solely manufacture in Japan and USA.

With a full vertically-integrated operation in Japan, Fukaki imports some of the finest raw white cashmere fibers from Inner Mongolia – white fibers being the most expensive compared to grey or brown, as they can be dyed – sourced from ethical producers/jobbers.
A team of Japanese textile experts then sorts, selects, grades, dyes, and spins the yarns, using unique manufacturing methods, knitting some of the most reputable cashmere sweaters in today's fashion industry.
After a loooong journey of trying to ramp up our knowledge on technical cashmere manufacturing, actual production R&D, crucial decision-making on design and fabric in the midst of supply chain challenges and a pandemic, multiple sample making, constructive criticism, … , we eventually had the MF® TERRENCE figured out!
We opted for 2-ply cashmere (meaning two twisted yarns make one strand), settled on NM 2/26 (where NM is Metric Number, 2 being the ply, and 26 the length divided by the weight of the cashmere yarn, defining its fineness, the higher the number the finer, 26 being a classic magic number for warmth, minimal piling, and longevity of the garment, to the best of my knowledge), and high gauge knit (how tightly-knit and dense the fabric is, measured by the number of vertical rows per square inch, I believe 12 in our case.)
The resulting cashmere fabric of our TERRENCE feels chunky yet breathable, tightly knit with pretty good mechanical stretch recovery, and soft to the touch as Joe's show hair! ("show hair" is a term coined by our dear friend Jillian)
For the type of knit, we wanted something more textured and "special" than plain knit, so we went with cable knit, specifically a classic "Twisted Twin Cable" pattern, with "Chunky Rib Stitch" cuffs and waistband pattern combo. All that inspired by a 1960s vintage specimen from my stash, sporting a "BRAININ of Bond St… Made in Scotland" label.
We chose V-neck for the collar pattern, with a classic depth that worked for our esthetics, not too deep, not too shallow, chef kiss.
The major MF® twist is in the cut and fit of our sweater. We wanted a "vintage" silhouette that would set apart the TERRENCE from his contemporaries: slightly shorter body complimenting one's natural waist and classic rise trousers, long foldable 40s-50s style sleeve cuffs, and old school 4 inch-wide waistband.
Longer torsos and thin waistbands being the norm for modern contemporary sweaters, our baby is quite unique in its style class, and has definitely quelled my personal quest for hunting down the perfect vintage specimen!
Color wise, it was hard to settle on the right palette, but we eventually opted for classic black, "Yale" blue, and "Ice Blu" (a nod to our Ice Blu denim.)
A beautiful gold color was also part of our first choice, but was unfortunately unavailable at the time of production.
Lastly, the "Terrence" moniker is a reference to a famous Hollywood actor who sure liked his V-neck sweaters, on and off screen. His simple and timeless style is often an inspiration for us, as relevant then as now.
The MF® TERRENCE Sweater, 100% 2-Ply Cashmere, is designed in California by Mister Freedom® and manufactured in Japan from a well-established reliable source, in collaboration with Sugar Cane Co.
SPECS:
PATTERN:
Inspired by classic and timeless vintage V-Neck wool sweaters, 50s-60s casual styles with period fits and silhouettes.
FABRIC:
Luxurious 100% 2-ply Mongolian Cashmere, fine NM 2/26 yarn, sustainable sourcing.
Available in three classic colors: black, "Yale" blue, and "Ice Blu".
DETAILS:
* Original pattern inspired by vintage classic cashmere sweaters and timeless period fashion.
* Old school 50s-60s silhouette.
* Luxurious 100% 2-ply Mongolian Cashmere, fine NM 2/26 yarn, sustainably sourced.
* Raw white wool material processed/dyed/knit in Japan.
* High 12 gauge knit.
* Classic depth V-neck style with ribbed stitch collar roll.
* "Chunky Rib Stitch" long foldable cuffs & wide waistband.
* Classic "Twisted Twin Cable" knit pattern.
* Panel knitting construction.
* Original mfsc woven rayon label.
* Crafted in Japan by a reputable source member of the CCMI.
* Produced in limited quantities.
SIZING/FIT:
The MF® TERRENCE cashmere sweater comes ready-to-wear, it does not need any pre-soaking shrinking routine before wear.
At 5'7 ~145 Lbs, I opted for a MEDIUM, for an old school silhouette.
Please remember that the specific proportions and "vintage fit" of this original garment are part of its design and DNA. Our TERRENCE features a slightly shorter body (pairing well with classic high to mid-rise pants), wide ribbed cuffs and wide ribbed waistband (typical period details of 1940s-50s vintage specimen), setting it apart from the modern design twist of the vast majority of contemporary mens sweaters.
CARE:
Hand wash only, every 5 to 10 wears, according to one's activities, and layering choices.
When laundering is needed :
* Soak in cold water for ~30mn, using biodegradable woolen mild detergent. Some use baby shampoo, Dirty Labs (USA), Eucalan (Canada), The Laundress (USA) etc…
* Hand agitate to loosen dirt, gently moving the sweater around.
* Gently squeeze sweater, fill sink with fresh cold water, rinse.
* Gently squeeze sweater again (do not wring!), lay sweater on clean white towel, flat surface (do not hang!)
* Let air dry, gently fluffing and flipping garment occasionally if necessary.
We do not recommend dry-cleaning as the harsh process tends to break the fine and fragile cashmere natural fibers.
At the end of your sweater season, properly launder your TERRENCE before storing it in a moth-proof environment (sealed bag/plastic bin) with natural herbal scents (cedar blocks/lavender bags etc.)
Available from www.misterfreedom.com, our Los Angeles brick & mortar store, and fine retailers around the World.
Email sales@misterfreedom.com or call 323-653-2014 with any questions unanswered above.
Thank you for your support.
Christophe Loiron
Mister Freedom®
©2023