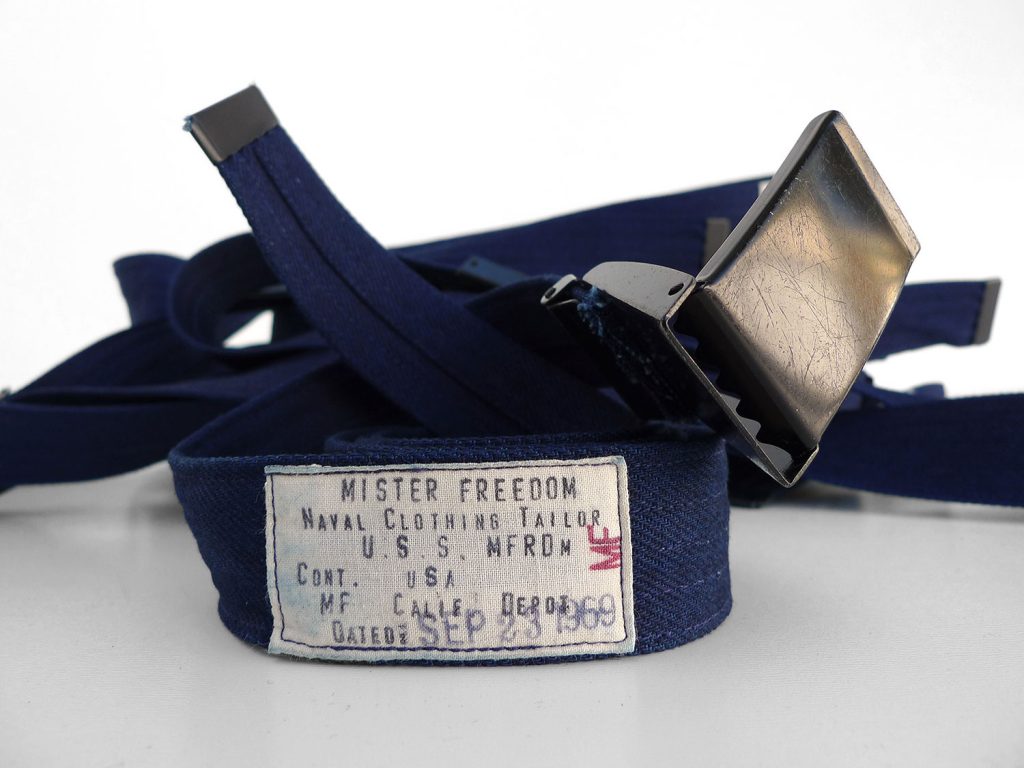 Mister Freedom® LIBRTY BELTS
NOS double indigo-dyed twill.
Made in USA
To secure your britches up, and help keep underwear brand preferences an intimate private matter, thank you very much, here is new waist-cinching device, the MF® "Liberty Belt", 2016 edition.
Originally released in 2010, this batch looks similar to the original issue, but features updated hardware and branding. The base fabric is a recently-found indigo warp x indigo weft older New Old Stock twill (not the traditional cotton or poly webbing).
For this 2016 edition, we opted for an anodized black metal buckle that looks similar to the classic military roller buckle but actually functions like a clasp, with metal teeth keeping the cinch in place. The buckle is removable and can be easily switched for your favorite vintage or new insignia buckle (1 ¼ web belts).
The fabric part of the belt measures approximately 44 inches. Extra fabric can be trimmed/cut to size, opposite the strap's metal tip end, according to one's waist requirements. Too much slack might look unnatural.
Over time and with normal wear, our indigo twill Liberty Belt will develop attractive patina.
The MF® Liberty Belt is designed and manufactured in California by Mister Freedom®.
FABRIC:
New Old Stock 100% cotton twill, indigo warp x indigo weft.
SPECS:
* Original MF® construction, layered stitched-down twill, featuring five rows of 100% cotton tonal stitching.
* Buckle: NOS black anodized metal clasp buckle, removable. Each buckle has its own patina and scratches.
* Adjustable length.
* Original hand-stamped labeling.
* Washable.
* Limited Edition.
Available rinsed.
One size fits most, with an original trimmable length of approx. 44 inches.
Retail $89.95
Available from www.misterfreedom.com, our Los Angeles brick & mortar store, and fine retailers around the World.
Email sales@misterfreedom.com or call 323-653-2014 with any stock status questions.
Thank you for your support.
Christophe Loiron
Mister Freedom®
©2016