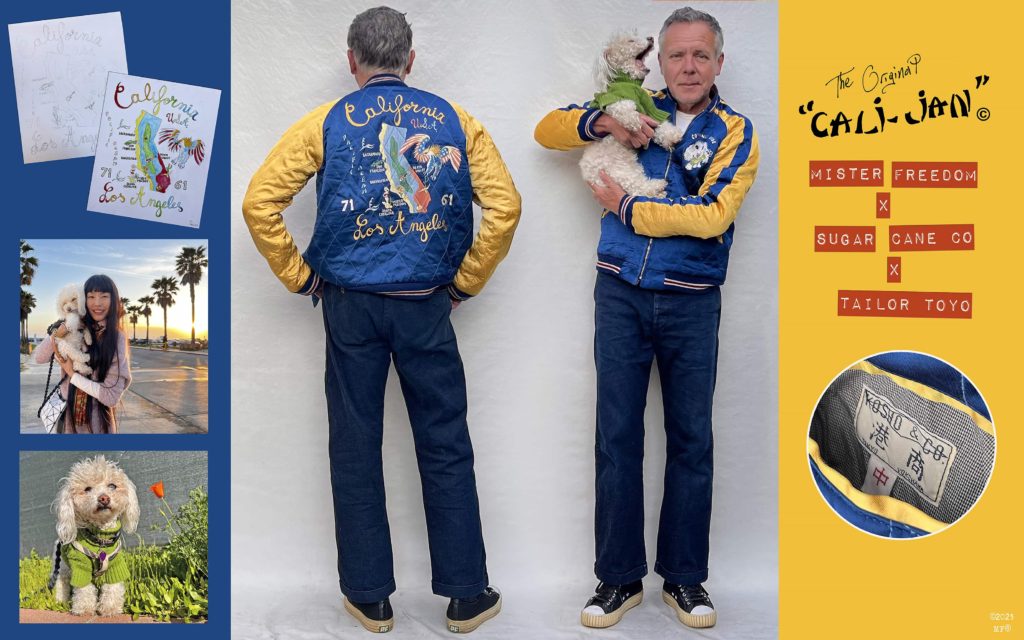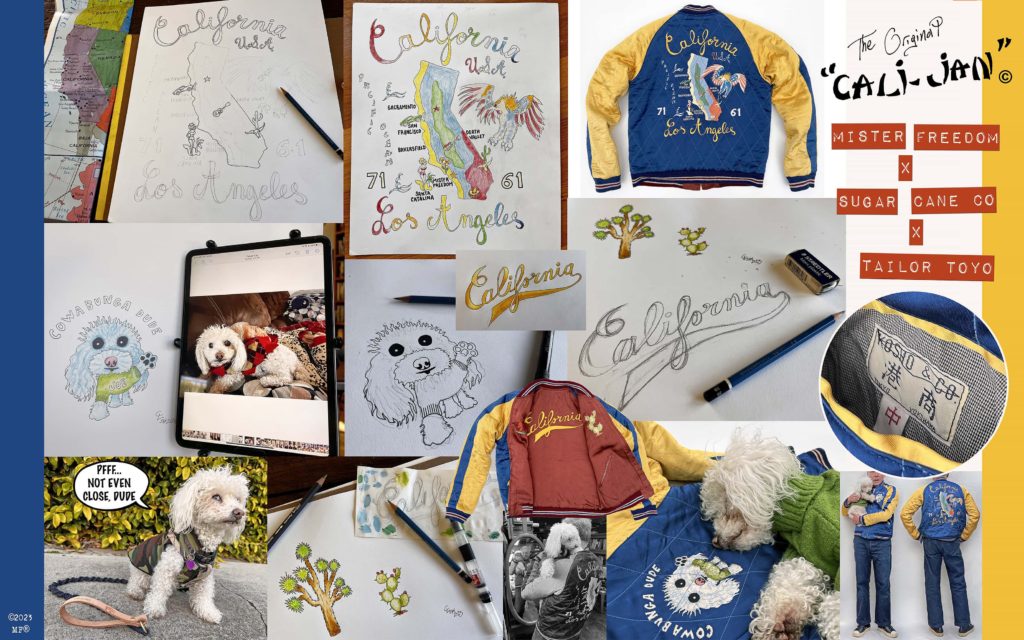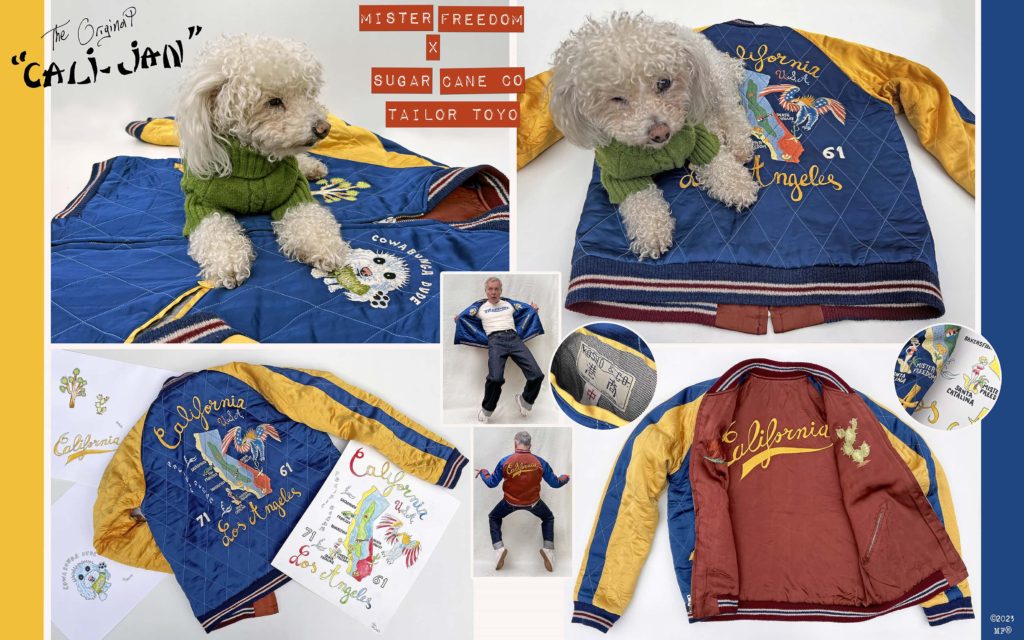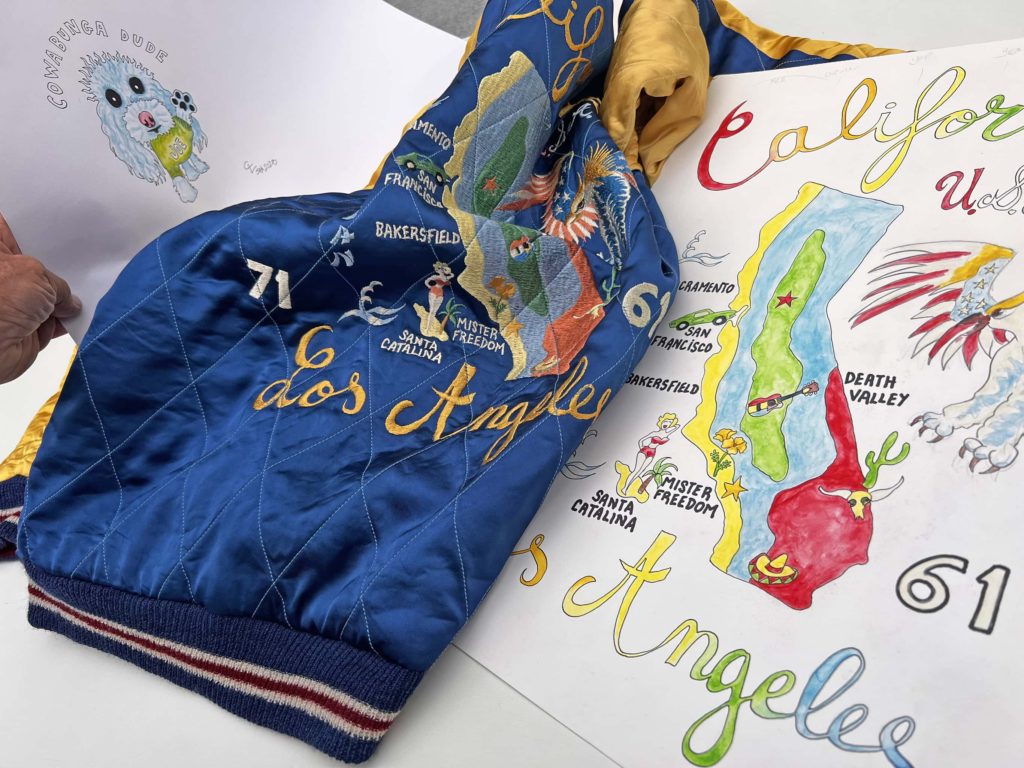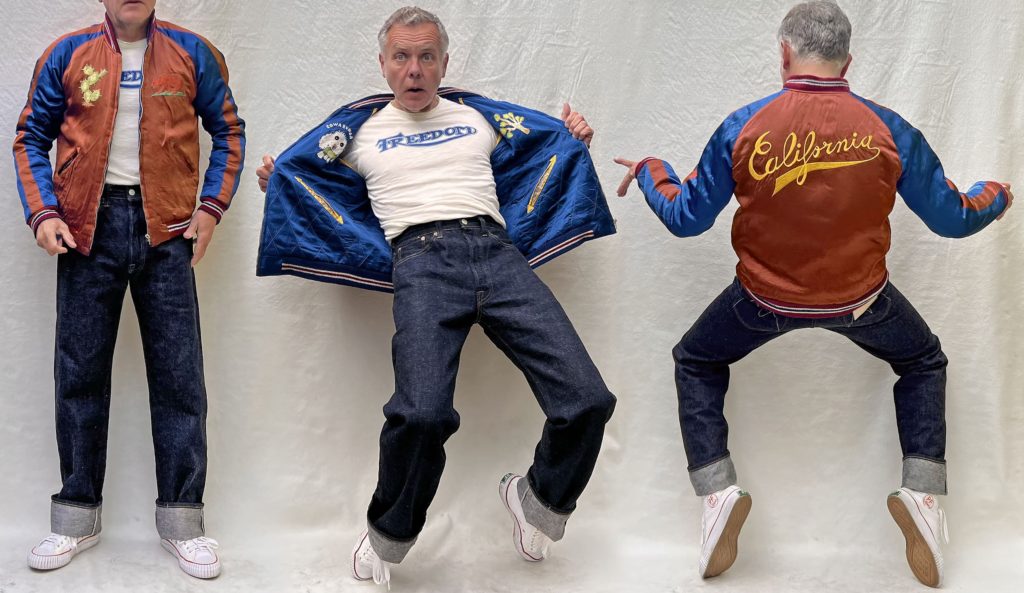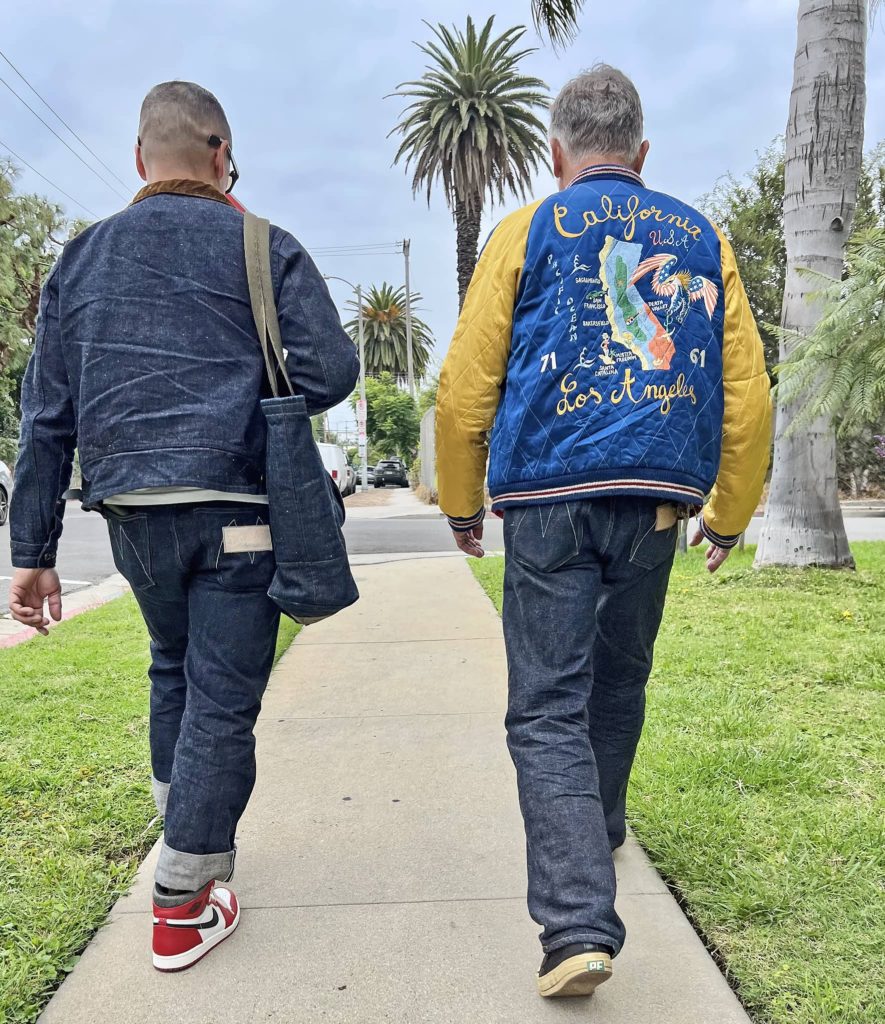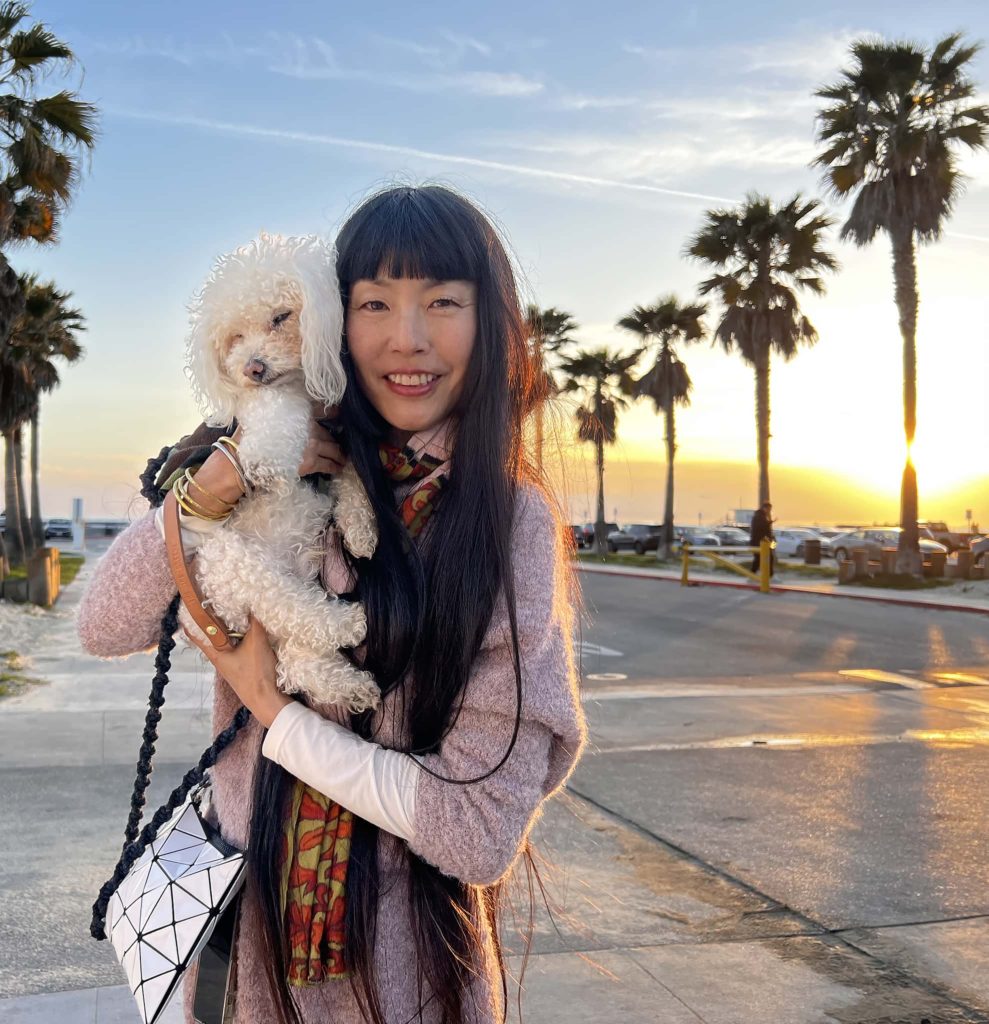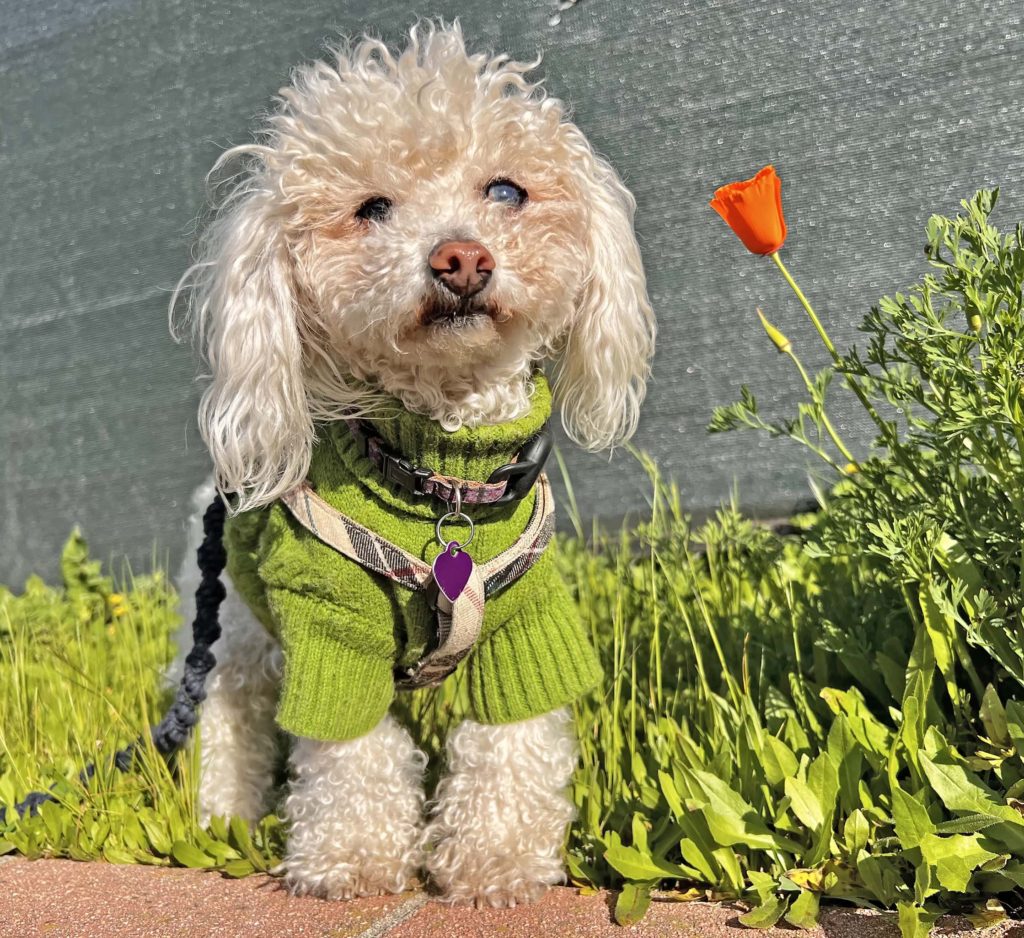 MF® "CALI-JAN" souvenir jacket
Mister Freedom® x Tailor Toyo 2023
Made in Japan
Our initial collaboration on an old-school souvenir-type jacket with "Tailor Toyo" was the "Party Jacket" (2015 Saigon Cowboy collection, aka Charlie-gate), followed by the "Mururoa Jacket" (mfsc 2016 Anniversary Collection) and moon landing with the "Apollo '69 Jacket" in 2017.
Tailor Toyo is undeniably the world's most legit manufacturer of traditional  Sukajan (スカジャン) garments, i.e. the flashy embroidered jackets everyone into heritage fashion is familiar with today. See my 2015 ramblings for a deep dive into the historical background of those jackets.
For those noticing the "Kosho & Co" paper tags, this was an old established Japanese fabric trading company. It merged with TOYO Enterprises around 1965. Tailor Toyo took over Kosho's souvenir jackets' business at the time, and has been considered the most legit producer of traditional and authentic Sukajan since.

The name "Sukajan" originated in the port of YOKOSUKA, Japan, sometime in the late 1940s. After becoming a U.S. Navy base in 1946, local traditional silk embroidery tailors started seeing a demand for customized uniforms, eventually leading to creating flashy original custom-made jackets (jumpers) for military personnel stationed in occupied Japan. The jackets, featuring elaborate Japanese motifs and at-times boasting unit/branch pride blended with local flavor, were intended to be worn off-duty, or as bring-home souvenirs. Kid-size Sukajan that pop up on the vintage market once in a while are surviving examples of happy  "Daddy's home!" moments.
This customization practice was probably inherited from the old naval tradition of personalizing one's gear (hand-painted sea bags with mermaids and the likes, concealed hand-stitched "branding" eventually evolving into the concept of "liberty cuffs"), and taken to the next level by the US Asiatic Fleet touring exotic locations where skilled tailors offered their services for affordable bespoke uniforms.
After some sustained popularity with post-WWII American troops stationed in Europe and with US Armed Forces during the Korean War (1950-53), the Sukajan made a splashy comeback with boots on the ground involved in the Vietnam conflict (1954-75).
Those 1960s-era South-East Asia Sukajan are also referred-to as Viet-Jan (aka Vietjan, or vietojam, whatever works phonetically in Japan.) These are often way less PC than their Japanese forefathers. Most vintage VietJan convey the gung-ho vibe of period military morale patches, not exactly everyone's cup of tea – or rather "half oat milk/half regular organic milk iced cappuccino, I appreciate you, thanks" – in today's new paradigm of softer "cancel culture".
Embroidery designs to choose from in local shops were many while in country. The catchy rocker "When I die I'll go to Heaven because I've spent my time in Hell" was a popular classic, often riding atop a colored map of South East Asia, with North Vietnam, South Vietnam, Laos and Cambodia embroidered in four primary colors. Thailand got lost, blending in the color of the jacket base fabric.
The style of embroidery techniques and jacket bodies greatly differed according to the Theater of Operation. Japan-made Sukajan mostly flashed elaborate machine-made embroideries using fine silk threads on rayon acetate or velvet bodies, and were often reversible. A more discreet "B" side was an option the wearer might find better suited for specific occasions or civvy crowds. Vietjan tended to feature hand-stitched cotton yarn embroideries on a cheap black cotton twill body, or a GI-issued ERDL poncho liner, and lined with whatever recycled fabric was around. Authentic vintage Sukajan and Vietjan are highly collectible today, and valuable slices of History no one can/should erase.
For our CALI-JAN project, we wanted to merge both vintage 1950s Sukajan and 1960s Vietjan vibes, and, for the graphics, remove military references while paying tribute to our beautiful State of California… Simple task. After a bit of creative R&D, eureka, we had our "could have existed" design plan!
We decided to go with a map of California as the main rear panel statement, but in the style of Vietjan four-color maps. Versions of this idea had been explored before, but, from what I quickly gathered on the interwebs, using cheap silkscreening prints or computer-operated embroidery machines producing mass volumes, rather than the authentic period style hand-operated machines that actually required an operator's dedication and skills. This artisanal way of applying embroidered motifs is sometimes referred-to as "free embroidery" (i.e. not automatic/programmed), where the operator moves the fabric panel under the fine needle in order to fill-in sections/render shading/change direction etc.
Anyone who's tried their hands at old-school chain-stitching with an antique Cornely or Singer 114w103, although a totally different process and set of skills, may relate to the tediousness and challenge.

On the graphic front, we had room to play, these are the references for the "A" side:
First off, blue and gold is not only a traditional and desirable color combo for 1950s vintage rayon acetate Sukajan, but they also happen to be the official colors of the State of California.
On the chest stands the mighty JOE GREENE, our 12 yo Toy Poodle, 8 1/2 pounds of pure resilience and badassness, venerated patriarch of the MF® family.
"Cowabunga, dude" is an expression associated with vintage surfing culture (surf is the actual official sport of the State of CA), a dated line roughly meaning "cool, man!" while conveying surprise. Joe (like Charlie) don't surf, but he's 100% California native.
The Joshua tree is an endangered and very rare species of US Southwest desert trees, symbol of JT National Park and the Mojave Desert, and CA desert culture. Don't mess with them.
For the map graphic, there are several ways to split California in sections, some politically controversial. We opted for the four main natural geographical regions. Yellow is the Pacific Coast, blue are the mountainous areas, green the Central Valley, and red the desert.
We playfully only selected a few cities to highlight:
* Sacramento: makes sense as our State Capital.
* San Francisco: not referenced on the map by its usual Golden Gate Bridge but rather by Frank Bullitt's 1968 "highland green" Ford Mustang GT.
* Bakersfield: small town, home of the Bakersfield Sound (a specific Country & Western music style/sound), pinned on the map by Buck Owens' Mosrite Guitar-made patriotic red/white/blue acoustic, brought to fame on his popular TV show Hee-Haw.
* Los Angeles: of course, Mister Freedom®'s home at 7161 Beverly Blvd, surrounded by iconic California poppies, our beautiful official state flower.
* Santa Catalina Island: my favorite CA island, thanks to a few fabulous Aliens from out of this world (Allyn/Scott/Jillian/John/Mario/…)
Norma Jeane is striking the pose on a beach in Avalon, far from Hollywood's spotlights. She briefly lived on the island in the mid 1940s with her first husband, one lucky Merchant Marine.
The waves and hand-drawn cursive lettering are inspired by traditional Japanese Sukajan styles.
We opted for a quilted "A" side, inspired by that vintage New Old Stock "Kosho & Co" Sukajan I scored around 1992 in an Oklahoma City, OK, remote Salvation Army store, a fun anecdote related here if you're bored.
For the "B" side, we opted for a complimenting rayon blue/red color combo, non-quilted construction.
The hand-drawn "California" lettering of the back has more of a vintage satin baseball jacket style, reminiscent of 1950s club jackets. Spin some old school street-corner harmonies like "The Wanderer" (1961) by Dion & the Belmonts and watch the 1979 flick for the Wanderers gang ref.
The California Republic's "brown grizzly bear walking a patch of green grass" adopted in 1911 was an obvious choice for the "B" side chest, flanked by a thorny succulent, because who doesn't like a wheel cactus…
Our choice of traditional two-sided red/white/blue ribbed knit trims for cuffs/waistband/collar completes the picture. This loosely-knit wool blend ribbing is typical of authentic Sukajan, and is a far cry from contemporary stretchy elastic webbing used on modern athletic jackets.
As always, the design part (i.e. doodling) was the easiest. Rough drawings and confusingly-worded round-eye instructions were passed on to the experts at Tailor Toyo. They looked at it all, stared at each other, shook heads and rolled eyes, yet went to work to make it all happen!
Sketches were translated into embroidery patterns for sample making. Many adjustments followed until everyone was happy with the final prototype.
Months later, expert embroidery machine craftsmen with decades of experience worked their magic for one single, labor-intensive very limited production run.
There it is.
The MF® x Tailor Toyo "CALI-JAN" souvenir jacket is designed in California, USA by Mister Freedom®, and crafted with love in limited edition in Japan by Toyo Enterprise.
SPECS:
PATTERN:
An original mfsc/Tailor Toyo pattern inspired by 1950s Sukajan and 1960s Vietjan souvenir/tour jackets.
FABRIC:
Fine 100% rayon acetate twill "A" and "B" sides.
Quilted "A" side with 100% cotton fiber batting (padding).
DETAILS:
* Authentic vintage Japan-made "souvenir jacket" style, inspired by 1950s-1960s off-duty custom-made jackets sported by US Armed Forces personnel stationed "in country".
* All original MF® artwork, blending vintage Sukajan and Vietjan aesthetics.
* Fully reversible, "A" side blue/gold with quilted pattern, and "B" side dark red/blue.
* Traditional Sukajan silk thread embroidery work performed by expert Japanese craftsmen with decades of experience on hand-operated "free-embroidery" machines.
* Vintage-style double-sided (reversible) "TYE Tokyo" metal zipper.
* Traditional 100% cotton batting backing for quilted "A" side.
* Vintage-style soft wool knit trims, loosely-knit ribbing as 1950s Sukajan originals.
* Double labelling (inside slash pocket on blue side), featuring both KOSHO & Co (the original name of the Yokohama fabric trading company that would merge with TOYO Enterprises around 1965, today the World's most respected sukajan manufacturer under the "Tailor Toyo" label), alongside the MF® rayon woven label.
* Limited collector's edition.
* Designed in USA.
* Crafted in Japan.
SIZING/FIT:
The Mister Freedom® CALI-JAN souvenir jacket has been carefully processed (rinsed and steamed) by experienced sukajan-expert garment professionals.
It has a vintage appearance due to the light puckering of the stitching and embroidery, and subtle shrinking of the rayon fabric. Do not attempt to hot-soak or wash this garment, it has already been processed and is ready-to-wear.
The CALI-JAN may be considered true-to-size by some, or running a bit small for others, according to body types and fit expectations. It features a slightly longer body than some of the original vintage Sukajan with their often shrunken and cropped bodies.
I now navigate between MEDIUM and SMALL in mfsc jackets, and opted for a Medium in the CALI-JAN. The SMALL fit better in length for my tastes, but was too tight in the chest. I am ~ 5.7′ / 145 Lbs.
Please refer to sizing chart for approximate measurements. Note that due to the raglan sleeve pattern, arm length is measured from armpit (not shoulder seam) to knit cuff.
CARE:
Professional dry clean ONLY, in your local eco-friendly dry-cleaning facility.
Again, DO NOT wash this jacket! This is quite a fragile garment, due to both the nature of the fine rayon twill and the intricate delicate silk-thread embroidery that could snag easily. In other words, this garment is not intended for gardening.
Available from www.misterfreedom.com, our Los Angeles brick & mortar store, and fine retailers around the World.
Email sales@misterfreedom.com or call 323-653-2014 with any questions unanswered above.
Thank you for your support.
Christophe Loiron
Mister Freedom®
©2023
Comments
comments