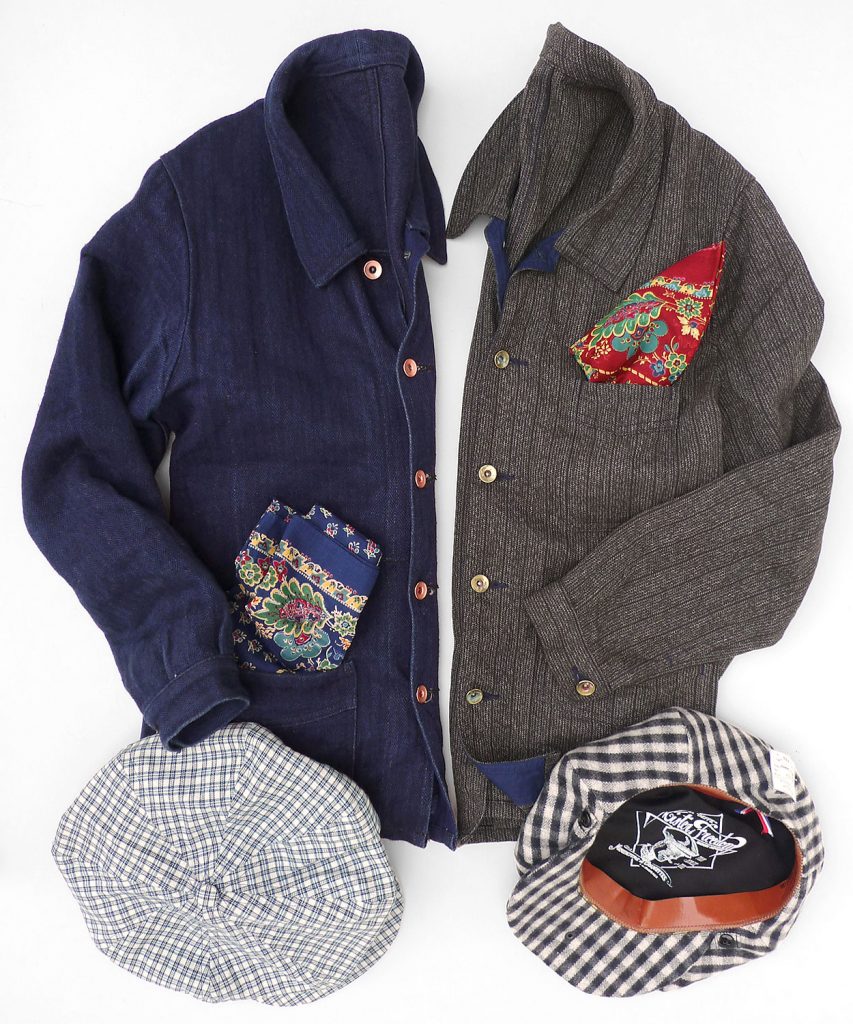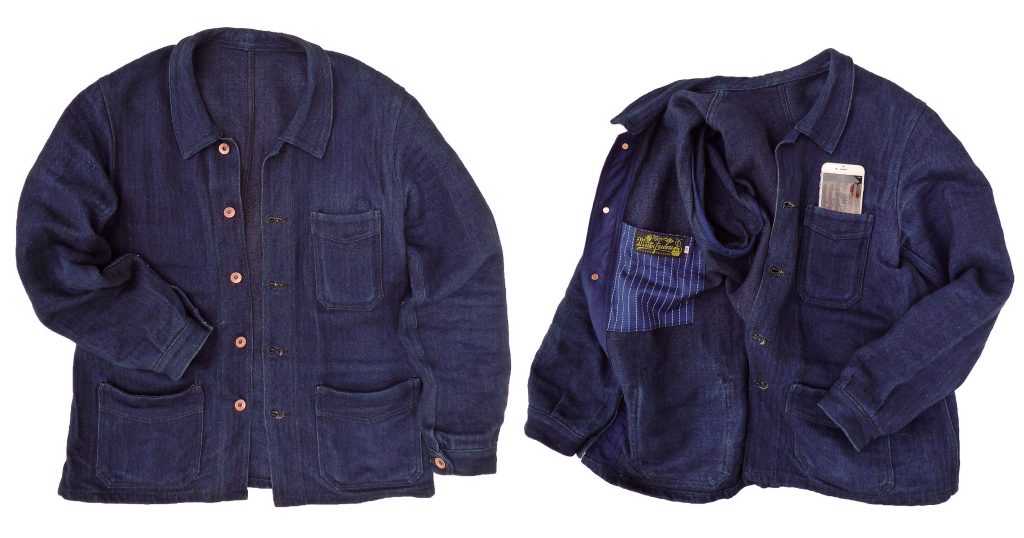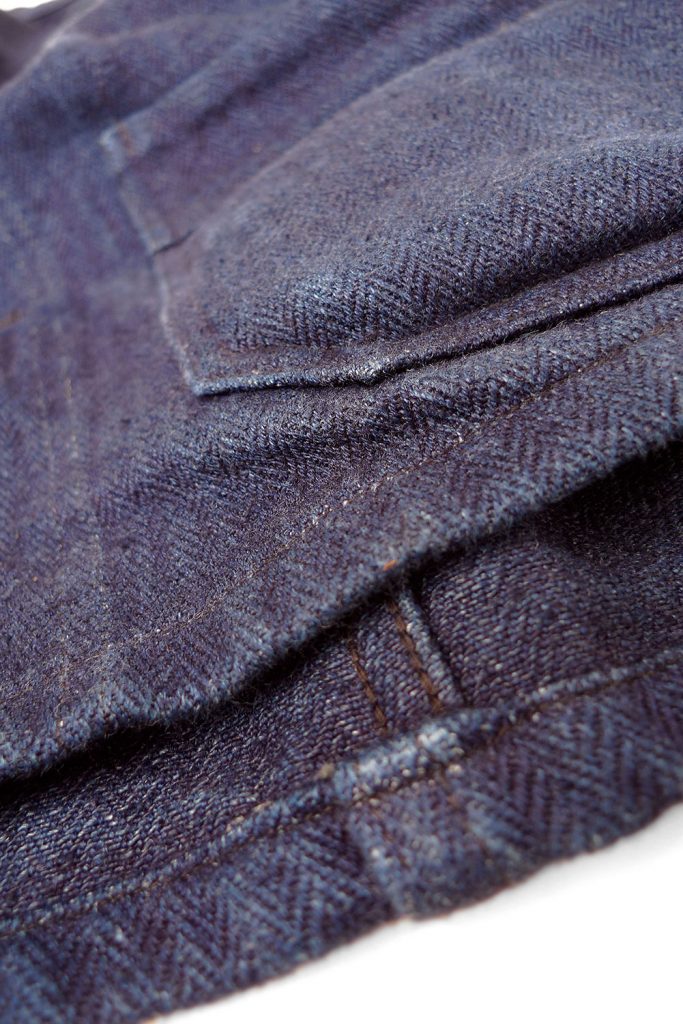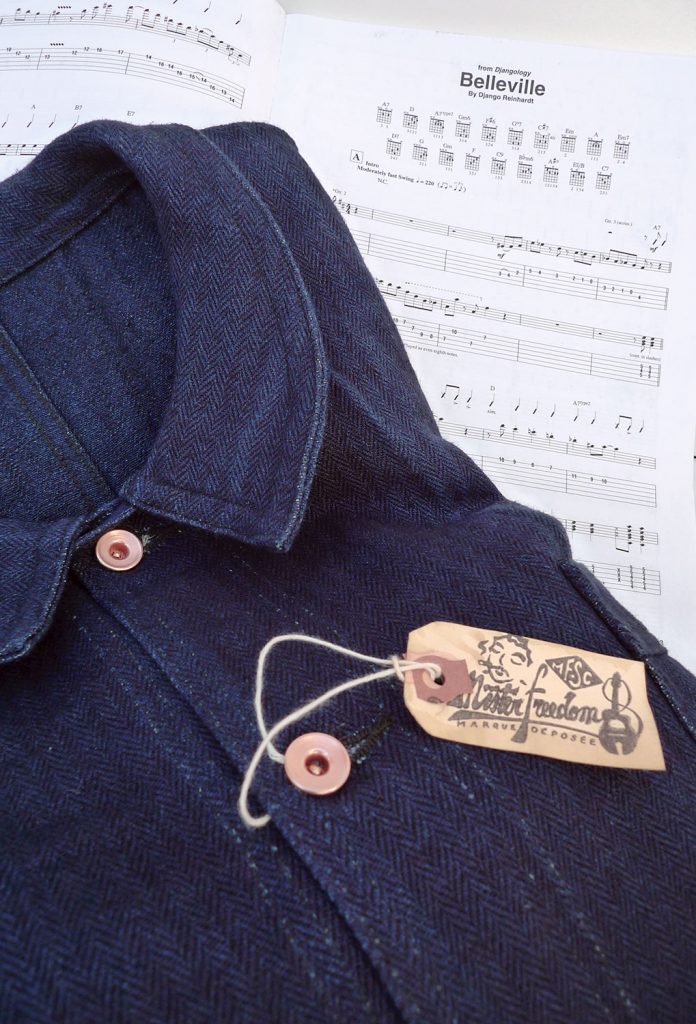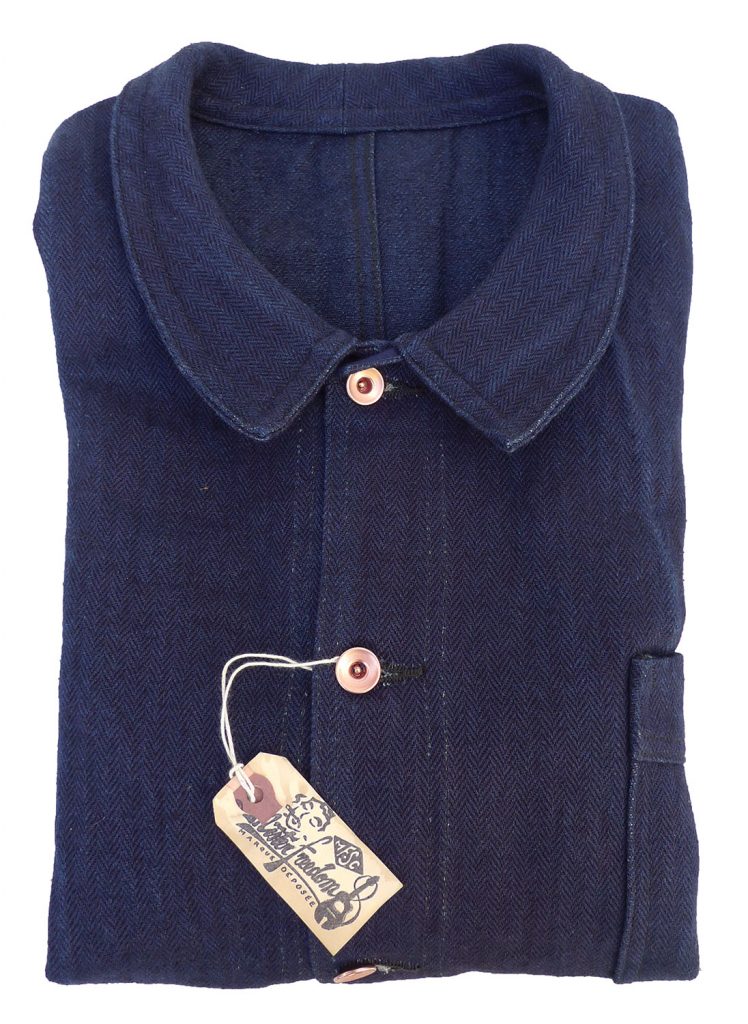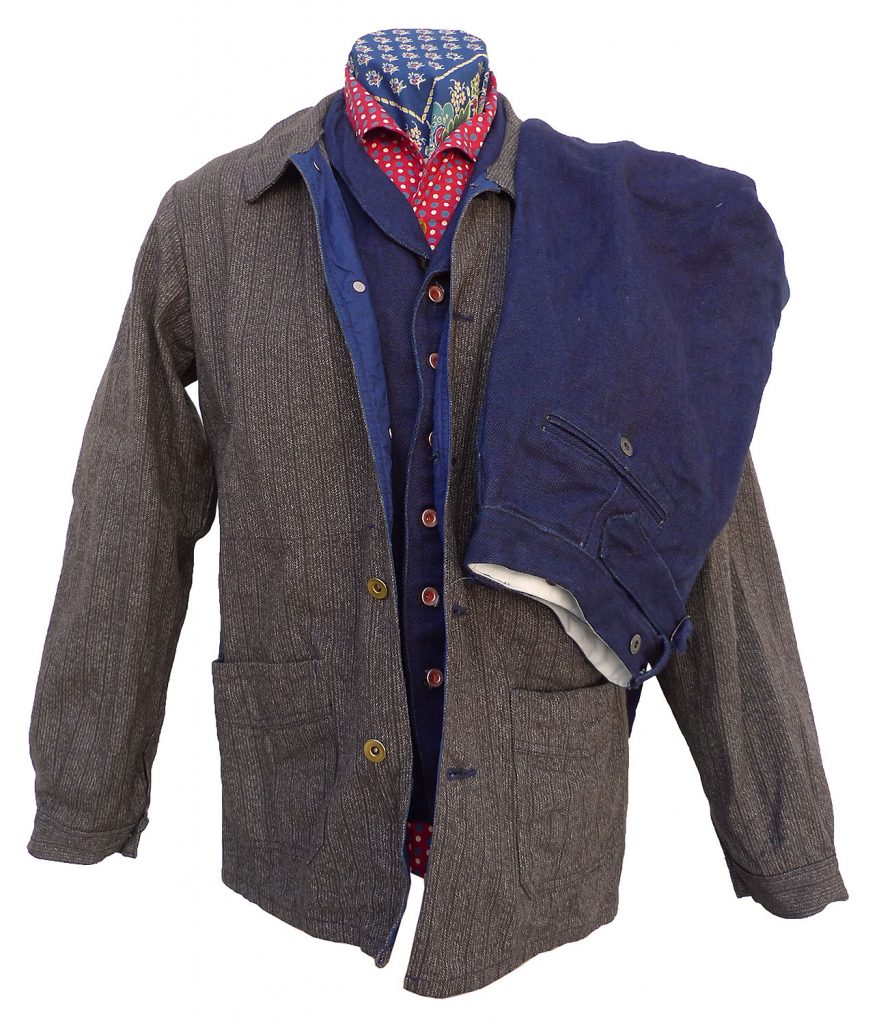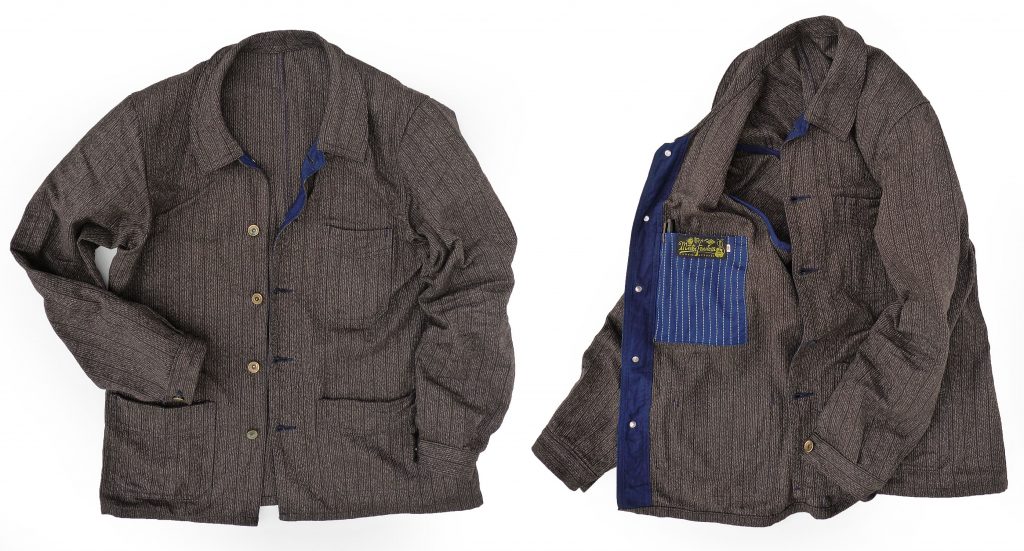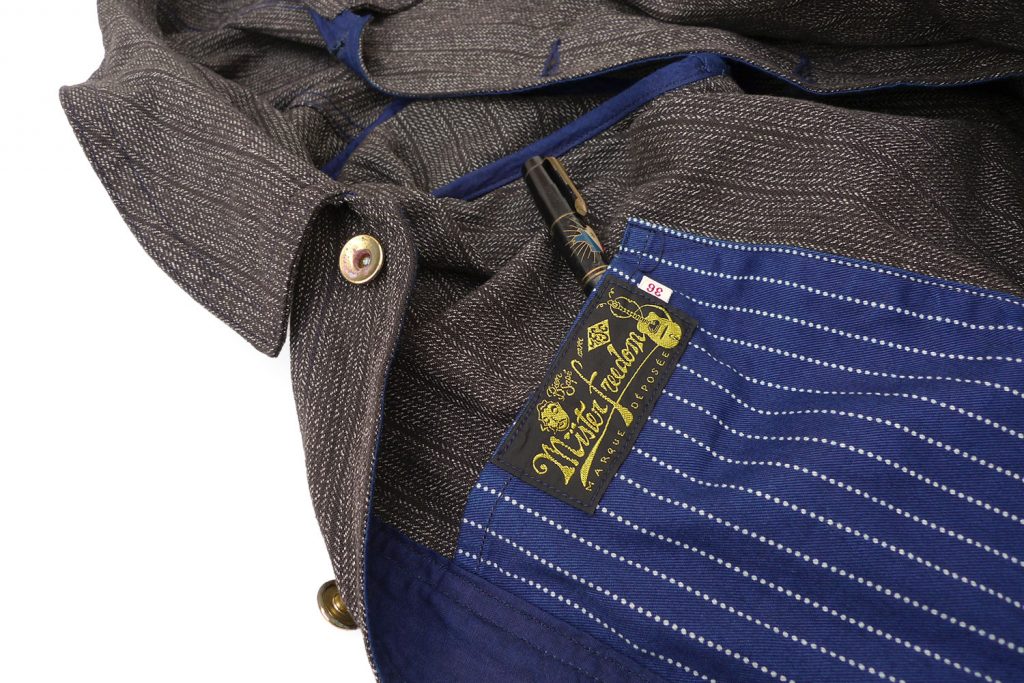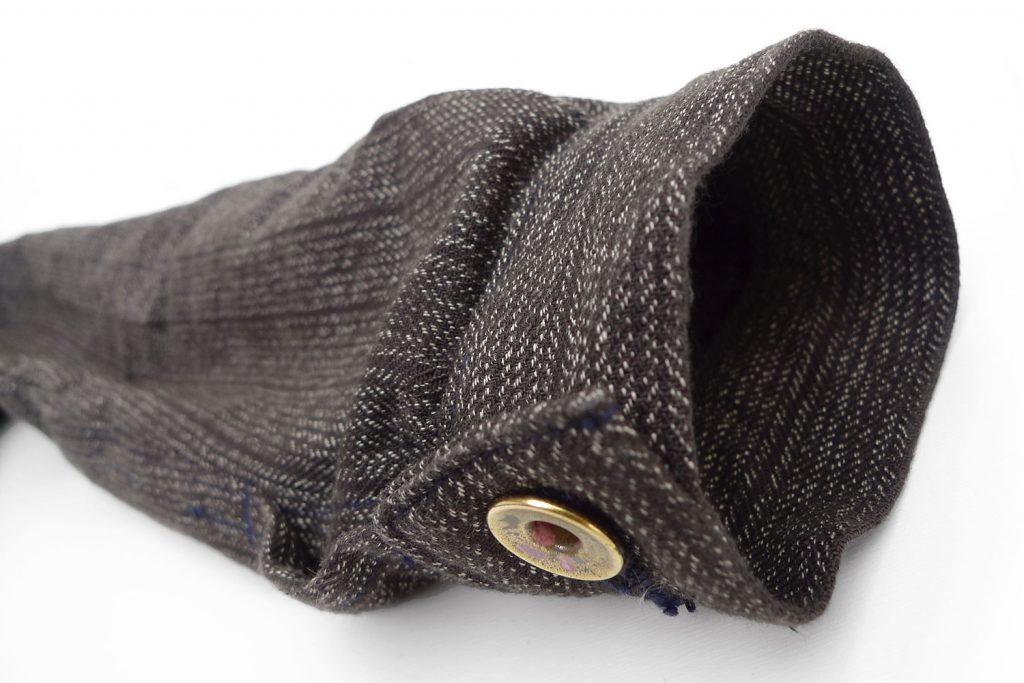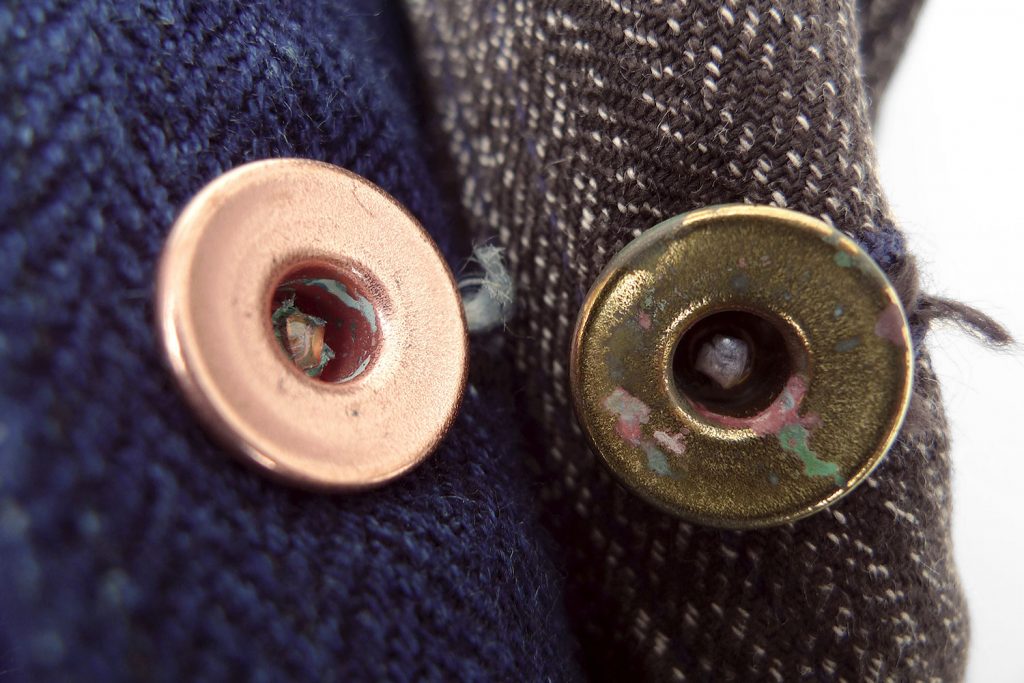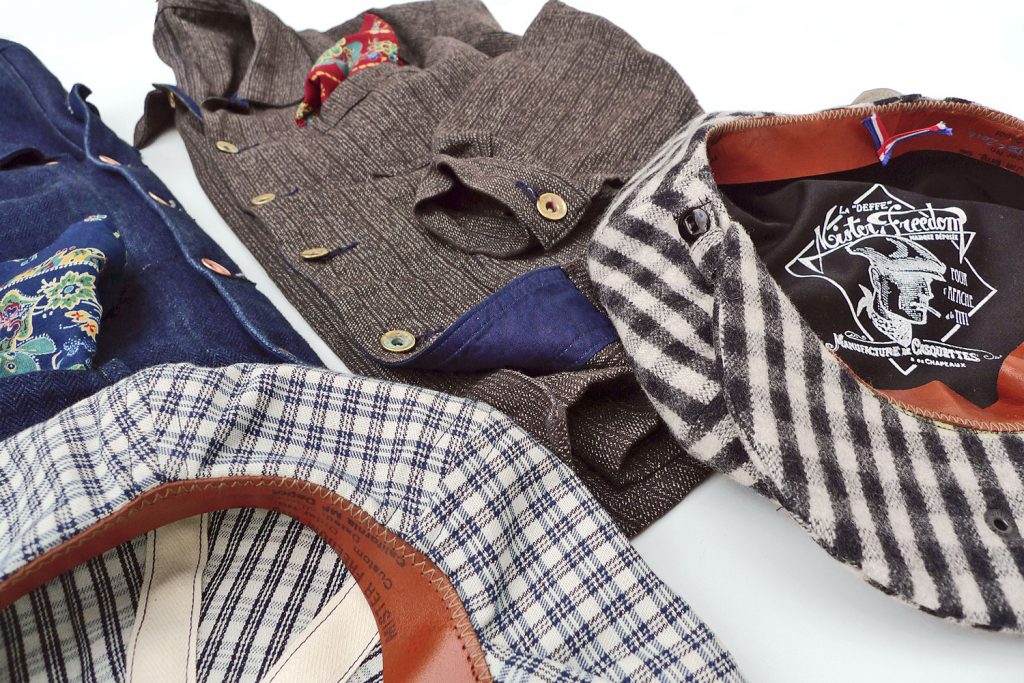 Veste Belleville, indigo cotton/linen HBT & cotton covert stripe.
"Gypsy Blues" mfsc collection Spring 2017
Made in Japan
Recently unveiled in the "Gypsy Blues" mfsc Spring 2017 Lookbook, our latest seasonal venture in vintage-inspired menswear features a 78rpm "Jazz à Cordes" soundtrack… Unless you said "a who?", you can skip this intro and scroll down to the SPECS to get straight down to bin'ness…
Pioneered by future members of the Quintette du Hot Club de France in the 1930's, a novel musical style known today as "Jazz Manouche" ("Gypsy Jazz", "Gypsy Swing",…), made its way from the Boite à Matelots (Cannes, circa 1931), to guinguettes on the Seine river, bal musettes, and smokey jazz caves of hopping Saint-Germain-des-Prés (Paris, 1950's). This new musical genre, a type of continental jazz originally consisting of string (corde) instruments (as opposed to brass instruments) soulfully improvising on traditional hot jazz standards and chansons in a specific style, stayed quite popular in France for a few decades, eventually crossing borders and oceans, anecdotally making an appearance in Hollywood in a Woody Allen film in 1999.
The QHCF, 'house band' of the Hot Club De France, was driven by the creative genius of Django Reinhardt, a young Manouche (French Gypsy) guitar player born in Belgium, settled down in France. With a left hand notoriously crippled in a caravan fire when he was 18, Django literally invented a unique guitar style, sound and technique that still puzzles and humbles guitarists today. His expertly-crafted solos are always so unique, so adventurous yet melodic, that each bar becomes a melody within a melody, each improvisation a standard within a standard. Many of his compositions, such as the ultra-famous Nuage or Minor Swing, are forever associated with his own original recorded renditions and have become anthems for Gypsy Jazz musicians over the years.
I recall my Dad not having much positive things to say about Rock & Roll or Yéyé pop tunes… The family's selection of LP's and 45's at home clearly showed his preference for traditional Jazz. A big fan of Django Reinhardt early on, he liked to recount having purchased tickets to go see the Hot Club perform live in Bordeaux, France, in the summer of 1953. On May 16th that year, a few months before the event, Django passed away…
Many years later, when visiting Paris in the 1980's, my Father used to take us kids to "La Chope Des Puces", a then-unassuming café near the Puces de St Ouen (famous Parisian flea market). I remember us sipping expressos at the counter, to the sounds of Daphné, Tes Yeux Noirs or Ménilmontant, performed by a Manouche duet (they might have been Mondine & Ninine Garcia), jamming on beat-up Maccaferri-type guitars with jerry-rigged Stimer pick-ups. That place still exists today, having become quite the tourist attraction with a full-blown restaurant.
Today, Django Reinhardt's known body of work is well-documented and easily available on well-curated and exhaustive CD collections. On-line forums dissect his career and recordings, passionately discussing Django's style, guitars and whereabouts during the 43 years he blessed us with his earthly presence.
His musical legacy is also well alive in 2017, with amazing talents such as the Rosenberg Trio and many others, keen on keeping Django's ears ringing, and la pompe (the specific strumming of the rhythm guitar that replaces the drums, trademark of Jazz Manouche) pumping.
If not yet familiar with this particular music style, treat yourself to some of Mr. Reinhardt's six-string escapades on numbers like the endlessly melodious I'll See You in My Dreams (1939), the frantic Belleville (1942), or electrified powerhouse Blues en Mineur (1947), …, just for a taste of that goodness. You won't even need to like Jazz to appreciate. For visuals, watch Django's effortless virtuosity on J'attendrai (1939), one of the very few surviving filmed clip that features synched sound/image. The apparently-lost movie "Clair De Lune", filmed in 1932 by Henri Diamant-Berger, and boasting a soundtrack recorded live-on-set by Django himself, will hopefully surface one day and reveal more of the man in action…
Messieurs Dames, after this typically rambling overture…showtime!
It is with that inspiring musical score in mind that we improvised a Mister Freedom® wardrobe for our mfsc "Gypsy Blues" story. For Spring 2017, we'll be mixing 1930's ~ 50's French workwear and vintage European menswear, giving somewhat of a Sinti bohemian vibe to the collection.
We'll kick our jam with a garment pattern familiar to most today, as it has made it into streetwear for several years now, and many modern fashionable versions exist: the French work jacket, known as 'bleu de travail' in its homeland.
Our Mister Freedom® jazzed-up interpretation of this classic, inspired by vintage 1930's moleskine and twill specimen, comes in two distinct fabric options.
First is an indigo-dyed cotton/linen HBT (the same sturdy fabric of our Waterfront Coat, indigo-dyed to a dark and rich hue), a textile inspired by early French firemen uniform of the 1900's. The second option is a 100% cotton stripe covert fabric, a sort of heather charcoal grey salt & pepper with a subtle woven stripe pattern, developed from a vintage swatch of 1930's French workwear NOS textile. Both are milled in Japan exclusively for us, as-in not picked from a textile trade show.
The Veste Belleville is designed in California by MISTER FREEDOM® and manufactured in Japan by SUGAR CANE Co.
NOTE: Please note that the photos feature an indigo HBT Belleville worn for about a week, with hardware treated with antiquing solution (DIY salt water/vinegar should also work). Production comes with brass/copper buttons without patina.
SPECS:
FABRICS:
Option A
A sturdy 15 Oz. blend of 80% linen and 20% cotton indigo-dyed HBT textile, selvedge, milled in Japan.
Please note that some light streaking can be observed on some garment panels at times. This is due to the nature of indigo-dyeing this specific heavy textured fabric. This is not considered as a defect, and will subside with wear. This indigo-dyed fabric is very light sensitive and its hue will evolve rapidly.
Option B
A lighter 9 Oz. covert woven stripe 100% cotton fabric, milled in Japan.
DETAILS:
* Inspired by classic 1930's French work/farmer jackets.
* Utilitarian unmarked 'donut' metal buttons (copper for the indigo, brass for the covert)
* Three outside patch pockets (chest pocket fits iPhone, we're hi-tek like that).
* Indigo Wabash twill concealed chest pocket, featuring the MF® woven label.
* Indigo-dyed poplin button & button hole placket facing.
* Vintage off-set shoulder seam pattern.
* Arms mounted with piping method, indigo-dyed tape.
* Flat-felled seam construction.
* Made in Japan.
SIZING/FIT:
Both fabric options come raw/unwashed.
Follow the usual method, initial cold soak, spin dry and line dry.
We recommend sizing down on both the indigo HBT and the grey covert. I usually wear 38 (Medium) in mfsc jackets, but went with a 36 (small) with the Belleville, without arm-hole issues.
Please refer to chart to figure which size works for you. If still confused, email sales@misterfreedom.com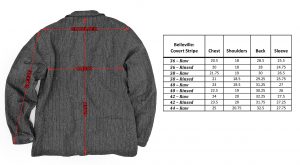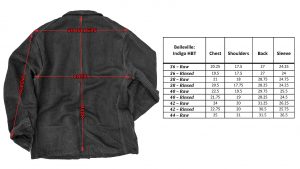 CARE:
Indigo HBT: When needed, hand wash or machine wash on delicate, cold water, minimal eco-friendly detergent. Turn inside-out to avoid marbling of the fabric. Line dry ONLY.
DO NOT use heat dryer as this will leave marbling lines and set un-natural creases to the indigo HBT linen fabric.
Covert stripe: Machine wash on delicate, cold water, minimal eco-friendly detergent. Line dry.
Available raw/unwashed.
Sizes
36 Small
38 Medium
40 Large
42 X-Large
44 XX-Large
Retail:
Indigo HBT: $549.95
Covert Stripe: $499.95
Available from www.misterfreedom.com, our Los Angeles brick & mortar store, and fine retailers around the World.
Email sales@misterfreedom.com or call 323-653-2014 with any questions unanswered above.
Thank you for your support.
Christophe Loiron
Mister Freedom®
©2017
Comments
comments