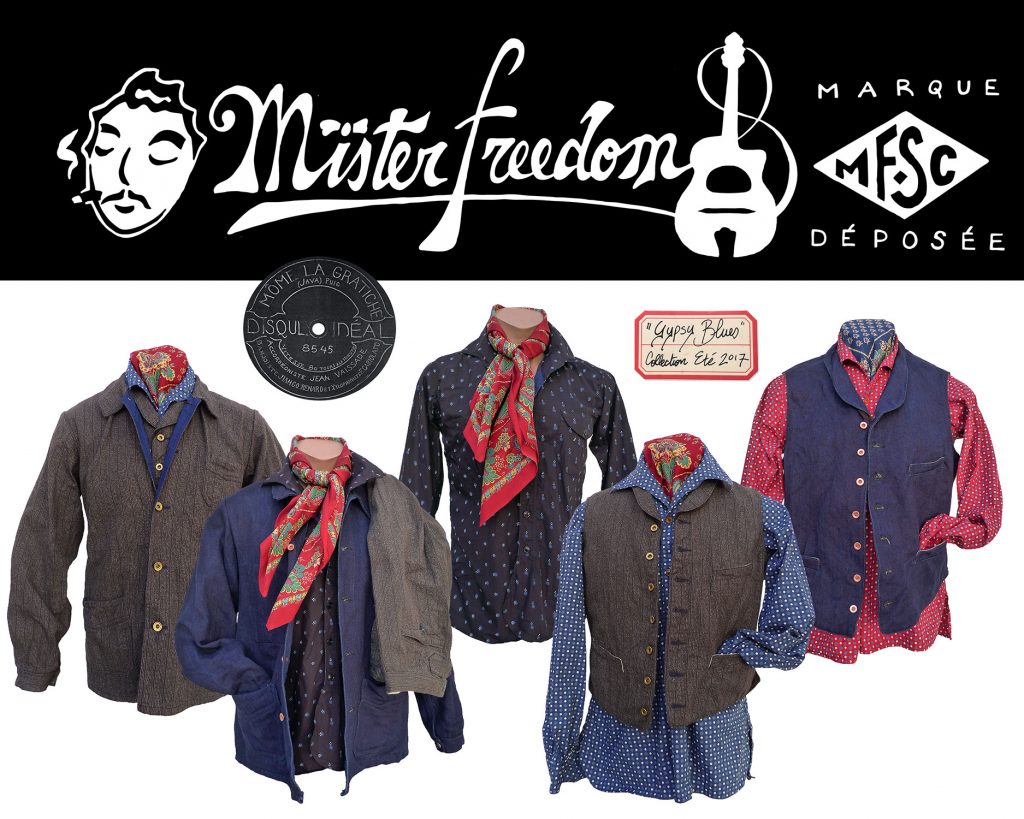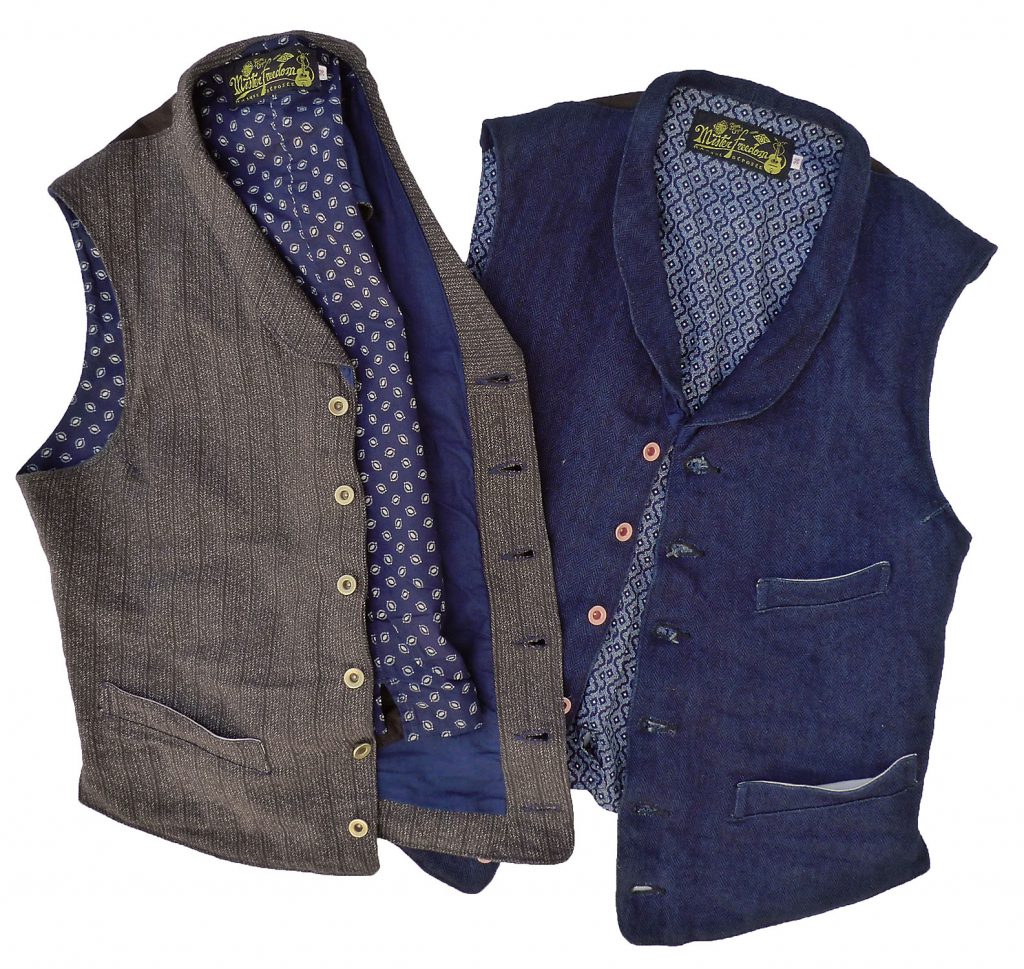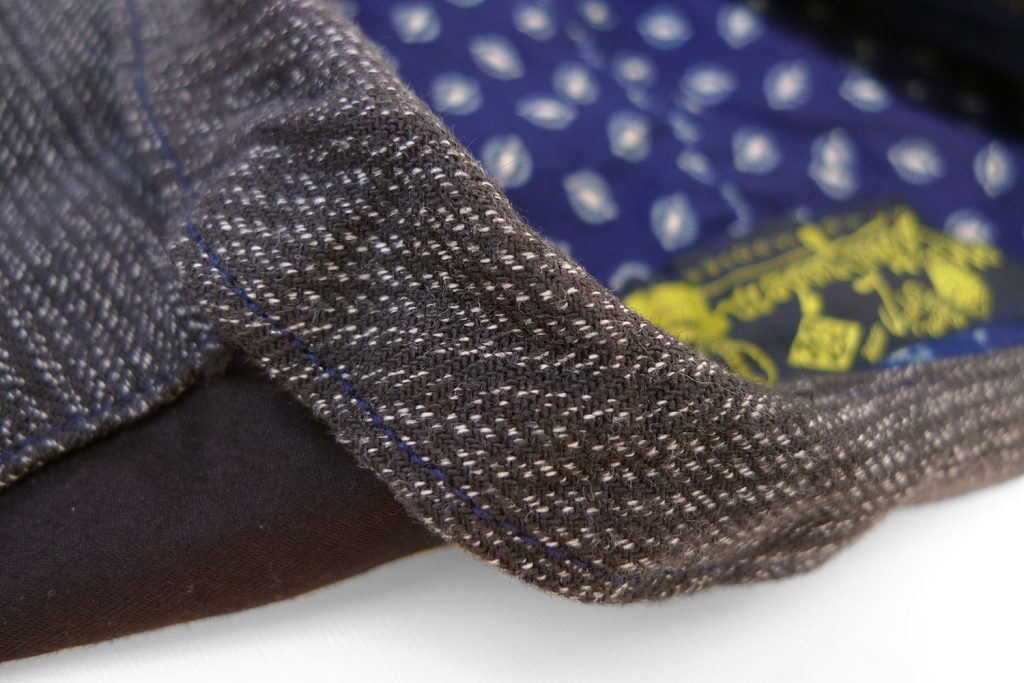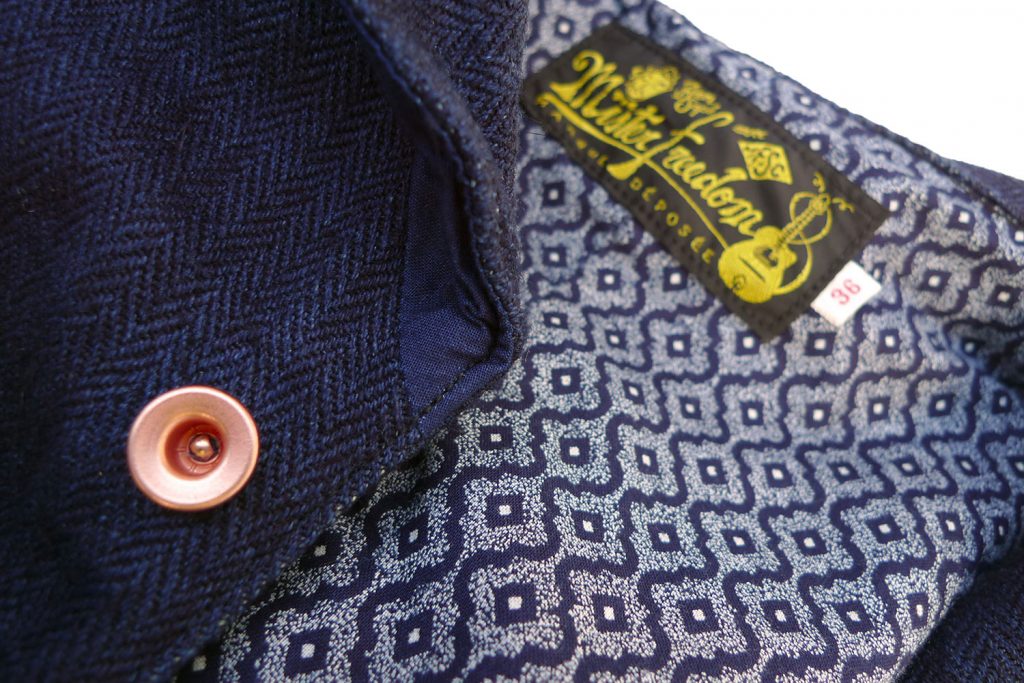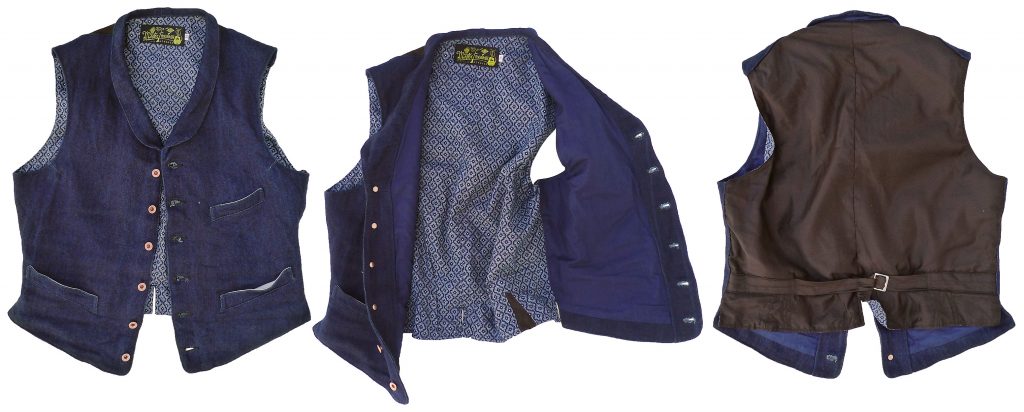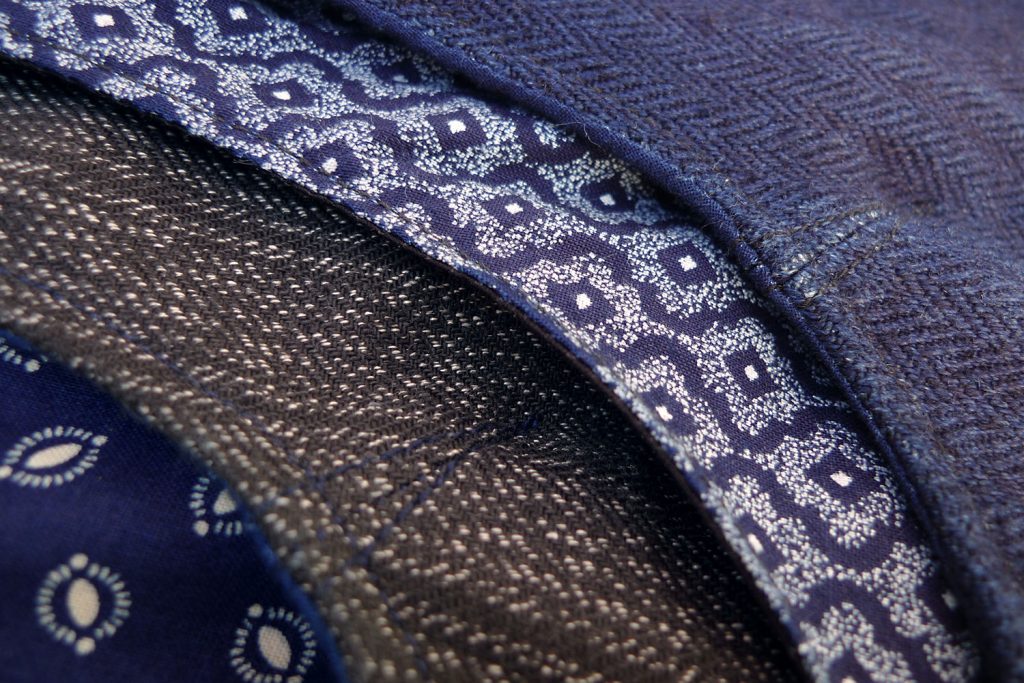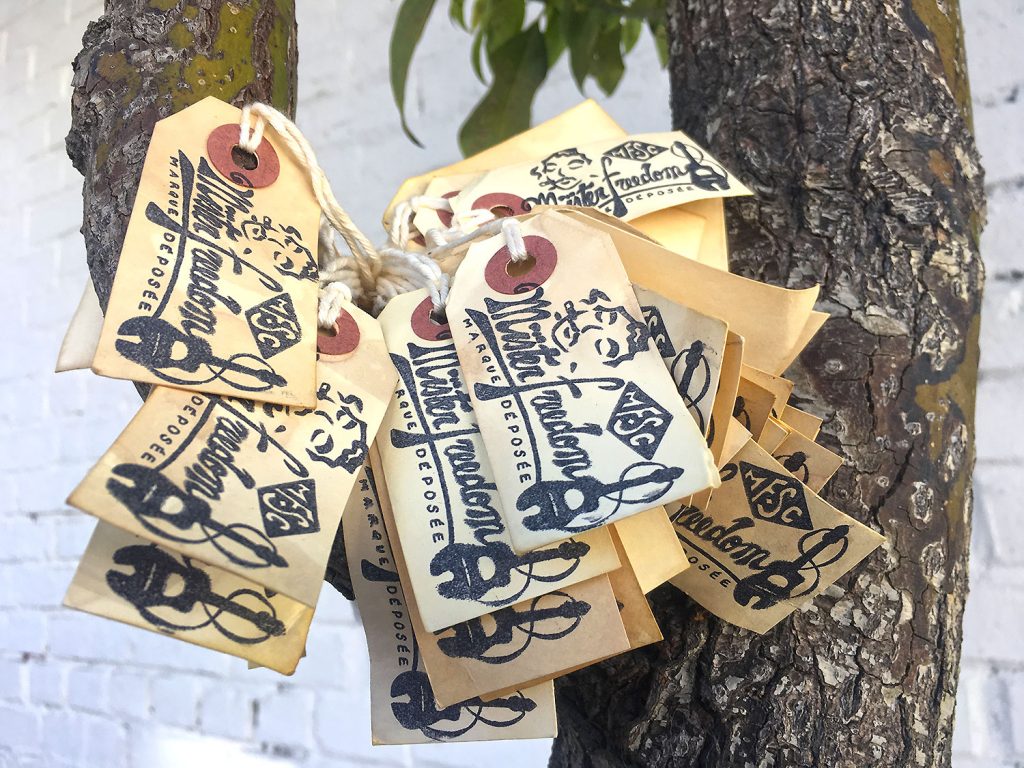 Gilet Gadjo, indigo cotton/linen HBT & cotton covert stripe.
"Gypsy Blues" mfsc collection Spring 2017
Made in Japan
The Romani term "gadjo" refers to folks of non-Romani origin. It is today quite a common colloquialism in Southern France, and is used to designate a male individual (as in 'guy' or 'dude').
"Vise-moi un peu le gadjo!" (Check out that dude!).
Chances are you could hear that one a few times, should you find yourself around the Saintes-Maries-de-la-Mer on May 24th, walking around town sporting Mister Freedom®'s latest.
The pattern of the MF® GYPSY BLUES Gilet Gadjo is inspired by 1910's-1930's French Gentlemen' waistcoats. The shawl lapel, fine sateen back, cinch back strap and fancy lining make for an elegant addition to the discerning gadjo's closet. We took the dandy vibe a notch down by donning our gilet a set of donut-shape metal buttons as front closure, hardware parts usually reserved for vintage workwear-type garments.
The two fabric options were introduced with the release of our Veste Belleville. An indigo-dyed cotton/linen HBT (the same sturdy fabric of our Waterfront Coat, indigo-dyed to a dark and rich hue), a textile inspired by early French firemen uniform of the 1900's, and a 100% cotton stripe covert fabric, a sort of heather charcoal grey salt & pepper with a subtle woven stripe pattern, developed from a vintage swatch of 1930's French workwear NOS textile. Both fabrics were milled in Japan.
Familiar to the EU vintage clothing aficionado, French waistcoats from the 1920's-30's typically feature a stern shell (often black wool serge) and an unusual inner lining (fancy printed fabric probably left-over from a custom shirting project). It is not uncommon to come across such tailor-made vintage specimen with a formal appearance and a flamboyant inner lining.
Digging through the archives, we found limited NOS yardages of forgotten textile goodness from past mfsc collections, and decided to use that as linings on this project. Both indigo discharge calicoes are from our MEN of THE FRONTIER days, namely the Apache and Pueblo Trade Shirt.
But, for heaven' snakes, what do American cowboys have to do with French gypsies you axe me?..
The relevance would be Old-West-obsessed Folco de Baroncelli and the Gardians of Camargue, aka ze French cowboyz. The famed horsemen of the delta of the Rhone, Southern France, typically wear shirts with traditional calico-type motifs from Provence. Camargue's most iconic commune is Saintes-Marie-de-la-Mer, pilgrimage destination for Gypsies from the four corners of Europe.
Voila the common thread.
The Gilet Gadjo is designed in California by MISTER FREEDOM® and manufactured in Japan by SUGAR CANE Co.
Credits: Lucien Clergue's 1959 photograph courtesy of Lucien Clergue Atelier.
SPECS:
FABRICS:
Option A
* Front panels: A sturdy 15 Oz. blend of 80% linen and 20% cotton indigo-dyed HBT textile, selvedge, milled in Japan.
Please note that some light streaking can be observed on some garment panels at times. This is due to the nature of indigo-dyeing this specific heavy textured fabric. This is not considered as a defect, and will subside with wear. This indigo-dyed fabric is very light sensitive and its hue will evolve rapidly.
* Back panel: 100% cotton sateen back, lined with indigo discharge print poplin, mfsc "Pueblo" calico. Solid indigo-dyed fine cotton poplin front panel lining.
Option B
* Front panels: A lighter 9 Oz. covert woven stripe 100% cotton fabric, milled in Japan.
* Back panel: 100% cotton sateen back, lined with indigo discharge print poplin, mfsc "Apache" calico. Solid indigo-dyed fine cotton poplin front panel lining.
DETAILS:
* Original mfsc pattern inspired by 1910's-30's European tailor-made fancy waistcoats.
* Elegant and traditional silhouette, to match higher-waisted trousers or blue jeans.
* Shawl lapel.
* Chest darts and early waistcoat gussets and paneling.
* Fancy indigo discharge-print calico poplin lining.
* Sateen back, oxidized black color.
* Cinch back strap, with vintage-style metal prong buckle.
* Three welt pockets.
* Utilitarian unmarked 'donut' metal buttons (copper for the indigo, brass for the covert)
* Made in Japan.
SIZING/FIT:
Both fabric options come raw/unwashed.
We recommend the usual method, initial cold soak, spin dry and line dry.
I opted to size down on both the indigo HBT and the grey covert. I usually wear 38 (Medium) in mfsc jackets, but went with a 36 (small) with the Gilet Gadjo, for an old school fit and high-waisted silhouette. The fit photos shows both sizes/fits, 36 and 38.
Please refer to chart to figure which size works for you. If still confused, email sales@misterfreedom.com
CARE:
Indigo HBT: When needed, hand wash or machine wash on delicate, cold water, minimal eco-friendly detergent. Turn inside-out to avoid marbling of the fabric. Line dry ONLY.
DO NOT use heat dryer as this will leave marbling lines and set un-natural creases to the indigo HBT linen fabric.
Covert stripe: Machine wash on delicate, cold water, minimal eco-friendly detergent. Line dry.
DISCLAIMER: Use caution when laundering, as the metal buckle of the cinch strap has sharp prongs that could get snagged and damage this (or other) garment(s).
Available raw/unwashed.
Sizes
36 Small
38 Medium
40 Large
42 X-Large
44 XX-Large
Retail:
Indigo HBT: $399.95
Covert Stripe: $379.95
Available from www.misterfreedom.com, our Los Angeles brick & mortar store, and fine retailers around the World.
Email sales@misterfreedom.com or call 323-653-2014 with any questions unanswered above.
Thank you for your support.
Christophe Loiron
Mister Freedom®
©2017
Comments
comments