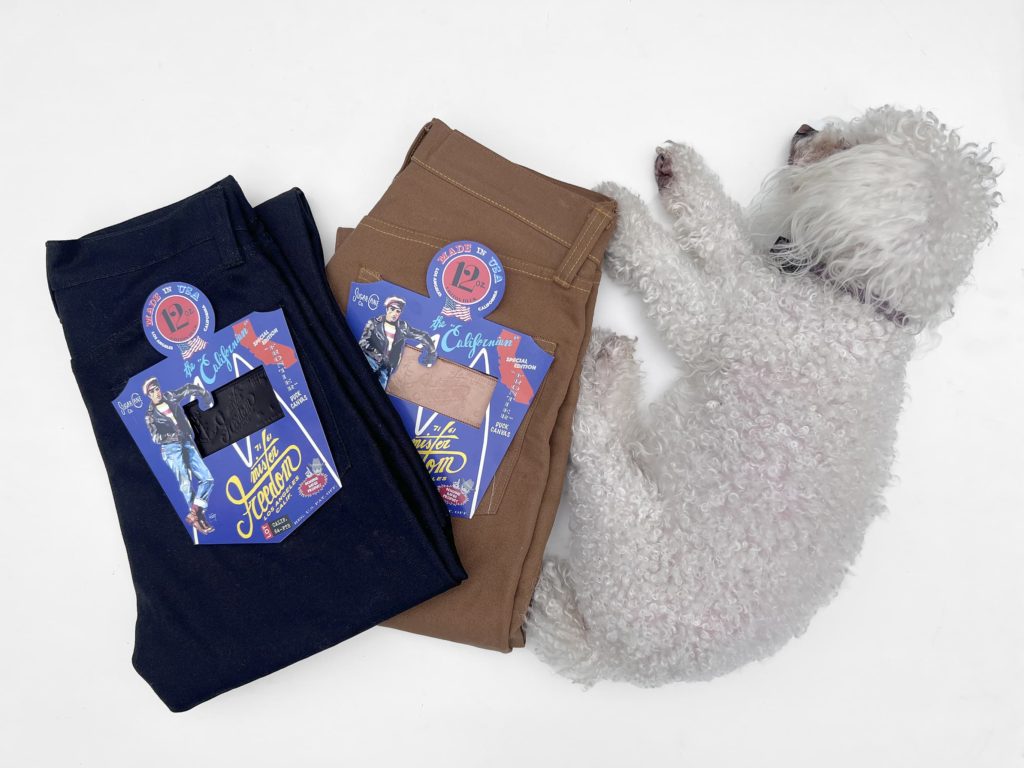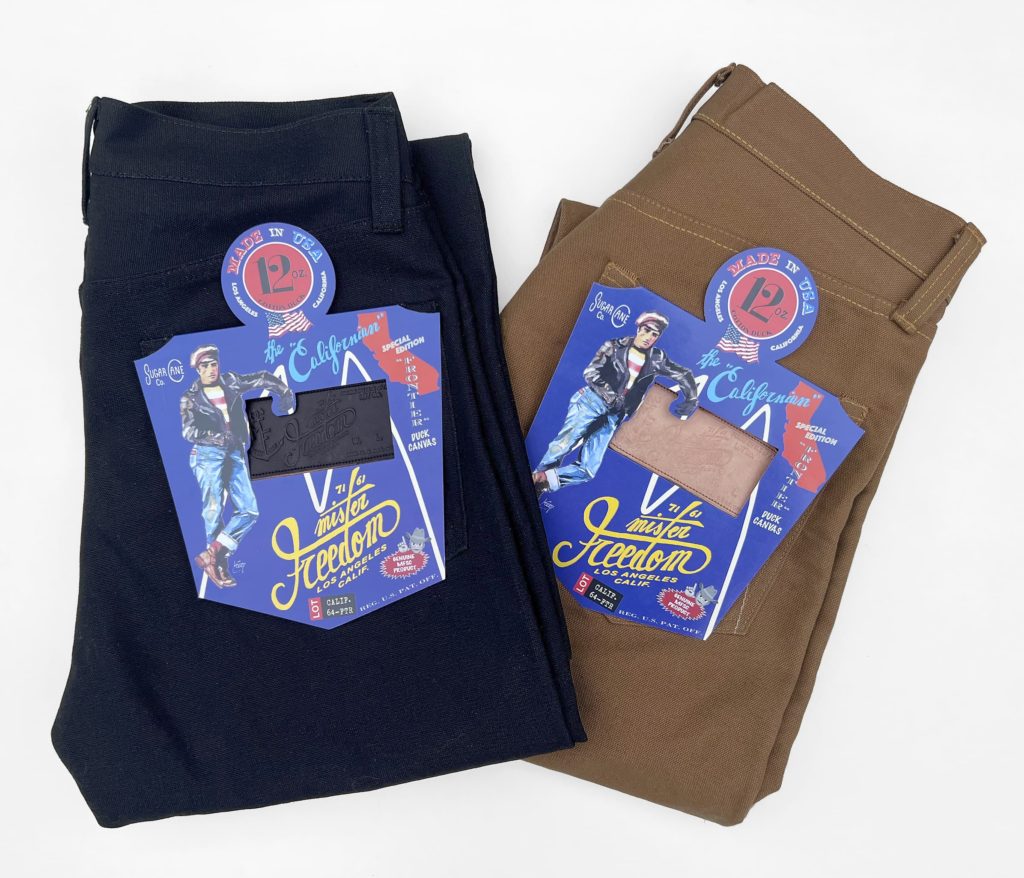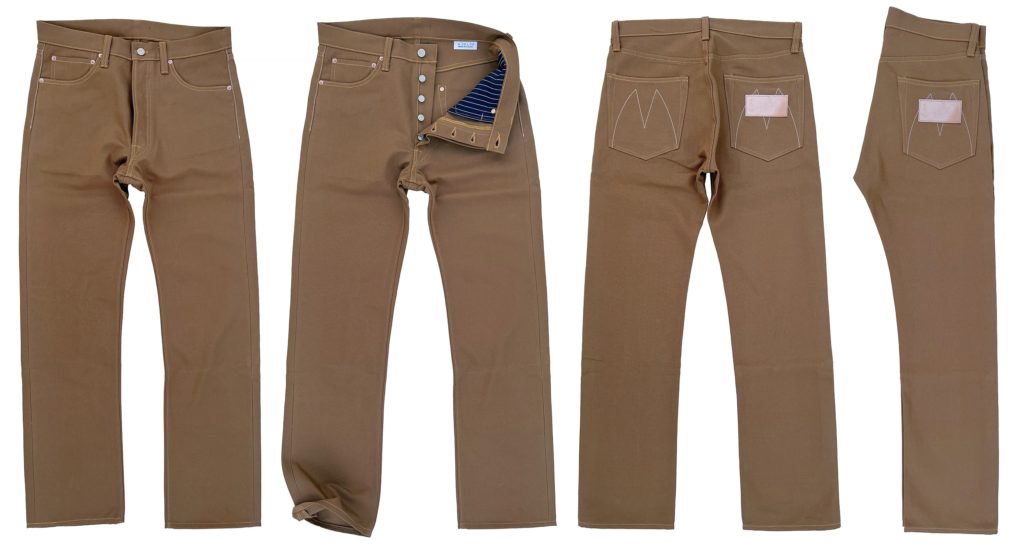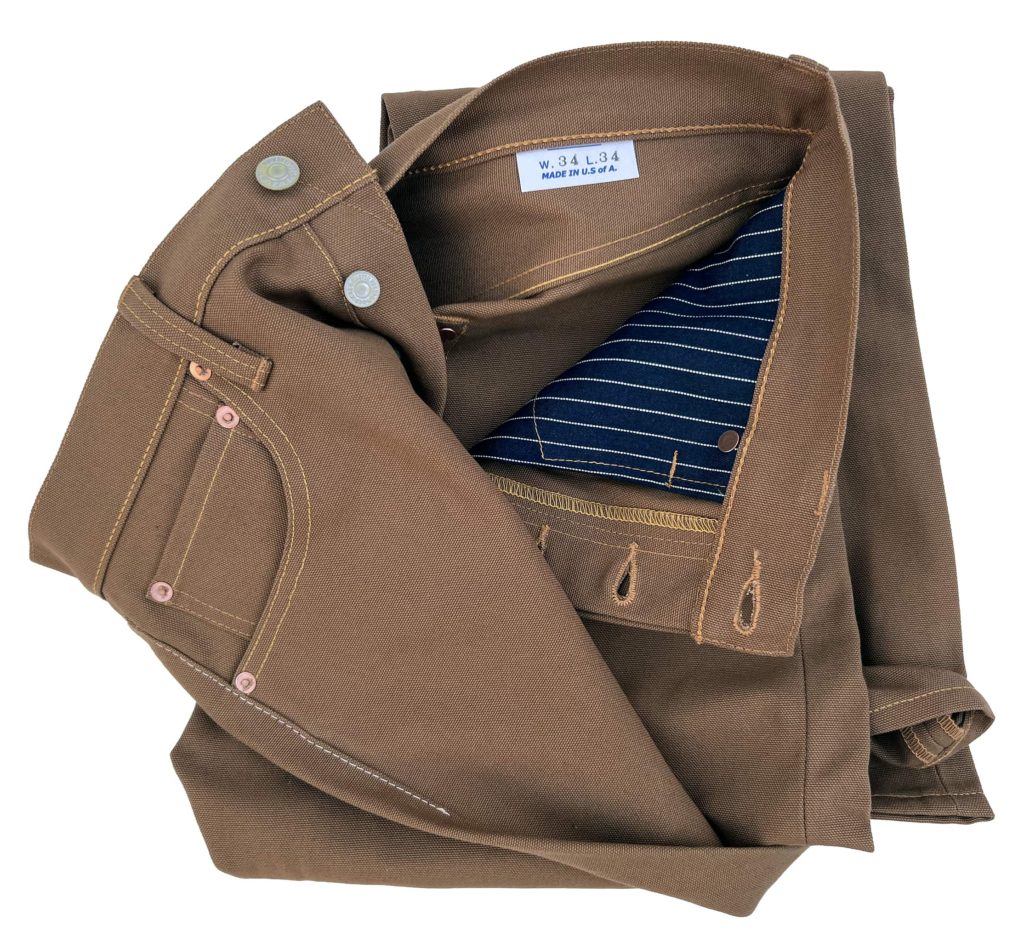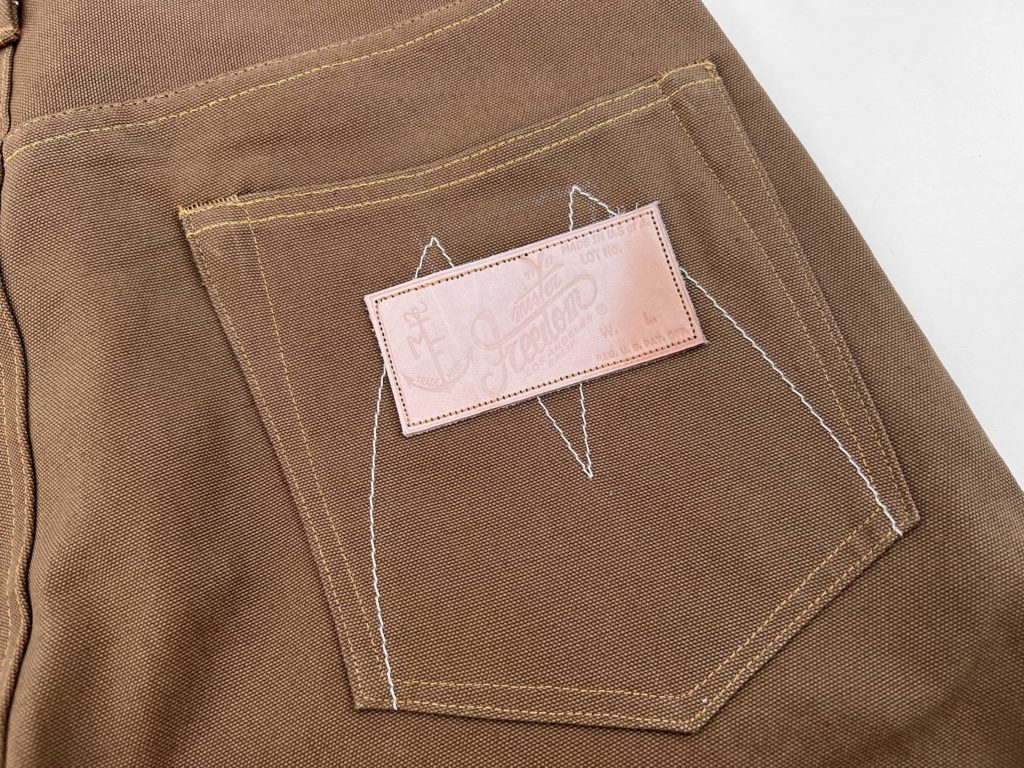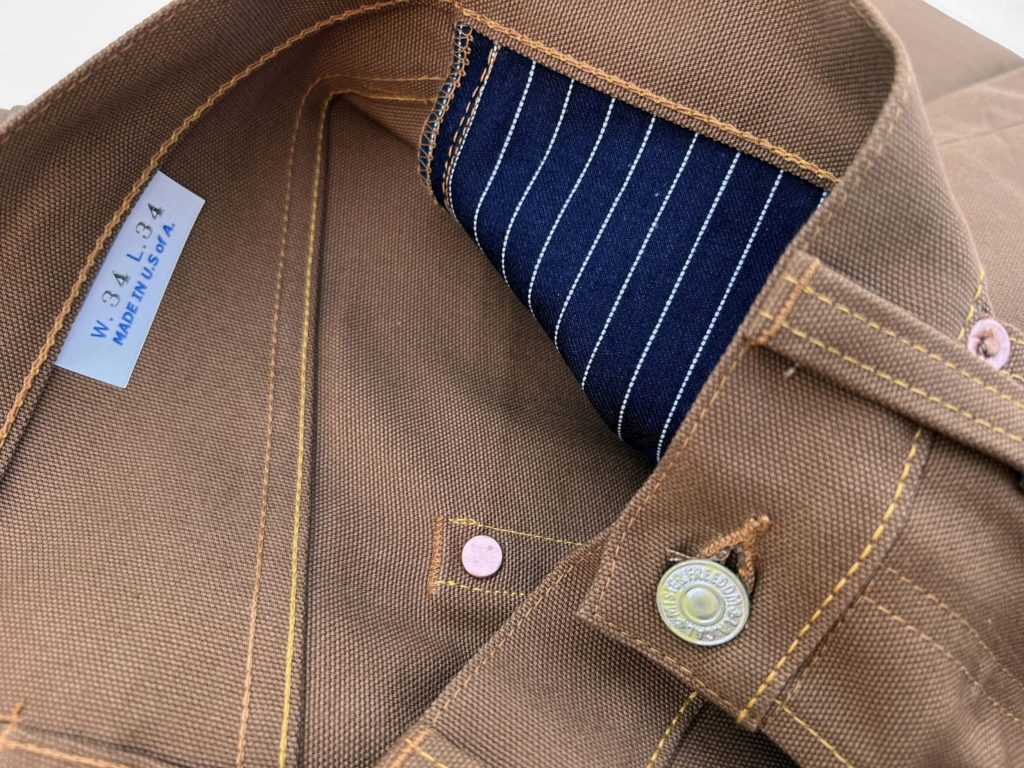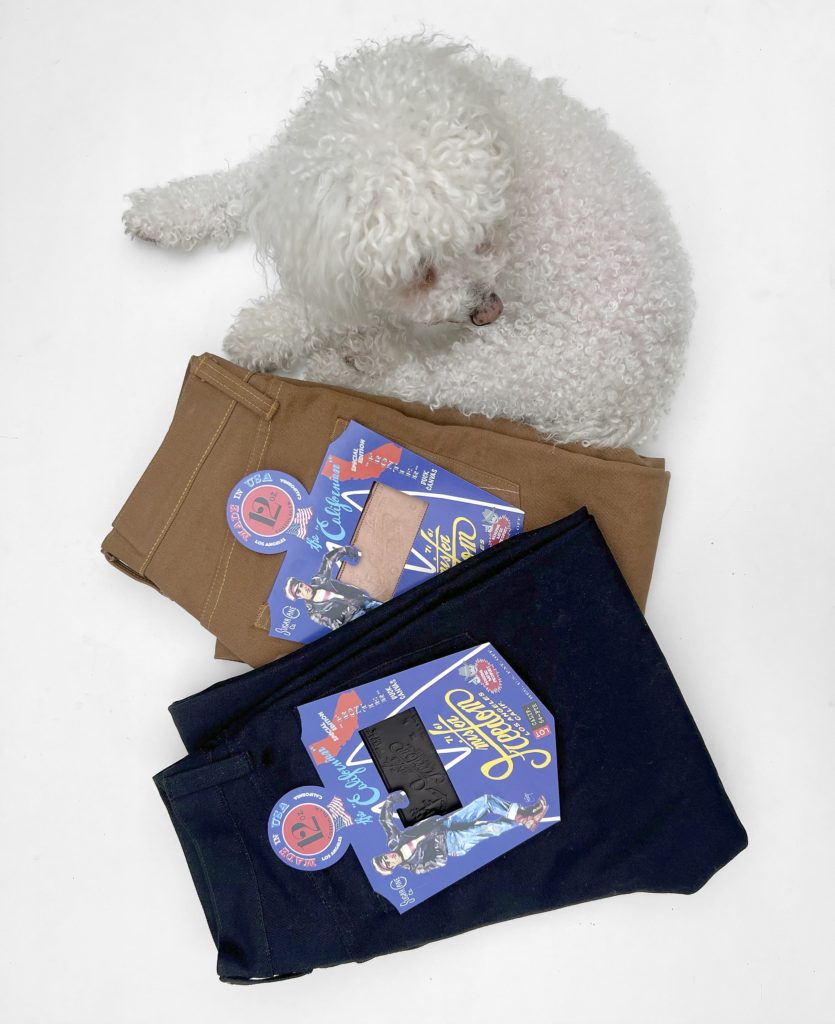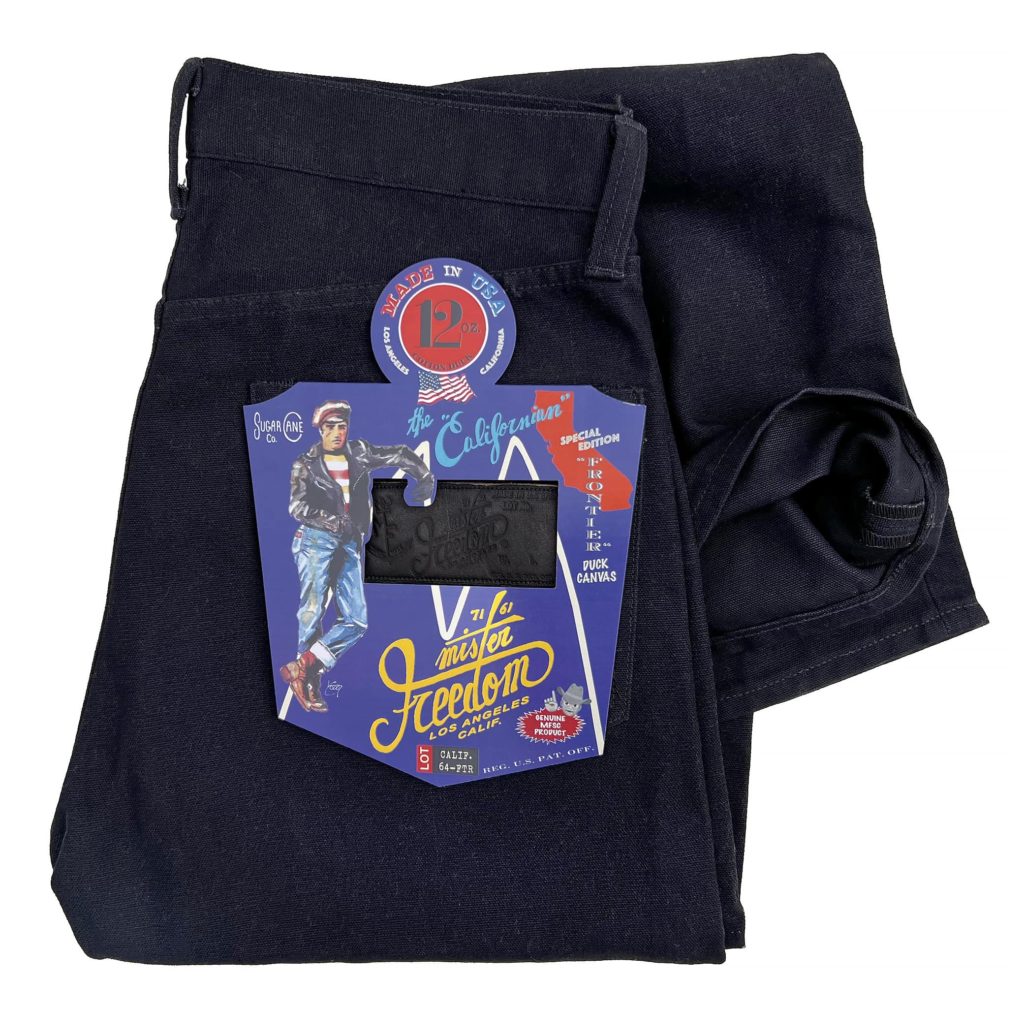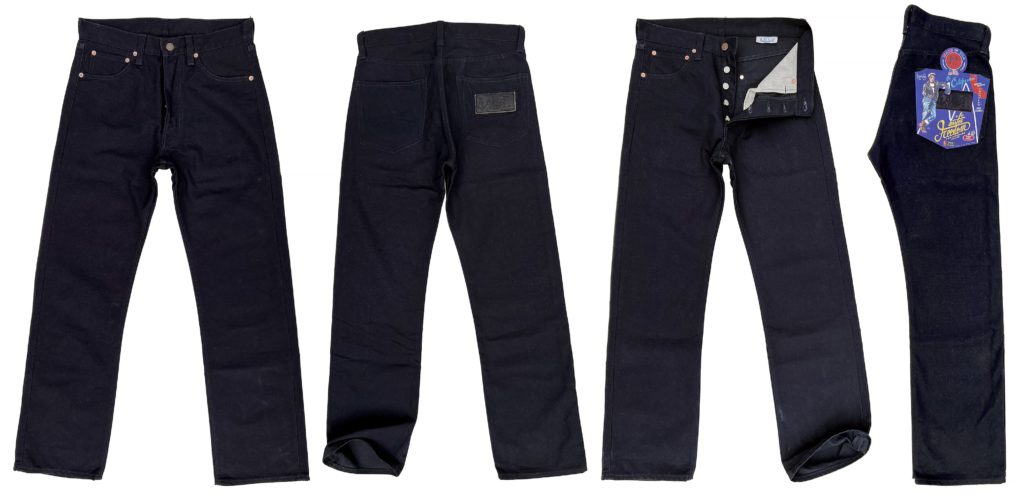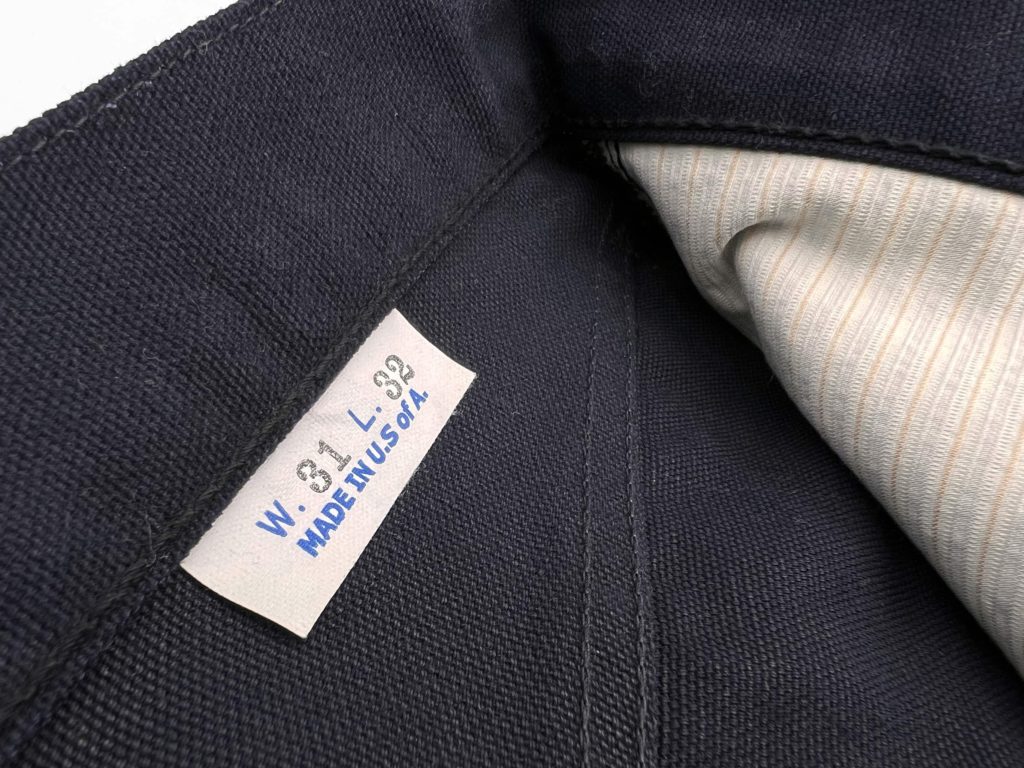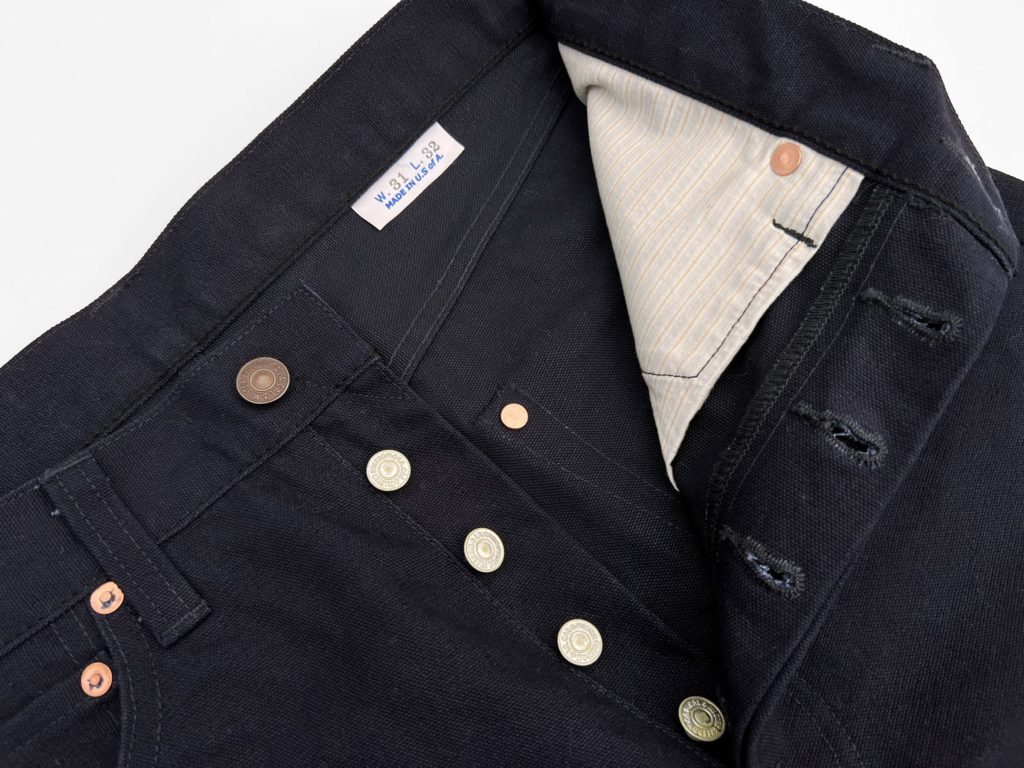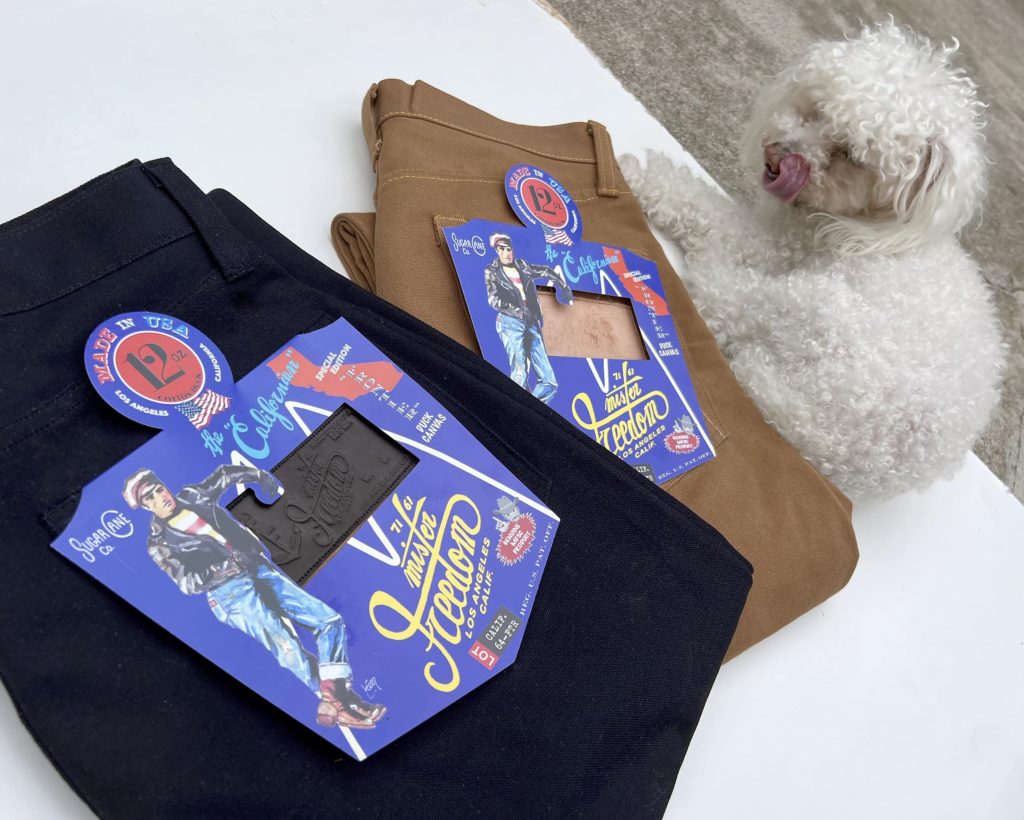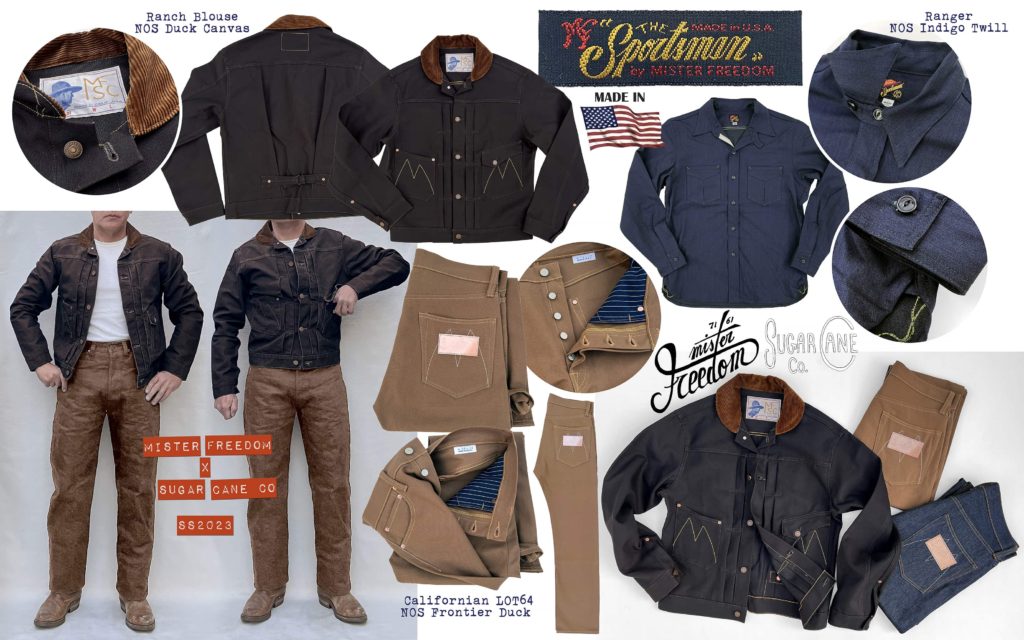 Mister Freedom® CALIFORNIAN Lot64 "Frontier Duck", 100% cotton canvas, Rust brown & Dark navy.
SS2023 & FW2023 mfsc Sportsman Catalog.
Made in USA.
We've issued the Mister Freedom® CALIFORNIAN in a plethora of premium fabrics through the years.
Since its 2010 introduction, our original classic five-pocket jeans pattern has been released in a wide range of NOS traditional indigo selvedge denims, eclectic premium Japanese fabrics such as double indigo twill, "Midnight" denim, Bedford cord Pique , corduroy, Jungle cloth, and cotton sateen.
For this iteration, we decided to give the CALIFORNIAN Lot64 an old school cotton canvas treatment, a nod to 1960s-70s brown duck 200Z Lee® Riders. For the denim collector, there was a fair amount of Lee® NOS floating around in the vintage world in the early 1990s, easily recognizable by the iconic yellow "boot and bucking bronco" Lee® paper flasher and desirable black/gold waistband label. I remember scoring a few stacks of those canvas specimen in old western wear stores at the time, and also sporting a pair.
For this project, we wanted domestic fabric and went out to source some nice and dry 12 Oz. cotton "Frontier" duck yardage, milled by Mt Vernon Mills in Georgia, USA.
We opted for two color options. A rusty brown similar to our Lee® brown duck jeans source of inspiration – also typical of classic Carhartt workwear – and a deep dark navy blue. For those considering a farmhand tuxedo, please note that the CALIFORNIAN rusty brown "Frontier" duck fabric is of a different dye lot from the "Frontier" Ranch Blouse NOS Duck.
This canvas duck fabric is woven on wide looms, resulting in unfinished edges, i.e. non selvedge. Therefore, as with the Californian Jungle cloth issue, the leg outseams of the pants are finished with overlock, another classic 1970s Lee® jeans trait.
We kept our MF® classic contrast orange/yellow combo stitching for the brown duck, and went tonal for the navy.
As often with our domestic production, we are using older NOS (New-Old-Stock, aka "Dead Stock") fabric for the pocket bags. Not only as a "vintage aesthetics" choice, but in an effort to always use-up all yardage we have in stock.
Discarding left-over material is common practice in our overproducing fashion industry, an obvious waste of virgin raw material and resources, and pretty much an insult to our species' intelligence at this point! We can do better.
Valuable and painstakingly-milled unused and uncut fabric yardage, let alone recently-manufactured clothes, should definitely not end up in landfills, nor in smoke.
The Mister Freedom® CALIFORNIAN Lot64 jeans, "Frontier Duck Canvas" edition, are designed and manufactured in California, USA, by Mister Freedom®, in collaboration with Sugar Cane Co.
SPECS:
PATTERN:
Inspired by vintage 1950s-1960s era five-pocket blue jeans. Our LOT64 cut features a traditional fit, classic rise, with a slightly tapered leg for a 50s-60s vibe.
FABRIC:
Dry 100% cotton "Frontier" duck canvas, 12 Oz., milled by Mt Vernon Mills, Georgia, USA.
Two color options, rusty brown and deep dark navy.
Pocket bags:
Brown canvas option: NOS 100% cotton navy blue twill with woven white pinstripe.
Navy canvas option: NOS 100% cotton fancy Dobby stripe weave, grayish/blue stripe on off-white background (left-over yardage from the production of the MF® Aristocrat Shirt.)
DETAILS:
* Classic vintage five-pocket blue jeans pattern, featuring a straight leg with a slight taper and a classic mid-to-high rise.
* Button fly, original MF®-branded metal cast tack buttons, "oxidized" silver color.
* Non-selvedge overlocked leg outseam.
* Fancy NOS fabric 100% cotton pocketing.
* MF® original "M" stitch design on rear pockets.
* Hand-debossed leather MF® branded patch on rear pocket, natural veg-tan cowhide for rusty brown canvas version, black tea-core veg-tan cowhide for navy canvas version.
* Contrast stitching on brown canvas version. Twelve types of 100% cotton threads used for construction (gauge and color combination.) Main colors are yellow and orange. Tonal stitching (black) on navy canvas version.
* Riveted coin pocket.
* Hidden back pocket reinforcement rivets, with top pocket bartack stitching.
* Unmarked copper riveting for pocket opening reinforcement.
* Original MF® paper pocket flasher (royal blue).
* Made in USA
SIZING/FIT:
The Californian LOT64 Frontier Duck Canvas jeans come UN-WASHED and are cut so that actual measurements match the labeling AFTER an initial cold soak/line dry. We recommend the usual protocol before wearing:
Cold soak for about 30-40mn, with occasional hand agitation.

Machine spin dry and line dry.

Hang until fully dry.
The canvas Californians are considered true-to-size.
A tagged W32 will most-likely be the right size for an individual with an approximate measured waist of +/- 32 inches, and with average body proportions. Note that your natural waist is a bit bellow belly button level, not bellow the hips.
I opted for a W30 in these (5'7 ~142 Lbs.), for a fit silhouette, and went un-hemmed and un-cuffed for "sloppy" period stacking.
The size that will work best for you depends on your body type and how you like your jeans to fit.
Please refer to size chart, reflecting rinsed measurements.
CARE:
Launder when needed.
We recommend turning the jeans inside out to avoid marbling during laundering. Machine wash, cold water, gentle cycle, eco-friendly mild detergent and line dry.
Potential attractive patina may develop according to one's activities, and frequency of wear/wash.
Available from www.misterfreedom.com, our Los Angeles brick & mortar store, and fine retailers around the World.
Email sales@misterfreedom.com or call 323-653-2014 with any questions unanswered above.
Thank you for your support.
Christophe Loiron
Mister Freedom®
©2023
Comments
comments