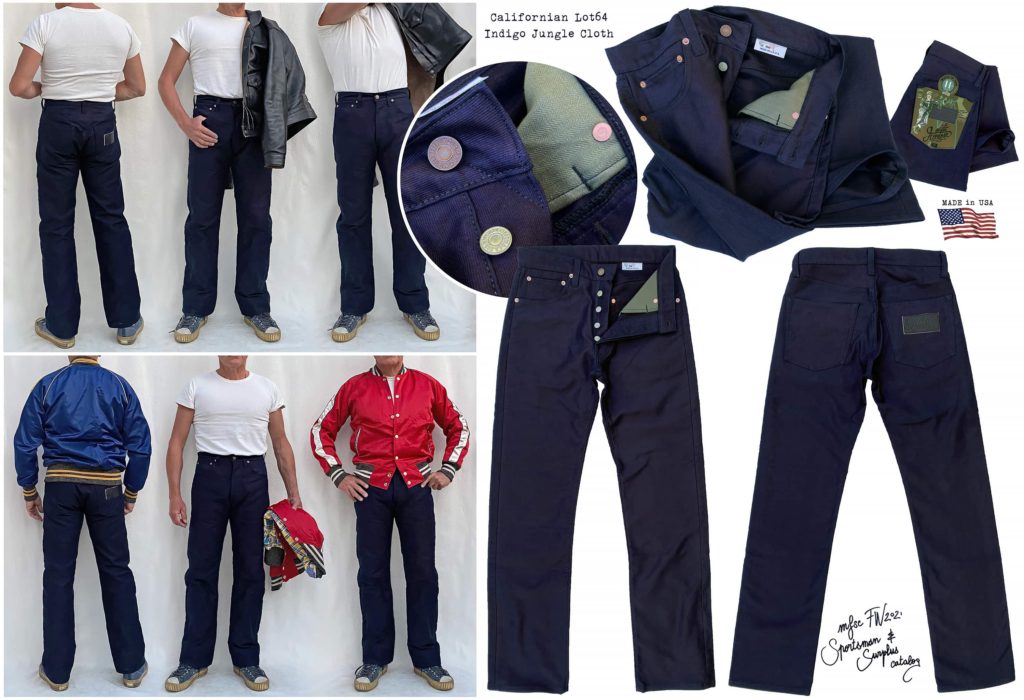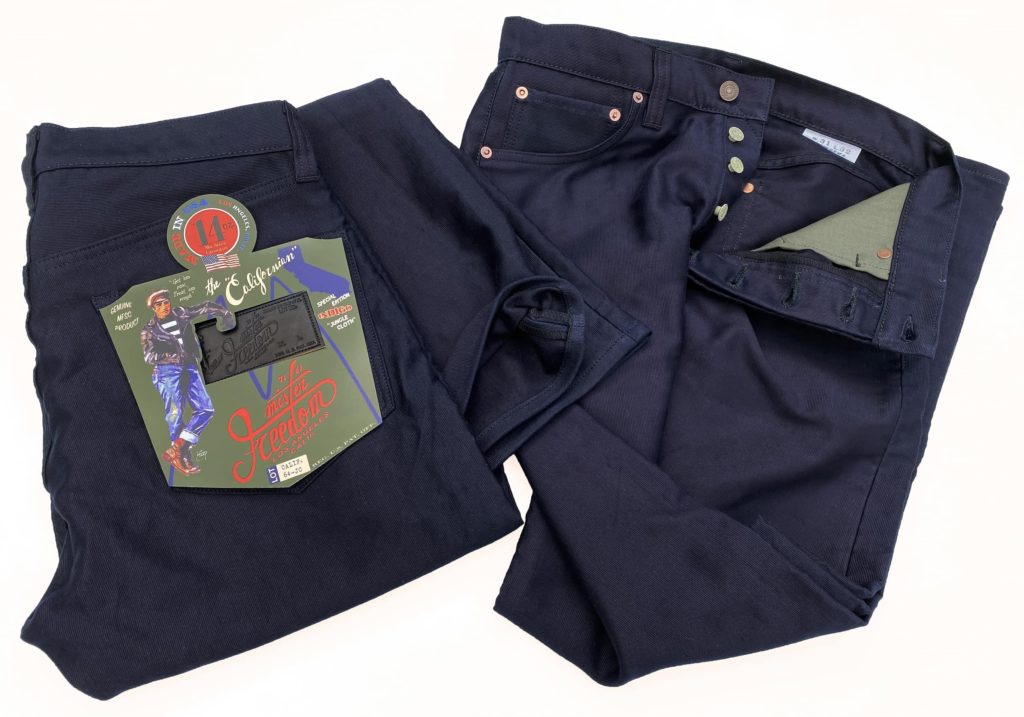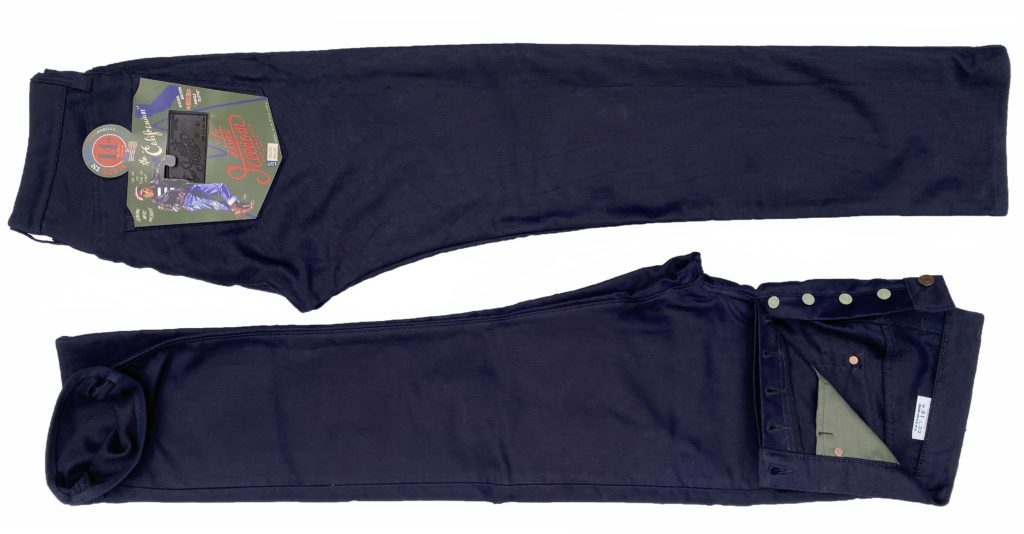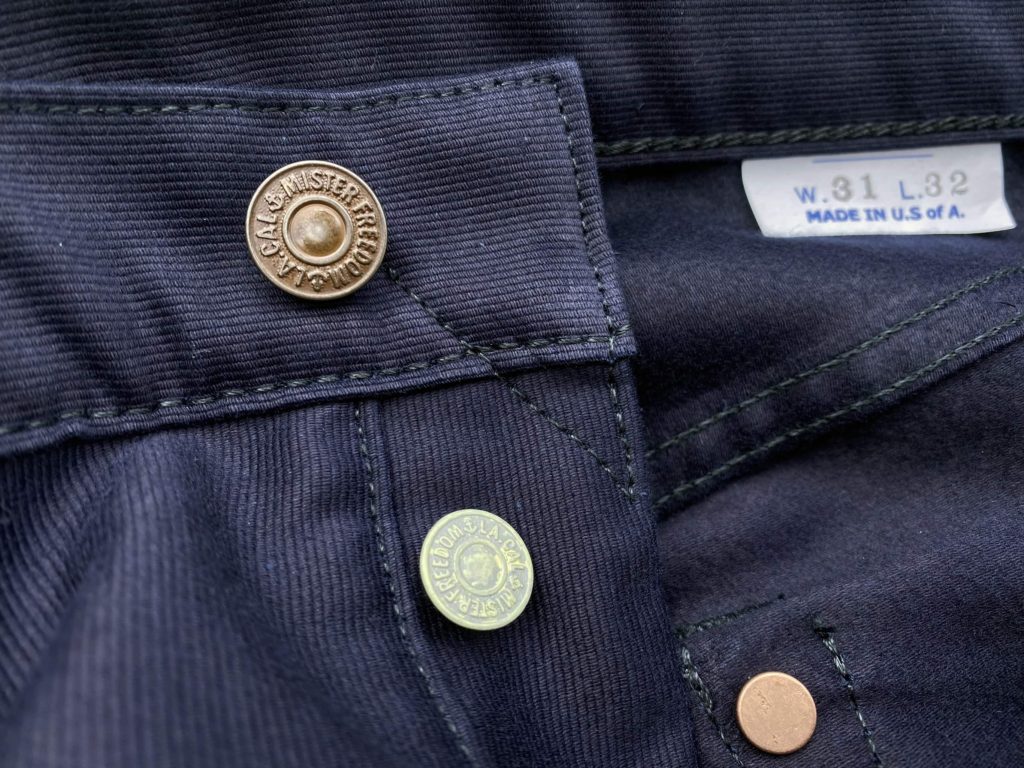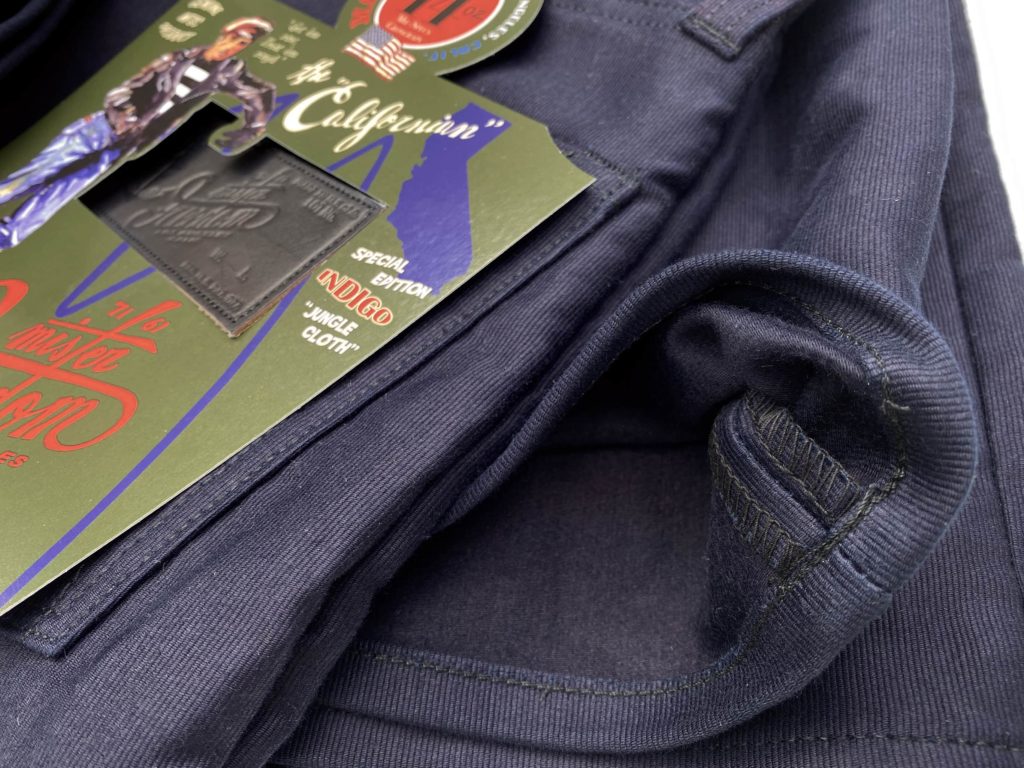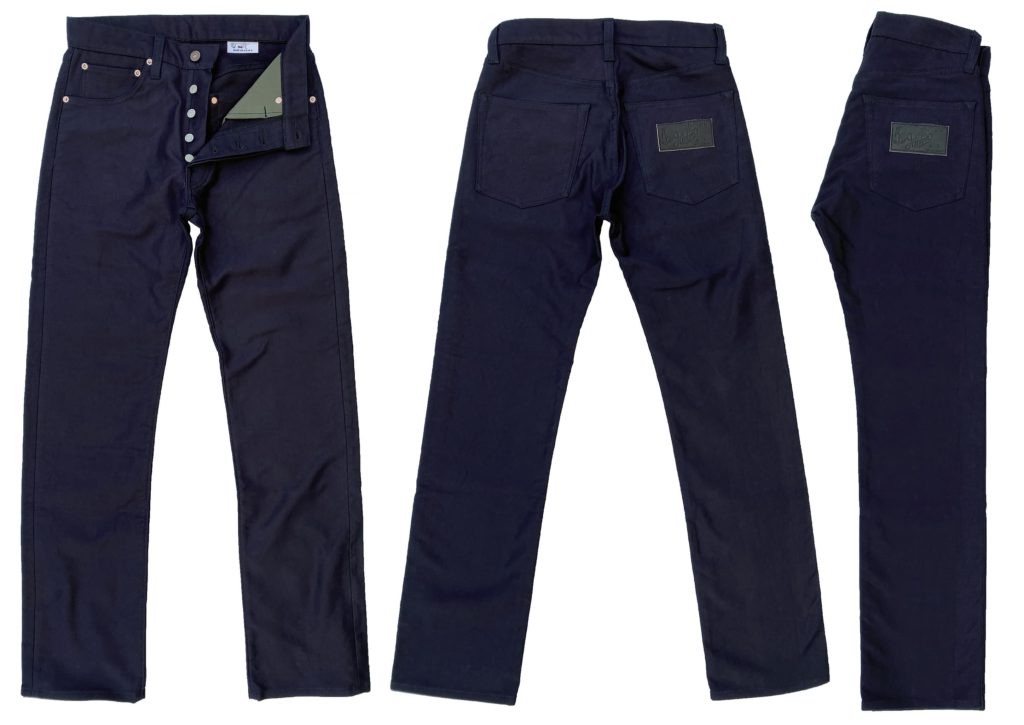 Mister Freedom® CALIFORNIAN LOT.64-JC, indigo-dyed 14 Oz. Jungle Cloth edition.
mfsc FW2021 Sportsman Catalog.
Made in USA.
Alert the media, the MF® Californian is back, and this time in non-selvedge fabric!
The Lot.64 is our most-popular five-pocket pattern, featuring a straight leg, slightly tapered, button fly, and a classic 1960s silhouette.
"Jungle Cloth" is a trade name for heavy warp-faced corded fabric, in which the cords run in the warp (vertical) direction. This all-cotton grosgrain fabric of the corduroy family is high density, rugged, water-repellent and windproof, and has roots in 1920s civilian flight gear. It is commonly associated with US Navy foul weather deck personnel clothing, with the iconic N-1 and its many iterations in Heritage fashion.
Why it was called "Jungle Cloth" remains a mystery to me, and the earliest mention of the fabric I could find is in a 1914 book titled "Hunting in the Arctic and Alaska", in a chapter listing the author's personal outfit of choice for a cruise in the Arctic: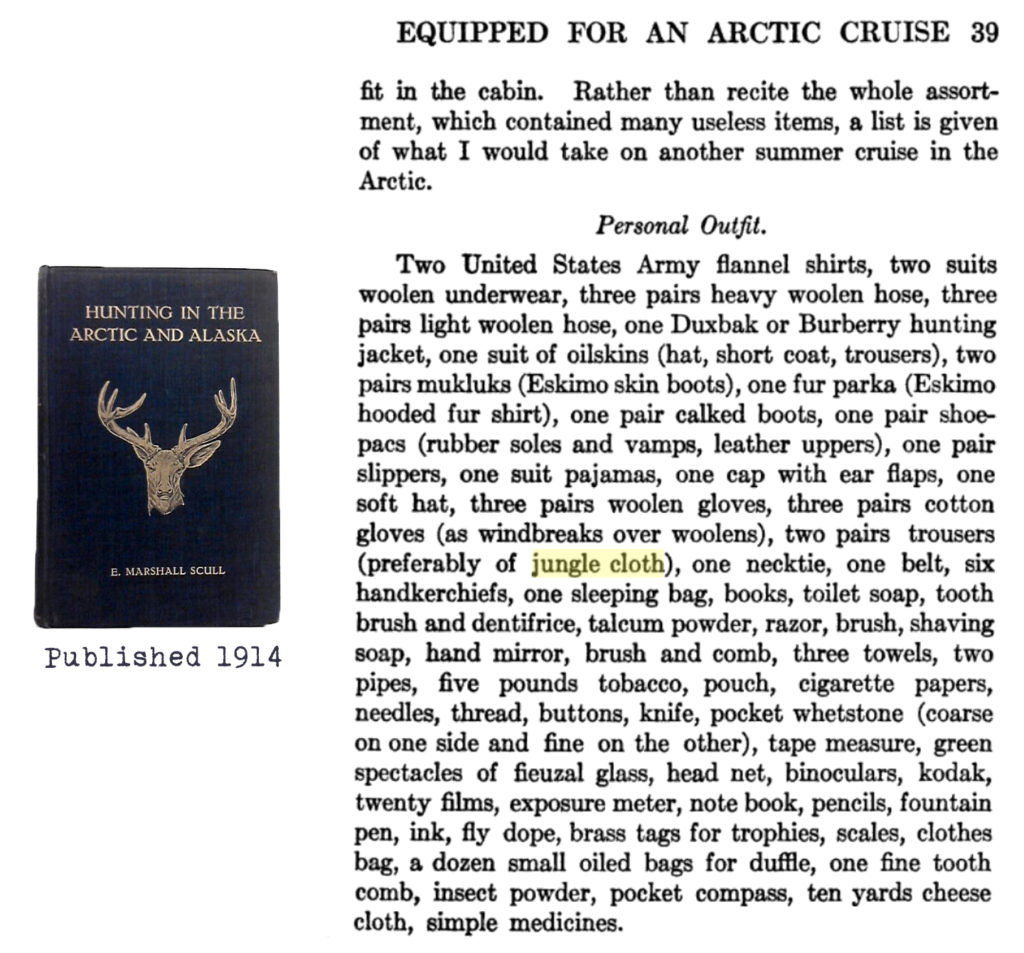 Jungle Cloth is described as "Modified Bedford Cords" in a volume of "Standard Commodity Classification" from 1945. Its US production ramped up during WW2 due to large US Government contracts for the US Navy. The Crompton-Shenandoah Plant in Virginia handled a large chunk of the wartime production, having adapted its long-established velveteen-milling machinery to meet the mil-specs Jungle Cloth demand.
This interesting 1955 "Trade Agreements" US Senate official document discusses the struggle of the American fabric milling industry, overwhelmed by cheaper labor competition from Italian and Japanese factories at the time. During the hearings, a Crompton-Shenandoah representative mentions "the average hourly earnings in the cotton textile industry are about $1.35 (in the US) , the Italian textile hourly average wage is 24 cents, the Japanese 13 cents… The best Japanese velveteen, and it is good, is for sale in New York, duty paid, at 21 cents per yard lower than our manufacturing cost…"
Fabric milling in the US struggled until the 1980s, and is today a shadow of what it once was, although domestic textile manufacturing has seen a revival in recent years.
It is also quite ironic that in 2021, Japanese and Italian textiles are considered premium and are very costly, and that domestic production in Japan and Italy is now constantly challenged by unbeatable competition from China, Bangladesh, India, South East Asia, Haiti, South Africa… Hard to compete indeed with $95/month wages such as those of Bangladeshi garment workers. Gambatte Nippon!
Our premium Jungle Cloth is milled in Japan and indigo-dyed by Japanese experts to a dark shade of indigo blue. This vintage mil-specs fabric initially developed by Buzz Rickson's is an old MF® favorite. It has been previously featured on our Riders, N-1Z Deck Pants, M-17 Parka, and Mulholland Master. It ages beautifully and the patina of indigo-dyed Jungle Cloth is quite impressive.
(Note that his fabric is very light-sensitive, so store appropriately to avoid sun fading/fold marks.)
For pocketing, we opted for some older NOS olive green HBT. To keep a low profile, we went for tonal stitching and, due to the Jungle Cloth heavy ounce, chose cotton-wrap poly thread for sturdy construction and seam resistance.
The Californian LOT.64-JC blue jeans "Indigo Jungle Cloth" edition are designed and manufactured in California by Mister Freedom®, in collaboration with Sugar Cane Co.
SPECS:
FABRIC:
High density 14 Oz. "Jungle Cloth", 100% cotton grosgrain, period mil-specs, the notorious shell fabric of 1940's US Navy N-1 deck jackets, dyed to a deep and dark indigo shade. (The face is textured by dense vertical cords, and the reverse feels soft and brushed.)
Milled and indigo-dyed in small batches in Japan.
PATTERN:
Inspired by traditional 1950′s-1960's era blue jeans, original Mister Freedom® classic fit.
DETAILS:
* Classic vintage five-pocket blue jeans pattern, featuring a straight leg with a slight taper and a classic mid-to-high rise.
* Button fly.
* Non-selvedge leg outseam, overlock.
* 100% cotton NOS olive green HBT pocketing.
* Tonal MF® original "M" stitch design on rear pockets.
* Hand-debossed black tea-core veg-tan cowhide leather MF® branded patch on rear pocket.
* Tonal stitching, classic MF® Californian gauge combo, sturdy black cotton-wrap poly thread.
* Coin pocket.
* Hidden back pocket reinforcement rivets, with top pocket bartack stitching.
* Original MF® metal cast tack buttons combo, 'oxidized' silver for fly, brass for waist.
* Unmarked copper riveting for pocket opening reinforcement.
* Original MF® paper pocket flasher (Army green).
* Made in USA
SIZING/FIT:
The CALIFORNIAN Lot.64-JC comes UN-WASHED. These jeans are cut so that the measurements match the labeling AFTER an initial cold soak/line dry.
We recommend the usual protocol before wearing:
Cold soak for about 30-40mn, with occasional hand agitation.

Machine spin dry and line dry.

Wear briefly before fully-dry to set creases, then hang until fully dry. (Do not use heat dryer)
I went with a W31, for a snug top block and straight leg silhouette. I am about 5'7, 150 lbs. This fabric hardly stretches but softens with wear, and is very comfortable.
Disclaimer: Color crocking (temporarily bleeding onto other lighter-colored textiles) is to be expected and will temporarily 'stain' light color garments worn as under layers. Indigo rub-off should wash-off eventually. However, expect blue legs for a while.
Also, this fabric is very light-sensitive, so store appropriately to avoid sun fading/fold marks.
CARE:
Wash sporadically, only when needed. Spot clean with a damp rag to remove dirt/mud rather than wash.
When full cleaning is required, turn pants inside out to limit fabric marbling, set machine to DELICATE and wash in cold water with mild eco-friendly detergent designed for delicate fabrics.
Heavy indigo crocking is to be expected for a while, so wash separately from all other garments. Indigo blue marks on the washing machine walls can be removed with a damp rag soaked in laundry detergent.
Do not use a heat dryer, hang dry instead.
Patina will develop according to activities and frequency of wear.
Available from www.misterfreedom.com, our Los Angeles red brick HQ, and fine retailers around the World.
Email sales@misterfreedom.com or call 323-653-2014 with any questions unanswered above.
Thank you for your support,
Christophe Loiron
Mister Freedom®
©2021
Comments
comments