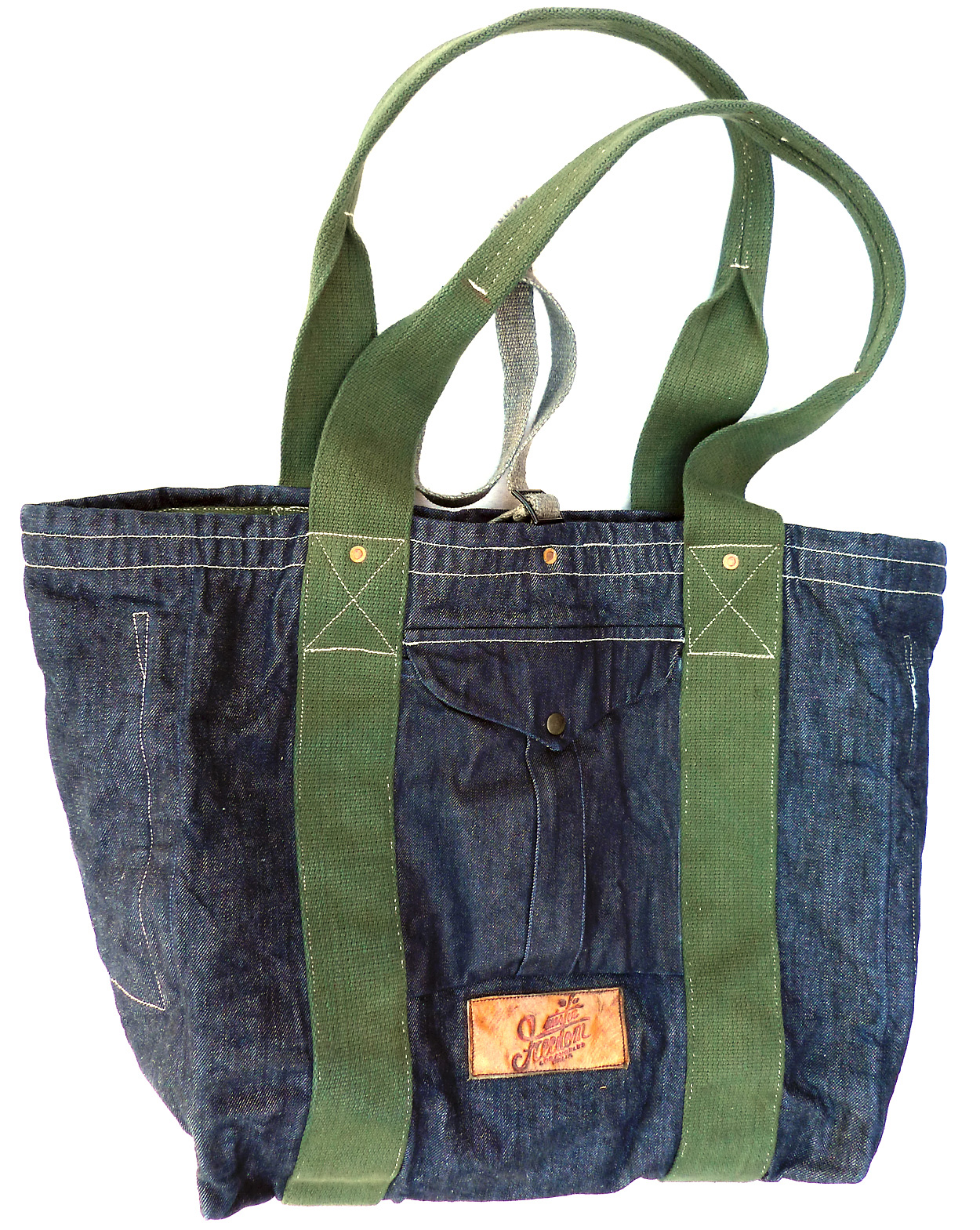 MISTER FREEDOM® "Tripper" Denim Bag.
The latest addition to Mister Freedom® Originals is the "TRIPPER"…A sturdy denim tote bag for around town, weekend trips or (fun, fun, fun) air traveling. Made in our Los Angeles work shop. Guaranteed to beautify with use and abuse.
SPECS:
* Pattern: An all original Mister Freedom® pattern.
* Shell: New old stock 13.5 oz. indigo selvedge Denim, origin USA.
* Lining: Assorted New old stock ticking/hickory stripe 100% cotton. (Each batch is made with different NOS fabrics)
* Webbing: Recycled vintage military heavy cotton straps. All around handles can be used to carry over shoulder.
* Top closure: Recycle Swiss military cotton webbing. Inside brass "D" ring for keys.
* Size: Length 16" x Width 7" x Height  15"
* Pockets:
Two outside gusset snap flap pockets, vintage A2 type "United Carr" snap closure.
Two inside side pockets
One inside large pocket 14.5" by 11" , snap closure (fits a Mac Notebook)
* Stitching: Sturdy 100% cotton thread hi-count white stitching.
* Rivets: Copper riveting
* Labeling: Original MF® embossed leather patch.
* Origin: Made in US of A, in limited quantities.
(Rinsed and hung dry, One Size. Retail $449.95)
Note: The photo of the folded 'tripper' is my used perso bag, after about 2 years of use and two wash.
Call (323) 653-2014 or mail sales@misterfreedom.com for more infos. Available from our eStore www.misterfreedom.com
We ship almost world wide.
Comments
comments