Indigo Melton "DROVER" Blouse
"Viva la Revolución" mfsc Fall 2013
Looks like some of our "Men of the Frontier" cowpokes-turned-filibusterers brought some of their gear along this season…
From the chilly Sierra Nevada trails to the banks of the Rio Grande, here come the Drover Blouse again… Some of you may be familiar with our original issue of this coat , made from recycled military blankets, natural color.
This time however, our wool coat took a little plunge (or 10 for that matter) in an indigo vat. Following a somewhat successful indigo dye test done some months ago on an off-white drover (only two dips), we decide to include an indigo option for our Fall 2013 line-up, after a tense and tumultuous board meeting that lasted an entire minute.
The high grade Melton wool we used for this season Drover was milled and indigo dyed in Japan.
I was quite relieved when I realized that this project was not going to require my personal involvement with the dyeing process. Like they say, leave it to the pros.
Our Indigo Melton Drover is not garment dyed. Instead the natural wool was dyed first, then cut & sewn. This way, all the horsehide leather trims/lining keep their contrasting touch.
The body lining consist of a fabric we had milled in Japan, inspired by the unlikely indigo covert fabric liner of an 1890's pair of trousers. This indigo covert is a recurring textile for our Fall 2013.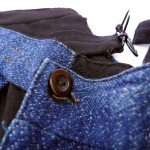 The arms lining are a cotton stripe ticking we have been using often for our mfsc products (same fabric originally used as watch pocket on our 7161 utility trousers, sometime in 2006.)
Over time and with normal wear, the Indigo Drover should get some interesting natural patina and I'll be posting some evolution photos after winter. However, a wool jacket is not a pair of jeans, don't try to speed up the natural aging process. Results in fading/patina will vary according to your activities.
Designed in California by Mister Freedom® and manufactured in Japan as a collaboration with Sugar Cane Co.
SPECS:
PATTERN: An original MFSC pattern, introduced as the "Blouse Chaparral" for Spring 2012. Inspired by 1920′s~30′s sport type jackets and other vintage outdoor coats.
FABRIC:
100% Melton wool, soft hand, 31 Oz., selvedge.
Indigo vat dyed, about 10 dips, deep dark tone.
LINING:
Fully lined.
Body: 100% cotton indigo covert twill (aka salt & pepper), 8.5 Oz.
Arm: 100% cotton ticking (white w/ blue stripes).
DETAILS:
*  1920′s~30′s type silhouette, high waist.
* Original round collar.
* Back darting and expansion gusset, 1930′s style.
* Side waist adjustable straps.
* Horsehide leather side and cuff cinch straps (with vintage NOS French metal slide buckles)
* Cowhide leather pocket trimming.
* Arrow chest pocket.
* Horsehide leather detachable chin-strap.
* Wool selvedge on front panels button facing.
* Seven button front. Brown Corozo wood buttons (aka Ivory nut).
* Full lining, 100% cotton.
* Tonal 100% cotton stitching.
* No exposed seam, no overlock.
* Limited Edition.
SIZING/SHRINKAGE:
Please do not wash. DRY CLEAN only.
We recommend wearing the jacket as is, and taking it to a professional environmentally friendly dry cleaner when cleaning is needed.
NOTE: Due to the nature of indigo dye, crocking is expected and normal. Some color will rub for a period of time, on car seats, sofas etc…. Indigo is also sun sensitive and will change in color when exposed.
The Indigo Melton Drover is true to size. I usually wear a 38 in mfsc, and a 38 Drover fits me snug. You might want to size up if you are in between two sizes, especially if you will be wearing sweaters or layering this winter.
Please refer to chart below for measurements. Please consider the thickness of the fabric (wool + lining) when figuring out sizing.
Available RAW/unwashed
Sizes
36 (small)
38 (medium)
40 (large)
42 (xlarge)
44 (xxlarge)
Retail $879.95
Available from www.misterfreedom.com
Please call 323-653-2014 or mail sales@misterfreedom.com with any questions unanswered above.
Thank you for the support 😉
Comments
comments