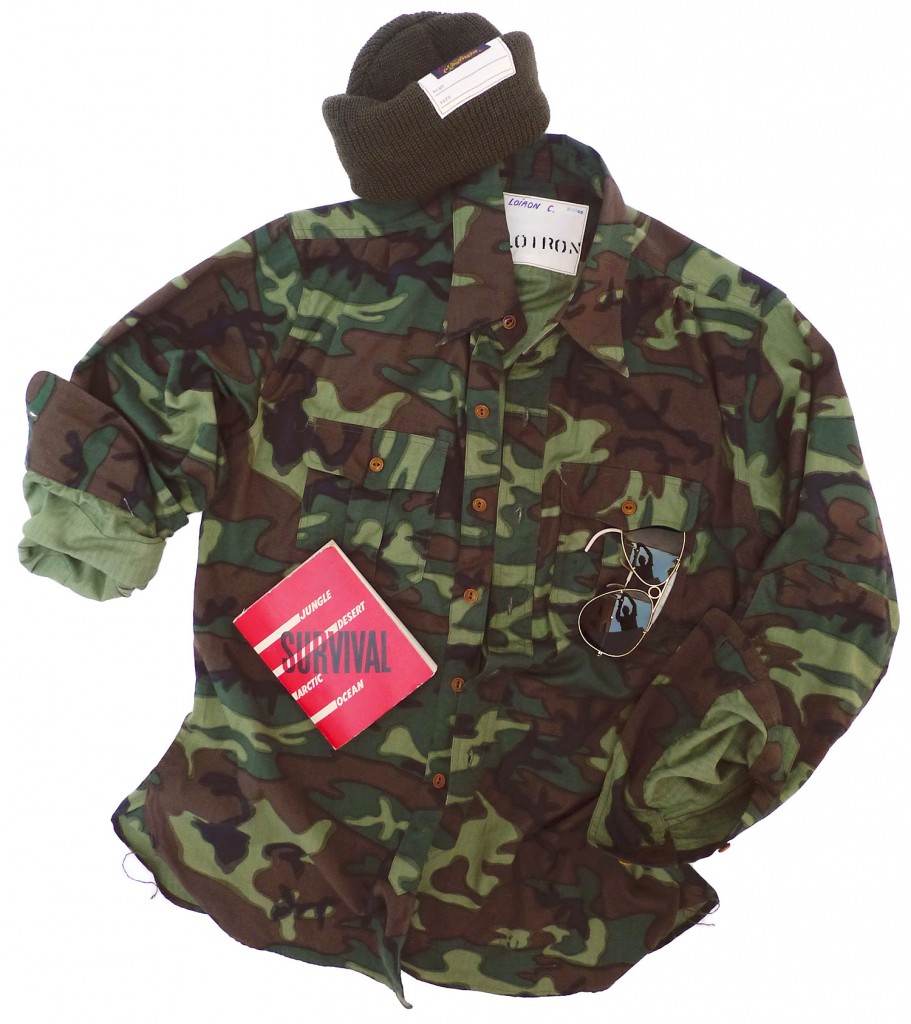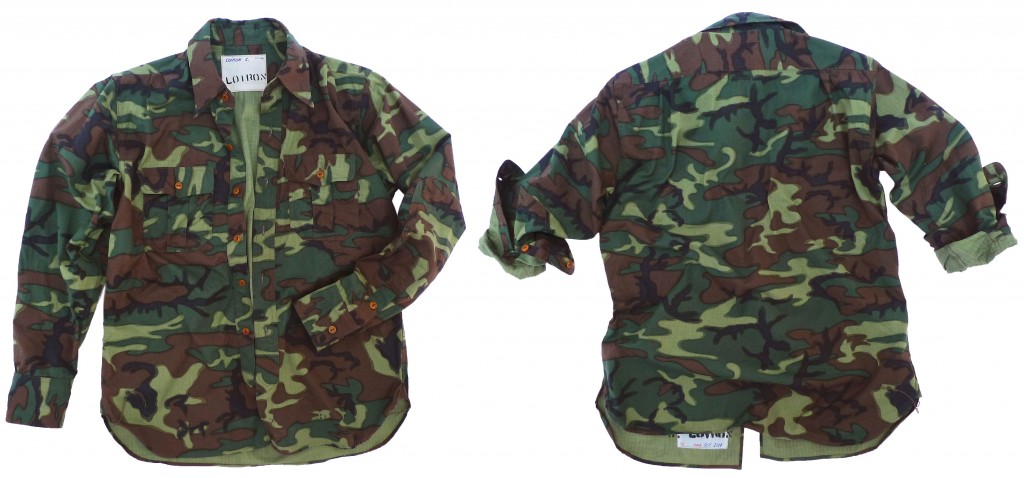 ERDL Patrol Shirt
"Sea Hunt" mfsc collection Fall 2014
We are adding another option to our Patrol Shirt grouping. After introducing the arctic white, jungle green, USN-type chambray during the "Sea Hunt" Spring 2014 chapter, here is a camouflage number.
You are correct, there is also a blue one.
In the genuine camo family, "Lowland ERDL" is one that always caught my eyes, long before I knew its name. When rummaging through piles of military clothing in my raghouse-picking days, I seemed to consistently be drawn to its specific pattern/color combo.
Drawing attention is probably not what John Hopkins, chief designer of camouflage at the "Engineer Research & Development Laboratories" of Fort Belvoir, Virginia, had in mind when he designed the 'leaf pattern' in 1948…
This artistic attempt at blending in with nature was further developed at the US Army Natick Soldier Center  by a team of experts led by scientist Alvin O Ramsley. (The brave few who submit themselves to these write-ups will note that we had already mentioned that legendary facility in a previous post, when introducing our Skipper Jackets.)
Subsequent testing and adapting of the still un-issued 'leaf pattern' lead to an official camouflage pattern referred to as ERDL. By 1967, it was optimized for the Vietnamese terrain.
A lime-dominant "Lowland" version was issued to US elite troops for their vacations in Southeast Asian jungles. Followed a brown-dominant "Highland" version (a tan color replacing the lime green), better suited for arid mountainous areas of the ski resort-type.
Within original vintage ERDL Vietnam-era fatigues, one will find quite a few variations of technically the same thing. My favorite tropical camies are those combining panels of both lowland and highland shades, the finest hours of the contractor QC department.

ERDL stayed a US Gov't issue until 1981, when it eventually morphed into the 'Woodland' pattern that replaced it.
When stealth became a part of specific jungle missions for our "Sea Hunt" team, 'Lowland ERDL' had plenty street cred and was quickly adopted. Such a mission has been captured on camera and some rare images can be seen in the November 2014 issue of Japanese CLUTCH Magazine. Viewer discretion is advised however, as the sheer thrill and daredevil requisites of that cliffhanger of an assignment are palpable on the photos, and could prove quite disturbing for some. Haunting stuff. You have been warned my friend. That six-page magazine spread is also punctuated by quotes I wish I had come up with, such as "Go adventure!"…
I did manage to p*** off a black rattlesnake with my walking stick, but that's the one thing that is not on film.
Anyways, back to our design studio and the R&D phase. The original vintage sample we used to develop our interpretation of this classic camouflage is an authentic 1969-issued 'Lowland ERDL' bush hat found in 'New Old Stock' condition, still in its original clear plastic packaging. Until recently, an old Army/Navy surplus store in Oxnard, California, still had some of these sitting on its shelves…
As mentioned when introducing the P1942 Frog Skin camouflage fabric of our Map Shirt, the printing process for our ERDL fabric is complex, not computer-generated.
The base fabric, a 100% cotton ripstop popeline is originally stark white. Through rotary screen printing techniques, four colors in the distinctive 'leaf pattern' are applied to the face of the fabric, lime green/forest green/brown/black, with almost no bleed-though. The reverse of the fabric gets a solid lime green coat of ink.
If our colors were closely matched to those of the NOS bush hat, several other vintage ERDL samples were provided to the printing factory to instruct the ink experts on how we wanted our fabric to evolve overtime. Just as its original forefathers, our ERDL printed fabric will naturally fade.
For those into the historical background of man-made camouflage, and fortunate to get their hand on a copy of the book, fascinating information can be found in Hardy Blechman's "Disruptive Pattern Material" study.
Yet another fascinating book is the one displayed in the vintage ERDL gear shots above. It is the Vol.1 limited edition of "LRPP, Long Range Reconnaissance Patrol photos", the works of Jay Borman. Thanks to Cory Piehowicz for the reference.
In terms of style, our Patrol Shirt is inspired by several vintage shirts from our archives, and is by no means a replica of  Vietnam-era GI gear.
Throwing military/safari/uniform details in the MF® blender, the resulting garment is an apparently simple looking shirt. It features some fancy details however, most of which only the wearer will notice. This is not why people will stare at you while wearing this shirt, but take a look at the bottom of the button placket, on the inside, for some interesting folds and challenging pattern making magic.
Like its Spring 2014 predecessors, our ERDL Patrol Shirt features the usual elbow patches, box-pleat pockets, expansion ease-pleats, side gussets, rounded wrist cuffs…
The ERDL Patrol Shirt is designed in California by Mister Freedom® and manufactured in Japan in collaboration with Sugar Cane Co. Fabric milled and printed in Japan.
SPECS:
FABRIC:
100% cotton ripstop popeline, 4.75 oz., silkscreened with vintage 1960's ERDL camouflage pattern.
Milled and printed in Japan.
DETAILS:
* All original mfsc pattern, inspired by vintage military, uniform and safari type shirting.
* Two box-pleat chest pockets, buttoned flap.
* Attractive 1940's-style collar pattern.
* Early tailor-made custom uniform button placket.
* Elbow reinforcement patches.
* Side gussets.
* Double front & back expansion EZ-pleats on shoulder yoke.
* Corozo buttons, aka 'ivory nut', 100% wood, golden brown color.
* High stitch count 100% cotton tonal stitching.
* Vintage ½ cm wide flat-felled seam side construction.
* Double inside labeling: simple 'minimalist' neck patch (unbleached popeline stamped with sizing), and woven 'Sea Hunt' rayon label on bottom front panel (inside). Both to accommodate your own custom markings, if desired.
* Made in Japan
WASHING/SIZING:
This shirt comes raw/unwashed and will shrink to tagged size.
We recommend an original cold soak, spin dry and line dry.
Further care should be the low maintenance combo mild detergent/gentle cycle/cold water/line dry, as needed.
I wear a Medium in mfsc shirts and am a Medium in the ERDL patrol shirt.
Please refer to chart for cold rinse/line dry measurements.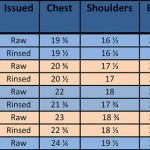 Available RAW/unwashed.
SIZES:
Small
Medium
Large
X-Large
XX-Large
 Retail $329.95
Available from www.misterfreedom.com
Please call 323-653-2014 or email sales@misterfreedom.com with any questions not answered above.
Thank you sincerely for your support.
Comments
comments