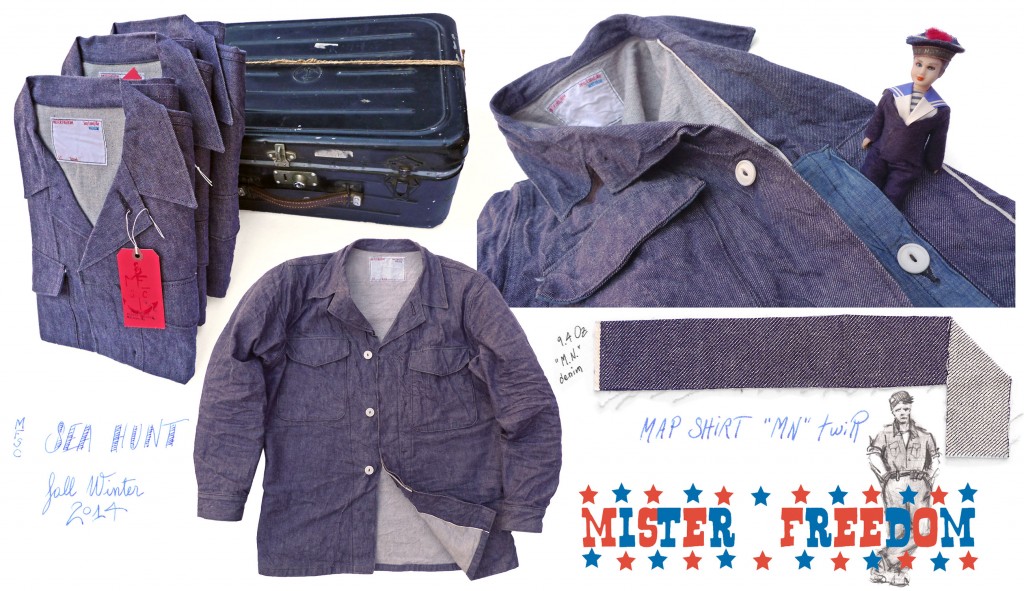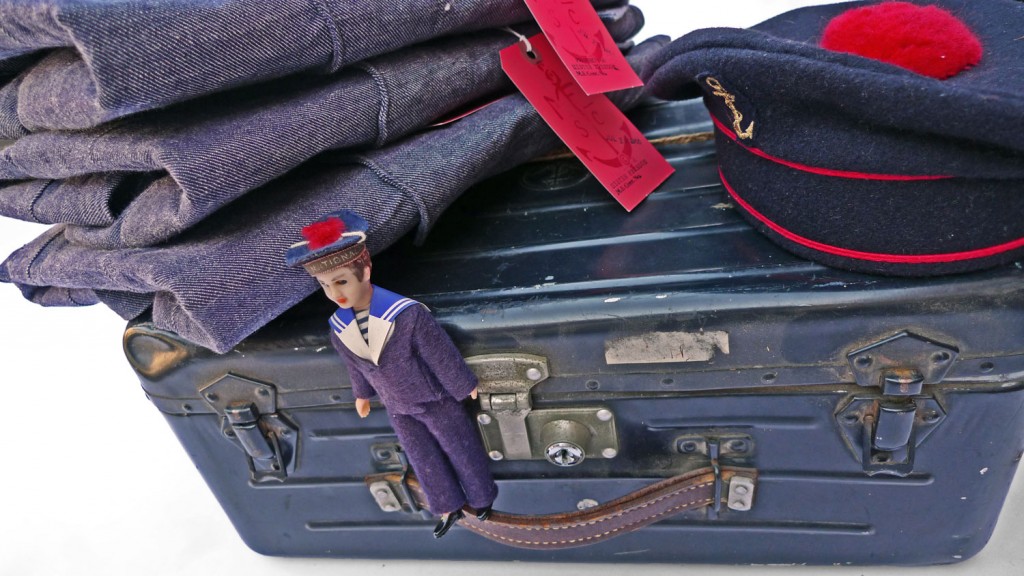 Map Shirt, "MN denim twill" issue
"Sea Hunt" mfsc Fall 2014
Here is numéro trois in our Map Shirt trilogy, its pattern as always inspired by the M1953 Utility Shirt issued to the Marine Corps in the 1950's. For those feeling we have sufficiently milked that cow, knowing this is the final addition will come as a relief.
Having reached my batrachian-related joke quota I will respectfully mention that "MN" refers to "Marine Nationale", aka the French Navy.
Sometime in the 1960's, denim twill dungarees replaced the set of linen work clothes originally issued to French seaman recruits. These linen work tops and bottoms came in both white and bleu chiné. Our Spring 2014 Crew Pants, the "MN" model in cotton/linen, was a reference to that heather blue 1950's version the cols bleus (the "blue collars", aka the men with the red pompom) had in their sea bag.
The cotton denim the French opted for as the replacement fabric for the work uniform in the 1960's was in no way comparable to its dark indigo blue US Navy dungaree counterpart. It was much lighter in color. The warp had a definite purplish tone. The weft gave an almost solid white aspect to the reverse side of the denim.
I have to admit that I was not a big fan of that denim when the French Government decided to tell me what to wear in the mid 1980's. Mostly embracing American culture courtesy of Hollywood at the time, sporting denim shorts (the summer issue of the work pants) and leather Hoh-Chi-Minh sandals, was quite the brutal departure from "The Wild One", in my eyes. For years, I relegated that tenue n°105bis to squaresville. Until…
This denim eventually grew on me, as its own thing with its own History, to the point where it was no longer a pale version of something else.
Still referred to as bleu chiné in Naval circles, the contemporary Marine Nationale version of this work-clothes fabric is today made of a 65% poly and 35% cotton blend.
My fondness is limited to its earlier 100% cotton version.
The textile experts at Sugar Cane Co did an amazing job at instructing their factory in milling this "MN denim twill" from the authentic vintage swatches we had supplied. To be honest, the first fabric sample roll lacked the purplish hue and was too grey, but this production batch is spot on!
We chose to have it milled on shuttle looms, a costly process, opting for a solid white selvedge ID.
The result is an exclusive mfsc 9.4 oz. denim twill I am quite found of and proud to introduce for our "Sea Hunt" Fall 2014 chapter.
In our "Map Shirt" grouping, the pattern for the "MN" issue is shared with its "Cavalry Twill" sister, displaying the twill fabric selvedge on the front panel fold and on the button hole placket (only visible on the inside of the shirt).
For the batrachian-inclined, the frog skin version of our Map Shirt is discussed here and available there.
The "MN" Map Shirt is designed in California by Mister Freedom® and manufactured in Japan in collaboration with Sugar Cane Co.
Fabric milled in Japan.
SPECS
FABRIC:
9.4 oz. denim twill, 100% cotton, solid white selvedge ID.
DETAILS:
* Pattern inspired my 1950's UMSC-issued utility shirts.
* Comfortable over-shirt fit.
* USN-type chambray accents (collar facing, wrist gussets, pocket flap facing, inside pockets)
* Two chest pockets with flap closure.
* Concealed button front closure.
* Selvedge button hole placket and front panel fold.
* One large map inside pocket, side opening.
* One concealed chest pocket, top opening.
* White corozo buttons (these buttons are wood, NOT plastic).
* Side slits.
* Flat-felled seam construction.
* Tonal 100% cotton thread stitching.
* Made in Japan.
WASHING/SIZING:
This garment comes raw/unwashed and will shrink to tagged size after an original cold soak/line dry.
I soak mine, spun dry and wore it damp to shape it. It fully dried on a hanger overnight and was crispy and ready to wear in the morning. Do not be alarmed if the fabric wrinkles, this is normal and not a defect.
Our Map Shirt is intended to be quite a comfortable fitting garment, easy to wear over a chambray shirt, a Tshirt… If you are a Medium in mfsc jackets/shirts, you are a Medium in the "MN" Map Shirt.
Maximum shrinkage to be expected with the use of hot water and heat dryer, but is NOT recommended, as unnecessary loss of color and unattractive marbling will occur.
This "MN" denim twill will eventually fade a bit with normal wear and subsequent washing, but the contrasts will not be as gratifying as the honeycomb-obsessed dream about.
When cleaning is required, we recommend hand washing in cold water with mild detergent and line dry.
Please refer to sizing chart for raw/rinsed measurements.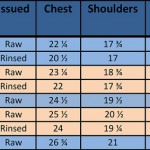 Available Raw/unwashed.
Sizes S, M, L, XL, XXL
Retail $349.95
Available from www.misterfreedom.com
Please call 323-653-2014 or email sales@misterfreedom.com with any questions not answered above.
As always, thank you sincerely for your support
Comments
comments