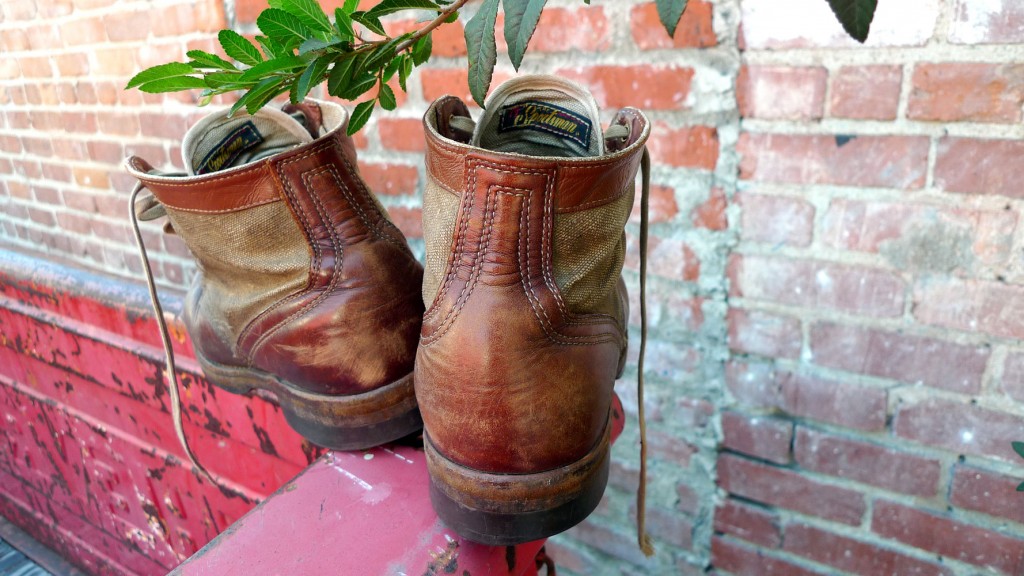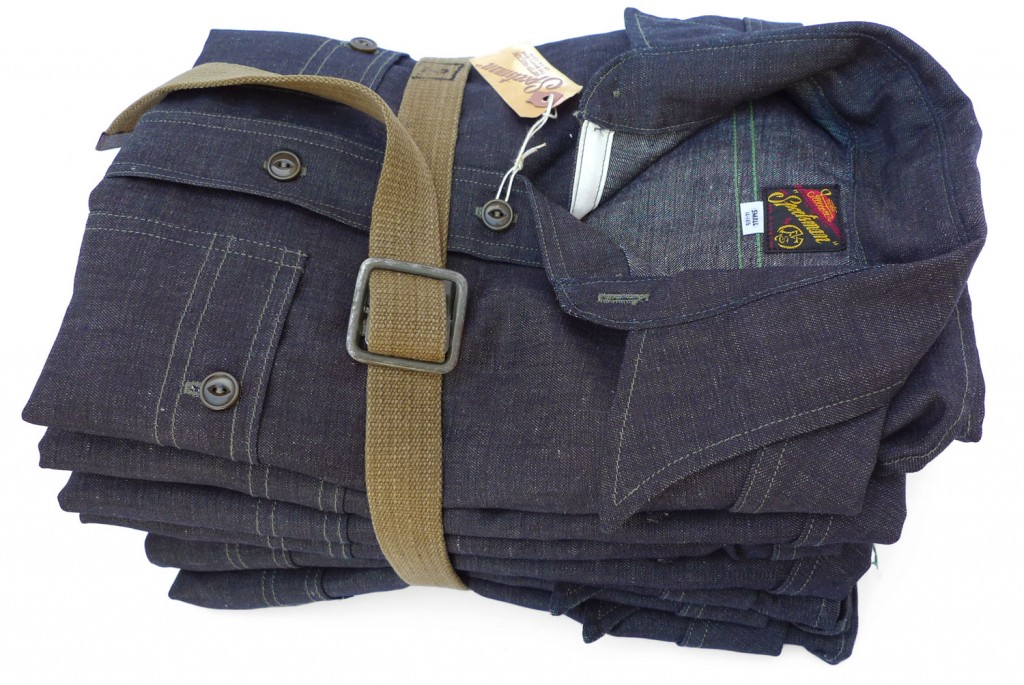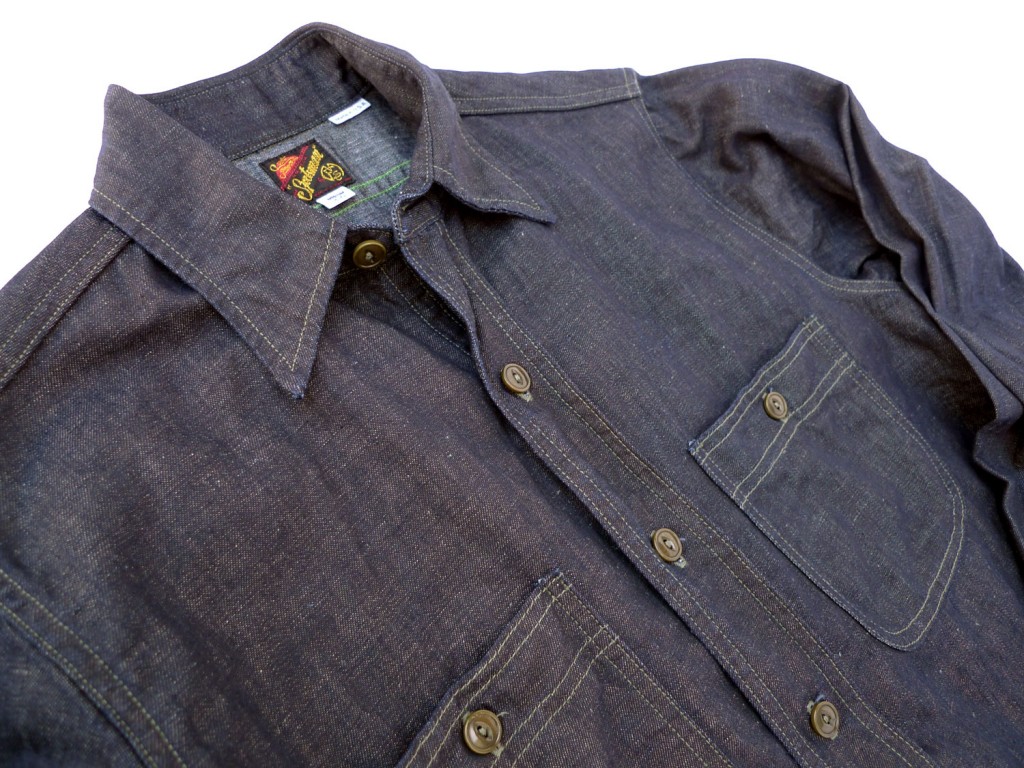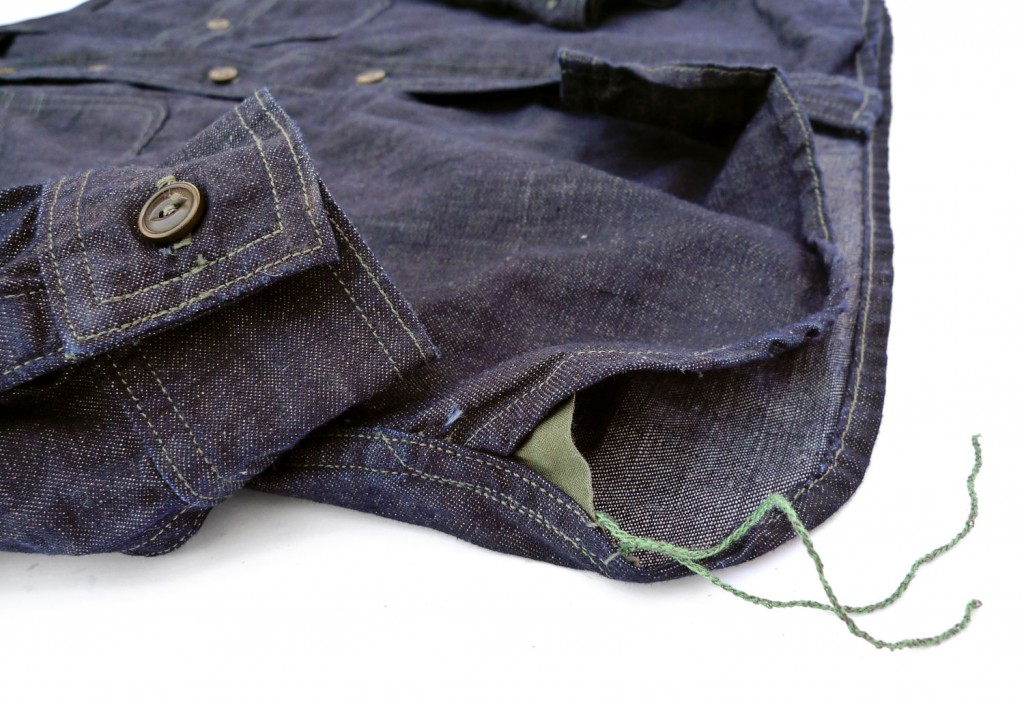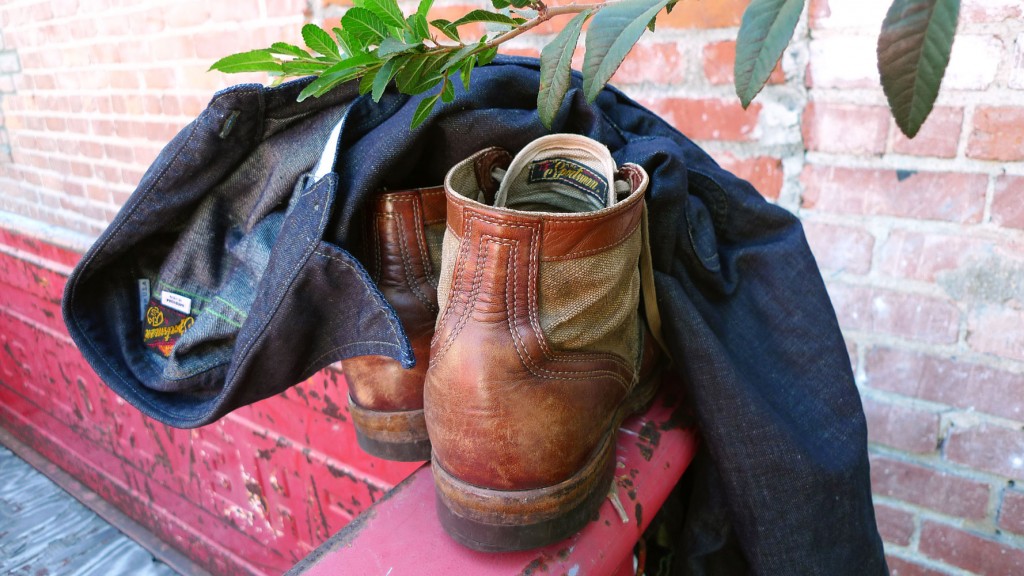 The "WORKMAN" shirt, 2×1 NOS denim.
Sportsman catalog, Fall 2015.
Made in USA.
Introducing a new option of our 'Workman" shirt for Fall 2015. This shirt is a no-bell-no-whistle, clean-cut, vintage style uniform/work shirt. The body and general pattern stay the same as the original two models introduced this Spring, in pincheck and HBT stripe denim.
The fabric we opted for this season is a New Old Stock two by one (2×1) 100% cotton blue denim of about 8 Oz. Originally very dark in color, this lightweight denim will over time naturally develop its blues, with normal wash and wear cycles.
We went for olive green color cotton stitching to add to the intended muted character of this shirt. The stitching matches with the olive green popeline side gussets and olive green phytelephas arecaceae endosperm buttons.
The Sportsman "Workman" shirt is designed and manufactured in California by Mister Freedom®, in collaboration with Sugar Cane Co.
NOTE: The beat-up MF® Trooper Boots featured are still unavailable in your size right here.
SPECS:
PATTERN:
Original MFSC pattern, inspired by 1940's-50's classic workwear shirting.
FABRIC:
New Old Stock two by one (2×1) 100% cotton blue denim, about 8 Oz., origin USA.
DETAILS:
* Still no chin strap!
* Olive green phytelephas endosperm cat-eye buttons.
* White cotton popeline button placket facing.
* Traditional double chest matching pocketing.
* Olive green stitching, 100% cotton
* Olive Green popeline side gussets.
* Chainstich construction, "Sportsman" green color on the inside.
* Made in USA.
SIZING/FIT:
This shirt comes raw/un-rinsed and will shrink to tagged size after a rinse/dry process.
We recommend an initial cold soak, spin dry and line dry.
The "Workman" shirts are true-to-size with a quite attractive fairly trim 'uniform' silhouette. If you are generally a Medium in mfsc shirts, you are a Medium in the Workman.
Please refer to sizing chart for measurements.
CARE:
Launder when hygiene dictates and common sense prevails.
Machine wash. Cold water, gentle cycle, eco-friendly mild detergent and line dry. We recommend turning indigo blue/denim garments inside out to avoid marbling when washing.
The blue color will pop out over time. Patina will develop according to activities and frequency of wear.
Available RAW/unwashed.
SIZES:
14½ (Small)
15½ (Medium)
16½ (Large)
17½ (X-Large)
18½ (XX-Large)
RETAIL $279.95
Available from the mighty www.misterfreedom.com, from our attractive Los Angeles brick & mortar store, and from outstanding fine retailers on Planet Earth.
Email sales@misterfreedom.com or call 323-653-2014 with any questions unanswered above, such as "say chief, the what buttons?"
Thank you for your support.
Comments
comments