The SKIVVY is back in color.
We opted for the original color of the vintage WW2 USMC Tshirt that was our pattern inspiration, a military Sage Green (somewhere between Pantone® 5545C and 5555C), along with a Navy Blue typical of the French "Marine Nationale" issue Tshirts.
I have experimented with my Sage Issue and left it in the sun for a few days, on a bust form, for a chemical-free fade. As can be seen on the side by side photos, our dye is pretty light sensitive, purposely not colorfast.
Treat your skivvy to your liking, sun or no sun, as production comes UN-faded.
AS with our white Skivvy, we were lucky to have access to 100% cotton tubular 18 single (18/1) jersey, loomed from USA grown cotton and manufactured in California. Tubular jersey has no side seams, like on most vintage Tshirts, which requires specific looms for each size, a bit challenging for small productions.
Unlike most modern Tshirts, the MF® SKIVVY has an 'old school' 40′s-50′s silhouette, inspired by a combination of old photos and vintage shirts, often a bit ill-fitting by today's standards. The 1/4 sleeves are a bit shorter and the body slightly 'boxier' than your average contemporary Tshirt, giving the MF® Skivvy that 'hand-me-down' intentional feel. The thin neck band is also a nod to early vintage Tshirts.
As always, our shirt is not a replica, just an humble interpretation of a classic piece.
Designed by Mister Freedom® and MADE in CALIFORNIA, USA.
SPECS:
PATTERN: An original Mister Freedom® pattern, inspired by 1940′s-50′s cotton Tshirts
FABRIC: 100% cotton 18/1 tubular jersey, cotton grown and knitted in the USA. Carded open end yarn.
COLOR:
a) Sage Green
b) Navy Blue
CONSTRUCTION: Combination of flatlock and cover stitch, inspired by 1940′s USMC Government issued 'skivvies'. Tubular body, no side seams.
STITCHING: Tonal 100% cotton thread.
LABELING: Original MF® woven rayon label on neck band, with stamped sizing tab.
SIZING/WASHING: Because of the piece dyeing process, the skivvies have been washed/dryed and are therefore pre-shrunk.
Low-maintenance as a Tshirt should be, just throw in the washer/dryer, cold or hot water, no bleach. The cotton jersey will stretch out with wear and 'mold' to your body.
According to your built and silhouette preference you can get your normal size or size down for a slimmer/shorter fit (as often seen in vintage photos.)
I wear Medium (38) on most MFSC garments, but sized down to Small for the MF® Skivvy, just personal preference. I like to slightly 'pull' on it to distort and give torque to the tubular jersey.
Refer to sizing chart below for washed/machine dried approximate measurements (measured flat, without pulling/stretching):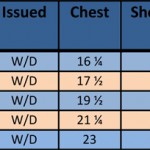 Available Pre-Shrunk
SIZES xS, S, M, L, xL, xxL
Retail (Sage Green or Navy Blue) $69.95
Call 323-653-2014 or email sales@misterfreedom.com to get yours. We ship internationally to select Countries. As always, thank you sincerely for your support.
Comments
comments