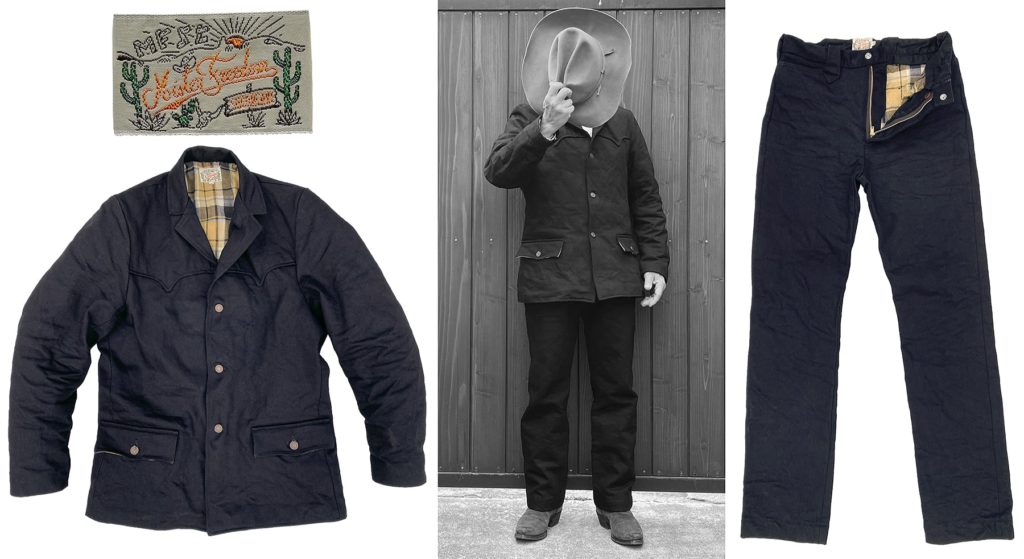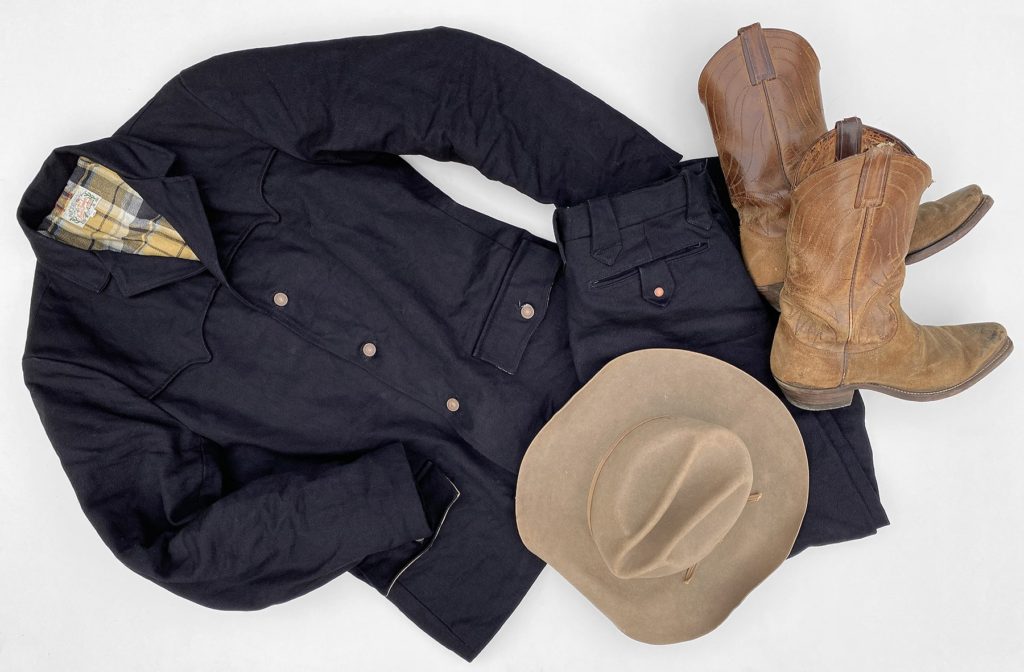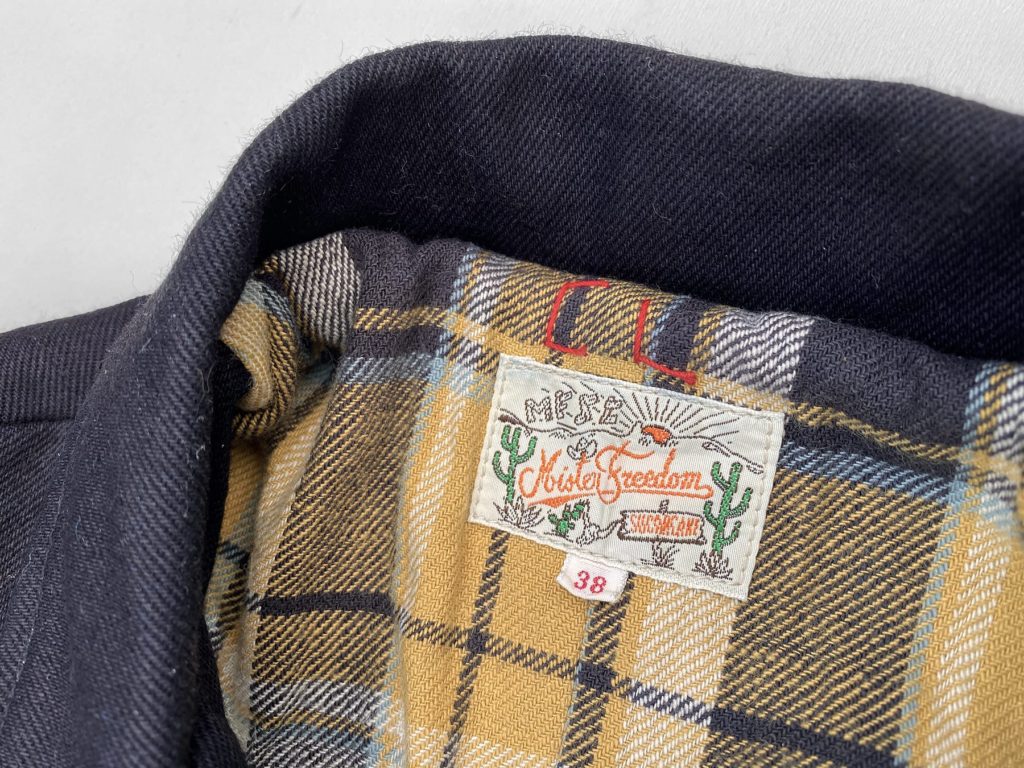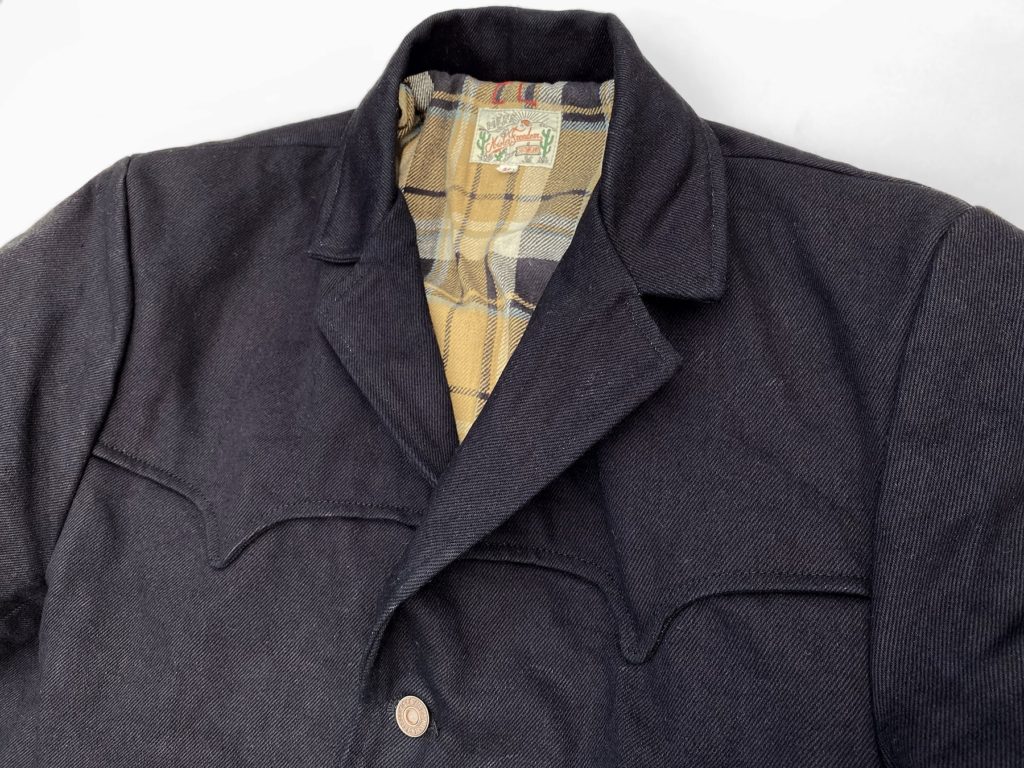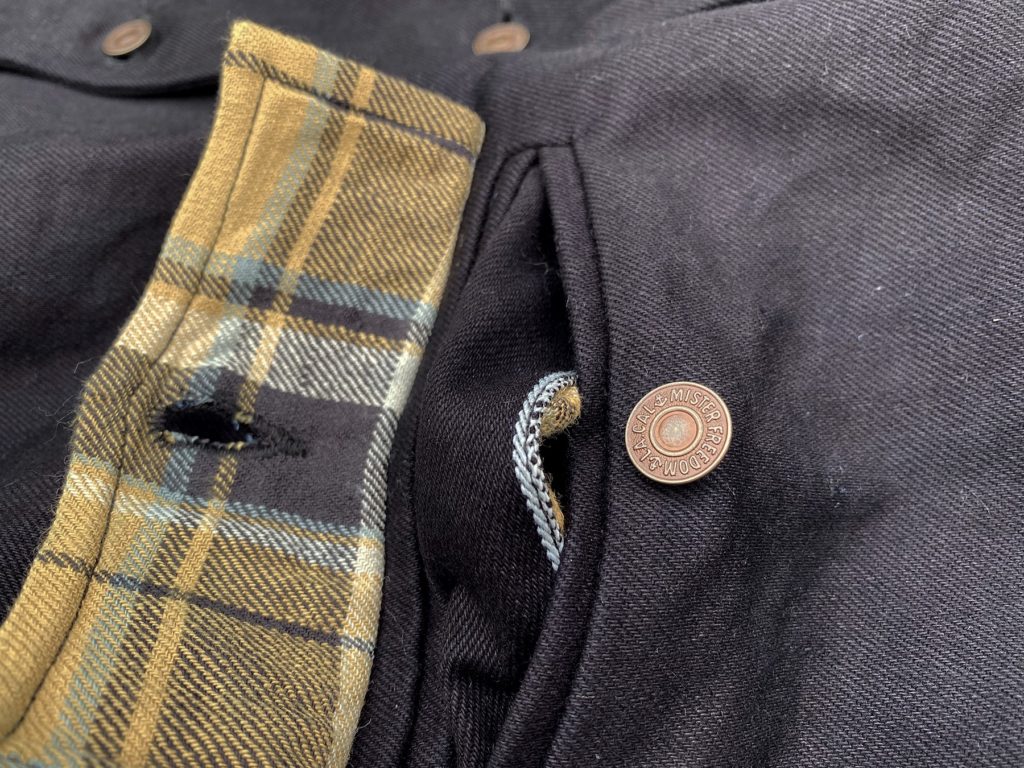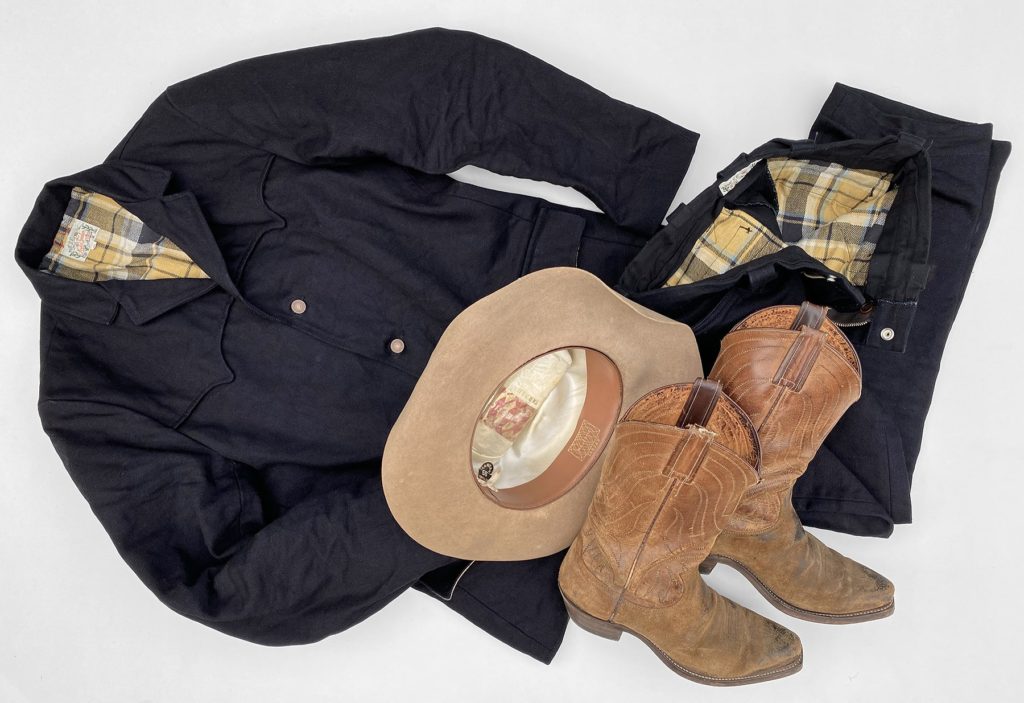 Mister Freedom® PIONEER Jacket, 16 Oz. MIDNIGHT denim edition.
FW2020 mfsc TRUCK STOP collection.
Made in Japan.
The Mister Freedom® PIONEER Jacket is our take on classic westernwear men's jackets, a style popular in the 1950s-60s.
Labels such as "Pioneer Wear", "Lasso", "Trego's Westwear", "Land-N-Lakes" and others, all produced models with a similar design, feeding the demand for the "urban cowboy" look.
The fashionable western jacket style basically merged two worlds, the classic tailored menswear high lapel roll single-breasted blazer with the iconic western yoke design. The jackets reconciled rugged Wild West/dude ranch with city slicker fashions, without falling into Grand Ole Opry flashy stage garb. The commun thread was the appeal of the vanished "open range" in American psyche, still glamorized by Hollywood at the time.
The outdoor vibe of those western blazers was enhanced by the choice of fabrics, preferably a trade blanket type, woodsman style wool plaid, or other "frontier days" textile references. The functional expansion pleats "sport back" construction of 1950s models added to the utilitarian vibe.
By the 1970s, popular culture viewed truckers as "the last of the cowboys", and many wildcatters donned their own mix of western fashion, the inspiration behind our 2020 Truck Stop collection.
We put all the Americana influences above in the MF® blender, and came up with our own hybrid, the PIONEER Jacket. We settled on a specific top block western yoke arcuate, scalloped pocket flaps and swing-back pattern combination. We opted for no padding for a deconstructed silhouette.
Following the wool shadow plaid release, this version of the PIONEER Jacket features an old favorite of ours, the mighty 16 Oz. "Midnight" denim. This hefty dark indigo warp & black weft selvedge twill, milled in Japan, previously appeared on the popular 2015 Caban Peacoat and 2019 Midnight Ranch Blouse & Lot64MD Californian. The fading and patina potential of this fabric is quite phenomenal, as indigo rubs on car seats and sofas testify.
The lining consists of a 100% cotton woven plaid typical of vintage workwear heavy flannels, initially milled by Sugar Cane Co as shirting material.
For front closure, we opted for our original MF®-branded Californian Blue Jeans tack buttons, in brass finish. These classic buttons, usually associated with five-pocket jeans and trucker jackets, give our suit jacket-like midnight denim PIONEER somewhat of a 60s-70s vibe.
The Mister Freedom ® PIONEER jacket is designed in California by Mister Freedom® and manufactured in Japan in collaboration with Sugar Cane Co.
SPECS:
FABRIC:
Shell: Hefty 16 Oz. "Midnight" denim, dark indigo warp & black weft twill, solid white selvedge ID. Milled in Japan.
Lining: 100% cotton woven plaid heavy flannel, mustard/black/natural dominant. Milled in Japan.
DETAILS:
* An original pattern inspired by vintage westernwear jackets designed for the 1950s-60s urban cowboy.
* Deconstructed silhouette.
* High lapel roll.
* Western arcuate yoke on front/back top block.
* Swing-back expansion pleats construction.
* Original MF® Californian Blue Jeans tack buttons, brass finish.
* Scalloped pocket flaps with plaid flannel facing accents and snap closure.
* Fabric selvedge displayed on welt pocket facing.
* Original mfsc "Truck Stop" woven label.
* Designed in California.
* Made in Japan.
SIZING/FIT:
The PIONEER Jacket Midnight denim edition comes UN-WASHED (raw) and is cut so that the measurements match the labeling AFTER an initial cold soak/line dry.
We recommend the usual protocol before wearing:
Cold soak for about 30-40mn, with occasional hand agitation (No machine cycle)
Washing machine spin dry.
Wear briefly to set creases and to mold the garment to your body, then hang until fully dry. The arms are cut quite long on this jacket, and the length can easily be adjusted at this stage by folding cuff fabric on the inside, as if pulled by the loose lining. The creased cuffs will basically be set in place when the jacket has dried.
Please note that this Midnight denim is a heavy and stiff twill in its raw state, and will dry to an even stiffer state following the above routine. Caused by the re-activated fabric starches necessary at the milling stage, this stiffness is normal, characteristic of raw denim and garments that are not factory-distressed.
This initial stiffness will gradually subside with normal wear, and plays an important role in the development of an attractive natural patina overtime.
The PIONEER Jacket "Midnight" edition is considered true-to-size. We recommend getting your usual size in mfsc jackets. If you are a 38 in our Ranch Blouse or Campus pattern (granted they are pears and apples), you are most-likely a 38 in the PIONEER Midnight edition.
I opted for a 38 (Medium), for a comfortable fit following a cold-soak/line-dry. I am 5.7'' approx. 150 Lbs.
Please refer to sizing chart for approximate measurements. We recommend comparing these measurements to those of a jacket of a similar style that fits you well. This is how we measure.

CARE:
This denim garment is stiff, quite heavy when wet, and bulky, so we do not recommend using a home washing machine for cleaning. Washing cycles will cause unattractive marbling of the denim fabric, and may damage both the garment and the machine, even on delicate setting.
When necessary, we recommend hand-washing. Cold water, mild eco-friendly detergent. Hang dry.
Using a heat dryer may result in excessive and irreversible shrinkage.
Available Sizes:
Small (36)
Medium (38)
Large (40)
X-Large (42)
XX-Large (44)
Available from www.misterfreedom.com, our Los Angeles brick & mortar store, and fine retailers around the World.
Email sales@misterfreedom.com or call 323-653-2014 with any questions unanswered above.
Thank you for your support.
Christophe Loiron
Mister Freedom®
©2020
Comments
comments