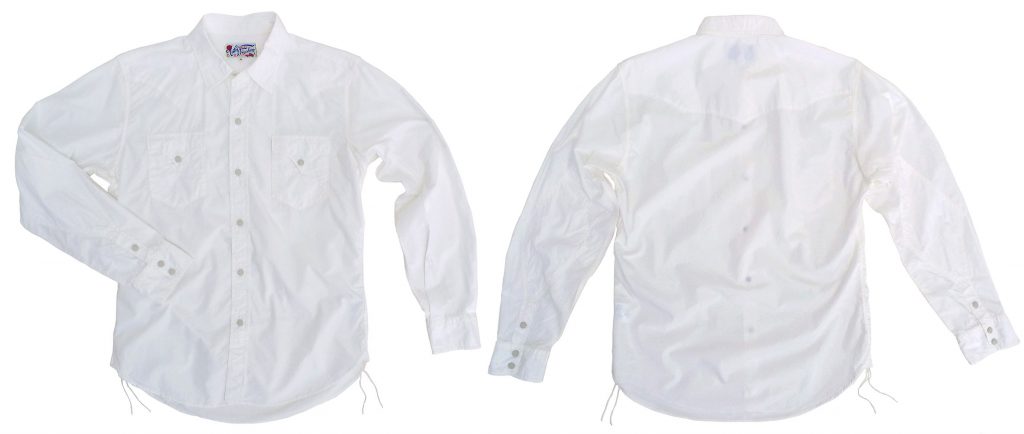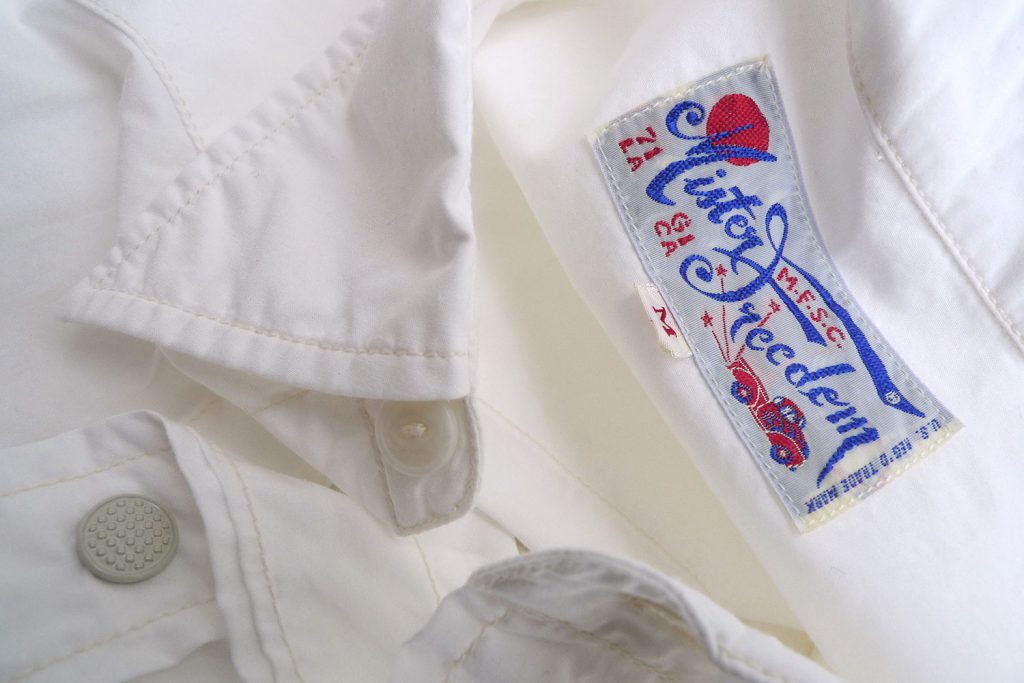 Mister Freedom® "DUDE RANCHER" western snap shirt, cotton broadcloth.
SS2019 mfsc Surplus catalog.
Made in Japan.
Following the Mister Freedom® Appaloosa introduced during Fall 2013 and released in a variety of denim-related fabrics, the "DUDE RANCHER" is our second traditional "western snap" shirt. This all-original pattern was inspired by a selection of vintage "cowboy" shirts, and will now be joining the ranks of the mfsc SURPLUS catalog.
The DUDE RANCHER features the expected western-style front and back yokes. We opted for arcuate panels subtle-enough to keep the shirt as a daily-wearable, with traditional yet understated curved yokes.
The playful "M" tonal branding stitch on the chest pockets is also discreet. We couldn't help an ace up the sleeve with the tricked-out forearm pattern featuring an intricate one-piece elbow/cuff reinforcement diamond-shaped placket. The pattern-making connoisseur will appreciate.
The fabric we opted for for this first release is a fancy 100% cotton broadcloth, a type of tightly-woven poplin. Broadcloth, with its silky smooth surface and crispy dry hand, is often associated with fancy vintage dress shirts. As a caveat, cotton broadcloth is prone to natural fabric wrinkling, a characteristic of garments cut from noble natural fiber materials (cotton, linen, silk etc…), before the crowning of poly-cotton and acrylics as households' favorites, sometime in the 1960's, to facilitate stain removal and liberate one from the burden of ironing. Generations later, this fashion shift and material preference will also lead to the production of billions of pounds of synthetic garments impossible to recycle.
As introduced a few years back with the Sportsman printed flannel Camp Shirts, the DUDE RANCHER features painted metal snaps, reminiscent of 50's Ranchcraft or Blue Bell shirts. If pearl snap buttons are more-commonly associated with traditional western shirts, our use of tonal metal snaps is both a nod to bygone westernwear fashion, and a design choice for a toned-down vibe that doesn't scream yipikaye. Basically, we wanted an easy-to-wear classic garment.
For the rodeo-inclined, we are also releasing a limited edition run of embroidered DUDE RANCHER shirts, featuring original chainstitched "MF® Ranch"classic artwork, a nod to 1950's style of branding work uniforms and other promotional garments. For consistency and cost issues, these custom shirts have not been decorated on hand-crank operated chainstitch machines, but with program-operated machines. The results are similar, but the expert chainstitch artist will notice the difference in the filling technique. Having recently added a 1950's Cornely to our upstairs atelier in order to do a few in-house embro jobs, we were quite happy to delegate this tedious custom "rodeo" production task to the pros!
Note: Considering the fine broadcloth fabric and metal snaps, refrain from yanking on the front panels á la Tom Jones when taking your shirt off. Carefully un-snap the buttons one by one, and listen to the crowd roar.
The DUDE RANCHER western snap shirt is designed in California by Mister Freedom® and manufactured in Japan by Sugar Cane Co.
FABRIC:
100% cotton broadcloth (aka poplin), tight weave, smooth soft texture and crispy dry hand. Milled in Japan
Two color options, black or white.
SPECS:
* An original mfsc pattern, inspired by traditional western-style shirts.
* Traditional arcuate front and back yokes.
* 1950's-style painted metal snaps (the paint will chip with age.)
* Original mountain-shaped "M" tonal stitching on pockets.
* Intricate diamond-shaped cuff/elbow reinforcement patch.
* Vintage style side gussets.
* Rounded shirt tails.
* 100% cotton tonal hi-count stitching.
* Original MF® mfsc "Surplus" tonal woven label.
SIZING/WASHING:
The DUDE RANCHER comes rinsed/preshrunk. The shirt is ready-to-wear.
I opted for a MEDIUM (in both colors), my usual size in mfsc shirting, for a trim, traditional western shirt fit.
Please refer to sizing chart for approximate raw/soaked measurements. Soaked = 30mn cold soak, spin dry and line dry.
CARE:
When needed, machine wash on DELICATE, cold water, mild eco-friendly detergent. Hang dry.
Wash with similar-colored garments.
Mind the fine broadcloth fabric and metal snaps combination, and do not use the washer's heavy-duty cycle. Heat dryer is also not recommended and could damage the garment.
Available rinsed (pre-shrunk)
Solid black/white, or "Rodeo Edition".
Sizes
X-Small
Small
Medium
Large
X-Large
XX-Large
Available from www.misterfreedom.com, our Los Angeles brick & mortar store, and fine retailers around the World.
Email sales@misterfreedom.com or call 323-653-2014 with any questions unanswered above.
Thank you for your support.
Christophe Loiron
Mister Freedom®
©2019
Comments
comments