DOCKYARD Jacket, model A: 7.7 Oz. indigo linen-cotton HBT.
DOCKYARD Jacket, model B: 10 Oz. "Snow" denim.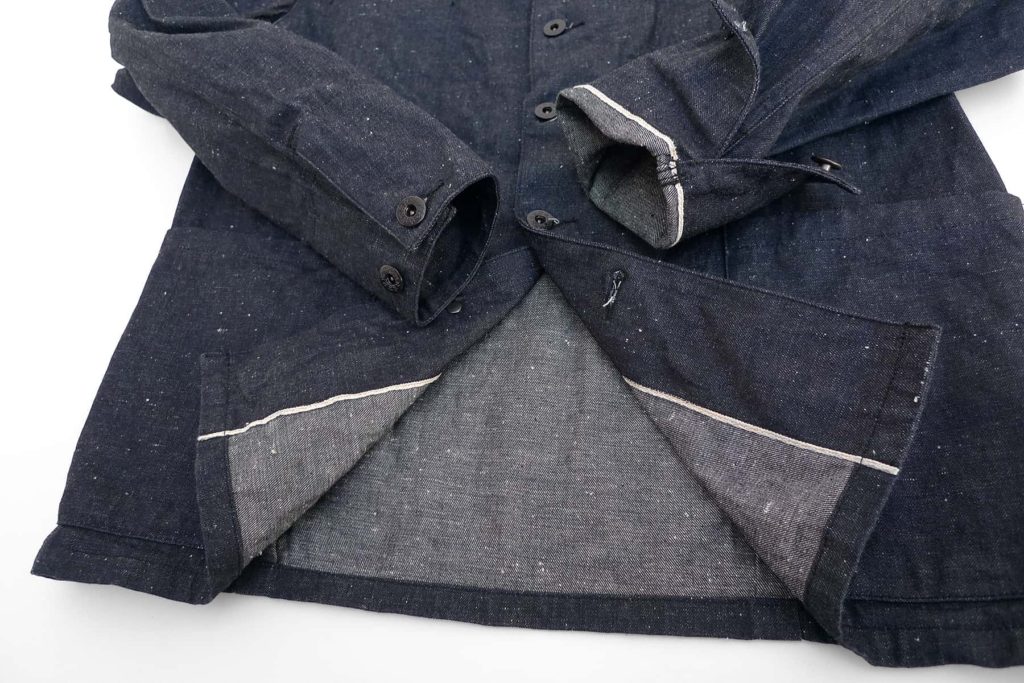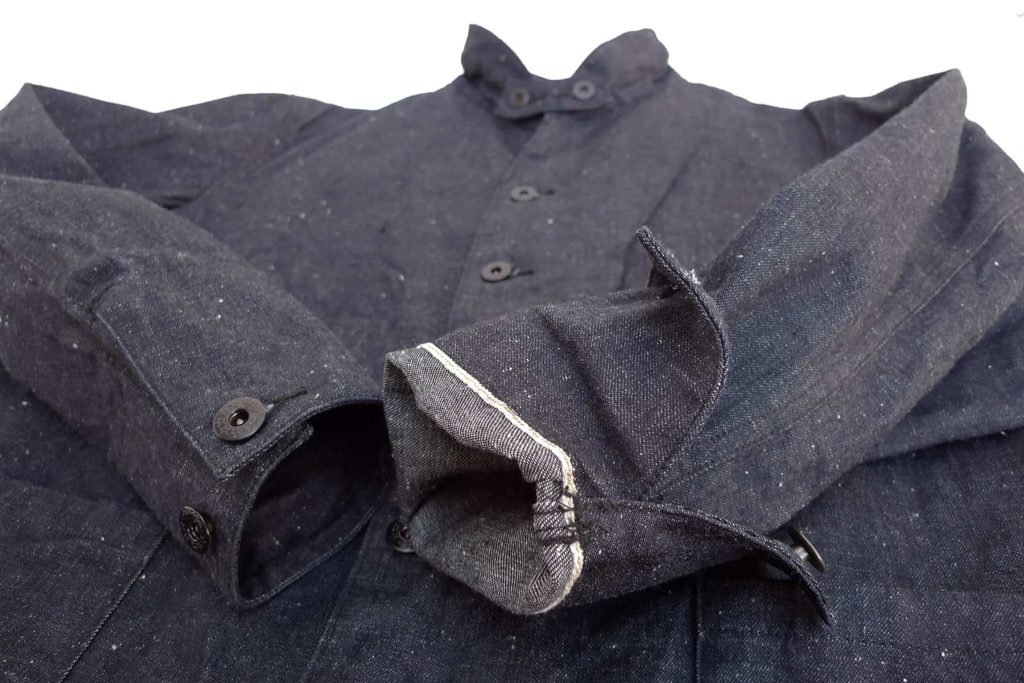 Mister Freedom® DOCKYARD Jacket, indigo linen-cotton HBT & 10 Oz. "Snow" denim edition.
mfsc SS2020 "WATERFRONT SURPLUS", SURPLUS catalog.
Made in Japan.
We took a stroll down memory lane and rigged-up a small capsule collection for Spring 2020, with references harking back to our earliest Mister Freedom® x Sugar Cane Co fictional scenario, the 2006 "MFSC Naval Clothing Tailor". This concise "Waterfront Surplus" nautical grouping is inspired by 1930's US Navy and French Marine Nationale utility uniforms, local-made and custom-tailored dungarees, with the usual liberties we like to take with History. This straight-forward and classic set is made of the DOCKYARD Jacket, LONGSHOREMAN Shirt, and SWABBIES Dungarees.
First to hit port is the DOCKYARD Jacket.
What could look like yet-another spin on a 1940's regulation USN denim shawl collar seaman jacket, a profusely-replicated pattern in Heritage Fashion, is actually inspired by a rare French 1930s "Chantier naval" (shipyard) jacket. Our good friend and vintage collector/hunter Jérome Le Zouave, aka le "J", gets all the credit for unearthing a batch of these gems last year, in a wild goose chase only he knows the secret of. One of these babies made its way to Sunny California and is now part of MF® archives.
As an unusual piece of militaria, the model's history is not 100% clear to me, but these jackets were apparently a 1930s civilian contract to outfit French Navy shipyard workers. A well-worn lot of survivors ended-up as Government surplus in a French warehouse, and several specimen resurfaced last year. Jérome mentioned he could tell me more… but he'd have to kill me right after.
If the vintage model was stunning, the fit was as expected quite awful, so the pattern underwent a full rebuild. Our version is not a verbatim replica, but does keep the original's main features and overall nautical vibe, with its shawl collar, two hip patch pockets, and specific cuffs. We spiced things up a bit by adding a removable chinstrap to the collar, and two inside chest pockets. We kept the rear panel two inconspicuous cinching darts, initially intended to be unsewn by the wearer for extra width if needed, in a typical display of utilitarian clothing design where function, practicality, and longevity prevail. It could be pointed-out that this is why the H&M label is hardly notorious its workwear.
We are releasing our DOCKYARD Jacket in two distinct fabrics, both a departure from the original garment, as that would have been too easy. The first option is a dark indigo-dyed HBT fabric, a fancy blend of 60% linen and 40% cotton. The second, a dark and handsome 2×1 selvedge denim with a "snowy" neppy texture, an old mfsc favorite previously featured on our 2015 Tonkinoise. One of the photo above features a worn Tonkinoise rubbing elbows with a raw DOCKYARD, and showing some denim evolution. With proper wear and care, one can anticipate an attractive indigo patina with both versions.
For the front closure of the indigo HBT model, we opted for genuine bone buttons, all with subtle color and surface variations. The denim version features black painted 1940s-style donut wreath buttons. The denim fabric selvedge is displayed on the button placket facing and cuff facing.
Stay tuned for the soon-to-be-released remaining pieces of the "Waterfront Surplus" set!
The DOCKYARD Jacket is designed in California by Mister Freedom® and manufactured in Japan in collaboration with Sugar Cane Co.
SPECS:
FABRIC:
Model A: 7.7 Oz. dark indigo-dyed Herringbone Twill (HBT) fabric, blend of 60% linen and 40% cotton. Milled in Japan.
Model B: 10 Oz. dark indigo blue 2×1 denim, "snowy" neppy texture, white with yellow line selvedge ID. Milled in Japan.
DETAILS:
* An original mfsc pattern inspired by a rare 1930s French Navy/civilian shipyard utility jacket.
* Shawl collar with removable chinstrap.
* Two hip patch pockets.
* Genuine bone buttons (HBT model), or black donut wreath buttons (denim model)
* Selvedge button placket facing and cuff facing (denim model only)
* Adjustable cuffs.
* Two concealed chest pockets, stripe ticking fabric.
* Back panel cinching darts.
* Chainstitch construction, no open seams.
* Mister Freedom® mfsc woven rayon "SURPLUS" label.
* Made in Japan.
SIZING/FIT:
The following applies to both fabric options. The MF® DOCKYARD Jacket comes raw/unwashed and is cut so that the measurements match the labeling after an initial cold soak/line dry. 
We recommend this usual protocol before wearing:
Cold soak for about 30-40mn, with occasional hand agitation.

Spin dry and line dry.

Hang until fully dry.
Due to the 100% cotton stitching, some attractive puckering will show at the seams after the soak, giving the jacket more of a vintage feel. The denim version will be stiffer after the initial soak due to the re-activated starch but the stiffness is temporary and will subside rapidly with wear.
I opted for a comfortable 38 (MEDIUM) in both fabric options, both with a similar fit but different drape.
Please refer to sizing chart for approximate raw/soaked measurements.
Soaked = 30-40mn cold soak, spin dry and line dry (ie. minimal shrinkage).
CHART
Available RAW/unwashed.
CARE:
Launder when needed. For both options, we recommend turning the DOCKYARD Jacket inside out to avoid marbling of the fabric.
Machine wash on gentle cycle, cold water, minimum eco-friendly mild detergent and line dry.
Patina will develop according to activities and frequency of wear.

Available Raw/unwashed ONLY.
Sizes
34 X-small (indigo HBT only)
36 Small
38 Medium
40 Large
42 X-Large
44 XX-Large
Available from www.misterfreedom.com, our Los Angeles red brick HQ, and fine retailers around the World.
Email sales@misterfreedom.com or call 323-653-2014 with any questions unanswered above.
Thank you for your support,
Christophe Loiron
Mister Freedom®
©2020
Comments
comments