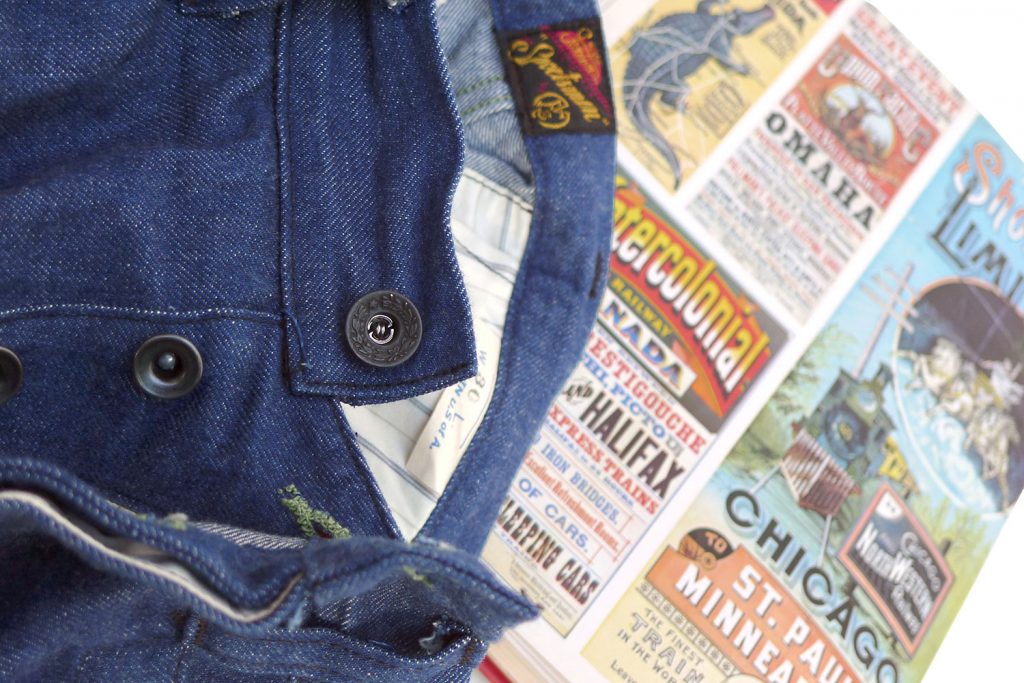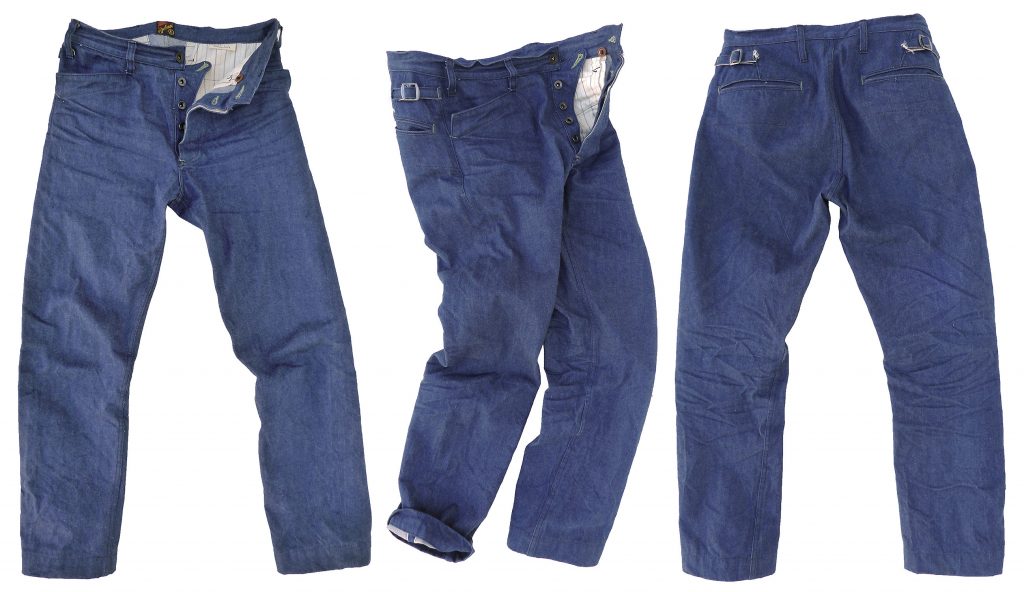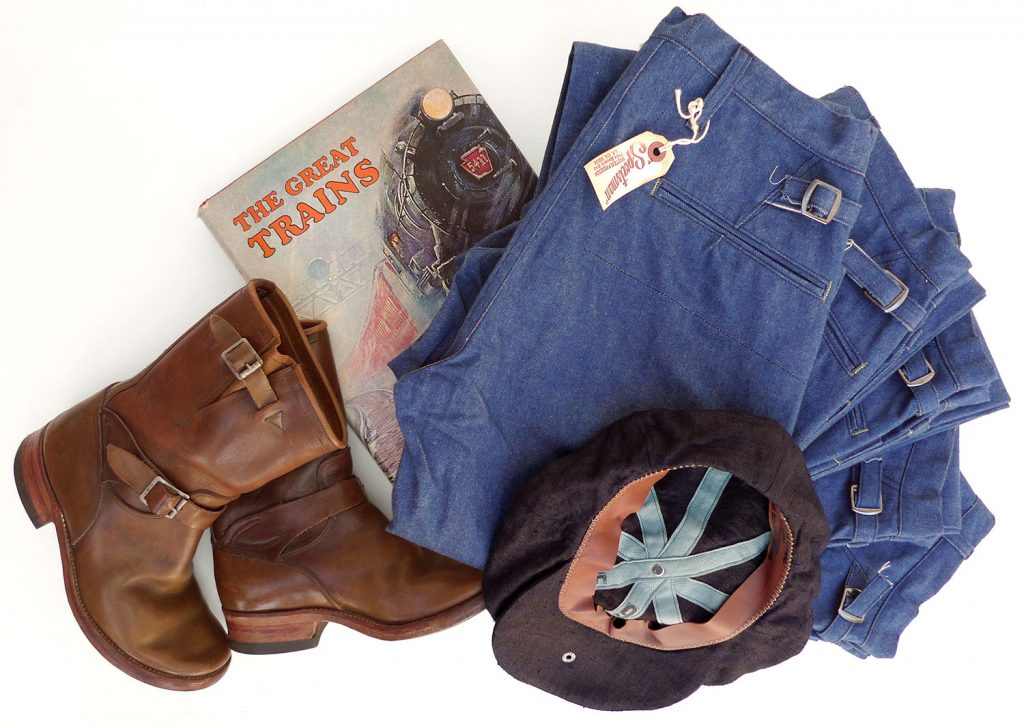 Mister Freedom® "Conductor Slacks", selvedge 'Malibu denim'.
Sportsman Catalog, Spring 2017
Made in USA.
Following the addition of a new pattern to our ever-growing Mister Freedom® Sportsman catalog this Spring, the fancy Choo-Choo-Charlie-denim-jacket-for-the-caboose-inclined-and-vintage-iron-horse-connoisseur aka the Conductor jacket, we felt compelled to match it with a muy loco version of our Sportsman Slacks.
If we don't recommend wearing both as a set for a job interview, our Conductor jacket and slacks are pretty versatile pieces. Both patterns blend workwear and early tailor-made Gentleman's garb, in a light indigo denim treatment we refer to as "Malibu Denim". Milled in Japan and introduced a few years ago, this particular denim is an old MF® favorite. Technically, it is quite tricky for a dye-house to control a lighter shade of indigo (darker shades are easier to keep consistent, as you can always do another dip…), so we are very happy that this new 2017 batch is as beautiful and unique as its 2015 and 2016 predecessors.
With normal wear, this 'Malibu denim' will fade to an attractive range of exotic and dreamy lagoon blues. Its specific indigo hue makes it quite complimenting to other darker denim twills. Pair it with the MF® Cowboy Jacket in dark loomstate NOS Cone denim or Wheat denim, with the twill color palette of our Continental sportcoats etc…
The Conductor Slacks garment pattern is inspired by vintage Gentlemen trousers, blending Old and New World, combining fancy tailoring and utilitarian workwear. Originally introduced during our !Viva La Revolucion! days (2013), the pattern was adapted in 2015 to be added to our Sportsman Catalog as a Gun Powder linen-cotton HBT option. The Vaquero Jeans had become the Sportsman Slacks, a reincarnation a tinge overshadowed by tragic events at the time…
Here they are again for Spring 2017, released as the Conductor Slacks.
The Conductor Slacks are designed and manufactured in California by Mister Freedom®, in collaboration with Sugar Cane Co.
NOTE: Some of the photos feature an hemmed pair of Conductor Slacks (with a stitched 1½'' plain trousers fold). Production comes with an open overlocked bottom with a generous inseam, for your cuffing preference.
PATTERN:
Revisited MF® Vaquero denim jeans style from our !Viva La Revolución! 2013 collection, aka the Sportsman Slacks.
An original pattern inspired by early European trousers and work dungarees.
FABRIC:
Original mfsc "Malibu Sea" denim, 13 Oz. indigo-dyed denim twill, solid white selvedge. Milled in Japan.
DETAILS:
* Vintage European trousers-type construction, no back yoke.
* "Cowboy" front pocket opening.
* Oxidized black 'donut' wreath waist button.
* Unmarked utilitarian 'donut' metal fly buttons.
* Two rear welt pockets.
* Pocketing and lining from fancy NOS woven stripe 100% cotton plain weave fabric (ivory white with blue & grey stripes), milled in Europe.
* Rear reinforcement lining patching.
* Side cinch tabs, adjustable with NOS vintage French metal buckles.
* Selvedge leg side seam.
* Open inseam, overlocked bottom hem, for your cuffing preference (hemmed, double hemmed, rolled…)
* Turn-of-the-century style flared waistband (narrower in back).
* Slim belt loops (trousers style).
* All cotton thread navy blue stitching.
* Green bar-tack Sportsman accents and inside chainstitch.
* Original MF® "The Sportsman" woven rayon black label.
* Made in USA.
SIZING/FIT:
The Conductor Slacks comes UN-WASHED (=raw, loomstate) and are cut so that the measurements match the labeling after an initial cold soak/line dry.
We recommend our usual method for raw denim garments:
* 30-40mn cold soak with intermittent hand agitation, in minimally-filled washing machine or bath tub.
* Spin dry cycle (if using a machine).
* Hang dry.
* As an optional step, wear the garment briefly when still not fully dry, in order to slightly shape it to your body and set creases. Hang and let fully dry.
The denim garment will stiffen when dry due to the re-activated fabric starch contained in the cotton yarns, a normal reaction that will rapidly subside with normal wear.
Fit: If the soaked Waist 32 felt more comfortable, I opted for a Waist 30 in the Conductor Slacks. The waist should give a bit to better accommodate my girly 31'' waist. Whether going for the slimmer look of the W30 or the more generous silhouette of the W32 is a matter of preference. I personally decided to size down on these.
For hemming, i opted for a stitched 1½'' plain trousers fold.
Please refer to sizing chart for approximate raw/soaked measurements. Soaked = 30mn cold soak, spin dry and line dry.
CARE:
Launder when needed.
We recommend turning the trousers inside out to avoid marbling on the indigo side.
Hand washing can be a good option if concerned with specific wear patterns and high-contrast color fades. Otherwise, machine wash inside out with cold water, gentle cycle, eco-friendly mild detergent and line dry.
Available Raw/unwashed
Sizes (W stands for Waist)
W 28 x L
W 29 x L
W 30 x L
W 31 x L
W 32 x L
W 33 x L
W 34 x L
W 36 x L
W 38 x L
Retail $329.95
Available from www.misterfreedom.com, and our Los Angeles brick & mortar store.
Email sales@misterfreedom.com or call 323-653-2014 with any questions unanswered above.
Thank you for your support,
Christophe Loiron
Mister Freedom® 2017
Comments
comments