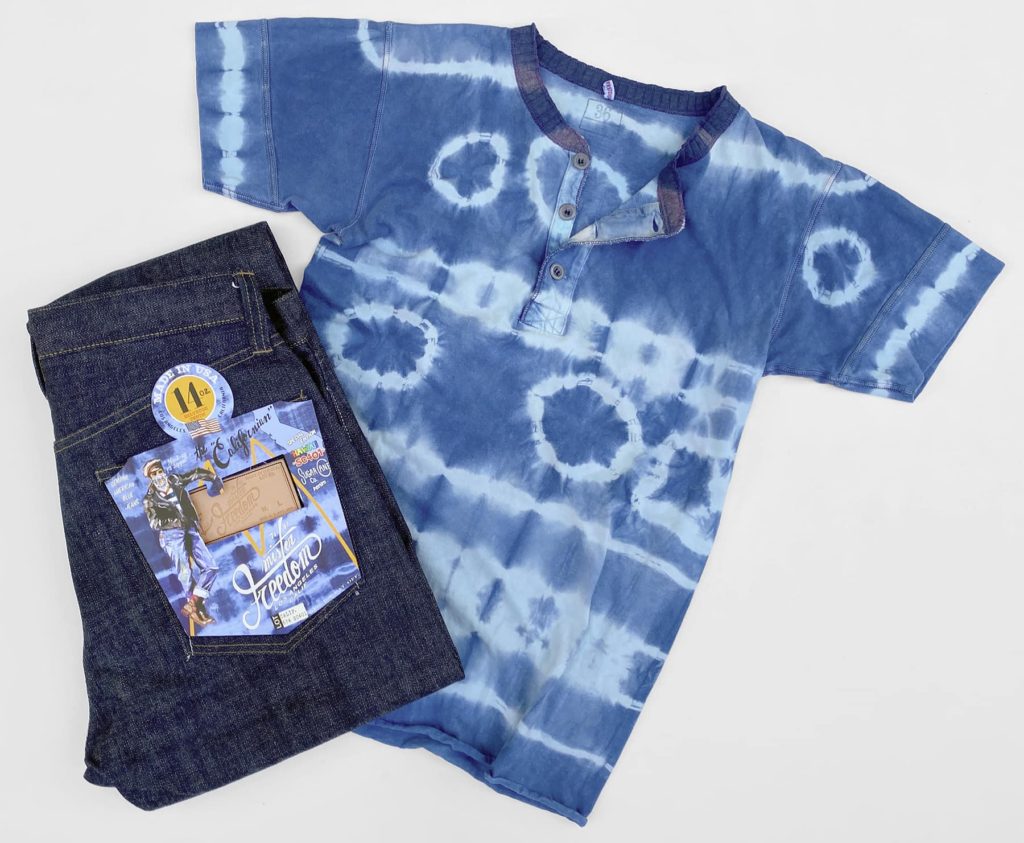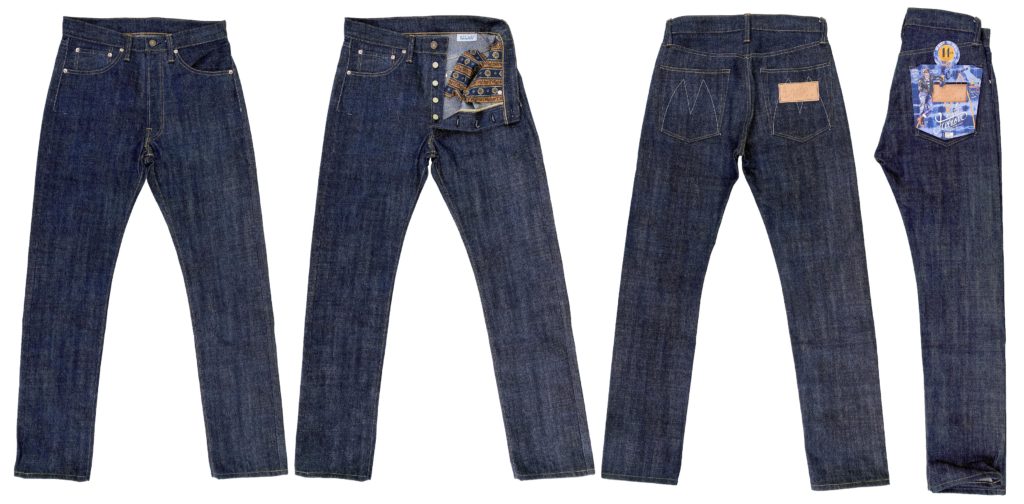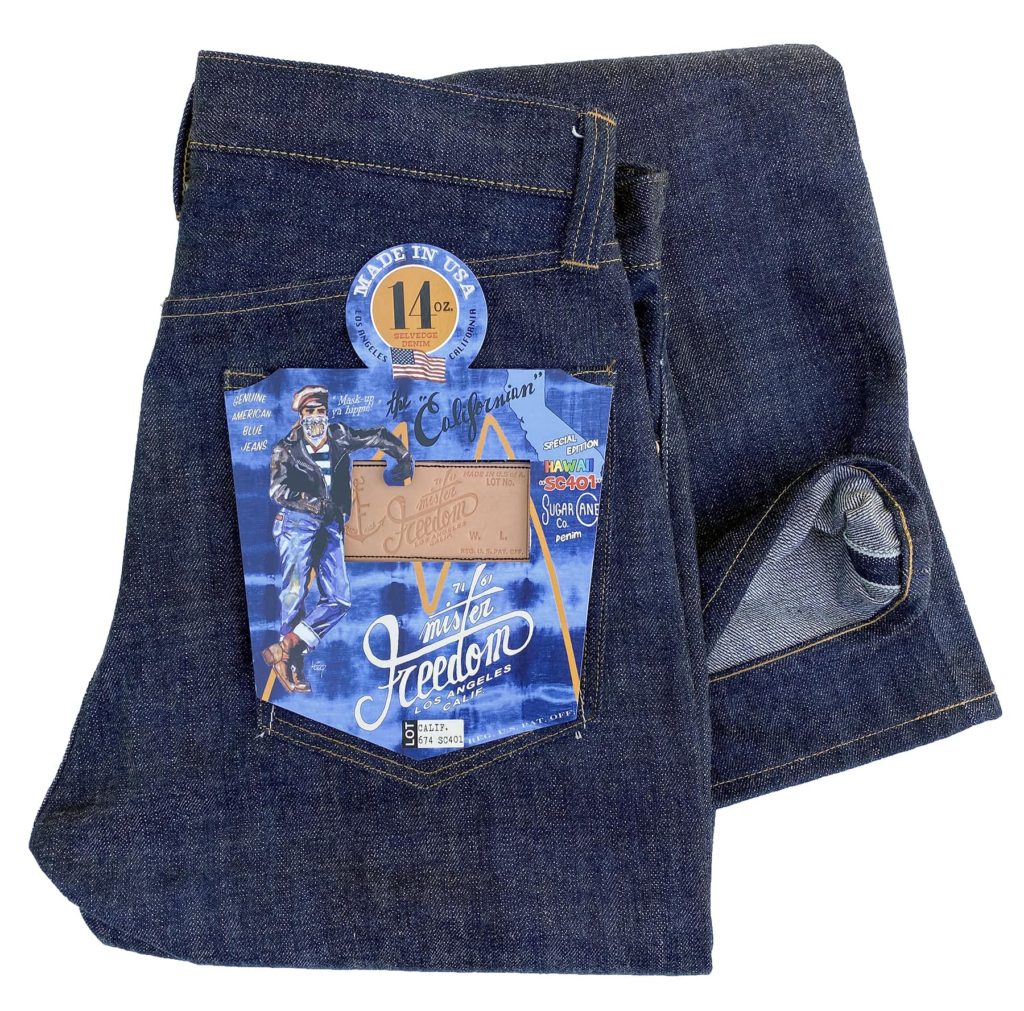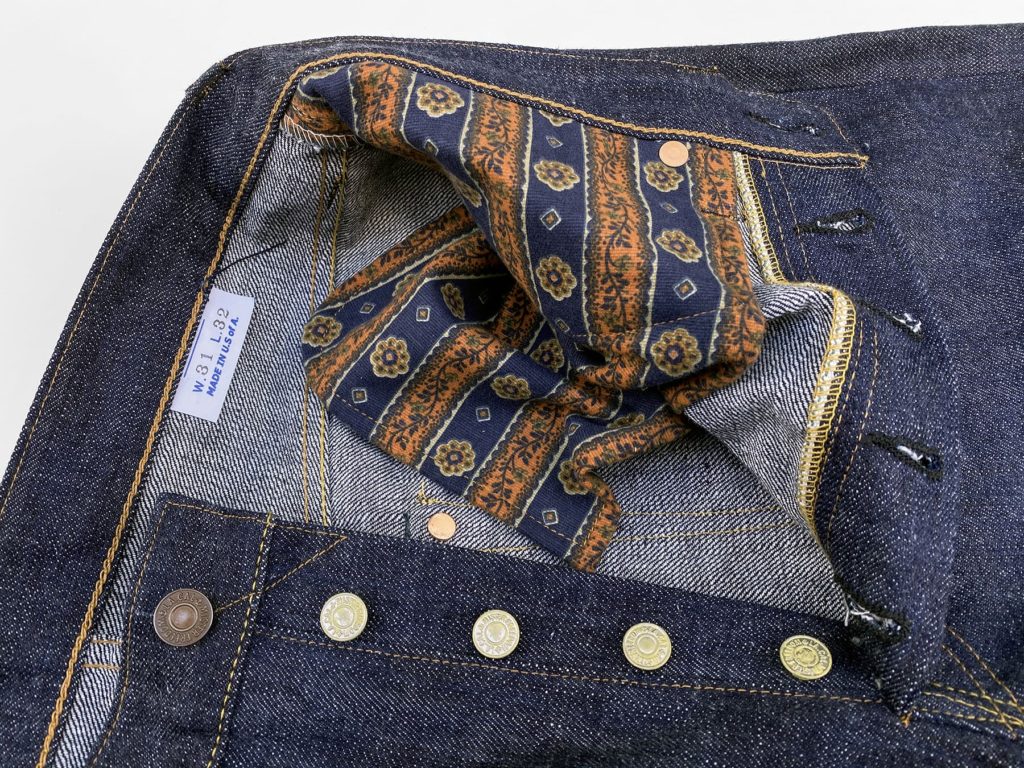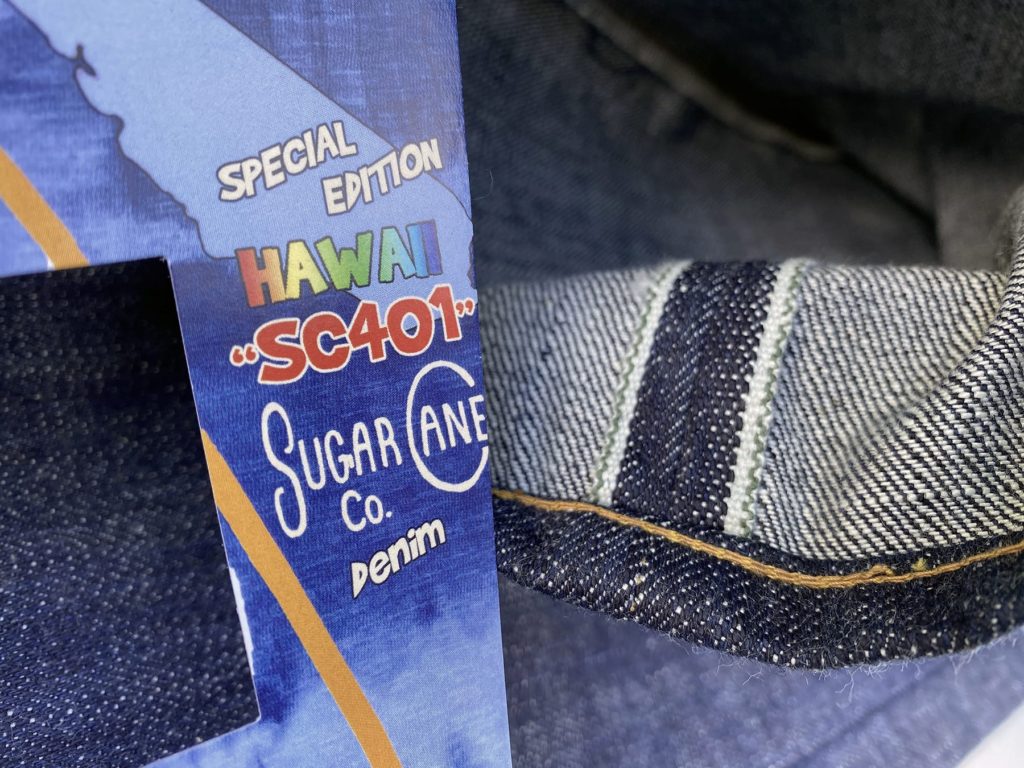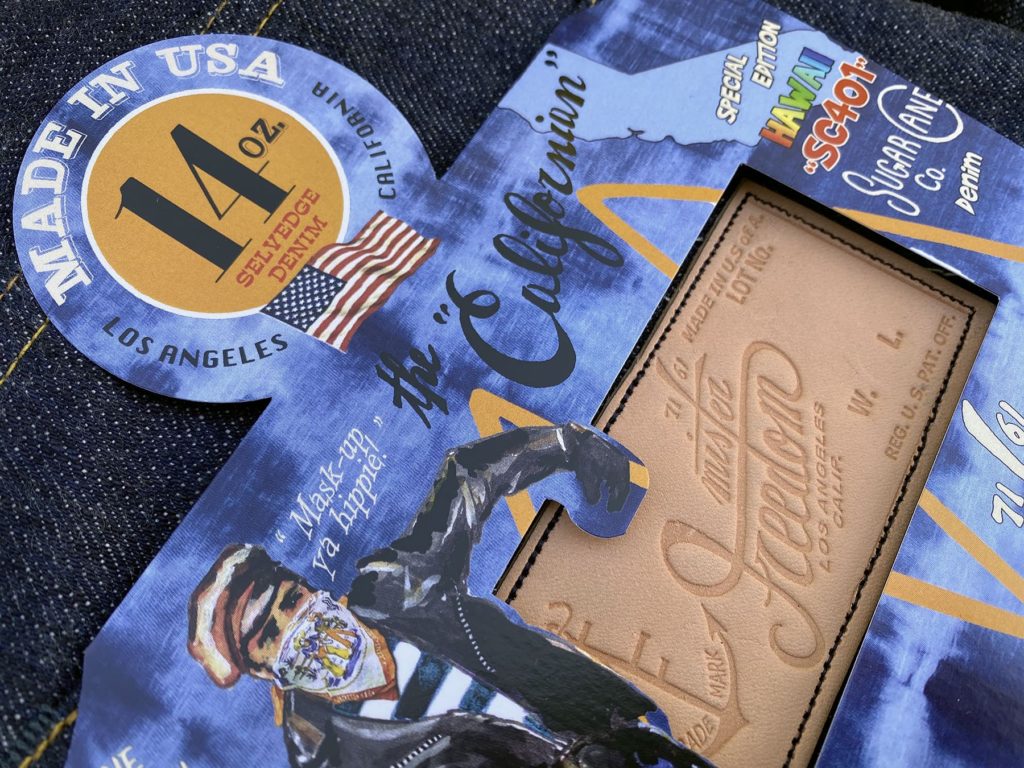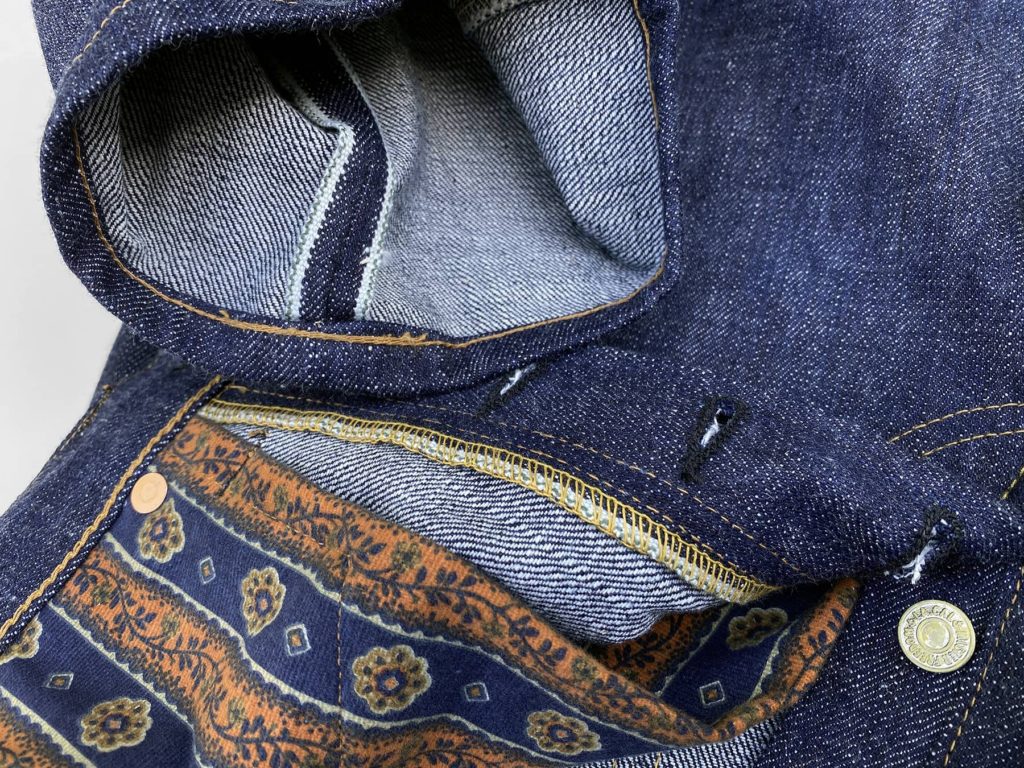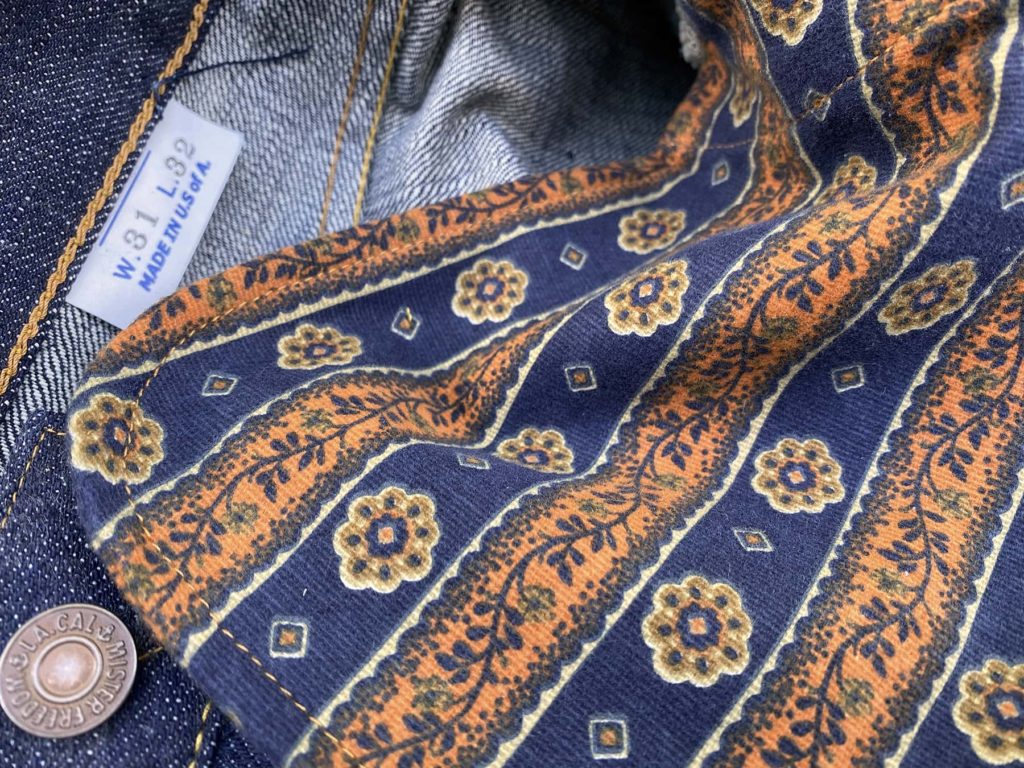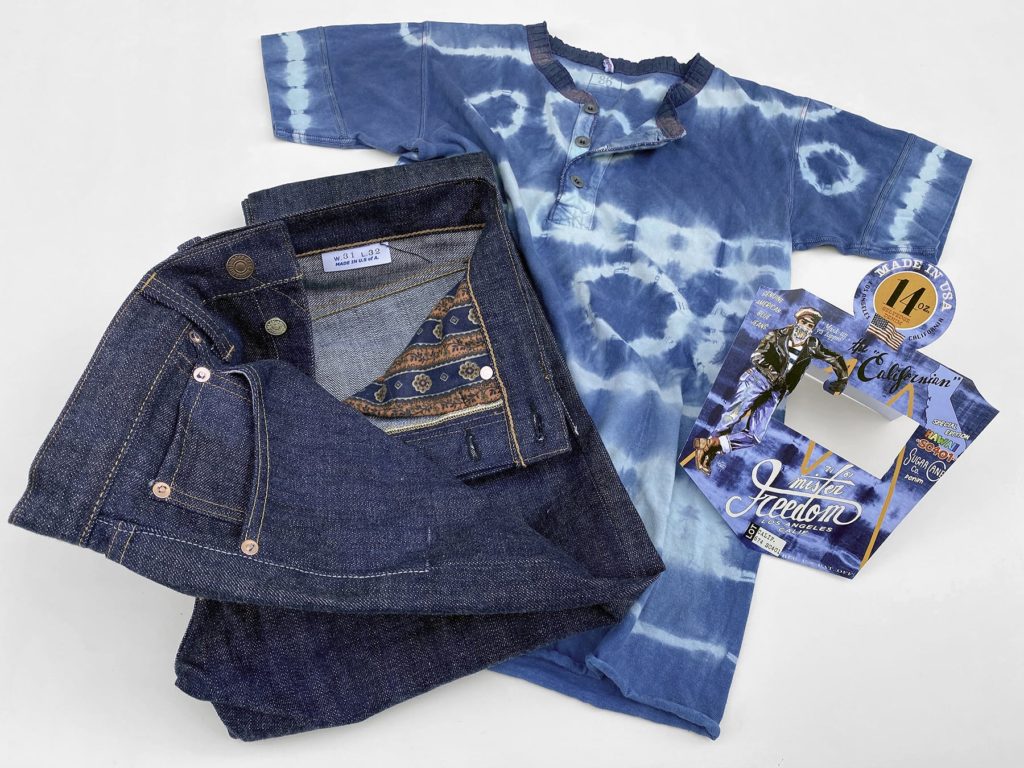 Mister Freedom® Californian Lot.674, "HAWAII SC401" selvedge denim edition.
mfsc FW2020 Sportsman catalog.
Made in USA.
The Lot.674 of the MF® Californian Blue Jeans family is our slimmest fit in the five-pocket pattern selection, blending the top block and button fly of the Lot.64 with the leg of the Lot.74. This gives the Lot.674 its slim & lean silhouette characteristic of casual 1960s "stovepipe leg" denim jeans. See here for a recap of our Californian cuts.
The "Hawaii SC401" denim was initially pioneered and trademarked by Toyo Enterprises in Japan in the early 1990s, and milled as an exclusive fabric for their Sugar Cane Co workwear brand. This premium 14 Oz. dark indigo-dyed denim twill is a blend of 50% cotton and 50% recycled sugarcane fibers and features a classic white and green line selvedge. The SC401 is notorious for its subtle indigo shade variations in the yarns, interesting denim nep, attractive slub, "sweet" smell, and most-memorably rewarding fading potential.
MF® OGs will remember that this denim was featured on the right leg of the original mfsc UFO, aka "7161" Utility Trousers, our first collaboration with Sugar Cane Co released back in 2006.
This FW2020 model's pocket bags are cut from NOS yardage of 100% cotton soft brushed flannel fabric featuring a colorful 1960s vibe paisley-type printed motif.
For the fly, we combined metal finishes with an original MF®-branded brass tack button for the waist and 'silver' for the fly. The denim selvedge is classically featured on the outseam, and also used in the watch pocket and button hole placket construction.
The Californian LOT.674 blue jeans "HAWAII SC401" edition are designed and manufactured in California by Mister Freedom®, in collaboration with Sugar Cane Co.
SPECS:
PATTERN:
Inspired by traditional 1950′s-1960's era blue jeans, traditional fit, slightly tapered stovepipe leg for a mid-60's vibe.
FABRIC:
Sturdy 14 Oz. "401 Hawaii" dark indigo-dyed denim twill, a blend of 50% cotton and 50% recycled sugarcane fibers. White w/ green line selvedge ID. Milled in Japan exclusively for Sugar Cane Co.
Pocketing: NOS printed brushed flannel, 100% cotton, featuring a colorful 1960s vibe paisley-type pattern.
DETAILS:
* Classic vintage five-pocket blue jeans pattern.
* Button fly, original MF®-branded 'silver' tack buttons, topped with brass finish waist button.
* Selvedge leg outseam.
* NOS printed brushed cotton flannel pocket bags featuring a 1960s paisley-type motif.
* MF® original white "M" stitch design on rear pockets.
* Natural cowhide leather MF®-branded patch on rear pocket.
* Twelve types of 100% cotton threads (gauge and color combination) used for construction. Main colors are yellow and orange.
* Coin pocket with concealed selvedge.
* Selvedge button hole fly placket.
* Hidden back pocket reinforcement rivets, with top pocket reinforcement zig-zag stitching.
* Unlined rear pockets.
* Unmarked copper riveting for pocket reinforcement.
* Original MF® paper pocket flasher (special "Mask-up ya hippie!" tie-dye pattern).
* Made in USA
SIZING/FIT:
The "HAWAII SC401" Californian LOT.674 blue jeans come UN-WASHED and are cut so that the measurements match the labeling AFTER an initial cold soak/line dry. For instance, a tagged W32 x L34 will shrink to approximately 32 inches x 34 inches after a soak/dry process.
We recommend the usual protocol before wearing:
Cold soak for about 30-40mn, with occasional hand agitation.

Spin dry in machine and line dry.

Wear briefly before fully-dry to set creases, then hang until fully dry.
The "HAWAII SC401" Californian Lot.674 are considered true-to-size.
A tagged W32 will most-likely be the right size for an individual with an approximate measured waist of +/- 32 inches, and with average body proportions. (Note that your natural waist is a bit bellow the belly button, not bellow the hips.)
The size that will work best for you depends on how you like your jeans to fit. I opted for a W31 in the Lot.674 "HAWAII SC401", which tends to be my size of choice for the MF® selection of 1960s slim jeans patterns, such as our the Speedways, Malibu's, Lot.74, and all Lot.674 models in general.
Please note that the tiny prickly yarns that one might occasionally feel during the early days of break-in the jeans are the actual recycled sugarcane fibers. This potential "discomfort" is temporary, but is worth mentioning for the faint of heart not accustomed to raw denim jeans that haven't been factory-rinsed.
Cuffing: Playing around with period "flood length" and getting your jeans hemmed to your desired length, rather than doing roll-ups or contemporary stacking, will help convey the sixties vibe of the Californian Lot.674 cut.
Please refer to sizing chart for approximate raw/soaked measurements.
Soaked = 30-40mn cold soak, spin dry and line dry (ie. minimal shrinkage).
CARE:
Launder when needed.
We recommend turning indigo blue/denim garments inside out to avoid marbling during laundering. Machine wash, cold water, gentle cycle, eco-friendly mild detergent and line dry.
Potential attractive patina will develop according to activities and frequency of wear.
Please note that dark indigo might cause color transfer, and potentially "bleed" on light-colored garments, furniture, and skin. This indigo color "crocking" is temporary.
Available RAW/unwashed.
Sizes (W is for Waist, measured in inches.)
W 29
W 30
W 31
W 32
W 33
W 34
W 36
Available from www.misterfreedom.com, our Los Angeles brick & mortar store, and fine retailers around the World.
Email sales@misterfreedom.com or call 323-653-2014 with any questions unanswered above.
Thank you for your support.
Christophe Loiron
Mister Freedom®
©2020
Comments
comments