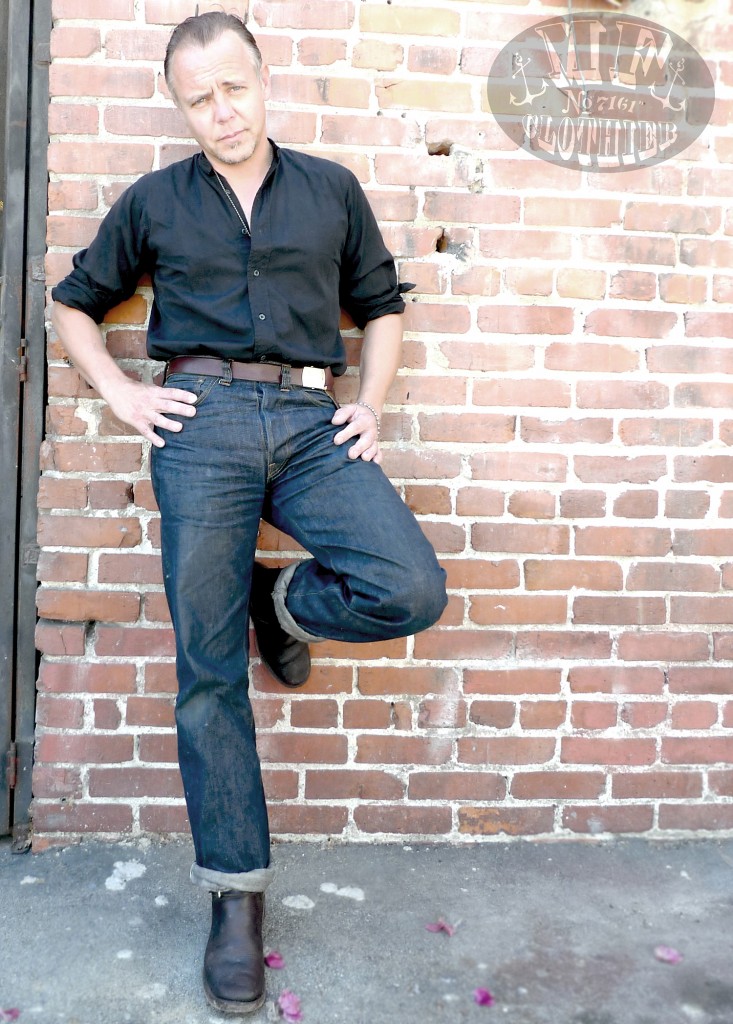 The MF® CALIFORNIAN, long awaited-for MISTER FREEDOM® first five-pocket style blue jeans are in the house! All made in USA from American un-sanforized Dead Stock (NOS) indigo blue 12 oz. denim…
SPECS:
* Pattern: Original Mister Freedom® pattern, inspired by traditional 1950's era blue jeans.
* Fabric: New Old Stock American made selvedge indigo denim. White/red stripped selvedge ID. Un-sanforized. Approx. 12oz. square yard weight. Guaranteed to age and beautify with repeat wear.
* Pocketing: 100% cotton sturdy Bedford cord type woven NOS fabric. Natural un-bleached white.
* Fit: Based on the general silhouette/image of the "BRMC" blue jeans of the Wild Ones (1953). Traditional mid-rise, "tubular" silhouette legs, fit seat.
"Now, listen, ya don't go any one special place. That's cornball style…Ya just go (SNAP)"
* Construction: All made in U.S.A. Five pockets style. Selvedge legs and button hole fly flap. Top back pockets covered riveting and 'zigzag flush' reinforcement. Original "M" back pocket stitch design, securing inside all cotton twill backing.
* Stitching: All 100% cotton colour thread. We are using an original MF 12 types of gauge/colour combination thread for each pair of jeans. Main colours are Orange/Yellow/White, non colorfast.
* Trims: Original Mister Freedom casted combo metal fly buttons, steel back. Unmarked copper flat top rivetting.
* Labeling: Handmade original MF® debossed natural cowhide leather patch on right back pocket. Cheeze cloth size labeling stitched in rear part of waist band.
* Shrinkage: 8% or less, with minimal shrinkage with cold rinse/hang dry (recommended) and maximum shrinkage with hot wash/full dryer cycle. As with all denim twill, shrinkage and stretching will occur depending on the wearer's body, activities and initial fit.
* Sizing: The Californian comes UN-WASHED and "oversized" so that the measurements match the labeling AFTER shrinkage.
Example:  A tagged W32 x L34 "Californian", off the shelf, actually measures 33" x 36" before wash.  They will shrink to approx. 32" x 34" after rinse/dry.
Which size works for you depends on how you like your jeans to fit. I wear from a W30 to W32 depending on my mood/style of the pants (I have a W30 on the photo, about 2 months wear.)
NOTE:
1) On length:
To avoid the effect of the "accordion" legs, typical of the Japanese denim replica silhouettes, we chose graduated length for the Californian. Many pairs of vintage denim are often seen worn "as found", ie. sometimes borderline too short on taller individuals. We prefer this to the 'endless' legs characteristic of all new denim production.
If the jeans are too long, cuff them (sloppy rolls or folded) if you like cuffs. If they are just or a tad too short, a narrow single fold cuff still looks cool imo. Just wear good footwear!
If they look like bermudas on you, then it's not meant to be…
2) On washing:
We recommend the "quick cold rinse, hang dry and wear when damp" method. Subsequent washing when REALLY needed, minimal detergent and hang dry.
The "wear 'em raw" method is great too (makes for amazing wear), but you might want to size down (if you are a measured waist 30", wear a tagged W29), and never hit water! Even when worn raw, denim will shrink/stretch with heat/tension, so your jeans will adapt to your body over time.
3) Leather patch:
The debossed MF® pocket leather patch will lose its details/colour with washing in warm/hot water (for those of you who insist on hot soaking their jeans…) It will dry out and crack overtime, and is intended to do so.
The Mister Freedom® "CALIFORNIAN" Lot.54 is available RAW/unwashed.
Tagged Sizes
W28 × L32 SOLD OUT
W29 × L32 SOLD OUT
W30 × L32 SOLD OUT
W31 × L32 SOLD OUT
W32 × L34 SOLD OUT
W33 × L34 SOLD OUT
W34 × L34 SOLD OUT
W36 × L34 SOLD OUT
W38 × L34 SOLD OUT
(see "Sizing" section above for the low-down)
Retail $249.95
Call (323) 653-2014 or mail sales@misterfreedom.com to get yours while they last. We ship internationally.
Comments
comments