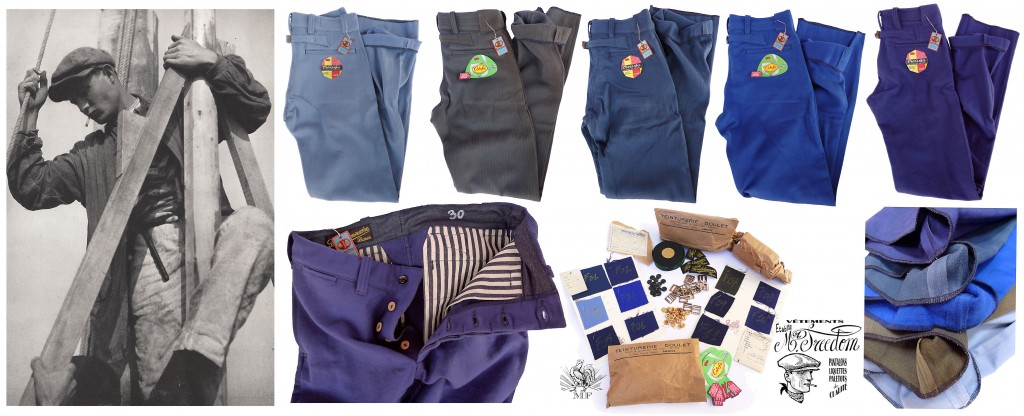 "Le Révolutionnaire" Pantalon de Travail by Mister Freedom®
We scored a very nice lot of 1940's-50's New Old Stock (NOS) work-wear fabrics in France, thanks to a dear friend, Monsieur Jérome Girard, ze treasure hunter from Le Zouave
Speaking of vintage hunters friends, Arnaud Bauville from "French CanCan" and Damien from "Le Magasin" are great sources for European vintage 🙂
After their long ship voyage across the Atlantic, we decided to turn these fabrics into work trousers, inspired -but of course- by French work wear, à la façon Mister Freedom®.
Vintage photos above from here and here courtesy of © Phototèque Hachette, © Collection Roger-Viollet, and © François Kollar "La France Travaille".
The fabric stock came from a now defunct French teinturerie (dye house) from Amiens. Those rolls were left over and never made it to production. They were intended to be used for typical work jackets and pants to supply local farmers, construction workers, railroad crews, vignerons… with sturdy outfits that would last for decades and get patched up along the way.
Concealed inside the rolls of fabric were the original paper flashers and tags that were supposed to be attached to the finished garments. In this lot, there were mainly 6 different types of fabrics, ranging in color/texture/weight: Light blue to dark indigo, 100% cotton heavy moleskine to 100% cotton Bedford cord types (aka coutil)…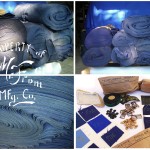 We gathered some vintage trims from our vault as well, such as original vintage 1940's French unused woven labels "Le Révolutionnaire" (a probable reference to the wide spread 'Front Populaire' Workers strikes of May-July 1936 in France), NOS stripe cotton twill for pocket bags, 1920's NOS bone buttons for the fly, 1930's painted metal "X" buttons for waist, NOS 2×1 indigo denim fly & waistband facing… Each pair also has its own original period paper labeling!
Because of limited quantities of yardage, we were not able to make full size runs in all fabrics. We focused on 'popular' waist sizes, a few 30, 32, 34 and 36.
To avoid random shrinkage issues, we decided to get all rolls sanforized before cut/sew, in order to keep the fit consistent across all fabrics. However, because of the different weights, the draping (= the way the fabric hangs) varies, and therefore the silhouettes.
As always, "Le Révolutionnaire" are no skinny pants. They are similar in silhouette to our MF® Chinos.
Designed and made in California by Mister Freedom®. Limited edition.
SPECS:
PATTERN: Original MF® pattern, inspired by several work trousers, with a 1930's~1950's French work-wear influence.
FABRICS:
All fabrics are selvedge, tonal color ID.
* F01: 100% cotton Bedford Cord, Slate Blue color.
* F02: 100% cotton heavy moleskine, brushed back, "Bleu de Chauffe" color (typical dark navy French work-wear color). They are several batches from the F02 lot, varying slightly in weight and shades. We count them as one same fabric.
* F03: 100% cotton Bedford Cord, light blue-grey color.
* F04: 100% cotton Bedford Cord, Royal blue. Brushed back.
* F07: 100% cotton Bedford Cord, Slate Grey color.
DETAILS:
* Adjustable back cinch strap, with vintage NOS French metal slide buckle.
* Selvedge leg side seams.
* NOS stripe cotton twill pocket bags.
* NOS 3×1 indigo denim waistband and button fly facing.
* 1920's NOS bone buttons fly closure.
* 1930's painted metal 'X' buttos, French NOS.
* Open bottom leg, overlocked, for your cuffing preferences (36 inches length, uncuffed)
* Two back welt pockets, the left one secured by a French original NOS painted metal 'X' button with debossed "*Solide*Elégant*" marking.
* Original 1940's cotton woven "Le Révolutionnaire" label.
* Original paper labels and flashers form the original Dye House/Factory.
* 100% cotton tonal thread construction.
WASH/SIZING:
All fabrics have been pre-shrunk (Sanforized) before cut/sew, so there should be minimal shrinkage with subsequent wash/dry. Inside-out wash to avoid 'marbling'. OK to machine dry. Low maintenance, as these fabrics were meant to withstand repeat soiling/wash/wear.
Some of the Bedford cord fabrics will tend to stretch back and forth with wash/dry/wear.
I wear a waist 32, for an 'anti-fit' look, which also allows me to break dance around the office, when the boss is not around.
Available sizes Waist 30, 32, 34, 36
Please call 323-653-2014 or Email sales@misterfreedom.com to get yours while they last. Merci for ze support 😉
Comments
comments