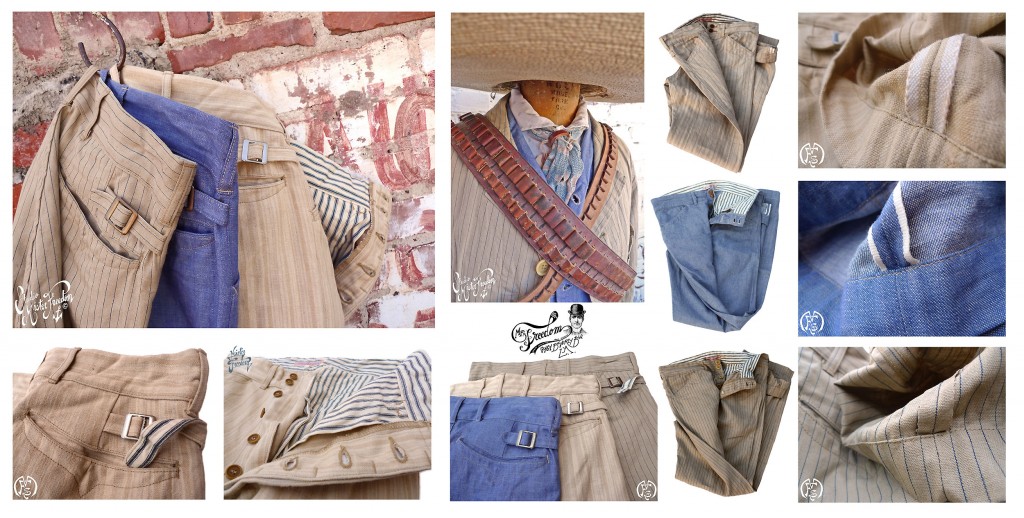 Mister Freedom® MFSC "HACENDADO Trousers"
'Viva la Revolución' Collection, Spring 2012
To complement our hacendado sack coat, here is the second part of the three piece suiting series for Spring 2013.
Inspired by several pattern of 1900's to 1930's slacks, the hacendado flat front trousers' silhouette is reminiscent of classic 1920's slacks, such as the tropical garb made by "Palm Beach Mills" (Goodall Company, Cincinnati, Ohio.) Vintage clothing aficionados might be familiar with that awesome label (see 1920 Ad below).
Our hacendado trousers come in three fabric options:
* Stripe: Tan and indigo dyed yarns plain weave pinstripe pattern, a crispy blend of 55% hemp and 45% cotton, 6.8 oz., solid tan selvedge, inspired by a textile swatch from a 1930′s vintage waistcoat.
* Homespun: Natural/earth tones dyed yarns plain weave textile, a heavier blend of 68% hemp and 32% cotton, 11 oz., solid white selvedge, inspired by a turn of the century homespun French textile from a vintage South-West of France farmer blouse.
* Baja Denim: Lighter shade indigo dyed denim, 2×1 twill, 100% cotton, 6.5 oz., inspired by a specific indigo shade typical of Mexican artisan dyers of the time, selected from several vintage textiles of the area.
Again, wearing a matching set is definitely a statement, and mismatching the fabrics a good alternative. These trousers can also be paired with less 'dressy' clothes and footwear to tone them down, as often seen of period photography (out of necessity more than as a fashion statement.)
Cuffing options are up to you as well, I personally opted for a standard 1¼ fold with my own pairs.
All designed in California by Mister Freedom®, and manufactured in Japan by Sugar Cane Co. Limited edition.
SPECS:
* PATTERN: An original MFSC pattern, inspired by several vintage trousers from the 1900's to the 1930's. Elegant silhouette, for Gents not into skinny bottoms, or tights.
* FABRICS:
a) 'Stripe' option: 6.8 oz selvedge hemp/cotton woven textile. Body lined with inner 'sandwiched' (as opposed to a 'floating' lining) 100% cotton indigo dyed popeline. Arms lined with vintage 100% cotton NOS stripe plain weave fabric.
b) 'Homespun' option: 11 oz. selvedge hemp/cotton woven textile. Front panels lined with inner 'sandwiched' 100% cotton indigo dyed popeline (unlined rear panels for this option). Arms lined with vintage 100% cotton NOS stripe plain weave fabric.
c) 'Baja Denim' option: 6.5 oz. indigo dyed denim 2×1 twill, solid white selvedge, 100% cotton. Body lined with inner 'sandwiched' 100% cotton indigo dyed popeline. Arms lined with vintage 100% cotton NOS stripe plain weave fabric.
DETAILS:
* Higher rise, fit seat and fuller legs.
* Wide waistband with double button closure.
* Selvedge leg side seams.
* Thin belt loops, trousers style.
* "Italian" type front pockets, with fabric selvedge fold and early European arcuate decorative stitch.
* "Smiley" type rear welt pockets, with arcuate stitch. MF®, again putting a smile on your buns.
* Four button fly.
* Corozo wood buttons, aka 'coconut wood'.
* Adjustable side cinch straps with French NOS metal slider buckles.
* MFSC stripe ticking 100% cotton waist lining and pocket bags. Fly facing with all cotton unbleached popeline.
* 100% cotton tonal stitching.
PACKAGING: An original MF® printed denim draw string bag, reusable as a grocery bag, hand-made in our Los Angeles studio.
SIZING/SHRINKAGE:
All three fabric options come RAW (unwashed). We recommend cold soak and line dry, which will result in minimal shrinkage and no color loss. All Hacendado trousers will ultimately shrink to tagged size. Fuller shrinkage will be obtained with gentle machine cycle and low heat dryer, at your own risks.
The hemp/cotton blends will retain the desirable wrinkle effect typical of linen type textiles and 'tropical' look.
The waist fit is 'generous', so if you are an actual 32" waist, get a marked 32 (see below fit pix of stripe hacendado trousers, waist 32, rinsed and hung dry, with extra Pelvis shot 😉
Refer to sizing charts below for approximate measurements:
Available RAW/Unwashed.
Waist SIZE 28, 30, 32, 34, 36, 38
(Length after rinsing 34")
Retail $539.95
Call 323-653-2014 or email sales@misterfreedom.com to get yours while they last. We ship internationally to select Countries. As always, thank you sincerely for your support.
Comments
comments