Mister Freedom® MFSC "El Jefe" Henley Shirt
'Viva la Revolución' Collection, Fall 2012
It is now time for the first installment of the final chapter of our "Viva la Revolución" MFSC Fall 2013 collection. To warm things up, let's start at the top and introduce 'El Jefe'…
Not a very common feature of Henley type shirts is the off-set front placket of some early models. This off-centered undershirt opening was an added protection against the cold and winds, leaving the neck fully covered when a top garment was worn.
See two vintage examples here, with the close-up of that hysterical woven label… and its roughly 33 1/3 % wool fiber content, give or take 😉
You sometimes can spot these types of shirts in old period movies. Also in Darius Kinsey style photographic works of woodsmen and other 1900's~30's delicate creatures. Below, the fellow on the left appears to be wearing an off-set Henley undershirt or union suit  (20's? from the 'Kinsey Photographer' book ISBN 1-884822-22-3).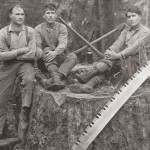 Undershirts made of brushed cotton fleece (pilou in French) were a popular winter layer in the Old World, while the New World had preferred the cotton/wool knit jerseys, or the later waffle 'thermal' still used today.
For 'El Jefe', we chose 100% cotton brushed fleece with heathered pattern, in two color options. The heather pattern is unlike the typical athletic type fleece, but rather unique with a very un-even random repeat (something programmed machines do not like.)
The construction as well was a bit of a challenge for the factory since we wanted a 'poncho' type cut, ie. a single panel folded in half with no top shoulder seam. We're crazy like that.
This made the neck opening cutting stage more complicated and time consuming than the usual front/back two panel construction (because the neck hole is in the middle, you cannot start the electrical cutter from the edge of the fabric.)
The sleeves are intentionally cut to fall a bit above the cuffs, an acquired taste and feature often seen on military winter underwear clothing, so that the under layer remains concealed under the uniform. It also somewhat prevented a sleeve to get caught in machinery.
'El Jefe' is quite warm and can be worn either as a layer or a outer piece, tucked in or out according to your mood or religious beliefs.
Designed in California by Mister Freedom®, made in Japan in collaboration with Sugar Cane.
SPECS:
PATTERN: An original MSFC pattern, inspired by early European Henley type winter undershirts.
FABRIC: Mid weight 100% cotton fleece, soft brushed back, heather pattern with tightly woven cotton sateen button placket. Made in Japan. Two color ways
a)  Natural heather with off-white cotton sateen placket.
b) Grey heather with slate blue cotton sateen placket.
DETAILS
* Single panel fold, 'poncho style' body.
* Off center front button placket
* Natural horn cat eye button front closure.
* 3/4 type sleeves.
* Adjustable gusseted cuff button closure.
* Coverstitch construction, 100% cotton tonal thread.
* Made in Japan.
SIZING/WASHING:
I am a medium in 'El Jefe', with a comfortable fit.
We recommend regular gentle cycle washing and line dry. Minimal shrinkage with this cotton fleece, a medium will shrink to tag size. Like with mid weight 'sweat shirt' type textiles, fleece stretches slightly when worn.
Please refer to chart below for raw/washed & dried approximate measurements.
Available Raw/unwashed
Size S, M, L, XL, XXL
Retail $229.95
Visit our webstore or brick and mortar in Los Angeles to get yours.
Thank you for your support 😉
Comments
comments