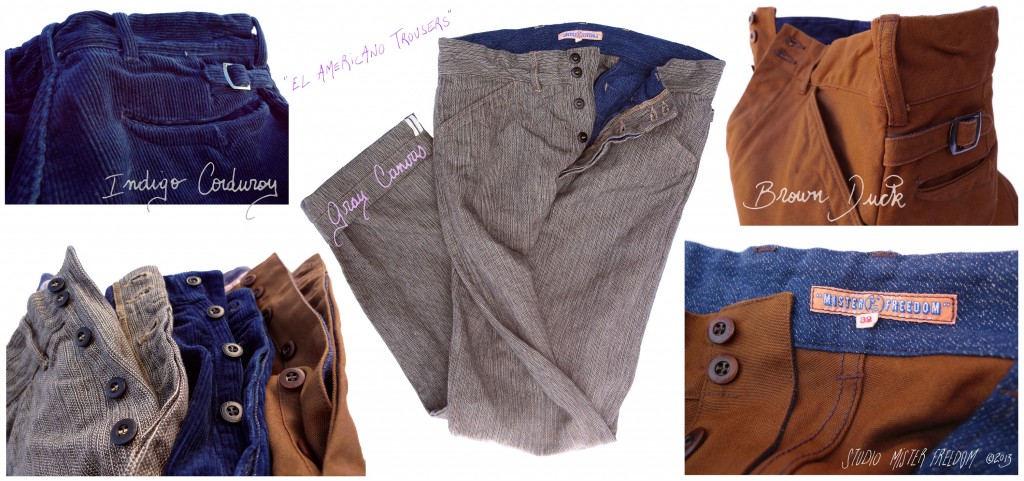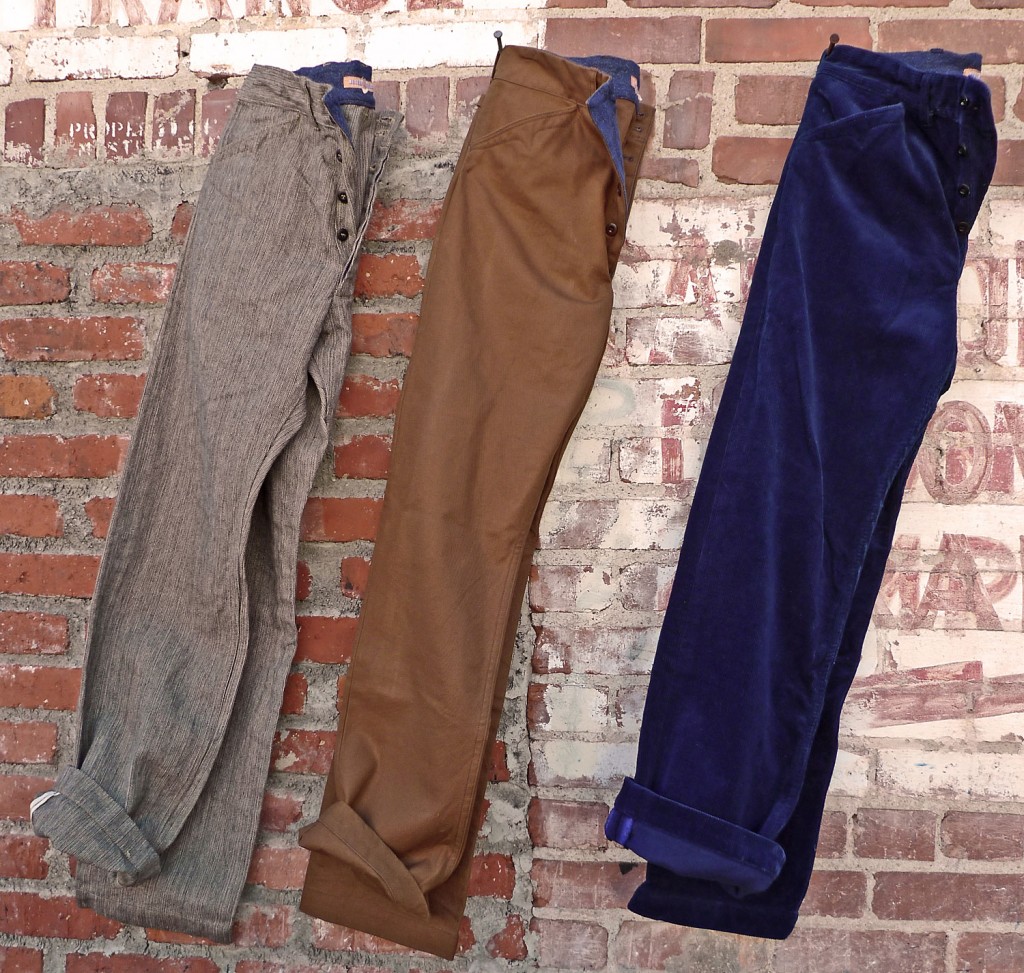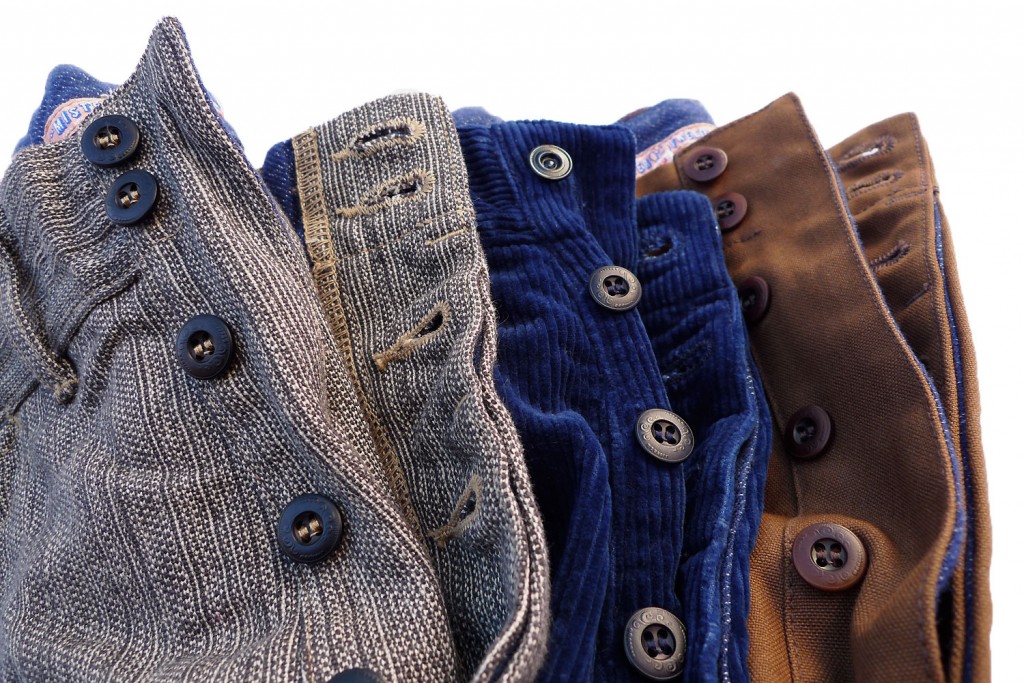 "Trousers El Americano"
Fall 2013 'Viva la Revolución' mfsc Collection
You are now familiar with "El Americano", the friendly fella introduced in the Fall 2013 chapter of mfsc "Viva la Revolución" collection…
You had been warned that, following the three 'El Americano' waistcoats and blousons, the final custom order to François, ze recently immigrated tailor of La Calle Primera in Ensenada, included a set of trousers.
For those who have no idea what I am talking about, believing I should lay off the peyote at work, just you wait…
In the Fall of 1492, Cristóbal Libertad, the eldest son of an Andalucía born conquistadore whose horse had…
Por favor!!!!
Alright already… You deserve a break for the Holidays, so here is the short version, to everyone's relief.
This is the ultimate chapter of our "Viva la Revolución" saga, spanning Spring and Fall 2013.
The style of these here trousers is inspired by 1920's-30's type gentlemen slacks, from the olden days when a man's waist rose above hip bones and trousers were not yet used as tourniquet devices…
Wide waistband with skinny belt loops, pocket decorative arcuate stitch, adjustable side straps, 'smiley' back pockets are a few period elements we played with for the 'El Americano Trousers'.
Three entirely different fabrics were developed for 'El Americano Trousers', all milled and dyed in Japan exclusively for mfsc. These options are:
a) Brown Duck (Medium-light weight, softer hand)
b) Grey Covert Stripe (medium weight, stiff)
c) Indigo vat dyed Corduroy (heavy weight, softer)
Although individual patterns were made for each fabric, and the cut remains the same, fabric thickness determines the drape of a garment. Heavier and stiffer fabrics having less drape (less flow) than lighter ones, the trousers in indigo corduroy will look/feel different from the brown duck version.
For pocket bags and waist lining, we are using our staple 8.5 Oz. indigo covert fabric previously introduced this season, an indigo dyed yarn covert twill, milled in Japan (originally the lining of a pair of gentlemen's vintage trousers from the 1890′s)
Of styling and such:
These trousers can be dressed up or down, according to your preferences and personal style.
I quite like the time-tested classic cocktail 'trousers/leather jacket/engineer boots', somewhat of a 'Treasure of the Sierra Madre' vibe… (The hat is a vintage Dobbs, available at your local flea market)
To those considering such an outfit too 'costumey', I would mention that I have witnessed, on many occasions, that systematically selecting one's wardrobe according to the current year can have brutal consequences.
Living in fear of a 1990's selfie popping up on FaceBook can be stressful. You know, the one featuring a mind-boggling C.A. designed garment on a relative's back?
Assuming you are sane, I believe you can pull almost anything as long as you are comfortable with it. If you have doubts, don't expect them not to transpire.
Own it, or don't do it.
As a general rule of thumb however, don't let strangers tell you what to wear, that's what house mirrors are for 😉
Designed in California by Mister Freedom® and manufactured in small ethically run factories in Japan by Sugar Cane Co.
SPECS:
PATTERN
An original mfsc pattern, inspired by 1920's-30's gentlemen slacks.
FABRICS
a) Brown Duck : selvedge 100% cotton canvas, 13 Oz.
The inside part of the yarn being lighter in color than the outside of the yarn (same as that of the 1930′s hunting jacket with its amazing patina that inspired it) this fabric will age nicely with repeat wear. Milled in Japan.
b) Grey Covert Stripe: selvedge 60% cotton and 40% linen heavy canvas with a random stripe pattern. The random repeat makes this fabric look halfway between a covert (salt & pepper) and stripe type textile. Technically 12 Oz. it feels heavier because of the yarn gauge and the original stiffness of linen. It takes an entire day to mill about 17 meters of that fabric, on old shuttle looms. The factory was thrilled… Milled in Japan.
Fabric inspired by a vintage 1943 bag from the Swiss military.
c) Indigo Corduroy: Mid wale 100% cotton corduroy. 14.5 Oz. Indigo vat dyed. Very deep dark indigo shade. Soft, cozy and warm. Milled and dyed in Japan.
DETAILS
* Straight leg, 20's~30's gent slacks type silhouette, higher rise, MF® revisited.
* Adjustable side straps with vintage NOS metal slide buckles.
* Clean side seam: Selvedge for duck and covert options, indigo popeline tape for corduroy.
* Double button waist closure (please note that the corduroy option has one single metal rivet button, due to bulkiness of fabric)
* Button fly. 'Art Deco' type corrozo buttons.
* Indigo covert fabric pocket bags and waistband lining.
* Trousers thin belt loops (not five pocket jeans like)
* Decorative arcuate stitch on pockets, an early European tailoring detail.
* 'Smiley' type rear welt pockets.
* Lap seam (aka caballo machine) seat and inseam construction
* Made in Japan
SIZING/WASHING
All fabrics will shrink to approximately the same tagged size after an original cold soak/line dry cycle. Raw measurements might differ due to the way each fabric shrinks.
Hand washable with line dry or professional eco-friendly dry cleaning.
Length: Overall inseam is 34 inches with a 1½" inside fold.
For the Indigo corduroy "Trousers El Americano", some crocking is to be expected when pairing with light colored garments. Indigo 'stains' from rubbing wash off eventually.
I wear from waist 30 or 32 in mfsc pants and I opted for a 32 in these.
True to size but refer to chart for rinsed/hang dry measurements.
Do not use hot water or machine dryer as this might result in excessive shrinkage and color loss.
Available raw/unwashed
Waist sizes 28, 30, 32, 34, 36, 38
Retail:
a) El Americano Trousers, Brown Duck $499.95
b) El Americano Trousers, Grey Covert Stripe $499.95
c) El American Trousers, Indigo Corduroy $549.95
Available from www.misterfreedom.com and a few select fine retailers Worldwide.
Call the store at 323-653-2014 with any questions not answered above, or mail sales@misterfreedom.com
Thank you for your support.
Comments
comments