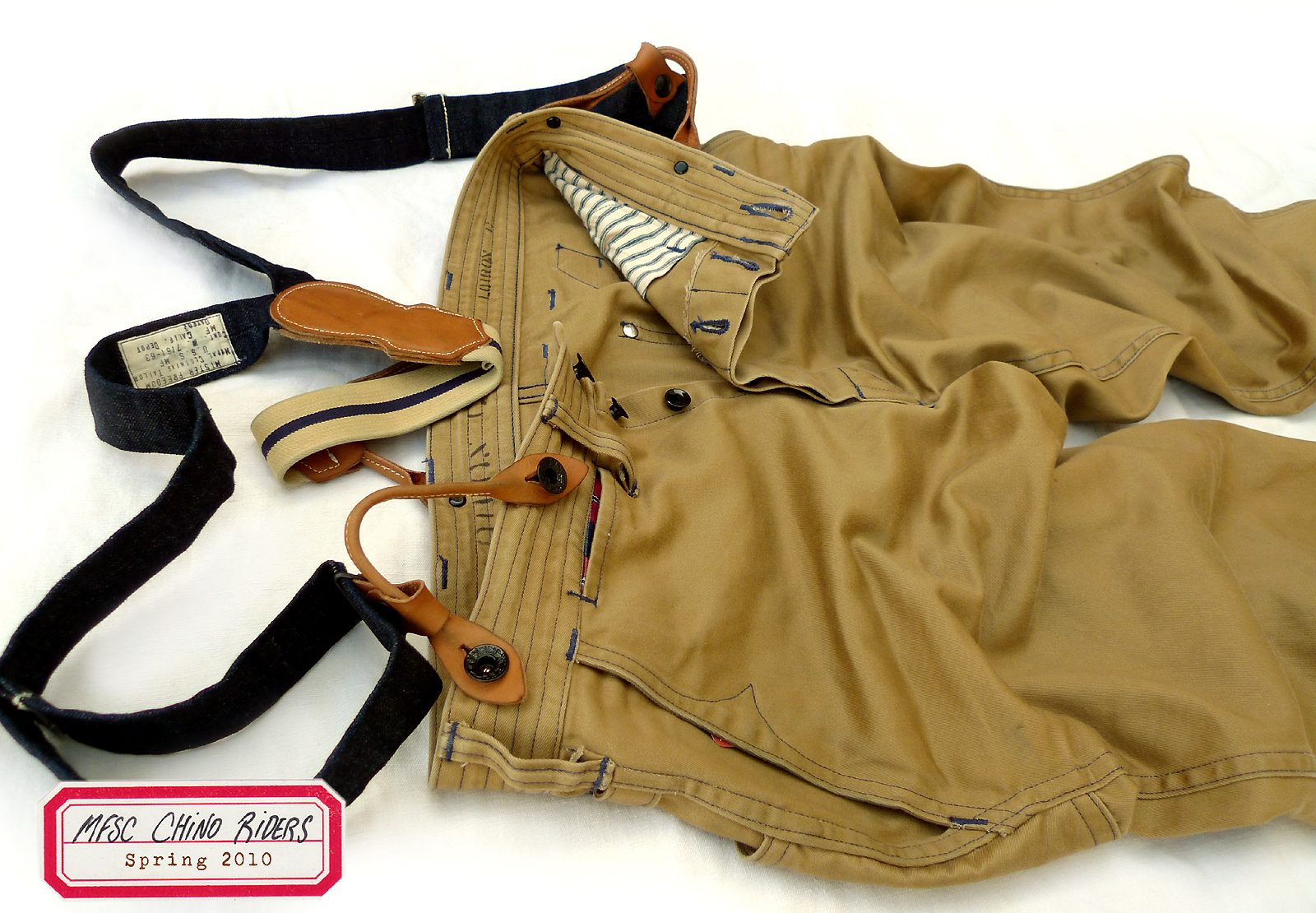 First off we want to thank all of you for your support during the "Inspiration" Show at Barker Hanger. It was great to meet and put faces on some we knew only virtually. We're proud to have you on board.
Because when it rains it pours, we received the cargo of the Spring 2010 MFSC "Chino Riders" while at the show.
But we couldn't be happier!
Here are the specs:
* An all original MFSC pattern, same as our "Riders Dungarees", with a 1/2 inch higher rise
* 1930's slacks silhouette, mid rise.
* 1940's USAF specs Chino Twill fabric, 100% cotton, Sand colour.
* Donut metal crest suspender buttons. (MF® original Utility Braces available soon!)
* Painted black metal donut button fly. 
* Cotton twill stripe ticking lining for all pockets (white/indigo).
* Side cinch straps, 30's style.
* Two front slash pockets (with arcuate), two "never rippum" back pockets, two ankle 'map' pockets.
* 100% cotton navy colour stitching.
* Wide rear 'no sag' belt loop with rayon MFSC "SpeedSafe" label.
(Available RAW/unwashed. Sizes 28×30, 30×31, 31×31, 32×32, 34×32, 36×34, 38×35. Retail $399.95)
Call (323) 653-2014 or mail john@misterfreedom.com to get yours while they last. We ship internationally. Thank you for your patience in answering Emails, we're all beyond swamped. For recuring sizing and fit questions, be sure to search/read the MF thread on superfuture, valuable infos and feedback.
For MF® store address and cross street blablabla, please check store info page or put that Iphone map to good use. Thanks for your understanding and support.
Comments
comments