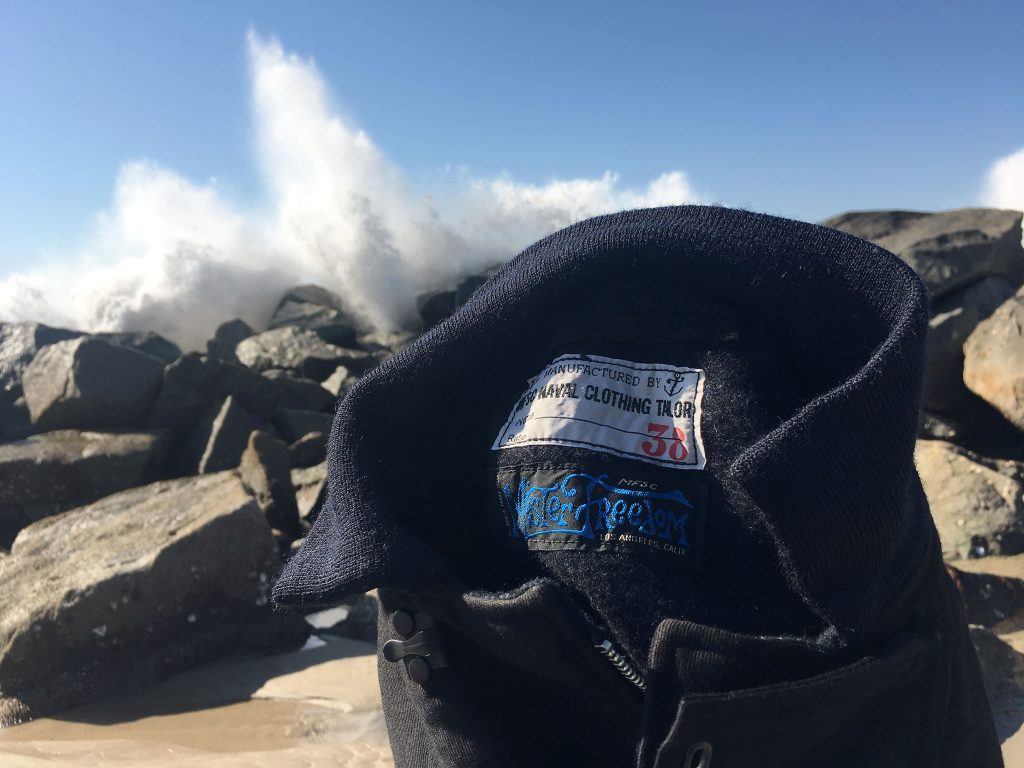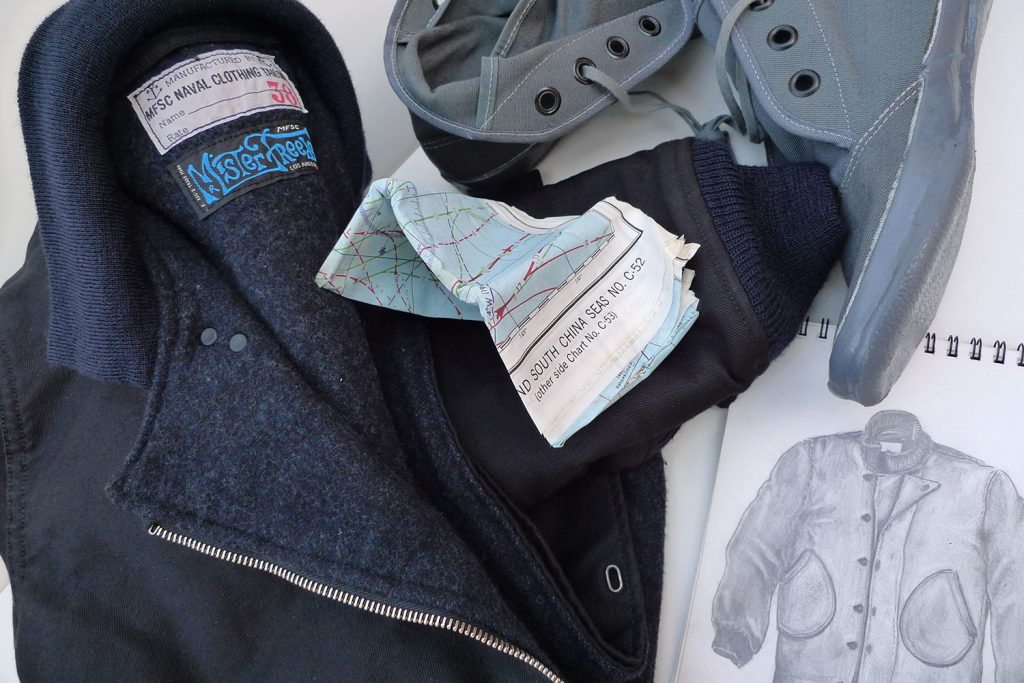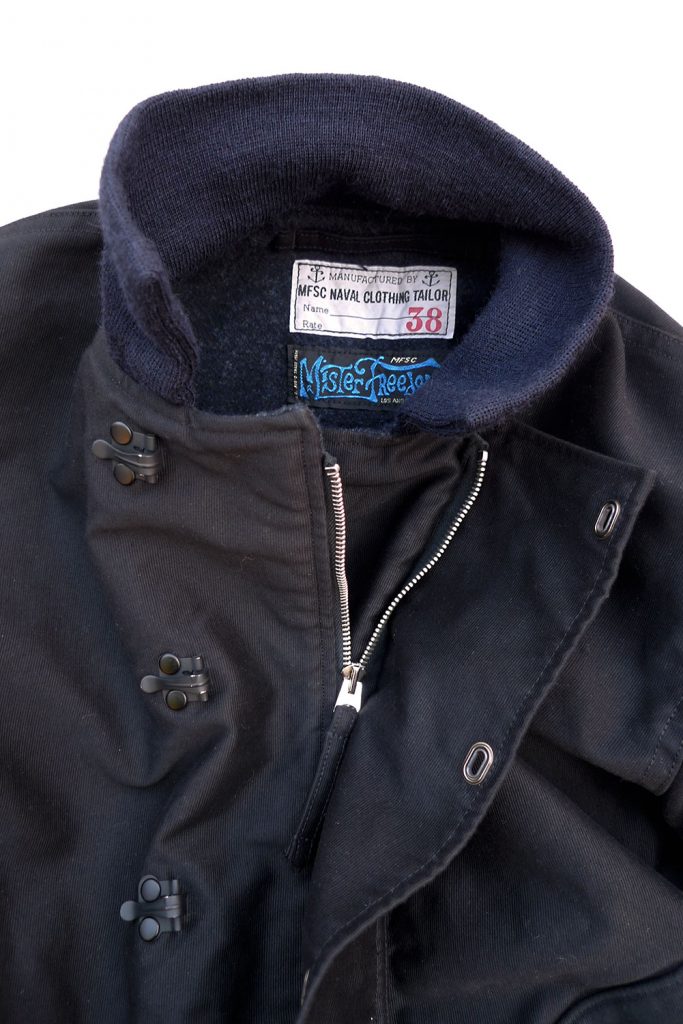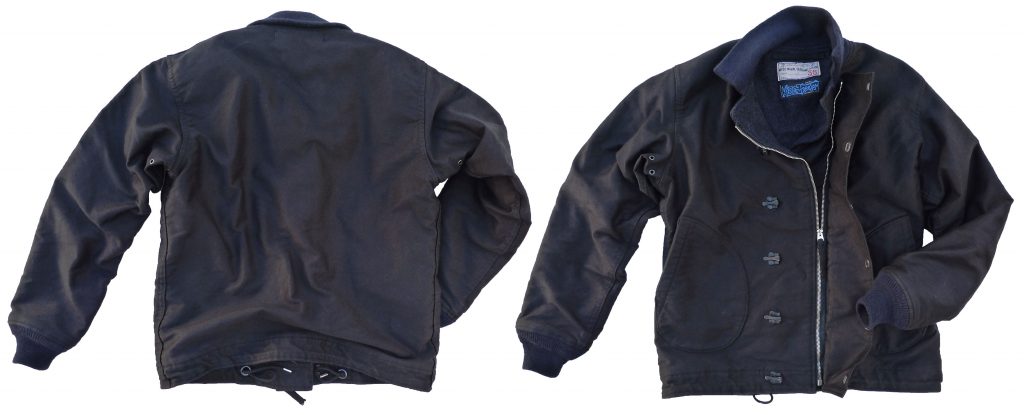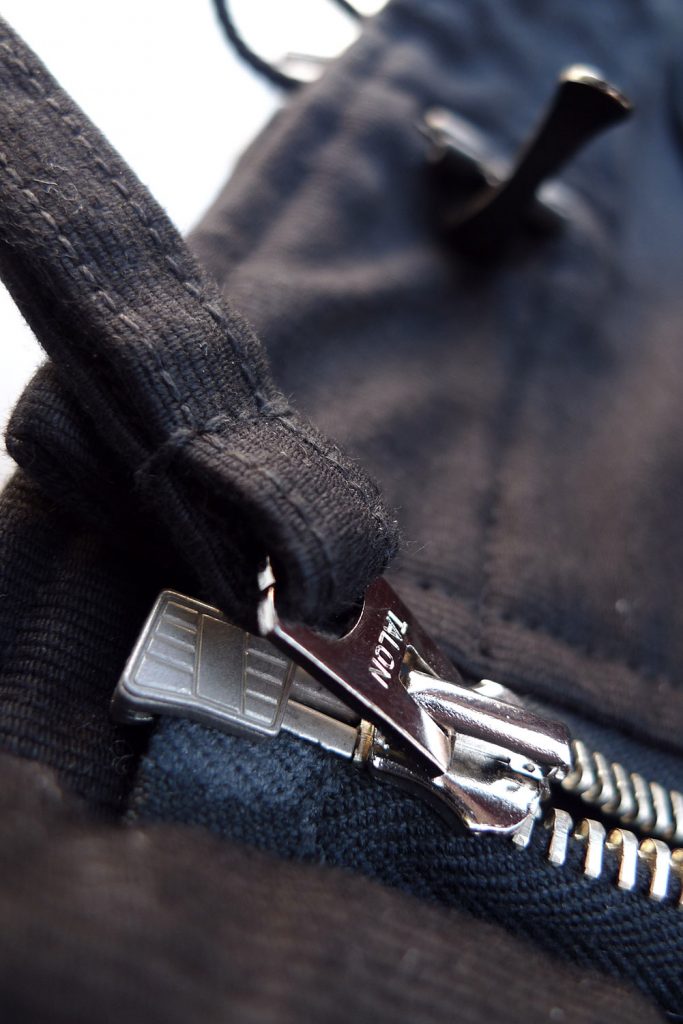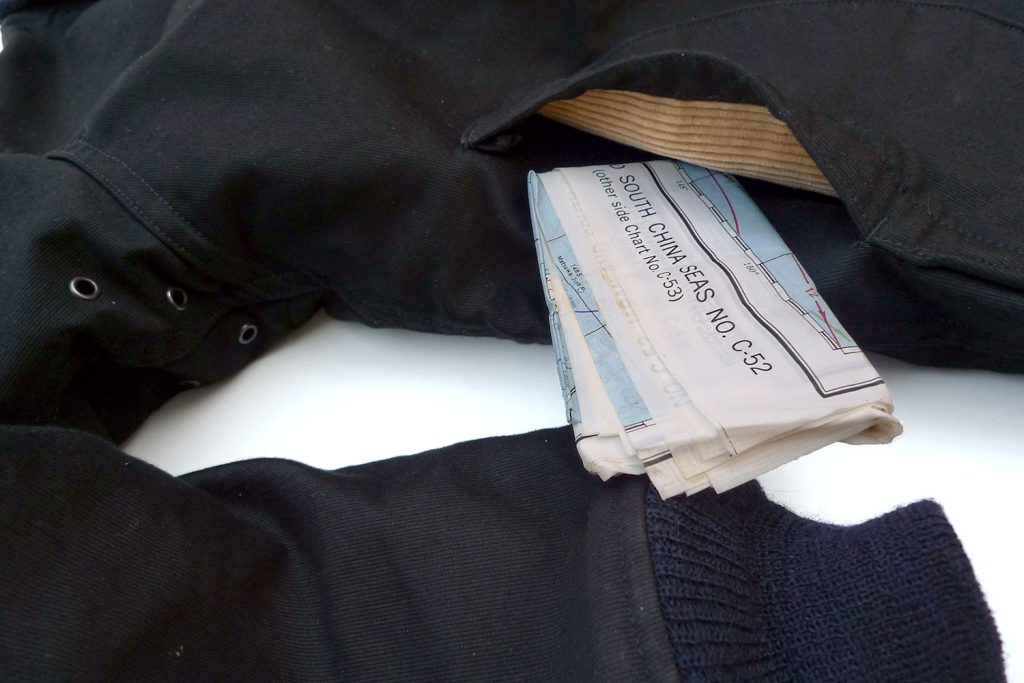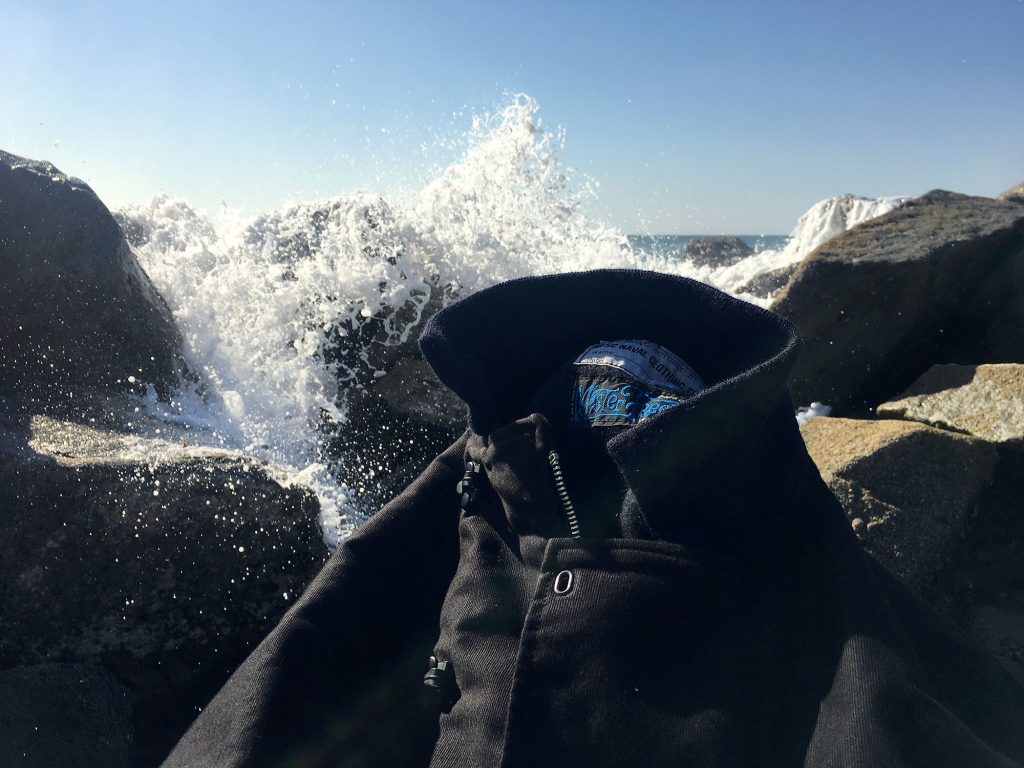 Mister Freedom® Type N-1H mfsc Deck Jacket, black jungle cloth edition
Fall 2016 mfsc Anniversary Collection
We are dropping another heavy hitter this season, a foul weather contender in the Fall 2016 Anniversary Collection celebrating ten years of fun collaborations with our friends at Sugar Cane Co and Buzz Rickson's (Toyo Enterprises).
This jacket will be our fifth iteration of the iconic military naval "Deck Jacket", now-familiar to heritage fashion circles. Check out the MF® chronological timeline, summarized while introducing the indigo version of our "Blouson De Quart" (a reference to the French Marine Nationale deck jacket).
This N-1H Anniversary issue is a nod to our original model, released in 2008 during the early nautical adventures of the "MFSC Naval Clothing Tailor" collection. Our first N-1H (the added H was for hook), issued in navy blue jungle cloth and wool blanket-lined, was a hybrid of several Government-issued foul weather jackets. Its design mixed periods and specs of vintage 1940's and 50's US Navy deck jackets, sought-after collectibles today.
The Fall 2016 edition of the Type N-1H Deck Jacket's specs are similar to those of its 2008 predecessor. One stand-out difference is the shell color. We opted for a black 100% cotton grow grain jungle cloth, complimented by an attractive heather dark navy blue wool lining. This soft-hand lining (a non-itchy blend of 90% wool and 10% nylon) is backed by an inner rayon fabric layer, a reference to the crunchy wax-coated organdy layer of early USN deck jackets. Please note that we went for a 'quieter' wind-proofing material for this issue, as the crinkly noise of our 2008 model tended to interfere with sound mix on movie sets!
The 2016 N1-H performs pretty much as its predecessors did, i.e. appropriate for moderately-cold weather. We wanted an in-between season garment with this deck jacket, rather than a full-on winter coat such as the recently-released alpaca-lined indigo Blouson De Quart.
According to your tolerance level of cold temperatures, the black N-1H might not be a good choice for prolonged exposure to extreme winter conditions while in the field. There are better options out there if you're planning to take on the Everest. However, with appropriate layering, you'll be fine for chilly winter evenings in California and under other mild temperate climates.
On a side note, if I personally plan on leaving my indigo Blouson de Quart as-is and let a natural indigo color patina develop over time, I might wax my black N-1H in the near future, for partial waterproofing and for the rather interesting resulting leathery effect.
The Type N-1H Deck Jacket, black jungle cloth issue, 2016 mfsc Anniversary edition, is designed in California by Mister Freedom®, and manufactured in Japan by Sugar Cane Co.
SPECS
FABRIC:
* Shell: Solid 14 Oz. "Jungle Cloth", black 100% cotton grosgrain fabric, period mil-specs, milled in Japan.
* Body Inner Lining: 100% rayon fabric wind-proofing concealed layer.
* Lining: Soft hand, non-itchy blend of 90% wool and 10% nylon fabric.
DETAILS:
* Freely inspired by 1940's-1950's vintage US Navy foul weather-type deck jackets issued to enlisted naval personnel.
* Double front closure featuring both a 1950's-type TALON zipper, and a wind flap secured by 1940's-type clip hooks.
* Full lining, soft-hand wool/nylon blend.
* 'Silent' inner wind-proofing layer, 100% rayon fabric.
* 100% wool knit collar and cuffs, navy blue color.
* Cinch-string bottom.
* MF® teardrop hand-warmer pockets, lined with golden brown cotton corduroy.
* Underarm ventilating eyelets.
* Tonal poly-cotton thread stitching.
* Limited Ten Year Anniversary Edition.
* Double labeling, original MF® and mfsc woven labels.
* No outside military markings.
* Made in Japan.
SIZING/FIT:
We had these jackets professionally rinsed. NOT distressed, but gently rinsed and tumble-dried. No shrinkage guessing.
Our black edition N-1H is pre-shrunk, and true to size. I wear a comfortable 38 in this coat, with room for a thick shirt or wool sweater underneath.
Like most ready-to-wear garments not made from stretch fabric or cut as a poncho, our N-1H might not satisfy everyone's body type expectations. In general, the consensus is to go with your usual size in mfsc jackets.
We have taken the measurements to the best of our abilities. Refer to our sizing chart and remember that measurements are from the outside of the fabric.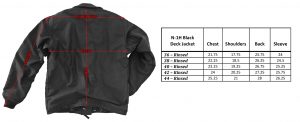 CARE:
Please DO NOT attempt to wash this jacket in a home washing machine! You risk ruining both machine and jacket. The N1-H weights quite a bit when wet, the metal hooks will get snagged, the black jungle cloth fabric will get marbling marks etc…
IMPORTANT: Treat your zipper as you would a vintage one, rub wax to lubricate at times, and use common sense rather that brute force to zip and unzip, making sure tabs line-up when zipping.
Activities and frequency of wear will obviously dictate when cleaning is needed. Please use common sense with spot cleaning, or take the jacket to a professional eco-friendly cleaner. This jacket can also be hand-washed in a tub filled with cold water. Use eco-friendly detergent for delicate colors. Hang to dry.

Available rinsed/pre-shrunk.
Sizes
36 Small
38 Medium
40 Large
42 X-Large
44 XX-Large
Retail $799.95
Available from www.misterfreedom.com, and our Los Angeles brick & mortar store.
Email sales@misterfreedom.com or call 323-653-2014 with any questions unanswered above.
Thank you for your support.
Christophe Loiron
Mister Freedom®
©2016
Comments
comments