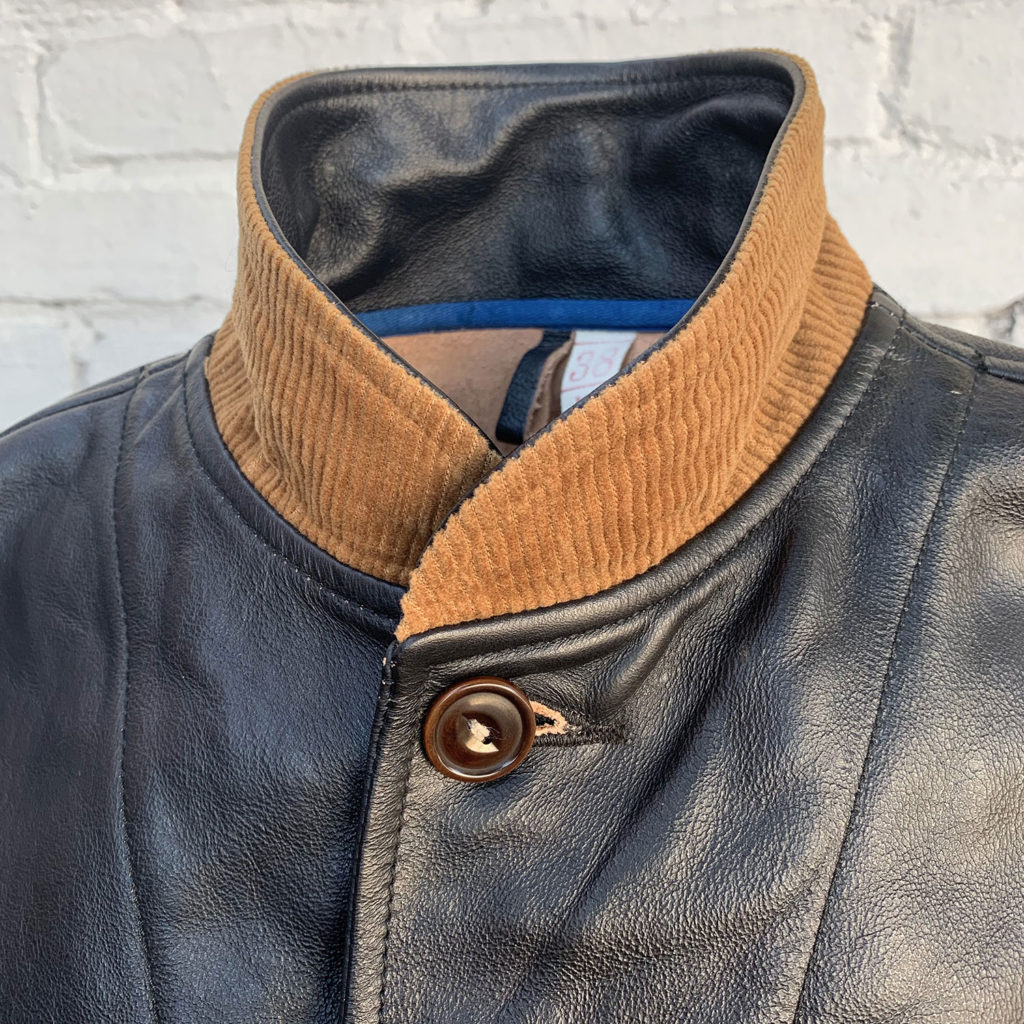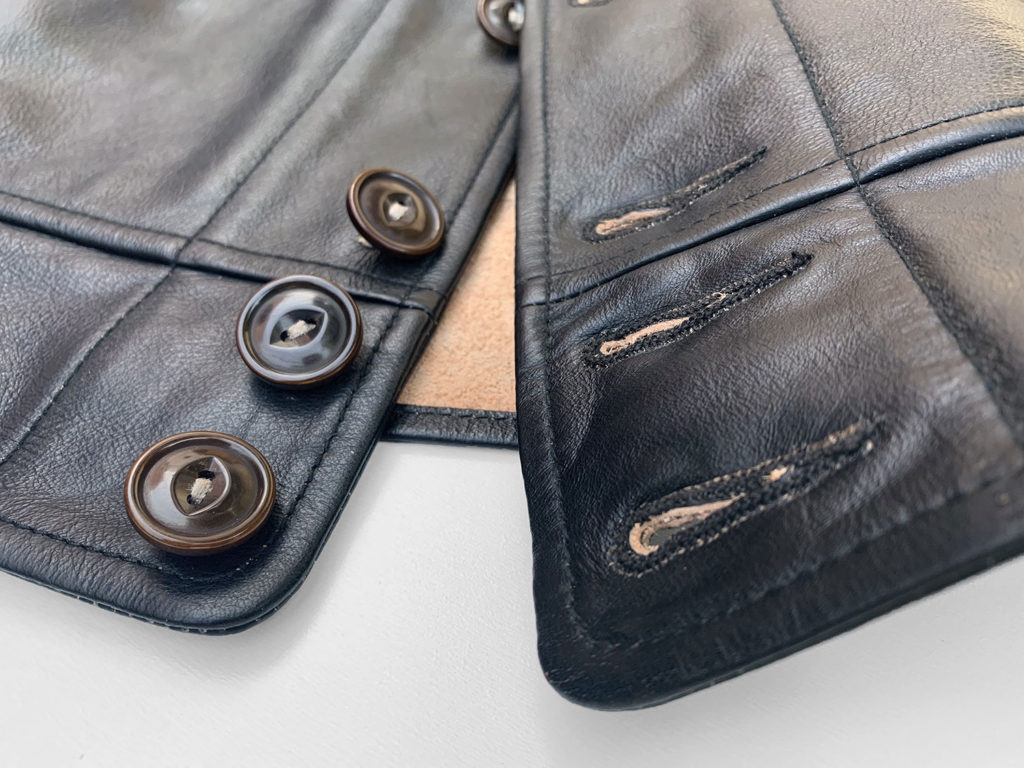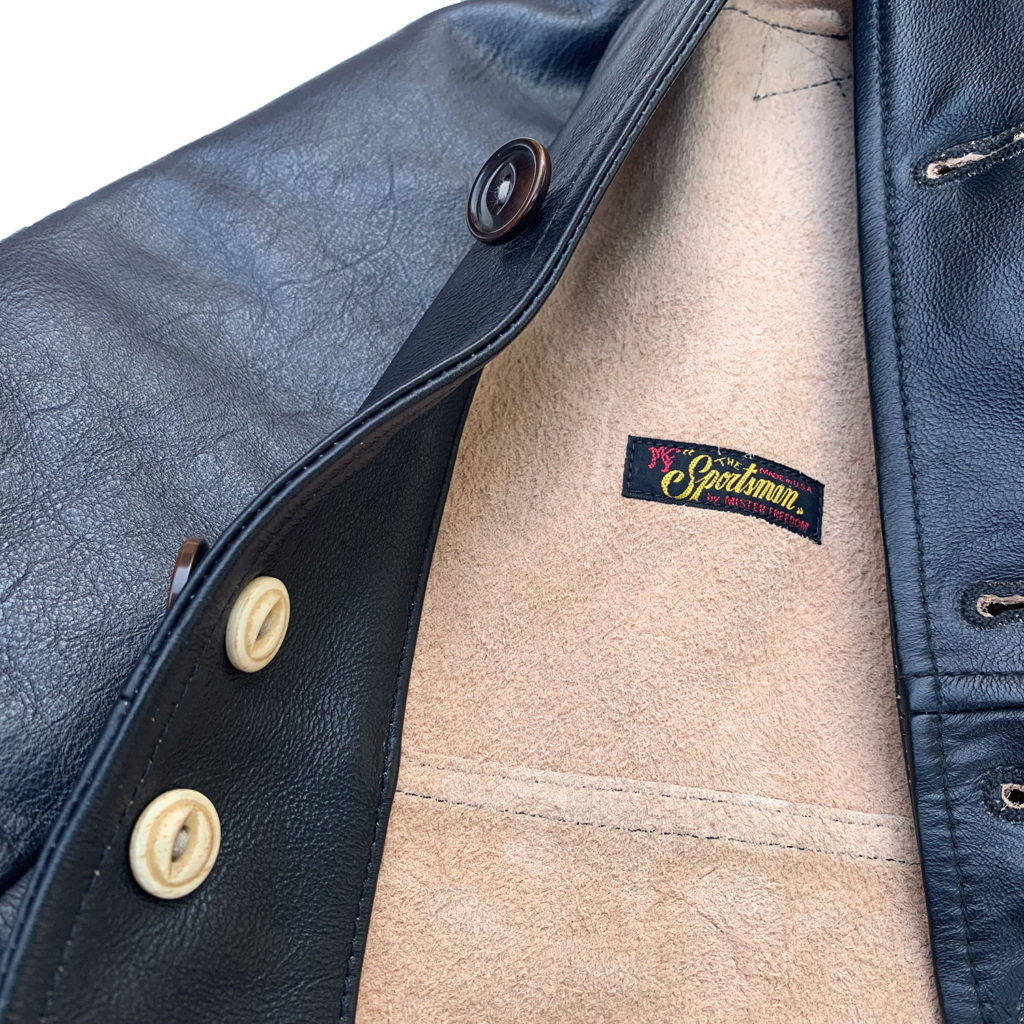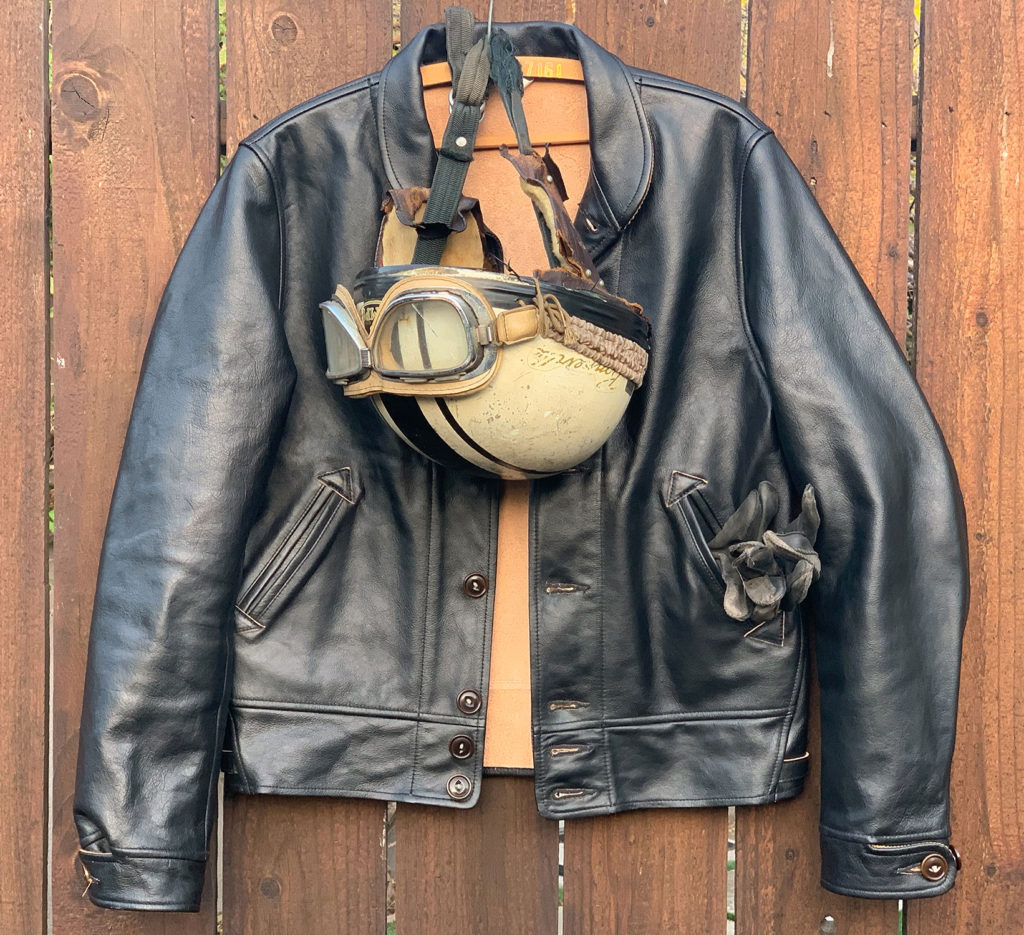 Mister Freedom® "STALLION" Campus Jacket, black veg-tan 'Tea-Core" cowhide leather.
Fall 2019 mfsc Sportsman catalog.
Made in USA.
We have been working on this project for quite some time now, and are quite thrilled to announce that… it's a wrap, the MF® Campus is, not only back in black, but "tea-core" black!
A term today familiar to vintage leather jackets/boots collectors and heritage fashion aficionados, "tea-core" leather refers to an old-school tannery dyeing method, distinct from the more commun dip-dyed method. "Tea-core" dyeing results in the skin side color being different from the flesh side color. Traditionally, to achieve this, hides are first dip-dyed in a light brown color. This is followed by spraying the skin side with a darker color top-coating. Japanese industry experts refer to this type of leather as Cha-Shin (茶芯), Cha meaning brown, and Shin meaning core. It is a sought-after characteristic of vintage engineer boots and older leather jackets.
This dyeing method is often considered undesirable by major brands (from car seat manufacturers to garment makers), as tea-core leather offers poor 'colorfastness'. The thin topcoat wears-off overtime, gradually exposing the lighter tone of the under layer. If the fast-aging quality of "tea-core" leather is considered a defect by some, it contributes to a rewarding and desirable patina for others.
Sourcing black-dyed leather in the market in not difficult, but, ever in the front row of the soup sandwich line, the MF® Design Dept wanted something a bit more 'special' for this black iteration of our traditional "Campus Jacket". Initially introduced in 2013 in the MF® signature natural 'pink' veg-tan cowhide, the mission this time was to combine the patina potential of veg-tan natural leather (a sun-tanning/wearing/conditioning journey mastered and well-documented by our friend USMC MGySgt John "VEB") with a solid black appearance. We developed this special exclusive leather with a tannery that was willing and patient enough to comply with our demands and high expectations.
After months of costly R&D, there it is!
As the jacket gets some mileage and naturally ages, normal abrasion of the black topcoat from wear will reveal the natural 'pink' underside, in turn evolving into a rich golden tone. With regular wear, with the expected nicks, scratches, water spills, natural sun-exposure and occasional conditioning with products such as Pecard Leather Dressing, the patina of your well-worn MF® STALLION Campus jacket should be nothing short of "spectacular", as our friend Daniel likes to put it.
This specific gratifying feature of our Campus jacket not only makes this garment retain a high resale value, but might also someday qualify it as a rare desirable family heirloom, should Made-in-USA wearables become a thing of the past, once small independent labels all get leveled by Fast-Fashion giants and the norms that consumerism dictates.
The MF® "STALLION" Campus Jacket in black veg-tan 'Tea-core" cowhide leather is designed and made in California by Mister Freedom®.
SPECS:
PATTERN: An original pattern inspired by 1930's sportswear 'Cossack' type unlined leather jackets.
LEATHER: Black vegetable-tanned "Tea-Core" full grain cow hide leather, black topcoat with natural-color flesh side, milled and supple, about 2-3 Oz weight. Exclusively developed for MF®.

NOTE: The Mister Freedom® Black CAMPUS Jacket is made of genuine leather. We use full-grain, and not top-grain leather (aka corrected or buffed leather, sanded to level surface inconsistencies). No two hides are alike and each panel may feature variations in texture along with natural imperfections.
DETAILS:
* 1930's silhouette.
* One piece back.
* Fully unlined, clean seams inside & out.
* Black outside color, 'pink' inside, for an attractive over time 'vintage' patina.
* Cotton corduroy collar and wrist cuff facing.
* Slash pockets with arrowhead-shaped edges.
* Side gussets with adjustable side straps (NOS metal slide buckles.)
* Keyhole button holes.
* Dark brown 'Cat-Eyes' corozo wood buttons (aka ivory nut), backed by contrasting ivory-color corozo support buttons.
* Underarm venting eyelets.
* Mister Freedom® 'The Sportsman' woven label behind the slash pocket, right front panel.
* Sturdy poly-cotton thread stitching.
* Made in California, USA.
SIZING/FIT:
The MF® "STALLION" Campus Jacket does not require any type of pre-treatment or conditioning and is ready to wear as-is. This garment is cut quite slim but is considered true-to-size.
Keep in mind that we are referring to a classic old-school type fit, not a contemporary streetwear silhouette.
I wear a size 38 in the "STALLION" Campus Jacket, my consistent size in all Campus jackets iterations, and my usual size in mfsc jackets. 
Please refer to flat measurements in chart below.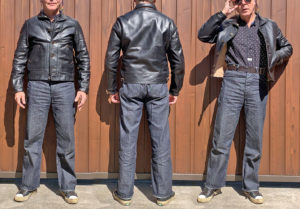 CARE:
Embrace the fact that the "Tea-Core" leather is prone to get nicked and scratched, revealing the natural color under-layer, unavoidably showing signs of wear. Occasional conditioning when needed (according to actual frequency of wear) will contribute to an attractive warm tone natural patina, and a healthy-looking leather.
We recommend Pecard Leather Dressing, following this method.
Do not use overly-greasy neatsfoot oil or leather conditioners specific to footwear. Do not try to hasten the 'vintage look' by excessively conditioning the leather, as this will only result in the garment looking 'wet'.

Note: Some shedding of the leather 'flesh' side may occur temporarily and leave (brush-able) flecks visible on dark shirts. This light shedding will eventually subside with normal wear.
Available Sizes:
36 (Small)
38 (Medium)
40 (Large)
42 (XLarge)
44 (XXLarge)
Available from www.misterfreedom.com, our Los Angeles brick & mortar store, and fine retailers around the World.
Email sales@misterfreedom.com or call 323-653-2014 with any questions unanswered above.
Thank you for your support.
Christophe Loiron
Mister Freedom®
©2019
Comments
comments