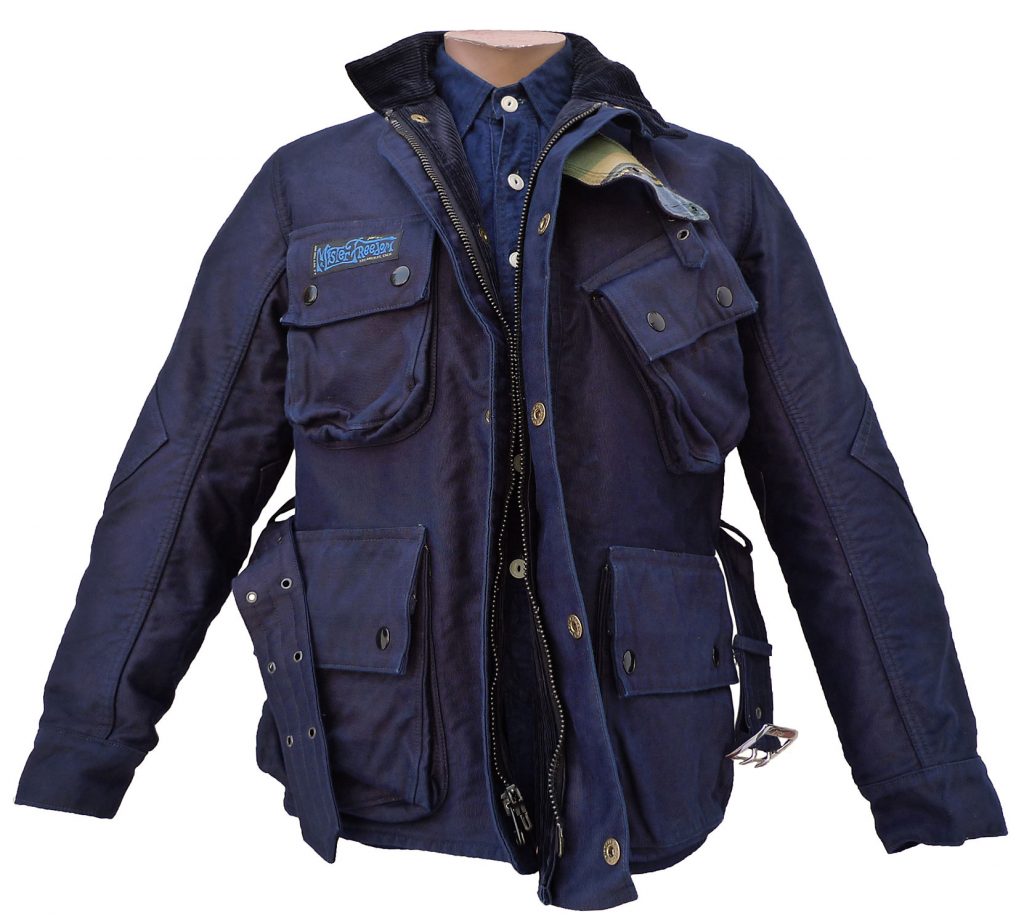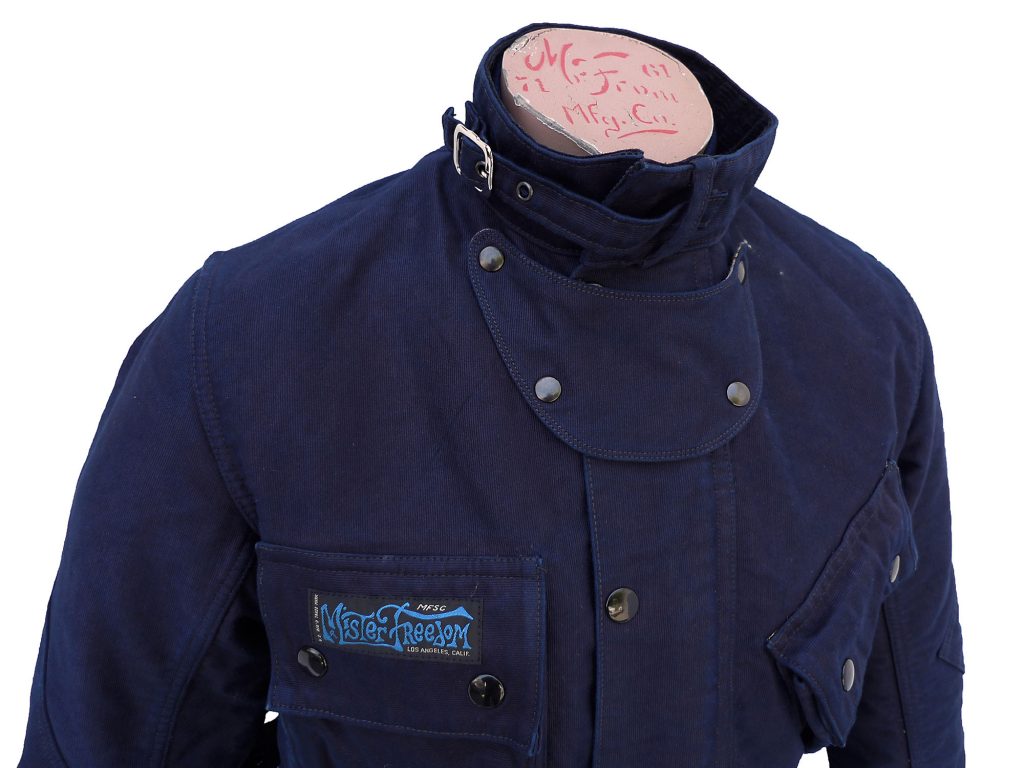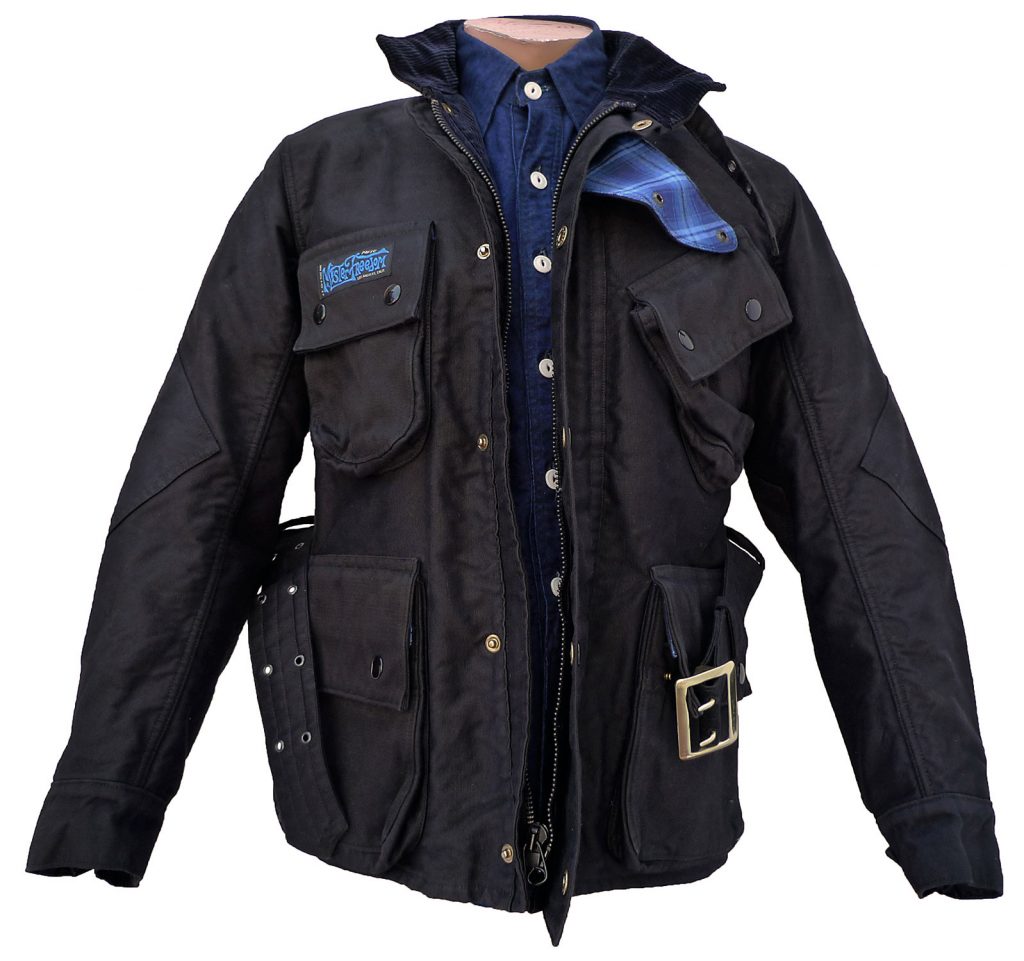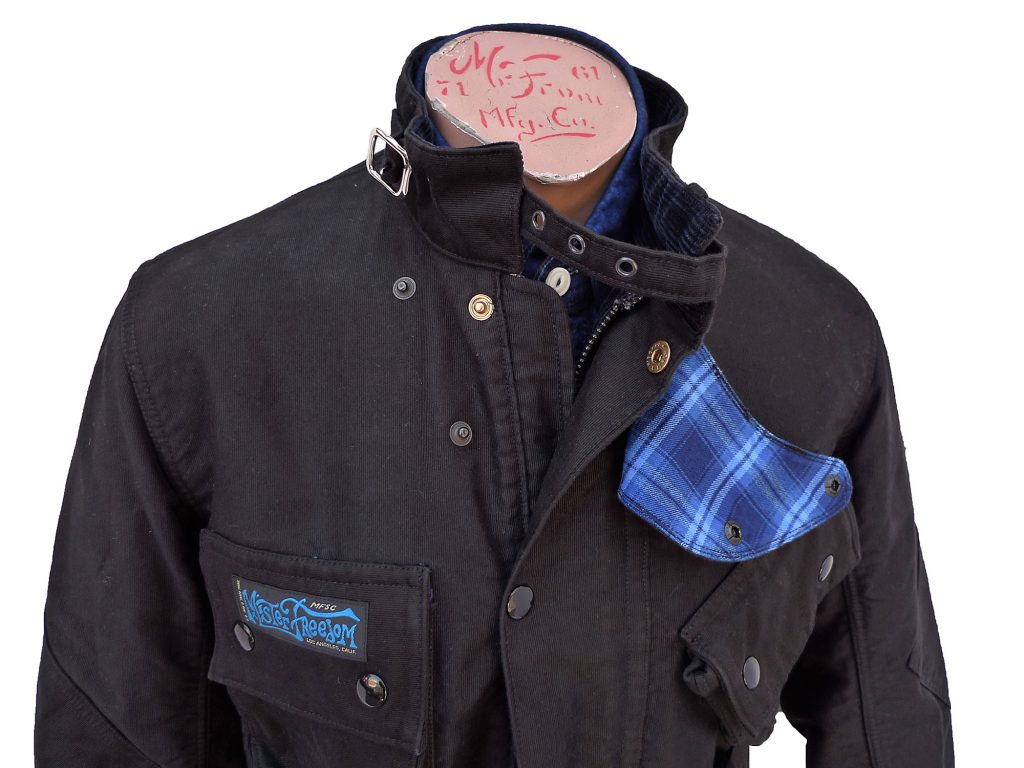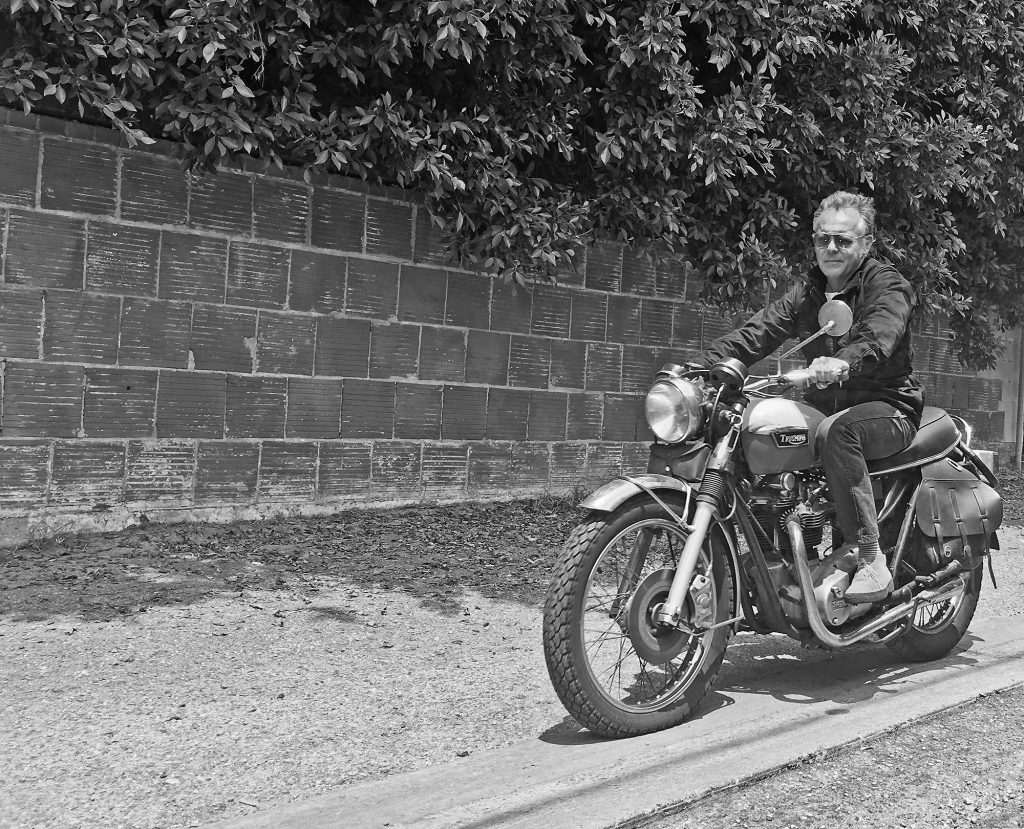 Mister Freedom® Mulholland Jacket, Indigo and Black jungle cloth Edition
Fall 2016 mfsc Anniversary Collection
Made in Japan
We're about to cross the finish line for our Fall 2016 10th Anniversary collection, so we figured we'd do that with a checkered flag and on two wheels . Back in 2009, we released a British-style riding jacket, part of a "Speed Safe Clothing For Modern Riders" story.
This will be the 2016 limited edition of that little number…
Today a familiar silhouette in fashionable menswear, the origins of the classic "A7 jacket" arch back to the mid 1930's. The jacket's design, with its instantly-recognizable pattern featuring that single slanted chest pocket, emerged out of the UK. Originally developed by J. Barbour and Sons for the military, the jacket would later be associated with typical British motorcycle oil cloth riding gear. Similar styles from competing motor-cycling apparel brands were made available, such as wax cloth pioneer Belstaff's versions.
By the 1960's recreational motorcyclists around the world, and select professional racers alike, had adopted the 'European' style riding gear fashion.
In 1964, the US Olympic Team would give the British motorcycle jacket its Lettres of Coolness during the International Six Day Trials (ISDT), with a little push from one of the official members, rider number 278.
Check out this nice photo essay.
We got the name of our humble interpretation of that classic from one of Los Angeles' famous highway, a scenic stretch of asphalt turned playground for Californian motorcycle riders, automotive speedsters and local midnight cruisers.
The Mister Freedom® Mulholland Master's pattern borrows heavily from vintage UK apparel, but also from vintage US military gear such as 1940's paratrooper outfits and BU. Aero US Navy flight jackets. It combines old school European moto style with US mil-specs fabric and hardware, keeping the 1960's vibe while giving it a contemporary fit.
Our Mulholland Master is a versatile coat. Although not water-repellent, unless properly treated with some kind of water-proofing wax (a commitment and a real endeavor if you plan on DIY…), the jacket is quite suitable for diverse outdoor activities, spanning from sunny motorcycle rides to stylish city strolls.
The shell fabric of our Mulholland Master is a 14 Oz. "Jungle Cloth", 100% cotton grosgrain, vintage US mil-specs, milled in Japan.
Two color options are available for this Anniversary edition, a jet black version, and an indigo-dyed version. The latter is the same fabric featured on the recently-released "Indigo Blouson de Quart".
The body lining consists of a 100% cotton wide-wale corduroy, dark navy blue color. Each color option features its own matching tartan, a New Old Stock (NOS) woven cotton plaid, noticeable from the pockets/arms/throat-latch lining.
At about 5 pounds per beast, the Mulholland Master is a heavy jacket. It has proved to be an extremely complicated garment to manufacture, and has been dubbed by Japanese factories as the most challenging MF®-designed garment to cut and sew, out of 10 years of mfsc daring collaborations. For the expert Toyo Enterprises factory craftsmen, already well-acquainted with the demanding Buzz Rickson's and Sugar Cane catalog, the "Mulholland Master" has become a bête noire…
For this reason, and other COO (Country Of Origin) challenging considerations, and in order to keep our Mister Freedom® garments in a certain price bracket so as to not instigate an upheaval on fashion forums, with savvy members well-versed in cost-of-goods and oh-so competent in setting responsible modern standards on garment manufacturing, our Mulholland Master pattern is likely to never be issued again.
The Mulholland Master is designed in California by MISTER FREEDOM® and produced in Japan by SUGAR CANE Co.
SPECS:
FABRIC:
Option A
Shell: Tight weave 14 Oz. "Jungle Cloth", 100% cotton grosgrain, period mil-specs, dark indigo blue color, milled and indigo-dyed in small batches in Japan.
Lining: NOS cotton woven plaid, blue dominant tartan.
Option B
Shell: Tight weave 14 Oz. "Jungle Cloth", 100% cotton grosgrain, period mil-specs, jet black color, milled in Japan.
Lining: NOS cotton woven plaid, blue dominant tartan.
DETAILS:
* Freely inspired by vintage classic British motorcycling apparel, 1940's US Paratrooper jackets and other vintage military coats.
* Four front snap flap rainproof pockets and one back snap flap pocket, for maps/tools/documents. Top right pocket secured by concealed "Conmatic" zipper. Pockets lined with NOS plaid fabric.
* Inside chest pocket.
* Belted, featuring a solid US-made brass police garrison buckle. For the rowdy type, that removable belt can turn into a quaint flail, should you survive a close encounter with a texting 'n driving genius in a SUV…
* Italian "Fiocchi" brass snaps, original manufacturer of Italian military snaps, along with their cousin counterpart Company DEWEY.
* 1950's-type US mil-specs oxidized black metal TALON zipper front closure.
* Wind flap secured by snaps.
* Removable throat latch (make sure it is securely snapped in place or store in pocket before hitting the highway!)
* Stand collar with adjustable buckle strap, corduroy-lined.
* Diamond elbow patches, M-421A BU. Aero US Navy jacket-style.
* Adjustable gusset wrist snap closures.
* Tonal stitching, cotton-wrapped poly thread.
* Made in Japan.
SIZING/FIT:
We had these jackets professionally rinsed. NOT distressed, but gently rinsed without detergent, and tumble-dried. So, no shrinkage guessing, the Mulholland Master is pre-shrunk, and true to size.
I wear a comfortable 38 in this coat, with room for a thick shirt or wool sweater underneath. In general, go with your usual size in mfsc jackets.
We have taken the measurements to the best of our abilities. Refer to our sizing chart and remember that measurements are from the outside of the fabric.
CHART
CARE:
Please DO NOT attempt to wash this jacket in a home washing machine! You risk ruining both machine and jacket. The Mulholland Master weights a ton when wet, the jungle cloth fabric will get marbling marks etc…
Activities and frequency of wear will obviously dictate when cleaning is needed. Please use common sense with spot cleaning, or take the jacket to a professional eco-friendly cleaner. This jacket can also be hand-washed in a tub filled with cold water, for the adventurous type. Use eco-friendly detergent for delicate colors. Hang to dry.
IMPORTANT: Treat your zipper as you would a vintage one, rub wax to lubricate at times, and use common sense rather that brute force to zip and unzip, making sure tabs line-up when zipping.

Available rinsed/pre-shrunk.
Sizes
36 Small
38 Medium
40 Large
42 X-Large
44 XX-Large
Retail
A) Indigo: $999.95
B) Jet Black: $899.95
Soon available from www.misterfreedom.com, and our Los Angeles brick & mortar store.
Email sales@misterfreedom.com or call 323-653-2014 with any questions unanswered above.
Thank you for your support.
Christophe Loiron
Mister Freedom®
©2016
Comments
comments