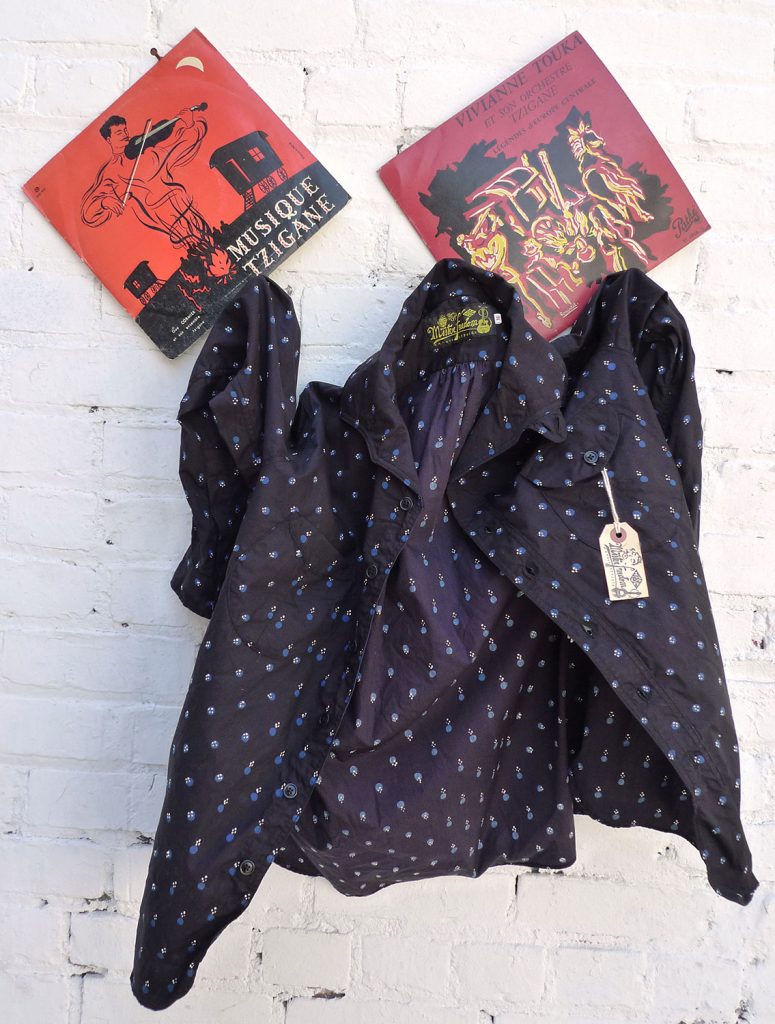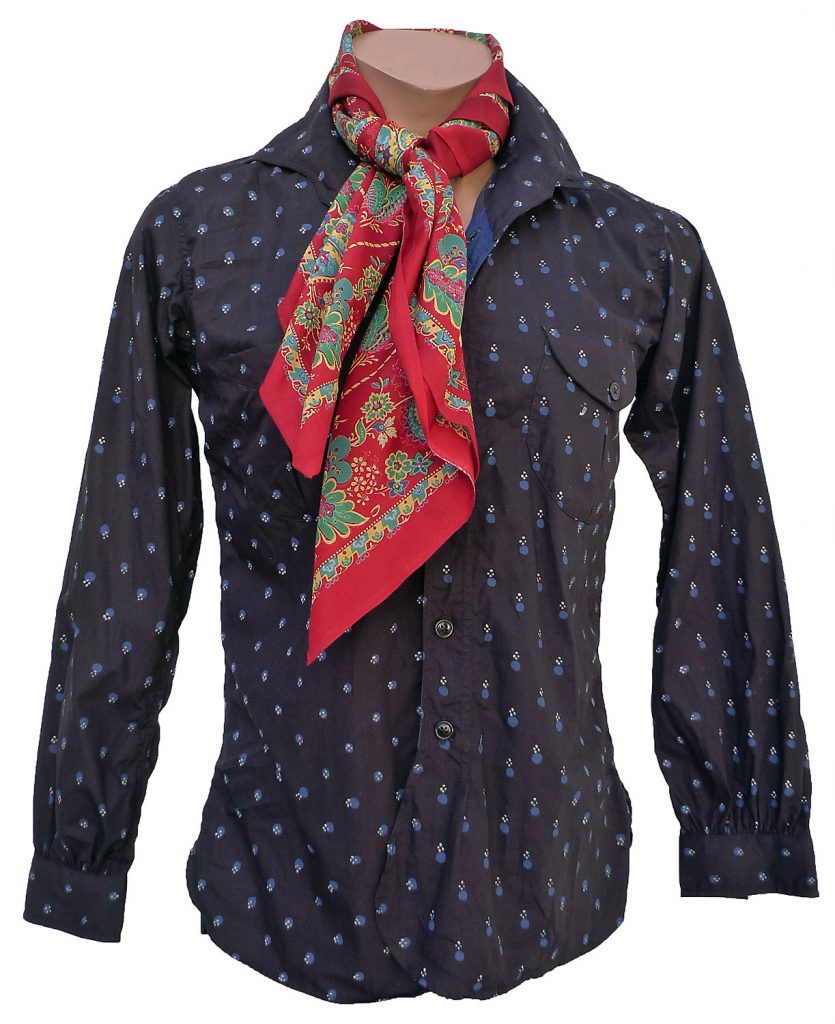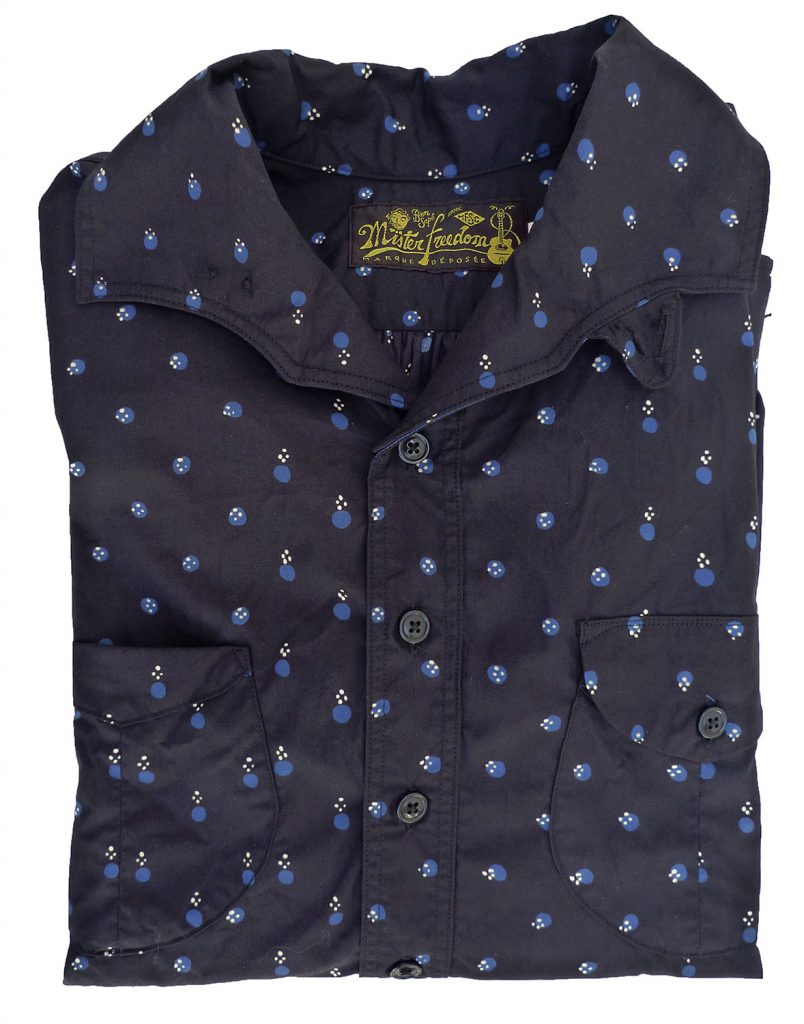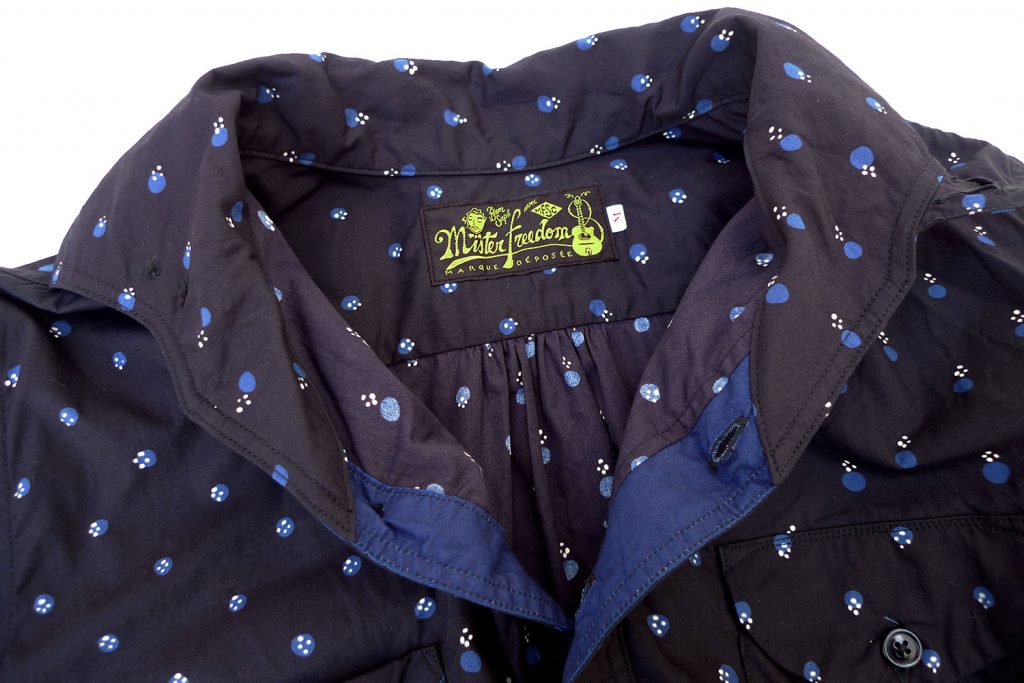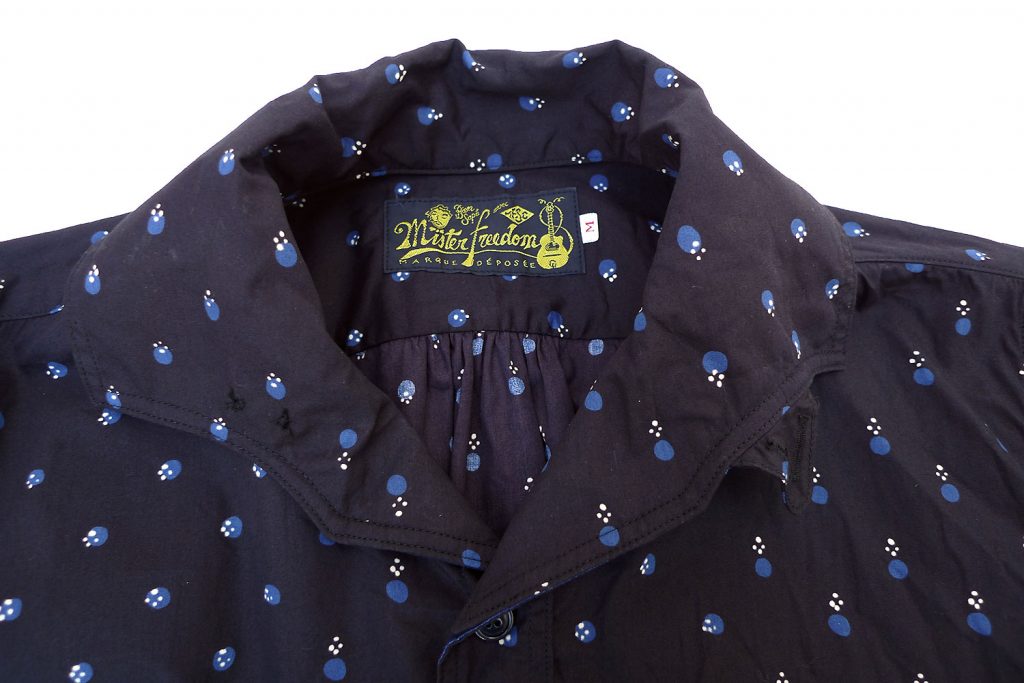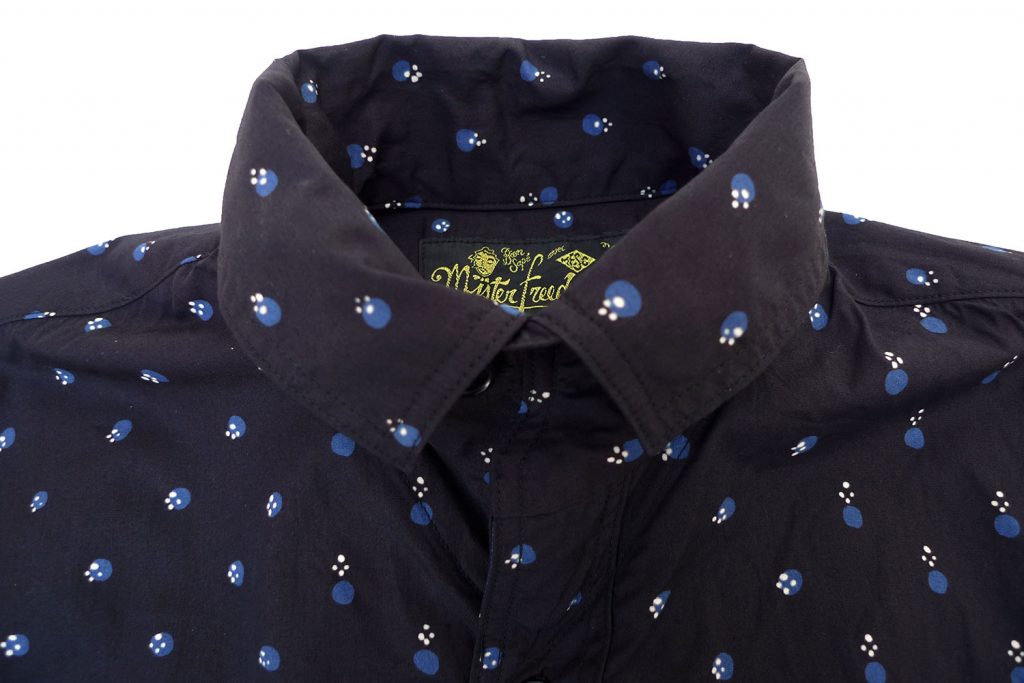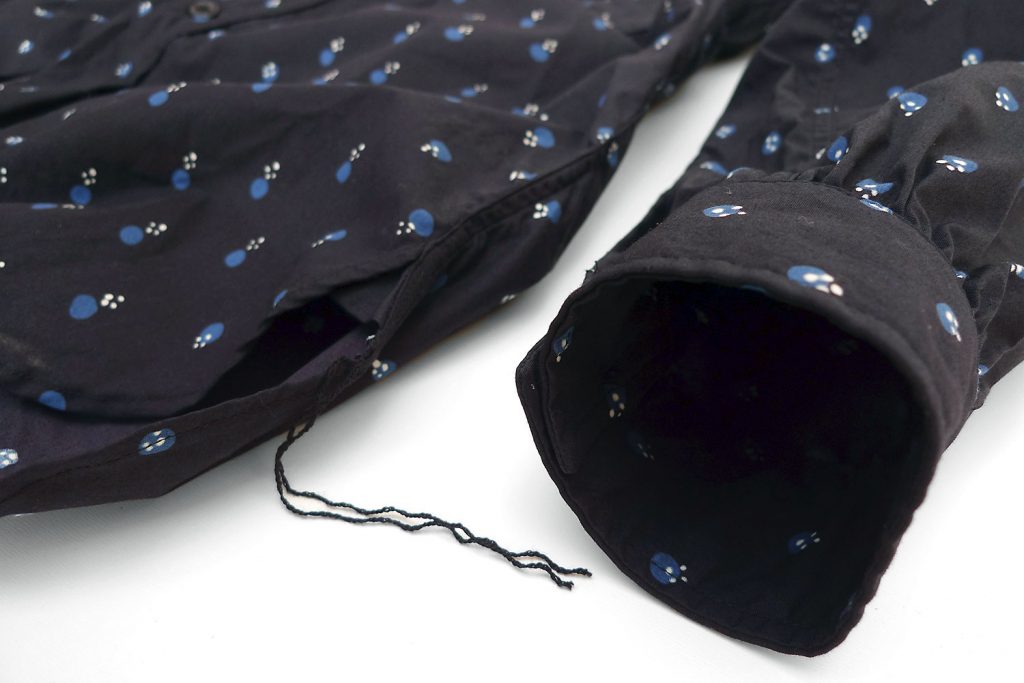 Mister Freedom® "Liquette Tzigane", fine cotton poplin, Kékfestés-style indigo print.
GYPSY BLUES mfsc collection Spring 2017.
Made in Japan.
In our Spring 2017 mfsc lookbook, we introduced two specific mens shirt designs for our GYPSY BLUES collection, both with somewhat of a bohemian vibe. First up was the Liquette Manouche, a polka-dot print pull-over type shirt released in two color options. Next number up is the long-awaited "Liquette Tzigane".
You already know that Liquette is an old French argot (slang) term designating a man's shirt. The word Tzigane (or Tsigane) can be used to designate a person of Eastern European Romani ancestry, although the term hints at a specific culture within the Gypsy world (often with a musical connotation) rather than a geographic origin. Sounds of lamenting violins playing "Les Yeux Noirs" around the fire camp, with a string of caravans in the background, come to mind.
The shirt pattern of the Liquette Tzigane is inspired by several vintage 1920's-30's fancy specimen, twisted à-la MF®. To give our shirt its Tzigane bohemian vibe, we tapped into the little-known indigo world of Kékfestés, literally "blue-dyeing", a traditional centuries-old Hungarian textile-dyeing technique producing beautiful indigo resist-dyed fabrics. Sometimes referred to in France as Bettelkelsch, the motifs are somewhat reminiscent of Old West indigo discharge-print calicoes popular with American workwear aficionados today, and sporadically featured in MF® collections, such as the popular "Les Apaches" Chemise Calico from 2011.
If the specific calico motif design of the Mister Freedom® Liquette Tzigane is shamelessly lifted from a rare 1930's folkwear skirt from our vintage textile archives (featured in one of the photos), we decided against the traditional wood block resist paste technique for production, for obvious cost considerations. Technically, the fabric of our shirt, initially white, is printed with two shades of indigo (a very dark and deep hue -almost black- for the background, and a cadet blue for the larger dots) using a silkscreen bleed-through method. The tiny white dots show the original color of the fabric, unprinted. In the repeat motif, these groups of four dots are unevenly spaced, to convey the organic wood block hand-printed feel of Kékfestő.
Voila, you now know that the word Kékfestés does not refer to a tropical disease transmitted by water buffaloes.
Those interested in textile and costume history will visit the Pápai Kékfestő Múzeum when around Budapest, Hungary, for more accurate info. The Musée Alsacien de Strasbourg also sounds like a good place to spend an afternoon to learn about heritage and fashion, when traveling to North Eastern France.
The Liquette Tzigane is designed in California by Mister Freedom®, and manufactured in Japan by Sugar cane Co.
SPECS:
FABRIC:
Fine and crispy 4 Oz. 100% cotton poplin, indigo-printed with a bleed-through technique.
Milled and printed in Japan.
DETAILS:
* Inspired by 1920's-1930's fancy shirting, and vintage Kékfestés Hungarian folk textiles for a 'Tzigane' bohemian twist.
* Versatile collar pattern with double button tab, fashionable as a classic open collar, cutaway style or high-buttoned.
* Original MF® pocketing (from the 2012 MF® Prairie Shirt).
* Indigo poplin button placket facing.
* Early shirting curvy tails.
* Side gussets.
* Corozo wood buttons, indigo blue color.
* Shirred back yoke and cuffs.
* High-count stitching, early shirting narrow chainstitch construction.
* Original mfsc Gypsy Blues woven rayon label.
* Made in Japan.
SIZING/FIT:
The MF® Liquette Tzigane comes raw/unwashed.
Follow the usual initial method before wearing: cold soak for 30mn, spin dry and line dry.
Because there's never a dull moment in the mfsc Fit Dept., ?, we recommend sizing UP on the Liquette Tzigane. I usually wear a Medium in mfsc shirts, and went with a Large with this shirt, for a comfortable fit. The fine 4 Oz. poplin drapes nicely, so the extra fabric doesn't bother me, giving the shirt a bit of a 'blousy' bohemian feel.
Stylish petite ladies will find the Liquette Tzigane in size Small quite an attractive addition to their discerning closet.

Please refer to chart to figure out which size works for you. "Rinsed" means soaked for 30mn in cold water, spin dry and hang dry.
If still confused, email sales@misterfreedom.com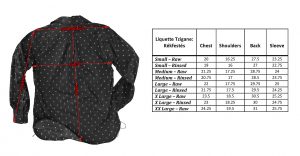 CARE:
Machine wash on delicate when needed, cold water, eco-friendly detergent. Hang dry.
Available raw/unwashed.
Sizes
Small
Medium
Large
X-Large
XX-Large
Retail: $349.95
Available from www.misterfreedom.com, our Los Angeles brick & mortar store, and fine retailers around the World.
Email sales@misterfreedom.com or call 323-653-2014 with any questions unanswered above.
Thank you for your support.
Christophe Loiron
Mister Freedom®
©2017
Comments
comments