Mister Freedom® FW2019 mfsc Liquette M35: Indigo Pin Stripe Ticking model.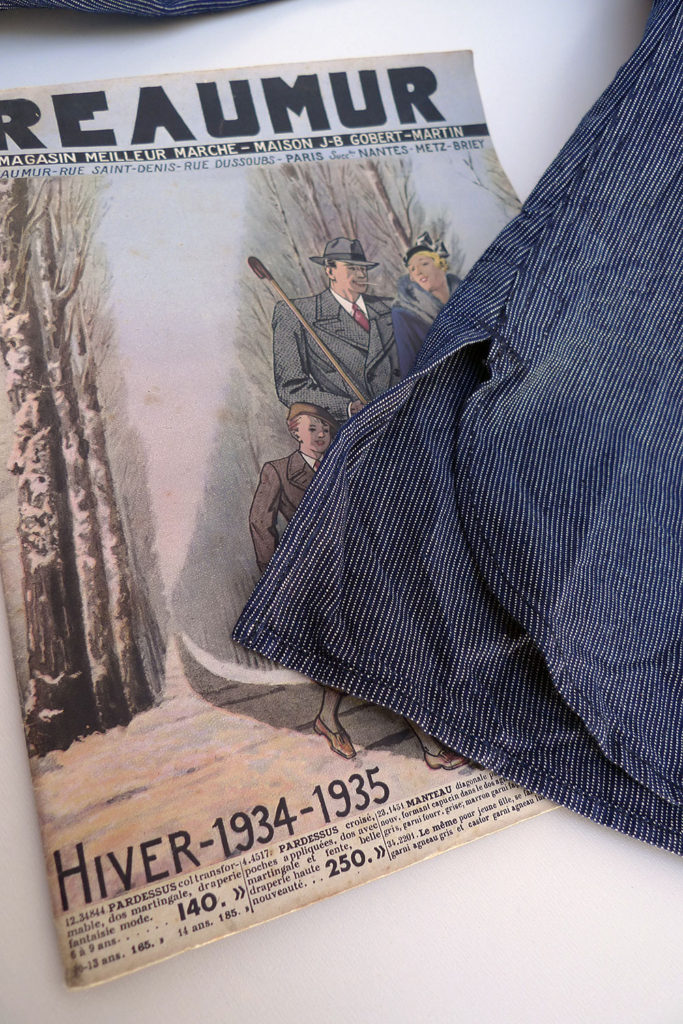 Mister Freedom® FW2019 mfsc Liquette M35: Indigo Linen model.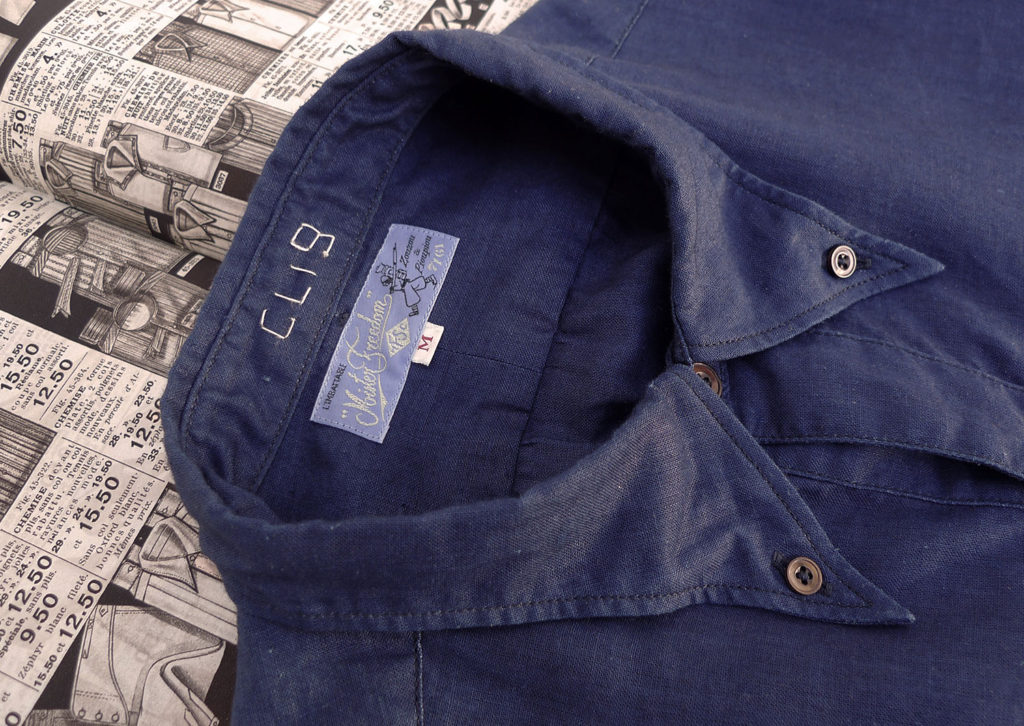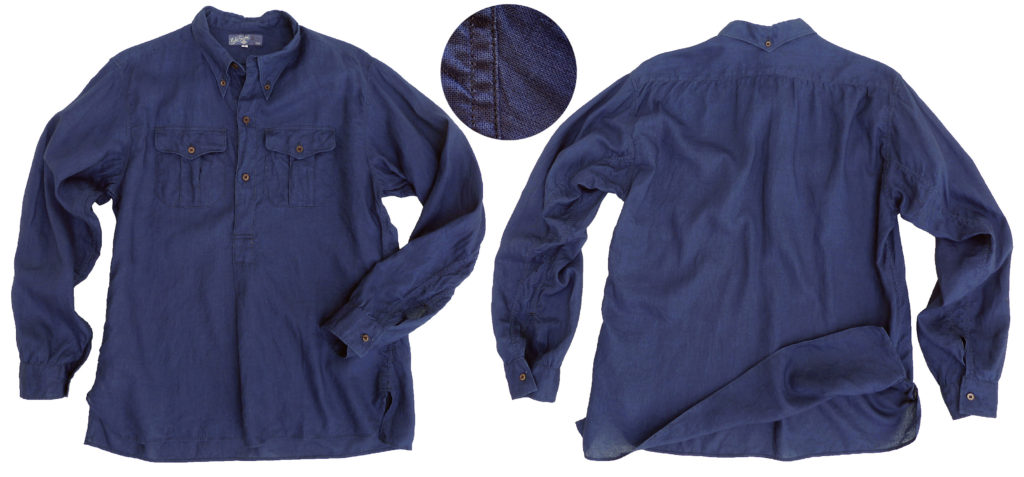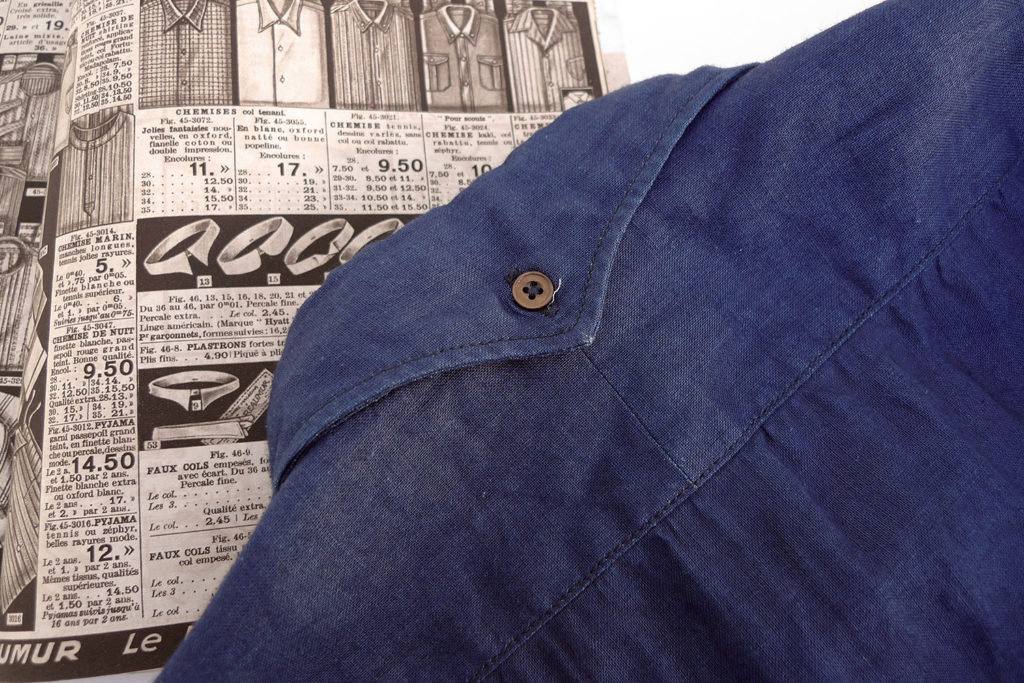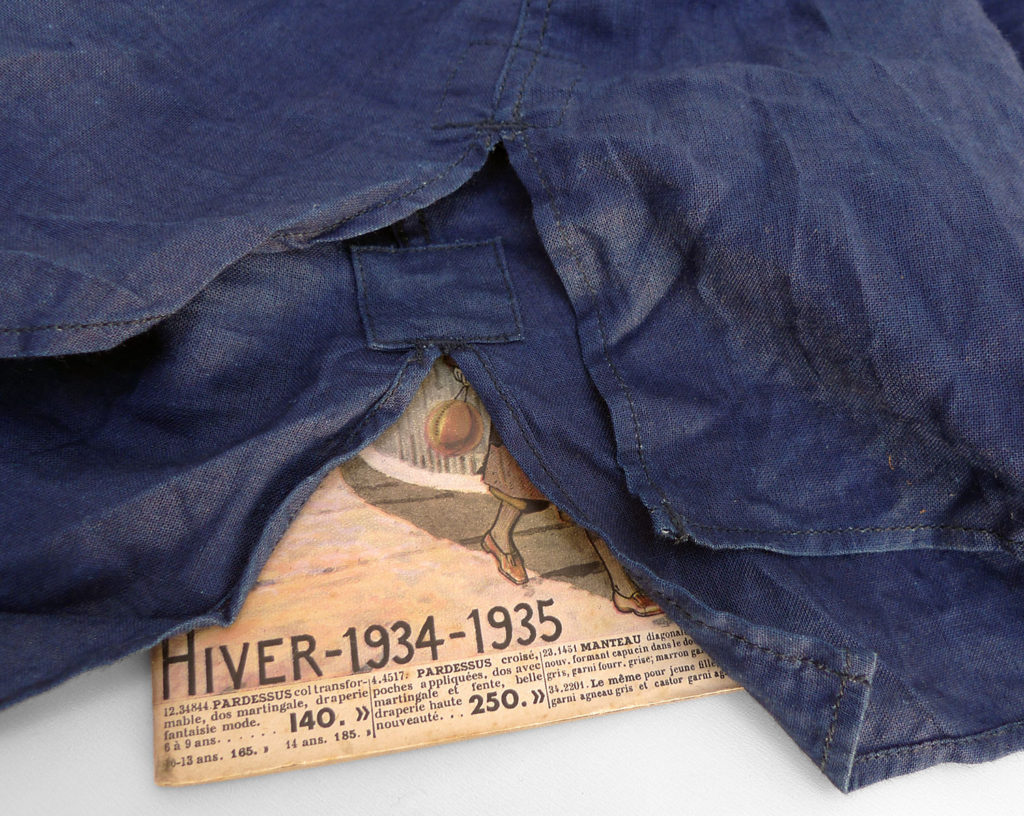 Mister Freedom® Liquette M35, Indigo Linen and Pin Stripe Ticking.
FW2019 mfsc "Pioupiou" Collection.
Made in Japan.
The Mister Freedom® x Sugar Cane Co Liquette M35 is the next installment of the mfsc "PIOUPIOU" collection, recently introduced with this post.
We are tapping into the Interwar period for this number, as the inspiration for our liquette (obsolete French colloquialism for men's shirt) is the Chemise Modèle 1935, a pull-over shirt part of the French Army uniform, issued to soldiers during WW2. If our loose interpretation is not a straight-up replica, we still must give all tailoring credits to the anonymous designer commissioned by the Ministère de la Guerre at the time.
The specific collar pointy shape is known as "col Aiglon", a design marking the beginnings of shirts showing under the tunic. The collar, designed to be complimented by a tie, is secured by three buttons, and features an attractive arcuate shape in the back. The pull-over pattern of the M35 has seen several modifications through the years, and if we opted-out of the epaulettes of the 1941 model, we incorporated the front expansion pleat of the 1940 model.
Those into nerding out on this stuff can refer to the excellent books released by Histoires & Collections, such as the out-of-print "1940 Le Soldat Français" by Olivier Bellec (2010).
Our shirt features the two box-pleat flap front chest pockets of the original M35 military shirt, a pocket pattern known as "Pli Watteau" (Watteau fold), a contemporary reference to the back pleats of the Robe à la Française of the 18th Century, an extravagant fashion detail French painter Antoine Watteau often featured in his work.
The side gussets are the small patch style typical of French shirting of the period, and are featured both on the shirt tails and cuff slits. Front and rear tails are of contrasting shapes and length, and we left them a bit longer that contemporary un-tucked fashion dictates, as a period reference.
We opted for two fabric options for our 2019 version of the M35. The first is an old mfsc classic, an indigo stripe ticking previously featured on the Reno shirt of our Men of The Frontier days in 2012. Although stiff and crispy at first, this fabric ages beautifully and softens rapidly with wear. The original ticking we had milled at the time for our early western-wear shirt was actually duplicated from a vintage pair of WW1 French military private-purchase oddball jodhpurs from the MF® archives, still on display at the HQ, not too far from a genuine Pantalon Garance specimen.
The second fabric option has absolutely no place in a Fall/Winter selection, but it was too beautiful to pass when it came up during fabric sourcing R&D. It is an indigo-dyed lightweight 100% linen plain weave shirting fabric with the attractive slub, crisp and drape typical of natural fiber linen. This gives the MF® M35 a very elegant touch, somewhat of an Italian fashion meets safari & military. This is an unintentional geographical reference as Il Duce was to bet on the wrong horse in WW2… As did Japan for that matter.
Note that this indigo linen textile is quite light sensitive so the indigo linen M35 should be stored away from the sunlight. With normal wear and regular home laundry cycles, both options will evolve into an interesting palette of blues.
The MF® Liquette M35 is designed in California by Mister Freedom® and manufactured in Japan by Sugar Cane Co.
SPECS:
PATTERN:
A pattern inspired by 1930's French military uniform shirts.
FABRICS:
Two distinct options:
a) Indigo pin stripe ticking, 100% cotton, selvedge, 4.5 Oz, milled in Japan.
b) Indigo-dyed plain weave, 100% linen, lightweight with a slight sheer, milled in Japan.
DETAILS:
* Pull-over type, with front expansion pleat.
* Button-down pointy collar "Col Aiglon", with rear arcuate shape.
* Two box pleat "Pli Watteau" chest pockets.
* Inside reinforcement patches for side gusset and cuff slit.
* Shirring on cuffs.
* Rounded front shirt tail and extended square back tail.
* Painted metal buttons.
* Original mfsc "Pioupiou" woven rayon label.
* Made in Japan.
SIZING/FIT:
Both fabric options of the MF® Liquette M35 come raw/un-rinsed.
We recommend the usual protocol before wearing:
* Cold soak for about 30-40mn, with occasional hand agitation.
* Spin dry and line dry.
* Wear briefly before fully-dry to set creases (does not apply to the indigo linen model), then hang until fully dry.
Both versions will fit approximately the same following the above procedure. Both indigo linen and indigo pin stripe ticking fabrics are so distinct in texture, weight and drape that they will feel completely different, but technically fit the same.
I am usually a Medium (15½) in mfsc shirting, and I opted for a comfortable Medium in both fabric options. The fit picture features a Medium M35 in both fabrics after one cold soak/line dry, and a bit more shrinkage and fabric torque/puckering is to be expected down the line.
CARE:
Launder when needed.
a) Indigo pin stripe ticking model: Treat as a denim shirt. We recommend turning indigo blue/denim garments inside out to avoid marbling during laundering. Machine wash, cold water, gentle cycle, eco-friendly mild detergent and line dry.
b) Indigo linen model: Treat as a delicate fancy shirt. Un-button collar before laundering. Hand wash or machine wash on gentle cycle, cold water, minimum eco-friendly mild detergent and line dry.
Attractive patina will potentially develop according to activities and frequency of wear.
Please note that indigo might cause color transfer, and potentially "bleed" on light-colored garments, furniture, and skin.
The indigo dye of the linen M35 model is particularly light-sensitive and the shirt should be stored away from sunlight.
Available RAW/unwashed.
SIZES:
14½ (Small)
15½ (Medium)
16½ (Large)
17½ (X-Large)
18½ (XX-Large)
Available from our Los Angeles brick & mortar HQ, from www.misterfreedom.com, and fine retailers around the World.
Email sales@misterfreedom.com or call 323-653-2014 with any questions unanswered above.
Thank you for your support,
Christophe Loiron
Mister Freedom®
©2019
Comments
comments