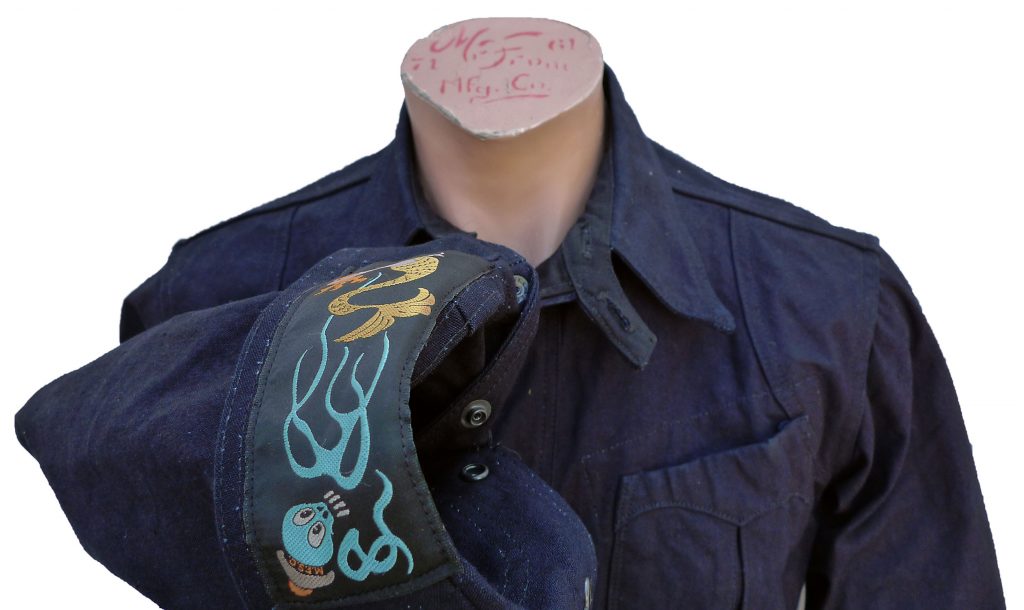 Mister Freedom CPO Shirt, "Type MFSC 189ac"
Indigo canvas, "Liberty Issue" Fall 2016
Made in Japan.
For our Fall 2016 10 Year mfsc Anniversary Collection, we decided to pull one of our popular shirt pattern out of retirement, namely the "Type MFSC 189" originally released sometime in 2008. This imagined "Chief Petty Officer" shirt emerged out of our first original mfsc scenario, "MFSC Naval Clothing Tailor", a capsule collection featuring the custom-made wardrobe of a fictitious Merchant Navy sailor in the 1930's…
Story aside, this CPO shirt shows manufacturing prowess, and features intricate details and challenging construction.
Introduced in a 6 Oz. denim for SS2008, a fancy mermaid cuffs version "Liberty Issue" in 10 Oz. sugar cane fiber denim followed for FW2008, the Type MFSC 189md. For FW2010, a 10 Oz. woven pincheck "Off Duty" version was released (Type MFSC 189-od), along with a 10 Oz. double indigo 'midnight twill' (Type MFSC 189-mn).
For the nostalgia-prone, here are a few images of bygone MF® CPO Shirts models.
We decided to milk that coconut again for Fall 2016. This season's edition of the CPO Shirt, the "Type MFSC 189ac", is issued in a dry 11.7 Oz. indigo-dyed selvedge 100% cotton canvas, a fabric yarn-dyed and milled in Japan.
Like its 189md predecessor, the 189ac features Liberty Cuffs, an old naval tradition familiar to many fashionistas by now. Our 2016 vintage-style liberty cuffs are updated with an original MF® design, featuring – alert the PC brigade – a groping octopus sporting a bachi (the French Navy cover with its famous red pompon) chasing an attractive mermaid in her birthday suit. Flash the Splash at your own discretion.
For the adventurous type, these cuff linings do have a purpose and can be used as concealed storage for an emergency sawbuck folded in four. While bar hoping with the ship's finest on exotic shores, and after noticing your wallet's gone MIA at Suzy's Red Dragon Den, this is a nice touch.
Another nice touch is the rainbow-color chainstitch adorning the inside of our CPO Shirt, a nod to period custom naval tailoring favorited by sailors of the Asiatic Fleet and discussed briefly while introducing the Mister Freedom® Liberty Crackerjack.
The Liberty Issue "Type MFSC 189ac" CPO Shirt is designed in California by Mister freedom® and manufactured in Japan by Sugar cane Co.
FABRIC:
Sturdy and dry 100% cotton canvas, 11.7 Oz., dark and deep shade of double indigo warp and weft, white with red line selvedge ID, milled in Japan.
Due to heavy starching in the milling stages, this fabric feels quite stiff at first and even more so after the initial recommended cold soak/hang dry process. This is normal and will gradually subside with normal wash/wear cycles.
SPECS:
* Original mfsc pattern originally released in 2008.
* Limited "mfsc Anniversary" 2016 edition.
* Freely inspired by period USN uniforms, 1930's – 1940's military shirting, naval custom tailoring and vintage "Chief Petty Officer" type shirts.
* Vintage-style 'Liberty cuffs', featuring original MF® artwork, colorful mermaid and octopus embroidered on a black 100% rayon background.
* Rainbow-color chainstitch on the inside.
* Concealed chest 'passport' pocket.
* Original inverted box-pleat arcuate single chest pocket.
* Chin strap.
* Contrasting underarm blue chambray gussets.
* Selvedge side gussets.
* Vintage style button front placket, anodized black snap closure.
* Waist closure anchor button.
* Shoulder yoke, vintage uniform style.
* Curvy front and back shirt tails.
* Tonal 100% cotton stitching.
* Designed in USA, manufactured in Japan.
SIZING/FIT:
The indigo canvas Type MFSC 189ac CPO Shirt comes raw/unwashed/loomstate.
We recommend an original 30-40mn cold soak with occasional hand agitation, then spin dry cycle. While still damp, wear the shirt briefly to shape to your body (avoid white T-shirts), then hang dry.
The tagged size corresponds to sizing after this soaking process. I am a Medium in mfsc shirting and opted for a Medium in the CPO Shirt. No need to size up or down from your usual mfsc shirting size.
Refer to chart for soaked measurements.
CARE:
We recommend hand washing this garment when laundering becomes necessary. The loss of indigo dye will then be minimized.
If using a machine, turn the shirt inside-out to avoid marbling, use cold water and minimal eco-friendly detergent, and set to 'delicate'. Line dry.
Please note that color crocking is to be expected, as it is the nature of indigo to rub off.
Available RAW (unwashed)
Sizes:
Small
Medium
Large
X-Large
XX-Large
Retail $399.95
Available from www.misterfreedom.com, and our Los Angeles brick & mortar store.
Email sales@misterfreedom.com or call 323-653-2014 with any questions unanswered above.
Thank you for your support.
Christophe Loiron
Mister Freedom®
©2016
Comments
comments