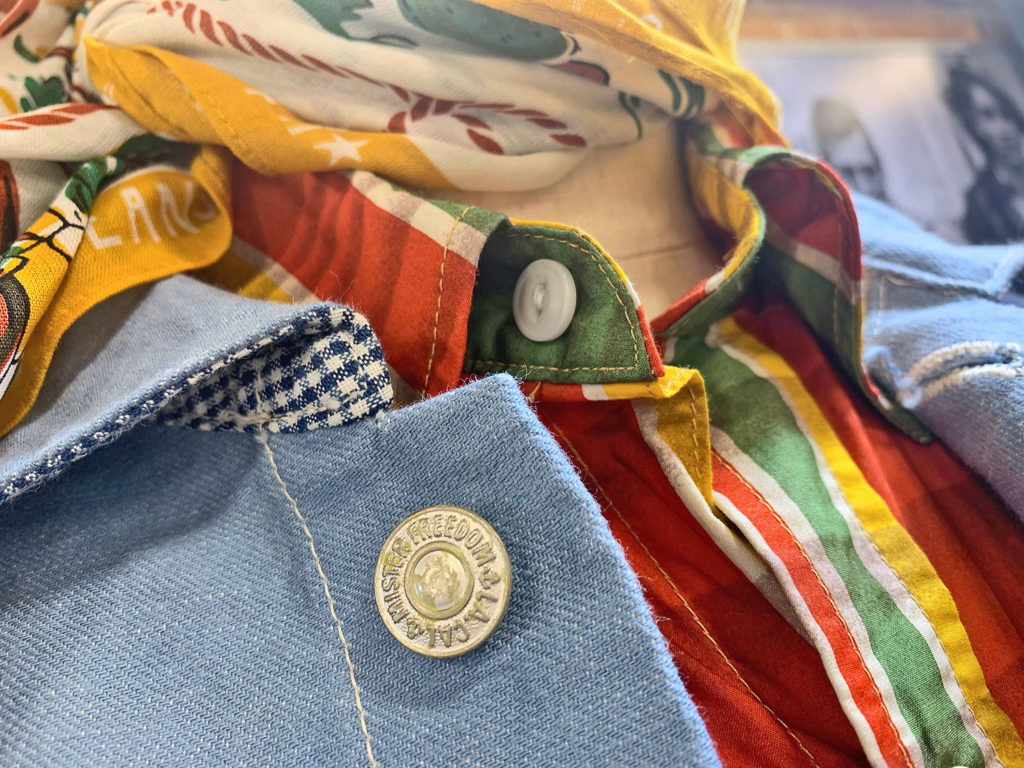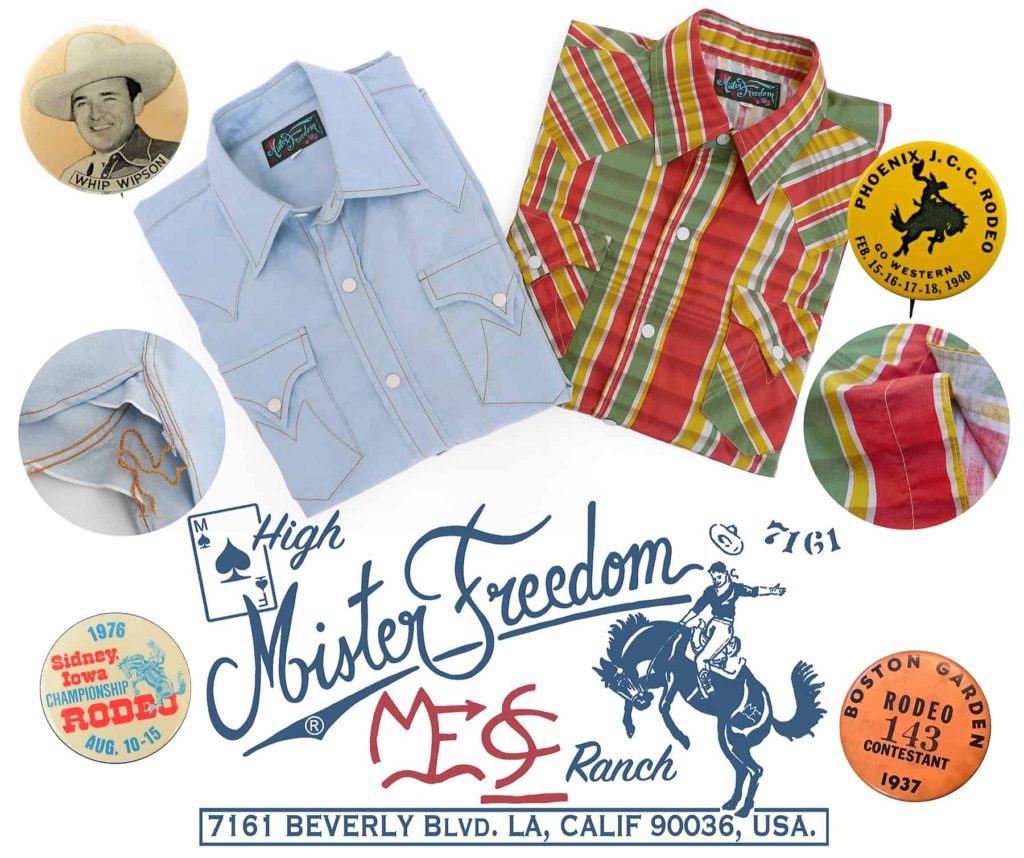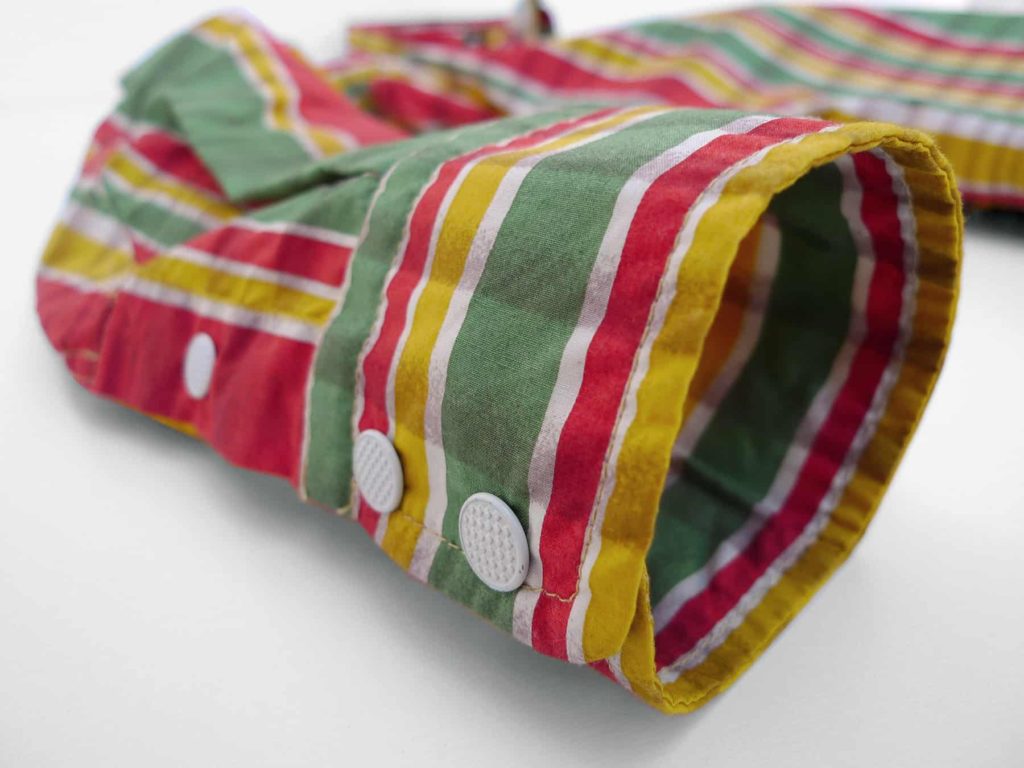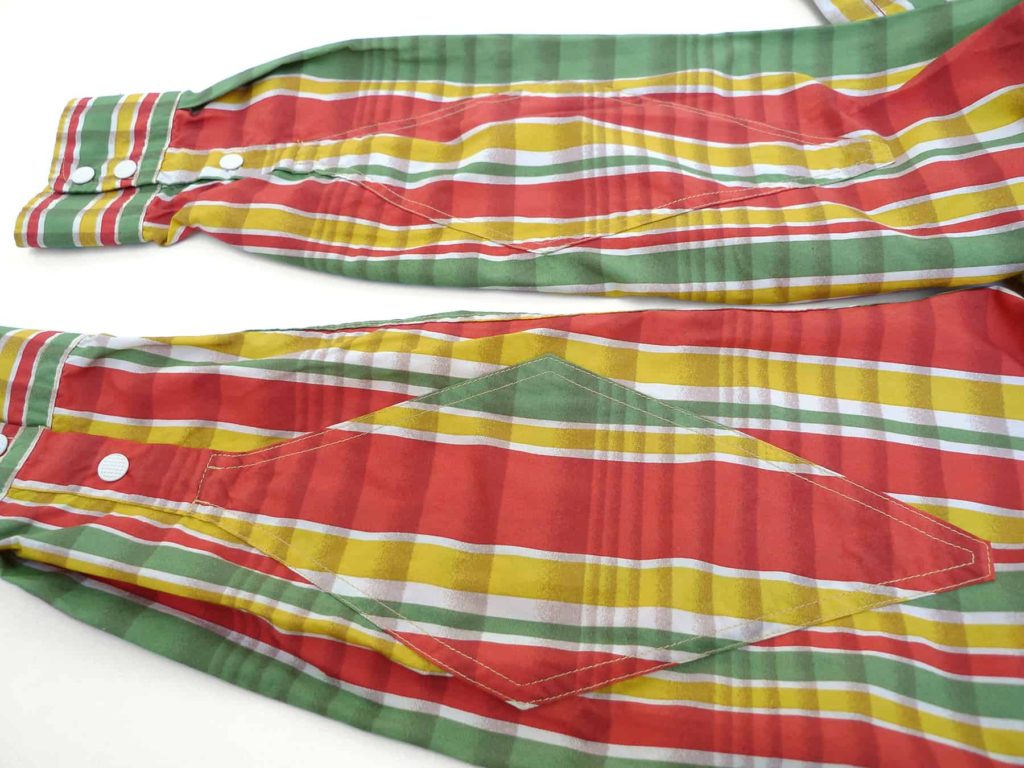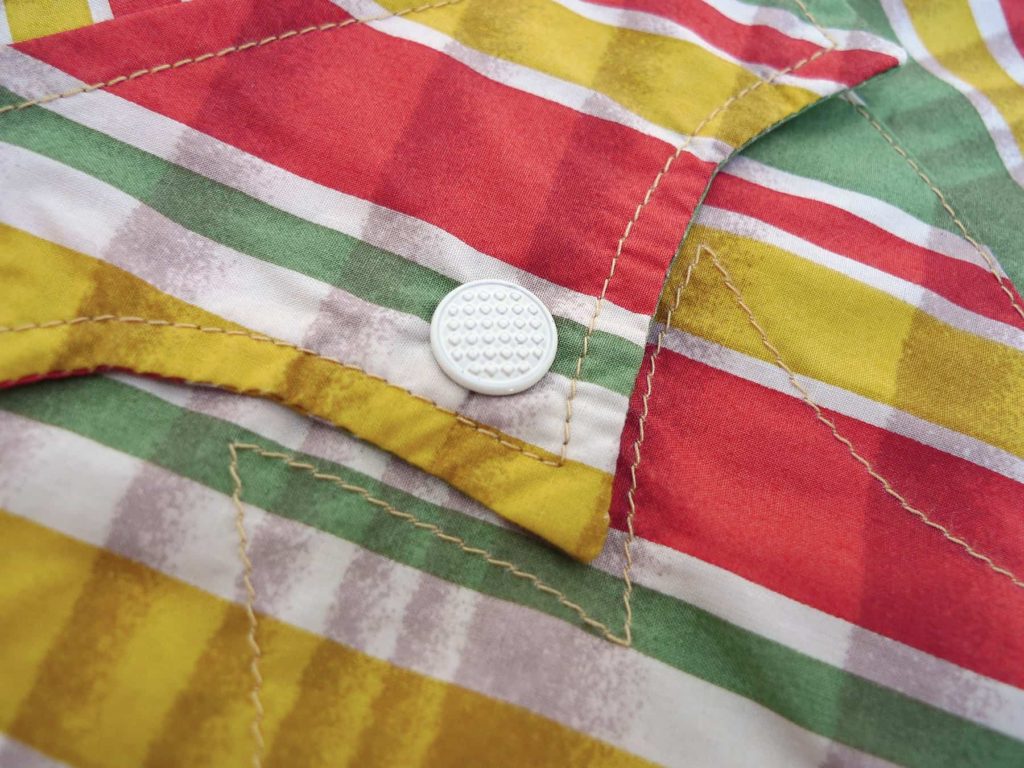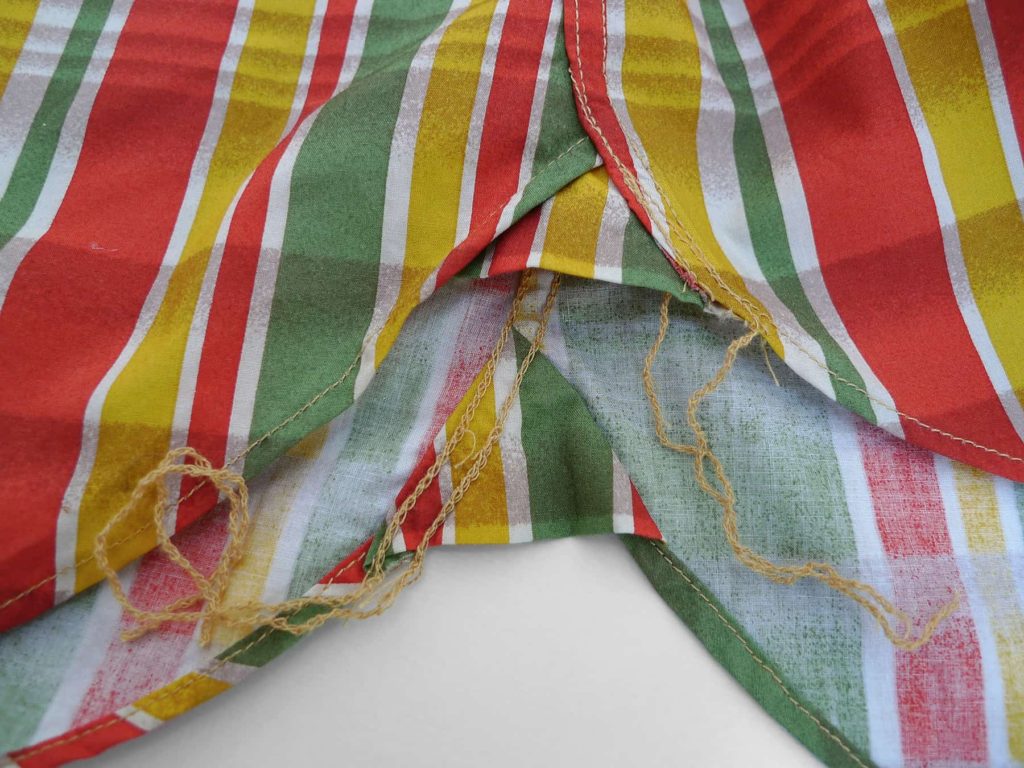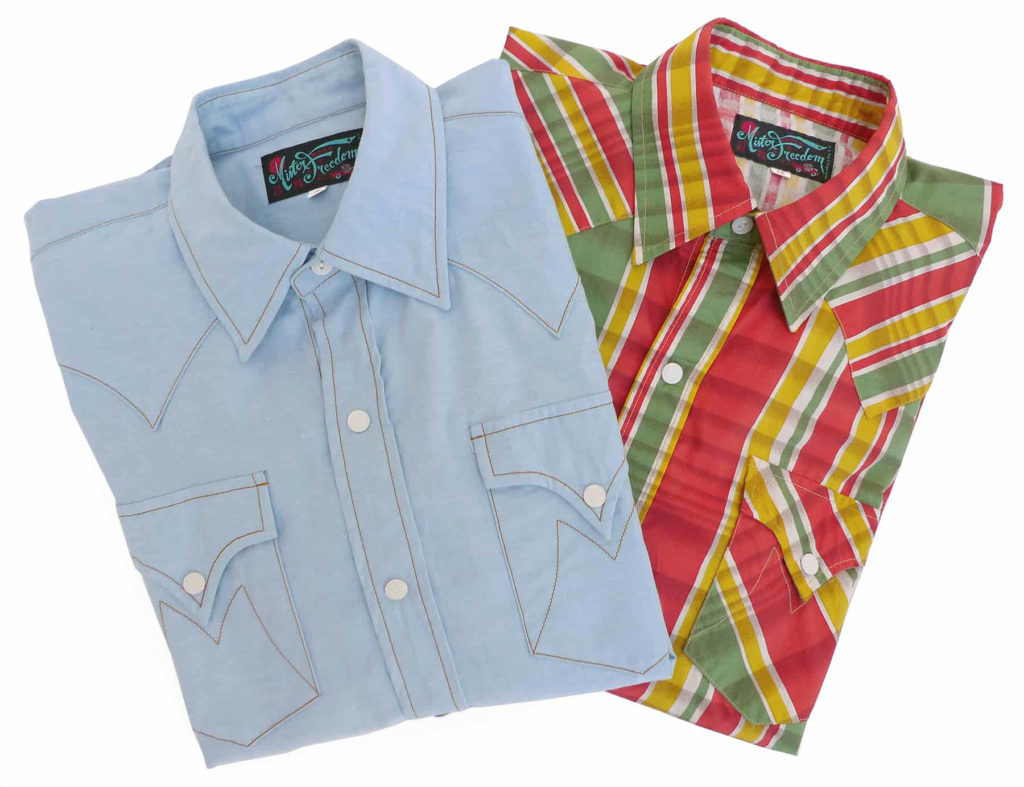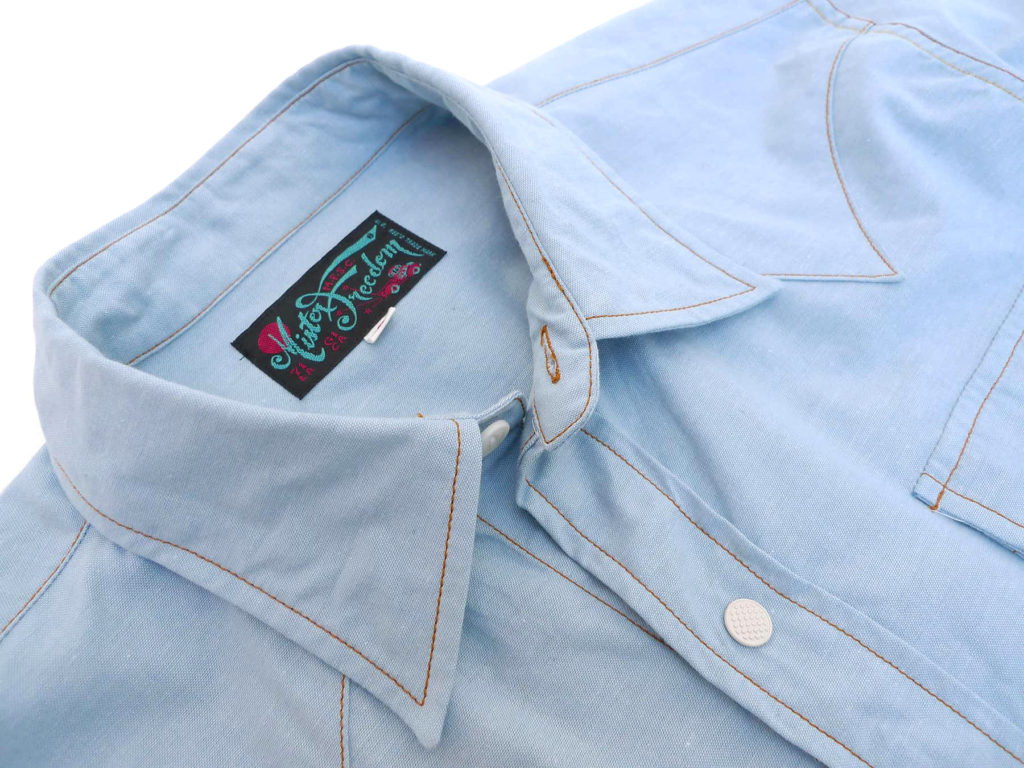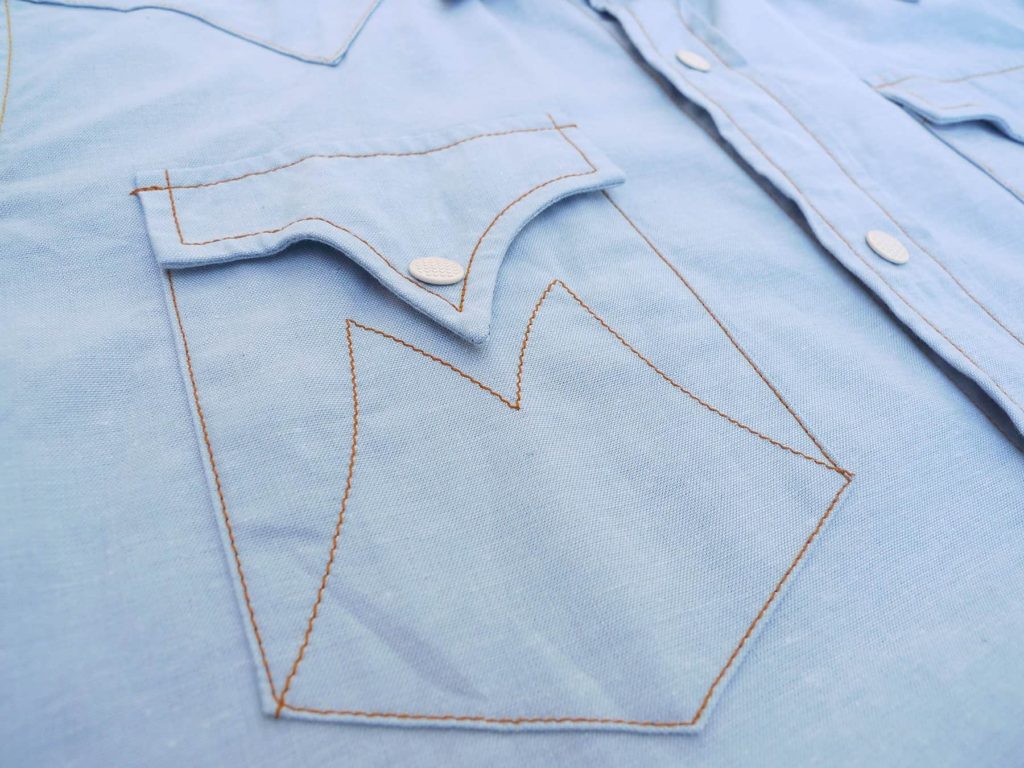 Mister Freedom® "DUDE RANCHER" western snap shirt, vat-dyed selvedge chambray & shadow-plaid printed poplin.
SS2020 mfsc "DUDE RANCH" collection & Surplus catalog.
Made in Japan.
The Mister Freedom® APPALOOSA introduced during Fall 2013 and released in a variety of denim-related fabrics was our first traditional "western snap" shirt. The "DUDE RANCHER" is our second spin on the style. This all-original pattern was inspired by a selection of vintage "cowboy" shirts, and initially issued in high-count cotton poplin during Spring 2019, available in solid black and white, with a limited edition "rodeo" batch custom chainstitch-embroidered.
The DUDE RANCHER features the expected western-style front and back curved yokes, but we opted for arcuate panels subtle-enough to keep the shirt not too "costumey". The playful "M" branding on the chest pockets is disguised as decorative stitching. The tricked-out forearm pattern and intricate one-piece elbow/cuff reinforcement diamond-shaped placket is quite a garment construction tour de force, for anyone who knows his/her way around a sewing machine.
Our DUDE RANCHER features painted metal snaps, reminiscent of 50's Ranchcraft or Blue Bell shirts, previously featured on the MF® Sportsman printed flannel Camp Shirts. If pearl snap buttons are more-commonly associated with traditional western shirts, these metal snaps are a bit more subdued and utilitarian.
For this SS2020 release, we decided to go "Hee Haw meets Oklahoma!", with a vibrant orange/green/yellow printed plaid poplin option. This period-looking check pattern was lifted verbatim from a vintage 1920s-30s garment from the MF® archives, also printed on high-count poplin. The "shadowed" plaid pattern has a definitive Art Deco vibe, reminiscent of bygone airbrush shading techniques. See the works of Dorothy and Otis Shepard, the power-couple geniuses behind Wringley's chewing gum wrapper and countless of other 1930s billboards, paper ads and packaging.
This flashy number in Technicolor® is in sharp contrast with the vat-dyed selvedge chambray fabric option, kinda taking after Junior Bonner rather than 1950s Grand Ole Opry. If "traditional" chambray cloth is a plain weave of a colored warp (indigo for a blue chambray) and white weft, our vat-dyed chambray features light indigo-dyed yarn in both warp and weft, giving the fabric the appearance of a solid colored textile. Closer inspection will reveal the much more interesting and attractive grainy texture of classic chambrays. This characteristic definitely sets vat-dyed fabrics apart from regular piece-dyed fabrics (dyed after milling) and their 'flat', solid uniform color.
Vat-dyed chambrays were a popular novelty in 1940s-50s workwear, with fabric producers like PEPPERELL (Boston, Massachusetts) boasting of their colorfast, sunfast or "Will Not Fade" qualities.
Our choice of contrast stitching for the chambray model is a nod to the classic 1970s light-weight Levi's chambrays familiar to vintage clothing aficionados. My Dad was a big fan, as I remember that vivid orange tab on the chest pocket, magically enhancing the faded blue fabric.
We combined orange and yellow thread for the caballo chainstitch, a subtle dual color contrast touch. The DUDE RANCHER features high-count stitching, contributing to the shirt's vintage look, without having to resort to unnecessary processing, chemical washes or sandblasting. In these days of fast fashion, very few factories are still willing or qualified to operate the machines that allow such high-count stitching and narrow seams, so we are grateful for our friends at Toyo Enterprises for keeping this quality production level available. Such attention to details also delays production drastically, as each shirt takes about 3 times longer to complete. It goes without saying that this comes at a price, which the reader is very well aware of!
The DUDE RANCHER western snap shirt is designed in California by Mister Freedom® and manufactured in Japan by Sugar Cane Co.
FABRIC:
Two options:
a) Printed "shadow" plaid, high-count 100% cotton poplin, partial bleed-though, made in Japan.
b) Vat-dyed chambray, 100% cotton, light indigo blue solid color, solid white selvedge ID, milled in Japan.
SPECS:
* An original mfsc pattern, inspired by traditional western-style shirts.
* Traditional western-wear arcuate front and back yokes.
* Attractive pointy pocket flaps, complementing the yoke pattern.
* 1950's-style painted metal snaps (the paint will chip with age.)
* Tonal stitching for plaid model, dual contrast orange/yellow stitching for chambray version.
* Original curvy "M" decorative stitching on pockets.
* Fancy diamond-shaped cuff/elbow reinforcement patch.
* Vintage style side gussets.
* Rounded shirt tails.
* 100% cotton hi-count stitching.
* Original MF® mfsc "Surplus" woven label.
* Made in Japan.
SIZING/WASHING:
Both versions of the DUDE RANCHER come RAW/unwashed. This shirt is cut so that the measurements match the labeling after an initial cold soak/line dry. 
We recommend this usual protocol before wearing:
Cold soak for about 30-40mn, with occasional hand agitation.

Spin dry and line dry.

Hang until fully dry.
I opted for a MEDIUM in both fabric options (my usual size in mfsc shirting), for a trim, traditional western "cowboy" shirt fit.
Please refer to sizing chart for approximate raw/soaked measurements. Soaked = 30mn cold soak, spin dry and line dry.
CHART
CARE:
Machine wash on DELICATE, cold water, mild eco-friendly detergent. Hang dry.
Wash with similar-colored garments.
Do not use the washer's heavy-duty cycle. Heat dryer is also not recommended and could damage the garment.
Available RAW (un-rinsed)
Sizes
X-Small
Small
Medium
Large
X-Large
XX-Large
Available from www.misterfreedom.com, our Los Angeles brick & mortar store, and fine retailers around the World.
Email sales@misterfreedom.com or call 323-653-2014 with any questions unanswered above.
Thank you for your support.
Christophe Loiron
Mister Freedom®
©2020
Comments
comments