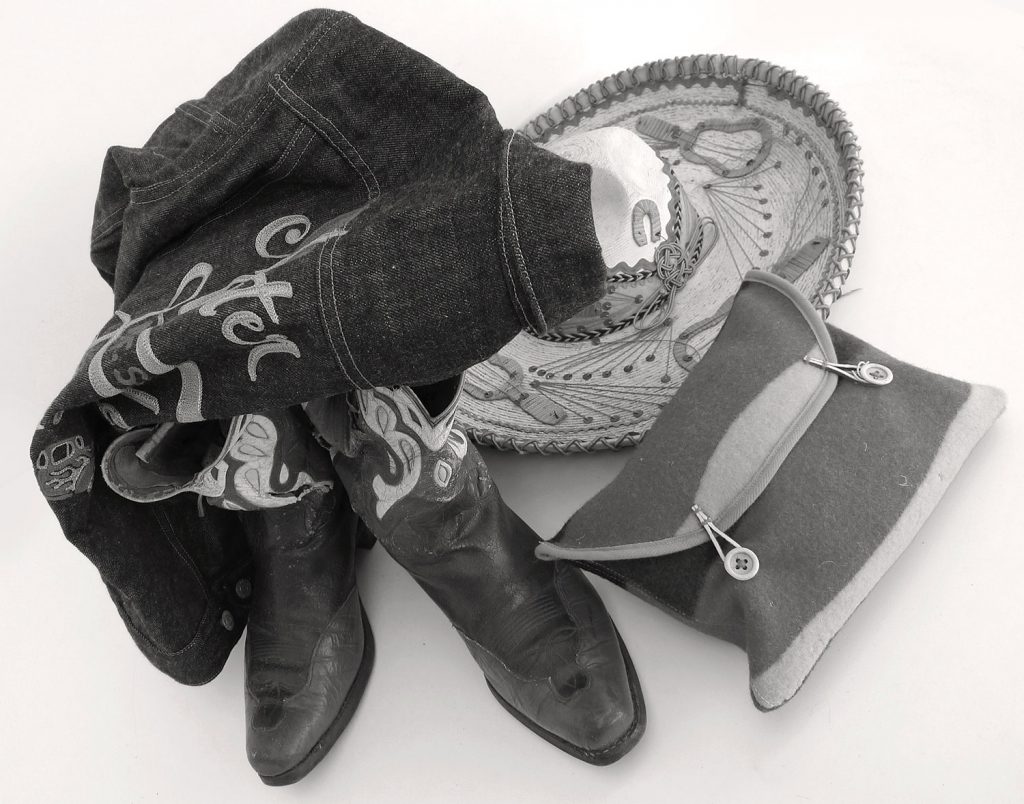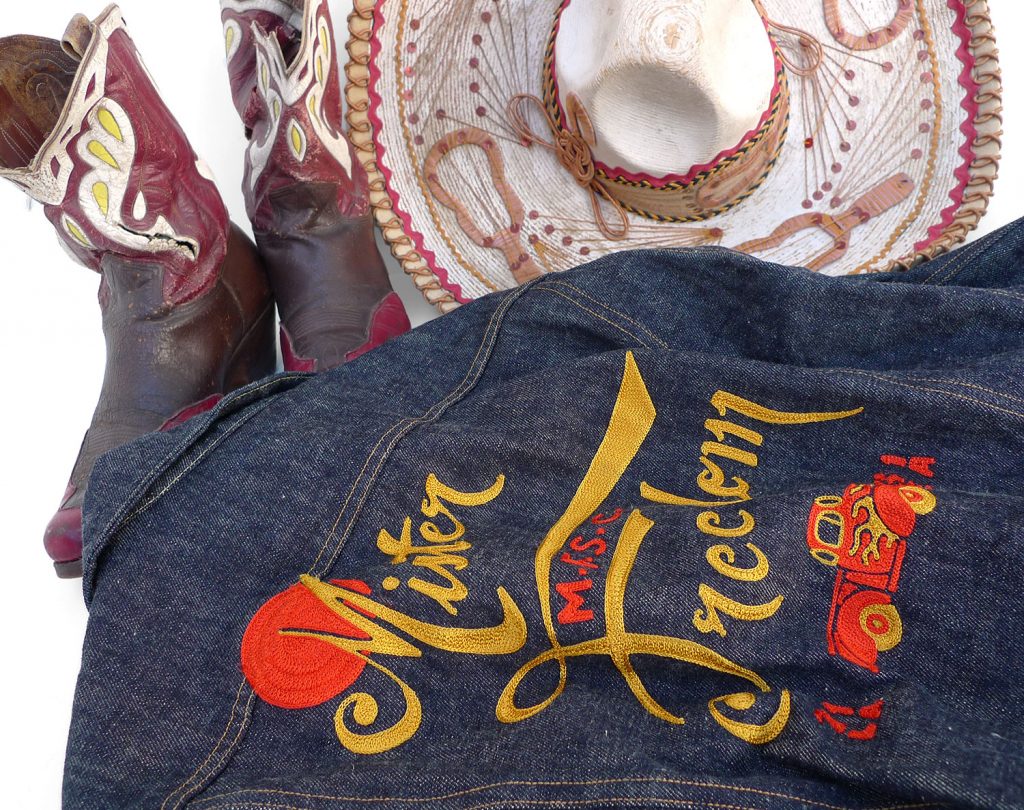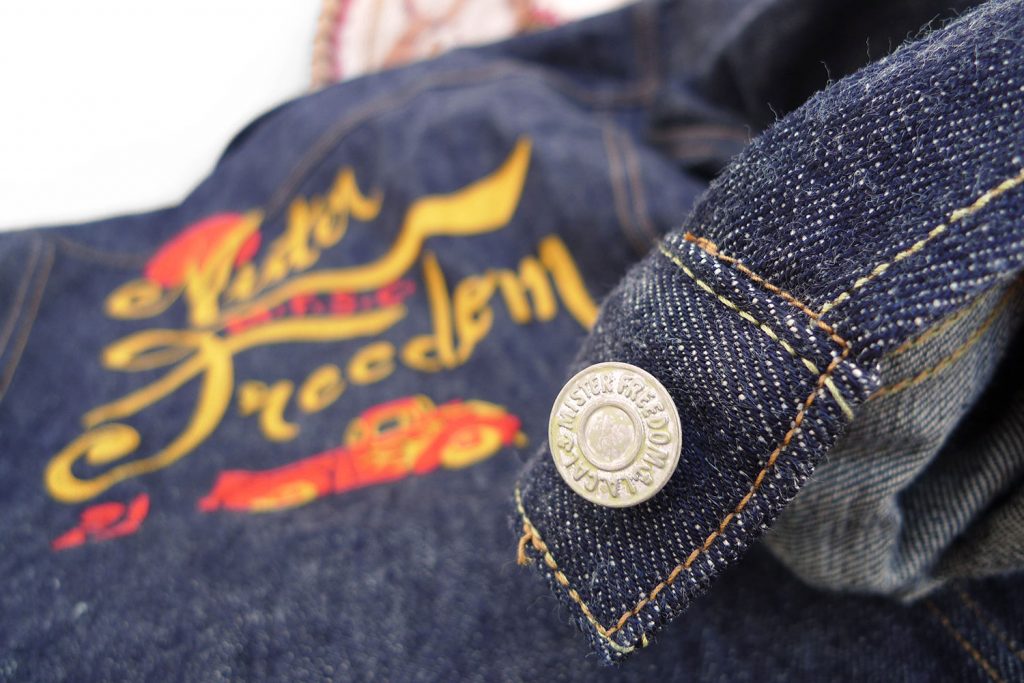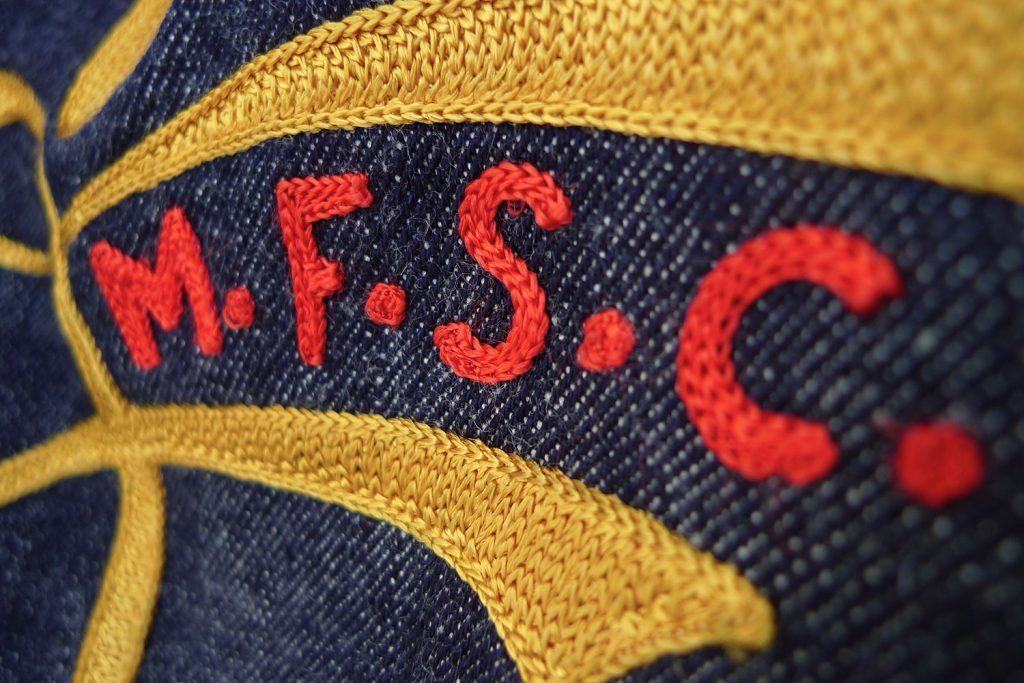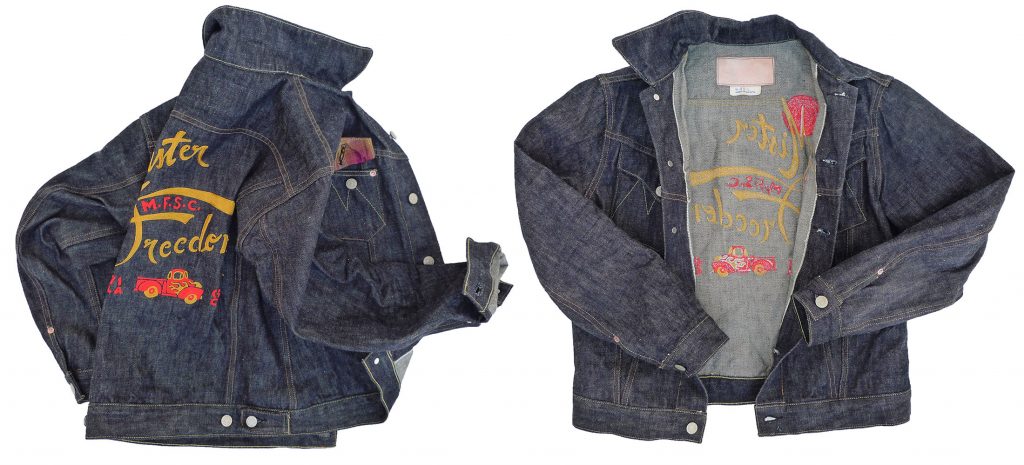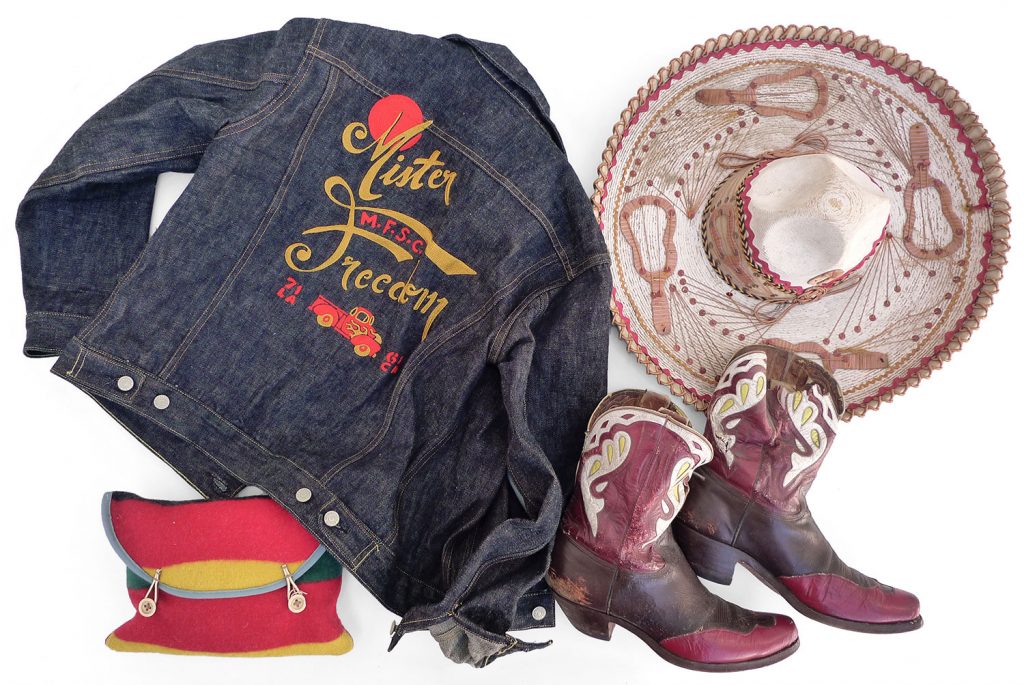 Mister Freedom® Cowboy Jacket, "Okinawa 301" denim, "RODEO" Limited Edition & solid.
FW2018 Sportsman catalog.
Made in USA.
As one might have gathered from the MF® Fall-Winter 2018 lookbook, we decided to play around with 'branding' this season, taking pointers from old school chainstitch embroidery jobs we've seen on vintage clothing through years of collecting. Inspired by classic collegiate award jackets, 1950's rodeo events promo outfits, old custom-branded work uniforms, we are releasing several limited edition MF®-branded pieces this Fall.
We translated some of our favorite T-shirt graphics into rayon embroidery, picking a few traditional garment patterns as candidates for "walking billboards", following Henry Ford's good words of advice, "A man who stops advertising to save money is like a man who stops a clock to save time."
An obvious choice was the MF® Cowboy Jacket, a classic "trucker" style denim jacket we introduced during Fall 2015. Several iterations have included a 12.5 Oz. dark indigo denim version, a 13 Oz. "Malibu" denim lagoon-blue rendition, a wheat denim Cone Mills issue, and the most recent black-coated denim SS2018 release.
Unless you have already decided to adorn the rear panel of your "Cowboy" jacket with vintage AC/DC patches, or opted for hand-stitched artwork customization (see our friend John B's impressive MF® Ranch Blouse), there hasn't been any good reason yet to get photographed from behind… until this release. Forget elevator selfies, you're gonna need a friend to capture this baby!
The Fall 2018 Cowboy jacket features the popular sugarcane fiber/cotton denim blend developed by the R&D lab at Sugar Cane Co (did you know they now have an official IG account!?), an old mfsc favorite known as "Okinawa 301", this time milled in a whooping special weight of 16.25 Oz.! The "Okinawa" denim is notorious for its desirable patina potential, and has been featured many times in Mister Freedom® x Sugar Cane mfsc collaborations throughout the past 12 years.
The jacket is available full-on Rodeo style for the bad hombre, or plain-back, without embroidery.
An alternative is to just go nuts and customize your own. See below leather appliqué prototype, a one-of-a-kind hippy job done in-house, while the boss was playing badminton. It features an original free-hand "creation", a California desert scene with a flying UFO (or sombrero, according to your level of sun exposure), made from left-over veg-tan leather scraps from the MF® Campus jacket production. Have at it.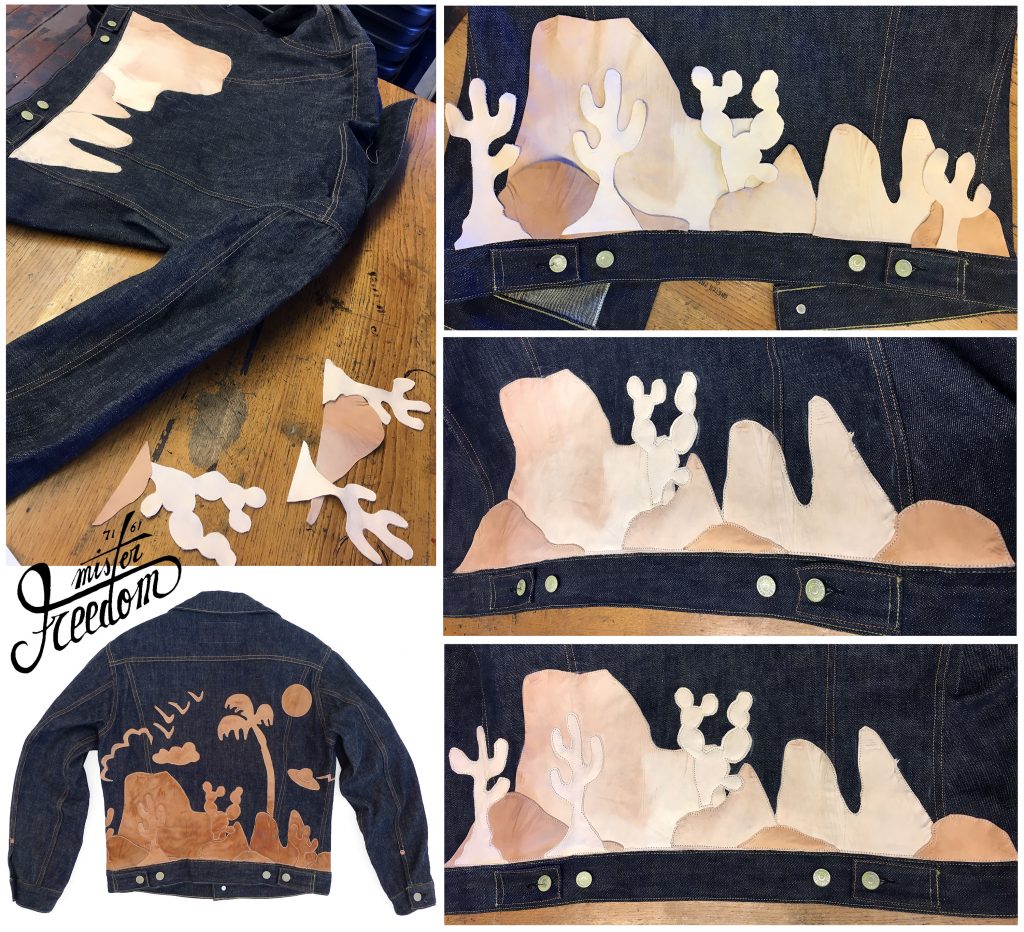 The mfsc COWBOY Jacket in "Okinawa 301" denim is designed in California by Mister Freedom® and manufactured in the USA in collaboration with Sugar Cane Co.
The limited-edition RODEO version is chainstitched in Japan, using Toyo Enterprise's expert craftsmanship and experience with traditional Americana-style embroidery.
SPECS:
FABRIC:
"Okinawa 301" denim, a sturdy and hairy 16.25 Oz. left-hand twill indigo denim, white with green line selvedge ID. Milled in Japan on narrow shuttle looms, from a blend of 20% Okinawan recycled sugar cane fibers and 80% cotton. This fabric is exclusive to Toyo Enterprises.
DETAILS:
* Fairly trim silhouette, sixties vibe.
* Special RODEO version: all original MF® artwork on rear panel, 100% rayon thread traditional chainstitch embroidery.
* Original MF® slanted flap chest pockets.
* Original MF® cast 'silver' shank buttons.
* MF® yellow "M" stitching on pockets.
* Orange and yellow combination stitching.
* NOS woven plaid fabric accents on pocket flap facing.
* Buttoned cinch-waist side tabs.
* Copper rivet reinforcements backed by leather washers for pockets and sleeve placket.
* Natural veg-tan debossed leather MF® original patch.
* All cotton thread chainstitch construction.
* Made in USA, embroidered in Japan.
SIZING/FIT:
The "Okinawa 301" Cowboy Jacket comes UN-WASHED (i.e. raw/loomstate) and is cut so that the measurements match the labeling after an initial cold soak/line dry.
We recommend our usual method for raw indigo denim garments:
* 30-40mn cold soak with intermittent hand agitation, in washing machine or bath tub.
* Spin dry cycle (if using a machine).
* Hang dry.
* As an optional step, wear the garment briefly while still damp, in order to shape it to your body and set your own creases. Hang and let fully dry (try to shape the jacket on the hanger to look as if you are still wearing it.)
Following this routine, the garment will be quite stiff when dry, due to the re-activated starch contained in the denim fibers. This is perfectly normal and expected for fabrics not processed with unnecessary softeners at the milling stage. This temporary stiffness will rapidly subside with normal wear.
As I did with all previous versions of the MF® Cowboy Jacket, I opted to size down to a Small (36) in this "Okinawa 301" edition. I am usually in between sizes (36 and 38) and went for the slimmer/shorter silhouette for this jacket. As with all denim twills, but even more so with this particular 'Okinawa' sugarcane fiber denim, shrinkage and stretching will occur for a while and will depend on the wearer's body, activities and initial fit.
Please refer to sizing chart for approximate raw/soaked measurements. Soaked = 30mn cold soak, spin dry and line dry.
(Please note that the debossed graphic on the veg-tan MF® leather patch will naturally 'flatten out' when soaked in water.)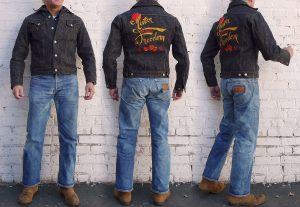 CARE:
Wash when necessary.
We recommend turning the jacket inside out to avoid marbling on the indigo side.
Hand washing can be a good option for those concerned with specific wear patterns and high-contrast color fades. Otherwise, machine wash inside out with cold water, gentle cycle, eco-friendly mild detergent and line dry.
Patina will develop according to activities and frequency of wear. For a natural patina and attractive indigo contrasts, refrain from over-washing your denim jacket. Just enjoy the journey and your ethically-made garment will age gracefully!

Available RAW/unwashed, plain-back or "Rodeo" limited edition.
SIZES:
X-Small (34)
Small (36)
Medium (38)
Large (40)
X-Large (42)
XX-Large (44)
Available from www.misterfreedom.com, our Los Angeles brick & mortar store, and fine retailers around the World.
Email sales@misterfreedom.com or call 323-653-2014 with any questions unanswered above.
Thank you for your support,
Christophe Loiron
Mister Freedom® 2018
Comments
comments