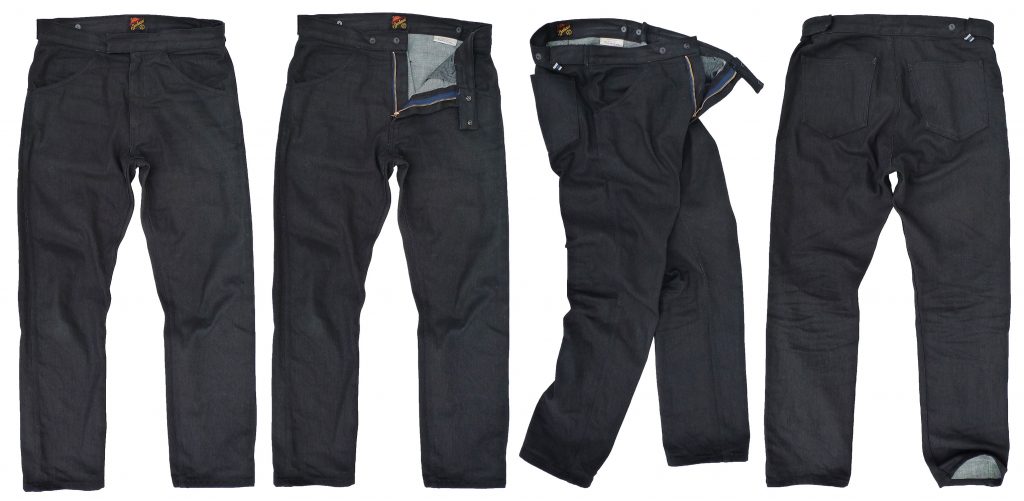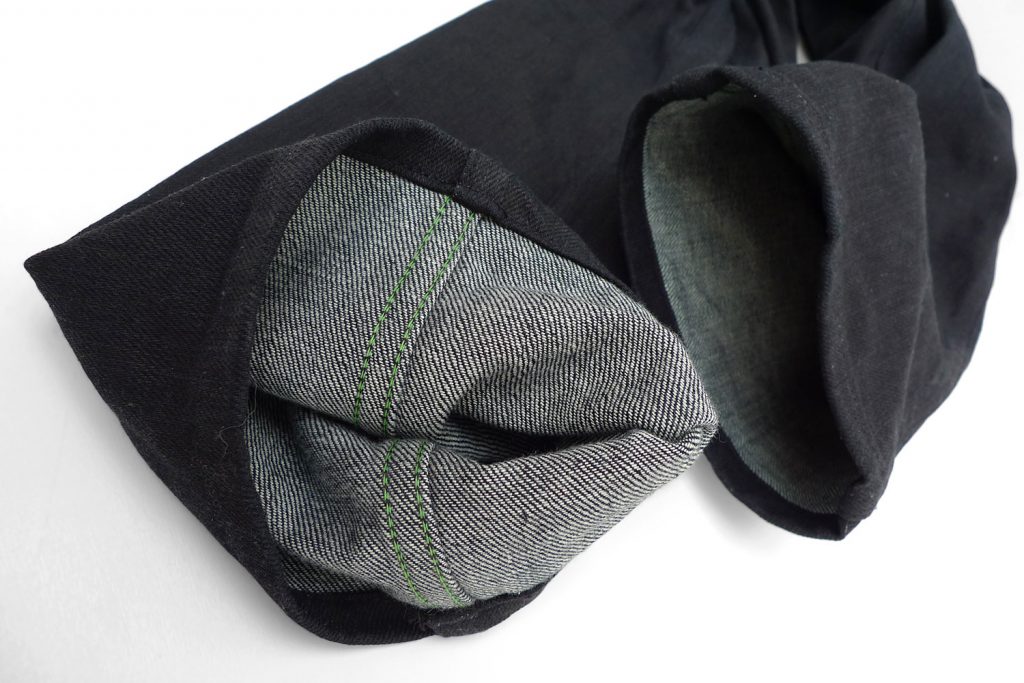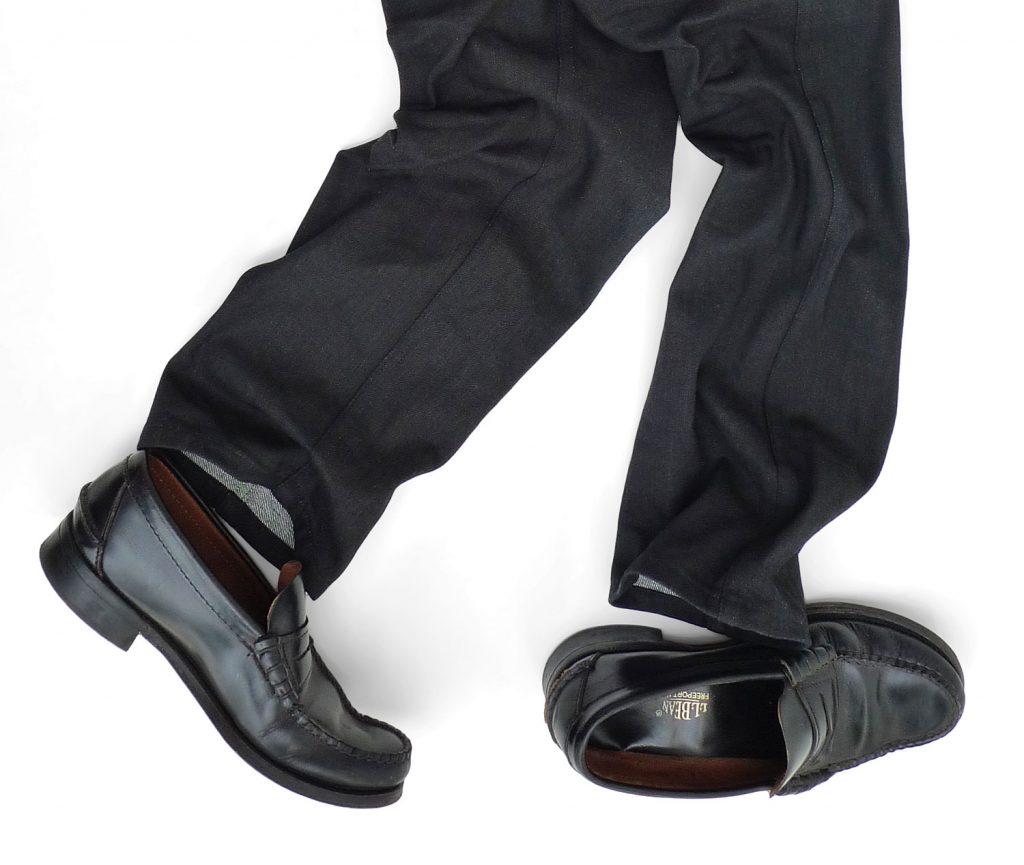 Mister Freedom® SPEEDWAYS, NOS black-coated crosshatch denim.
Sportsman mfsc Fall 2017.
Made in USA.
Originally released in cream and black cotton piqué under the "Speedway Piqué Jeans" moniker during Fall 2011, a modified version (sans buckle-back and with a slightly more tapered leg) made it to our made-in-USA Sportsman catalog in 2015, as the Malibu's, offered in light indigo 'sea denim' and wheat color 'sand denim'.
This MF® tribute to late 50's early 60's popular 'stovepipe' type jeans gets another make-over for Fall 2017, this time with a special "coated denim". This fancy NOS fabric is not the modern waxy black rubber type coating seen on novelty contemporary jeans, but rather an interesting indigo denim twill printed with a soft-hand opaque coat of matte black water-based ink. If the black ink completely covers the indigo blue warp of the denim, the usual light-colored grayish weft (with somewhat of a greenish sheen) shows on the reverse of the fabric. The slub of the yarns is visible on the weft threads, giving this specific denim its crosshatch quality..
If this garment initially looks flat black due to the pigment coating, each pair will develop its own patina overtime, blending shades of indigo, black and white, according to activities, frequency of wear and wash cycles. Undertones of indigo will rapidly appear with normal wear abrasion. See the denim wash test photos below, also featuring a small section rubbed with sand paper.
The mfsc Speedways are designed in California by Mister Freedom® and manufactured in the USA in collaboration with Sugar Cane Co.
SPECS:
FABRIC:
New Old Stock crosshatch pigment-coated denim, soft-hand matte black finish on indigo warp, 100% cotton, 12 Oz. Probable Kurabo (Japan) origin.
DETAILS:
* Inspired by late 50's early 60's 'stovepipe' jeans and vintage casual trousers.
* Tab waist band à la McQueen, concealed closure snaps.
* No belt loops.
* Side snap cinch tabs (adjusting waist by about 1½" when both tabs are fully cinched)
* New Old Stock pocket bags: sturdy 100% cotton charcoal grey covert chambray.
* Zipper fly, brass "Gripper Zipper".
* Discreet "M" stitched rear pockets.
* Flat-felled seam 'caballo' construction, with Sportsman green color chainstitch accent.
* Tonal stitching, 100% cotton thread.
* Made in USA.
SIZING/FIT:
The Speedways black-coated denim come raw/unwashed.
We recommend the usual initial routine: cold soak for about 30-40mn, spin dry, hang dry. These are true to size, with the industry-standard generous waist (meaning a W32 measures a bit over 32 inches, quite psychologically gratifying for the consumer concerned about his waistline.)
I am usually between a w30 and W32 in mfsc bottoms, and I'm in luck since the Speedways come in W31. I did not yet fully wash/heat dry my pair, and wear the W31 with one side of the snap tabs cinched.
The bottom hem is done by single needle machine, not chainstitch.
Please refer to sizing chart for approximate raw and cold-soaked/hang dry measurements.
CARE:
Treat the MF® Speedways black-coated denim as you would fancy indigo denim jeans. Wash separately to avoid color transfer. Turn garment inside-out to minimize unsightly marbling of the fabric. Cold water, mild eco-friendly detergent. Hang dry.
If these Speedways denim jeans initially look flat black, each pair will develop its own patina overtime, blending shades of indigo, black, and white, according to activities, frequency of wear and wash cycles.
Available RAW/unwashed.
Waist 28, 29, 30, 31, 32, 33, 34, 36, 38.
Available from www.misterfreedom.com, our Los Angeles brick & mortar store, and fine retailers around the World.
Email sales@misterfreedom.com or call 323-653-2014 with any questions unanswered above.
Thank you for your support,
Christophe Loiron
Mister Freedom® 2017
Comments
comments