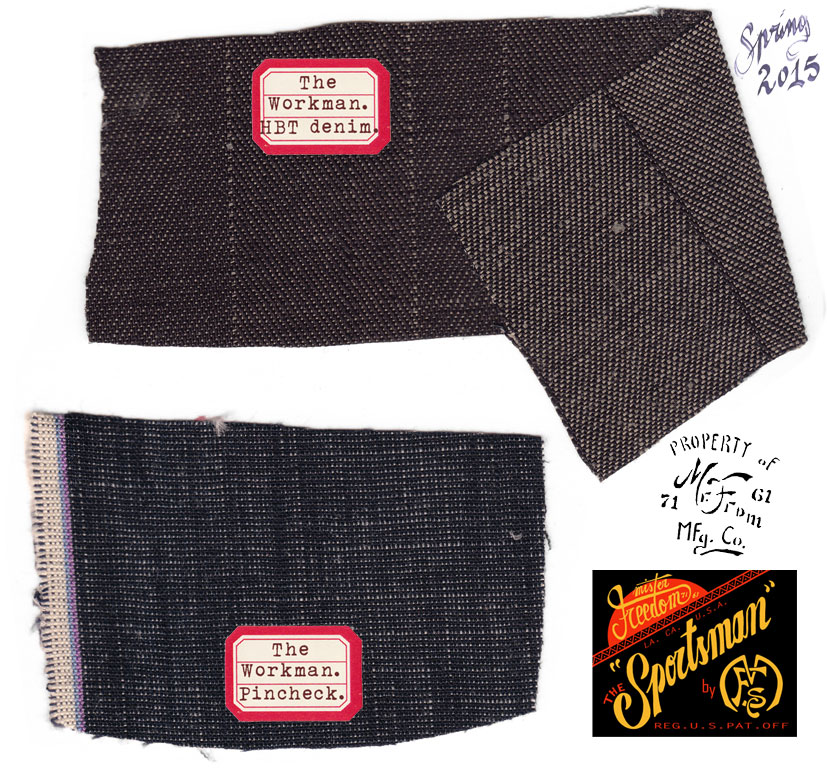 The "Workman" shirt, HBT denim and indigo Pincheck
'Sportsman' catalog, Spring 2015
A new addition to the Sportsman catalog this Spring 2015 is the "Workman" shirt. As the name we opted for implies, nothing to revolutionize the design world. We muted the bells and whistles on this one, wanting a simple, clean cut 40's style work shirt, made in USA.
(insert uplifting photos of thrilled workers in enviable FSA fashion here)
To inaugurate the new pattern of the "Workman", we broke out two very different fabrics from our vault. They only have in common the fact that they look alike if you dress in the dark.
Option A is a slubby dark indigo pincheck ("a strong cotton cloth having a vertical and horizontal design of white dots on a blue ground, used in the manufacture of work clothes") cotton fabric.
Option B is more of a 'mill mutt', if you will. It could be summed up as a dark pinstripe herringbone twill 2×1 denim with an initial raw fabric sheen. The HBT pattern is more clearly visible on the inside of the fabric. The pinstripes on the face are very subtle.
Although blackish/grayish-looking when raw, these fabrics will fade to blue, as shown in the photos featuring rinsed or lightly worn shirt specimens.
Both textiles are "vintage New Old Stock", as we all call close-out fabrics today. It is safe to say that these do not predate the invention of the steam engine. Found un-documented in a Los Angeles warehouse, these rolls are admittedly of unknown origin. That's unless you allow the swearing-to-God broker to tell you aaaaaall about them… However, after investing in several cases of snake oil over the years, one learns that garment district sales skits are best taken with large spoonfuls of salt.
The novelty about the Mister Freedom® "Workman" shirt is that it comes… brace yourselves… sans chin strap! It does feature vintage classic favorites such as side gussets, chainstitch construction, double-stitch collar, matching pockets (yes, we can!), corozo cat-eye buttons, etc…
Our Sportsman "Workman" shirt is designed and manufactured in California by Mister Freedom®, in collaboration with Sugar Cane Co.
SPECS:
PATTERN: Original MFSC pattern, inspired by classic 1940's workwear shirting.
FABRIC:
A) Indigo Pincheck: 100% cotton pincheck design woven fabric, dark indigo color, about 8 Oz. in weight.
B) HBT stripe denim: 100% cotton herringbone twill denim, subtle vertical stripe design, dark indigo color, about 8 Oz.
DETAILS:
* Special no chin strap edition!
* Black corozo wood cat-eye buttons. These are not plastic.
* White cotton popeline button placket facing.
* Traditional double chest matching pocketing.
* Tonal stitching, 100% cotton
* Olive Green popeline side gussets.
* Chainstich construction, "Sportsman" green color on the inside.
* Made in USA.
SIZING/FIT:
Both option A and B come raw/un-rinsed and will shrink to approximately the same size after a rinse/dry process.
We recommend an initial cold soak, spin dry and line dry.
The "Workman" shirts are true-to-size with a quite attractive fairly trim 'uniform' silhouette. If you are generally a Medium in mfsc shirts, you are a Medium in the Workman.
Please refer to sizing chart for measurements.
CARE:
Launder when hygiene dictates and common sense prevails.
Machine wash. Cold water, gentle cycle, eco-friendly mild detergent and line dry. We recommend turning indigo blue/denim garments inside out to avoid marbling when washing.
The blue color will pop out over time. Patina will develop according to activities and frequency of wear.
Available RAW/unwashed.
SIZES:
14½ (Small)
15½ (Medium)
16½ (Large)
17½ (X-Large)
18½ (XX-Large)
RETAIL $279.95
Soon available from www.misterfreedom.com
Email sales@misterfreedom.com or call 323-653-2014 with any questions unanswered above.
Thank you for your support
Comments
comments